Encouraging children to go to school in some of Vietnam's mountainous areas is not easy by any stretch of the imagination.
Continued reform to upgrade education
Mountainous teachers struggling to get pupils back to school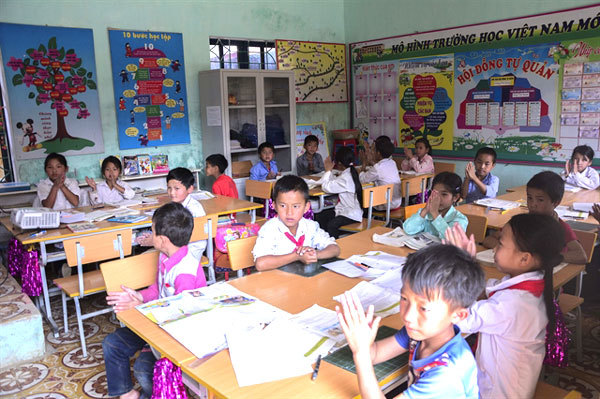 Students in class at a boarding primary school in Dien Bien Province. In many poor remote districts of the province, teachers and students have to overcome a number of obstacles every day to maintain their teaching and studying work. — VNA/VNS Photo Van Dung
It is such a tough task for kindergarten teacher Luong Thi Ngoc, she sheds tears when talking about the lengths she goes to provide an education.
Ngoc, 35, teaches in Ta Te B Village, Nong U Commune, Dien Bien Dong District in the northern mountainous province of Dien Bien.
All of Ngoc's students are ethnic Mong minorities. They must study in temporary classrooms made from bamboo.
What other schools take for granted, tables, chairs and basic teaching aids, are a luxury in her classroom.
"During winter, temperature falls to below zero degree Celsius and the children have only a thin shirt. They turn blue due to the cold weather," said Ngoc.
Clothing is not the only issue.
Many don't have food for lunch forcing the teachers to buy fish and noodles using their own money to feed the children.
Ngoc said that whenever she went to students' houses to encourage them to go to school, she could not help but feel moved by the stories.
Once Ngoc went to Lau A Hu's house, a three-year-old boy. His family lives in a 10sq.m house which comprises of the very bare essentials, a bed and a pot to cook food.
Teachers contributed money to feed Hu in three first days he went to school. But, then, his father asked Ngoc to take Hu home, because he could not buy rice for Hu.
He said that he would bring Hu to the field to search for cassava for their daily meals, said Ngoc.
Tong Thi Ngan, 37, a teacher of the Chua Ta Kindergarten in He Muong Commune, Dien Bien District, said that her school did not have electricity, clean water and no signal to make phone calls.
When Ngan wants to call home, she must walk for 2km just to connect.
New hope for teachers, students
The Niem tin (Belief) volunteer team set up the project "Nuôi em" (Feeding the children) in 2013 to provide lunch for kindergarten and primary students in very poor schools in Dien Bien Province.
Each serving worth VND8,500 (US$0.4).
The project works thanks to contribution from the community.
By last year, more than 5,000 students in the province benefited from the project.
Besides lunch, the project called for people to buy water filter machines and contribute old toys for students.
Teacher Ngoc said after receiving support from the project, Hu's father agreed to let him go back to school.
At that time, Hu was very pale weighing just 6.5kg. Now he is 11kg.
Giang A Lenh, 30, a teacher of the Nam Nhu Primary School in Nam Nhu Commune, Nam Po District, said when his students had lunch, they were more eager to go to school.
The school has a total of 21 students. After lunch, they take a nap in the classrooms instead of going to streams to fish or searching for bamboo sprout which they had to do in the past.
Sharing Lenh's happiness, teacher Sung Thi Tang, 26, who works at the Huoi Lich 2 Kindergarten, said her students went to school more regularly thanks to a belly full of food.
"They bring flowers for me on Vietnamese Teachers' Day. Although they withered wild flowers, it still motivated me to continue working," she said.
Changing lives
Khuc Thi Hoa Phuong, director of the Women Publishing House, one of the project's partners, said: "Education, studying and changing awareness are the best way to change people's lives."
Translator Nguyen Bich Lan said thanks to education, her life changed.
Lan suffered from muscle disorder from birth, and many people used to think she would be a burden for her family.
But Lan was determine to self-study English, and become a confident translator.
"I hope with support from the community, students in poor remote mountainous areas can go to school, not only for better meals, but also for their demand for studying and changing their fate," she said.
Thu Trang
VNS