Floods and landslides caused by tropical storms and monsoon since late August have killed 34 people and affected the lives of more than 400,000 people in 32 northern and northeastern provinces of Thailand.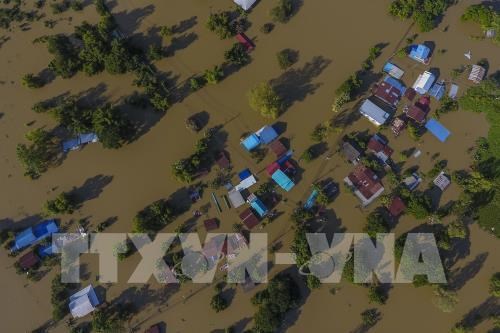 Flood triggered by heavy rains in Ubon Ratchathani province of Thailand 
Chayaphol Thitisak, Director General of the Thai Department of DisasterPrevention and Mitigation (DDPM), said tropical storms "Podul" and"Kajiki," as well as the southwest monsoon in the Andaman Sea andGulf of Thailand since Aug. 29 caused floods and landslides in 7,115 villagesin 182 districts, affecting 418,549 households.
As of September 19, more than 20,000 victims in fournortheastern provinces are still awaiting evacuations from floods.
According to Chayaphol, the DDPMis collaborating with military and local offices to evacuate the victims
Apart from deploying means of transport to help evacuate villagers from theirhomes along with their belongings, the DDPM have installed several water pumpsto help divert floodwater from critical areas, as well as providing food,drinking water and survival kits to flood victims.
Also on September 19, Prime Minister Prayuth Chan-o-cha made an inspection tourof Ubon Ratchathani province, one of the four localities hit hardest by floods.The PM is scheduled to visit Wari Chamrap district, where the worst flooding inthe province has submerged two-storey houses./.VNA