People in the northern central province of Thanh Hoa have opposed a local firm which has set up fences blocking their access to the sea.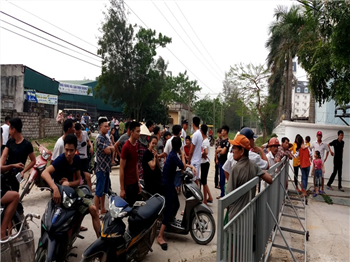 People gathered to protest the company on May 6
On Monday, hundreds of people in Hoang Thanh Commune, Hoang Hoa District gathered at Hai Tien tourist site and then rushed to the commune people's committee to protest.
Le Thanh Mien from Quang Trung Village said that Hai Tien Tourism and Investment Ltd. Co., the investor of the project, blocked the three entrances to the sea with fences.
"They are the entrances to the sea for the local people for generations. However, the company suddenly blocked them," Mien added.
Until the afternoon of the same day, two of the fences behind Resort Paracel and Hai Yen hotels were still in place so locals continued their opposition.
Le Huu Tu, vice chairman of Hoang Thanh Commune, admitted that they are the main roads to the sea for local residents and what the company had done was wrong.
"We urged the company to remove the fences and they agreed to do that. However, local people requested the company's leader to apologise them and promise not to repeat the problem," Tu said.
Le Xuan Thao, director of the company, the area where the fences were formed belongs to the company's ownership, so they have right to do this. At present, local people are still allowed to go to the sea through the entrances until another road is built.
According to Thao, the fences were aimed at preventing cows and buffaloes to go to the beach and stopping local residents from dumping waste on the site.
Lao Dong/Dtinews