Phan Thi Phuong is the party secretary of La Van Village, Phong Tho District in the northern province of Lai Chau. For more than ten years, she has devoted her time visiting every household in the district to help eradicate poverty.
Household poverty rate to drop to under 6 pct at end of 2018
Mong people quit booze to end poverty
Much to do in war on poverty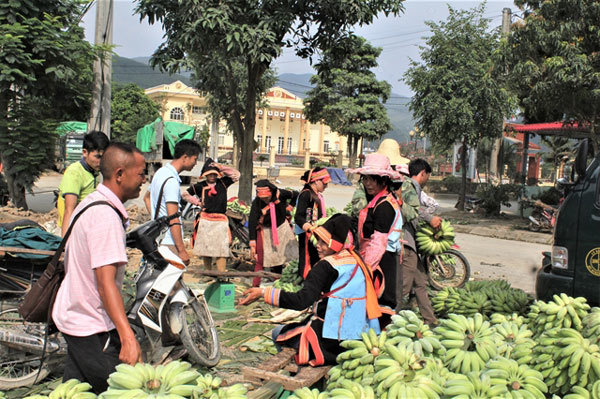 Farmers in Huoi Luong Hamlet, Phong Tho District trade bananas with Chinese buyers. Photo thongtindoingoai.laichau.gov.vn/
Thanks to her dedication, there are only five poor households left in the village out of a total of 37.
It took us one hour travelling by motorbike from the commune's centre to reach the village of La Van.
Greeting us with a hospitable, enthusiastic smile, the young party secretary of La Van, who was appointed in 2014, said ever since she took office, she had always wondered how she could educate people while she was still living in poor conditions.
To escape poverty, she discussed with her husband how to make use of her large piece of land by switching maize and cassava plantations to banana crops. She and her husband also drove to each household, helping citizens to harvest bananas and sell them to traders.
After two years of hard work, she had managed to save VND100 million (US$4,270) a year. Each month, she earns VND20 million from bananas and selling other commodities.
Back in 2009, when Phuong was only 21 year old, she joined the Communist Party of Vietnam. As a member of the Party, she realised her mission in life was to try her best and help others in the village.
Each day, after finishing her work, the 31-year-old visits other households publicising Party policies. At night, she works with other female officials encouraging people to switch from normal crops to bananas.
As a result, the poverty rate has declined through the years. At the moment, many citizens are able to own a nice house TVs, motorbikes and refrigerators.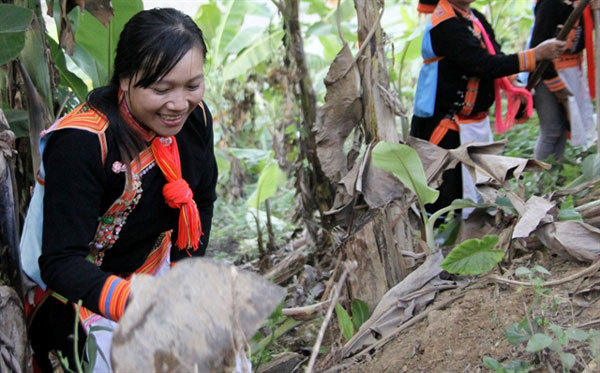 Phan Thi Phuong and other female farmers in the village tend to their banana trees. VNA/VNS Photo Viet Hoang
"La Van is a border village and we still have five underdeveloped households. There are no social evils like drug addiction, and you always feel secure here," said Phuong.

"Our Party committee has four members, and as the secretary, I often study the policies and instructions from senior leaders to renew and enhance the quality of my group. Alongside, I have to prepare and ensure instructions from our superiors are promoted. In 2018, the La Van committee attained the title of advanced party," she added.

Le Van Dung, chairman of Huoi Luong Commune's Party Committee in Phong Tho District, said: "Phuong always try to complete the mission her leaders assign to her. To people in the village, she has dedicated herself to the development of the commune. The village is a spotlight in the local work to eradicate poverty."
Thanks to her devotion to the people, Phuong has been awarded a certificate by her communal leader. "This is a group effort. I feel like there is much more I need to do for my community and I will continue to contribute as much as I can to the development of Huoi Luong so in the future, poverty will be totally eradicated from here," said Phuong.
VNS