In the quest to obtain the perfect look, many end up in hospital with necrosis and pus-filled wounds all over their bodies.
Vietnamese girl loses lip because of filler
Miss Ocean told to step down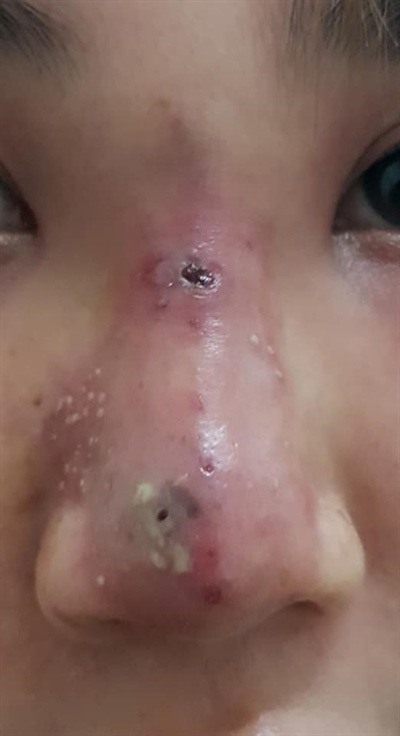 A patient suffering from swelling after having a nose job. — VNA/VNS Photo
The department of aesthetic surgery under HCM City's Cho Ray Hospital recently received a patient from Binh Duong Province who suffered from swelling after having silicone implants in her breasts.
The patient said from May to June 2019, she received four doses of liquid silicone at a cost of VND22 million (US$950) with the hope of getting bigger breasts without undergoing surgery.
However, as the area around the injected areas became infected and festered, she had to go to hospital for examination and treatment.
According to the department head Do Quang Hung, it is impossible to remove liquid silicone once injected into the body. Doctors can only deal with the pus and treat the inflammation.
Filler or injectable cosmetic filler containing silicone, acid hyaluronic or other types of solution is used to fill facial wrinkles and create a smoother-looking skin in six months or longer.
A 31-year-old woman was hospitalised at the JW Korea Plastic Hospital in District 1 after a buttock augmentation at a local spa.
She had paid more than VND100 million ($4,300) for a non-surgical butt lift using 200ml of filler.
Two days later, her right side was swollen and painful.
The hospital director, Nguyen Phan Tu Dung, said the patient suffered from widespread necrosis in the buttocks.
After taking antibiotics for a week, the necrotic area was gathered into a large area, from which doctors withdrew 200ml of pus.
The CT scan revealed that the patient had received filler injections into the tissue, leading to gangrene, or dead tissues.
"Filler has to be injected to the epidermis or the adipose tissue under the skin. If not, it will cause vascular occlusion and compression, leading to other complications such as blindness or strokes when reaching blood vessels or causing necrosis and infection when administered into tissues," she said.
According to Tu Dung, only a small dose of filler can be used to lift the face or cheeks. It is not recommended for buttocks as the area requires a large amount of filler which may cause inflammation and other dangerous complications.
She said most patients did not know which type of filler they had received as spas and clinics usually provide little information on products to keep prices high, making it hard for doctors to prescribe a proper treatment. To reduce risks, a filler treatment should be performed by experienced doctors using high-quality solutions.
Red alert
The number of patients with complications after undergoing cosmetic interventions at unregistered spas and clinics is rising despite doctors' warnings.
These patients are victims of false advertisements on social media or by word-of-mouth.
Many spas and clinics show pictures of their technicians wearing white coats, attending conferences to burnish their qualifications in performing cosmetic interventions.
According to Tu Dung, only doctors specialised in plastic surgery and related techniques are eligible to participate in seminars.
However, there are many conferences organised for representatives of spas and clinics with the sole purpose of getting themselves some certificates and photo ops with well-known foreign doctors as a way to boost their credibility and lure in more customers.
"They only need to pay a few million dong to partake in this type of conference," she said.
Contrary to the popular misconception that filler injections are a simple technique that could be done at any spa or clinic, this form of intervention should only be performed by certified doctors, said Trinh Quoc Khanh, head of the Trung Vuong Hospital's plastic surgery and burns faculty.
As the industry is so lucrative, many clinics and spas are willing to flout regulations to continue providing the service. Multiple fines or even revocation of licence wouldn't matter because the owner would just open a new establishment.
Doctors urged anyone who is interested in such techniques should do research into the subject and find trustworthy centres that were approved by the health authorities.
VNS