Sleeping three or four hours a day, being ready to work regardless of the time, or spending hours sweltering inside a protective suit.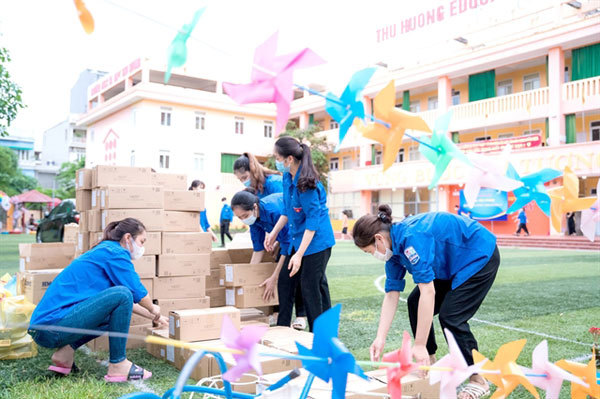 Volunteers prepare equipment for medical workers to go to take samples for COVID-19 testing in Bac Giang.  Photo courtesy of Nguyen Thi Ha
This is the "new normal" for Ngo Gia Long and Nguyen Thi Ha, two volunteers in the fight against COVID-19 in northern Bac Giang Province.
Long, 32, is a freelance photographer. He runs a small photo studio in Lang Giang District, about six kilometres away from Bac Giang City.
Since April 27 when the fourth wave of coronavirus infections hit the country, his hometown of Bac Giang has become the worst-hit locality with more than 2,200 cases reported as of yesterday.
Like many other small businesses, Long's studio had to close amid the serious situation. Not wanting to waste time, he immediately registered to join the voluntary forces to fight against the deadly virus in his province, despite his family's opposition.
"I just want to contribute my small efforts to the country and my hometown," he told Việt Nam News.
"Many people from other provinces had already volunteered to help. I am a child of this land, I feel helping people here is similar to helping me and my family."
Nguyen Thi Ha is also a child of Bac Giang. The 20-year-old is a student of Ngo Gia Tu College in Tan Uyen District.
With 13 other schoolmates and a teacher, she was willing to put her life on the line after a call for volunteers from her school.
She said in the beginning she was scared of being infected by the virus but still wanted to go because "everyone was needing us and I want to contribute my youth to my hometown." 
After being admitted to join the voluntary force, Long and Ha moved into a quarantine area at Thu Huong Elementary School in Bac Giang City which had been turned into makeshift accommodation for medical workers and students.
Their group consists of 17 people with the daily task of supporting more than 200 medical workers and students from Hai Duong Medical Technical University coming from Hai Duong and other localities to help contain the outbreak in Bac Giang.
"Our main tasks include preparing three meals a day, cleaning and disinfecting the living areas.
"Sometimes, we also receive donation goods from outside and go to deliver them to local people in the neighbourhood," Long said.
"The jobs are quite tiring. We wake up at 5am every day and sometimes work until 1 or 2 am.
"We don't really have a specific period of time to rest but are ready to work whenever needed."
For Ha and some of her friends, the jobs are a whole new challenge because there are many things they have not done before.
She said: "When at home, we are often pampered by our parents. Some of us really do not have to do anything. But here, we have to do everything by ourselves and also serve others.
"Sometimes I am worn out because of the hot weather. But our contribution is nothing compared to that of medical workers and the volunteer students from Hai Duong Medical Technical University."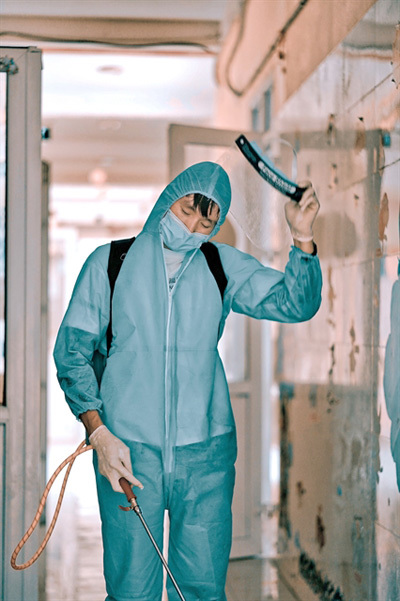 Ngo Gia Long in the protective suit when doing the infection work. Photo courtesy of Ngo Gia Long
The most daunting task for Long, however, is wearing the protective suit. Unlike medical workers who must wear the protective suit almost all day, Long only wears it for about two-three hours a day when he goes to spray chemicals to disinfect living areas.
"Just that makes it hard to breathe, sometimes to the point that is unbearable," Long added.
"That shows how great the endurance, pressure, and resilience the medical workers are, wearing those suits all day in such hot weather."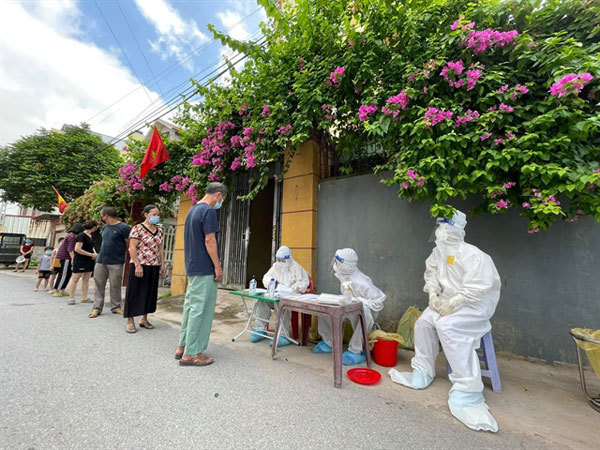 Students of Hai Duong Medical Technical University take samples of people in a residential area in Bac Giang for COVID-19 testing. Photo courtesy of Ngo Gia Long
Long said it is the selfless dedication of the doctors and medical students that deeply touches his heart.
He added: "They are so enthusiastic, responsible and selfless. Some were too tired and fainted, and needed medical care, some had pains and were asked to stay home but were still determined to carry on working.
"It just touches my heart."
Despite the hardship, both Long and Ha are determined to continue their voluntary work no matter how long it takes.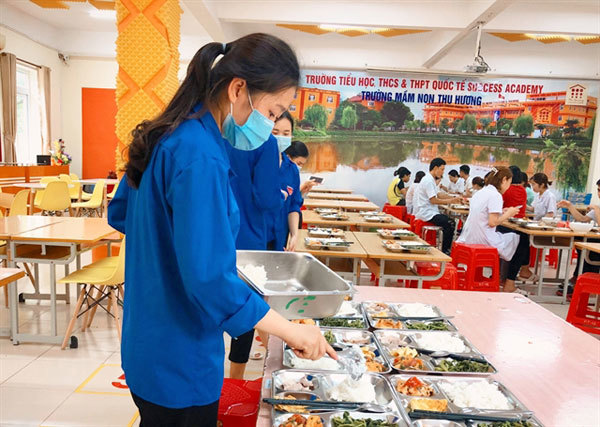 Nguyen Thi Ha prepares meals for medical workers and students. Photo courtesy of Nguyen Thi Ha 
Ha said sometimes after a day of hard work, doctors, students from Hai Duong and the volunteers in Ha's group sit around, talking and singing together to forget all the tiredness.
"It was fun and cheered us up," she said.
Long added: "We receive compliments and thanks from the medical workers that we are supporting. It makes us happy and we want to contribute more."
Making best use of the time there, the young photographer has also used his professional skills to produce video clips and pictures capturing the best moments of medical workers and voluntary students at work to present them as thank-you gifts.
Like everyone else, his biggest wish now is that the pandemic is soon brought under control so that life can return to normal.
"I will take one or two days to rest, or maybe go on a short vacation before resuming my work," Long said.
For Ha, it is simpler.
"I may just drive my motorbike around the city as I often did. I miss Bac Giang's wind so much," she said. 

Thousands of people volunteer 
Assoc. Prof. Dr. Nguyen Truong Son, Deputy Minister of Health, head of the Special Standing Team of the Ministry of Health in Bac Giang, said as of May 29, there have been about 1,400 medical staff, including civil, military and police medical workers, and students of medical and pharmaceutical universities and colleges participating in all fronts of pandemic prevention and control in Bac Giang Province.
According to the Ministry of Health, after a call for voluntary support from Minister of Health Nguyen Thanh Long on May 27, about 26,000 people who are officials, lecturers, and students of 37 medical and pharmaceutical universities and colleges across the country have registered to be volunteers in the fight against COVID-19 in Bac Giang and Bac Ninh provinces.
VNS

It's a time of distress. A time of anxiety. A time of exhaustion.  

The two northern provinces of Bac Giang and Bac Ninh, Vietnam's largest Covid-19 hotspots, have received 300,000 doses of vaccine for 300,000 workers in industrial parks. Vaccinations started on May 27.

The military are setting up two temporary hospitals to provide care for COVID-19 patients in Bac Ninh and Bac Giang provinces, which are the two provinces affected the worst by the current COVID-19 resurgence in Vietnam, on May 19 afternoon.