Men's Health magazine once famously wrote: "Dress like you've made something of yourself, even if you haven't." And they were not wrong.
A suit on a man oozes style. You can be anything you want wearing a well-made tailored suit. They open doors that t-shirts and jeans just cannot get through.
Every man's wardrobe should contain at least one, Sunday best as it was. It may not be worn on a daily basis, but for special occasions, a good suit deserves an airing.
If you are purchasing one in Vietnam, chances are it was made in the same place, Van Tu, a commune in Phu Xuyen District in the suburbs of Hanoi.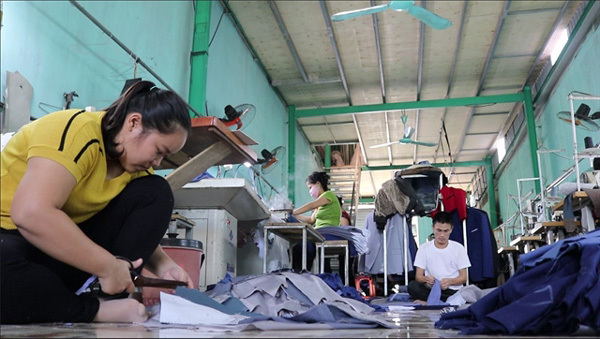 Tailors hard at work at Dau Thang workshop in Van Từ Commune. — VNS Photo Bao Hoa

Here, you will find tailors hard at work, with the industry providing jobs for more than 1,300 households, or 70 per cent of the population.
The tradition dates back to the 1930s. Back in the day, suits started to become popular for wealthy people in Vietnamese society after being introduced by the French when they occupied the country in the late 19th century.
Three brothers in the commune, who majored in agriculture, decided they wanted to learn a new skill, and tailoring was their chosen profession.
Determined to be the best, the trio headed to the centre of the capital, eager to learn from the best.
After setting up their own tailor shops in the Old Quarter, they decided to pass on their knowledge to the rest of the community.
One tailor, Nguyen Van Hoa, was among many village children who left their hometowns for Hanoi to learn from the trio. He remembers those days well.
"When they had learnt the craft, they opened shops in Hà Nội and taught the children how to develop a new profession for the village. We were all their students," said Hoa, who is now regarded as a statesman in the community.
"This job requires meticulous skills. You can't take shortcuts and have to learn every step from A to Z."
"Shop owners do the measuring and cutting, and then pass them on to a skilled tailor to do the rest. Each shop often has 3-4 good tailors, each accompanied by an assistant."
After years of training, Hoa and many of his peers returned home to open their own shops in the city, making tailoring a brand for the commune.
But the journey of life has many twists and turns.
Suits enjoyed their heyday only until the mid-1940s.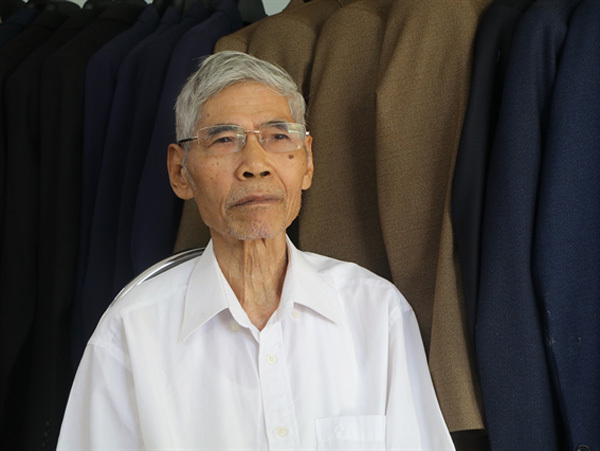 Veteran tailor Nguyen Van Hoa — VNS Photo Paul Kennedy

"During the war and later when the country was in dire economic conditions, a suit was regarded as a luxury product and was no longer worn by people," Hoa said.
"We all had to switch to making different clothes more in need at that time."
But Hoa never gave up his love for the outfit he had identified with at the very start of his career.
In the early 1990s, a few years after the country started đổi mới (renewal - the economic and political reform that drastically transformed the country), Hoa and two other tailors hailing from Van Tu returned to their hometown.
Just like the trio of brothers, they began to teach villagers how to make suits in the hope of reviving the once-thriving business.
Starting with their own families, the business then spread to the whole community.
After nearly 30 years, nine out of 10 hamlets in the commune make suits for customers across the country.
Some small workshops take orders from tailors in Hanoi but many of the larger businesses produce their own brands.
Nguyen Van Dau's family has been doing this job for three generations.
Pham Thi Tam at work. She has been a tailor for 18 years. — VNS Photo Bao Hoa

His workshop produces 20,000 to 30,000 suits a year under the brand Dau Thang, earning him an annual profit of roughly VND500 million (US$21,000).
"The price of our products varies, depending on the type of cloth and design. The cheapest is about VND1 million, while the most expensive can be up to VND10 million.
"Our products are sold mostly in the domestic market. Hanoi, HCM City and many provinces," he said.
Dau is in charge of design while the rest of the work is done by more than 20 tailors working either full-time or part-time.
Pham Thi Tam has been working as a tailor for 18 years, and has spent 10 years at Dau's workshop.
"For me, the most difficult part of making a suit are the lapels and pockets.
"We have to make sure they look flat and even," she said.
For Dau, the key lies in following trends.
"I have to keep up-to-date on the latest trends in the fashion world so that our suits sell well.
"We also expect to get the opportunity to export our products," he said.
Many villages and communes dotted all over the country have their own special products synonymous with the area.
But if you want a suit that suits you the best, there is really only one place to visit. VNS
Vu Thu Ha & Paul Kennedy

A festival honouring the tailoring trade will take place on October 25-27 at Van Tu Commune, Phu Xuyen District.