Thousands of residents are living in fear of possible fire risks at many apartment buildings in HCM City.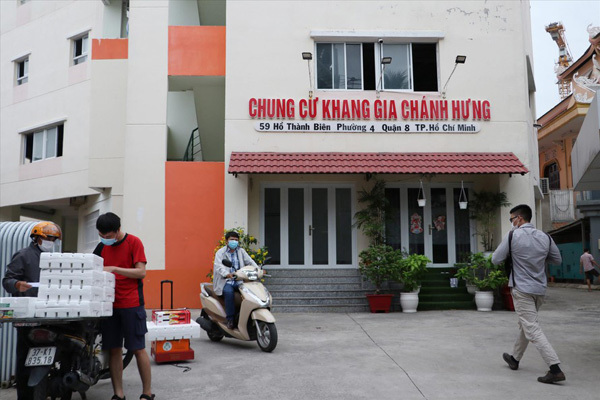 The Khang Gia Chanh Hung Apartment Building in HCM City.
Nearly 4,000 residents in Khang Gia Apartment Building in Go Vap District and Khang Gia Chanh Hung in District 8 have called for help from local authorities after the investors failed to install fire safety equipment.

Nguyen Thi Phuong said that she moved to live at Khang Gia Building two years ago but has always lived in constant fear as fire could occur at any time.

"We've reported the problem to local authorities and called for their help to ask the investors to install fire prevention equipment," she said. "However, the problems have not been solved."

Another resident, Nguyen Van Thanh in Khang Gia Chanh Hung Building is also worried after his building has not completed the installation of fire safety equipment despite being put into operation for the past three years.

"I've had to use my own money to buy fire prevention equipment when running the underground parking service here," Thanh said. "The investor has kept ignoring this and we have to try to protect ourselves."

Both Khang Gia Chanh Hung and Khang Gia apartment buildings are owned by the Khang Gia Real Estate Company. The company's director, Trinh Minh Thanh fled after being hunted by HCM City police for investigation into alleged fraud.

A report from the municipal Department of Construction showed that more than 480 apartment buildings in the city don't meet fire safety regulations.

"Many investors have been put buildings into operation while fire prevention equipment has not been completed," the department said. "Police have arrived to check and issue fines to the investors but thousands of people still live in these premises."

According to HCM City police, 1,145 apartments in Khang Gia Building are inhabited by 3,435 people. The building investor has not followed the approved design plan and failed to open an exit, which would affect fire rescue activities.

Vice director of HCM City Police, Nguyen Thanh Huong said that they had come to work with the investor of the Khang Gia Building but have not been able to meet them.

"We also intended to block the Khang Gia Building for not following the approved design plan but have not been able to arrange living places for the residents there."
Source: Dtinews

Firefighters will never forget the haunting moments they witnessed at a fire on April 4 at a diaper and dairy product trading house in HCM City in which four people died.

Underground parking spaces at apartment blocks in Hanoi are facing serious fire risks as it is also where electric boxes and gas pipelines are stored.