A young man stabbed his girlfriend and her roommate to death before committing suicide in the early hours of Monday in Hanoi's Cau Giay District.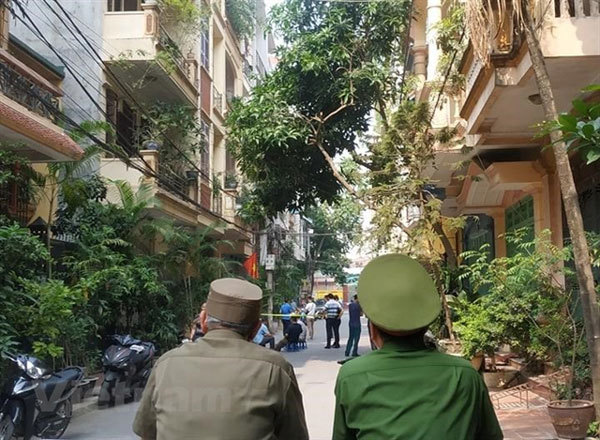 The scene of the incident in Hanoi's Cau Giay District on September 16 has been sealed off for investigation. — VNA/VNS Photo
The culprit, Giang A Dong, 21, from the northern mountainous province of Dien Bien, was reported dead at E Hospital, where he was taken for emergency treatment.
Police in Nghia Do Ward responded to the incident on Nghia Do Street at approximately 6.45am.
Initial investigations found the two female students, both 19, died from multiple stab wounds. Dong was reportedly in a relationship with one of the students.
Media reports have omitted the victim's full names and referred to them by their initials, a common practice in the Vietnamese press in such incidents.
Early on September 16, Dong came to see STML, his girlfriend, at her rented room in Nghia Do Street. L shared the room with four other girls.
The couple had an argument and Dong stabbed her to death.
On his way out of the room, Dong bumped into NTX and stabbed her to death.
Dong then turned the knife on himself in an attempt to commit suicide, but was unsuccessful. He then chased the other girls in the room, but they managed to escape.
Dong then jumped from the fourth floor of the building to the ground. He was taken to hospital later, where he succumbed to his wounds.
Nghia Do Ward's police and district police have sealed the scene to conduct an investigation.
VNS