Three foreign runners will take part in the Red River Run, a 300-kilometer relay scheduled for 5 a.m. on April 22, to raise funds to improve healthcare services for local newborns.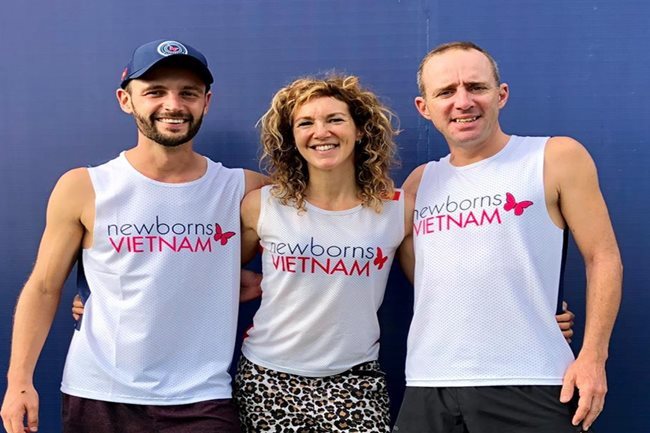 (L-R) Rob West, Marieke Dekkers, and Grant Bowdrey, the three expat runners who will join the Red River Run for fundraising to support Vietnamese newborns
They are Marieke Dekkers, from Holland, and Englishmen Grant Bowdrey and Rob West, who are all experienced ultra-distance runners and have competed individually in races around the world. However, the Red River Run will mark the first time they run together as a team.
They will start at Hanoi Maternity Hospital, then continue on the path following the course of the Red River all the way to the northern mountainous city of Lao Cai in 36 hours. They will run relay-style in shifts of one hour on, two hours off.
By the end of the run, each of them will have covered 100 kilometers, a distance they had been practicing in races in Vietnam and Cambodia months prior to the event.
According to the three runners, their goal is to run in 36 hours, since 36 hours is the most important period in a newborn's life, the time when nurses and doctors can have the greatest impact on securing the life. Thus, the runners want this duration to be uppermost in their target for the challenge.
The quick and safe transportation of sickly newborns from mountainous areas down to the capital can make a huge difference given a life-and-death situation.
Also, the runners aim to raise funds to improve services that have major impacts on the first 36 hours of a newborn's life.
Funds raised from the run will be used to supply essential equipment to hospitals which the runners will pass by, including the Hanoi Maternity Hospital and Lao Cai Obstetrics and Pediatrics Hospital. Other hospitals in Hanoi and elsewhere in the north will benefit from intensive training programs.
Grant Bowdrey, one of the runners, said that their motivation to join the race was not for winning a finisher's medal or enjoying themselves, but to share the challenge of running with their teammates and others. By joining the 300-kilometer race, the same distance some newborns are transported to hospitals for critical healthcare, Bowdrey and his teammates are delighted to be doing something that will improve transportation for newborns and help give them the great start in life.
The runners will be posting live updates on the run on the Facebook page at www.facebook.com/the-red-river-run and donations can be made via Just Giving page at www.justgiving.com/fundraising/red-river-run. SGT