All land disputes in the Thu Thiem New Urban Area should be fully resolved as soon as possible to safeguard residents' rights and interests, Nguyen Hong Diep, head of the Central Citizen Reception Board at the Government Inspectorate said.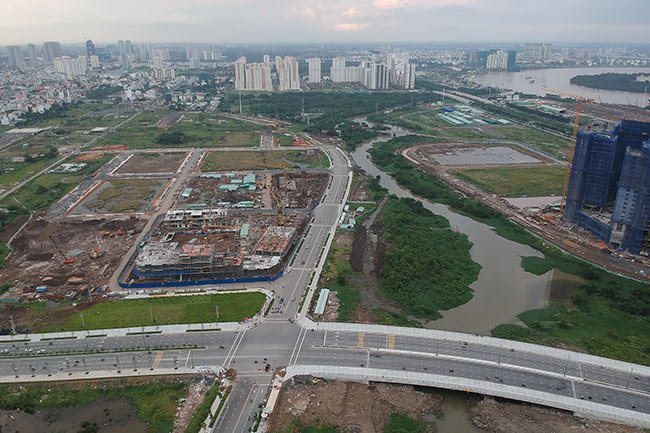 A view of the Thu Thiem New Urban Area project in HCMC's District 2
Although the Government Inspectorate has published its findings following a comprehensive inspection of the project, Thu Thiem residents' complaints have yet to be addressed.
Diep noted that the deployment of the Government Inspectorate' conclusions, announced on September 7 last year, was slow.
In addition, the compensation policies for the affected households, especially those outside the boundary of the Thu Thiem project, have yet to be announced. The municipal government has repeatedly issued deadlines for addressing Thu Thiem residents' complaints but has failed to fulfill their promises, without giving any explanations.
The delays in handling residents' complaints were also due to officials' hesitation to complete the task and assume responsibility, Diep added.
He said the municipal authorities and the delegation of National Assembly deputies should have met regularly with Thu Thiem residents and listened to their opinions, and the project should have been inspected several years ago. If this had been done, residents would not have wasted their money and time on lawsuits, Diep noted, adding that the greatest loss was the loss of locals' trust in the authorities.
According to Thu Thiem residents, apart from the 4.3 hectares of land that was wrongly recalled, five quarters of District 2's An Khanh, Binh An and Binh Khanh were added to the planned boundary of the project. Moreover, a 160-hectare resettlement site was handed over to enterprises to execute projects, and the residents had nowhere to live. SGT

HCM City authorities will submit a long-awaited compensation policy for affected residents in the Thu Thiem new urban area in District 2 to the city's People's Council for approval.

The Government Inspectorate has delivered its report on the controversial implementation of the master plan and land and construction management at the Thu Thiem New Urban Area in HCM City's District 2.