At least four people were killed and eight others remain missing in central provinces after torrential rains brought by a tropical depression have stricken the region over the past few days.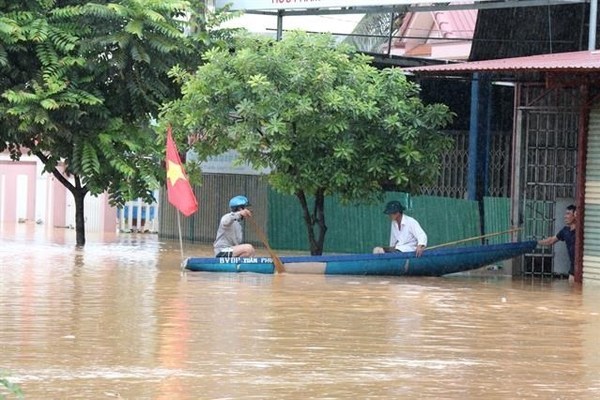 Prolonged heavy rains caused by a tropical depression flooded many areas in central Quang Tri province
Flash floods triggered by heavy rains claimed two lives in Quang Binh province while one person is still missing and another injured as of September 4 morning, according to the latest report from the provincial Steering Committee for Natural Disaster Prevention and Search and Rescue.
The province has evacuated residents in areas at high risk of flash flooding and landslides to safer places. More than 1,000 local households were submerged and isolated due to floods.
Rising waters in Quang Ninh and Le Thuy districts flooded hundreds of hectares of crops.
Landslides were recorded along some sections of National Highway 12A, 15 and 9B. Local authorities are mobilising forces to clear the roads to prevent traffic congestion and accidents.
Authorities in Nghe An province have reported that two people were killed and over 2,000ha of crops damaged.
Torrential rains from August 31 to September 4 prevented nine people in Ha Tinh from going home. Two of them have been contacted, but 7 others are missing.
Rains damaged more than 1,000ha of crops in Ha Tinh while destroying many roads and bridges and flooding tens of communes of the province.
Quang Trị province's authorities on September 4 reported that nearly 700 households were submerged. The authorities moved more than 1,000 households with over 4,000 people in the hardest hit areas to safer places.

Provinces in the central region have been told to continue staying alert as a tropical depression is moving near the coast, about 200km to the east-northeast of Quang Tri and Quang Ngai early this morning.  

Many areas in the central region of Vietnam have been isolated due to heavy rains over the past few days.