The Ministry of Industry and Trade has issued an urgent dispatch to provinces and cities proposing they add workers active in the logistics and transport sectors to the priority list to receive the Covid-19 vaccination.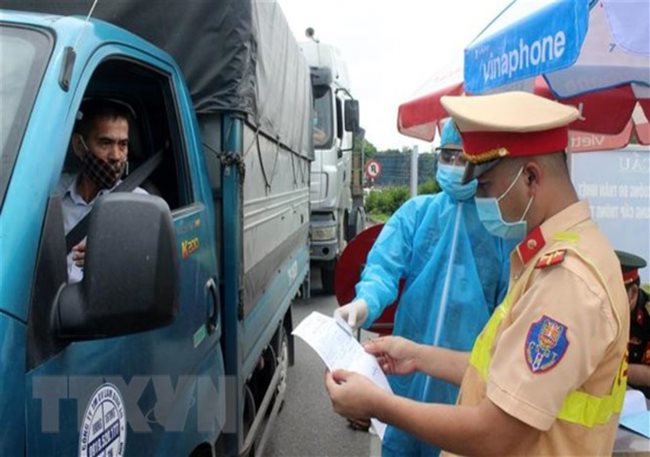 The logistics workers, drivers and employees at seaports and border gates play a vital role as frontline medical workers in the implementation of the Government's dual task of fighting the pandemic and ensuring socio-economic growth, Deputy Minister of Industry and Trade Do Thang Hai said in the dispatch signed on July 30.
As such, the proposal is aimed at ensuring the smooth transportation of goods and avoiding disruptions of supply chains amid the complicated Covid-19 situation.
Logistics and goods circulation activities play a key role in the country's economic growth, helping to ramp up industrial production.
However, over the past few days, the ministry has received complaints from industry associations and firms about inconsistent anti-virus regulations and traffic restrictions in many provinces and cities, increasing costs and delaying the time taken to transport goods and hindering production activities, Hai said.
The disruption in the transport of goods and local production will bring about a domino effect on other sectors such as husbandry and cultivation, pile financial pressure on firms and exporters and affect over 11.3 million workers in the processing and manufacturing sector.
The main reason for the disruption in the circulation of goods, food and materials is that the authorities have undervalued the importance of employees active in the logistics and transport sectors and they are yet to be prioritized for the Covid-19 vaccination.
As a result, the quarantine procedures and inspection steps for drivers and logistics workers are complicated, leading to a wastage of time and money for firms.
Source: SGT

Delivery drivers should be allowed to continue work during the stay-at-home period to eliminate obstacles facing the transportation of goods and avoid disrupting the supply chain, the Ministry of Information and Communications (MIC) suggested.