Two people were killed, including a one-month-old baby, and three others were seriously injured after a taxi in which they were riding collided with a train at a railway crossing in central Quang Ngai Province at 5pm on Tuesday.
Train crashes into car in Hai Duong, killing two
One dies, three injured in car-train crash
Train crashes into truck in central Vietnam, killing 2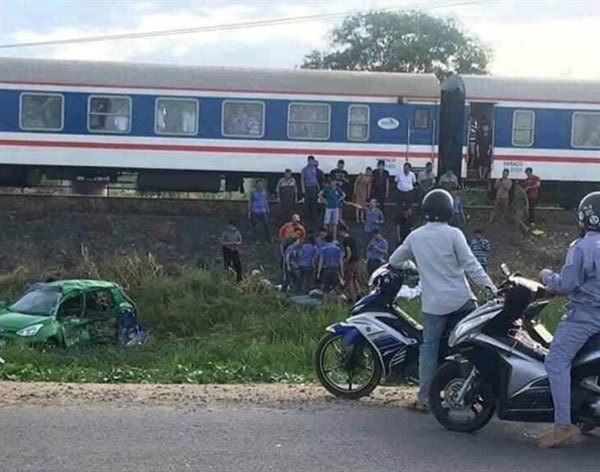 Two people were killed and three injured after a Mai Linh Group taxi was hit by a SE1 train in central Quang Ngai Province on Tuesday. — VNA/VNS Photo
A witness told vietnamplus.vn that a Mai Linh Group taxi was hit by a SE1 train heading in a north-south direction. The taxi was blown tens of metres away after being hit by the train as it crossed the track in Tri Binh Village in Binh Nguyen Commune.
The taxi, which was badly damaged, landed in a field, and a locomotive of the SE1 train was slightly damaged.
All five people in the taxi, including the driver, were residents of Binh Chanh Commune in Binh Son District.
Nguyen Thi Ngoc, 65, and Nguyen Thi Kim Phuong, one month old, were killed. The driver Duong Thanh Hieu, 25, and passengers Le Thi Kim Hoang, 22, and Nguyen Duc Dat, 2, were hospitalised at Quang Nam Province's General Hospital.
After the accident, the train was stalled for nearly 30 minutes before resuming its trip.
The police who investigated the accident said the driver had not been observant. Visibility on both sides of the crossing was clear.
VNS