While many Vietnamese enterprises are in need of high quality human resources in logistics, graduates of vocational schools are not meeting the requirements of employers in terms of quality.
Vocational training and education needs to attract participation of enterprises
Vocational schools need more links with employers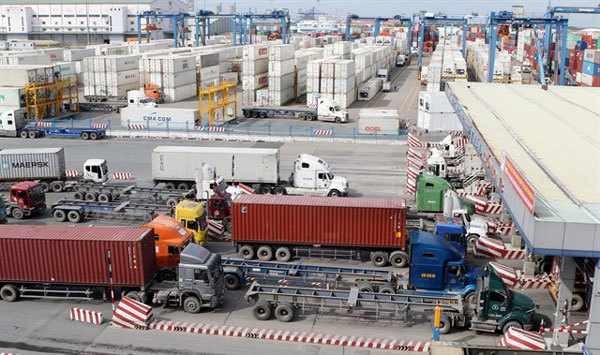 Containers line up at Cat Lai Port in HCM City. During the 2017-20 period, the country needs roughly 20,000 high-quality workers to meet professional requirements including supply chain executives, according to Viet Nam Logistic Association. — VNA/VNS Photo Tien Luc
This underlines the need to rethink the way the students trained and improve connections between enterprises and vocational education facilities, experts said.
According to the Viet Nam Logistic Association (VLA), there are about 30,000 enterprises in the logistic sector and the industry is facing a shortage of skilled workers.
During the 2017-20 period, the country needs roughly 20,000 high-quality workers meeting professional requirements including supply chain executives. The number is expected to rise to two million by 2030.
The demand for human resources in logistic sector is expected to rise in the southern province of Ba Ria-Vung Tau over next few years as it has set a goal to develop logistics into a major service sector with a focus on the seaport.
Under a master plan, the province will create top conditions for seaport and logistics service providers to meet regional standards.
The plan calls for businesses in service and market development sectors to join the supply chains of key products like oil and gas, energy, industrial equipment, supporting industries, and building materials, among others.
Duong Thanh Khang, deputy director general of the Thị Vải Port Complex Joint Stock Company in Ba Ria-Vung Tau Province, said the company needs skilled workers to provide diversified services including cargo loading and unloading, leasing warehouses and supplying logistics services.
It can't be denied that the logistics sector plays an important role in any country's economy.
If the logistics service is done well, it will help reduce costs as well as bring more efficiency for businesses and the whole economy.
However, challenges lie ahead as not only do logistics employers find it tough to recruit good staff but many existing employees are not sufficiently qualified, the Vietnam News Agency reported.
A lot of enterprises had to retrain recruits due to employees' failing to meet requirements in term of foreign language or other skills necessary.
A representative from Lazada Express Vietnam, an enterprise specialising in providing door-to-door delivery services, said it wants to employ logistics personnel but after recruitment, staff still needed additional training.
"Although they are trained in logistics service and supply chain, many of them don't have knowledge about barcode or warehouse management software," he said.
Experts blamed this on the lack of coordination between training facilities and enterprises and that training facilities did not have the latest technology.
Solutions
Nguyen Thi Bich from Nguyen Huu Canh Technical Economic Intermediate School in HCM City said developing sufficient human resources requires the central government, localities, logistics companies and vocational schools to work together.
"Only by doing so, would students take over the jobs immediately after recruitment (without retraining)," she said.
Do Thanh Phong, a lecturer in logistics and supply chain management at the Ba Ria-Vung Tau University, said the university equippes students with English language skills specialised for logistics and supply chain management so they could undertake jobs related to such logistic services as port operation management or planning logistic activities.
They have been included in the university's training programme since 2012, he said.
Regarding to the coordination between enterprises and vocational education facilities, Nguyen Loc, rector of the Ba Ria-Vung Tau University, said it works closely with more than 200 foreign and domestic firms regularly updating its training programmes.
The cooperation with businesses also helps students take their education into the workplace, supporting them in science research and finding jobs after graduation, he said.
The university have trained 250 students in logistics and supply chain management by the end of July this year. After graduation, all of them got jobs with monthly salary ranging from VND7 million (US$300) to VND20 million ($860).
Nguyen Thi Truc Phuong from the HCM City Colleges of Economics said at the college level, students have the chance to practise the use of modern equipment relating to their major which is essential.
Therefore, visiting and practising in a working environment along with the evaluation on students' skills should be promoted to eradicate the gap between training and employers' demand, she said.
VNS