The results of the training and test course on the tactics and gun and artillery shooting at sea in 2020 of the High Command of the Vietnam Coast Guard Region 1 have achieved more progress than the previous years.
In the period from June 3-13, in the Gulf of Tonkin, the High Command of the Vietnam Coast Guard Region 1 successfully organized a training and test campaign of synthetic ring tactics and shooting guns and artillery at sea in 2020.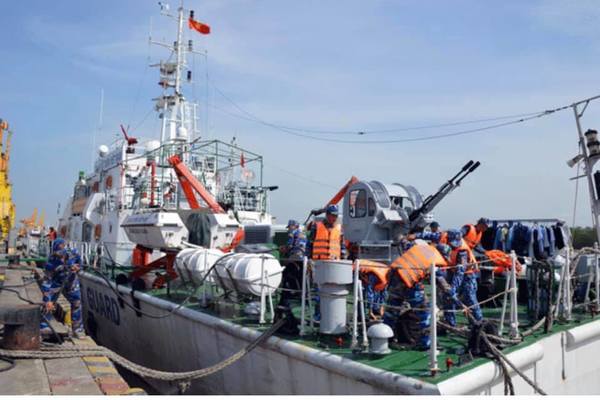 A Vietnam Coast Guard ship leaves the port for the general ring training duty.
Before the training at sea, Squadron 11 and Squadron 102 organized a training course for staff, under which officers and soldiers were trained and checked skills in accordance to the contents of their training documents, combat plans and assigned missions. The party committees and commanders of Squadron 11 and Squadron 102, base on the quality of training of their units, to organize additional training courses to improve weak and insufficient skills for their staff before entering a long training session at sea.
In the general round tactical training area, all officers and soldiers always highly concentrated to practice following the orders of the commander, masterly manipulating the combat layout, conducting training and swimming tests, practicing AK submachine gun shooting using the 3 application exercise, testing the single-ship tactics; practicing gun shooting - using 4a, 4c, 5a, 5b exercises. At the end of each training issue, fleets and ships promptly organized sessions to learn from experience, to evaluate results, find out the strong and weak points, to promptly overcome shortages to constantly improve the quality of tactical training.
The contents and stages in the general training course of tactics and gun shooting at sea such as changing to the ready-to-fight status; organizing and preparing the implementation of missions of the Coast Guard and combat missions under different plans; practicing combat according to the Coast Guard missions and combat plans; practicing gun and artillery shooting in accordance with 4a, 4c, 5a, and 5b exercises were all performed proficiently by fleets and individuals, with a high sense and determination.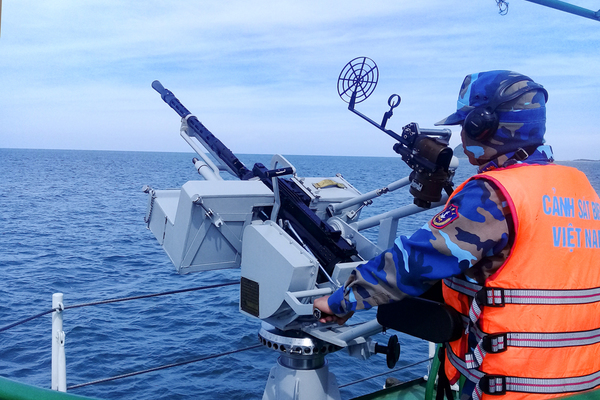 Shooting practice
For the single-ship tactical test and fleet test, 100% were as well as the shooting with guns and cannons for the 4a, 4c, 5a, 5b exercises, 100% were rated good and fair good. For the AK shoot with 3 applications and gun and artillery shooting at sea, 100% met the requirements (96% rate good and fair). In the course of training at sea, officers and soldiers of the High Command of the Vietnam Coast Guard Regional 1 always strictly abided by the regulations, ensuring absolute safety of people, weapons, and technical equipment.
This is the basis for the High Command of the Vietnam Coast Guard Regional 1 to continue to improve the ready-to-fight capacity, commanding qualifications at all levels as well as check the exploitation and use of weapons and technical equipment of officers and soldiers on the Coast Guard ships.
Hai Van