The Ministry of Transport wants snap inspections on bus routes to crackdown on overcrowding and price hikes.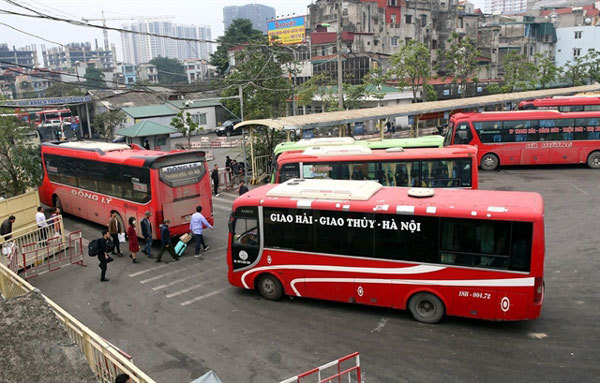 Giap Bat Bus Station in Hanoi. An additional 980 vehicles will run from the station to meet higher travel demand during Tet (Lunar New Year) holiday. VNA/VNS Photo Danh Lam
Nguyen Van The wants surprise inspections to take place at bus stations ahead of the Tet holiday, when more and more people use public transport.
The Tet (Lunar New Year) holiday will last seven days, from January 23 to 29.
To ensure traffic safety during the holiday, the minister requested leaders of transport departments coordinate operations at bus stations, airports and ports.
The also ordered transport departments across the country to supervise fares to avoid overcharging.
Some departments have worked with transport firms, encouraging them to keep ticket prices at a fair price, he said.
"Each sector should maximise their efforts to ensure the safety for passengers during Tet holiday," The said, emphasising the need to repair roads and reduce congestion at Build-Operate-Transfer toll booths.
He asked the aviation sector to increase flights, particularly at night.
The Minister requested the Directorate for Roads of Vietnam to collaborate with agencies to make sure the new drink driving laws are strictly followed.
Since the beginning of the year, the Law on Prevention and Control of Alcoholic Beverages' Harmful Effects ensures tougher penalties for motorists who drive under the influence of alcohol.
Car drivers who have drunk alcohol face fines of between VND 30-40 million (about US$ 1,296-US$ 1,728) and banned from the road for up to two years.
Meanwhile, fines of VND 6-8 million (about US$ 260-US$ 350) will be imposed on drunk motorcyclists and their licences shall be revoked for 22-24 months. Drunk cyclists are also subjected to fines of up to VND 600,000 (about US$26).
"Officials and staff in the transport sector should observe new rules, especially the Law on Prevention and Control of Alcoholic Beverages' Harmful Effects. Any violations should be strictly dealt with," The said. — VNS

The Ministry of Public Security will assign 500 students from the People's Police Academy to direct traffic before, during and after the Tet (Lunar New Year) festival.

Vu Van Vien, director of the Hanoi Department of Transport speaks about its plan to keep good transport flow for Hanoi during upcoming new year festivals.

Prime Minister Nguyen Xuan Phuc has ordered ministries and localities to ensure road safety during the coming holidays.