Investors with financial capacity and experience implementing transport projects will be eligible to enter prequalification bidding for the North-South Expressway project, the Ministry of Transport has said.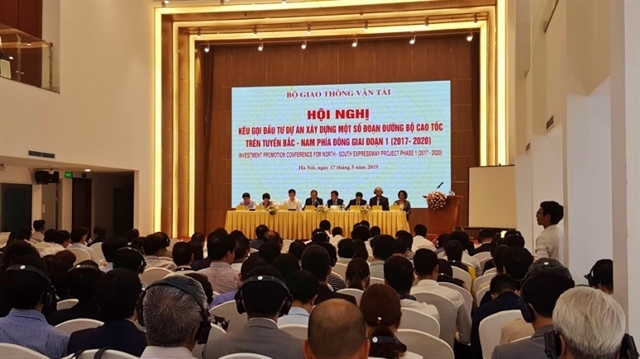 Representatives of the Ministry of Transport and relevant ministries answer questions raised by potential investors at a conference on the North-South Expressway project held on Friday.
The ministry is calling for domestic and foreign investors to fund the 654km North-South Expressway project, set to pass through 13 cities and provinces.
Speaking at a conference held yesterday, Deputy Minister of Transport Nguyễn Nhật said passenger and cargo traffic along the North-South transport corridor is expected to exceed capacity next year, meaning investment in expansion is necessary.
The investment in 11 sub-projects will total VNĐ118 trillion (US$5.07 billion). Of that, the State budget will provide VNĐ55 trillion ($2.36 billion) for three public projects and site clearance.
Nhật said bidding documents have been issued, so investors can access them and participate in the project.
He said the criteria for investors have been carefully studied to ensure fairness, competitiveness and transparency. Investors with good capacity will be selected.
Nhật said the ministry would evaluate the mobilisation of financial resources, advanced technology and effective management from the private sector.
The Government, ministries and localities committed to creating favourable conditions to ensure the completion of the project on schedule.
The ministry has mobilised two of the world's leading transaction consultants, Deloitte and Ernst & Young, to assist in reviewing the financial structure of the project, developing profiles and documents for bidding and draft contracts.
The ministry has also developed and approved technical designs and estimated construction costs to calculate the total investment capital needed and allow investors to create financial plans for inclusion in their bidding dossiers.
The results of the prequalification will be announced in August, the tender invitation announced in October. Bidding results in March 2020 and the signing of the project contract will be made public in April 2020. VNS