Two cases of the novel coronavirus (COVID-19) infection in the northern province of Vinh Phuc displayed negative results as they were tested for the second time on February 17, according to Director of Vinh Phuc Department of Health.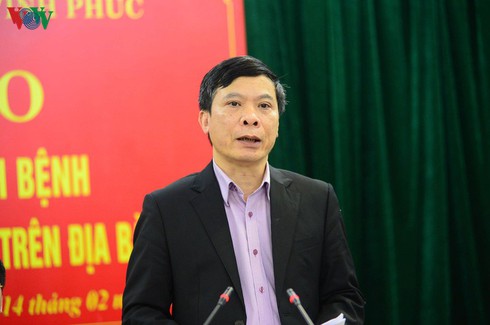 Nguyen Thanh Hai, Director of Vinh Phuc Department of Health
The results mark the nation's first two cases of infection to be treated at district hospitals and return negative test results for the COVID-19.
One of the cases tested involved a 42-year-old female patient who is a relative of a 23-year-old female worker who had previously been infected with the COVID-19 before being discharged from the National Hospital of Tropical Diseases on February 10.
Following a visit to her relative's house during the Lunar New Year holiday, she started displaying symptoms such as a fever before going to the Binh Xuyen District Health Center to receive treatment and to be put in isolation. Her samples were later tested positive for the COVID-19 on February 4.
Meanwhile, the other case involves a 29-year-old female patient who is a worker for Nihon Plast Company based in Binh Xuyen Industrial Park in Vinh Phuc province. She was among seven other workers of the company who had been sent to Wuhan to take part in a two-month training course and returned to the country on January 17.
Following their return, the female patient was put into quarantine along with two other people at the Health Center of Tam Dao district in Vinh Phuc.
The news came on February 3 that her sample had tested positive for the COVID-19 with the patient being immediately transferred from Tam Dao to Binh Xuyen in order to receive treatment.
Nguyen Thanh Hai, Director of Vinh Phuc Department of Health, stated that according to regulations set out by the Ministry of Health, cases testing for the COVID-19 infection that come back negative twice in a row and don't display a fever for three days can be discharged from hospital.
It is therefore expected that both of the patients will be discharged soon, with Vinh Phuc being the first province to successfully treat COVID-19 patients at district hospitals, according to Hai.
As of the morning of February 17 there were a total of five cases of the COVID-19 that had been isolated and were being treated at Quang Ha Regional General Clinic in Binh Xuyen district under the support of the quick response team from Vinh Phuc General Hospital.
Currently, there remains three positive cases in Vinh Phuc, although each of the patients remain in a stable health condition. VOV