The University of Bristol and Vabiotech, a vaccine manufacturer in Vietnam, have introduced a new vaccine manufacturing technology transfer project.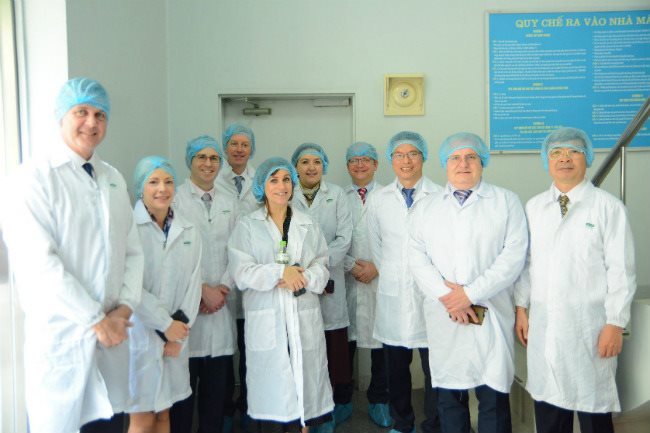 Specialists from the University of Bristol and Vabiotech are working together to implement the MultiBac vaccine manufacturing technology in Vietnam - PHOTO: COURTESY OF BRITISH EMBASSY IN VIETNAM

World-leading vaccine scientists from the university, one of UK's top 10 universities,  are working with Vabiotech to share cutting-edge knowledge that could help prevent future outbreaks of avian flu and rabies, according to the British Embassy in Vietnam.
The technology transferred this time, Multibac, allows faster production of vaccines in a large volume at a lower price, but it remains unavailable in Vietnam. Therefore, Vabiotech has decided to use this technology in the production of influenza vaccines for the country.
Using the same platform of MultiBac, the University of Bristol is testing a vaccine manufacturing technology that would allow vaccines to be stored at room temperature, which will be very practical in developing countries.
"While rapidly developing countries, such as Vietnam, have an impressive capacity to manufacture vaccines tailored to local needs, this has historically been hampered by a lack of access to the cutting-edge innovations in vaccine technology we specialize in here in the UK," said Professor Berger, director of the Max Planck-Bristol Center for Minimal Biology at the University of Bristol.
"Our aim in working with Vabiotech is to share knowledge that will aid and expedite the development of next-generation vaccines specifically for deployment in Vietnam."
According to Professor Berger, Vabiotech is particularly interested in using MultiBac to produce vaccines to combat avian flu. "We saw a few years ago how quickly avian flu […] developed into a global threat for humans. While the threat of avian flu in the country still looms, deployment of a suitable vaccine could therefore help prevent future pandemics," he explained. SGT