Fed up with staying home for so long during the extended school closures, university students are turning to online jobs to make up for part-time employment they lost due to the impacts of the COVID-19 epidemic.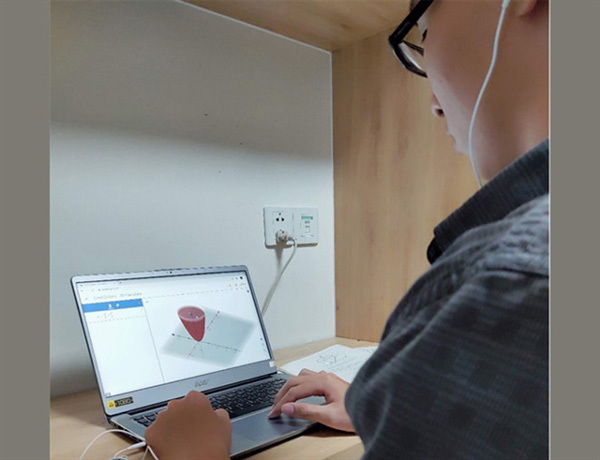 Nguyen Le Khanh Trinh delivers a lecture via a teleconferencing app. — Photo thanhnien.vn
Nguyen Le Khanh Trinh, third-year student of HCM City's prestigious University of Technology (HCMUT), teaches general subjects for first and second-year students at cafeterias near his school. Amid the disease fear, he has switched to an online platform. This semester, Trinh has been tutoring analytics for nearly 50 students.
Instead of livestreaming on Facebook – a common method many teachers use to deliver lessons, Trinh uses a tele-conferencing app which allows him to play slideshows and interact with students simultaneously.
"My students said it is even easier to study than joining actual classrooms as videos and audios are high-quality. All lessons are recorded so absent students can watch them later," Trinh told Thanh niên (Young people) newspaper.
Online courses grant flexibility for both teachers and students, he added.
Pham Minh Thanh, a HCMUT fourth-year student, has worked part-time as a tutor of analytics, physics and algebra during the school closure. He shared videos of lectures via Google Drive for students to study and revise.
Thanh said he charged from VND200,000 to 300,000 (US$8.58 – 12.88) for a course. At present, his classes are attended by some 250 students.
"I focus on giving problems to solve and equip students with theories to prepare for the new semester. Many students of mine enjoy online tutorials as they can decide when and where to study," said Thanh.
"The biggest challenge, to me, is investing into equipment to film clean footage with clear sound," he added.
Students, especially those from universities with demanding syllabuses like HCMUT, opt for online tutors to acquire proper preparation before coming back to school, according to freshman Pham Thieu Phuong Nhi.
"I registered for a course after seeing an advertisement on a Facebook group of my university's students. My first attempt with analytics was quite easy to follow," she said.
Learning general subjects online is not difficult but the internet is not always stable as it needs to load several features at the same time, including slideshows and discussions, said HCMUT student Nguyen Trieu Vy.
"I can save time and be more responsible with my studies. My tutor is always willing to answer all questions related to lectures" said Vy. "However, it is annoying sometimes when the internet is slow."
Vietnam National University – HCM City (VNU-HCM) on Friday announced to extend closure until the end of March.
VNU-HCM has seven member institutes including HCMUT, University of Sciences, University of Social Sciences and Humanity, University of Information Technology, University of Economics – Law, International University, An Giang University and School of Medicine with some 7,000 students.
The School of Medicine, however, will open on March 16. — VNS

Hanoi has decided to continue let students remain off to avoid the SARS-CoV-2 outbreak.  
As many as 60 out of 63 provinces and cities in Vietnam have decided to further delay reopening of kindergartens, primary and junior secondary schools until March 17.