Three people who died after taking the Vero Cell COVID-19 vaccine earlier this week had suffered an adverse allergic reaction, health officials have ruled.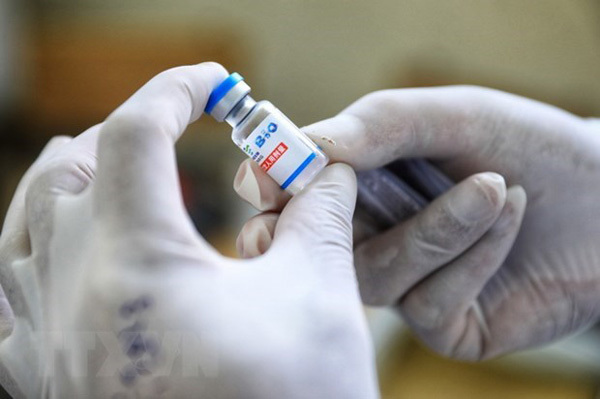 Vero Cell COVID-19 vaccine was approved for emergency use in Vietnam in early June. — VNA/VNS Photo 
The three people who lost their lives all worked at a shoe company in central Thanh Hóa Province. The cause of death in all cases has been confirmed as anaphylaxis - a severe, potentially life-threatening allergic reaction.
The workers were inoculated with Vero Cell vaccine on Tuesday. Two of them died on Wednesday morning and the other died later the same day.
A meeting of a professional advisory council held at Kim Viet Shoe Ltd. Co in Nong Cong District on Thursday afternoon where the incident happened determined the cause of death.
The meeting was attended by leading experts from Bach Mai Hospital in Hanoi and the National Immunisation Expanded Programme Office under the National Institute of Hygiene.
The council also concluded that all the procedures relating to distribution, receiving, storage and transport of COVID-19 vaccines at the provincial Centre for Disease Control, the Health Centre of Nong Cong District and the vaccination site at Kim Viet Company were carried out in line with regulations of the Ministry of Health and the National Immunisation Expanded Programme.
Other procedures, from organising the vaccinations, health screening, vaccination administration and health supervision after injections were implemented in accordance with regulations and no mistakes were found, according to the council.
On Tuesday, Nong Cong District's health centre organised the inoculation of second doses of Vero Cell vaccine for workers and employees at Kim Viet Company in Nong Cong Town Industrial Complex. All people who registered for the vaccination underwent health screening by local medical workers and were advised about the kind of vaccine they would be receiving as well as possible reactions.
During the vaccination, 10 people were found to have severe allergic reactions during 30 minutes of rest after injections and were diagnosed with anaphylaxis. They were immediately provided with emergency aid on site by medical workers following the Ministry of Health's guidance on preventing, diagnosing and handling cases of anaphylaxis. They were then sent to the Thanh Hoa General Hospital for treatment.
Among the 10 workers, three of them died, one is in critical condition and the six others are being treated at the Thanh Hoa General Hospital.
Right after the incident, Nong Cong District authorities suspended the use of the Vero Cell vaccine to inoculate local residents. 
The professional advisory council asked the Bach Mai Hospital and the National Institute of Hygiene to continue to support Thanh Hoa in treating those suffering from anaphylaxis after injections as well as during the province's implementation of the COVID-19 vaccination campaign.
The council proposed Thanh Hoa Province temporarily suspend the use of the batch of Vero Cell vaccine No B2021103398 that was used to inoculate the workers at Kim Viet Company while waiting for further guidance from the Ministry of Health to handle the vaccine.
Samples of the vaccine will be sent to the National Institute for Control of Vaccine and Biologicals for testing as regulated.
Vero Cell COVID-19 Vaccine, Inactivated Vaccine was approved for emergency use in Vietnam in early June. The vaccine is produced by China's Sinopharm.
During this 16th vaccination campaign of Thanh Hoa Province, Nong Cong District was allocated 30,000 doses of Vero Cell vaccine. The district planned to give the second jabs of Vero Cell vaccine for 13,400 adults who had the first dose of Vero Cell vaccine as regulated, and inoculate 16,500 other people aged between 18-49 with the first dose.
However, the incident happened when the district had already vaccinated more than 10,000 people. 
Vietnam has so far given approval for use nine types of vaccines, including Oxford/AstraZeneca (AstraZeneca); Sputnik V (Russia's Gamaleya Research Institute of Epidemiology and Microbiology); Janssen (Johnson & Johnson); Spikevax (Moderna); Comirnaty (Pfizer-BioNTech); Vero Cell (China National Biotec Group (CNBG)/Sinopharm); Hayat-Vax (CNBG); Abdala (Cuba's AICA Laboratories, Base Business Unit AICA) and India's COVID-19 vaccine COVAXIN
Vietnam administered more than 114.5 million doses of COVID-19 vaccine as of Thursday, including over 46 million people getting two full jabs.
The Ministry of Health aims to finish administering 150 million doses of vaccine (costing around US$1.1 billion) for 75 million people, or 75 per cent of the population by April 2022 to achieve herd immunity. 
Source: Vietnam News

Two people in central Thanh Hoa Province died on Wednesday morning after getting the Vero Cell COVID-19 vaccine while three others are being treated at a local hospital, the provincial Department of Health confirmed.