Vietnamese doctors have confirmed a further two patients with Cantú syndrome, a rare condition characterized by excess hair growth, a distinctive facial appearance, heart defects, and several other abnormalities.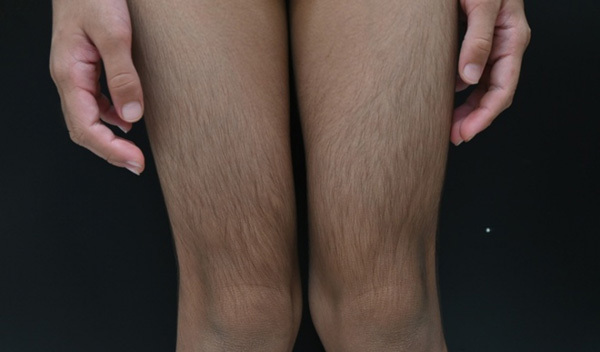 A Cantú syndrome patient. (Photo: Lan Anh/Zing)
The first patient diagnosed with the rare disorder is a 10-year-old girl who has shown signs of thick hair growth. After conducting several examinations, doctors believe that the patient is suffering from Cantú syndrome.
The other case involves a girl from Nghe An province who was diagnosed after doctors found an anomaly with her teeth. In addition to this, the girl also has a history of contact dermatitis.
Both patients showed signs of the rare disease when they went to the Ho Chi Minh City Hospital of Dermato Venereology for examinations, said Tran Nguyen Anh Tu, deputy head of the Hospital's Skin Cosmetic Department.
Earlier, a six-year-old girl from the southern province of Ba Ria-Vung Tau had been confirmed as the country's first case of Cantú syndrome.
Her parents noted that she has had thick hair growth since birth, the majority of which occurs in unusual areas such as her face, neck, waist, and limbs.
Cantú syndrome is an extremely rare condition which is notable for the abnormal hair growth, along with bone and cartilage anomalies, and cardiomegaly.
Since its initial detection in 1982 there have only been 74 confirmed cases globally in medical history, said Tu.
The condition is thought to be caused by a genetic mutation occurring in the ABCC9 gene, located on a short arm of chromosome 12.
Symptoms must be treated with surgery, drugs, and other methods, said Dr Tu.
VOV

An 8-year-old girl from the southern province of Tien Giang has been recorded as the first case with LEOPARD syndrome in Vietnam, according to doctor Tran Nguyen Anh Tu from the Ho Chi Minh City Dermatology Hospital.

A teenager was diagnosed with a completely reversed viscera with the heart located in the right side of the chest. This is a rare condition, with the rate of 1 per 10,000 people.