The Ministry of Transport plans to promote IT and digital advancements in traffic management, and improve quality in training, testing and issuing driving licences, as well as in the operation of safety management systems in civil aviation.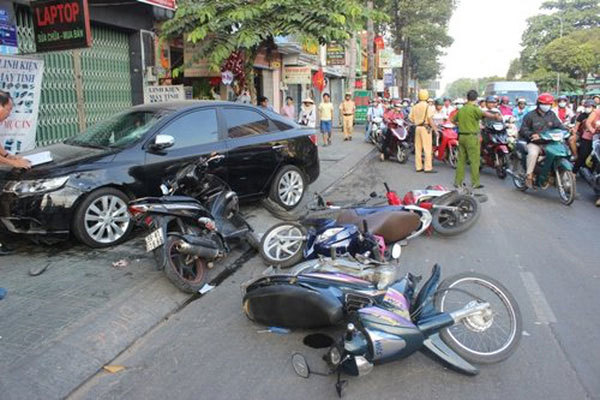 The Ministry of Transport aims to reduce the number of traffic accidents and related casualties this year by 10 per cent compared to 2018. VNS Photo Van Chau
An average of 20 people are killed each day in Vietnam from traffic accidents, according to a report from the National Committee for Traffic Safety. To address this serious issue, Minister of Transport Nguyen Van The earlier this year issued a plan to raise public awareness and compliance with traffic rules and deploy high technology to more easily and quickly detect violators of traffic regulations.
Speed cameras to detect and issue speeding violations, along with other high-tech equipment, should be deployed, experts have said.
A smart traffic monitoring and operation centre in HCM City, the first of its kind in Vietnam, opened early this year. The system has 762 cameras that monitor traffic, 136 cameras that count vehicles, and 216 traffic-light control boxes on 78 main streets, including roads to Tan Son Nhat Airport and seaports in districts 2 and 9.
As many as 70 electronic information boards, a mobile app that keeps drivers informed of traffic conditions, and an online website are also being used in the city.
Danile Kritenbrink, US Ambassador to Vietnam, said recently that driving while listening to the phone, disobeying traffic rules, and driving after using alcohol had all contributed to traffic accidents globally, and that violations must be strictly handled. Violations include drunk driving, speeding, vehicle overloading, failure to wear safety helmets or safety belts, and use of mobile phones and audio devices when driving.
According to a report from the National Committee for Traffic Safety, as many as 18,736 traffic accidents occurred nationwide last year, leaving 8,248 dead and 14,802 injured. The numbers represented a decrease of 1,348 cases (6.7 per cent) and a drop of 33 in fatalities (0.4 per cent) and 2,238 injuries compared with the previous year. VNS