The 12th Intergovernmental Regional Environmentally Sustainable Transport (EST) Forum in Asia is being held in Hanoi from October 28-30.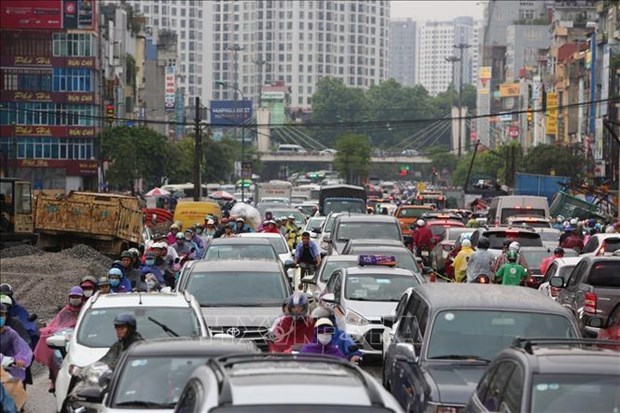 The forum is hosted by the Ministry of Transport, in collaboration with the Ministryof Natural Resources and Environment, the Ministry of Construction, the Hanoi People'sCommittee, Japan's Ministry of the Environment, and the UN Centre for RegionalDevelopment.
According to the Ministry of Transport, the event draws 335 delegates,including 213 foreigners from 25 Asian nations.
There will be 15 main events and a fact-finding tour of smart city in thenortheastern province of Quang Ninh on October 31.  
Themed"Achieving Smart and Resilient City through Low Carbon and IntelligentTransport System", the forum will represent the role and responsibility ofVietnam as a UN member in joint efforts to develop an environmentallysustainable transport system.
It offers an opportunity for Vietnam to affirm and improve its role andposition in transport cooperation, as well as raise public awareness of sustainabledevelopment goals related to environmental protection and promote the images ofthe land and people of Vietnam to international friends.
EST12 will focus discussions on policies on environmentally sustainabletransport, integration of land use and urban development plans; transportservices and sustainable transport infrastructure development; application ofadvanced technologies; and solutions on financial institutions and mechanismsand partnerships in building safe, smart, adaptive and sustainably developingcities and communities.
Delegates will talk ways for Asian nations to contribute to the UN 2030 Agendafor Sustainable Development, especially the Sustainable Development Goal 11.
In addition, there will a discussion between the Government, private sector anddonors on how to tap investment opportunities for sustainable transportdevelopment; and a review of implementation of programmes, initiatives,proposals and achievements of nations, and practical lessons in the BangkokDeclaration (2010-2020).
Participants will debate a strategy to continue realizing the Bangkok 2020Declaration by 2030, together with changing the urban transport appearance inAsia in line with the UN 2030 Agenda for Sustainable Development.
Established by the UN in 2005, the forum is an important part of the EnvironmentallySustainable Transport (EST) initiative. The annual event aims to boost Asiancountries' awareness of environmental protection in transport sector, as wellas build safer, more beautiful and sustainable urban areas and communities viaeffective development policies, plans and programmes.
It has 25 member countries namely Afghanistan, Bangladesh, Bhutan, Brunei,Cambodia, China, Indonesia, India, Iran, Japan, the Republic of Korea, Laos,Malaysia, Maldives, Mongolia, Myanmar, Nepal, the Philippines, Pakistan,Singapore, Sri Lanka, Thailand, Timor-Leste, Russia and Vietnam./.VNA