Hanoi and HCM City record rising hand-foot-mouth cases
A rising number of children with the hand-foot-mouth disease have been recorded in Hanoi and Ho Chi Minh City.   
In Hanoi, since early July, the number of children who go to the National Children's Hospital has sharply increased. Many of them are in serious condition. Dr Do Thien Hai from the Centre for Tropical Diseases said 71 children have been admitted to the hospital.
One of the serious cases is a two-year-old child from Phuc Tho District. When he was admitted to the hospital, he was nauseous and had a seizure. Doctors said he had brain complications from having the hand-foot-mouth disease. Another case, a 13-year-old child has had hand-foot-mouth disease three times. He used to be treated at home but this time, his condition got much worse and he suffered from high fever for days.
According to Hai, they receive 15-20 children each day. Some children have clear symptoms but other children didn't have so their parents couldn't tell why they had a high fever. Many children have brain complications.
For the first 39 weeks in 2020, HCM City has recorded 6,358 cases. Of which 640 cases are recorded in the 39th week alone. The number of weekly cases rose in 19 out of 24 districts. The authorities of four districts had to raise warnings against hand-foot-mouth disease to parents.
Doctors advise both children and parents to wash hands and feet regularly. Parents should notice if their children have any rash and quickly bring them to the doctors. Hand-foot-mouth disease is often seen among children under 10 years old but there are also adult cases.
The first symptoms are usually hard to detect including having a fever, lack of appetite and sore throat. The rash only appears one or two days after having the fever. When the situation gets worse, there may be brain complications. Parents should bring the children to the hospital if their children have high fever for more than two days, are nauseous, cry constantly and muscle tremors.
Three killed in landslide at Rao Trang hydropower plant in Thua Thien Hue
At least three people have died whilst other workers remain missing following a landslide at the Rao Trang 3 hydropower plant area in the central province of Thua Thien Hue, with hundreds of soldiers and specialised vehicles being mobilised as efforts get underway to rescue victims.
The landslide occurred on the evening of October 12, causing 10 workers who were working on the Rao Trang 3 hydropower plant project in Phong Xuan commune, Phong Dien district to be buried by falling debris.
At present, additional rescue forces are in the process of being urgently dispatched to the scene by the People's Committee of Thua Thien-Hue province in order to search for victims who may be left trapped in the aftermath of the event.
Search and rescue work operations have encountered a number of difficulties due to the road leading to the scene of the incident remaining dangerous with a lack of telephone connections.
Prime Minister Nguyen Xuan Phuc has sent an urgent telegram aimed at directing relevant units to focus on searching for victims and to overcome the aftermath of the landslide. This should be done whilst ensuring the safety of hydropower dams, irrigation works, as well as the lives and assets of local residents in affected areas.
Severe flooding and landslides triggered by heavy rain in recent days throughout the central region have left at least 20 dead with a further 14 individuals missing.
NA issues development strategy for State Audit Office to 2030
The State Audit Office of Việt Nam, as an agency set up by the National Assembly, will operate independently and in accordance with the law, upholding the core values of Independence – Integrity – Professionalism – Prestige – Quality, contributing to the development of a stable, sustainable and transparent national finance sector in the period from 2021 to 2030.
This is stated in the resolution on the development strategy for the State Audit Office of Việt Nam (SAV) in the period from 2021 to 2030 issued recently by the National Assembly (NA)'s Standing Committee.
The development of the SAV should suit the real situation in the country while meeting requirements of the international integration process and matching international principles and practices in the field.
The resolution sets the overall targets of developing the SAV into an effective and important tool of the Party and State in inspecting and supervising the management and use of public finance and assets; enhancing accountability and transparency of agencies funded by the State budget, effectively serving the operation of the NA and Government in performing their functions, and supporting People's Councils and People's Committees of localities in performing management, supervision and decision-making work.
The SAV must enhance its capacity and efficiency in performing auditing activities through applying information technology, intensifying international co-operation, and ensuring transparency and professionalism, thus contributing to raising the State's capacity in management and governance of finance and public assets in service of socio-economic development in the period from 2021 to 2030.
Regarding specific targets, the resolution calls for the building and perfection of the legal system to concretise the Constitution and laws on State auditing; along with the building of a professional, effective and efficient apparatus of the SAV. The number of SAV staff members will be decided by the NA Standing Committee, but not more than 2,700 by 2030.
A goal set for the 2026-2030 period is to conduct regular annual audits of the budget balance at ministries, centrally-run agencies, provinces and centrally-run cities. Audits of operations, specialized audits, information technology audits, and audits of the environment will be promoted, towards accounting for 30 – 40 per cent of the total audits each year. Attention will be paid to detecting loopholes in mechanisms, policies and laws with a view to eradicating them.
The SAV will work to shift from conventional auditing procedures to digital auditing based on big data with the support of Artificial Intelligence in a proactive manner, and improve auditing capacity to meet the requirements of the Government's management administration work, and supervision work of the NA and People's Councils.
Regarding international cooperation, professional integration will be the key pillar, towards the goal of quickly narrowing the gap in professional capacity between the SAV and counterparts in the region and the world. Multilateral cooperation will be geared towards raising the SAV's position in the international community through joining in the implementation and drafting of common auditing standards and rules.
Meanwhile, bilateral co-operation will focus on the sharing of experience and technology to enhance the SAV's capacity. The SAV will organise a number of co-ordinated audits, send or receive auditors for training, and conduct cross-assessment with regional and global supreme audit agencies.
The SAV will work to complete its electronic working environment in the direction of integrating and sharing data, streamlining internal processes, building a database based on big-data technology and connected with the national financial and asset supervision system, so as to turn the SAV into a crucial tool in macro-economic planning and building development policies for the digital economy in Viet Nam.
The resolution assigns the Government to direct relevant ministries and sectors to coordinate with the SAV and agencies of the NA to implement the SAV's development strategy.
NA agencies are tasked with researching, instructing and coordinating with relevant agencies to perfect legal documents to ensure their consistency and uniformity, creating favourable conditions for the SAV to perform its functions and tasks in accordance with the Constitution.
Based on the strategy, the SAV must build a plan for implementation and regularly report to the NA Standing Committee on the outcomes of implementation and propose adjustments or supplements to the strategy, if necessary. 
Online training programmes with foreign universities circular issued
The Ministry of Education and Training has issued a new circular about online affiliate programmes with foreign universities for bachelor, doctorate and master degrees. 
The total online training time must not be over 30% of the programme's lecturing time. The training programmes of foreign universities must be verified and recognised by their respective country's educational authorities.
For bachelor degree, the programmes which are carried out at foreign universities and online programmes at Vietnamese universities must be the same faculty and major.
For master and doctorate degrees, online training time must not be from 20-30% of the total programme's training time. Both programmes at Vietnamese universities and foreign universities must be the same major.
According to the circular, the scale of the affiliate programmes will be decided on the criteria about equipment, library, laboratory, the lecturers and other employees involved in the programme. Such criteria must not be the same as the ones used to calculate the total enrollment quota of educational facilities.
The students will take tests to assess their learning results which can be searched for at least five years after graduation in case there is an inspection.
Students' information and training profiles will be saved permanently at both Vietnamese and overseas education facilities. 
The circular will take effect from November 20.
Next Media to sponsor final round of National U15 Championship
Next Media has been named as the main sponsor for the upcoming final round of the National U15 Football Championship which is scheduled to take place in the southern province of Binh Duong between October 17 and October 26. 

Upon addressing a ceremony held to announce the sponsorship on October 12 in Ho Chi Minh City, Le Hoai Anh, general secretary of the Vietnam Football Federation (VFF), said the tournament represents an important event in the schedule of Vietnamese youth football. Indeed, the competition provides the perfect environment in which young footballers can gain experience whilst showcasing their talents in order to break into the various Vietnamese youth squads.
In line with the schedule, all of the tournament's matches are due to be broadcast live through the channels On Sports, Next Sports, and BTV, whilst viewers will also be able to watch games through YouTube and the VFF's fan page.
A total of eight teams, including the PVF Football Academy, Viettel, Song Lam Nghe An, Da Nang, Binh Duong, Dong Nai, Ho Chi Minh City, and Quang Nam are set to compete in the competition, with teams being divided into two groups.
The tournament's initial stage will see the leading two teams from each group progress to the semi-final round.
The respective winners of the semi-finals will go through to the final round, while the two losing teams will compete in the third-place playoff.
Vietnam boosts win-win cooperation with China's Jiangsu province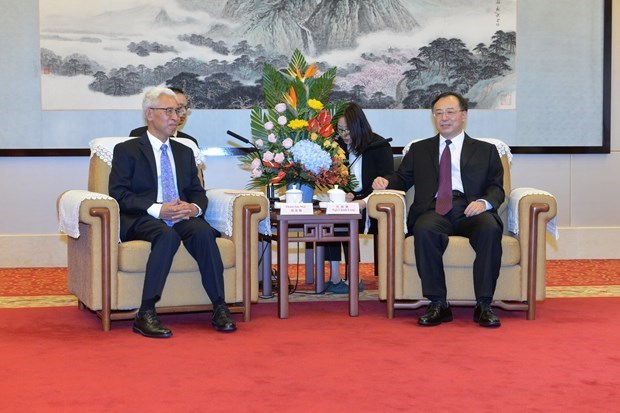 Vietnamese Ambassador to China Pham Sao Mai (L) meets with Governor of Jiangsu province Wu Zhenglong (Source: VNA)
Vietnamese Ambassador to China Pham Sao Mai met with Governor of Jiangsu province Wu Zhenglong on October 12 to discuss measures aimed at boosting the cooperation between Vietnamese localities and the Chinese province.
Mai spoke highly of the outcomes of the collaboration between Jiangsu and Vietnamese localities, especially in economics, trade, investment and people-to-people exchange.
Potential for bilateral cooperation remains huge, he noted, welcoming Jiangsu province to continue expanding cooperation mechanisms with Vietnamese localities to foster win-win collaboration.
He proposed the Jiangsu administration to continue facilitating Vietnamese citizens and businesses, boosting economic and trade cooperation, and importing Vietnam's advantageous products.
Vietnam welcomes Jiangsu's big enterprises to invest in the country in the fields that the province holds strength such as manufacturing, supporting industry, infrastructure and high-quality agriculture, Mai added.
Wu agreed with the Vietnamese diplomat's proposals, affirming that Jiangsu attaches importance to its relations with Vietnam and hopes to, together with Vietnamese localities, realise common perceptions of the two countries' senior leaders.
Two-way trade between Vietnam and Jiangsu surpassed 18 billion USD in 2019, and hit 14 billion USD in the first eight months of 2020, a year-on-year rise of 25.5 percent. As of late 2019, the Chinese province had run over 200 investment projects in Vietnam with a combined capital of nearly 1.5 billion USD./.
Danang aims to make city safer for women and children
Danang authorities have drafted a plan for 2020-2025 period so that the environment in 80% of wards, villages, schools and firms will be safe for women and children without violence and sexual harassment. 
According to the Danang Department of Police, in the first six months of 2020, they reported 22 cases involving domestic violence and 10 cases of child abuse. In July, the police discovered cases in which fake social accounts tricked women to collect their private photos and force them into sexual relationships.
Many child abuse cases are reported late so the police have faced many difficulties in collecting evidence. The accused escaped or there was a lack of evidence to convict.
Colonel Tran Muu, vice head of Danang Department of Police said public awareness about such issues, especially domestic violence, is still low. Parents lack knowledge about children's psychology and mental changes or they do not talk to their children about sensitive topics.
Men are still more likely to use violence and the economy's problems have increased pressures. It has also become easier for some people to cheat their victims online.
According to the draft plan to make Danang into a safe city for women and children in the 2020-2025 period with a view to 2035, the city want to see 80% of wards, villages, schools and firms safe for women and children in regards to violence and sexual harassment. 50% of public places will be safe for women and children. State employees who work on the project will be trained to carry out their works at all levels.
It is hoped that all women and children will be detected and protected in time.
Nguyen Thanh Quang, head of the Public Relations Department said this was a new and necessary policy for Danang as part of its efforts to create a liveable city. The aims are to ensure social security, food safety and hygiene, security and order, traffic safety in Danang.
Campaign to green up Hanoi with 4,000 trees
The Green Vietnam Biodiversity Conservation Centre (GreenViet) in coordination with the Labour Federation of Hanoi's Ung Hoa district and the Youth Union in Doi Binh commune has launched a campaign to plant 4,000 trees to improve the air conditions in the capital city.
The campaign, part of the One Million Trees project, aims to green up the district with trees, grass and flowers in State agencies, factories and other places, while enhancing the awareness of locals in protecting the ecosystem.
According to GreenViet Director Tran Hieu Vy, the One Million Trees in city was launched by the centre in 2019 with financial and technical funding from UpRace public racing tournament's organization board, the US Forest Services under US Agriculture Department and other donors.
Nearly 2,500 trees planted in village and commune roads are expected to protect Hanoi from smoke and air pollution.
The project continues to launch the campaign in Chuong My and Quoc Oai district to complete its plan to plant 4,000 trees in the capital city in this month.
In the future, GreenViet and its partners in Da Nang and the central-Central Highlands regions will conduct programmes to support activities to preserve biodiversity and enhance public awareness in the field, said Vy.
No new COVID-19 cases reported on October 13 morning
The number of COVID-19 cases in Vietnam remained at 1,110 on October 13 morning as no new infections were recorded between 6pm of October 12 and 6am of October 13, according to the national steering committee for COVID-19 prevention and control.
The country also entered the 40th day without community transmission of the coronavirus SARS-CoV-2 on October 13.
Among all cases, 691 are domestically infected, including 551 since July 25 when the latest outbreak began, and the rest are imported.
As many as 1,025 patients have recovered while the number of fatalities stands at 35.
Of those still under treatment, eight have tested negative for the virus once, two others twice, and 15 thrice. No patients are in critical condition at present, the treatment sub-committee noted.
There are 13,845 people having close contact with confirmed cases or coming from pandemic-hit areas under quarantine at present, including 143 in hospitals, 12,451 in other concentrated quarantine sites, and 1,251 at home or accommodation facilities.
Indonesia diversifies supply of COVID-19 vaccine
Indonesian Foreign Minister Retno Marsudi and State-owned Enterprises Minister Erick Thohir left for official visit to the UK and Sweden on October 12. The visit aims to secure commitments from other sources for a COVID-19 vaccine under a bilateral vaccine cooperation framework.
Earlier, the two went on a similar work trip to China and the United Arab Emirates, where they secured a supply of a potential COVID-19 vaccine in the ballpark of 300 million doses until the end of next year.
According to Coordinating Economic Minister Airlangga Hartanto the Indonesian government, through the Health Ministry, will procure vaccines from AstraZeneca in a contract for 100 million doses. The country will pay a 50 percent down payment by the end of this month, or about 250 million USD.
AstraZeneca is developing a COVID-19 vaccine with Oxford University and is among the front runners in the global vaccine race, which could provide early analyses of data from their various large trials over the next two months.
During its European trip, the Indonesian delegation will meet World Health Organisation Chief Tedros Adhanom Ghebreyesys, as well as representatives from the Vaccine Alliance and Coalition for Epidemic Preparedness Innovations.
The government is aiming to vaccinate 160 million people in the coming years. Health Minister Terawan Agus Putranto said his ministry was still working on the details of a vaccination program but asserted that priority would be given to health workers and security forces who were at the forefront of handling COVID-19./.
More efforts needed to tackle floods' impact, cope with Storm Nangka
Prime Minister Nguyen Xuan Phuc on October 12 issued a dispatch asking for every effort to tackle impact of floods and heavy rains in the central region and deal with Storm Nangka, the seventh to hit the East Sea, and tropical depression.
The dispatch said that severe flooding triggered by torrential rain has caused great losses in human and assets in the central region. The Prime Minister sent his profound sympathy to families of the fatalities and the missing.
Natural disasters are forecast to develop complicatedly in the following days, he stated, requiring the Central Steering Committee for Disaster Prevention and Control, the National Committee for Incident, Disaster Response and Search and Rescue, related ministries and sectors, and localities to continue dealing with the impact of floods and rains, and keeping a close watch on the seventh storm and tropical depression's developments to have timely directions.
The Prime Minister asked central localities from Quang Binh to Binh Dinh and the Central Highlands region to continue implementing his previous dispatch dated October 8 with focus on ensuring locals' lives by evacuating them out of dangerous areas.
The localities were urged to intensify the search for missing people, visit and encourage affected households, especially those reporting fatalities and missing members, and provide temporary accommodations, food, and necessities for them.
The Government leader asked the Health Ministry to ensure medical check-ups and treatment for locals and guide them on disease prevention.
The Finance Ministry was requested to coordinate with authorised offices to promptly meet urgent relief requirements related to national reserves from localities, especially food, tents and lifebuoys, while the Ministry of Labour, Invalids and Social Affairs was urged to report and propose food assistance for those affected.
The PM also asked the Ministry of Natural Resources and Environment to keep a close watch on development of the seventh storm and tropical depression to provide timely and accurate predictions.
The Ministries of National Defence and Public Security are required to prepare to support local people in dealing with heavy rains and floods and overcoming the consequences, while the Ministry of Transport was asked to ensure the safety of vessels.
Da Nang launches tourism campaign to mark post-COVID-19 period
A tourism campaign with the theme of "Da Nang Miss You" has been launched in an effort to attract more tourists as the central city fights to move past the novel coronavirus (COVID-19) period. 

The campaign will largely focus on the safety of visitors and is scheduled to last until the end of October.
As part of the event the tourism promotion centre for Da Nang city has released a video titled "Đừng quên du lịch an toàn vì sức khỏe", known as "Don't forget having safe tourism to protect people's health" in English.
Furthermore, a photo and video contest will be held on social media with the aim of reminding tourists of special memories about Da Nang, with contestants able to send their entries showcasing people's daily life, the local landscape, and food from the area.
The online contest is due to be held between October 6 and November 6, with a total of VND200 million in prize money available.
Moreover, a song titled "Da Nang Miss You" written by composer Le Cat Trong Ly will be released in mid-October. In addition, photos and videos showing tourism activities in the central city will be uploaded onto the website danangfantasticity.com.
Following this initial tourism campaign, a new tourism campaign with the theme of "Da Nang is back" will be launched from late 2020 and will run into early 2021, with the promotion set to feature an exciting array of activities after tourists return to Da Nang following efforts to combat the COVID-19 pandemic.
Yen Bai: Van Chan district strives to develop "non-smoke" industry
Van Chan district in the northern province of Yen Bai aims to boost tourism development and expand tourism linkages with other districts in the province. To this end, the district has provided all possible conditions for local enterprises and people to invest and develop tourism projects and attract more visitors.
Sa Van Huong, a local man, has years of experience in running a homestay business in Suoi Khoang residential area in Son Thinh town. Last year, he expanded his facility with a newly-built system of hot spring bathtubs and brand-new services of Black Thai ethnic minority people's hot herbal bath.

He now also offers tours for travellers to explore the daily life of the Thai ethnic minority people and their unique culture. His facility can serve about 120 – 150 guests per day.
Lying on the bank of beautiful Nhi Stream, the Suoi Khoang residential area is home to over 150 households, about 80 percent of whom are from the Black Thai ethnic minority group.
Endowed with natural hot springs and breath-taking landscapes, the area has what it takes to develop community-based and experience tourism. It has so far had six facilities providing community-based tours.
Many localities in Van Chan have strived to bring into full play their potential by developing tourism in tandem with agriculture, forestry and new-style rural building. For example, Suoi Giang commune develops agriculture-integrated tourism, Tu Le green tourism and Son Thinh tourism linked to the preservation of ancient Thai villages.
Thanks to such efforts, Van Chan is now renowned for its high-end Le Champ Tu Le Resort and Suoi Giang tea space along with nearly 30 homestay facilities.
In the first nine months of this year, Van Chan welcomed over 70,000 tourists and earned more than 21 billion VND from tourism revenue./
Thai Nguyen urged to become a modern industrial hub by 2030
Deputy Prime Minister and Foreign Minister Pham Binh Minh has asked the northern province of Thai Nguyen to tap into its strengths so that it can become a modern industrial centre of the northern midland and mountainous region.
The request was part of his remarks at the opening session of the provincial Party convention on October 12.
Over the past five years, Thai Nguyen has recorded significant results in the implementation of its socio-economic plan, with the economy growing by an annual average of 11% and manufacturing and services now accounting for 90% of its economic output.
Income per capita has reached VND90 million (over US$3,800) while poverty has dropped to 3.1%.
Deputy PM Minh said the province needs to clearly identify its strengths and work out breakthrough measures in order to bring about new changes to its socio-economic development.
He noted that Thai Nguyen should take advantage of its position in the northern key economic zone and the important roads nearby and pay attention to regional linkage in order to drive its economy to faster and more sustainable growth.
In his remarks, the Deputy PM also asked the province to align its economic growth with addressing social issues so as to improve the people's standards of living.
The Party congress of Thai Nguyen Province for the 2020-2025 tenure will close on October 13.
Source: VNA/VNN/VNS/VOV/SGT/NDO/Dtinews