HCM City to relocate water supply sources amid worsening water pollution
HCM City authorities plan to gradually relocate its water supply sources further upstream of the Sài Gòn and Đồng Nai rivers as part of its effort to ensure clean water for local use.
Experts have warned that the current main source of water has become seriously polluted due to the impact of socio-economic development along the Sài Gòn – Đồng Nai river system. 
The city currently draws some 94 per cent of the water for treatment at a spot downstream of where the Sài Gòn River meets the Đồng Nai River, at the Hòa Phú pumping station in its Củ Chi District, and at Hóa An in Đồng Nai Province.
Under the city's 2020-30 water supply plan, the city will relocate the Hòa Phú pumping station to a new location, about 20 km from the existing pumping station and 15 km upstream from the junction of Thị Tính and Sài Gòn rivers. 
According to the Department of Natural Resources and Environment, water in downstream Sài Gòn River is suffering from severe microbiological pollution and slight oil contamination.
Pollution indicators like ammonia, microorganisms and manganese have all increased, exceeding the permitted standards of Việt Nam and the World Health Organization.
Dr. Hồ Long Phi, director of the Centre for Water Management and Climate Change under the National University of HCM City, said that pollution in the Saigon River remains 'serious'. 
He said it was vital to develop hi-tech water treatment plants if the city continues to draw this water for local use. 
"The water upstream in the Sài Gòn and Đồng Nai rivers is in the safe zone, which is less impacted by climate change and sea level rise in the next 50-100 years," he said.
He said the city would need a huge investment in building new pumping stations with extremely large capacity of millions of cubic metres a day, as well as investment in long and large-scale pipelines. This would also require site clearance compensation costs. 
Dr Trần Đức Hà, director of the city Research Institute of Water Supply, Sewerage and Environment, said: "The core solution is to ensure water security management."
Dr. Phùng Đức Tùng, director of the Mekong Economic Research and Development Institute, said that water for daily life has become increasingly rare. "Authorities should work on a plan to build reservoirs to store water for treating."
Two projects, one on water supply in the 2020-2050 period, and the other on clean water supply and ending the exploitation of underground water in the 2020-2030 period, have recently been approved by the city People's Committee.
By 2025 the city plans to ensure that every resident has access to tap water and increases the average supply to 165 litres. The municipal water supply capacity would reach 3.6 million cu.m per day, using only 100,000 cu.m of groundwater by 2025.
Royal rite held at Imperial Citadel of Thăng Long to welcome Tết
The Thăng Long – Hà Nội Heritage Conservation Centre held the ancient Thăng Long royal rite to celebrate the Lunar New Year at the Imperial Citadel of Thăng Long in Hà Nội yesterday.
For the first time, The Thăng Long – Hà Nội Heritage Conservation Centre worked with several organisations to practise the ritual of Tiến Xuân ngưu (The ceremony of offering an earthen buffalo in spring) of the Lê Trung Hưng Dynasty (16th to 18th centuries), a unique rite in the old court, taking place on the first day of spring.
The ritual featured a clay buffalo being offered to Heaven to ask to expel the cold winter and welcome a warm spring to the nation. The coming Lunar Year is the Year of The Buffalo.
Also yesterday, the centre held the Ông Công, Ông Táo (Land Genie and Kitchen Gods) ritual as well as the ceremony to set up a Cây Nêu (New Year's tree). 
People across the nation held their own ceremonies to send off the Land Genie and the Kitchen Gods of the household on their yearly visit to Heaven.
The Kitchen Gods, the guardian spirits of the kitchen, are believed to comprise two male gods and one female, who bless the household and maintain the kitchen fire, making every member of the family happy and well-off.
The ritual involves releasing a carp into a river or lake and the fish are often bought on the side of streets in plastic bags. In the past, many people threw the fish still in the plastic bag into the water, causing pollution.
In recent years, awareness-raising efforts have encouraged more and more people to dispose of the plastic waste properly instead of throwing it into the water. 
Poor students and workers receive free tickets to travel home for Tết  
The HCM City Communist Youth Union and its partners have launched a programme to offer free bus and flight tickets for poor students in HCM City to travel home for the Tết (Lunar New Year) holiday, from January 31 to February 10.
The programme, called Mang Tết Về Nhà (Coming Home for Tết), is funded by the union, employers and organisations. 
More than 3,000 return tickets, including 1,152 flight tickets, have been provided to outstanding students from colleges and universities around the city. Many of these students are from central provinces that were seriously affected by flooding and storms last year. 
Several thousand gifts and 4,000 bánh chưng (square glutinous rice cake), a Vietnamese cake cooked with glutinous rice, mung bean and pork used during Tết, have also been offered.  
Trần Thị Kim Oanh and Lý Thành Tâm from Hà Tĩnh Province, who study at HCM City National University in Thủ Đức District, were happy to receive bus tickets and New Year's greetings from the programme's organisers. They both began their trip home yesterday.  
"I did not return home for Tết last year, so I'm very happy to participate in the programme Mang Tết Về Nhà this year," said Oanh, a fourth-year student in trade & marketing.
"Today, my peers and I go back to our hometown to celebrate Tết with our family and nothing is happier. I hope there will be more and more bus trips like this every year for poor students and workers to return home." 
Oanh and other students have been asked to wear face masks, wash hands with sanitiser and keep a safe distance during their trips. 
Under the programme, the first two flights and 15 buses transported 500 students, starting last Sunday. 
Labour unions at industrial parks and export processing zones in the city have also presented nearly 7,000 airline tickets and train tickets to migrant workers this Tết. More than 13,000 gifts worth VNĐ500,000 each have also been provided to poor labourers.  
Nguyễn Hồ Hải, Deputy Secretary of the city's Party Committee, has sent New Year's greetings to workers and their families and wished them a happy Tết.
Hải said that he hoped the workers would return to the city after Tết and continue to work and contribute to the city's development.
Tao Dan Spring Flower Festival 2021 opened
Spring Flower Festival 2021 was officially opened at Tao Dan Park in District 1, Ho Chi Minh City in the afternoon of February 6.  
The 11-day event displays ornamental fish and flowers, bonsai plants, more than 2,500 flower-related exhibits of domestic and foreign artisans, 40 specialties and souvenir booths. 
Besides, the festival also comprises dragon dances, circus and magic performances, folk games, demonstrations of calligraphy. 
On the occasion of the 45th anniversary of Ho Chi Minh City named after President Ho Chi Minh (1976-2021), the main road connecting the park's entrance on Truong Dinh Street and King Hung Memorial Temple is decorated with flowers simulating the Truong Son mountain range.
Ho Chi Minh City Green Park Co., Ltd. also gave 1,000 free tickets to the Ho Chi Minh City Federation of Labour to give workers who can not return home for Tet holiday to enjoy the spring flower festival. 
The festival will close on February 17 (the sixth day of the lunar year).
Ethnology museum promotes traditional Tet's values
The Vietnam Museum of Ethnology in Hanoi organised a programme on February 4 (the 23rd day of the last month of the lunar year) themed "Vietnamese Lunar New Year (Tet) - a sacred space", with the participation of researchers and folk artists. 
Every year when spring arrives, the Vietnam Museum of Ethnology organises many activities with bold national identity, rich in cultural values to welcome new year.
The programme features the participation of folk researchers and artisans with a variety of contents such as: Sharing the meaning of Lunar New Year's Day, featuring the installation of 'cay neu' (a tall bamboo tree with decorations used to ward off evil spirits), introducing the meaning of a traditional tray altar on Tet holidays and the "Ong Cong - Ong Tao" (Land Genie and Kitchen Gods) ritual; writing calligraphy and printing Dong Ho paintings; and wrapping banh chung (square glutinous rice cake).
Coming to the programme, visitors also have the opportunity toenjoy the performance of water puppetry and play folk games of some ethnic groups, such as: fighting buffalo, catching trach in jars, tug of war, walking on stilts, and sack racing.
In recent years, the Vietnam Museum of Ethnology's activities have always attracted large numbers of not only tourists but also families living in Hanoi, increasing the deep understanding of the rituals and traditional cultural beauty of the Vietnamese people. The programme also contributes to preserving the Vietnam's traditional values.
Through activities and programs to help tourists, especially children to understand more about the Vietnamese Tet's rituals, especially the fine traditional cultural features of the national New Year holidays that should be preserved.
Minister officially orders classes to go online
Minister of Education and Training Phung Xuan Nha has asked local schools to start online classes amid the spreading of the Covid-19 pandemic. 
The ministry is working with the Education Union of Vietnam to visit and support students, teachers and parents who are being quarantined for Covid-19 prevention. As of February 4, 53 localities announced that they had allowed students to stay home.
According to the minister, statistics from the previous stay home order show that 20% of the children in remote and rural areas still couldn't access online classes. Nha directed and asked the education sector to continue to expand and improve online education.
35,037 schools, or 83.6% of schools in Vietnam, have installed mobile apps to fill medical declarations online as well as to better implement preventive measures.
"We have experience this time, so we must do better," he said. "Responsible agencies must quickly complete the regulations about managing online classes for education facilities. We'll ask telecommunication firms to help with infrastructure and services for online classes."
He went on to say that an online library of online courses would be built and shared publicly.
"We must be pro-active and calm and have plans for specific scenarios to ensure the health of both students and teachers as well as education progress," he said.
On January 30, the Ministry of Education and Training sent an official document to departments of education across the country, asking them to prepare to move classes online in case students are asked to stay home.
Three more hotels in HCM City provide paid quarantine service
Three more hotels in HCM City have been allowed to offer paid quarantine services for Covid-19 prevention.
The figure has increased the total number of municipal hotels used as paid quarantine areas to 32 to date. These hotels have around 2,500 rooms in total.
The HCM City Department of Tourism has considered permitting 29 other hotels to offer paid quarantine services in case of a wider Covid-19 outbreak.   
Since the Covid-19 outbreak in Hai Duong and Quang Ninh provinces, the HCM City tourism sector has tightened control over Covid-19 prevention, said Nguyen Thi Anh Hoa, Director of the city's Department of Tourisms.
Hoa added that the department has prepared scenarios in case of Covid-19 resurgence in the city.
According to the HCM City's Covid-19 prevention and control steering board, the quarantine fees range between VND1.35-6 million per day, depending on their star ranking.
All paid quarantine hotels have to conform to the city's Covid-19 prevention and control steering board as well as local authorities' instructions.
Hotels also need to provide training courses for all of their staff to serve people during the quarantine time to ensure safety for Covid-19 prevention.
It is compulsory for hotels to co-operate with local health agencies to update people's health condition during the quarantine period.
Hotels have to inform local authorities of quarantine violations.
Cải lương guru offers Tết gifts to poor artists
Poor artists and their children living in HCM City will receive Tết (Lunar New Year) holiday gifts this weekend thanks to a charity programme launched by People's Artist Kim Cương, a guru of cải lương (reformed opera). 
Cương and dozens of veteran and young theatre performers raise VNĐ1.5 billion (US$65,000) funds for her art programme called Nghệ Sĩ Tri Âm (Traditional Performers Together).
More than 150 actors, including elderly and backstage workers, will receive Tết gifts worth VNĐ6 milllion ($240) each. 
Forty children from artists' families with good study results will receive scholarships worth VNĐ3 million ($120) each. 
Many food and clothes will also be offered. 
"Our artists performed for free in the show Nghệ Sĩ Tri Âm in December to encourage organisations and individuals to contribute to charity," said 83-year-old Cương, a member of the HCM City Association in Support of Disabled People and Orphan Children. 
"We hope poor artists, who have devoted their life to Vietnamese art, will have a happy Tết." 
Last year, Cương's annual charity show Nghệ Sĩ Tri Âm featured 120 theatre performers, including cải lương stars Út Bạch Lan and Kim Tiểu Long. The event received clothes, food, and VNĐ1 billion (US$45,000) in cash.
Born in 1937 to a traditional family in Sài Gòn (now HCM City), Cương began her love for cải lương through her parents, and the late talented performers Nguyễn Phước Cương and Bảy Nam, owners of Đại Phước Cương Troupe.  
She started her career when she was 17, after training with her mother, Nam, and actresses Phùng Há and Năm Phỉ, who are recognised as some of the most talented cải lương performers in the country. 
She played leading roles in famous plays, such as Giai Nhân Và Ác Quỷ (The Beauty and Beast) and Phụng Nghi Đình (Tragic Love Story). 
In the 1960s, Cương became involved in drama, a modern imported genre of theatre, working to combine cải lương and drama. 
She later opened Kim Cương Drama Troupe, the first and leading drama troupe in the south, managing a staff of more than 70 actors. 
Cương worked as a scriptwriter and became a phenomenon in the industry in the 1960s and 1970s. 
She wrote 50 plays during her career, most highlighting southern women and their characters. Her works have been staged many times by leading drama troupes across the country.  
She had also performed in more than 30 films. 
Baby girl saved from most severe type of immunodeficiency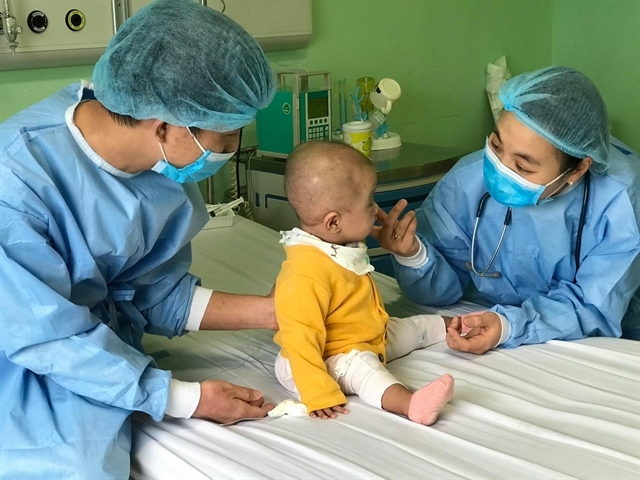 The child patient spent a whole year in hospitals to fight her serious illness of innate combined immunodeficiency and other diseases. — Photo from the Ministry of Health
It's always a bold decision to conduct a bone marrow transplant to save a baby who suffers from combined innate immunodeficiency and many other diseases.
The success rate of the stem cell transplant is just 10-20 per cent, but without the transplant, the baby would die before they turn a year old, said Associate Professor and Dr Trần Minh Điển, deputy director of the National Children's Hospital.
According to health experts, immunodeficiency is a genetic defect that makes the child's body unable to fight off pathogens such as viruses and bacteria. Therefore, children often get serious, persistent or recurrent infections. Depending on the type of immunodeficiency type, patients will develop different infections.
Thiên Ngọc, a baby girl born in late 2019 in the southern province of Đồng Nai was diagnosed with combined innate immunodeficiency when she was around three months old.
Doctors at HCM City-based Children's Hospital No.2 came to that inclusion after treating her for repeated diarrhoea, sore throat and pneumonia.
At times, when the child recovered and was set to be discharged, she suffered a fever again, said Trần Quỳnh Hương, head of the Respiratory Department at the hospital – who examined and treated the baby.
In February 2020, Hương for the first time contacted doctor Nguyễn Ngọc Quỳnh Lê from the Department of Immunology-Allergy-Arthritis at Hà Nội-based National Children's Hospital to discuss the case.
For the following three months, they called each other regularly to talk about the child's conditions, discussing possible treatment and tests as well as seeking a healthcare unit that could offer a stem cell transplant for the baby.
At that time, a bone marrow transplant was identified as the only way to save the baby. With the advanced technique, stem cells from a healthy donor that are genetically suitable to the recipient would be taken and replace the dysfunctional stem cells.
Bone marrow transplant (hematopoietic stem cell transplant, or HPSCT) involves the administration of healthy hematopoietic stem cells in patients with dysfunctional or depleted bone marrow. This helps to augment bone marrow function and allows, depending on the disease being treated, to either destroy tumour cells with malignancy or to generate functional cells that can replace the dysfunctional ones in cases like immune deficiency syndromes, hemoglobinopathies, and other diseases.
"It was a challenge for both doctors and the patient's family as in Việt Nam, only the National Children's Hospital has sufficient equipment and experience to conduct the transplant," Hương said.
Transferring a patient from HCM City to Hà Nội during the pandemic was not easy, while the medical cost would be far out of reach for the patient's family.
"Seeing Lê's enthusiasm and the chance to save the baby, we had the motivation to work with relevant parties to speed up the patient transfer and transplant," doctor Hương said.
In late May 2020, the baby's health condition worsened and doctors from the two hospitals – one in the south and the other in the north – had an online meeting.
Deputy director of National Children's Hospital Điển said they were bold to receive the child with such serious health conditions.
"The success rate is only ten to 20 per cent while few such successful transplants were recorded in the world," he said.
Doctor Hương from HCM City's Children's Hospital said that doctors not only completed insurance procedures for the baby but also called on donations for transferring her to Hà Nội and covering costs that health insurance did not cover. The patient's family at that time could afford only VNĐ700 million (over US$30,000) while the medical cost for such a transplant could reach billions of Vietnamese đồng.
On May 29, 2020, Hương and a nurse escorted the child to Hà Nội on a Vietjet flight thanks to the airline operator ensuring proper medical and security conditions amid the ongoing COVID-19 pandemic in the country.
Hương said that when arriving at the National Children's Hospital, the child was suffering from severe pneumonia that required supplemental oxygen, tuberculosis complications, diarrhoea caused by Rotavirus, rectal prolapse due to prolonged diarrhoea, and severe malnutrition.
It took two months to improve the baby's health so that she would be healthy enough to undergo the first stem cell transplant.
Nguyễn Thanh Bình, vice head of the Blood Testing Department at the National Children's Hospital said that the hospital took bone marrow from the baby's mother for her transplant after finding no suitable bone marrow donor.
"Previously, the hospital succeeded in conducting such transplants," Bình said, adding that the technique was complicated and costly in which only stem cells and good cells were kept while bad cells which cause harmful reactions would be removed.
As the baby was in poor health, using chemicals to kill marrow could put the baby at risk of many complications, even death, doctor Chi said.
After discussing with experts from Hong Kong and reviewing foreign medical records, doctors decided to conduct two bone marrow transplants for the baby.
The first transplant using no chemicals aimed to revive part of the baby's immune system to help her fight against bacterial infections. The second transplant would use chemicals under treatment protocol to kill all the baby's faulty hematopoietic stem cells and transfer the mother's healthy stem cells to the baby.
The first transplant was conducted on July 22, 2020. After that, the baby got a high fever and diarrhoea for four straight weeks, Chi said, adding that they were thinking the transplant had failed.
However, continuing efforts were made to save the baby. She gradually recovered from the fifth week, with no fever and diarrhoea.
The second transplant was conducted on November 23, 2020 – three months after the first one. 
Undergoing intensive care for a month after the second stem cell transplant, the child patient did not have any complications. Results showed that the mother's stem cells are growing well inside the baby.
"All hardships, difficulties and stress we faced when treating her seemingly disappeared, the baby is healthy, has gained weight and is very active," doctor Lê said.
Spring seemed to come early to the doctors and the baby's family since the moment she was announced as not having the life-threatening illness – combined immunodeficiency – anymore.
"Facemask bus" comes into operation in HCMC
Residents in Ho Chi Minh City were surprised seeing a bus equipped with an automatic device deliver free facemasks to passengers at HCMC Youth Cultural House in District 1 on February 6. 
This is Dony Mask antibacterial fabric facemask recognized in accordance with Germany's REACH standard. 
Passengers lined up, kept the safe distance of two meters from each other to receive two facemasks each and washed their hands with hand sanitizers.
From now until Tet Holiday onward, the bus is expected to deliver facemasks at Mien Dong (Eastern) and Mien Tay (Western) coach stations, Tan Binh Cultural Center, public places and industrial parks.
The bus is expected to provide 100,000 antibacterial fabric facemasks during Tet holiday. 
HCMC to continue working on two key transport projects in Tet holiday
Ho Chi Minh City will continue working on the tunnel project at Nguyen Van Linh-Nguyen Huu Tho intersection and Nguyen Huu Canh Street upgrading project during Tet holiday, according to Director of the HCMC Management Board of Investment and Construction of Traffic Projects Mr. Luong Minh Phuc. 
The number of vehicles travelling through the intersection is too high as the tunnel project plays an important role of linking to seaports and Hiep Phuoc Port Industrial Park. 
Ho Chi Minh City decided to promptly construct the main items of the tunnel project on Tet holidays when travel and transport demand will reduce. It is expected that the tunnel project heading to Tan Thuan Export Processing Zone in Binh Chanh District will be put into exploitation by the end of the year.
After that, contractors will try their best constructing the vice-versa tunnel project which would be expected to put the whole project into operation in 2022.
Meanwhile, Nguyen Huu Canh Street upgrading project has reached around 80 percent of the work volume and it is expected to be put into operation on April 30, 2021.
Hai Phong controls all people coming into, out of city from 12 p.m. on January 6
In an effort to reduce the risk of Covid-19 exposure and to help prevent the spread of the virus, the northern coastal city of Hai Phong has controlled all people come into and out of the city starting from 12 p.m. on January 6, said the Chairman of the municipal People's Committee. 
Arrivals must present their official confirmation from commune-level People's Committees, schedules and accommodations. Local residents who leave Hai Phong City for other localities must also display their certifications on travelling issued by the commune-level People's Committees.
Transport operators and businesses have to arrange places for drivers of trans-provincial coaches and trucks to stay.
People returning from the northern provinces of Hai Duong, Quang Ninh and other affected areas will be sent to quarantine areas.
The municipal government allows travelers from localities not affected by the pandemic with the commune-level certifications of arrivals and departures granted by the local authorities.
Teams for Covid-19 Prevention and Control in communes must track the people's travelling history and monitor the latest arrivals. The municipal Police Department has asked the Waterway Traffic Police to constantly inspect river routes sharing borders with Hai Duong, Quang Ninh and Thai Binh provinces.
Hai Phong has established eight Covid-19 monitoring and control checkpoints in districts of Thuy Nguyen, Hai An, Duong Kinh, An Lao, An Duong, Tu Ky and Vinh Bao.
Bac Giang sees fruitful results of personnel rotation
The rotation of senior State officials to key leadership positions at grassroots levels has proven effective in the northern province of Bắc Giang for years.
The activeness, creativeness and high responsibility of such officials had made a difference in the localities where they arrived.
Dương Văn Phong, vice chairman of Tiến Dũng Commune People's Committee in the province's Yên Dũng District, was rotated to the position in 2020.
Before that, he worked in the district People's Committee including as the vice secretary of the district's Youth Union Party Committee and vice head of the district's agriculture department.
A graduate of Thái Nguyên Agriculture and Forestry University, Phong has a passion for farming.
Leading a commune where locals heavily rely on farming, he had the opportunity to make use of what he studied and what he was good at, Phong said.
The young vice-chairman introduced safe vegetable models and modern farming technologies to local farmers including Israeli automatic watering and fertilising systems.
As a result, clean vegetables from local co-operatives were accepted by major distributors like BigC, Vinmart and Saigon Co.op supermarkets.
Phong said many local co-operatives were increasing investment and expanding production to better meet market demand.
Another young official of Yên Dũng District, Nguyễn Mạnh Chiến, was rotated to Trí Yên Commune and has worked as chairman of the commune People's Committee and secretary of the commune's Party Committee since 2018.
Before the rotation, Chiến was the chairman of the Yên Dũng District's Farmer's Association and a top leader of the district's Youth Union.
With experience from frequently working with farmers and young people, Chiến made decisive moves in Trí Yên Commune, which focused on improving local transport infrastructure and implementing high-tech agriculture.
In October last year, Trí Yên Commune was recognised a new rural area model, with all local roads being improved, expanded and concretised.
Agriculture production models in the commune are seen as good examples for other localities to follow.
Vice head of Personnel Organisation Department of Yên Dũng District Party Committee Trần Văn Quỳnh said that in the last five years, the district moved six district senior officials to the grassroots level, of them, two are a commune People's Committee chairman cum secretary of commune Party Committee, two others hold the position of People's Committee chairman while two work as the secretary of commune Party Committees and vice chairman of commune People's Committee.
"The personnel rotation policy pushes every official to make efforts to show their ability and impress both leaders and people," Quỳnh said.
Vice secretary of Yên Dũng District Party Committee Tạ Quang Khải said he highly appreciated the performance of rotated young officials as they had experience and responsibility.
"In any position, assigned any tasks, they have fulfilled excellently and more importantly, they have gained the trust of local people," Khải said.
Before any rotation, district leaders must know about difficulties, desires and expectations of local people, then select suitable personnel for the localities, Khải said.  
Enterprise and social responsibility efforts in the context of COVID-19
In 2020, facing COVID-19, the Vietnamese economy has been suffering from severe aftershocks. However, in that context, we also witnessed resilience in maintaining jobs for employees, vigorous recovery and restructuring efforts of enterprises to overcome the crisis and work to repel the pandemic. Especially, many businesses showed their social responsibility and solidarity.
The same goes for Samsung Vietnam. An unprecedented challenge from the COVID-19 pandemic highlights the importance of the values of co-prosperity and development. Continuing to implement social responsibility activities is one of the ways Samsung reveals these values. 
Samsung Vietnam donated VNĐ10 billion, including cash and protective clothing, to the Vietnamese Government for the prevention and control of the COVID-19 pandemic. During this period, more than VNĐ1.6 billion donated by employees' through CSR kiosks and factory grassroots labor union contributions was also presented for COVID-19 prevention and control in Việt Nam.
To assist the Government in accelerating the deployment of technology applications in preventing the pandemic, Samsung Vietnam also presented the group's most advanced smartphone products to serve testing and developing the application for COVID-19 in Việt Nam. At the same time, Samsung Vietnam also provided large-screen displays and televisions to assist authorities in monitoring the pandemic.
Strive to maintain community activities
Besides supporting Việt Nam's pandemic prevention, various community activities of Samsung have continued to grow despite the pandemic.
Most recently, factories and employees of Samsung Vietnam donated VNĐ5 billion to support fellow Vietnamese in the central provinces affected by floods. The donation was given through the Fatherland Front Committees of Bắc Ninh, Thái Nguyên and partly transferred directly to people in flooded areas. 
Previously, to share the heavy losses caused by flooding in the Central region, Samsung Vietnam factories simultaneously launched a fundraising programme. The total amount came from the employees' donations along with contributions from the trade union fund and the factory's social responsibility fund.
In addition, Samsung Vina Electronics, the sales and marketing units of Samsung in Việt Nam, have carried out the program "Joining hands with people in the Central region to overcome the effects of floods and storms" in six affected provinces. The most affected areas are Hà Tĩnh, Quảng Bình, Quảng Trị, Thừa Thiên Huế, Quảng Nam and Quảng Ngãi. Accordingly, Samsung will repair and maintain all Electronics-Refrigeration products for free, support 50 per cent of the price to replace new genuine components; do laundry for free, to ensure the hygiene and well-being of residents in the floodplain, and donate Samsung washing machines to the locality after the programme ends.
"Blood for Vietnamese 2020" is also a programme that Samsung continued to implement in 2020 in the conditions of ensuring safety against the pandemic. Since 2010, Samsung has implemented the "Blood for Vietnamese 2020" programme, so far it has contributed more than 87,000 blood units for emergency and disease treatment and is expected to contribute an additional 10,000 units of blood this year.
As part of a series of activities that light up the aspirations to reach the young generation's science dreams, Samsung has built Hope School for the poor in Bắc Ninh and Thái Nguyên provinces. In 2020, Hope School in Bắc Giang has officially started construction in Đinh Hương Village, Thắng Town, Hiệp Hòa District, Bắc Giang Province. At the same time, Samsung also signed a Memorandum of Understanding for the implementation of the Samsung Hope School project in Mai Pha Commune, Lạng Sơn City. It is the fourth school in the Samsung Hope School project.
In addition, amid the pandemic, many meaningful activities, and humane programmes of the Samsung Vietnam community have brought happiness, hope and motivation to many people such as: donating wheelchairs, awarding scholarships, along with many other programmes.
Families in Nghệ An still waiting for houses after three years
Tết (Lunar New Year) is approaching and more than 60 households in Lượng Minh Commune of the central province of Nghệ An will be forced to spend the holiday in makeshift huts because two projects to resettle the people in proper houses lack capital.
Along road 543B passing Lương Minh Commune of Tương Dương District, dozens of makeshift tents made of bamboo are home to the local people of ethnic minority hamlets Minh Phương, Lả and Xốp Mạt.
This is the third year hundreds of people will spend Tết in the temporary houses, still awaiting resettlement.
Lô Văn Thành, a resident of Minh Phương Hamlet, said: "In August 2018, the Bản Vẽ Hydro-Power Plant discharged water with a record flow which washed away dozens of houses along the Nậm Nơn River in Lương Minh Commune."
"Fortunately, 34 households in the villages were promptly evacuated," he said.
However, since then Thành's family and other households have lived in makeshift tents waiting to move into resettlement areas in Lả Hamlet.
"My whole family of 10 people has lived in a temporary house about 30sq.m wide, built from wooden panels, roofed with leaves for the past three years," Thành said.
"When the rain was heavy, the whole family could not sleep because of the water leaking and strong wind," he said.
"The hard work of adults was clear, but the poor children. This is the third Tết we don't have a real home to celebrate like other people," he said.
Not far away from Thành's family, the situation of Lô Thị Lan's family in Minh Phương Hamlet is not much better.
During the floods in August 2018, the homes of Lan's family and 30 other households in the hamlet were swept away.
Many families had to build shelters on the mountainside or road 543B.
Some other families still have to live in their relatives' homes to wait for moving to the resettlement area.
Lan said: "When setting up temporary camps on the side of the road, the local government said it would take about six months to move to the resettlement area."
"But we have lived here for three years. My family had to fix the 'house' three times because whenever it was raining, water flowed into the tent, causing furniture in the house to be damaged," Lan said.
"The biggest desire of the people is that the authorities soon complete the resettlement sites for people to move to new places," she said.
According to Vi Văn Phúc, chairman of Lượng Minh Commune, there were 63 households of the commune in Lả and Xốp Mai hamlets who were supposed to move to the two resettlement areas.
But the two resettlement projects had been paused for years because of a lack of capital, Phúc said.
The families were living in bad conditions without electricity and clean water, he said.
Meanwhile, Nguyễn Trung Sơn, vice director of the project management board of Tương Dương District, said in 2018, the People's Committee of Nghệ An Province issued a decision to set up an investment project to construct a resettlement area in Lả Hamlet to evacuate 34 households out of landslide-prone areas.
In August 2020, 12 households who were severely affected by the flood in 2018 were added to the list of the project's beneficiaries, bringing the total number of households to be resettled to 46, Sơn said.
The project was estimated to cost VNĐ14.8 billion (US$641,000).
After two years of implementation, the project had completed ground clearance with total capital disbursement of VNĐ7.4 billion (US$320,500) from the province.
Currently, the remaining capital for implementing other items had not been allocated for the contractor to complete the project, Sơn said.
The other project is the construction of resettlement area for 17 households in Minh Phương Hamlet and Xốp Mạt Hamlet which regularly flood.
The project planned to be invested with VNĐ7.3 billion (US$320,000) but so far only a third of the total capital from the Tương Dương District fund has been allocated.
To implement this project, the contractor had to spend its money to carry out 90 per cent of the project volume.
However, when the project was about to be completed, natural disasters caused damage to the construction so work was to paused to fix the problem.
There were many difficulties in the process of implementing these two projects and they had their design adjusted twice because the number of reallocated households increased, said Sơn.
In addition, the appraisal process for the adjustment took a long time which led to the construction delay, he said.
In October last year, many communes of the district were seriously affected by three big storms and heavy rains.
At present, the two projects reportedly are short of over VNĐ12 billion (US$520,000) to finish the electric network and provide clean water and communal houses, Sơn said.
The construction of two resettlement projects in Lương Minh Commune was extremely urgent, so all concerned authorities should pay attention to finding capital to complete the projects to soon stabilise the lives of the 63 families, Sơn said.
Deputy Minister of Health calls for pandemic prevention alongside economic development
All close contacts with COVID-19 patients, designated F1, must be put in centralised quarantine, while people designated F2 should be quarantined at home under Ministry of Health (MoH) regulations, a senior health official has said.
Deputy Minister of Health Đỗ Xuân Tuyên said on Friday after much speculation about quarantine for COVID-19 prevention over the upcoming Tết (Lunar New Year) holiday.
For those who are F3 and are allowed to home quarantine, they are required to declare and monitor their health, and quarantine at home so that if any problems arise, they must immediately handle them, he said.
"In areas which are not affected with the pandemic and are not locked down, activities should still be carried out normally following the Prime Minister's direction to ensure both economic development and pandemic prevention," said Tuyên.
He said, in recent times, some localities have not fully envisioned an outbreak and have not fully understood when a lockdown would be placed.
"For a ward with many streets, if a COVID-19 case appears in a street, it would be locked down whereas streets with no cases are free," he said.
The MoH has assigned the General Department of Preventive Medicine to urgently compile guidance documents about when and how lockdowns will be imposed for nationwide implementation.
"We are not subjective and are ready to have a response whenever an outbreak occurs. Reality has proved that when a new COVID-19 case occurs, like in Quảng Ninh and Hải Dương provinces, we all have a very quick response," said Tuyên.
Due to the work of the National Steering Committee, localities are doing relatively well and the two outbreaks of Hải Dương and Quảng Ninh are still under very strict control.
When a new infection is detected, the patient must be quarantined, he said.
"Only then can we manage to prevent the pandemic from spreading to the community," he said.
In areas where there are no cases and activities are normal, people still have to fully comply with anti-pandemic measures under the direction of the MoH and the National Steering Committee, Tuyên added. 
Bà Rịa – Vũng Tàu tightens forest-fire prevention measures
The southeastern province of Bà Rịa – Vũng Tàu is taking urgent measures to prevent forest fires as the area enters the peak period of the dry season.
Agencies have to identify major forests at a high risk of fire and spread, and localities must be prepared to prevent and control fires.
The province has 33,600 ha of forests, accounting for nearly 17 per cent of the province's total land area.
Forest fire-prevention drills have been held at district and provincial levels, while firebreaks, reservoirs and canals that would help prevent forest fires were completed before January 20.
The province's Forest Protection Sub-department has inspected high-risk forests around the clock since last December.
The sub-department has temporarily stopped all activities that clean vegetation in forests during the peak dry season.
Trần Giang Nam, deputy head of the sub-department's Nature Conservation and Forest Management and Protection Division, said: "Forest owners have established plans for reservoirs, firebreaks and controlled forest burning to prevent and control fires."
The sub-department has also increased public awareness about forest fire prevention and control.
One forest fire, at the Trương Phi Mountain in Đất Đỏ District's Phước Hải Town, has occurred in the province in the dry season, destroying 1ha of bushes and grasses.
Đất Đỏ and the neighbouring district of Long Điền typically have forest fires every year.
Nguyễn Văn Lời, deputy head of the Long Điền – Đất Đỏ Forest Protection Bureau, said the two districts have mountainous terrains and no fences surround the forests, which allows people to enter forests to harvest honey and burn incense, causing forest fires. 
Xuyên Mộc District, which has the largest forest area in the province, is also a hotspot for forest fires in the dry season because of alternating residential and forested areas.
Phạm Hữu Phương, deputy head of the Xuyên Mộc Forest Protection Bureau, said the bureau would establish measures to prevent and control forest fires this dry season.
The district has completed the preparation of facilities and human forces for fire prevention and control, he said.
The district will pay more attention to prevent and control forest fires from now to after Tết (Lunar New Year), which falls on February 12, he said.
In the 2019 – 20 dry season, the province had eight forest fire cases, causing damage to 2.1ha of forest, down two cases against the 2018 – 19 dry season.
AstraZeneca vaccines prove safe, effective, will be delivered to Viet Nam by mid-year
The Ministry of Health has approved the use of COVID-19 vaccine AstraZeneca following the primary analysis of Phase III clinical trials from the UK, Brazil and South Africa, which confirmed that it is safe and effective at preventing COVID-19, with no severe cases and no hospitalisations, more than 22 days after the first dose, according to a press release from AstraZeneca Vietnam issued on February 4.
AstraZeneca Vietnam and the Vietnam Vaccine Joint Stock Company will work together to supply 30 million doses in the country, starting mid-year.
A representative from VNVC told the Sài Gòn Giải Phóng (Liberated Sài Gòn) that the company has completed negotiations on the deal with AstraZeneca – a global biopharmaceutical business from the UK.
Supply Director of VNVC Vũ Thị Thu Hà said her company has made the best preparations to receive the vaccines and give injections to residents.
The analysis result of the vaccine was published as a preprint in The Lancet.
Results demonstrated vaccine efficacy of 76 per cent after the first dose, with protection maintained to the second dose. With an inter-dose interval of 12 weeks or more, vaccine efficacy increased to 82 per cent.
The analysis also showed the potential for the vaccine to reduce asymptomatic transmission of the virus, based on weekly swabs obtained from volunteers in the UK trial. The data showed that PCR positive readings were reduced by 67 per cent after a single dose, and 50 per cent after the two dose regimen, supporting a substantial impact on transmission of the virus.
The primary analysis for efficacy was based on 17,177 participants with 332 symptomatic cases from the Phase III UK, Brazil and South Africa trials led by Oxford University and AstraZeneca, a further 201 cases than previously reported.
Mene Pangalos, executive vice president of biopharmaceuticals R&D at AstraZeneca, said: "This primary analysis reconfirms that our vaccine prevents severe disease and keeps people out of hospital. In addition, extending the dosing interval not only boosts the vaccine's efficacy, but also enables more people to be vaccinated upfront."
Professor Andrew Pollard, chief investigator of the Oxford Vaccine Trial, and co-author of the paper, said: "These new data provide an important verification of the interim data that has helped regulators such as the MHRA in the UK and elsewhere around the world to grant the vaccine emergency use authorisation. It also helps to support the policy recommendation made by the Joint Committee on Vaccination and Immunisation for a 12-week prime-boost interval, as they look for the optimal approach to roll out, and reassures us that people are protected 22 days after a single dose of the vaccine."
Data will continue to be analysed and shared with regulators around the world to support their ongoing rolling reviews for emergency supply or conditional approval during the health crisis.
AstraZeneca is also seeking Emergency Use Listing from the World Health Organization for an accelerated pathway to vaccine availability in low-income countries. 
Efforts made to promote sale of crops in virus-hit provinces
Efforts are being made to promote the sale of crops, fruits and meat of farmers in coronavirus-hit provinces, including the two hardest-hit Hai Duong and Quang Ninh, as the Tet (Lunar New Year) holiday nears.
According to the Ministry of Agriculture and Rural Development, the total winter crop area which had not been harvested was more than 7,830 ha, or 35 per cent of the northern province's total crop area. In Kinh Mon District, there was about 3,500 ha of onion, 350 ha of carrot in Nam Sach and 400 ha in Cam Giang, 200 ha of vegetables in Gia Loc, 200 ha in Tu Ky and 400 ha in Kim Thanh.
In Quang Ninh, the total unharvested crop area was more than 2,000 ha, mainly potato, corn and vegetables with a total yield of about 30,000 tonnes.
The ministry said that it was important to raise solutions to promote the sale of farm produce for farmers in locked-down areas.
The ministry said that prices of farm produce in Hai Duong had decreased by around 10-20 per cent since the outbreak of virus clusters late last month.
Nguyen Nhu Cuong, Director of the ministry's Department of Crop Production, the sale of carrot and potato was the most difficult at the moment because these two products had high output volume while domestic consumption accounted for just 10 per cent and the rest must be exported.
The capacity of cold storage in Hai Duong was limited, which would be a problem if the virus was not put under control before Tet, he said.
He added that the transportation of goods to/from locked-down areas was very difficult. Local markets were also tightening disease control measures.
Ha Noi, Hai Phong and Quang Ninh were the major markets for the consumption of Hai Duong's farm produce. However, these provinces were banning all vehicles and people from Hai Duong, which affected the consumption. Wholesalers from other provinces did not want to come to Hai Duong to collect farm produce with hesitation over the virus and worries that they must practice social distancing.
According to Hai Duong Province Department of Agriculture and Rural Development, around 128,000 tonnes of vegetables, meat and fish in the province were waiting for consumption.
In that context, it was important to promote consumption in the province, increase storage and implement processing for longer preservation, the ministry said.
It was a must to apply prevention measures following the guidance of the Ministry of Finance when transporting products out of the virus-hit areas, the agriculture ministry said.
At the same time, preparations must be made for the next cultivation season.
Recently, Quang Ninh Province Department of Industry and Trade helped connect for the sale and 17 million potatoes, worth VND153 million (US$6,600).
Six enterprises also bought more than 10,000 chickens for farmers in Chi Linh City.
Passenger bus fares hike as Tet nears
Passengers bus tickets have increased by up to 50% as travel demand has increased near Tet.
Because of Covid-19, the number of passengers at Giap Bat Bus Station on February 1 was more like a normal weekend than the seasonal rush expected before Tet. Some short-trip buses to Ninh Binh, Thai Binh and Nam Dinh only have five to seven passengers. Hoang, an employee of Thien Truong Company, said in previous years, they had to work full capacity and even used back-up buses.
Nguyen Anh Toan, director of Transerco, said they had started the transportation plan for Tet with 2,200 back-up buses at major bus stations like My Dinh, Giap Bat, My Dinh, and Gia Lam. The number of passengers is expected to increase by 130%-150%. However, they haven't had to use back-up buses yet.
Despite the slight increase in the number of passengers, fares have increased by 30%-50%. The fares for buses to Thanh Hoa Province increased from VND120,000-VND150,000 to VND180,000-VND200,000.
Nguyen Tat Thanh, director of Giap Bat Bus Station, confirmed that many transportation firms had applied for a price hike. During Tet, most buses only run with passengers one-way and have to return empty so they have raised prices to pay for extra costs.
Procedures for the price hikes were already completed with the departments of finances and departments of transport before the new Covid-19 outbreak.
Third Covid-19 field hospital to be handed over to Hai Duong
More than 200 workers and soldiers on February 6 completed renovating 5,000 square meters of floor area at the Sao Do University in the northern province of Hai Duong into a third Covid-19 field hospital, which is ready to be handed over for the province to treat coronavirus patients.
It took just a week to complete the renovation work. The three-story field hospital is located far away from residential areas. Its ground floor was equipped with testing and treatment facilities as well as is a place for receiving coronavirus patients. The remaining floors accommodate patient rooms and a number of functional units.
The hospital has 239 beds, which will be extended to 300 if necessary.
Early this month, the equipment used at a similar hospital at Da Nang city's Tien Son sports center was transported to the Sao Do University to set up the field hospital.
All of the engineers and workers involved in the construction of the field hospital had their health monitored regularly by the Hai Duong Province Center for Disease Control and Prevention during the construction.
Source: VNA/VNN/VNS/SGGP/VOV/NDO/Dtinews/SGT/VIR