Police launch traffic safety campaign ahead of holidays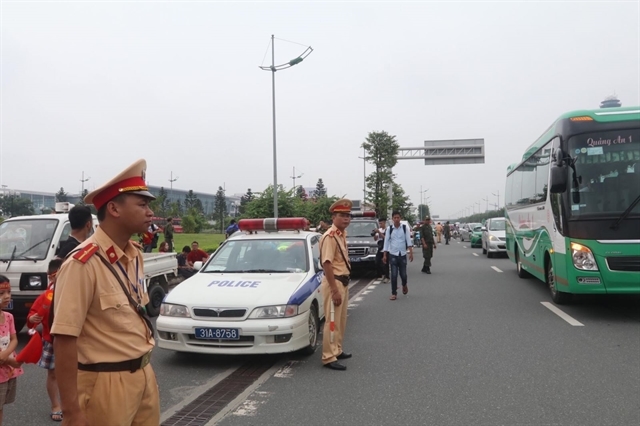 Traffic police force are on duty on a road in Hanoi
The Traffic Police Department under the Ministry of Public Security has launched a campaign to ensure safety and order for the upcoming holidays and the elections of deputies to the 15th National Assembly and People's Councils for the 2021-2026 tenure.
During the two-month operation starting from April 15 to June 14, police will strengthen patrols and strictly handle traffic violations on roads, railways and waterways.
Major General Lê Xuân Đức, deputy director of the department, said police forces, vehicles and professional technical equipment have been deployed to ensure public order and traffic safety during the Reunification Day and May Day holidays, the 131st anniversary of Uncle Hồ's birthday and the elections.
Inspection teams will also be set up to handle violations in key areas, for instance when buses stop, park, pick up and drop off passengers in unauthorised places.
Violations of traffic regulations, particularly those concerning speed, alcohol use, overloaded trucks and vehicles with expired registrations, will result in strict fines, Đức said.
On the railways, the traffic police will work with local authorities, police and the railway sector to inspect, control and handle violations as well as inspect the observance of regulations on railway traffic safety order.
The traffic police will also strengthen patrols and control of key waterway routes and areas, focusing on goods transportation, mineral resource exploitation activities, passenger transportation, ports, tourism activities, festivals and entertainment on inland waterways, as well as promptly handle activities causing insecurity and disorder.
They will arrange forces at key intersections during the holidays and election venues to handle traffic situations and prevent prolonged congestion, especially on routes connecting Hà Nội and HCM city, tourism sites and key transit points.
Over 8,700 violations handled on first day of traffic safety campaign
Traffic police nationwide detected and dealt with over 8,700 cases of traffic rule violation on April 15, the first day of a campaign launched to ensure traffic order and safety for the April 30 and May 1 holiday and the May 23 elections.
In handling the violations, police collected 9.9 billion VND (nearly 429,000 USD) in fines, detained 34 automobiles and 1,260 motorbikes, and revoked 915 driving licences.
Among the violations, relevant forces found 626 drivers exceeding the legal limit for "drunk driving" and five others using drugs, according to the Traffic Police Department under the Ministry of Public Security.
During the campaign from April 15 to June 14, police will intensify monitoring and patrol on roads, waterways and railways while striving to minimise traffic congestion and illegal motorbike racing.
Maj. Gen. Le Xuan Duc, deputy head of the Traffic Police Department, said at the launch on April 15 that the campaign aims to reduce the numbers of accident cases and related deaths and injured people, and especially, prevent extremely serious accident cases.
The traffic police will also accompany leaders of the Party, State, and National Election Council during the inspection of the election organisation, and protect the transportation of ballot boxes, he added./.
US Ambassador honoured with Friendship Order
Outgoing US Ambassador to Vietnam Daniel Kritenbrink has been honoured with the "Friendship Order" for his contributions to the development of the Vietnam-US comprehensive partnership.
At a ceremony for the ambassador in Hanoi on April 16, Deputy Minister of Foreign Affairs Nguyen Quoc Dung spoke highly of the coordination of the US Embassy in Vietnam and the ambassador himself in promoting bilateral relations in an effective and sustainable manner, on the basis of respect for each other's independence, sovereignty, territorial integrity, and political institutions.
Dung affirmed that Vietnam considers the US among its leading partners and hopes to strengthen the comprehensive partnership in bilateral, regional, and international aspects and develop ties in a stable, effective, and pragmatic manner.
In reply, the ambassador expressed his pride in his contribution to the rapid development of the US-Vietnam comprehensive partnership, along with his sentiments towards Vietnam and its people.
He vowed that in any future position, he will spare no effort in fostering bilateral relations, thus contributing to peace, stability, cooperation, and prosperity in the Indo-Pacific and the world./. 
FM Bui Thanh Son holds phone talk with Chinese counterpart
Foreign Minister Bui Thanh Son made a phone call to Chinese State Councillor and Foreign Minister Wang Yi on April 16.
Son took the occasion to brief his Chinese counterpart on Vietnam's guideline for external relations defined at the 13th National Party Congress, under which Vietnam consistently pursues an independent foreign policy for peace, cooperation and development, diversification and multilateralization, and comprehensive and in-depth international integration.  
The FM reiterated that maintaining and developing the traditional friendship and the comprehensive strategic cooperative partnership with China is always one of the top priorities in Vietnam's external policy.
FM Wang Yi affirmed that China attaches importance to promoting the comprehensive strategic cooperative partnership with Vietnam and congratulated Vietnam on the success of the 13th National Party Congress and the 11th session of the 14th National Assembly, during which the country selected a new leadership and defined socio-economic development targets for the years ahead.
The two FMs shared the view that the two parties and countries' relations continue to maintain a positive development trend, with regular exchanges and contacts at all levels held in flexible forms, and economic-trade cooperative growing despite the heavy impact of the COVID-19 pandemic. The two countries have shared medical supplies and experience in fighting the pandemic, and supported each other in times of natural disasters.
The two sides agreed to promote exchanges at high level and other levels, and invited each other to make mutual visit at an appropriate time for direct discussion. They also vowed to bring into full play the role of the two Foreign Ministries in coordinating and promoting cooperation across the fields in bilateral ties towards a healthy and substantial growth of economic-trade relations, and maintain discussions on international and regional issues of mutual concern.
The two sides discussed sea-related issues in a sincere and straightforward manner and agreed to continue optimizing the role of existing negotiating mechanisms. Minister Son said that the two sides should handle disputes in the spirit of respecting each other's legitimate rights and interests, bilateral agreements and common perception, and international law, including the 1982 UN Convention on the Law of the Sea, and work together with ASEAN to achieve positive progress regarding a Code of Conduct in the East Sea (COC)./.
One imported COVID-19 case reported on April 17 morning
One imported case of COVID-19 was recorded in Vietnam in the 12 hours to 6am on April 17, raising the infection count to 2,773, the Ministry of Health said.
The new patient, a 25-year-old Chinese man, has been quarantined since his entry into the country via the Huu Nghi Border Gate in northern Lang Son province on April 13.
He is undergoing treatment at the branch in Hanoi's Dong Anh district of the National Hospital for Tropical Diseases.
So far, Vietnam has seen 2,475 recoveries from the coronavirus disease, according to the ministry's Department of Medical Service Administration.
Eleven of those still under treatment have tested negative for the virus once, 16 others twice, and 18 thrice.
There are 40,443 people kept in quarantine nationwide at present, the ministry noted, adding that 66,366 people had received COVID-19 vaccination as of 4pm on April 16.
Grandmaster Le Quang Liem to compete in fifth stage of Champions Chess Tour
Vietnam's no. 1 chess player, Le Quang Liem, will again have the chance to clash with chess king Magnus Carlsen as he has been invited to participate in the fifth stage of the 2021 Champions Chess Tour, to be played online on Chess24 from April 24 to May 2.
This is the second time Quang Liem has received an invitation for the US$1.5 million Tour, following the first time at the Tour's first stop - Skilling Open - last November.
In that tournament, he ranked 10th out of the 16 participants, standing equal with three competitors in the top eight on eight points but missing out on a quarterfinal berth due to auxiliaries. Despite that fact, Liem was consoled as he managed to achieve a draw with Magnus Carlsen for the first time after suffering six consecutive defeats previously.
The official name and player list of the fifth leg has yet to be announced, but, in addition to Liem and Carlsen, the event will at least see the participation of India's 15-year-old prodigy Rameshbabu Praggnanandhaa, who has been invited following his supreme finish at the Polgar Challenge on April 11.
Norwegian chess king Magnus Carlsen has yet to win any stage of the 2020-2021 Champions Chess Tour, having twice settled for second place. In the first four legs, Philippine So Wesley won the first (Skilling Open) and third (Opera Euro Rapid), with the second (Airthings Masters) and fourth (Magnus Carlsen Invitational) claimed by Teimour Radjabov and Anish Giri, respectively. 
The fifth stage offers a total prize fund of US$100,000, with the overall champions to be awarded US$30,000. The 16 participating players will compete against one another in a single round robin tournament to decide the top eight for the knockout round. 
Congratulations to new leaders of Vietnam
Leaders of foreign countries have extended congratulations to the new leaders of Vietnam.

King Philippe of Belgium and President of Ukraine Volodymyr Zelenskyy congratulated Nguyen Xuan Phuc on his election as the State President.
Prime Minister of the Netherlands Mark Rutte sent a congratulatory message to newly-elected PM of Vietnam Pham Minh Chinh.

Chairman of the State Duma of Russia Vyacheslav Volodin and Chairperson of the Senate of the Parliament of Kazakhstan Maulen Ashimbayev sent congratulatory letters to new Chairman of the National Assembly Vuong Dinh Hue.

In his message, Volodin emphasised that dialogue between deputies of the two countries' national assemblies in different forms is an important factor to consolidate the Russia-Vietnam comprehensive strategic partnership for the sake of both countries' peoples./.
11 percent of Vietnamese have life insurance
As of 2020, 11 percent of Vietnam's population had taken out life insurance, heard a recent symposium in Ho Chi Minh City.
According to Ngo Trung Dung, Deputy Secretary General of the Insurance Association of Vietnam, the figure is set to rise to 15 percent by 2025.
Revenue from insurance premiums was 186.22 trillion VND (8 billion USD) in 2020, up 16.5 percent year-on-year.
Of this, 130.55 trillion VND came from life insurance premiums, a rise of 22 percent.
Insurers paid out 47.03 trillion VND in claims during the year, Dung said.
He noted that the insurance sector is forecast to experience significant change over the next decade, adding that given the fierce competition, insurance companies should embark on digital transformation./.
CAAV announces procedures for licensing private flights in Vietnam's territories
The Civil Aviation Authority of Vietnam (CAAV) has issued a document on the licensing of private flights conducted by aircraft not registering for Vietnamese nationality within Vietnam's territories.
Accordingly, the owner or the operator of such aircraft must complete procedures to obtain the registration certificate of non-commercial general aviation activities before July 15, 2021.
Pending the certificate, the CAAV will issue a permit for such flight on a case-by-case basis on the condition that relevant licences and certificates of the aircraft and the crew must be submitted to and recognized by the CAAV.
The CAAV made the announcement in the context that a number of foreigners want to conduct flights within Vietnam's territories using their own aircraft that are being stuck at Vietnamese airports due to the COVID-19 pandemic./.
Third phase of Nano Covax human trials due to begin in May
Nanogen Pharmaceutical Biotechnology JSC have announced plans to launch the third phase of human trials for its locally-produced coronavirus vaccine Nano Covax on May 5, a timeframe which is three months ahead of schedule.

The proposed move to bring forward the next stage of tests comes following positive results recorded in the two previous trials which proved the effectiveness of the vaccine.
According to Do Quyet, director of the Military Medical University, the university is set to send a report in early May which will detail the results of human trials to the Ministry of Health and the Biomedical Research Ethics Council.
Following this, the three sides will then evaluate the scientific basis of the second phase before deciding to select the most appropriate dosage level for the vaccine. The selected dose will then be used in the third phase of the human trials.
Quyet also noted that a total of 554 volunteers who received the Nano Covax jab during the second phase exhibited some form of symptoms, including a light fever, pain around the injection site, muscle aches, joint pain, and fatigue. Despite this none of the volunteers required medical intervention and they are all now in stable health condition.
Deputy Prime Minister Vu Duc Dam and Deputy Minister of Science and Technology Pham Cong Tac were among the volunteers who received their second Nano Covax shot on March 26. Both of them are in stable health condition.
The Ministry of Health is seeking to secure a sufficient supply of the vaccines for domestic use through a combination of local production and imports from abroad. Along with focusing on producing homegrown COVID-19 vaccines, Vietnam will continue to purchase foreign COVID-19 vaccines as a means of ensuring supply.
Vietnam has signed a contract to purchase 30 million doses of the AstraZeneca vaccine this year. The initial batch of more than 117,000 doses arrived in late February for use as part of the national COVID-19 vaccination campaign.
At present, more than 62,000 people have been injected with the AstraZeneca vaccine. Although some countries have moved to suspend the use of the vaccine following concerns that it could be linked to rare blood clots, Vietnam will continue to use the vaccine as no related cases of blood clotting have been recorded.
Vietnam-Germany strategic partnership flourishing in various areas: diplomats
Vietnamese Deputy Minister of Foreign Affairs To Anh Dung and State Secretary of Germany's Federal Foreign Office Miguel Berger co-chaired the sixth meeting of the two countries' strategic management group held in the form of videoconference on April 16.
Deputy Minister Dung informed about Vietnam's diplomatic orientations and policy after the 13th National Party Congress and highly valued Germany's important role and stature in Europe and the world as a whole.
He affirmed that Vietnam wishes to further intensify and develop the strategic partnership with Germany, which was established in 2011.
Congratulating Vietnam on the success of the 13th National Party Congress, Berger lauded the country's efforts in the COVID-19 prevention and control, noting that Germany attaches importance to Vietnam's role in the implementation of its policy guidelines for the Indo-Pacific region, adopted by the German Government in September 2020.
The two officials shared the view that despite impacts of the COVID-19 pandemic, the Vietnam-Germany strategic partnership has been growing strongly and effectively in various areas such as politics, economy, development cooperation, education - training, science - technology, and security - defence.
The cooperation contents under the countries' strategic action plan for 2019 - 2022 are being carried out on schedule, including the establishment of a joint committee for economic cooperation, activities within the framework of the dialogue on law-governed states, security - defence cooperation, and the Vietnamese - German University.
They noted that in 2020, when both countries were non-permanent members of the United Nations Security Council, Vietnam was Chair of ASEAN, and Germany was President of the European Union (EU) in the last half of the year, they coordinated closely to help upgrade the ASEAN - EU ties to a strategic partnership and promote security, peace, climate, and COVID-19 issues, thus helping to deal with global concerns.
To further strengthen the Vietnam - Germany strategic partnership, the two sides agreed to jointly build a strategic action plan for the next period, increase contact and mutual visits at all levels, and step up collaboration in priority fields like politics, diplomacy, security - defence, trade, investment, development cooperation, renewable energy, digitalisation, and vocational training.
They agreed to boost efforts to connect and assist the countries' businesses to seek investment and business opportunities in each other's markets and fully tap into chances generated by the EU - Vietnam Free Trade Agreement (EVFTA) to drive post-pandemic economic recovery.
Germany pledged support for Vietnam to enhance comprehensive cooperation with the EU, while pushing the ratification of the EU - Vietnam Investment Protection Agreement (EVIPA) by the German parliament.
Meanwhile, Vietnam welcomed Germany's initiatives to contribute to peace, stability, cooperation, and development in the Asia-Pacific region and also showed support for the EU nation to strengthen relations with ASEAN.
The two sides agreed to keep close cooperation and mutual support at international organisations and forums, especially the UN, the Asia-Europe Meeting (ASEM), and the ASEAN-EU cooperation.
At the meeting, the officials also discussed international and regional issues of common interest.
Both voiced their concern over the recent complex developments in the East Sea, reiterating the support for the settlement of all disputes by peaceful means and on the basis of international law, especially the 1982 UN Convention on the Law of the Sea.
State Secretary Berger added that his country backs ASEAN's efforts to bring into play the bloc's centrality and contribute to regional peace, stability, and prosperity.
UNFPA, Norwegian Government support Vietnam in ending gender biased sex selection
The Norwegian Government and the UN Population Fund (UNFPA) have reaffirmed their strong commitment to cooperating with and supporting Vietnam at the national and sub-national levels in ending gender biased sex selection (GBSS), for a brighter future for the next generation of Vietnamese.
The joint affirmation was made by Norwegian Ambassador to Vietnam Grete Lochen and UNFPA Representative in Vietnam Naomi Kitahara at a working session on April 15 to discuss gender equality in Vietnam, focusing on gender-based violence and GBSS.
Addressing the session, the ambassador said that the top priority of the Norwegian Government is to strengthen and observe global standards on the rights of girls and women, including changing the preference for sons.
The Norwegian Government is working with many partners and relevant parties, including the UNFPA, to deal with the problem on global, regional, and national scales, she said.
Lochen expressed delight at Vietnam's pioneering role in dealing with GBSS, affirming that close cooperation and a comprehensive approach are among the major measures for the successful resolution of the problem.
For her part, Kitahara acknowledged Vietnam's progress in promoting gender equality. She also said that this progress should be further sped up within the completion of the sustainable development goals (SDGs).
She pledged to assist Vietnam and local social organisations to hasten changes towards becoming a modern, progressive country where all women and girls have access to the same opportunities as men and boys.
The working session was a chance for both sides to review the three-year "Addressing Gender Biased Sex Selection and Related Harmful Practices in Vietnam" project, which was launched in April 2020.
The project is being jointly funded by the UNFPA and the Norwegian Government, and implemented by the Vietnamese Ministry of Labour, Invalids and Social Affairs, the General Office for Population and Family Planning under the Ministry of Health, the Vietnam Farmers' Union, and the Centre for Studies and Applied Sciences in Gender, Family, Women and Adolescents.
It aims to support the Government's ongoing efforts to fully implement approved legal and policy frameworks to end GBSS, and includes campaigns conducted through innovative approaches to change social norms and practices that reinforce the preference for sons and the low value of girls, strengthening capacities in the media, implementing the fatherhood programme, and streamlining the country's coordination mechanisms for GBSS.
Vietnam's gender imbalance has rapidly increased in recent times and stood at 111.5 boys per 100 girls in 2019, according to the 2019 Population and Housing Census.
8th Vietnam Book Day to feature numerous activities
A press conference was held on April 15 to introduce activities celebrating the eighth Vietnam Book Day.
The second national online book festival will run from April 17 to May 15 at book365.vn, while a virtual one on book copyright is slated for April 19-24.
The opening ceremony of Vietnam Book Day will be held on April 18 in Ho Chi Minh City's book street. It will feature pavilions of nearly 100 units and a panoply of activities will be arranged, such as seminars and book introduction events.
On the occasion, the Department of Publishing, Printing and Issuing and the Vietnam National Library signed a cooperation programme on holding book exhibitions, dissemination of publishing activities, and information technology transfer for further access to e-publications.
Then Prime Minister Nguyen Xuan Phuc issued Decision No 284/QD-TTg on February 24, 2014, designating April 21 as Vietnam Book Day, in order to encourage a reading culture among the public./.
More than 8,000 ethnic minority women benefit from GREAT programme
More than 8,000 ethnic minority women have enjoyed increased income and 834 new jobs have been created for women in Lào Cai and Sơn La provinces due to the GREAT (Gender Responsive Equitable Agriculture and Tourism) programme supported by the Australian government.
The figure was announced at the event 'Empowering ethnic minority women: A taste of Lào Cai and Sơn La' held in Hà Nội on Wednesday.
According to Phil Harman, team leader of the GREAT programme, the project strives to help ethnic minority women access economic opportunities, make their own decisions for their participation, be recognised for their contributions and receive equitable economic benefits. At the same time, the project aims to solve the causes of market inefficiently and poverty, rather than just solve superficial problems.
Tea field in Chiềng Đi village, Vân Hồ District in Sơn La province. — Photo equality.aus4vietnam.org
With these efforts, despite the spread of the COVID-19 pandemic, the project still creates positive changes in the lives of women.
Ethnic minority women who participated in the event shared their stories about how GREAT worked with government agencies, NGOs and businesses for women to take part in production and business chains, promote leadership skills and solve policy framework challenges.
Hà Thị Huế and Lò Thị Hà from Xuân Nha Clean Bamboo Shoots Cooperative in Vân Hồ District, Sơn La Province said thanks to the project's support, the co-operative was established, bringing jobs to many women in Xuân Nha Commune, contributing significantly to improving economic potential and bringing local products to be developed and widely consumed throughout the country.
Through integrated gender equality activities, the project also helps women increase their confidence, leadership skills and decision-making ability.
Nguyễn Như Thanh Hải, deputy director of the GREAT project management unit of Sơn La Province, said up to now, 1,194 women have been elected to group leadership positions. Of which, 77 per cent intend to continue to hold leadership positions.
The project also created a positive effect on women's awareness of their role through training courses. Many women shared that they were more involved in family spending decision-making, including daily and large expenses. 
Japanese businesses seek large numbers of Japanese-speaking workers
Japanese businesses in Việt Nam are seeking thousands of workers in the electronic and electrical and mechanical engineering sectors.
But they need to speak Japanese fluently.
A company in the Saigon Hi-tech Park in HCM City's Thủ Đức city is, for example, in desperate need of tungsten inert gas welding and electrostatic spray painting workers, and is offering VNĐ12 million a month (US$519).
Japanese businesses in Đồng Nai and Bình Dương Province are also looking for experienced technical and maintenance staffs.
Lê Long Sơn, director of Esuhai Joint Stock Company, said Japanese enterprises are expanding in Việt Nam, providing a big opportunity for young Vietnamese workers to catch up on technology and improve their working skills.
But they prefer Vietnamese interns from Japan since it helps save time and cost of training, an HR employee who recruits for Fujita Engineering and Construction Company Limited in HCM City's District 11, said.
Nguyễn Ngọc Hiếu, director of V.N.T Vietnam Co., Ltd, said, there could be a lot of challenges when Vietnamese workers come to work for Japanese enterprises. Hence, they should have professional skills, punctuality, a positive and enthusiastic attitude, and follow strictly cultural norms of workplace. 
Urban population growth in Mekong Delta's secondary cities remains slow: WB
Of Vietnam's six main regions, the Mekong Delta is the third most populous and urbanized yet it ranks fourth in terms of urban population growth, largely because its secondary cities have seen slow population growth.
According to the World Bank's "Networked: Towards Urban Resilience and Economic Growth in Vietnam's Mekong Delta" report, seven provincial capitals in the Mekong Delta---Bac Lieu, Ben Tre, Long Xuyen, Soc Trang, Tan An, Vinh Long and Vi Thanh---are home to just 9%-17% of the provinces' population.
These cities together account for more than one in four of the region's urban residents. However, their annual population growth is less than 1%. By contrast, Vietnam's national average annual population growth is some 3%.
While the birth rates are high, the main factor attributed to the slow growth is the high outmigration, ranging between 3.4% and 11.5% a year, mainly to larger cities such as Can Tho and HCMC. In part, because of the larger cities' economic pull, the secondary cities of the Mekong Delta are now way-stations rather than final destinations.
According to the WB, inadequate job creation and skill development are important constraints and contribute to high outmigration. With lower economic growth rates than the larger cities, secondary cites offer less attractive employment and income opportunities.
The report also showed that economic growth is steady and has improved lives in the secondary Mekong Delta cities. However, the growth is slow, putting local resources under strain.
Although the seven cities generally have small economies and slow economic growth - in 2015, each accounted for 25%–50% of its province's total production value - they have made large social development gains.
The number of people below the poverty line in these cities has fallen steadily in recent years, keeping up with Vietnam's national poverty reduction program. School enrollment rates are high and the health infrastructure indicators are also good.
Even so, slow domestic revenue growth has constrained urban governments. Cities are forced to rely heavily on central and provincial government transfers, especially for operation and maintenance costs.
In conclusion, the WB said the economic development of secondary Mekong Delta cities is impeded by outmigration, poor quality jobs and limited access to vocational and skills training. The factors influencing outmigration need to be better understood so that the cities can develop appropriate strategies to reverse the trend.
"To better understand the drivers of outmigration, a detailed diagnostic study should collect household data disaggregated by gender - across all ages and economic sectors - and should prepare income profiles," the WB said in the report.
Cities should also invest in high-skill economic sectors, combining targeted vocational training with secondary education programs. Such investments would increase the diversity and vitality of smaller urban economies while giving people reasons to stay.
COVID-19 prevention prioritised at Hung Kings Temple Festival
For the Hung Kings Temple Festival to take place safely and efficiently this year, authorities of the northern province of Phu Tho has directed relevant units to build detailed plans ensuring conditions to thoroughly implement COVID-19 prevention and control measures.
The Hung Kings are commemorated each year on the 10th day of the third lunar month, which falls on April 21 this year, as an occasion for the nation to express gratitude to the ancestors.
As directed, the Phu Tho Department of Culture, Sports and Tourism will be in charge of completing the overall plan and guiding communications work.
The management board of the Hung Kings Temple relic site in Viet Tri city – the venue of the event – will build the contents for related ritual ceremonies. It will also join the provincial Health Department in disinfecting the site before and during the festival and in conducting communications campaigns to raise public awareness on pandemic prevention.
In addition to ritual ceremonies, a few folk cultural activities, including a bonze drum beating event and banh chung (square, glutinous rice cake) and banh giay (round, glutinous rice cake) making contest, will be held at the upcoming festival due to COVID-19.
Among the traditional rites, incense and flower offering ceremonies are scheduled to take place on April 17 and 21 (the 6th and 10th days of the third lunar month).
Normally including myriad festive activities, the festival was cancelled last year due to the pandemic. It welcomed over 7 million visitors in 2019.
Legend has it that the eldest son of Lac Long Quan (son of Kinh Duong Vuong) and Au Co (the fairy daughter of De Lai) was made king. He named the country Van Lang and set up the capital in Phong Chau (modern-day Viet Tri city), beginning 18 dynasties of the Hung Kings.
The kings chose Nghia Linh Mountain, the highest in the region, to perform rituals devoted to the rice and sun deities to pray for healthy crops.
To honour their substantial contributions, a complex of temples dedicated to the kings was built on Nghia Linh Mountain, and the tenth day of the third lunar month serves as the national commemorative anniversary for the kings.
The worshipping rituals of the Hung Kings was recognised as a UNESCO Intangible Cultural Heritage of Humanity in 2012./.
Insurance agency pays US$1.6 million health coverage for Hemophilia A patient
The Ho Chi Minh City Insurance agency has paid over VND38 billion (US$1.6 million) claim for Hemophilia A patient, the highest coverage of health insurance so far.
Cho Ray Hospital said a 37-year-old patient hailing from the Mekong Delta Province of Vinh Long was officially discharged from the hospital today after more than 11 years of hospitalization and underwent 26 surgeries to treat Hemophilia A, an inherited bleeding disorder in which the blood does not clot properly.
The male patient was diagnosed with polio when he was a little boy, after which he spent 11 years of hospitalization, undergoing 26 surgeries in the process.
Head of the Cho Ray Hospital's General Planning Department Dr. Phan Thanh Viet said that the male patient's health condition got worse at the age of 26 when he was taken to the hospital for treatment. His cost of drug therapy for hemophilia treatment has been more than VND40 billion.
Patient Phan Huu Ng. shared that he was happy when hearing the good news. He stayed in the hospital's hematology department in more than seven years and then he was transferred to the Department of Burn and Plastic Surgery.
He said that he has sometimes surrendered his hope, but he continued his fight thanks to his mother's and medical workers' encouraging words.
Dr. Viet said that of his VND40.8 billion medical cost, the insurance agency has paid VND38.3 billion while the remaining sum was covered by the family and benefactors.
Hanoi Amateur Water Puppet Festival to open in May
The Hanoi Amateur Water Puppet Festival in 2021 will be held on May 17 in Hanoi, aiming at preserving Vietnam's unique intangible heritage and promoting it among international friends.

Water puppetry originated in the Red River Delta in northern Vietnam. Photo: vietnamtravel.com
Hanoi Department of Culture and Sports has issued a plan to organize the Hanoi Amateur Water Puppet Art Festival in 2021.
Under the plan, the annual festival will be held on May 17 at Thay Pagoda relic site, Sai Son commune, Quoc Oai district, Hanoi.
Puppet masters, non-professional members of traditional water puppet troupes from all around Hanoi will join in a single water puppet show, which last for at least 25 minutes.
Each performance puppet show contest should to re-enact glorious historical events of the nation; present the daily life and work of Vietnamese people; and promote the cultural value of Vietnam.
Water puppetry originated in the Red River Delta in northern Vietnam around the 10th century, where almost all towns and villages have communal ponds, which were used as the puppet show stage.
The villages of Thach That and Dao Thuc in Hanoi and Rach and Nguyen Xa in the nearby provinces of Nam Dinh and Thai Binh are some of the earliest known centers of water puppetry.
Traditionally, water puppetry performances portray the daily life of Vietnamese farmers (cultivating, tending buffalo, and catching fish), communal entertainment (swimming races and dragon dancing), or historical legends (like Le Loi returning the precious sword to the Golden Turtle in Hoan Kiem Lake) appealing to audiences for centuries.
Nearly VND2.2 trillion needed to upgrade National Highway 1 section
The Project Management Board No. 7 has proposed the Ministry of Transport upgrade the surface of a section from HCMC to Can Tho of National Highway 1 at an estimated cost of nearly VND2.2 trillion.
A representative of the board on April 12 said the section has seriously deteriorated, with cracks and subsidence appearing on its surface, and should be upgraded to ensure the transport of passengers and cargo on the route, which connects HCMC with Long An, Tien Giang, Vinh Long and Can Tho.
The Project Management Board No. 7 attributed the deterioration of the section to the heavy vehicular traffic, Tuoi Tre Online newspaper reported.
The upgrading project is expected to start next year and be completed in 2024. The section to be upgraded has a length of 71.38 kilometers, of which 5.8 kilometers of the road is in Long An, 21.08 kilometers in Tien Giang, 30.08 kilometers in Vinh Long and 14.4 kilometers in Can Tho.
In addition, bypasses and parallel roads with a total length of 25.22 kilometers will be upgraded.
The Project Management Board No. 7 also proposed expanding six bridges along National Highway 1, comprising Nhi My, Cai Lay, Phu Nhuan, Ba Dac, An Cu and Thong Luu. At present, these bridges are narrow, resulting in traffic congestion.
The section surface upgrading project will contribute to completing the road traffic system which had been approved by the then prime minister. This route has a high traffic circulation volume and is one of the most important routes in the Mekong Delta.
According to the Project Management Board No. 7, in the Mekong Delta, Trung Luong-My Thuan and My Thuan-Can Tho expressways and the My Thuan 2 Bridge are being constructed. However, when these projects are completed, the role of National Highway 1 to the southwestern localities remains extremely important. It helps boost the region's socioeconomic development and ensure national defense.
Central Highlands ethnic cultural festival to be held in May
The first culture, sports and tourism festival of ethnic minority groups in the Central Highlands in 2021 will be held at 'March 16' Square, Kon Tum City, Kon Tum Province, from May 28 to 30.
With the theme "Preserving and promoting the traditional cultural values of ethnic minority communities in the Central Highlands in the period of national integration and development", the festival features the participation of over 1,000 artisans, actors, and athletes of all ethnic groups from theseven provinces of Kon Tum, Gia Lai, Dak Lak, Dak Nong, Lam Dong, Quang Nam and Binh Phuoc. 
The 1st festival of Culture, Sports and Tourism of the Central Highlands regions in 2021 is co-organised by the Ministry of Culture, Sports and Tourism and the People's Committee of Kon Tum Province with the participation of more than 1,000 artists, actors, and athletes of ethnic groups from the 7 provinces of Kon Tum, Gia Lai, Dak Lak, Dak Nong, Lam Dong, Quang Nam and Binh Phuoc. 
The festival aims to honour and promote traditional cultural values along with the traditional cultural identity of ethnic minorities in the Central Highlands, contributing to taking care of the material and spiritual lives of the people. 
The event is also an opportunity for artisans, actors and athletes to meet, exchange experiences and perform the traditional cultural identities of their own people, and raise awareness in preserving and promoting traditional cultural values ​​of ethnic minority communities in the Central Highlands provinces in the period of national integration and development, thuscontributing to building an advanced Vietnamese culture imbued with national identity. 
Within the framework of the festival, a series of activities such as: introduction of typical culinary culture; introducing thefestivals and rituals of traditional cultural activities; gong performances; performing folk dances and folk music; a solo and instrumental concert imbued with the traditional cultural identity of the locality and ethnic groups in the Central Highlands; and folk games, will be organised. 
In addition, an exhibition showcasing cultural characteristics of the Central Highlands ethnic groups through images, artifacts, costumes, musical instruments, ancient words and books, and typical ethnic cultural products, will also be held.
Various activities to be held at Reunification Festival in Quang Tri
Various activities will be held at the national Reunification Festival in Quang Tri province on April 30.
The festival has been organised annually to mark the Liberation of South Vietnam and National Reunification Day.
This year's event will include an incense offering to heroes and fallen soldiers on April 29, a flag-raising ceremony and a boat race on the Ben Hai river on April 30.
The festival will be followed with the launch of a sea tourism programme themed 'Call of the Sea' at Cua Viet tourist site.
Taking place from April 30 to May 5, the programme will feature art performances, a conference on Quang Tri province's tourism development, a farm trip to cultural and historical sites in the province, booths showcasing local signature dishes, and a cooking contest.
Many exciting sporting events and folk games will also be held during the programme, such as a beach volleyball tournament, a stick pushing contest, and tug of war.
HCMC honors contribution of overseas Vietnamese
A ceremony honoring overseas Vietnamese who have made great contribution to Vietnamese community activities abroad will be held in HCMC on April 20 by the Committee for Overseas Vietnamese Affairs of HCMC.
The list includes 17 overseas Vietnamese individuals and 33 organizations who have outstanding achievements in supporting business and investment activities, scientific and medical research, educational and training cooperation, charity activities of Vietnamese citizens in the 2018-2020 period.
Among those are Dr. Vu Minh Khuong, Associate Professor at the Lee Kuan Yew School of Public Policy; Ph.D Nguyen Duc Thai, teacher at the HCMC University of Medicine and Pharmacy, living in the US; Dr. Nguyen Huu Le, chairman of TMA Solutions Vietnam; Bui Van Tuan (Steve Bui), Chairman of Delta E&C Japan; Professor Vo Van Toi who is teaching at Vietnam National Univeristy-HCMC; Dr. Nguyen Dinh Uyen who used to work in the US Aerospace Agency (NASA) and is teaching at Vietnam National Univeristy-HCMC; Vietnamese American Le Thi My Chau who has granted thousands of Vo Ta Han Scholarships to disadvantaged students of Long Hau Primary School in Long An Province's Can Giuoc District.
Number of overloaded vehicles plunges thanks to auto-weighing machines
The number of vehicles violating the weight limits reduced remarkably over 49 times after the six-month trial use of automatic weighing machines on the National Highway No.5.
According to the Directorate for Roads of Vietnam, the pilot program of using two automatic machines showed effectiveness in National Highway No.5 with the number of overloaded vehicles falling over 49 times, from 6.9 percent of the first seven months of 2020 to 0.14 percent. The number of daily violations decreased nearly 50 times, ranging from 176 vehicles a day to an average of 3.6 per day.
This is the first high-speed automatic machine system of Vietnam with its accurate, stable, absolutely automatic features without any human manipulations or intervention, promptly showing results within three to 15 seconds. It can control 100 percent of vehicle turns.
Most of the vehicle owners received violation notifications after functional forces showed the evidences of violation and they all paid the fines.
Besides, the system also helped to completely avoid negative aspects as drivers could not meet monitors and all the violations were processed by machines without any interventions from people.
Earlier, in October 2020, the Directorate for Roads of Vietnam started using the most modern high-speed automatic machine system at Km78+770 on the National Highway No.5 through Hai Phong City.
The system was sponsored by Japan International Cooperation Agency (JICA) with the value of nearly VND30 billion (nearly US$1.3 million). The electronic weighing system will quickly read the information of vehicles via camera devices, automatically measure vehicles' weight and analyze violations.
Dong Nai needs US$14.3 mln for underground installation of power cable system
Dong Nai Power One-Member Limited Company will perform an underground installation project of power cable system along 14 streets and three newly-built streets in Bien Hoa City, Dong Nai Province for 2021-2030 period.
The company is implementing underground installation of medium and low voltage power distribution systems at the existing roads in Bien Hoa City.
Accordingly, the project needs VND330 billion (US$14.3 million) investment capital. However, the company has faced difficulty in capital attraction for the implementation. As this reason, the Dong Nai Power One-Member Limited Company proposed the People's Committee of Dong Nai Province for budget allocation or preferential loans for the project as planned.
Agency leader prompts localities to take action to stop forced begging
Director of Ho Chi Minh City Department of Labor, Invalids and Social Affairs Le Minh Tan yesterday directed Thu Duc City and other districts to focus on the management of beggars and vagrants in the city.
The direction aims to prevent people from seeking to exploit homeless children and elderly people who live in streets in the city.
Under the direction, authorities in Thu Duc City and other districts increase inspections for timely detection of beggars especially the elderly and prevent those forcing them into the street to beg money. Functional forces should patrol the city center, the gateways of supermarkets, markets, hospitals and major intersections in HCMC where beggars often gather.
To protect the achievement of the Covid-19 pandemic prevention, district administrations need to prepare masks for beggars and vagrants when gathering them in the HCMC Social Support Center.
Additionally, the administrations organize medical declaration for beggar, coordinate with local health centers to check their health conditions, early detect and send cases of Covid-19 to centralized quarantine facilities.
Simultaneously, local authorities are assigned to verify the address as well as support people falling in disadvantaged situations.
Ministry of Public Security detects 1,191 drug-related cases
After three months of implementing the Ministry of Public Security's Plan 486/KH-BCA-C04 on handling the complicated drug-related criminal situation in Ho Chi Minh City, the areas along Vietnam- Cambodia border and the Southern key provinces and cities, Drug Crime Investigation Department (C04) in coordination with local police forces detected 1,191 drug-related violations, arrested 1,662 suspects and seized hundreds of thousands of synthetic drugs, heroin, cocaine, etc.
The C04 and local police also determined 106 major drug trafficking routes, 169 complicated places of drug crimes and 2,000 suspects in the above-mentioned localities.
According to Major General Nguyen Van Vien, Head of the Ministry of Public Security's Drug Crime Investigation Department (C04), the traffickers are increasingly sophisticated acts and tricks to camouflage and hide their drugs. They often sign in to social networks for trading so the functional forces are difficult in the detection, arrestment, investigation and handling.
Regarding the fight against drug crimes, Senior Lieutenant General Le Quy Vuong, Deputy Minister of Public Security suggested that the functional agencies should further connect with local police forces to get achievements in anti-drug operations.
The information was released at a summary conference about the Ministry of Public Security's anti-drug criminal plan.
OVs in France, French friends believe in bright future of Vietnam
Oversea Vietnamese (OVs) in France always believe in the leadership of the Communist Party of Vietnam (CPV), and hope the country will develop strongly, said former Vice President of the Association of Vietnamese in France (UGVF) Nguyen Thanh Tong.
In a recent interview with the Vietnam News Agency (VNA)'s correspondent in France, Tong highlighted the success of the 13th National Party Congress, saying that in the 'gloomy sky' of the global economy amid the COVID-19 pandemic, Vietnam has emerged as a remarkable and proud bright spot. He believed that the country will thrive further under the leadership of newly-elected leaders.
Meanwhile, Lydia Samarbakhsh, head of the Communist Party of France Central Committee's Commission for External Relations, praised Vietnam's successes in the fight against the COVID-19 pandemic, especially the implementation of urgent and drastic decisions to effectively respond to the health crisis.
Vietnam has been always transparent in giving pandemic-related information, she stressed, noting that this has helped the international community assess the pandemic situation, thus enabling governments to prepare their own plans to control the disease.
She also mentioned challenges facing Vietnam in coping with climate change, and in realising its goal to become a developed country with high income by 2045.
Giving comments on the Vietnam – France relationship, Samarbakhsh said France always wants to maintain its friendship and cooperation with Vietnam. The Communist Party of France will continue contributing to the development and consolidation of partnerships between France and other countries, including Vietnam, she added.
She believed that the French government has always considered Vietnam a friendly country. This has facilitated political and diplomatic exchanges between the two countries, as well as cooperative relations that the two sides will continue to promote together, especially cooperation between localities of the two countries.
Meanwhile, Olivier Corzani, Mayor of Fleury Merogis city in the Essonne region, held that Vietnam is currently at the time of the most dynamic development.
Corzani expressed his hope that the new Vietnamese leadership will continue to lead the country to greater development, and further promote France-Vietnam cooperative ties in various fields./.
Bac Giang bolsters English teaching at local schools
Northern Bac Giang province is set to bolster English teaching at local schools, according to the provincial People's Committee.
Bac Giang province aims to deploy a 10-year English teaching programme at all local schools by 2025, while encouraging the introduction of English modules at qualified kindergartens and in Grades 1 and 2 at 20% of local primary schools. The province encourages specialised classes at gifted schools teaching natural science subjects like maths, physics, chemistry and biology in English. Bac Giang also sets a target of all English teachers at local schools meeting national foreign language capacity standards by the 2024-2025 academic year.
In order to realise these goals, the provincial Department of Education and Training in cooperation with relevant agencies has hosted training classes to improve the English skills of teachers, inviting native speaking experts and high-quality foreign language training centres to train local teachers. The province has also mobilised social resources to build schools and classrooms for English training. The education sector has also allocated part of the provincial budget to equip specialised English-teaching classrooms at schools currently lacking them.
In the time to come, Bac Giang is determined to speed up the reform of teaching methodology, aggressively apply information technology in teaching and learning, build standardised schools for English teaching at all levels, and enhance extracurricular programmes for English practice among students, such as speaking contests, debates, and outings, etc. Such activities are expected to improve the quality of English teaching in the province.
Coupled with assessing the English capabilities of final-year students at each school, the Bac Giang provincial Department of Education and Training will also focus on expanding international cooperation to improve English teaching and learning quality.
The province's Scheme for Transforming English Teaching and Learning in Local Schools in the 2016-2020 Period proved effective, posting several encouraging outcomes. The goal of universalising the 10-year English teaching programme has been basically met, with English now a compulsory subject from Grade 3.
English teachers are trained and added every year, meeting the required number and quality in accordance with national foreign language capacity standards. They are regularly sent to training classes with native speakers, from which their English communications capacity and teaching methods are greatly improved.
Improvements in English teaching quality can be easily observed through the achievements of local students at national contests. Indeed, the number of Bac Giang students participating in national English contests has increased and their rankings are also rising. Local students enjoy the subject and are more confident in English communications.
Bac Giang has upgraded six local schools to the provincial level in English teaching and uses their activities as role models for other local schools. Apart from such schools, each city and district within the province has also developed a model for English teaching at the primary and secondary school level.
All primary schools in the province have hung up bilingual banners, have English corners inside and outside of the classroom, and have English clubs for teachers and students. Many schools also organise extracurricular activities in English, to create an environment for teachers and students to practice their skills. Activities include but are not limited to school gatherings every Monday, English speaking, debate, and singing contests, and English speaking days, among others.
During the 2016-2020 period, the Bac Giang provincial Department of Education and Training also cooperated with several international organisations to organise voluntary English classes within the province.
A project to use foreign teachers for teaching English was implemented at primary and junior and senior high schools in Bac Giang during the 2016-2017 academic year.
Part of the national plan on reforming the teaching and learning of English in general schools to 2020, the project aimed to create an environment to help students better practise their language skills, contributing to improving the quality of English teaching and learning.
Foreign teachers are permitted to teach extra-curricular classes and students are encouraged to enrol on a voluntary basis.
Local schools also joined hands with eligible English training centres to implement the project. All foreign teachers are managed by authorised agencies./.
Exchange held between Vietnamese peacekeepers, HCM City's youths
Ho Chi Minh City's Vietnam Youth Federation held an exchange programme on April 15 between 24 Vietnamese peacekeepers who have returned from the UN mission in South Sudan and over 500 local young people.
The event also aimed to mark the second time Vietnam has taken over the Presidency of the UN Security Council during its non-permanent membership for the 2020-2021 term, as well as the 46th anniversary of South Liberation and National Reunification (April 30).
Apart from a photo exhibition reflecting the Vietnamese peacekeeping force's activities at the UN mission in South Sudan, the peacekeepers talked about their foreign language and medical knowledge training process, the settlement of bombs and mines, survival skills, and response to unexpected incidents.
They also shared hardships and dangers facing them in conflict zones, as well as efforts in COVID-19 response, while performing duties at the mission in South Sudan.
Stories about their daily life and homesickness also attracted the interest and admiration from participants.

Col. Mac Duc Trong, Deputy Director of the Vietnam Department of Peacekeeping Operations and head of the peacekeeping experts' group, said the image of peacekeepers from the Vietnam People's Army could be seen clearly in African countries, especially in South Sudan and the Central African Republic over the last five years.
With the resolve to weather every difficulty and hardship, especially amid complex developments of the COVID-19 pandemic in South Sudan, the Vietnamese peacekeeping force pledged to excellently fulfill duties and be ready to devote to peace building, he noted.
During the programme, HCM City's Vietnam Youth Federation and the level-2 field hospital No 3 under the Vietnam Department of Peacekeeping Operations signed a cooperation agreement.
Accordingly, they will organise regular exchanges and dialogues, carry out an international voluntary project for the youth in HCM City, and provide online training in international youth affairs for federation members./.
Ensuring fairness among all candidates: VFF official
Besides meetings with voters, campaigning on the mass media is an important way to ensuring fairness among all candidates, said Vice President of the Vietnam Fatherland Front (VFF) Central Committee Ngo Sach Thuc.

Talking to the press ahead of the third consultation conference at the central level to be held by the VFF Central Committee's Presidium on April 16, Thuc said so far, preparations for the upcoming general elections have been implemented effectively, with the third round of consultation conferences to be held to choose the most eligible candidates.
Thuc said that after conducting inspections of election preparations in 16 cities and provinces, working groups of the VFF have identified certain problems and proposed solutions to address them.

Through the inspections, a lot of information and opinions were gathered to serve the next round of consultation conferences, he said, adding that opinions on the initial list of nominees have been carefully considered, so as to select the most outstanding candidates for the election.
The results of the first and second rounds of consultation conferences reflected the democracy in the introduction of candidates and self-nominated candidates, he said.
Regarding scenarios on organising the elections in the case of another outbreak of COVID-19, Thuc said that plans to respond to unexpected situations have been prepared to give guidance to localities, including the holding of elections in quarantine facilities and the use of mobile polling boxes, thus creating the best conditions for voters to cast their votes.
In the second phase of inspections, the VFF will focus on the publishing of lists of candidates and lists of voters in an open manner so that people from all walks of life can access them, ensuring the observation of citizens' rights.
Thuc underlined the need to strict implement cybersecurity regulations to prevent the spread of wrongful information on candidates, while strengthening training for election workers to make sure election proceedings are implemented in line with the regulations.
Underlining that voting is the right and duty of each citizen, the VFF Vice President stressed the need for stronger communication campaigns so that voters are aware of their rights and duties and actively join the elections, thus turning the election day into a real festival of the whole nation./.
Workshop talks ways to promote participation of disabled persons in political life
A workshop on opportunities, challenges and solutions to promote the participation of people with disabilities in politics was held in Hanoi on April 15.
Co-organised by the United Nations Development Programme (UNDP) in Vietnam and the Centre for Education Promotion and Empowerment of Women (CEPEW), the event aimed at enhancing the right to political engagement of people with disabilities in Vietnam where is home to more than 6 million disabled persons.
Speaking at the workshop, Diana Torres, UNDP Assistant Resident Representative in Vietnam, said there will be a political gap between non-disabled and disabled people unless the community joins hands to promote equality and empower people with disabilities on political platforms.
Without their voices in agencies under the National Assembly and People's Councils, the people with disabilities will find it difficult to really integrate into society, she added.
Le Ngoc Hoan, a member of the Blind Association of Lang Son province, who is a self-nominated candidate for the election of deputies to the 15th National Assembly, said people with disabilities need representative voices in the law-making body so that their legitimate aspirations and needs will be heard.
According to a quick assessment of the group's readiness for political involvement as candidates in the elections of deputies to the National Assembly and all-level People's Councils, 92 percent of people surveyed hoped to have disabled deputies and 63 percent said they are ready for self-nomination to the elections in the next five years.
The assessment, jointly conducted by the UNDP Vietnam and the Norwegian Embassy in Vietnam, was released as part of the workshop.
It showed three challenges facing the group in elections – feeling unconfident in the possibility of success, lacking knowledge on self-nomination and campaigning, and distrusting that the community will vote for people with disabilities.
Jan Wilhelm Grythe, Chargé d'affaires at the Norwegian Embassy, said the Norwegian Government is willing to share information on the political participation process of Tove Linnea Brandvik, a physically disabled Norwegian who served as deputy to the parliament for two terms from 2005 to 2013.
Norway is also willing to organise conversations to inspire Vietnamese people with disabilities, said the diplomat./.
Vaccination only protection against meningococcal disease, Japanese encephalitis: health experts
Meningococcal disease and Japanese encephalitis are "nightmares" for the public and healthcare workers due to the rapid progression of the former that can causing death within 24 hours and lack of treatment for the latter, a paediatrician has said.
Dr Đỗ Thiện Hải, internal medicine chief at the Center for Clinical Medicine for Children's Tropical Diseases at the Việt Nam National Children's Hospital, told a press conference in HCM City yesterday that while both diseases could infect anyone, young children are at greatest risk.
Because of its rapid progression, 50 per cent of meningococcal disease patients could die without timely treatment, he warned.
The fatality rate for Japanese encephalitis is 20-30 per cent, but 50 per cent of survivors are severely disabled, he said. The treatment cost more than VNĐ29 million (US$1,254) at his hospital last year, he said.
The World Health Organization has warned that countries with Japanese encephalitis should maintain high vaccination rates.
Hải said, "While you can wash your hands, cover your nose and mouth when coughing and vaccinate to prevent other infectious diseases such as COVID-19 and flu, sufficient and scheduled vaccination is the most effective measure against meningococcal disease and Japanese encephalitis."
The two are hazardous infectious diseases with initial symptoms often similar to that of the common flu, making it difficult to detect them early.
In Việt Nam, statistically, they occur mainly due to not getting vaccinated or not getting booster shots. 
At the conference, delegates shared general information about the two diseases such as the causative agent, symptoms, disease progression and consequences, and the vaccination schedule and preventive vaccines used in the country.
They also spoke about the benefits of new-generation vaccines such as live vaccines, reducing virulence, recombinants the diseases, and others.
They said whichever the vaccine used, the most crucial elements are getting the shots on schedule and enough of them. 
The conference was organised by the Việt Nam Association of Preventive Medicine and Sanofi Vietnam to mark World Immunization Week, April 24 – 30 and World Meningitis Day, April 24. 
Global Wellness Day Vietnam aims for healthy, happy living
A range of wellness activities will be held as part of the Global Wellness Day Vietnam, which will begin on June 12, aiming to help people achieve the goal of healthy living and wholesome happiness. 
Speaking at a Gala Dinner last weekend in HCM City, Henri Hubert, ambassador of the Global Wellness Day Vietnam, said living well is a process of awareness and the effort to act accordingly in everyday life. 
"Healthy living comes from the way you think positively, understand yourself, and keep a balance between your mental and physical state under all circumstances."
"I wanted to inspire and encourage people to form good habits to exercise health and thereby build a better life," he told Việt Nam News.
"I believe true beauty comes from the harmony between the body and the mind," he added.
The wellness dinner was held part of this year's Global Wellness Day Vietnam activities, which included physical training sessions and environmental action with youth.
"It is vital to choose safe, nutritious food for family meals, spend time with loved ones, and enjoy happy moments," he said. 
With the slogan "One day can change your life", the event conveys the message: "When you spend an entire day pausing the cycle of work, getting rid of stress, getting rid of bad habits, thinking about your health and enjoying life, you will find inner peace, not only for today but for the remaining 364 days of the year." 
First organised in 2012 in Turkey, the Global Wellness Day has spread to more than 110 countries and territories around the world. The non-profit programme is organised on the second Saturday of June every year. 
VSS holds dialogue with Korean firms on social, health insurance
A dialogue between the Vietnam Social Security (VSS) and Korean businesses was held in the southern province of Dong Nai on April 15, attracting representatives from more than 100 enterprises.
In his opening speech, VSS General Director Nguyen The Manh said it was the first dialogue of its kind to review the enforcement of laws related to social and health insurance, thus ensuring the rights and interests of workers.
It was also meant to specify several tasks on further improving the business climate and national competitiveness in accordance with the Government's Resolution No.02/NQ-CP dated January 1, 2021. This was a practical activity towards the 30th founding anniversary of Vietnam – Republic of Korea (RoK) diplomatic ties next year.
Chairman of the provincial People's Committee Cao Tien Dung hailed the VSS for holding the event to raise awareness of social and health insurance policies among Korean enterprises.
Speaking at the event, Lee Jae-guk, an attaché in charge of labour and employment and a counsellor at the Korean Embassy in Vietnam, asked for making clear difficulties in the field and discussing solutions for the coming time.
A VSS representative presented new points in social and health insurance policies, reported the implementation of social and health insurance policies among foreign and Korean firms, and Decree No.143/2018.ND-CP on compulsory social insurance for foreign workers in Vietnam.
The representative also mentioned a plan to sign a bilateral agreement on social insurance between Vietnam and the RoK.
On the occasion, VSS General Director Nguyen The Manh presented certificates of merit to eight businesses for well performing legal policies on social and health insurance in 2020./.
Vietnamese, Singaporean Foreign Ministers hold phone talks
Foreign Minister Bui Thanh Son on April 16 held phone talks with his Singaporean counterpart Vivian Balakrishnan, during which the two sides consented to closely coordinate, contributing to enhancing trade and investment ties between the two countries.
Vivian Balakrishnan congratulated Son on his appointment as Minister of Foreign Affairs of Vietnam, and lauded the country's performance in COVID-19 prevention and control, as well as socio-economic development and diplomacy.
Singapore attaches great importance to the strategic partnership with Vietnam, he affirmed.
Son, for his part, spoke highly of cooperation efficiency between the two countries across spheres, emphasising that Singapore was Vietnam's largest investor last year despite the pandemic.
He suggested the two sides continue with all-level delegation exchanges when possible, effectively implement bilateral cooperation mechanisms, firstly the 15th Vietnam-Singapore Connectivity Ministerial Meeting and the 14th political consultation at the deputy foreign ministerial level.
The minister used the occasion to thank Singapore for supporting Vietnam's ASEAN Chairmanship in 2020, and non-permanent membership of the UN Security Council (UNSC) for 2020-2021.
The two ministers agreed to step up cooperation within the framework of ASEAN and multilateral forums, for peace, stability and cooperation in the region.
They exchanged invitations to visit their respective countries at a convenient time.
State President hosts outgoing US Ambassador
State President Nguyen Xuan Phuc on April 16 hosted a reception for US Ambassador to Vietnam Daniel Kritenbrink who conveyed a congratulatory letter from US President Joe Biden to Phuc on his election as the new President.
The ambassador also came to bid farewell at the end of his term.
President Phuc appreciated the diplomat's contributions which have helped the Vietnam-US ties continue to flourish in an effective and sustainable manner, on the basis of respect for each other's independence, sovereignty, territorial integrity and political institutions, and mutual benefit.
Congratulating Kritenbrink on being nominated by US President Biden to serve as Assistant Secretary of State for East Asian and Pacific Affairs, President Phuc expressed his belief that in his new position, the ambassador will continue to support the Vietnam-US ties, developing bilateral ties in a stable and long-term manner, and solving economic and commercial issues for the benefit of the two countries' people.
For his part, the Ambassador expressed his delight at the growing bilateral relations across all spheres, and pledged that in any future position, he will continue to be a friend of Vietnam and make contributions to the two countries' ties in bilateral, regional and international aspects. He said he believes the two countries' ties will become a role model in international relations.
Kritenbrink has been honoured with Vietnam's Friendship Order for his contributions to the development of the Vietnam-US comprehensive partnership.
Vietnam, India strengthen cooperation
Vietnamese and Indian foreign ministers have agreed to closely coordinate in order to effectively promote the action programme implementing the comprehensive strategic partnership between the two countries for 2021-2023.
The consensus was reached during phone talks between Foreign Minister Bui Thanh Son and his Indian counterpart Subrahmanyam Jaishankar on April 16.
Jaishankar congratulated Son on his appointment as Vietnam's Minister of Foreign Affairs, and praised achievements the country has recorded over the past time, especially in external affairs, notably its ASEAN Chairmanship 2020.
The ministers rejoiced at the steps of development of the Vietnam-India comprehensive strategic partnership, and concurred to maintain the existing cooperation mechanisms.
Vietnam and India will work to strengthen collaboration in national defence and security, and raise the two-way trade to 15 billion USD, they said.
Minister Son appreciated India's support for Vietnam's sustainable development goals through quick impact projects (QIPs).
Vietnam backs India's "Act East Policy", he said, suggesting the two countries step up cooperation and support each other at multilateral forums, especially in 2021 when both countries serves as non-permanent members of the United Nations Security Council (UNSC).
Son welcomed India's consistent stance on the East Sea and spoke highly of India's role at regional and international forums, particularly the within the framework of the ASEAN-India partnership and the UN./.
FMs of Vietnam, Morocco discuss bilateral cooperation
Minister of Foreign Affairs Bui Thanh Son and Minister of Foreign Affairs, African Cooperation and Moroccan Expatriates Nasser Bourita held phone talks on April 16 to discuss bilateral cooperation and coordination in multilateral forums.
During the talks, Bourita congratulated the new Foreign Minister of Vietnam and expressed his impression on the country's achievements in the fight against COVID-19 as well as socio-economic development.
He spoke highly of Vietnam's role as Chair of ASEAN in 2020 and a non-permanent member of the United Nations Security Council for the 2020-21 term.
Bourita voiced his belief that under Son's leadership, the Foreign Ministry of Vietnam will continue to obtain attainments in external relations.
In reply, Son expressed his delight at steps of development in the Vietnam-Morocco ties over the past 60 years and affirmed that Vietnam treasures friendship and multifaceted cooperation with Morocco.
To boost the bilateral relations to match with each other's potential and demand, the two ministers discussed measures to enhance cooperation, especially in the fields of trade, investment, banking, culture, tourism, and education-training, among others.
The two sides exchanged views on several regional and international issues of shared concern. The ministers agreed to strengthen collaboration to further tap on the role of cooperative mechanisms co-chaired by the two countries' foreign ministries such as joint committees, thereby deepening the relations between Vietnam and Morroco.
The Moroccan Minister vowed to support Vietnam in setting up a partnership with the African Union, and said that Morocco stands ready to act as a gateway for Vietnam to access and develop its market with African and Arabian nations.
Vietnam is also viewed as a gateway for Morocco to expand cooperation with ASEAN and Asia, he added./.
Cuba's Giron victory celebrated in Ho Chi Minh City
The Ho Chi Minh City Union of Friendship Organisations (HUFO) held a ceremony on April 16 to celebrate the 60th anniversary of Cuba's Giron victory (April 19).
Speaking at the event, Chairwoman of the Vietnam – Cuba Friendship Association of HCM City Truong Thi Hien said the victory was of significance to the fraternal Cuban people, marking the US's military defeat in its invasion into Cuba, helping to bring its revolution to the final triumph and lead the country forward to the path to socialism.
She said Vietnam has consistently supported Cuba's socio-economic reform, adding that bilateral ties are expanding into agriculture, industry, oil and gas, construction, culture, education, science-technology and health care.
The two countries are planning to lift two-way trade to 500 million USD by 2022, Hien added.
Cuban Consul General in Ho Chi Minh City Indira Lopez Arguelles, for her part, said upholding the spirit of the Giron victory, the Cuban people always look toward the future, firmly holding the flag of national independence, sovereignty and socialism.
Participants at the event were also treated to music performances staged by Cuban artists./.
Law on Drug Prevention and Control announced
The Presidential Office on April 16 held a press conference to announce the Law on Drug Prevention and Control, which was approved during the 14th National Assembly's 11th session.
The law comprises eight chapters and 55 articles.
It specifies regulations on drug prevention and control, the management of people using drugs illegally, detoxification, the responsibility of individuals, families, offices and organisations in drug prevention and control, and State management and international cooperation in the issue.
Compared to the 2000 Law on Drug Prevention and Control (revised in 2008), it regulates more forbidden behaviours, supplements regulations on the control of drug precursors, and specifies cases requiring drug tests, among others.
Notably, the 2021 law contains specific regulations on the compilation of dossiers in order to send drug addicts aged from full 12 to under 18 to compulsory detoxification establishments.
The law will become effective on January 1, 2022.
Third central-level consultative conference adopts list of candidates for upcoming election
The third consultative conference held by the Presidium of the Vietnam Fatherland Front (VFF) Central Committee in Hanoi on April 16 adopted a final list of 205 eligible candidates nominated by central agencies and organisations for the upcoming election of deputies to the 15th National Assembly.
A number of reports were delivered to the conference on the outcomes of meetings collecting voter opinions on the nominees at their places of work and in their neighbourhood.
Chairing the conference, President of the VFF Central Committee and Vice Chairman of the National Election Council (NEC) Do Van Chien said the second consultative conference on March 19 compiled a preliminary list of 205 candidates nominated by central agencies for the 15th NA election.
They are among 1,083 candidates running for seats in the legislature, which also include 888 people nominated by local organisations and units and 75 self-nominated candidates. The ratio of candidates to deputies now stands at 2.19.
The VFF Central Committee has sent working groups to check on preparations for elections in a number of cities and provinces, explore certain challenges these localities are facing in making preparations for the elections, and propose timely solutions. These issues were put on the table at a virtual meeting hosted by the VFF Central Committee on April 15.
Chien said the third consultative conference is very important for the election as it is the last of its kind that establishes a final list of eligible candidates for submission to the NEC.
He also took the occasion to urge Vietnamese people nationwide to actively engage in voter meetings, talks, and seminars held by the VFF and local administrations, and vote at the elections on May 23, to exercise their rights and fulfill duties as citizens./.
Red Cross and Red Crescent societies boost links to handle challenges
Enhancing connectivity to overcome challenges will be the theme of World Red Cross and Red Crescent Day on May 8, the Vietnam Red Cross Society (VRCS) said on April 16.
The International Red Cross and Red Crescent Movement, through the theme, emphasised its determination to prevent the spread of COVID-19 and to provide communities with the necessary knowledge to protect themselves against the disease.
It has called on Red Cross Societies across the globe to promote activities to contain the pandemic while mobilising people from all walks of life to engage in humanitarian activities and become Red Cross or Crescent volunteers.
The VRCS has carried out a wide range of activities to raise public awareness about COVID-19 prevention measures and to mobilise resources to provide medical supplies and essential items to frontline medical workers. It also delivered goods to disadvantaged families in quarantine areas.
More than 2 trillion VND (86.78 million USD) was mobilised by the VRCS to support the impoverished and Vietnamese expatriates.
It helped more than 21.5 million people in difficult circumstances last year.
Earlier this year, it introduced the "helping farmers sell agricultural products" campaign, from February 23 to March 5, to support farmers in Hai Duong province, which was hit by Vietnam's third COVID-19 outbreak, to sell 769 tonnes of products. The campaign enhanced community connectivity to help residents and localities battered by the pandemic.
As a positive and responsible member of the International Red Cross and Red Crescent Movement, the VRSC also helped foreign friends in the fight against COVID-19 by providing them with medical equipment. Its activities and sense of responsibility have been commended by the Movement./.
Defence Minister receives outgoing US Ambassador
Minister of National Defence Sen. Lt. Gen. Phan Van Giang hosted a reception on April 16 for outgoing US Ambassador to Vietnam Daniel J. Kritenbrink, who came to bid farewell at the end of his term.
At the meeting, Giang underlined that the work of the US Ambassador during his term in Vietnam has contributed greatly to Vietnam-US relations at large and bilateral defence cooperation in particular, in tandem with the countries' comprehensive partnership.
The Defence Minister congratulated the ambassador on his new posting as Assistant Secretary of State for East Asian and Pacific Affairs, voicing a hope that he will continue to foster relations between the two countries and armies, especially in overcoming the consequences of war.
He affirmed that Vietnam views the US as among its important partners and wishes to promote the comprehensive partnership on the foundation of respect for each other's independence, sovereignty, territorial integrity, and political institutions.
Giang also took the occasion to extend his regards to US Secretary of Defence Lloyd Austin.
For his part, the ambassador pledged that in his new position he will exert every effort to strengthen relations between the two countries and armies, particularly in overcoming the consequences of war, in a more efficient manner.
The two sides spoke highly of cooperation outcomes over the years in bilateral, regional, and international aspects, as well as the practical implementation of the Memorandum of Understanding on Advancing Bilateral Defence Cooperation, the US-Vietnam Joint Vision Statement on Defence Relations, and most notably the cooperation results in overcoming the consequences of war.
They also highly valued the success of a project to clean up dioxin contamination at Da Nang International Airport and a similar ongoing project at Bien Hoa Airport in Dong Nai province, efforts to search for soldiers Missing in Action (MIA), and overcoming the consequences of bombs and mines, which have helped deepen the friendship and created momentum for further cooperative efforts.
Cooperation in overcoming the consequences of war will continue to be a priority for Vietnam in the time to come. The two sides agreed to continue carrying out joint efforts under signed documents, to deliver practical efficiency and benefit the peoples of both countries./.
Symposium spotlights late Foreign Minister Nguyen Co Thach's vision on diplomacy development
Late Minister of Foreign Affairs Nguyen Co Thach was the pioneer who had put forth drastic and timely ideas to deal with limitations in the diplomatic sector when the country just emerged from war and faced great challenges, former Deputy Prime Minister Vu Khoan told a symposium on April 16.
He added that Thach's ideas regarding personnel, human resource training and apparatus reform were implemented with success.
The symposium was held by the Organisation and Personnel Department at the Ministry of Foreign Affairs on the occasion of the 100th birthday of the late diplomat, who was also a Politburo member and Vice Chairman of the Council of Ministers.
Foreign Minister Bui Thanh Son lauded the late Foreign Minister's role in laying the foundation for building a modern and professional diplomatic sector in the "Doi Moi" (Renewal) period.
Others in attendance also shared their views on Thach's breakthrough reform initiatives.
Generations of Vietnamese diplomats have been inspired by Thach's vision to build a comprehensive and modern diplomatic sector, contributing to realising the foreign policy set at the 13th National Party Congress and to the cause of national construction, defence and development.
Within the framework of the symposium, organisers announced a scholarship programme named after Nguyen Co Thach./.
Hanoi hopes to bolster cooperation with Nordic capitals
Chairman of the Hanoi People's Committee Chu Ngoc Anh held a working session with Vice President of the Nordic Chamber of Commerce (NordCham) in Vietnam Quist Thomasen on April 16, to discuss the business activities of Nordic companies in the city and the possibility of setting up relations between Hanoi and the capitals of Nordic countries.
Anh affirmed that Hanoi welcomes Nordic companies to come and learn about its investment environment and business opportunities, and hopes for their greater engagement in investment, trade, tourism, smart city and e-government building, green technology, energy, sustainable development, technology transfer, and human resources training.
The Vietnamese capital is willing to establish and expand cooperation with the capitals of Nordic countries so as to contribute to deepening the traditional relations between the two sides, he said.
The municipal People's Committee will direct relevant departments to work with Nordic enterprises that want to seek cooperation opportunities in Vietnam, and discuss with Nordic cities about cooperation possibilities towards the signing of related agreements.
Thomasen said that Nordic companies are willing to share their experience to help Hanoi with green city development and to achieve effective energy use.
He proposed Hanoi put in place specific mechanisms to facilitate connections between enterprises and cooperation between the city and Nordic companies.
He also expressed a hope that NordCham Vietnam will have a chance to work with relevant offices in Hanoi to address problems relating to work permits for businesses' staff./.
Localities directed to continually monitor COVID-19 situation
Minister of Health Nguyen Thanh Long on April 16 again asked localities to continue keeping a close watch on the COVID-19 situation and to strictly implement pandemic prevention measures in the time to come, especially in border areas.
Addressing an online meeting with representatives from 63 provinces and cities, and their health sectors on accelerating COVID-19 prevention and vaccination efforts, Long warned that Vietnam is in danger of experiencing another outbreak.
He stressed that controlling the pandemic this year will be very difficult for all countries, not just Vietnam.
Vietnam has gone 21 straight days with no new cases of domestic transmission, he said, while also noting that the situation remains complex in the world and the region. The country is still organising commercial flights to bring Vietnamese citizens home, he added.
The Ministry of Health - the standing agency of the National Steering Committee for COVID-19 Prevention and Control - will continue to strengthen its direction as well as inspection and supervision of high-risk areas.
He underlined the urgent need to prevent illegal travel in border areas and to strictly tackle violations.
Regarding vaccinations, Long said the ministry has made efforts to negotiate with suppliers around the world to purchase larger volumes as soon as possible.
In addition to more than 117,000 doses of the AstraZeneca vaccine that were imported into Vietnam at the end of February, 811,200 more doses of AstraZeneca, sponsored by the COVAX Facility through UNICEF, have also arrived in the country.
Forty-nine out of Vietnam's 63 cities and provinces nationwide have been provided with vaccines from the second batch, he said.
The ministry has directed localities to promptly map out plans and speed up vaccinations, towards completing the task by May 5.
So far, 75,000 people have received COVID-19 vaccinations, Long said, and affirmed that Vietnam will continue using the AstraZenecca vaccine in the time to come.
At the meeting, a representative of the World Health Organisation praised Vietnam's efforts and affirmed that the benefits vaccines offer far outweigh the risks.
Also on April 16, the last COVID-19 patient in northern Hai Duong province, which was Vietnam's largest hotspot during the third wave of outbreaks, was discharged from hospital./.
Source: VNA/VNS/VOV/VIR/SGT/Nhan Dan/Hanoitimes