Delivery services suspended in six HCM City districts, Thu Duc City
Delivery services have been suspended from operating in Thủ Đức City and districts 8, 12, Gò Vấp, Bình Tân, Bình Chánh and Hóc Môn in HCM City from Monday.
Grab, Be and Gojek delivery apps have only limited food ordering and delivery services in some districts in HCM City. Shippers are only allowed to operate within designated districts between 6am and 5pm every day.
A representative of Gojek said Gojek has temporarily suspended operation of GoFood and GoSend services in Thủ Đức City and districts 8, 12, Gò Vấp, Bình Tân, Bình Chánh and Hóc Môn.
For other areas, GoFood and GoSend services will be limited to operating within each district from 6am to 5pm daily. This can be changed depending on updated regulations from authorities.
Gojek has worked closely with HCM City to exchange ideas to ensure effective operations while strictly complying with COVID-19 control and prevention regulations.
BeGroup Communication Director Nguyễn Việt Linh said that BeGroup would maintain delivery and grocery shopping services of essential items for locals in districts 1, 3, 4, 5, 6, 7, 10, 11, Phú Nhuận, Tân Bình, Tân Phú, Củ Chi and Nhà Bè while temporarily suspending operations in remaining districts until further notice.
"Only shippers registered with the HCM City Department of Industry and Trade can operate and deliver goods within each district. Inter-district delivery is prohibited," Linh said.
If customers order services for unessential items, shippers will cancel the order, he added.
Grab has also sent notifications and informed their drivers of the new changes.
E-commerce platforms
Lazada will refund money in accordance with their regulations if customers want to cancel their orders because of delays in delivery.
The e-commerce platform is collecting customers' opinions on a desired solution. If customers want to continue waiting for their orders, Lazada will prioritise delivery of those orders as soon as the current rules are lifted.
Customers will be constantly updated of their order status. They can contact their hotline 19001007 for 24/7 support.
Similarly at Shopee, customers can make purchases. As soon as HCM City is stable, customers will be offered a freeshipping code and Shopee will quickly send the goods to them.
"For orders with a high probability of being cancelled, Shopee will immediately notify customers. We hope that customers will understand during this difficult time," a representative of Shopee said.
Other activities such as phone card top-up transactions, mobile data plan purchases, and service bill payments will continue to be carried out. 
E-commerce platform Tiki has also confirmed that it will suspend delivery activities to certain areas until further notice. 
Vietnamese futsal team heads to Spain
On August 24, the Vietnamese futsal team on August 24 night departed to Spain for training and joining an international four-side tournament.
At the tournament which is scheduled to take place on August 28-31, Vietnam will play Japan, Guatemala and the hosts
Before leaving for the Lithuania World Cup from September 12 to October 3, they are expected to have a match with Spain's Cordoba club on September 3.
The team is also expected to have a friendly match with the Moroccan national team on September 6 in Lithuania.
At the end of the last training session on August 24, Coach Pham Minh Giang finalised a list of 17 players to leave for Spain for a further training.
On the same day, the President of the Vietnam Football Federation (VFF) Le Khanh Hai met the team, offerring encouragement and assigning tasks to them.
Vietnam are in a same group as Brazil, Panama and the Czech Republic, with their matches on September 13, 16 and 19, respectively.
According to the organisers, VAR will be used at this year's World Cup.
VTV to broadcast live Vietnam's final WC 2022 qualifiers
Vietnam Television (VTV) and FPT Telecom will team up to broadcast live all 10 coming matches of the Vietnam national football team in their third World Cup 2022 qualifiers of the Asian region, VTV announced on August 24 evening.

The 10 coming World Cup qualifying matches will be a big test for coach Park Hang-seo's players.
"All 10 home and away matches of the Vietnamese team, and other interesting matches in the group with the Vietnamese team will be broadcast live on VTV5 and VTV6 to serve spectators nationwide," VTV said in its announcement.
The third and final qualifying round of the World Cup 2022 in the Asian region will see Vietnam play in Group B alongside powerhouses Japan, Australia, Saudi Arabia and Oman.
In Group A, Iran will play the Republic of Korea, the United Arab Emirates, Iraq, Syria, and Lebanon.
In the third qualifying round, the teams will play in a round-robin format twice to select the best two teams in each group to enter the final round to be held in Qatar in 2022. The two third teams will meet in a play-off match and their winning team will also play representative of another continent off against each other to secure a ticket to Qatar next year.
Vietnam will clash against hosts Saudi Arabia on September 2 and take on visiting Australia five days later.
This is the first time in history Vietnam have cruised into the third and final qualifying round the World Cup.
Mekong Delta localities continue to perform social distancing
The Mekong Delta provinces and cities of Can Tho, An Giang and Dong Thap have continued to perform social distancing following Directive No.16.
Can Tho City has extended social distancing following Directive No.16 of the Prime Minister up to September 8.
Particularly, Can Tho City has extended social distancing following Directive No.16 of the Prime Minister from August 25 to September 8 and strictly implement the social distancing measures following Directive No.10 of the Chairman of the City People's Committee.
Chairman of the People's Committee of Can Tho City required to strengthen tighter social distancing measures, for instance each household will assign a person to buy and receive food and essential stuff from 8 a.m. to 5 p.m. daily.
The workers of essential food and goods production facilities and stores have to conduct Covid-19 sample test once every three days and alternatively arrange shift employees and encourage the implementation of three-on-site production model.
In An Giang Province, the Provincial People's Committee directed the implementation of social distancing measures following the Directive No.16 of the Prime Minister from August 26 to September 5 in Long Xuyen City, Chau Doc City, Districts of Chau Thanh, Chau Phu, An Phu, Cho Moi and Thoai Son.
In the afternoon of August 24, Chairman of the People's Committee of Dong Thap Province Pham Thien Nghia signed an official letter to continue social distancing order following Directive No.16 of the Prime Minister in the whole province, up to September 5.
Vietnamese tank team performs well at Army Games 2021
The Vietnam People's Army's tank crew No. 1 delivered a solid performance in qualifiers for the International Army Games 2021's Tank Biathlon at the Alabino training ground on the outskirt of Moscow on August 23.

This year's 19 participating teams are divided into two groups. The Vietnamese team is in Group 1, with teams from Russia, China, Belarus, Azerbaijan, Kazakhstan, Mongolia, Uzbekistan, Serbia, Venezuela, and Syria.
Completing the round in 24 minutes and 58 seconds and bringing down five out of five targets, the Vietnamese crew finished second behind Mongolia, which shot down all targets in 23 minutes and 57 seconds.
The Vietnamese team received enthusiastic cheers from Vietnamese people living in Russia.
The Vietnam People's Army's tank contingents No. 2 and No. 3 will compete in qualifiers on August 26 and 29.
After the qualifiers, the eight best teams in Group 1 will compete in the semi-finals.
Vietnam to use 70,000 Molnupiravir for treatment of Covid-19 patients at home
The Ministry of Health yesterday announced the use of 70,000 Molnupiravir Covid-19 antiviral pills for pilot treatment of Covid-19 patients at homes.
The Ministry said that now, the domestic Molnupiravir drug manufacturers are ready to sponsor the first batches of drugs with 16,000 doses.
Additional 100,000 doses will be given by September 5. At the same time, the first imported batch of Molnupiravir with more than 300,000 tablets arrived in Vietnam on August 23. It is expected that an additional 1.7 million tablets will be delivered on August 28.
At the same time, the next batch of drugs will be imported for use in the program in early September 2021.
Amid the ongoing coronavirus pandemic in Ho Chi Minh City and some southern provinces, the health sector decided to begin the pilot of home-based care for Covid-19 patients to help reduce the Covid-19 overload in hospitals and deaths of people infected by Covid-19.  As the coronavirus pandemic has been surging across the country, hospitals are facing a crisis-level shortage of beds and staff to provide adequate care for patients. The Ministry has kept updating treatment plans for mild-symptom patients at home.
 
Basing on the results of clinical trials of the antiviral drug Molnupiravir in the treatment of Covid-19 in many countries, with positive results in terms of safety and clear virus in mild and moderate patients after five days of treatment, the Ministry of Health and the HCMC Department of Health will begin the pilot of the home-based care for Covid-19 patients on August 25 in HCMC to reduce hospitalization rate and reduce mortality.
After five days, all patients will be evaluated for the rate of negative for SARS-CoV-2 virus and their illness whether is progressing to a more severe level. During the 14 days, patients will be monitored for symptoms of Covid-19 disease and side effects of the drug.
Medical experts and health workers will keep an eye on the evaluation of the pilot program results according to a scientific research protocol approved by the Ethics Committee in Research and the Ministry of Health.
Nearly 1mln Vero Cell vaccine shots administered to HCM City residents
Approximately one million doses of the Chinese-produced Vero Cell COVID-19 vaccine have been given to local people in Ho Chi Minh City, with all recipients in stable health condition, according to the HCM City Center for Disease Control (HCDC).

Overall, the southern city, the largest coronavirus hotspot in Vietnam, has administered a total of 5.4 million vaccine doses and is continuing to speed up its ongoing vaccination campaign.
The city is also carrying out mass COVID-19 testing for all residents during the extended social distancing period in order to detect and separate all F0 cases from the wider community.
According to the HCDC, a total of 41,955 F0 cases are self-isolating at home, with half of them returning from hospital. In addition, an additional 17,569 F1 cases are also self-isolating at home.
The southern metropolis is currently treating 36,029 COVID-19 cases, including 2,243 children under 16. Of the total, 2,563 patients are in critically ill condition, with many requiring mechanical ventilation. A further 20 are reliant on the life support machine called extracorporeal membrane oxygenation (ECMO).
HCM City is grappling with the fresh coronavirus outbreak, with approximately 4,000 new infections recorded daily. On August 23 alone it registered 4,251 infections and 340 deaths. As many as 1,671 patients fully-recovered from COVID-19 and were discharged from hospital on the same day.
Vietnamese tank crew secures group's second place at Army Games 2021
Vietnam finished second in Group 1 of the qualifying round of the "Tank Biathlon", held at the Alabino military training ground in the suburbs of Russia's Moscow, at the ongoing International Army Games 2021.
Tank Crew No. 1 of the Vietnam People's Army (VPA) shot down all the five targets and completed the race in 24 minutes and 58 seconds.
It followed Mongolia (23 minutes and 57 seconds) and outpaced Venezuela (31 minutes and 55 seconds), and Syria (39 minutes and 35 seconds).
Colonel Phan Hai Long, captain of the VPA's tank team said Tank Crew No. 1 performed well and completed its task in accordance with tactics and techniques set out for the team.
Two other tank crews of Vietnam will continue competing on August 26 and 29.
This year, there are 19 teams participating in the "Tank Biathlon", divided into two groups.
Group 1 sees the participation of tank crews from 11 countries, including China, Belarus, Azerbaijan, Kazakhstan, Mongolia, Uzbekistan, Serbia, Venezuela, Syria, Vietnam, and host Russia.
Group 2 includes teams from Kyrgyzstan, Laos, Tajikistan, Myanmar, Qatar, South Ossetia, Abkhazia and Mali.
The best eight teams will then enter the semi-final round.
The International Army Games 2021 takes place from August 22 to September 4, featuring the participation of 275 teams from 42 countries and territories worldwide competing in 34 categories.
The latest event marks the fourth consecutive year the VPA has taken part in the international-level military multisport event./.
Artificial Intelligence Day 2021 slated for August 27 and 28
The Artificial Intelligence (AI) Day 2021, themed Empowering Innovations, will be held virtually on August 27 and 28 with a goal to promote AI research, development and application, helping to solve challenging problems in socio-economic development.
The event, organised by VinAI Research - the tech arm of Vingroup, also aims to help Vietnamese businesses apply new technologies to optimise their competitive advantages.
It is expected to bringing together the world's top-tier experts in AI and leading researchers in Vietnam to share ideas and perspectives.
The AI Day 2021 will feature three themes: "AI in Research and Development", "AI for Innovations & Global AI Products" and "AI for Education".
Dr. Bui Hai Hung, General Director of VinAI Research, said that over the years, AI has become an effective tool that helps solve difficulties as well as create many opportunities for Vietnamese businesses.
"Despite possessing great potential, the development of AI within the country still faces many challenges. As a leader in AI research and application in Vietnam, we aim to bring Vietnamese AI research and products to the world. Through AI Day 2021, VinAI wants to build a sustainable bridge between the world AI community and Vietnam, at the same time, help research teams and businesses solve challenges as well as improve technical competency, gradually reaching out to the world," he said.
This is the third time the AI Day has been held in Vietnam. It is expected to attract about 2,000 participants./.
Measures sought to control tiger trading, conservation in Vietnam
The People and Nature Reconciliation (PanNature) on August 24 organised a seminar looking back on the captivity, trading, rescue and conservation of tigers in Vietnam after the recent seizure of 17 tigers in Nghe An province.
The tigers were found being raised illegally in the basements of two families in the central province on August 4.
Deputy Director of the Vietnam CITES Management Authority Vuong Tien Manh said that Nghe An has been considered a hot spot for illegal wildlife captivity for years, especially in Yen Thanh, Dien Chau and Quynh Luu districts. Notably, the smuggling of wild animals, especially tigers, is increasingly complicated.
According to statistics, Vietnam currently has more than 300 tigers legally kept in captivity in farms, captivity facilities and households. However, the actual number of tigers being kept in captivity in the country may be much larger than the statistics, including those raised illegally.
Notably, numerous studies have shown that tiger breeding facilities are intimately involved in smuggling networks. The United Nations Office on Drugs and Crime (UNODC)'s Wildlife Crime Report 2020 and the Wildlife Trade Monitoring Network (TRAFFIC) Research Report 2019 also showed that the risk of captive tigers entering the illegal market is completely real.
Director of the Education for Nature Vietnam (ENV) Bui Thi Ha stated that Vietnam has already had strict sentences for tiger-related crimes, especially since the Penal Code came into effect.
She suggested the country invest more time and resources in dealing with leaders of tiger smuggling rings, while stressing the importance of news agencies and press outlets to disseminate relevant laws.
Participants also proposed intensifying law enforcement, stepping up inter-sectoral coordination, and closely monitoring captivity facilities to effectively manage the captivity of tigers./.
Colours of cultures at Alabino training ground
A cultural and exhibition space was set up at the Alabino training ground on August 23, attracting much interest from both participating teams and visitors to the ongoing Army Games 2021.
The space introduces visitors to the colourful cultures and histories of the 21 participating countries to the Army Games, including China, Armenia, Egypt, Iraq, Vietnam, and the host Russia.
Themed 'The Vietnamese People's Army: Tradition, Integration and Development', the Vietnamese team stall was decorated with conical hats. It welcomed hundreds of visitors on the launch day, all of them receiving a warm welcome from the Vietnamese soldiers.
Visitors to the stall are invited to taste Vietnamese tea, 'banh dau xanh' (mung bean cake), lotus seed jam, and ginger jam. They can also try their hand at printing Dong Ho folk paintings and bring home the results as souvenirs.
Ivan Kiselov, a young soldier from the Russian team, said he was excited to try his hand at making a Dong Ho folk painting entitled 'Chan Trau Thoi Sao' (Pastor playing a flute).
Vietnam sets to significantly cut use of single-use plastics by 2025
Vietnam aims to use 100 percent of environmentally-friendly plastic bags and packaging at shopping malls and supermarkets by 2025, according to a project on strengthening management of plastic waste in Vietnam approved by Deputy Prime Minister Le Van Thanh on July 22.
Other goals include to collect, reuse, recycle and treat 85 percent of plastic waste; to reduce the volume of plastic waste dumped to ocean by half; to have 100 percent of tourism complexes, hotels and other lodging facilities not use non-biodegradable plastic bags and single-use plastic products by 2025.
Additionally, the project will gradually cut the production and consumption of non-biodegradable plastic bags and single-use plastic products in daily life; while raising awareness among organisations, enterprises and the community about the harmful effects of single-use plastic items to the environment, ecosystem and human health, and encouraging consumers to shift away from single-use and non-biodegradable plastics to eco-friendly alternatives.
It will campaign producers and distributors of single-use and non-biodegradable plastic products to shift to eco-friendly equivalents and promote the development and application of advanced technology in plastic waste management and manufacturing of environmentally-friendly products.
The project will also build a network of local communicators who are tasked to instruct people in how to properly classify, reuse and treat plastic waste and waste at large; and integrate knowledge about single-use and non-biodegradable plastics into school curriculums at all levels.
Vietnam is said to be the world's fourth-largest marine plastic polluter after China, Indonesia and the Philippines. Each year, the country reportedly dumps an estimate of 300,000 – 700,000 tonnes of plastic waste into the ocean per year, accounting for 6 percent of the world's marine plastics./.
Demand – supply of goods plummet steeply
It was recorded that the retail system in Ho Chi Minh City was quite deserted, with 100 percent of traditional markets and more than 50 percent of retail systems closed, and the number of customers dropping by nearly 100 percent on the morning of August 23 - the first day that HCMC strengthens control on social distancing following Directive No.16.
At Nga Ba Bau Market in District 12, the only place allowed to open for sale nearly 100 percent of the essential food stalls in HCMC up to this time, there were a few customers in the previous day, but now, the Management Board has put up a barrier around the market and locked the gate.
Similarly, Lotte Mart Go Vap Supermarket in Nguyen Van Luong Street, Co.opmart in Quang Trung Street, and several Co.opfood and Bach Hoa Xanh stores in Go Vap District were also closed.
"Our supermarket is told to close for two weeks. Currently, there are only security guards on duty. There will be a new announcement when it reopens," said Trung, a security guard at Lotte Mart Go Vap.
Meanwhile, some supermarkets were open but had no customers, or they opened for delivery and online sales only.
"From this morning until now, our store has only received five customers, who are checkpoint guards, and no citizens have visited the store. Currently, the amount of goods arrived at the store only accounts for a quarter of that in normal days," said a shopkeeper at Bach Hoa Xanh Supermarket in Nguyen Anh Thu Street in District 12.
Not far away, Co.opmart Supermarket set its doors ajar but did not sell goods. According to its staff, the supermarket only packs combo packages that HCMC gives to underprivileged households.
Some Co.opfood and Vinmart+ supermarkets in Ward 14 of Go Vap District were also open but to deliver orders placed online only. However, the number of orders was small.
Regarding the situation that markets and many supermarkets unexpectedly close at the last minute, while on the afternoon of August 22, the document of the municipal People's Committee still allowed them to open for sale, or even suggested that these systems should increase the number of products and supply, representatives of the departments for Economy of Thu Duc City and districts said that the localities had responded and promptly informed small traders and retailers when the municipal People's Committee changed the plan from the safe zone in which people can go shopping for necessities once a week to the method of grocery shopping service.
"Thanks to timely information to small traders and retail systems, markets have canceled the plan of importing goods to sell. Currently, markets and supermarket systems are waiting for the list of goods to be collected through the grocery shopping service. When they receive information about the items registered by people, they will pack them into combos then cooperate with local authorities to deliver goods to each citizen," Mr. Phan Thanh Binh, Deputy Head of the Department for Economy of Phu Nhuan District, said.
Students make device to help combat COVID-19
A group of students and their teacher from Huỳnh Thúc Kháng Secondary School in Quảng Ngãi Province have successfully made an automatic body temperature measurement and hand-washing machine to help fight COVID-19.
Võ Duy Huân, a member of the group, said there was a risk of cross infection when many students in the school shared the same disinfectant bottle.  
He also saw that it's sometimes hard to keep the required distance when checking body temperature.
So he had the idea of developing a device to reduce the possibility of cross infection. 
After presenting the idea, the team was supported by teacher Nguyễn Thị Hồng Minh to develop the product. 
Minh said that she supported her students because the product would have high applicability, especially amid the COVID-19 pandemic.
The device automatically sprays a sufficient amount of disinfectant solution for the user and incorporates a body temperature sensor.
The device will issue an alert if the recorded body temperature is higher than normal.
The machine works using a solar battery system, so it saves electricity and is environmentally-friendly.
"We faced many difficulties. We had to order sensors from HCM City. Moreover, due to limited knowledge, we had to ask for help from teacher Minh a lot," Lê Đăng Khoa, a member of the group, said.
"We are so happy as the device has been put into use after months of research," Khoa said.
The machine is being used in the school.
Minh said the cost for each device is about VNĐ2 million. So she hopes the school will provide more funds to make more machines to install in the school and others in the province.
Huỳnh Văn Tố, vice chairman of the provincial Union of Science and Technology Associations, said the device was really effective in COVID-19 prevention and control. 
He hopes individuals and organisations will help mass produce the equipment for use in schools, offices and public places in the province, helping combat COVID-19.
Prime Minister receives Chinese Ambassador
Vietnam treasures the traditional friendly neighborliness and comprehensive strategic cooperative partnership with China, considering it a strategic choice and top priority in the country's external policy, affirmed Prime Minister Pham Minh Chinh.
During a reception Hanoi on August 24 for Chinese Ambassador to Vietnam Xiong Bo, the PM stressed that Vietnam consistently pursues the foreign policy of independence, self-reliance, multilateralisation and diversification of ties, proactive and active international integration, and being a responsible member of the international community. Vietnam does not ally with one country to fight the other.
He wished that both sides would enhance political trust between the two Parties and nations, promote exchanges at all levels, boost comprehensive cooperationa and uphold the Steering Committee on Vietnam – China Bilateral Cooperation mechanism.
Suggesting priority be given to the fight against COVID-19 pandemic, Chinh thanked the Chinese Government for donating an additional 2 million doses of vaccines to Vietnam. He hoped China will continue offering vaccines, transfer vaccine production technology and COVID-19 medicines to Vietnam.
The host also suggested dealing with trade deficit faced by Vietnam and wished China would facilitate customs clearance, import more Vietnamese goods as well as tackle difficulties in several projects.
The two sides need to strive to maintain peace and stability, satisfactorily settle disagreements at sea in the spirit of high-level common perceptions, the Agreement on basic principles guiding the settlement of sea-related issues and abide by international law, including the 1982 United Nations Convention on the Law of the Sea, he said.
He added that the two countries need to partner with ASEAN to fully and seriously implement the Declaration on the Conduct of Parties in the East Sea (DOC), as well as step up negotiations on an effective and practical Code of Conduct in the East Sea (COC).
Ambassador Xiong, for his part, affirmed that the Chinese Party and Government attach importance to ties with Vietnam, and stay ready to boost political trust and consider increasing vaccine supplies to the country.
He emphasised that China does not pursue trade surplus with Vietnam. It is willing is address bottlenecks in export-import, consider opening market for the Vietnamese high-quality goods, and complete several key projects soon.
China wants to well control disagreements and satisfactorily settle issues at sea with Vietnam in line with high-level common preceptions, he stated.
HCM City likely to see coronavirus cases increase over coming days
Coronavirus cases in Ho Chi Minh City are likely to increase in the coming days as it is conducting extensive COVID-19 testing for all residents during the latest social distancing period, according to the city's Steering Committee on COVID-19 Prevention and Control.

The southern metropolis, the largest coronavirus hotspot in Vietnam, recorded 4,241 new infections on August 23, with 3,308 of them diagnosed in the community.
The cases were mainly discovered in the districts of Binh Thanh, Tan Phu, Binh Tan, and Hoc Mon, along with in District 1 and District 8.
To separate all F0 cases from the wider community, the city is taking advantage of the "golden time" during the current social distancing period to conduct mass testing for all residents.
To speed up testing, the municipal Department of Health has launched a pilot scheme that guides residents on how to do a self-test at home. The move is expected to help lessen pressure on the health sector and avoid the risk of cross contamination.
Moreover, a number of special mobile teams have also been established to provide medical care to those with common diseases, as well as to supply local residents with daily necessities.
COVID-19 patients who require support are able to contact the rapid response teams, mobile medical stations, and the 115 Emergency Center for guidance and advice.
New prehistoric archaeological site discovered in Yen Bai
Experts from the museum of northern Yen Bai province have found a cultural relic site belonging to the Late Stone Age (pre-Hoa Binh Culture period) in Ngoi Sen village, Van Tien commune of Yen Bai city.
The site, covering about 600 sq.m, was unearthed while a local family was digging the ground to build their breeding farm in the right bank of the Red River.
Items found in the site are diverse, mostly made of river pebbles. They include turtle shell-shaped tools, single-edged and double-edged tools, and horizontal edge cutters that are dated back to about 9,000 to 10,000 years.
According to Ly Kim Khoa, Vice Director of the Yen Bai Museum, the discovery of the new prehistoric archaeological relic site is significant in the province's prehistoric archeology research. This is the first time that the museum has discovered this type of prehistoric archaeological site, which has richer tools with more sophisticated processing techniques than other sites of the same period in the area.
The museum plans to zone off the area for further digging and exploration, thus restoring and promoting the values of the site.
Earlier, archaeologists also discovered findings with cultural values of the prehistoric period in Vietnam through an urgent archaeological excavation of Tuan Quan relic site in northern Yen Bai province, which confirms that the site is a particularly rare and precious relic belonging to the ate Stone Age and feudal periods.
An archaeological report in early July 2021 also confirmed that Tuan Quan is an extremely precious relic site in the system of prehistoric archaeological sites in Vietnam, which plays a very important role in the exploration of the origin of Son Vi- Hoa Binh Culture in Vietnam and Southeast Asia./.
Chinese Association presents medical supplies to Ha Giang province
Representatives from Vietnam's northern Ha Giang province on August 24 received medical supplies donated by the Chinese Association of Wenshan prefecture, China's Yunnan province.
The association's representatives handed over 50 oxygen generators and 10,000 medicals masks to support Ha Giang province to combat the COVID-19 pandemic.
Speaking at the event, Mao Quoc Toan, deputy director of the Ha Giang Department of Foreign Affairs thanked the leaders of the association for their timely gifts. 
Toan said he hoped that in the coming time, the DFA of the two provinces continues to help each other in professional activities as well as in COVID-19 pandemic prevention and control.
The donation of masks and medical supplies contributes to tightening the friendship, tradition, and cooperation between Ha Giang province and Wenshan prefecture, Yunnan province, he said.
Later, the medical supplies were transferred to the province's Department of Health to allocate for forces serving in COVID-19 pandemic prevention and control/. 
Vietnamese swimmers begin journey at 2020 Tokyo Paralympics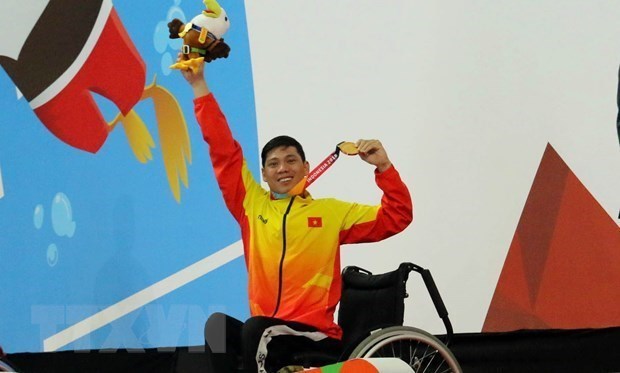 Paralympic swimmer Vo Thanh Tung (Photo: VNA)
Swimmers Trinh Thi Bich Nhu and Vo Thanh Tung will be the first Vietnamese athletes to compete at the first official competition day of the 2020 Tokyo Paralympic Games on August 25.
In the morning, Nhu is set to compete at the qualification of the women's 50m freestyle S6. The top eight in the qualification will advance to the final held in the afternoon.
The female swimmer attended the 2012 and 2016 Paralympics.
Meanwhile, Tung will represent Vietnam at the men's 200m freestyle S5.
He won a silver medal at the 2016 Rio Paralympics and three golds together with two silvers at the 2018 Asian Para Games in Indonesia.
Five years ago, Vietnamese athletes with disabilities made their mark at the 15th Paralympics when they won one gold, one silver and two bronze medals.
The Tokyo Paralympics is to be held from August 24 to September 5 with the participation of 4,400 athletes from 160 countries and territories around the world./.
Help and sharing in Bình Duong's COVID hotspots
Bình Dương Province, a hotspot for COVID-19 in the southern region, is struggling to fight the pandemic as the number of infections has rapidly risen in the province. 
But the people here do not feel alone because they receive help from the wider community.
Fifteen communes and wards of Thuận An and Dĩ An cities and Tân Uyên Town, with a population of about 800,000 people, are under strict lockdown due to the high increase in infections.
In the early morning, volunteers and civil defence officers gather at the People's Committee of Thuận Giao ward, Thuận An, to load rice and vegetables on small trucks to provide to local residents. 
"I feel happy today because I received rice and vegetables. I've been eating instant noodles for two weeks to save money. I'm afraid of running out of money if the pandemic is not controlled soon," said Nguyễn Quyết Thuần, a restaurant employee living in the housing area for workers in Thuận Giao Ward.
Thuận told Sức Khỏe & Đời Sống (Health & Life) newspaper that he wanted to find another job but the demand for labour had decreased, so he still could not find a better job.
"I hope the pandemic will soon be under control so I can go out and sell something for a living." Thuận said.
Phạm Kim Hoàn, a local worker, said she was struggling to survive during the pandemic. She lost her job two months ago and has to stay at home due to social distancing.
"Life is so hard. Most workers like me have to manage to survive. We would like to thank the Government for its timely support so that we can cope with these difficulties," said Nguyễn Trường Hải, a worker in a rented room. 
Lê Trọng Văn, owner of a rented housing area in Tân Uyên Town, said: "Workers have to close the door all day because a worker living here is positive for coronavirus."
"They haven't had a job for two months. I help them by reducing the rental price. However, they are in a very hard situation and cannot return to their hometown. The local government's support with essential goods will help them overcome difficulties in the next two weeks." 
Many people's lives have fallen into difficulties with many industries closed for a long time, especially for poor households and workers in rented houses.
Hundreds of tonnes of rice, potatoes, eggs and vegetables of all kinds have helped support people in need and eased their worry about a lack of food.
In order to provide food for local residents, Bình Dương has mobilised a large force of soldiers and civil defence officers, youth unions and women's unions with 300 people to each locality.
Bùi Thanh Toàn, director of provincial Department of Industry and Trade, said that the agency had made a specific plan to distribute food and essential goods to people living in strict lockdown areas.
Eleven supermarkets, 230 convenience stores and 29 out of 119 traditional markets are still operating to ensure enough food for people during the pandemic, according to Toàn. 
The province has decided to support each worker and unofficial worker who has lost their job due to  COVID-19 with a payment of VNĐ1.5 million (US$66).
Many other support policies are also being implemented by the province to help workers and people in blockade areas.
Bình Dương has provided rice and essential good for all people in the isolation areas, estimated at nearly VNĐ600 billion. 
Deputy PM inspects COVID-19 prevention, control at Military Hospital 175
Deputy Prime Minister Lê Văn Thành and Defence Minister Phan Văn Giang visited and inspected COVID-19 prevention and control at Military Hospital 175 in HCM City on Tuesday.
At the hospital, through an online connection with Trường Sa island district of Bà Rịa-Vũng Tàu Province, Deputy PM Thành appreciated the efforts and determination of the district's officers and soldiers to fight the pandemic and emphasised their important role in performing political, military and defence tasks on the sacred archipelago.
Deputy PM Thanh highly valued the discipline, techniques and combat strength of Trường Sa officers and soldiers, especially in applying science and technology to stay connected with frontline hospitals on the mainland to ensure the health and life of officers, soldiers and residents in the island district.
Director of Military Hospital 175 Nguyễn Hồng Sơn said theirs is the strategic hospital in the southern region's military forces, and has always kept in mind its central political mission is to always remain combat-ready as well as prepared to receive patients - including COVID-19 patients.
Since mid-July, with the resurgence of the virus in the southern region, the defence ministry has selected the hospital to set up a COVID-19 treatment centre with 200 beds for patients in serious condition, and just now the capacity has been upgraded to 350.
After hearing the report on COVID-19 prevention and control of Military Hospital 175, especially the treatment of severe patients, Defence Minister Giang lauded the efforts made by officers, soldiers, military doctors and physicians to successfully complete their tasks.
He requested the hospital in particular and military officers and soldiers in general to maintain high determination to fulfil their tasks, and promote achievements gained.
Previously, on Monday afternoon, the delegation visited the COVID-19 treatment hospital No.5 and inspected COVID-19 prevention and control at some locations in HCM City.
The same day, the Deputy PM visited and asked about the living conditions of workers in An Lạc Ward, Bình Tân District, and inspected the food stores and supply chains for supermarkets in HCM City, as the city was undergoing strict lockdown measures to contain serious outbreaks.
Japanese people cheer on Vietnam's ParaGames athletes
Vietnamese athletes with disabilities have received enthusiastic support from the mayor and residents of Kokubunji city, Tokyo - one of the "host towns" of the Vietnamese delegation at the Tokyo 2020 Paralympics.

Located in the west of Tokyo, Kokubunji is one of the "host cities" of Vietnam at both the Olympic and Paralympic Games Tokyo 2020.
The Tokyo Paralympics is to be held from August 24 to September 5 with the participation of 4,400 athletes from 160 countries and territories around the world.
The Vietnamese athletes will compete in three sports - weightlifting, swimming, and athletics./.
Online music programme raises funds for COVID-19 affected people
Episode 3 of a music performance programme themed "Sing for life, Sing for love" will be broadcast on virtual platforms at 8:10 pm on August 26 with the participation of artists from northern and southern locations, to raise funds for people affected by the COVID-19 pandemic.
The programme, with a live broadcast frame at 20:10 p.m. on Thursday of the 2nd and 4th weeks every month, is jointly organised by the Vietnam Youth Federation's Central Committee, the Vietnam Volunteer Centre, and relevant units.
It aims to respond to the appeal of the Party and State for joining hands to help disadvantaged people facing difficulties due to the COVID-19 pandemic.
All the money raised in the episode 3 will be used to buy essential goods for labourers hard hit by the pandemic.
The episode 2 of the show collected donations totaling 668 million VND (nearly 30,000 USD). All the donations have been be used to support disadvantaged workers in 30 districts of Hanoi, students in difficult circumstances and frontline medical workers./.
Sanitation workers volunteer to stay in lockdown areas to keep environment clean
Twenty sanitation workers from Hà Nội Urban Environment Company (URENCO) have volunteered to stay in two lockdown wards in Hà Nội to keep the areas clean.
More than 1,400 households with over 4,700 residents in Văn Miếu and Văn Chương wards in Đống Đa District have been locked down since last Saturday after a series of COVID-19 positive cases were detected.
More than 40 tonnes of garbage are estimated to be discharged by local people, putting pressure on environment workers.
Twenty workers of URENCO whose daily duties include collecting domestic waste, have volunteered to stay in the quarantine areas of the two wards to carry out their jobs.
None of them want to let garbage accumulate, causing irritating smells and pollution as well as increasing the risk of spreading the virus in the community.
After the lockdown order was made on Saturday night, the sanitation workers had only one night to pack their personal belongings and move to the quarantine areas.
Twenty workers are divided into two teams, working in two wards on both day and night shifts.
Their accommodation is at Huy Văn Secondary School and Lý Thường Kiệt Primary School.
Đỗ Quỳnh Điệp, one of the workers of Văn Miếu Ward, said twenty workers included nineteen women and only one man.
Most of the female workers have difficult backgrounds and hail from other localities.
Nguyễn Thị Trang, for example, is from the northern province of Nam Định and has four children. She is living in a rented house in Thanh Trì District, very far from Văn Chương Ward.
Every day she travels a far distance from where she lives to her workplace in Đống Đa District collecting a monthly wage of VNĐ6 million.
In spite of risks from the lockdown areas, Trang is still ready to take on the duty.
Điệp said "The decision of working in lockdown areas is such a hard one to make. No one wants to stay far away from their children to work in the pandemic's hotspots for 14 days.
"Responsibility has encouraged us to enter the lockdown areas which are also the places we have been working for many years. We all want to ensure safety for the capital city." 
She said environmental workers play an important role, only behind medical, military and public security forces, in the fight against COVID-19.
"The environment is the life and breath for everyone so it should be always kept clean," she said.
Environment workers have to wear protective suits and are equipped with disinfectants.
Điệp added: "On normal days, we have to suffer from the trash smell. Now we have to work under the heat in protective suits covering head to toes, not to mention the smell from the disinfectant chemicals. Our work is harder."
Residents are not allowed to go out on lockdown days and must leave their garbage bags on their doorsteps. The workers will come to every house to collect. Before collecting and putting the trash on the garbage trucks, the workers have to disinfect the waste.
"The workload is twice or even three times more than normal days," Điệp said.
Although markets and restaurants are closed, the amount of trash is still increasing, mostly from households because residents spend more time at home, she said.
Each worker has to collect two tonnes of waste on average per day.
Mai Thanh Hằng, deputy director of URENCO's branch in Đống Đa District, said the workload in the coming days would be bigger but all of the workers are determined to keep the lockdown areas clean.
Điệp added: "To reduce work pressure on environment workers, we hope residents will be sympathetic with our work and dump their waste on time and in the right place." 
Meeting discusses COVID-19 vaccine diplomacy
Deputy Prime Minister Pham Binh Minh on August 24 chaired a meeting with the Government's working group on COVID-19 vaccine diplomacy.
The meeting focused on reviewing outcomes of the work in the recent past and set out urgent tasks with the aim of quickly access and acquire as much and as early as possible vaccine, treatment drugs and medical supplies for the country.

Foreign Minister Bui Thanh Son, head of the working group, said Vietnam has so far received about 23 million doses of COVID-19 vaccine from the COVAX Facility, other nations' assistance, and under signed contracts. In August and September, more vaccine will be delivered by partners. In addition to vaccines, many countries, international organisations and overseas Vietnamese have sent medical supplies and equipment to aid Vietnam's fight against the pandemic.
The minister proposed a series of measures to promote the mobilisation of the vaccine, treatment drugs and medical equipment in the time to come.
Members of the working group agreed that it is necessary to streamline related processes and procedures to suit the current situation of epidemic prevention and control.
Deputy PM Minh requested that the group make proposals to enhance Vietnam's role and responsibility in the COVAX Facility, and assist domestic businesses in accessing production technologies of COVID-19 vaccines and treatment drugs.
He instructed the group to promptly tackle difficulties and obstacles related to procedures for the reception of medical supplies supplied by partners and to speed up the access and negotiation for treatment drugs./.
Deputy Prime Minister hails HCM City for ensuring food distribution to public
Deputy Prime Minister Lê Văn Thành hopes HCM City can ensure smooth distribution of food to the public as it begins two weeks of strict COVID-19 restrictions.
He, Defence Minister General Phan Văn Giang, and various city officials inspected large distributors and warehouses and visited the 175 Military Hospital and people's homes in Bình Tân District yesterday.
After checking food supply chains, Thành hailed the city for efficient distribution of food and foodstuffs based on the Government's instructions.
It is doing a good job of providing goods to disadvantaged people, and a wide variety of products are available to the public at stable prices, he said.
People cannot go out to buy any of the goods he referred to, but the city has been working to ensure that they have access to food without having to leave home during the two weeks of tough COVID-19 prevention measures starting on August 23.
Trade groups and unions are working with the police and military to deliver food and other essential goods directly to people once a week to meet their grocery needs.
But according to the Ministry of Industry and Trade's special working group, city authorities need to co-operate more closely with retailers and keep them informed about local demand so that they could stock up sufficiently.
Supermarket chains are selling various combinations of essential goods in packs at different price levels. 
A Ministry of Agriculture and Rural Development working group is piloting an initiative to supply agricultural produce combo packs to HCM City consumers, each containing 10 kilogrammes of various vegetables, fruits and meats, depending on price.
Deputy Minister of Agriculture and Rural Development Trần Thanh Nam said the initiative is getting support from Mekong Delta provinces that supply the produce as well as businesses in HCM City.
Businesses can sign up for the pilot programme, and their vehicles that transport the packs to buyers will receive passes.
A storage network has been set up to supply the city with up to 100,000 packs a day.
Ministries resolve transport difficulties
Two working groups from the Ministries of Industry and Trade and Transport (led by deputy ministers) have worked together to tackle goods transport difficulties in HCM City.
HCM City, Việt Nam's COVID-19 epicentre with over 180,000 cases, is tightening prevention measures until September 15 under the Government's Resolution 86 in the hope of containing the outbreak.
It has told people to "stay where they are" at all times, and strictly follow safe distancing between individuals, families, residential areas, and wards.
Over 8,300 tonnes of rice dispensed to Binh Duong
The Department of State Reserves of the southeast region on August 24 dispensed over 8,360 tonnes of rice to support residents hit by COVID-19 pandemic in the southern province of Binh Duong, in accordance with the Prime Minister's Decision.
Binh Duong is currently a hotspot of COVID-19.
 
Earlier, the PM's Decision No.1415/QD-TTg dated August 20, 2021 assigned the Finance Ministry's General Department of State Reserves to allocate more than 130,000 tonnes of rice free-of-charge for 24 cities and provinces hard hit by the pandemic, including Dak Lak, Dak Nong, Da Nang, Binh Dinh, Nghe An, Phu Yen, Khanh Hoa, Ninh Thuan, Binh Thuan, and others.
The task must be fulfilled no later than September 5 and 10./.
RoK city sends 5,000 COVID-19 rapid test kits to Vietnam's Da Lat
Jeon Jin Pyo, deputy mayor of Chuncheon city, the Republic of Korea (RoK)'s Gangwon province, on August 24 presented 5,000 COVID-19 rapid test kits for Vietnamese Ambassador to the RoK Nguyen Vu Tung in aid of Da Lat city, Vietnam's Central Highlands province of Lam Dong.
At the handover ceremony held at the Vietnamese Embassy in Seoul, the Vietnamese diplomat expressed his gratitude toward the valuable and timely support from the Chucheon authorities and people, adding the kits are the result of the two cities' cooperation.
He vowed to soon deliver the gift to Da Lat, contributing to helping the city soon put the pandemic under control.
Jeon Jin Pyo said the gift demonstrates the affection of the people of Chuncheon city for the people of Da Lat.
The two cities have just established their twin relations for a short time, but have promoted cooperation in the fields of education and businesses and exchanges between their organisations and agencies./.
HCM City sets up special forces to support residents in high-risk zones
The HCM City Department of Home Affair has directed People's Committees of wards, communes and districts to set up special forces to support people in orange zones (high risk) and red zones (extremely high risk).
The special forces, which include police, military command, and member of wards' pandemic prevention groups, are managed by district People's Committees.
The special forces in orange and red zones will ensure that people strictly follow social distancing measures and the government's 5K protocol.
They will also buy food and essential goods on behalf of residents and deliver them to their door.
The city has classified all 312 communes and wards into three groups: green zone (free of COVID cases), orange zone (high risk) or red zone (extremely high risk). The goal is to maintain and expand the green zones while isolating and reducing the risk in red and orange zones.
The city's youth social work centre on August 23 set up its hotline 1900638090 for emergency healthcare at home, medicine for COVID-19 patients, oxygen tanks, food, and free funeral services.
The hotline 1900 638090 will operate during the pandemic period. When COVID-19 ends, the hotline will be switched to its function for rescue and social affairs activities.
PM asks authorities to make sure 'no one is short on food and clothes'
Prime Minister Phạm Minh Chính has asked authorities nationwide to ensure social security for people as the country accelerates its fight against the COVID-19 pandemic.
That was one of the major points in an official dispatch signed by the PM on Tuesday on tightening COVID-19 prevention and control measures across the country.
Dispatch No 1102 was addressed to secretaries of provinces' and cities' Party Committees, chairs of central cities' and provinces' People's Committees, ministers, and leaders of ministerial-level agencies.
It outlined measures to be taken by the authorities and medical personnel in cities and provinces to bring the pandemic under control, with a priority on protecting the people's lives and health.
In the document, the PM stressed the importance of ensuring supplies of food and essential items for residents in cities and provinces that are under social distancing, especially people on low income, the elderly, women and children, as well as those in the disadvantaged and vulnerable groups.
"All resources must be mobilised, and charitable acts are encouraged to ensure no one is short on food and clothes," the dispatch reads.
PM Chính also said "reducing deaths related to COVID-19 is a top priority".
To do this, provinces and cities must prepare accommodation for patients and equip them with oxygen supply, medicines, and medical equipment and personnel, he wrote. Those that have extended social distancing periods must immediately establish mobile health stations to ensure quick treatment of COVID-19 patients.
Medical personnel should be gathered, trained and distributed to localities with high number of new and severe patients. Human resources and equipment at public agencies and private enterprises should be mobilised to facilitate COVID-19 treatment. Patient classification and transfer must be done in a quick and exact manner so they will all be treated, especially severe patients.
Massive, rapid testing is of utmost importance to identify, isolate, classify and treat COVID-19 patients. Social distancing is the deciding factor in limiting the spread of the virus and must be strictly implemented to prevent community infections.
The Government will continue to promote vaccine diplomacy to get more COVID-19 vaccines for the people at the earliest opportunity, and call for more transfer of vaccine production technology so there will be more vaccines made in Việt Nam, the dispatch reads. Enterprises and private organisations are encouraged to import vaccines that are approved for COVID-19 treatment by the Ministry of Health and have clear origins. The health ministry is responsible for licensing the imports, inspecting the vaccines and organising vaccination drives.
The PM also stressed the role of the people's compliance with prevention measures in eradicating COVID-19.
"Each commune, ward and town is a fortress, each resident is a soldier, they are both the centre of the protection scheme and the ones that carry it out," he said in the dispatch. "Their compliance with regulations is a deciding factor in the fight against the pandemic, it's also their responsibility, right and duty to protect their health and that of their families and communities."
Cities and provinces that are implementing social distancing measures were asked to continue to strictly abide by Directive 16 issued by the PM. For those that are extending their social distancing periods, which are HCM City and the provinces of Bình Dương, Đồng Nai and Long An, the authorities must ensure residents will not go out, "stay where they are", and make sure there are enough supplies of medical equipment, food and essential items in each commune, ward and town.
Leaders of provinces' Party Committees must direct and take responsibility for the COVID-19 control work implemented in their provinces, the dispatch reads.
A command centre for COVID-19 prevention and control must be established in every province, ward and commune, headed by the chairs of their People's Committees. It must be on call 24 hours a day (with personnel assigned to be on duty) so the pandemic prevention work is thoroughly updated and announced to everyone involved.
The highest priority must be given to disease prevention and control. However, depending on the situation, authorities should also attend to socio-economic developments and other important works, but they also must be based on a solid COVID-19 prevention foundation. 
Bac Ninh sends more medical staff to pandemic-hit HCM City
The northern province of Bac Ninh on August 24 held a meeting with a delegation of 50 local medical workers who will travel to Ho Chi Minh City to aid the southern hub's COVID-19 prevention and control work.
The delegation, the fifth sent by Bac Ninh to the southern region, will work at the COVID-19 treatment hospital in HCM City's District 7.
Earlier, Bac Ninh has sent 25 medical workers to Binh Chanh district in HCM City; 10 to Dong Thap province; 15 to Long An province; and 26 to Binh Duong province.
Also on August 24, the Vietnam Fatherland Front's chapter in the Central Highlands province of Lam Dong received 130 modern medical devices serving COVID-19 treatment worth dozens of billion VND, which are gifts from the Novaland Group and the Van Truong Thanh Company Limited.

The equipment is set to be used in two local hospital treating COVID-19 patients.
Novaland has provided support for many localities nationwide, including Ho Chi Minh City, Dong Nai, Binh Thuan, and Ba Ria – Vung Tau.
Concerted efforts bring Hanoi closer to herd immunity against COVID-19
Working at 300 percent of their capacity, medical workers, public servants and staff at local administrative agencies of Hanoi have made concerted efforts to carry out a massive COVID-19 vaccination campaign in the city with an aim to reach herd immunity against the pandemic soon.
In recent months, head of the Medical Station of Mai Dong ward in Hoang Mai district Nguyen Thi Hang has made the station her home and had her husband take care of the family.
On peak days when multiple cases of COVID-19 are detected requiring quick tracing of those who have made contact with infected patients, Hang is at work for almost the whole day, and only comes home in the early hours when her family members are fast asleep. She only spends a couple of hours resting at home and leaves again at 6am for work.
Since the fourth wave of COVID-19 started in the city, Mai Dong ward has recorded 32 F0s in 15 different clusters. The seven staff members of the Medical Station have to race against time to trace people who have had contact with the patients and timely quarantine areas with infections.
At the same time, they also have to organise and carry out a vaccination drive in the ward as fast as possible in a safe manner. Around 6,000 doses of COVID-19 vaccine have been delivered in Mai Dong,
Through nearly four months of the fourth COVID-19 wave, to date, they are delighted to complete their task while staying safe in the pandemic, with all outbreaks zoned and put under control. 
Similarly, from August 2-5 at Trinh Hoai Duc Stadium, medical staff of Dong Da district carried out vaccination for local residents.
Head of the Medical Station of Quoc Tu Giam ward Vu Thi Hong Mai said that drastic measures have been applied to ensure utmost safety for both locals and medical staff, ensuring fast and safe vaccination activities.
Vice Chairman of Dong Da district's People's Committee Nguyen Hoang Giap said the district had administered 81,156 doses of vaccine, with 10 vaccination sites. 
Vaccination against COVID-19 at the medical station of Minh Khai commune, Hoai Duc district (Photo: VNA) 
In Minh Khai commune of Hoai Duc district, there are 3,460 residents at the age of 18-65 who are subjected to COVID-19 vaccination, according to Chairman of the communal People's Committee Do Xuan Dong.
Thanks to outstanding efforts of local medical staff and authorities, as of August 18, the commune had finished the injection of COVID-19 vaccine shots to 100 percent of people registered for vaccination.
As many as 4,806 doses of COVID-19 have been administered to locals in Me Tri ward, raising total number of vaccine doses given to locals in Nam Tu Liem district to 45,687.
Earlier, the capital city had made necessary preparations to launch the largest-ever COVID-19 vaccination campaign in a bid to reach herd immunity against the pandemic soon.
According to the municipal Department of Health, Hanoi has about 5.1 million people aged from 18 to 65 who need to be vaccinated. The city said that it has a capacity of receiving 1.3 million doses of vaccines at the same time. If the supply sources are stable, the city will strive to deliver 200,000 vaccine shots per day.
Director of the department Tran Thi Nhi Ha said that the city will set up 1,200 vaccination sites across the city, while mobilising 100 emergency teams to stand ready for post-vaccination emergency aid.
People in the targeted groups can register for COVID-19 vaccination in their commune, ward and township or through the COVID-19 vaccination portal and "So suc khoe dien tu" app on their smart phones which is available on both Android and iOS. After receiving the registration, medical staff will make screening and classify groups for vaccination.
According to Minister of Health Nguyen Thanh Long, Vietnam is striving to complete vaccinating its citizens in late 2021 or early 2022./.
Hanoi to finish providing support for several groups by August 25
Hanoi is striving to complete the provision of special assistance for several groups before August 25.
According to the municipal Department of Labour, Invalids and Social Affairs, a total of 1.55 million workers affected by the COVID-19 pandemic in Hanoi had been announced to be supported by the Government's social welfare support package with a combined amount of 245 billion VND (10.7 million USD) as of August 23.
Of the total, nearly 50,000 freelance workers will get a total of nearly 75 billion VND. To date, localities have provided support for more than 34,000 people with more than 51.6 billion VND in total (1.5 million VND each). The remainders will receive aid in the coming days.
All 30 districts and towns of the capital city have issued decisions to support more than 279,000 people rendering service to the nation, and poor and near-poor households who are beneficiaries of Resolution No.15 dated August 13, 2021 of the municipal People's Council Standing Board on a number of specific policies to support those affected by the COVID-19 pandemic, with a budget of over 279 billion VND.
In addition, the Vietnam Fatherland Front of Hanoi has provided essential goods for 3,431 families with no members participating in the labour market with an amount of more than 3.4 billion VND. Districts and towns have also given unexpected assistance for nearly 70,000 people with a budget of more than 36 billion VND.
To date, about 1.9 million people and families affected by the pandemic in the capital city have accessed and benefited from support policies with a combined amount of more than 564 billion VND./.
3D display system on General Vo Nguyen Giap presented to Quang Binh
The Ministry of National Defence on August 24 presented a 3D holographic-display system introducing the life and career of late General Vo Nguyen Giap to the central province of Quang Binh - the General's birthplace, on the occasion of his 110th birth anniversary (August 25).
Addressing the handover ceremony, Vice Chairman of the General Department of Politics at the Vietnam People's Army Lt. Gen. Trinh Van Quyet said the system will help people, especially the young generation, learn from the legendary General.
The system was developed by the Vietnam Military History Museum together with relevant agencies in nearly two months.
Applying new technology, it introduces outstanding historical locations with connections to the late General, more than 20 of his remembrances, life and career, along with file photos, documentaries and songs about General Vo Nguyen Giap, among others.
The provincial Department of Culture and Sports and the Quang Binh General Museum will be responsible for the operation of the system, in an effort to raise public awareness of the General and strengthen people's belief in the "Doi moi" (Renewal) cause initiated by the Party, thereby fostering patriotism amongst people from all walks of life.
On the same day, a delegation of the Defence Ministry offered incense to the General at his grave in Yen island of Quang Trach district and visited a memorial house in his hometown of Le Thuy.
The delegation also presented aid packages to policy beneficiaries in Le Thuy district.
General Vo Nguyen Giap, whose real name is Vo Giap (alias Van), was born in Loc Thuy commune, Le Thuy district, the central province of Quang Binh on August 25, 1911. He passed away in Hanoi on October 4, 2013 at the age of 103.
He once served as a Politburo member, Secretary of the Central Military Commission, Standing Deputy Prime Minister, Minister of National Defence, Commander-in-Chief of the Vietnamese People's Army and a National Assembly deputy from the first to seventh tenures.
The General, whose military career started with his appointment to lead the first Vietnamese revolutionary army unit with only 34 soldiers in 1944, led the Vietnamese people's army from victory to victory during the resistance war against French colonialists and then American imperialists./.
Art programme to mark August Revolution, National Day
A special art programme themed "Historical autumns" celebrating the 76th anniversary of the August Revolution (August 19) and the country's National Day (September 2) will be broadcast on VTV1 channel of Vietnam Television from 20:10 on August 28.
The event will be jointly organised by the Performing Arts Department under the Ministry of Culture, Sports and Tourism, the Vietnam Contemporary Art Theatre and relevant units.
According to Deputy Minister of Culture, Sports and Tourism Ta Quang Dong, the programme is part of cultural and art activities to honour great victories during the past struggle for national liberation and reunification, as well as spotlight achievements in the cause of national construction, defence and development at present.
It also aims to affirm the great merits and contributions of the entire Party, people and army, and valuable support of international friends for Vietnam over the past 76 years, he added.
Tran Huong Duong, Deputy Director of the Performing Arts Department, said the event will be a highlight in a series of activities to celebrate the National Day this year./.
Deputy PM inspects COVID-19 prevention, control at Military Hospital 175
Deputy Prime Minister Le Van Thanh and Defence Minister Gen. Phan Van Giang visited and inspected COVID-19 prevention and control at Military Hospital 175 in Ho Chi Minh City on August 24.
At the hospital, through online connection with Truong Sa island district of Ba Ria-Vung Tau province, Deputy PM Thanh appreciated the efforts and determination of the district's officers and soldiers to fight the pandemic, and emphasised their important role in performing political, military and defence tasks on the sacred archipelago.
Deputy PM Thanh highly valued the discipline, techniques and combat strength of Truong Sa officers and soldiers, especially in applying science and technology to stay connected with frontline hospitals in the mainland to ensure the health and life of officers, soldiers and residents in the island district.
After hearing the report on COVID-19 prevention and control of Military Hospital 175, especially the treatment of severe patients, Defence Minister Giang lauded the efforts made by officers, soldiers, military doctors and physicians to successfully complete their tasks.
He requested the hospital in particular and military officers and soldiers in general to maintain high determination to fulfill their tasks, and promote the gained achievements.
Previously, on August 23 afternoon, the delegation visited the COVID-19 treatment hospital No.5 and inspected COVID-19 prevention and control at some locations in Ho Chi Minh City./.
Call centre in support of COVID-19 prevention and control makes debut
The Youth Social Work Centre under the Vietnam Youth Federation on August 23 launched a call centre supporting COVID-19 prevention and control (1900 638 090) with multi-functions: Community emergency, Home hospital, Patient treatment medicine bag, Oxygen ATM, Relief food and Free burial.
As medical facilities in Ho Chi Minh City are overloaded, when contacting the call centre, COVID-19 patients who are being treated at home can be connected with doctors for timely support. For cases that cannot buy medicine for themselves, the call centre will contact organisations which provide to medicine bags to their homes.
It also connects with oxygen ATMs to help patients borrow free oxygen cylinders when being treated at home.
In addition, people who live in difficult circumstances and lack food can also contact the call centre to receive food relief. When facing difficulties in conducting burial for their relatives who die of COVID-19, they will be supported to connect with organisations that are performing free burials.
With links between the Youth Social Work Centre and the "Home Hospital" project of Food Bank Vietnam, the call centre also has four community ambulances to transport patients to hospitals and COVID-19 treatment facilities in the city.
Along with the call centre, the Youth Social Work Centre has carried out many programmes to assist local people affected by the pandemic with a total capital of over 23 billion VND (1 million USD)./.
Vietnamese in Mongolia support COVID-19 fight at home
The Embassy of Vietnam in Mongolia recently held a ceremony to receive donations to the COVID-19 prevention and control fund.
Addressing the event, Vietnamese Ambassador to Mongolia Doan Khanh Tam informed participants on the COVID-19 situation in Vietnam, along with policies and stringent measures by the Party and State and people's determination to curb the spread of the pandemic.
The Party and State always give top priority to protecting people's health and ensuring their living conditions, he affirmed. The diplomat also underlined solidarity amongst Vietnamese and the spirit of "the haves helping the have-nots".
The event raised more than 7,000 USD to support compatriots at home to battle against the ongoing pandemic, he said.
Tam called on the Vietnamese community in the East Asian nation to further uphold the country's traditions and support the COVID-19 fight in various practical methods so that Vietnam will soon bring the pandemic under control.
He also urged members of the community to comply with COVID-19 preventive measures of the local authorities as the pandemic situation in the country remains complicated with an average daily new cases of 1,500 and the emergence of novel variants of the coronavirus.
About 200 Vietnamese people are living, studying and working in Mongolia at present./.
Drawing contest about Hanoi launched
Young artists will have an opportunity to show their talents and creativity through a drawing contest about Hanoi.
The contest will last from August 6 to September 9, aiming to promote the title "Hanoi - Creative City" awarded by UNESCO in 2019.
It is organised by United Nations Educational Scientific and Cultural Organisation (UNESCO), the UN Human Settlement Program (UN-Habitat), and the Vietnam Institute of Culture and Arts Studies (VICAS) with the companionship of the Vietnam Local Artist Group (VLAG).
The contest is part of the Hanoi Rethink project initiated by UNESCO, UN-Habitat, and the UN Industrial Development Organisation (UNIDO), with the support of SOVICO Group, to realise the city's commitments when joining the UNESCO Creative Cities Network.
According to UNESCO, the COVID-19 pandemic may limit the movement of people, but it cannot stop the flow of creativity. The drawing contest about Hanoi welcomes unique ideas from different visual arts forms such as painting, drawing and design. Entrants can freely express a Hanoi behind their artistic lens and emotions.
The winner will be awarded a cash prize of 10 million VND (438 USD). There will be four co-winners for second place, one voting prize and 24 prizes for outstanding works.
Hanoi was designated as part of the UNESCO Creative Cities Network on October 30, 2019.
The municipal Department of Culture and Sports said the Vietnamese capital became a new member of the network in the field of design. Although Hanoi is strong at many fields of creativity, it decided to apply for the status in terms of design since this area has wide coverage, is closely linked with other fields, and can reflect the city's potential and strength in bringing into play its creativity.
It has met the standards for a creative city of design, including a developed design industry, multiple opportunities for creating designs from natural materials and conditions, and the presence of design groups with frequent activities.
The department said joining the UNESCO network is the first but significant step for Hanoi to raise its standing and create a new and more attractive image of the city.
Local authorities noted Hanoi is the political - administrative centre and a major hub in terms of culture, science, education, economy and international transactions of Vietnam. The city also boasts historical and cultural quintessence as seen through a number of national and international tangible and intangible cultural heritages, along with hundreds of traditional craft villages.
Additionally, it gathers talents and intellectuals from across the country in research centres, academies, universities and colleges, which is a favourable condition for it to receive and popularise knowledge and new technology which are important factors in the development of cultural and creative industries.
A total of 66 cities were designated as UNESCO Creative Cities on this occasion. Apart from Hanoi, the seven other creative cities of design are Asahikawa (Japan), Baku (Azerbaijan), Bangkok (Thailand), Cebu City (the Philippines), Muharraq (Bahrain), Querétaro (Mexico), and San José (Costa Rica).
"All over the world, these cities, each in its way, make culture the pillar, not an accessory, of their strategy," says UNESCO Director-General Audrey Azoulay. "This favours political and social innovation and is particularly important for the young generations."
The UNESCO Creative Cities Network, founded in 2004, aims to enhance cooperation among cities which recognised creativity considered a strategic factor of sustainable development.
The network recognises seven factors - craft and folk arts, media, film, design, gastronomy, literature, and music - as creative fields.
The member cities that form part of the network come from all continents and regions with different income levels and populations. They work together towards a common mission: placing creativity and the creative economy at the core of their urban development plans to make cities safe, resilient, inclusive and sustainable, in line with the UN 2030 Agenda for Sustainable Development.
Video contest on Thailand-Vietnam cultural exchange launched
Thai and Vietnamese people are eligible to participate in a video making contest themed "Thai-Vietnamese Friendship in the New Normal", to celebrate 45 years since the establishment of diplomatic relations between the two counties.

Applicants are encouraged to submit their works covering different themes, such as culture, tourism, cuisine, and music, said the Thai Embassy and the Voice of Vietnam, the organisers of the contest.
Contestants must be Thai and Vietnamese citizens aged between 18 and 30, and each video must be shot by two contestants comprising a Vietnamese and a Thai.  Contestants are able to find teammates via https://fb.me/e/K4lnwCKq.
Videos must last for between two and five minutes and use Thai, Vietnamese, and English languages. During the video making process, contestants must follow all relevant COVID-19 prevention measures in both countries.
Entries in the formats of MP4, AVI, MOV, and WMV need to be uploaded onto Google Drive, Dropbox, or OneDrive. They then should be sent to the Facebook page https://www.facebook.com/ThaiThebyRTEHanoi detailing name, year of birth, email address, and the telephone numbers of both members.
High-quality videos will be uploaded onto the YouTube channel of the Royal Thai Embassy in Hanoi.
First, second and third prize winners will receive VND20 million, VND10 million and VND5 million, respectively.
For further information participants can contact rte.hanoi2021@gmail.com by email or visit the Facebook page https://www.facebook.com/ThaiThebyRTEHanoi.
Source: VNA/VNS/VOV/VIR/SGT/SGGP/Nhan Dan/Hanoitimes 

16,000 doses of Molnupiravir ready for self-use of COVID patients at home