Nearly 51,000 patients recover from COVID-19 in Vietnam
Vietnam has seen over 50,800 COVID-19 patients fully recover from the virus since the start of the pandemic, according to the latest report announced by the Ministry of Health on August 4.

The daily number of coronavirus recoveries has increased to more than 3,000 during the past few days, most in Ho Chi Minh City, the country's largest coronavirus hotspot.
At present, 463 individuals are currently receiving intensive care treatment, with 20 others in critical condition and requiring ECMO support.
Elsewhere, a 500-bed COVID-19 intensive care unit (ICU) centre in Ho Chi Minh City has been put into operation. The number of ICU beds is expected to rise to 700 over the coming days as soon as the Ministry of Health provides additional medical workers and equipment.
In another development, Trinh Hoai Duc Gymnasium in Dong Da district of Hanoi has been converted into a vaccination site, one of 10 such locations dedicated to vaccinating local residents.
Hanoi has just launched its largest-ever COVID-19 vaccination campaign, aiming to inoculate more than 5.1 million people with the AstraZeneca, Pfizer, and Moderna vaccines.
This ongoing vaccination phase is taking place from August 2 to August 5, or alternatively until the allocated vaccines have been fully administered.
The Ministry of Health has meanwhile issued instructions relating to vaccine injections, with all people set to get both doses of the same vaccine, except for a mix of AstraZeneca and Pfizer.  
Vietnamese and Omani Deputy FMs hold phone talks
Vietnamese Deputy Minister of Foreign Affairs Pham Quang Hieu on August 3 held phone talks with his Omani counterpart, Sheikh Khalifa Bin Ali Al Harthy, to discuss bilateral cooperation and issues of mutual concern.
Vietnamese Deputy Minister of Foreign Affairs Pham Quang Hieu on August 3 held phone talks with his Omani counterpart, Sheikh Khalifa Bin Ali Al Harthy, to discuss bilateral cooperation and issues of mutual concern.
Hieu expressed his delight at the positive development in the friendly cooperation relationship between the two countries over the past time, especially in the field of economy. 
Despite facing many difficulties caused by the COVID-19 pandemic, bilateral trade turnover in the past two years has reached nearly 200 million USD per year, an increase of nearly 50 percent compared to that of 2018, he said.
Vietnam-Oman Investment JSC has operated actively and is one of the bright spots in the relationship between the two countries, Hieu noted.
He asked the Omani side to continue supporting Vietnam in overcoming consequences of natural disasters, accessing vaccines and medical equipment for COVID-19 prevention and control.
While appreciating Vietnam's achievements in politics, external relations and socio-economic development, Undersecretary for Diplomatic Affairs Al Harthy affirmed that Oman always attaches importance to promoting multifaceted cooperation with the Southeast Asian country.
The two deputy ministers held that the potential for bilateral cooperation between Vietnam and Oman remains huge. 
Given complicated developments of the COVID-19 pandemic, the two sides exchanged and agreed on measures to strengthen and improve the efficiency of collaboration between the two countries in the coming time, including enhancing online communication between leaders of ministries and sectors, closely coordinating at international forums and organisations and effectively maintaining existing cooperation mechanisms such as the Intergovernmental Committee, the political consultation between the two foreign ministries. 
They also pledged to step up cooperation in COVID-19 prevention and control and emphasised the need to coordinate in organising online investment and trade promotion activities, providing information, connecting businesses, and enhancing partnerships in agriculture and seaports.
The negotiations and signing of cooperation agreements, even via videoconference, would be sped up to accomplish the legal framework for bilateral cooperation, they said.
The two sides also exchanged views on a number of regional and international issues of common interest./.
Vietnam wants to work closely with the US in settling war aftermaths: official
The consequence of bombs, mines and toxic chemicals left by war in Vietnam is an urgent issue that has been threatening people's lives and causing a serious effect on the country's sustainable development goals, a senior official has said.
Deputy Minister of National Defence Senior Lieutenant General Hoang Xuan Chien made the remarks at a webinar on "Overcoming the consequences of war, moving forward together" which was organised by the United States Institute of Peace (USIP) on August 3.
Chien said he hoped that the US authorities will continue to cooperate more closely with Vietnam in dealing with war aftermaths. 
The deputy minister emphasised the need for the two sides to identify new and breakthrough solutions to promote more effective and faster collaboration activities in overcoming the consequences of landmines and toxic chemicals/dioxins.
In the immediate future, it is necessary to continue to mobilise resources to accelerate the detoxification process of the entire Bien Hoa airport area and seek more appropriate methods to provide medical care and employment for victims of Agent Orange/dioxin in Vietnam, he said.
The clearance of unexploded bombs and mines in Vietnam should be sped up, to clean up from 500,000-700,000 ha per year. 
Chien affirmed that he would direct Vietnamese relevant agencies to closely coordinate with each other and with US partners to effectively implement important cooperation contents between Vietnam and the US.
Speaking at the webinar, Lise Grande, president of the United States Institute of Peace said the event was an opportunity for US and Vietnamese agencies, managers, scientists and experts to identify future orientations to promote cooperation between the two sides in overcoming the consequences of landmines and toxic chemicals, along with collaboration in searching for soldiers missing in action in Vietnam.
US Senator Patrick Leahy appreciated the cooperation between the two countries in the past time.
He said during the visit to Vietnam by US Secretary of Defense Lloyd Austin on July 29, the two sides signed a Memorandum of Understanding on gathering and searching for remains of Vietnamese soldiers missing in the war, adding that it opened up a new chapter in the cooperation in overcoming war aftermaths between the two countries.
100-day battle against fourth COVID-19 wave
Today marks 100-day battle against Delta variant with over 170.000 local infections in 62 cities and provinces, including 48,057 recoveries and 2,036 fatalities.
World Bank helps Vietnam to set up National Road Safety Observatory
The World Bank (WB) in Vietnam on August 3 published a final report of Road Safety Data Assessment in Vietnam for the establishment of a National Road Safety Observatory (NRSO).
The report is part of a strategic partnership programme between the Australian Government and the WB on a series of analytical reports on Vietnam's transport industry.
According to the report, the WB has been assisting the Government of Vietnam, through the National Traffic Safety Committee (NTSC), in improving its road accident data system, establish a NRSO and update the National Road Safety Strategy and Action Plan for Vietnam.
With financial support from the WB during the 2005-2012 period, a National Road Traffic Accident Database System (NRADS) has been developed, which includes data from 63 provinces and cities across the country, managed by the Traffic Police Department under the Ministry of Public Security.
The report's findings highlighted the need to strengthen state management and restructure road traffic safety data systems.
Despite many efforts has been paid, thousands of deaths are recorded every year due to road traffic accidents, it said.
According to the Traffic Police Department, in the first six months of the year, there were 6,340 traffic accidents nationwide which killed 3,192 people and injured 4,475 others. Most of the accidents occurred on roads with 6,278 cases resulting in 3,147 deaths and 4,465 injuries.
To improve the situation, the WB recommended that Vietnam establish a specialised agency to manage road traffic safety and build a comprehensive database on road safety. 
According to the WB, the development of a database on traffic accidents by the Ministry of Public Security is a great step forward, but it needs to be integrated with the road database of the Ministry of Transport. 
It is necessary for the Ministry of Health to build a database on traffic accident injuries, which is linked to the above databases.
The WB estimates that it takes four years with a budget of nearly 2 million USD to build and put into operation the NRSO and the National Road Traffic Safety Portal.
Central Steering Committee for Anti-Corruption to meet on August 5
The Central Steering Committee for Anti-Corruption will convene its 20th meeting on August 5.
The meeting holds significance as it is the first gathering of the committee in the 13th tenure of the Communist Party of Vietnam Central Committee, and takes place amid the complex developments of the COVID-19 pandemic.
Amid the efforts to combat the pandemic and maintain socio-economic development, attention has been paid to the fight against corruption in line with instructions of Party General Secretary Nguyen Phu Trong, who is also head of the Central Steering Committee for Anti-Corruption.
The leader has called for higher political resolve, and stronger, more drastic and effective actions against corruption, saying the work must be done resolutely, persistently and continuously at all sectors and agencies.
During the upcoming meeting, the Central Steering Committee for Anti-Corruption will look into a draft report on the implementation of its working programme in the first half of this year, and tasks for the second half.
The committee will also mull over results of the settlement of cases under its monitoring, and other documents regarding its operation.
Vietnamese Olympic team set for homecoming on August 4
The Vietnamese sports team will return to the country on August 4 after completing their participation in the 2020 Tokyo Olympics in Japan.
This comes following several athletes returning to the country on July 30 after competing in the taekwondo, weightlifting, shooting, judo, and rowing events.
The national sports team concluded their journey at the Olympics after Quach Thi Lan failed to enter the finals in the women's 400m hurdles after clocking a time of 56.78, finishing 18th among a total of 24 competitors.
The country sent 18 athletes to compete in 11 sports during the 2020 Tokyo Olympics which is taking place in Japan from July 23 to August 8. However, local athletes failed to win a medal in their prospective sports, including weightlifting, boxing, and rowing.
Tran Duc Phan, head of the Vietnamese team, said there were only a few competitors able to successfully qualify for the Olympics, including swimmer Nguyen Huy Hoang, with some athletes competing in the games as wild card entries.
The global sporting occasion therefore showed that there is still a massive gap between Vietnamese athletes and those in the rest of the world, Phan noted.
Vietnam's army team arrives in Russia for International Army Games
A delegation of the Vietnam People's Army (VPA) arrived in Moscow, Russia, on August 3 morning (Russia time) to compete in the 2021 International Army Games, to be held later this month.
The Vietnamese team comprises nearly 200 officers and soldiers. It will join various events, including Tank Biathlon, Safe Route, Sea Cup, True Friend, Sniper Frontier, Gunsmith Master, Masters of Artillery Fire, Clear Sky, Safe Environment, Military Medical Relay Race, and Field Kitchen.
Participants of the True Friend category will travel to Algeria for the competition.
Head of the Vietnamese delegation Maj. Gen. Pham Van Thai, Deputy Director of the Department of Military Training under the VPA's General Staff, said that all members are ready for the Games and determined to achieve the best results.
The 2021 International Army Games will kick off on August 22 across 12 host countries and territories. A total of 277 teams from more than 40 countries and territories are expected to compete in 36 categories this year.
This is the fourth time Vietnam has participated in the competition. It also marks the first time the country has hosted sniper and rescue events of the Games.
The Vietnam People's Navy has also sent a fleet comprising frigates 015-Tran Hung Dao and 016-Quang Trung to take part in the Sea Cup event for the first time.
All of the team members have been fully vaccinated against COVID-19 and test negative with the virus.
Vietnam on right track to combat COVID-19, says WHO representative
Vietnam is on the right track to combat the fresh coronavirus outbreak with drastic measures in place, said World Health Organisation (WHO) Vietnam Representative Kidong Park.

During a working session with Minister of Health Nguyen Thanh Long on August 3, Dr. Park noted that the newly mutated strain Delta is wreaking havoc across the country, but he expressed his confidence that Vietnam is likely to weather the crisis with the engagement of both the political system and people.
The World Health Organisation in Vietnam is ready to work alongside the Government of Vietnam and the Ministry of Health in this fight, he assured Minister Long.
Vietnam has adopted restrictive measures to combat the spread of the Delta variant which was reported in almost all cities and provinces across the country. A number of localities have imposed social distancing rules with restrictive measures in place to halt the virus spreading in the community.
However, a surge in infection numbers has put the health sector under great pressure.
The Ministry of Health has decided to establish many intensive care unit (ICU) centres in southern localities, including five in HCM City, to treat severely and critically ill patients.  
It has also dispatched a contingent of professionals and healthcare workers to southern provinces to assist with contact tracing, testing and treatment of COVID-19 patients.
In addition, Vietnam is speeding up vaccinations to increase the vaccine coverage, but vaccine supply is still the biggest challenge at the moment.
Acknowledging Vietnam's drastic measures, Dr. Park especially highly appreciated the fact that the Ministry of Health has urgently established ICU centres in Ho Chi Minh City and other southern provinces to treat severely and critically ill patients aimed at reducing the mortality rate.
He said the WHO stays ready to support the Ministry of Health in enhancing professional training for staff and infection prevention measures for healthcare workers.
The WHO representative also affirmed that all COVID-19 vaccines approved by the WHO are safe and effective. He said the WHO will assist the Ministry of Health to enhance the capacity building of testing, evaluation and licensing of domestically produced vaccines meeting WHO-run National Regulatory Authority (NRA) regulations.
Support to pandemic-hit groups updated daily on gov't information reporting system
Statistics regarding the support to people affected by the COVID-19 pandemic have been updated daily at https://baocaochinhphu.gov.vn/ioc/, according to the Government Office.
The support has been provided to employees and employers affected by the pandemic in line with Resolution No. 68/NQ-CP and Decision No. 23/2021/QD-TTg.
Through the system, relevant agencies at the district level will send daily reports from 2pm to 4pm, which will be collected and submitted to provincial People's Committees by district People's Committees from 4pm to 4:30pm.
The provincial People's Committees will forward the statistics to the Ministry of Labour, Invalids and Social Affairs (MoLISA) from 4:30pm to 5pm.
Up to 3,667 system accounts have been opened for relevant agencies and localities.
Notably, the system will automatically send monthly reports to the MoLISA, the Ministry of Finance, the Ministry of Planning and Investment, the State Bank of Vietnam, and the Prime Minister./.
Vietnam reports 4,271 new COVID-19 cases on August 4 morning
Vietnam logged 4,271 new COVID-19 infections from 7pm on August 3 to 6am on August 4, including four imported cases, according to the Ministry of Health.
Ho Chi Minh City, the country's current largest pandemic hotspot, still recorded the biggest number of new infections with 2,365, followed by neighbouring Binh Duong province (1,032), Tay Ninh (194), Dong Nai (164) and Long An (146).

The remainders were detected in Da Nang (93), Binh Thuan (77), Vinh Long (60), Can Tho (37), Phu Yen (28), An Giang (24), Binh Dinh (23), Dong Thap (14), Bac Lieu (4), Dak Nong (4), Lam Dong (1), and Lang Son (1).
Of the number, 1,044 cases were detected in the community.
The national tally had reached 174,461 as of August 4, including 2,328 imported cases. The number of infections since the fourth wave of outbreak hit Vietnam on April 27 amounted to 170,563.
As many as 50,830 patients have recovered from COVID-19.
On August 3, 405,884 doses of COVID-19 vaccine were administered, raising the total number to 7.29 million. As many as 744,331 people have fully received two shots.
On the day, the MoH received 415,000 doses of AstraZeneca COVID-19 vaccine donated by the UK government.
PM proposes presenting Feat Order to police officer who dies on duty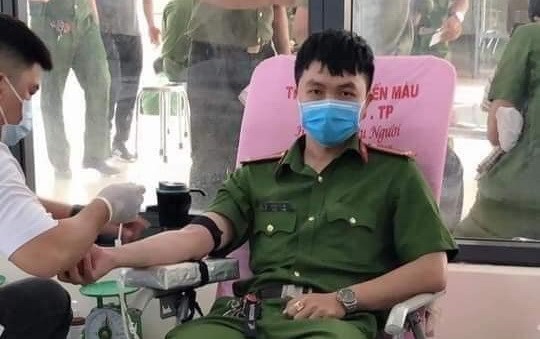 Senior Lieutenant Phan Tan Tai at a blood donation campaign (Photo: Facebook)

Prime Minister Pham Minh Chinh has proposed President Nguyen Xuan Phuc bestow posthumously a second-class Feat Order on a police officer in Ho Chi Minh City who died while on duty.
Senior Lieutenant Phan Tan Tai, of the drug crime investigation police team under the city's Department of Public Security, and his colleagues found a man violating COVID-19 prevention and control regulations on August 2 night as he was out on the street unnecessarily.
Suspecting the man had used drugs illegally, Tai and his colleagues asked him to go to the police headquarters for further procedures. But, the man sped on his motorbike to run away.
The officer was killed in an accident on the way to chase the runaway, which has been supposed to be deliberately caused by the man, who was then identified as a drug addict.
The case is under further investigation./.
Hanoi's biggest wholesale market suspended due to Covid-19
The whole Long Bien Market, Hanoi's biggest wholesale market, has been locked down after one more Covid-19 case related to the market was confirmed.
Under the decision of Phuc Xa Ward's authorities, the closure started from 1 pm on Tuesday will last until further notice. 
The Covid-19 patient is a person who often delivers ice for the market's seafood traders to preserve their products. On July 28, he had a cough and fever. He then tested positive for Covid-19 on Monday.
On Saturday, the market's seafood area was locked down after a seafood trader who is from Thanh Tri District was confirmed positive for Covid-19.
Local authorities then traced 260 people related to the patient but all of them tested negative for Covid-19 for the first time.
Long Bien Market is home to around 1,200 traders.
Recently, Hanoi has temporarily shut many big markets because of Covid-19 infections. On July 27, Hoang Mai District closed the South wholesale market after an egg trader tested positive for Covid-19. Meanwhile, Phung Khoang Market in Nam Tu Liem District and Minh Khai in Bac Tu Liem District were also closed on Monday.
Regarding Covid-19 infections in Thanh Nga Food Company, the meat supplier for VinMart chain, dozens of VinMart supermarkets and stores in Hanoi have also been suspended for Covid-19 prevention.
HCMC begins 6th phase of Covid-19 vaccination drive
HCMC has proposed the Government to allocate 5-5.5 million doses of vaccine for the sixth phase of the city's Covid-19 vaccination program that begins today and runs until the end of August. The city has set the target of administering vaccine to Southern metropolis's residents above 18 years old in August.
The statement was made by Vice Chairman of the People's Committee of HCMC Duong Anh Duc at a press conference held by the HCMC Steering Committee for Covid-19 prevention and control on August 3.
According to statistics, HCMC has around seven million people aged 18 years and over. Two million of these people received Covid-19 vaccine shots.
The city has at present 800,000 individuals who will get the second shots of AstraZeneca vaccine, and 200,000 people will receive the second shots of Moderna vaccine by the end of this month, he said.
HCMC has deployed 1,200 vaccination teams. If each unit delivers 250 shots per day, the city could reach a target of 300,000 shots a day, even the larger number of 350,000 shots per day with a plentiful supply of vaccines, Mr. Duc stressed.
Regarding to one million doses of Vero Cell vaccines against Covid-19 produced by China's Sinopharm arrived in HCMC on July 31, the Vice Chairman of the municipal People's Committee said that these vaccine doses have been sent to the functional departments of the Ministry of Health for evaluation of its standards for effectiveness, safety and quality.
The vaccination is voluntary. Everyone will get the vaccine after they give informed consent, he emphasized.
Answering the question on imposing penalties for vaccine rejection, the city's leader affirmed that according to the policy of the Vietnamese State, Covid-19 vaccination is free and voluntary for all Vietnamese people.
To be approved for use, Covid-19 vaccines must meet two requirements that they have been granted emergency use authorizations by the World Health Organization (WHO) and Vietnam.
HCMC has currently Covid-19 vaccines approved for use including AstraZeneca, Moderna, Pfizer and Sinopharm's Vero Cell.
Sinopharm's Vero Cell Covid-19 vaccine was approved by WHO and Vietnam on May 7 and June 3 respectively, he added.
Speaking at the meeting, Vice Chairman of the City People's Committe Duong Anh Duc said that according to data released by the HCMC Health Department, the fifth phase of HCMC's Covid-19 vaccination program gave 920,329 doses of vaccines consisting of AstraZeneca, Moderna, and Pfizer that were distributed by the Ministry of Health from July 22 to August 3. 1,039 people had mild allergic reactions after vaccination and received immediate appropriate medical treatment.
As of present, the city received 2.5 million doses of vaccines. About two million people have been vaccinated with one jab and 70,000 people have fully got two shots.
Covid-19 information portal of HCMC DIC formally launched
 
Director of the Ho Chi Minh City Department of Information and Communications (DIC) Lam Dinh Thang this morning announced that his department has just introduced its Covid-19 Information Portal at the address of https://covid19.hochiminhcity.gov.vn
Taxation body to launch e-tax application for mobile devices this month
The General Department of Taxation plans to debut its e-tax application for mobile devices, Etax-mobile, in August to facilitate taxpayers particularly amid the complicated developments of COVID-19.
The country has so far seen 99 percent of enterprises using electronic tax services. The proportion is much lower among individuals due to inconvenient support software, hence the department's development of Etax-mobile
In the immediate future, Etax-mobile will be provided for individual use on iOS and Android platforms.
In addition to supporting functions provided on the e-tax system via the web platform, the application will provide enhanced user experience services, additional search functions, links to banks' payment applications.
The department said that, with 60 million individuals having tax codes, the use of Etax-mobile will help taxpayers easily access related administrative procedures and communicate with tax authorities. They can transparently and conveniently fulfill their tax obligations anywhere.
UNESCO launches campaign to promote girls' education
The United Nations Educational, Scientific and Cultural Organisation (UNESCO) in Vietnam on August 3 launched the campaign #KeepingGirlsinthePicture - "For a future picture with girls", calling on the community to share inspirational stories to encourage ethnic minority students, especially girls, to continue their studies after the pandemic ends.
According to UNESCO, the COVID-19 pandemic has closed schools and caused the largest disruption of education in history. More than 1.5 billion students are affected by the pandemic worldwide, of which more than 767 million are girls.
The organisation estimated that more than 11 million female students – from preschool to university – might not return to school last year.
This alarming number not only threatens progress on gender equality which has been achieved over the decades but also puts girls at risk of child labour, forced marriage and victims of various forms of violence.
The global campaign #KeepingGirlsinthePicture - "For a future picture with girls" aims to ensure that girls' learning is not disrupted during school closures, promoting a safe environment for them when educational institutions reopen and calls for efforts to protect the progress made in their education.
In Vietnam, the campaign is implemented within the framework of the project "We are able (Achieving a better living and education)", which is implemented by UNESCO in collaboration with the Ministry of Education and Training and the National Assembly's Committee for Ethnic Minorities Affairs, with the support of CJ Group of the Republic of Korea. It aims to improve access to education of ethnic minority girls in Ha Giang, Ninh Thuan, and Soc Trang provinces.
UNESCO has launched the communication campaign on social networks by collecting and spreading stories from the community about the importance of education in life. The stories will be shared and posted on the fan page "UNESCO Office in Vietnam" to spread positive things to the community, towards the goal of "keeping girls in the picture".
Interested person can send their stories in Vietnamese within 500 to 800 words, along with an illustrated photo to the email address: hanoi@unesco.org until September 5, 2021./.
New road to cut travel time between HCM City, Đồng Nai
Construction of the 9.4km-long Road 319, which will improve goods transport between industrial parks in Đồng Nai Province and HCM City, is expected to be completed by the end of this month after nearly four years of construction.
The road is being built under the build-operate-transfer (BOT) form with a total investment of more than VNĐ960 billion (US$41.7 million).
It starts at Phước Thiền Commune in the southern province's Nhơn Trạch District, and ends at an intersection at the HCM City-Long Thành-Dầu Giây Expressway between Đồng Nai and HCM City.
It will have four lanes, including four new bridges and an overpass. A 6-booth BOT toll station is being built for toll fee collection.
When completed, the route will help shorten travel time from Nhơn Trạch to the city, and ease traffic pressure on National Highway No 51 which is becoming overcrowded.
Congestion has become increasingly worse on both the HCM City-Long Thành-Dầu Giây Expressway and the section of National Highway No 51 to HCM City during peak hours and holidays.
The Ministry of Transport has approved widening a 24km section of the HCM City-Long Thành-Dầu Giây Expressway to 10 lanes from its current four lanes.
The section running from HCM City's District 2 to Long Thành Town in Đồng Nai will be widened and completed by 2030. 
The widening will ease traffic flows when the ongoing Long Thành International Airport in Đồng Nai opens by 2025.
Đồng Nai will build four routes leading to the airport, aiming to ease overloading on national highways No 1A and No 20, and the Dầu Giây intersection.
It also plans to expand and upgrade seven routes in order to facilitate the transport of goods among 32 industrial parks in the province. 
Hanoi military tests bikes for disinfecting areas
Soldiers from the Military Command Board of Hanoi's Nam Tu Liem District are using motorbikes for disinfecting areas.According to the district's Military Command Board, using motorbikes for disinfection is more convenient and effective for many sealed-off areas in Hanoi, particularly in narrow alleys.  
A motorbike can carry up to three sprayers which are enough to disinfect around 500 metres of road, said Senior Lieutenant Colonel, head of the board.
Each motorbike only needs one driver, helping to save human resources.
After piloting the vehicle, the board will report to the Hanoi Military Command. Once approved, it is expected to be widely applied in the city.
Former intelligence official prosecuted for taking bribe
The Supreme People's Procuracy has issued an indictment in a bribery case involving Phan Van Anh Vu and former deputy head of the Ministry of Public Security's General Department of Intelligence Nguyen Duy Linh.
In the case, Linh was prosecuted for receiving bribes, while former Chairman of the Bac Nam 79 Construction JSC Phan Van Anh Vu was prosecuted for "giving bribes", and Ho Huu Hoa, 37, residing in the central province of Nghe An, for "brokering bribes".
According to the indictment, in mid-2017, Vu was under investigation for violations in a case of intentionally leaking State secrets, along with other illegal acts related to the purchase, sale and transfer of public houses and land in the central city of Da Nang and other localities.
Vu tried to access Linh through Hoa for help and information related to the cases. Later, Vu fled to Singapore after being informed by Linh that he could be detained and prosecuted.
Investigators found that Linh received a bribe worth up to 5 billion VND (217,000 USD) through Hoa from Vu./.
Government to cut costs of electricity, water, and telecommunications for citizens

To aid people affected by the COVID-19 pandemic, the government will reduce the price of electricity, followed by water and telecommunications fees.

People in provinces implementing social distancing will receive a discount on their electricity bills. Photo: VNA
According to a proposal of the Ministry of Industry and Trade (MoIT) and Electricity of Vietnam (EVN) submitted on July 30, people using up to 200kWh of electricity a month for living purposes in cities and provinces implementing social distancing according to Directive No.16/CT-TTg will have their electricity bills reduced by 15 per cent (before VAT).
Customers using more than 200kWh a month are entitled to a 10 per cent discount. The support will be available for bills in the two months of August and September.
The size of the support package is expected to be about VND2.5 trillion ($108.7 million).
In addition, apart from the free medical isolation facilities, electricity bills have also been waived for paid medical isolation facilities for seven months (from June to December).
After the proposal of reducing electricity costs, deputy prime minister Le Minh Khai requested related agencies to consider reducing the cost of clean water for daily life and telecommunications charges to help affected people.
This is the fourth support for electricity bills since the beginning of 2020.
According to for statistics from the MoIT, the first support implemented from April 16, 2020 to the end of July 16, 2020 helped 27 million beneficiaries with a total reduction of about VND9.3 trillion ($404.35 million).
The second support, implemented from October to December 2020, had 25.4 million beneficiaries with a total reduction of nearly VND3 trillion ($130.43 million). The third one is estimated at about VND1.3 trillion ($56.5 million).
21 cities and provinces nationwide have implemented social distancing according to Directive 16.
Health Ministry allocates over 650,000 more COVID-19 vaccine doses to HCM City
The Health Ministry on August 3 allocated 659,500 doses of COVID-19 AstraZeneca vaccine which were bought from AstraZeneca by VNVC, to Ho Chi Minh City.
The allocated vaccines are part of the more than 1 million doses freshly delivered to Vietnam.
Another 414,880 doses of AstraZeneca vaccine, donated by the UK Government, are given to Hanoi.
The same day, the ministry adjusted an earlier decision on allocating COVID-19 vaccines for the 16th time, giving HCM City 319,000 more doses and Hanoi an additional 284,000 doses.
With the latest provision, Ho Chi Minh City has so far received the most COVID-19 vaccines among localities in the country with 4,075,270 doses, including those allocated to centrally-run institutes, hospitals and agencies based in the city.
There are an estimated 7 million people aged 18 and above in HCM City. The city has administered around 2 million doses so far. Therefore, in order to vaccinate 70 percent of its population to achieve herd immunity, the city needs about 5.5 million more doses./.
HCM City establishes more field hospitals, targets 4m vaccinations in August
Part of Từ Dũ maternity hospital and the entire Saigon General Hospital, both in HCM City's District 1, have been converted into field hospitals with a total of 350 beds for Covid-19 treatment, according to city authorities.
The city, the country's pandemic epicentre, has recorded more than 100,000 cases since the fourth COVID outbreak began at the end of April.
The Từ Dũ facility will have 150 beds.
The Saigon General Hospital field hospital on Lê Lợi Street will use the entire existing infrastructure of the facility, which has 200 beds besides 300 medical professionals.
Nearly 40 hospitals with a total capacity of 55,000 beds are treating COVID patients based on the five-level model, with the fifth referring to treating patients who are critically ill.
On Monday a team of doctors and medical personnel from the central-level Huế Central Hospital, led by its director and deputy director, left for HCM City to set up an ICU there for COVID treatment.
A lot of equipment, supplies and medicines for severe cases accompanied them.
The facility they will set up with 500 beds will be in Tân Phú District and start functioning within a few days.
In a related move, doctors and medical personnel from other two central-level facilities, Hà Nội's Việt Đức and Bạch Mai hospitals, will also set up two ICUs with a total of 2,500 beds in the city, according to the Ministry of Health.
HCM City-based Chợ Rẫy Hospital already operates a 1,000-bed ICU at the HCM City Oncology Hospital in Thủ Đức City.
The city has sought continued vaccination priority from the Ministry of Health to achieve its goal of immunising 70 per cent of its population aged over 18 by the end of August.
Dương Anh Đức, vice chairman of the People's Committee, said the city has so far administered more than 1.7 million doses, mostly to people in the priority list such as those over 65 years or with underlying conditions. 
The city plans to accelerate the progress of vaccination, and targets more than 4 million doses by the end of August.
For the purpose, it has allowed people aged over 65 or with chronic medical conditions to get vaccinated at mobile facilities instead of at only hospitals and treatment facilities.
Đức has said everyone above 18 would be vaccinated. The city has a population of 13 million of whom 6.99 million are over 18. 
To speed up the task, the city plans to set up mobile vaccination facilities and carry out the task even at night.
On Monday nearly 538,490 people were vaccinated, the highest in a single day so far, taking the total number to nearly 6,959,200, with 712,860 people fully vaccinated.
If the number – in the city -- reaches 500,000 doses a day or more, Việt Nam is likely to complete the target of herd immunity by the end of 2021, according to the ministry. 
The number of infections since the fourth wave began at the end of April is nearly 170,000, with HCM City accounting for more than 100,000.
New vaccination centre opens in Lâm Đồng Province
The Việt Nam Vaccination Joint Stock Company has set up a vaccination centre on National Route No 20 in Central Highlands Lâm Đồng Province's Đức Trọng District.
It is its 57th centre.
According to Phạm Ngọc Khoa Nguyên, director of the centre, it is the first such large centre in the province, and can handle 500-1,000 people a day.
It helps save people the effort and cost of travelling to Đà Lạt City for shots.
It also targets vaccinating ethnic people living in remote areas.
In the mountainous terrain, which hampers travel, especially in remote areas where many ethnic minorities live, the centre is expected to help prevent certain infectious diseases.
With its good storage practice (GSP) standard vaccine warehouse, the centre can store many vaccines in large quantities.
Nguyên said all the vaccines are genuine and imported from leading corporations in the country and world. 
Lam Dong to break ground on ring road project in Dalat
The Lam Dong Department of Transport has announced the construction of a ring road and infrastructure components in Dalat City, with a total investment of VND800 billion.
Of the total capital sourced from the provincial budget, over VND350 billion will be used for construction work, VND309 billion for site clearance and compensation, and the rest for other costs.
The ring road will be 7.5 kilometers long and 10 meters wide, and run through the wards of 3, 4 and 5, starting at Truc Lam Yen Tu Street and ending at the Hoang Van Thu-Nguyen Dinh Quan Intersection. 
The ring road and infrastructure project, whose main investor is the Lam Dong Department of Transport, will be completed and opened to traffic in late June, 2023, the local media reported.
The Lam Dong Management Board of Investment and Construction of Traffic Projects was tasked with managing the project, while the Sub-Institute of Transport Science and Technology in central Vietnam will act as a supervision consultant.
The project will be constructed by a consortium comprising Investment Consulting and Construction 18 JSC, Thang Dat Company, Nam Phan Company and 26/3 General Construction Company.
Once in place, the project will help complete the traffic infrastructure system in Dalat City and strengthen the city's connection with other provinces and cities.
Besides, the ring road is expected to help ease traffic congestion in Dalat City.
HCMC cancels second round of national high school exam
The HCMC government announced on August 1 that the second round of its national high school graduation exam, which was initially slated for August 5-7, will be canceled due to the worsening Covid-19 situation.
All students that are eligible for the second round of the exam will be cleared by the HCMC Department of Education and Training, following regulations from the Ministry of Education and Training. The department has asked all high schools in the city to inform the eligible candidates about their granted privilege.
The national high school graduation exam is traditionally organized in July for 12th-grade students in Vietnam's K-12 system. This year's exam is divided into two rounds.
The first round took place on July 7-8 for the majority of candidates, while the second round is for students who were unable to finish their tests in the first round because of the pandemic.
Data of the HCMC Department of Education and Training showed that over 3,230 students in the city were not able to take part in the first round of the national high school exam due to the Covid-19 pandemic.
There were 88,245 students registering for the exam in the first round, but only 82,978 of them, or 94.03%, attended.
HCM City: enterprises donate medical supplies, equipment for COVID-19 treatment
The Vietnam Fatherland Front Committee of HCM City on August 2 handed over medical supplies and equipment donated by enterprises to local hospitals and medical centres to support the city's COVID-19 prevention and control.
The Phú Long Real Estate JSC presented five high-performance ventilators MV2000 EVO5 worth VNĐ2.5 billion (US$108,755) to An Bình COVID-19 treatment hospital, and donated VNĐ1.7 billion ($74,000) to the city's Oriental Medicine Association.
Since the fourth wave of COVID-19 hitting the country in late April, the Phú Long JSC and member companies of the SOVICO Group have donated hundreds of billions of Vietnamese đồng to the national vaccine fund, and COVID-19 prevention and control activities in Hà Nội, HCM City, Hải Dương, Bắc Giang, Lạng Sơn, and Cần Thơ.
Chairman of the Saigon Football Development JSC Hồ Quốc Minh presented a Ford Ranger car and 600 1000-Ul tips with sterile filter worth VNĐ835 million in total to the 115 Emergency Centre and the municipal Centre for Disease Control, respectively, on the same day afternoon.
Vietnamese expatriates in Thailand and the US also gave 100,000 TS95 masks to the municipal People's Council to support the city's frontline forces in the fight against COVID-19.
From July 1 to August 2, more than 103 organisations, businesses and individuals registered to donate medical supplies and modern equipment worth more than VNĐ1.4 trillion in response to the call by the VFF Committee of HCM City.
In the coming time, the Standing Committee of the VFF Committee of HCM City will continue to coordinate with the municipal Department of Health and its member organisations to call for donations from businesses and individuals for the city's COVID-19 prevention and control activities. 
HCM City: enterprises donate medical supplies, equipment serving COVID-19 treatment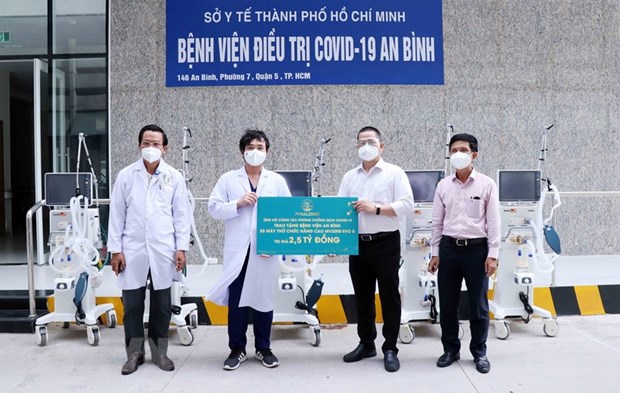 The Phu Long Real Estate JSC presents five high-performance ventilators MV2000 EVO5 worth 2.5 billion VND (108,755 USD) to An Binh COVID-19 treatment hospital (Photo: VNA)
The Vietnam Fatherland Front Committee of Ho Chi Minh City on August 2 handed over medical supplies and equipment donated by enterprises to local hospitals and medical centres to support the city's COVID-19 prevention and control.
The Phu Long Real Estate JSC presented five high-performance ventilators MV2000 EVO5 worth 2.5 billion VND (108,755 USD) to An Binh COVID-19 treatment hospital, and donated 1.7 billion VND (74,000 USD) to the city's Oriental Medicine Association.
Since the fourth wave of COVID-19 hitting the country in late April, the Phu Long JSC and member companies of the SOVICO Group have donated hundreds of billions of Vietnamese dong to the national vaccine fund, and COVID-19 prevention and control activities in Hanoi, HCM City, Hai Duong, Bac Giang, Lang Son, and Can Tho.
Chairman of the Saigon Football Development JSC Ho Quoc Minh presented a Ford Ranger car and 600 1000-Ul tips with sterile filter worth 835 million VND in total to the 115 Emergency Centre and the municipal Centre for Disease Control, respectively, on the same day afternoon.
Vietnamese expatriates in Thailand and the US also gave 100,000 TS95 masks to the municipal People's Council to support the city's frontline forces in the fight against COVID-19.
From July 1 to August 2, more than 103 organisations, businesses and individuals registered to donate medical supplies and modern equipment worth more than 1.4 trillion VND in response to the call by the VFF Committee of HCM City.
In the coming time, the Standing Committee of the VFF Committee of HCM City will continue to coordinate with the municipal Department of Health and its member organisations to call for donations from businesses and individuals for the city's COVID-19 prevention and control activities./.
Health ministry told Nanogen to submit human trials data to health ministry before August 15 for reviews
The health ministry on Monday asks HCM City-based biopharmaceutical company Nanogen, developer of the Vietnamese COVID-19 vaccine Nano Covax, to submit results of phase 2 and initial phase 3 trials to be reviewed for emergency approval.
Deputy health minister Trần Văn Thuấn, leader of the ministry's special task force on clinical trials and development of COVID-19 vaccines, made the request during a progress meeting with experts, as the country deals with a severe fourth wave of infections while vaccine supply is still limited amid a global shortage.
The meeting included leaders of the Department of Science and Technology-Training (under the health ministry), the Military Medical Academy, the National Institute of Hygiene and Epidemiology, and the Pasteur Institute in HCM City and was held to review the current progress and find ways to facilitate the clinical trials and push for reports on data of phase 1, 2, 3 (a, b) of the Nano Covax vaccine.
Phase 3 trials are being conducted with 13,000 volunteers, divided into two phases, 3a with 1,000 people and 3b with 12,000 people.
13,000 first doses in phase 3 have been administered, with the second dose expected to be completed before mid-August, according to the company.
Surrogate virus neutralisation tests (sVNT) for the 1,000 people involved in phase 3a, revealed 100 per cent production of neutralising antibodies at levels higher than 30 per cent, but further monitoring is needed.
In tandem with applying for conditional approval for emergency use, Nanogen is also requesting the health ministry to consider phase 3c trials, which would involve 500,000 to 1 million volunteers. Trials of the vaccine on children 12-18 years old would be conducted once the full approval is obtained.
Deputy minister Thuấn said the ministry is anticipating the domestically researched and manufactured COVID-19 vaccine will help protect the health and lives of the Vietnamese people, be more proactive in vaccine rollout and reduce dependency on foreign vaccine imports.
"The good news is the [Nano Covax] vaccine seems to be safe and can elicit high level of [SARS-CoV-2] neutralising antibodies," he said. "But we have not yet had enough data on the protective properties of the vaccine, more time and more study is needed."
The Ministry of Health has always supported and created the most favourable conditions for companies and individuals to participate in the production of COVID-19 vaccines, having mobilised many industry-leading scientists in the country's to participate in the assessment of vaccines.
The health official wants Nanogen to submit a report on research results for phase 2 and initial phase 3, so that the National Ethics Committee in Biomedical Research could start evaluation for emergency approval for Nano Covax.
Gov't establishes National Disaster Management Fund
The Government has promulgated Decree No.78/2021/ND-CP on establishment of Viet Nam Disaster Management Fund (VDMF) placed under direct management by the Ministry of Agriculture and Rural Development.
The fund is a single-member limited liability company in which the State holds 100 percent of charter capital.
Viet Nam is one of the countries most affected by natural disasters and climate change. Storms and floods are the most frequent and severe natural disasters affecting the Southeast Asian country, with 6 to 7 typhoons every year, on average, according to the United Nations Development Program in Viet Nam
Between 1990 and 2010, 74 floods have occurred in the river systems. Severe drought, saline water intrusion, landslides and other natural disasters are hindering the national development process.
Extreme disasters are more frequent in recent years, causing more damage to people and impacting significantly on the economy.
Natural disasters like storms, floods and drought caused damage worth VND37.4 trillion (US$1.6 billion) in 2020, five times compared to the previous year's losses, said the Central Steering Committee on Natural Disaster Prevention and Control./.
Bình Dương launches two new COVID-19 treatment areas as infections rise
Two new COVID-19 treatment areas were launched in Bình Dương on Tuesday amid complicated developments of the pandemic in the southern province.
The two areas have a total capacity of 8,300 beds. They are both located in Bến Cát Town and were built in only a week, according to the province's Steering Committee for COVID-19 Prevention and Control.
One of them is called the Thới Hòa COVID-19 treatment area. It has 5,300 beds, with 2,200 of them equipped with fixed oxygen ventilators.
It is a subsidiary of the Bình Dương COVID-19 treatment hospital No 1.
Besides medical equipment, it is also equipped with modern digital management software and high-speed Wifi, which will help to ensure transparent and effective management and give the best care to patients.
The other is called the Bình Dương field hospital No 3, which is on the campus of the Việt Nam-Germany University, with a capacity of 3,000 beds.
It is a newly-built campus which has not gone into operation, and is now reserved for COVID-19 treatment.
Speaking at the launch ceremony, Mai Hùng Dũng, standing vice chairman of Bình Dương People's Committee, said that the reason the number of new patients in Bình Dương rose drastically in the last few days was because a lot of community infections were identified.
Field hospitals and treatment areas played an important role in fighting the pandemic in the southern province at the moment, he said.
"Of the active cases in Bình Dương, 321 are in critical condition. This requires us to make more efforts and apply stricter measures to control the virus, including putting up new treatment areas to help ease the pain of thousands of patients," he said.
The province stands ready to open more treatment areas in case there are 20,000 new patients. A number of businesses have volunteered to help developing the areas.
In a report on COVID-19 prevention measures issued on Monday, the Bình Dương Standing Party Committee asked residents not to be out of their houses for 24 hours a day without proper reason in accordance with regulations.
Police forces were asked to go out on regular patrol and impose strict fines on violators.
The province's authorities also urged the launch of new field hospitals with a capacity of 1,000-5,000 beds.
As of 6am on Tuesday, with 18,326 COVID-19 infections reported, Bình Dương is the locality with the second highest number of patients in the country, only behind HCM City.
Top Cambodian legislator congratulates Vietnamese NA Chairman
President of the National Assembly (NA) of Cambodia Samdech Akka Moha Ponhea Chakrei Heng Samrin on August 3 sent a letter of congratulations to Vuong Dinh Hue on his election as Chairman of the 15th NA of Vietnam.
In the letter, Heng Samrin expressed his belief that under the sound leadership of NA Chairman Vuong Dinh Hue in the new tenure, the traditional friendship, good neighbourliness, comprehensive and long-term cooperation between the two legislatures and two nations will continue growing more strongly in the near future, for the benefit of the their people.
On the occasion, the top Cambodian legislator expressed his profound thanks to Vietnam for providing hundreds of thousands of masks for Cambodia to help it cope with the spread of COVID-19 as the pandemic has been developing complicatedly in many countries worldwide.
He also lauded the efforts of the two governments in curbing the pandemic via close cooperation activities and mutual medical support.
Vaccination progress "too slow", minister urges ramp-up
Minister of Health Nguyễn Thanh Long repeatedly urged localities nationwide to ramp up vaccination efforts, complaining that the vaccination rollouts were "too slow" in many places.
Up to Tuesday morning, more than 6.95 million COVID-19 vaccines have been administered in Việt Nam and 712,864 people have received two shots.
Monday saw the highest number of doses administered in a day with nearly 538,500 jabs given. During the past week, the number of doses administered daily has ranged from 200,000 to 400,000.
The country planned to vaccinate at least 50 per cent of the adult population (18 years old and above) within 2021 and 70 per cent of the entire population of nearly 98 million by the end of the first quarter of 2022.
In an urgent message that the minister sent to chairpersons of cities/provinces People's Committee on Monday, he emphasised the importance of ramping up vaccination at this time and said Việt Nam expects to receive many more vaccines late this year.
To ramp up vaccination drives and increase COVID-19 vaccination coverage in the country, Long asked localities to offer vaccines to all people aged above 18 years old with priority given to people working in the front line, elderly people or those having underlying health conditions.
"There is no limit on the number of people getting vaccinated in a day to make full use of the capacity that a vaccination site can provide," he said.
Local authorities are now allowed to decide the health monitoring time for people after getting the vaccines instead of a compulsory 30 minutes of sitting at the vaccination sites.
The move is expected to help vaccination sites receive more people and ensure safe person-to-person distance.
Those who have to wait for their vaccination will be monitored and arrangements will be made for them to be vaccinated as soon as possible. 
The Ministry of Health also noted in locked-down areas, local authorities could arrange appropriate fixed or mobile vaccination sites, so people would not have to travel to other areas for vaccination.
"Vaccination is now a priority and urgent task for localities," the minister emphasised.
However, he admitted that some localities have delayed implementing vaccination drives because they were too slow in transferring vaccines to their storehouses.
Meanwhile, other localities were too cautious in delivering vaccine shots as they only opened vaccination sites in hospitals and health facilities.
"It's OK to set up mobile vaccination stations as long as safe distance among people is ensured," he said, adding that the Health Ministry would support localities to set up such mobile vaccination stations if asked.
"Vaccination drives must be rolled out as soon as possible," Long said, adding that from October to December this year, Việt Nam could receive up to 47-50 million doses of the Pfizer vaccine.
Storage for a large volume of vaccines is also an issue of concern in Việt Nam.
The minister asked localities nationwide to review their capacity to store vaccines, especially their cooling systems with temperatures from 2 to 8 degrees Celsius.
"Many localities do not have enough facilities to store vaccines. The Health Ministry has provided them with information about vaccine doses that are expected between now and the end of the year so that provinces can prepare proper storage for their allocation," the minister said.
Localities that failed to ensure vaccination progress would have their vaccines transferred to other localities. 
President hails garment sector for growth amid COVID-19 pandemic
President Nguyen Xuan Phuc has commended the textile and garment sector for achieving growth and caring for its workers amid the COVID-19 pandemic.
During a meeting with outstanding representatives of the sector in Hanoi on August 3, President Phuc asked the sector and the Vietnam National Textile and Garment Group (Vinatex) to fulfill the dual goal of fighting the pandemic and ensuring production growth, as well as flexibly choose priority goals for each period.
President Nguyen Xuan Phuc presents gifts to outstanding representatives of the sector (Photo: VNA)
He suggested the sector step up digital transformation and business, resupply products to reap better production and business results.
Leaders of the industry proposed accelerating vaccinations to prevent production chain disruption, ensure enough workforce and conditions to process large-scale orders later this year.
Vinatex reported that the world's garment market only expanded by about 2.3 percent in the first half of this year. In the first seven months of 2021, the group earned 23 billion USD from exports, up 21 percent year on year and 10 percent from 2019. Its profit also doubled from the same period last year.
All of its affiliate units still have enough orders for the third and fourth quarters to ensure profit. The sector is striving to post 18 percent growth this year.
Nearly 3 million workers are working for 13,000 garment and textile enterprises across the country./.
VSS moves to guarantee rights of policyholders at time of COVID-19
The Vietnam Social Security (VSS) has asked its local and sectoral chapters to secure sufficient funding to cover medical expenses of health insurance holders amidst the COVID-19 pandemic, according to its dispatch issued on August 2.
The dispatch was sent to the municipal and provincial social security agencies and those of the Defence Ministry and public security force, providing instructions on how to make advance payments for and settle the claims of the insured given that the worst-ever COVID-19 resurgence is ravaging the country, particularly the southern region.
The move aims to ensure the legitimate rights and benefits of the insured at the time of the pandemic.
The social security chapters must make sure health care service providers do not experience lack of funding for procurement of medicines and other medical supplies, while taking into account requests from these providers for advance payments to cover insured health care services so the policyholders shall not have to pay for themselves.
The VSS has pledged to keep a close watch on the development of the COVID-19 situation and promptly take actions to guarantee the rights of the holders of social, health and unemployment insurances.
Vietnam wins three golds at 2021 Int'l Chemistry Olympiad
All four Vietnamese students have secured three golds and a silver at the 53rd International Chemistry Olympiad (IChO 2021) virtually hosted by Japan, according to the Ministry of Education and Training (MoET),

All four Vietnamese students win medals at the 2021 It'l Chemistry Olympiad. (Photo: MoET)
The three gold medalists were 12th graders of the Schools for the Gifted in Hanoi capital and Hai Duong province.
The silver medal went to another 12th grader of the School for the Gifted at Hanoi National University.
The IChO 2021 which was virtually hosted by Japan from July 25 to August 2 attracted contestants from 79 countries and territories worldwide.
Earlier in July, Vietnamese students won three gold and two silvers at the 2021 International Physics Olympiads, two gold, one silver and two bronze medals at the 2021 International Mathematical Olympiad, and a gold, two silvers and a bronze at the 2021 International Biology Olympiad.
Overall, all 37 Vietnamese students have clinched medals at this year's Olympiads, including 12 gold, 13 silver and 10 bronze medals, as well as two mentions.
Dong Nai calls on private health units to join Covid-19 fight
The Dong Nai Department of Health has written to private hospitals and clinics in the province calling on them to ask their medical employees to join the fight against Covid-19.
Private hospitals were told to appoint two to five doctors and five to 10 nurses and technicians each to support the battle against the pandemic, while each private clinic is expected to dispatch one or two of its doctors and two to four nurses and technicians to the province's field hospitals.
Dong Nai Province has seen the number of daily Covid-19 cases surge and has detected several new chains of infections at firms, including those applying the stay-at-work mode, while facing a shortage of medical workers, the provincial department said August 3.
Phan Huy Anh Vu, director of the provincial department, said that the province had reported some 5,500 infections in the ongoing fourth wave of Covid-19, which began in late April, while over 50 of the total 8,000 medical workers were infected with the virus.
The province's health sector has set up nine field hospitals for Covid-19 treatment and assigned five general hospitals to admit and treat Covid-19 patients, but these facilities are overloaded.
Due to the unpredictable trajectory of the pandemic, the Ministry of Health asked Dong Nai Province to set up more field hospitals with a combined capacity of up to 10,000 beds and mobilize medical workers to join the vaccination, contact tracing and testing operations.
As such, the provincial department asked the directors of private healthcare units to offer the support of medical human resources to fight off the pandemic.
First cab drivers in Hanoi vaccinated against Covid-19  
These drivers will participate in emergency situations, including hospitalization, hospital discharge, and airport transfer.
More than 200 drivers will participate in the capital city's drive to contain the novel coronavirus after they have been vaccinated with support from Hanoi's departments of Transport and Health.
This is the first round of vaccination against Covid-19 for drivers in the capital city, according to Deputy Director of the Hanoi Department of Transport Dao Viet Long.
Over the past time, on the recommendations of transport associations and enterprises, the department has proposed to the Steering Committee for Covid-19 prevention and control to prioritize injections for drivers of bus, airport taxi, and long-distance coaches and trucks, Long said.
The municipal Department of Transport recently allowed the operation of 200 taxi cabs to serve local residents in emergency situations during the social distancing regime in place in the capital city since July 24.
The emergency situations include hospitalization, hospital discharge, and airport transfer. The fleet of 200 taxicabs is distributed throughout all districts and stationed at major hospitals.
All 200 vehicles have been registered and approved for emergency use by the Department of Transport, according to Nguyen Cong Hung, director of Mai Linh Group's Hanoi office.
To ensure epidemiological safety, the cars have been equipped with transparent partitions to separate passengers from drivers and reduce the risks of Covid-19 transmission, Hung added.
He stressed that customers and drivers are required to wear face masks, roll the car windows down at all times. Drivers must prepare hand sanitizer, and fumigate the vehicles after each ride.
Passengers are encouraged to pay through contactless payment means to reduce coronavirus transmission risks, Hung noted, adding that people can download Mai Linh Taxi app or call the group's hotline available at 1055 for the service.
This is the second time that Hanoi has resorted to stringent Directive No.16, the first was in April 2020, which lasted for nearly a month.
The capital city has reported 1,082 Covid-19 infections since late April, when the fourth wave started wreaking havoc in Vietnam, according to the municipal Department of Health.
Source: VNA/VNS/VOV/VIR/SGT/SGGP/Nhan Dan/Hanoitimes 

UK Government presents VN with 415,000 doses of COVID-19 vaccine