NA approves resolution on 2019 State budget balance
The 15th National Assembly passed a resolution on adjustments to the State budget expenditure estimate and approval of the 2019 State budget balance on July 28 as part of the first session in the 15th tenure.
Under the resolution, the regular spending estimate for 2019 was reduced by over 2.24 trillion VND (97.65 million USD) and the same amount was added to the Finance Ministry's development spending estimate in 2019.
Total State budget collection in 2019 was 2.139 quadrillion VND (92.85 billion USD), while spending was 2.119 quadrillion VND (91.98 billion USD), including expenditure left from 2019.
As a result, State budget overspending in 2019 was 161.49 trillion VND (7.03 billion USD).
The NA requested the Government to make public the State budget balance in 2019, while directing ministries, central agencies and People's Committees at all levels to strengthen financial discipline, improve the efficiency of State budget management and use, and fight corruption and wastefulness.
Earlier at a discussion on relevant reports on State budget estimate, collection, spending and balance in 2019, some deputies held that the structure of State budget expenditure in 2019 remained unreasonable with high ratio of regular spending. Many important expenditures were not disbursed as scheduled, including spending on science-technology and environment issues.
According to NA Standing Committee, in 2019, spending on development investment accounted for 27.6 percent of the total State budget expenditure, which basically complete the goal in the 2016-2020 period.
However, regular spending remained high at 65.2 percent of the total State budget expenditure, which was higher than the target of 64 percent.
The committee asked the Government to roll out comprehensive measures to tighten the control over spending, cut regular spending and increase resources for development investment, thus completing the target for the whole 2016-2020 period./.
Party leader holds phone talk with Cuban Party First Secretary
Party General Secretary Nguyen Phu Trong on July 27 evening engaged in a phone talk with First Secretary of the Communist Party of Cuba (CPC) Central Committee and President of Cuba Miguel Díaz-Canel Bermudez.
General Secretary Trong warmly congratulated Cuba on the 68th anniversary of the Cuban Revolution (July 26, 1953-2021) and the 100th birthday of heroine Melba Hernandez (July 28, 1921-2021), who was a comrade of Fidel Castro and Raul Castro, a close friend of Vietnamese people and a symbol of the special friendship between Vietnam and Cuba.
The Vietnamese Party leader praised the efforts of the Party, State and people of Cuba in carrying out the Resolution of the 8th Congress of the CPC, continuing to accelerate the process of updating the socialist socio-economic development model. He shared the difficulties that Cuba is facing in the context of tightened embargo measures and the negative impact of the COVID-19 pandemic on every aspect of Cuban people's life. He appreciated the work of the Party, State and the entire political system of Cuba to timely handle arising issues, thus stabilizing the situation and firmly safeguard the fruits of revolution.
On behalf of the Party, State and people of Cuba, First Secretary of the CPC Miguel Díaz-Canel Bermudez thanked Vietnam for the gift of 12,000 tonnes of rice at a time when Cuba is in difficulties, describing it as a vivid manifestation of Vietnam's consistent solidarity and a source of great and timely encouragement for the Revolution and people of Cuba.
The Cuban leader informed Party General Secretary Trong on the situation in Cuba and hostile forces' plots to incite instability in the country, while reiterating the firmness of Cuban communists and people in protecting the Revolution and its achievements of the people and for the people that was initiated by leader Fidel Castro.
He took the occasion to reiterated the wish and resolve to further deepen the special traditional friendship between the Parties, States and peoples of Vietnam and Cuba. He stressed that Cuba is ready for and gives priority to cooperation with Vietnam in the fight against the COVID-19 pandemic, including the provision and transfer vaccine technology to Vietnam.
Party General Secretary Trong re-affirmed the faithful solidarity of the Party, State and people of Vietnam with the righteous cause of the Cuban Party, State and people. Vietnam will continue to accompany Cuba in the process of updating its model of socialist socio-economic development, he said, stressing that Vietnam will continue to support Cuba in ensuring food security through the stable provision of rice and programmes to develop the production of rice, maize, coffee and aquatic products.
He appreciated the support and cooperation of Cuba and Miguel Díaz-Canel Bermudez himself in providing and transferring technology for the production of COVID-19 vaccine to Vietnam in the time ahead.
The two leaders discussed in depth measures to enhance, expand and improve the efficiency of cooperation between the two Parties and countries, with a focus on increasing high-level exchanges to define strategic directions, share experience on issues of mutual concern; optimizing existing cooperative mechanisms while studying cooperation possibilities in fields of both sides' strength. They underlined the significance of the cooperation in COVID-19 vaccine, which they said will help Vietnam realise its twin goals while improving the commercial potential of Cuba's science research, health care and vaccine production in Asia and the world./.
People pin hopes on leaders of new tenure
The National Assembly on July 26 elected Nguyen Xuan Phuc as State President and Pham Minh Chinh as Prime Minister. People nationwide have pinned their hopes on the country's new leaders adopting stronger measures against COVID-19 and helping the country record even greater socio-economic achievements. 
The 15th National Assembly convened its first session in Hanoi on the morning of July 20, at a time when the country is facing numerous difficulties and challenges from its fourth COVID-19 outbreak.
People around the country have expressed a desire that the leaders of the 2021-2026 tenure take stronger measures to effectively control the pandemic and return life to some semblance of normal.
Vietnam has reported over 105,000 COVID-19 cases since the fourth outbreak began on April 27.
Many localities nationwide have introduced social distancing measures to curb the spread of the virus.
During its session in Hanoi on July 27, the National Assembly mulled over investment policies in the National Target Programme on Sustainable Poverty Reduction and the National Target Programme on New-Style Rural Development for the 2021-2025 period./.
Four justices appointed to Supreme People's Court
Four justices have been appointed to the Supreme People's Court under a resolution adopted by the 15th National Assembly on July 28 during its first session.
The resolution, endorsed by 95.39 percent of legislators, approved a proposal by the Chief Justice of the Supreme People's Court to appoint Nguyen Van Dung, Ngo Tien Hung, Nguyen Bien Thuy and Dao Thi Minh Thuy as justices of the court.
The resolution will take effect from October 1, 2021.
Earlier, the NA adopted a resolution approving a list of 27 members of the Government in the 15th tenure, comprising one Prime Minister, four Deputy Prime Ministers, 18 ministers, four heads of ministerial-level agencies, the Government Inspector General, and the Minister-Chairman of the Government Office./.
Vietnamese in Luang Prabang pay tribute to heroic martyrs
The Vietnamese Consulate General in Luang Prabang on July 27 held a ceremony to offer incense and flowers to commemorate Vietnamese martyrs who fought against the common enemy of Vietnam and Laos to regain freedom for people of the two nations on the occasion of the 74th War Invalids and Martyrs Day.
The ceremony, held in Phat Tich Pagoda, was attended by Consul General in Luang Prabang Nguyen Dang Hung and representatives of Vietnamese agencies, businesses and community in Luang Phrabang.
According to Hung, the annual event is a chance for the Vietnamese community in northern Laos to pay tribute to heroic martyrs who fell down for the freedom and independence of Laos and Vietnam.
It also offer an opportunity for youngsters to get deeper understanding on the tradition of solidarity between Vietnam and Laos in both past struggle for independence as well as present national construction and defence, thus raising their awareness and responsibility in reinforcing the great friendship, special solidarity and comprehensive partnership between the two Parties, States and peoples.
Phat Tich Pagoda is the worshiping place for six Vietnamese martyrs who died in Luang Phrabang during the anti-US war. This is also a "common spiritual house" of Vietnamese people living, working and studying in the Lao locality, and a venue for religious activities of Vietnamese Buddhist followers./.
Vietnam logs 2,858 COVID-19 domestic cases on July 28 morning
Vietnam recorded 2,861 new COVID-19 cases from 7pm on July 27 to 6am on July 28, including 2,858 domestic ones, according to the Ministry of Health.
Ho Chi Minh City, the current largest hotspot of the country, reported the most number of new infections with 2,115, followed by Dong Nai with 134, Tay Ninh 120, Dong Thap 91, Khanh Hoa 86 and Hanoi capital 69.
There were a total of 403 cases detected in the community.
As of July 28 morning, the national tally hit 117,121, including 2,206 imported infections.
The number of cases since the fourth wave of outbreaks hit the country on April 27 amounted to 113,345.
As many as 22,946 people have recovered from COVID-19.
More than 258,070 people were inoculated against COVID-19 vaccine on July 27, raising the number of vaccinated persons to 5,013,175, including 450,836 having received full two shots./.
15th NA's first plenary session to close on July 28 after deciding important issues
The 15th National Assembly (NA) will discuss and decide on a number of important issues on July 28, the last working day of the first plenary session.
In the morning, they are scheduled to pass a resolution on the organisational structure and number of members of the Government after listening to a NA Standing Committee's report on discussion results on the matter.
The NA deputies are to vote to adopt a resolution approving the appointment of the Chief Justice of the Supreme People's Court.
Several important resolutions are also expected to be approved, including a resolution on the amendments of State budget expenditure estimate and approval of the 2019 State budget balance; resolution on the national financial plan and plan on borrowing and payment of public debt in the 2021-2025 period; and resolutions on investment policy for the National Target Programme on Sustainable Poverty Reduction in the 2021-2025 period and the National Target Programme on new-style rural area building for the 2021-2025 period.
The same day, the legislators will vote to approve the appointment of deputy prime ministers, ministers and other cabinet members after debating relevant reports.
After listening to the State President's proposal on the nomination of the Vice President and members of the National Defence-Security Council, they will vote on the list and a resolution on the approval of the Vice President and members of the National Defence-Security Council.
The first session of the 15th NA will conclude after passing a resolution on the medium-term public investment plan in the 2021-2025 period.
NA Chairman Vuong Dinh Hue is scheduled to deliver a closing speech./.
UNSC: Vietnam highly values UNAMID's contributions
Vietnam highly valued contributions of the UN – African Union (AU) Hybrid Operation in Darfur, Sudan (UNAMID) in ensuring security and protecting civilians in the Darfur region since the mission was established in 2007, said Nguyen Phuong Tra, Deputy Permanent Representative of Vietnam to the United Nations (UN).
Addressing a meeting of the UN Security Council (UNSC) at New York on July 27 on the withdrawal of UNAMID, the Vietnamese diplomat said the mission has become an example of successful cooperation between the UN and regional organisations in maintaining international peace and security.
UN Under-Secretary General Atul Khare said UNAMID had completed the withdrawal of military personnel and civilian staff before the deadline of June 30, 2021 in accordance with Resolution 2559 of the UNSC, except for more than 360 policemen who serve the liquidation and handing over of the mission's facilities.
Tra welcomed the completion of UNAMID's withdrawal, emphasising that the drawdown has taken place in a timely, orderly and safe manner in accordance with Resolution 2559 of the UNSC, while emphasising the importance to ensure security and safety for the mission.
She welcomed the political security developments in Sudan, as the country has achieved tremendous progress in transitioning from peacekeeping to peacebuilding.
Amid challenges related to natural disasters and intercommunal violence, it is imperative that Sudanese parties resolve differences to implement the remaining provisions of the peace agreement, she said.
Tra also expressed her hope that the UN Secretariat and UNAMID will share experience and lessons with the UN Integrated Transition Assistance Mission in Sudan (UNITAMS) so it can support the transition in Sudan in the coming time.
Member countries of the UNSC called on the government of Sudan to continue working closely with UNAMID, and better protect civilians in the Darfur region, and reaffirmed their support for the operation of the UN Integrated Transition Assistance Mission in Sudan (UNITAMS) in supporting the transition in the country./.
Nearly 2,000 more patients recover from COVID-19 in HCM City hotspot
As many as 1,955 COVID-19 patients were discharged from hospital in Ho Chi Minh City on July 26 after making a full recovery from the disease, according to the HCM City Centre of Disease Control (HCDC).

Nearly 2,000 more COVID-19 patients recover from the disease. (Illustrative image).
The figure raised the total number of coronavirus recoveries in the city, the largest COVID-19 hotspot in Vietnam at present, to 16,659.
Healthcare facilities in the city are now giving treatment to 37,714 COVID-19 patients, of whom 696 are on mechanical ventilation and 13 are on extracorporeal membrane oxygenation (ECMO), a life support therapy given to critically-ill cases.
The HCDC reports 38 chains of transmission have been placed under scrutiny. A new cluster of infections has just been discovered in a residential area in Tan Binh district.
Between May 26 and July 26 HCM City had taken a total of 2.5 million test samples, of which nearly 2.4 million samples were returned.
The city is implementing an extensive vaccination campaign, and injection sites are required to only administer injections for 120 people/day each to ensure safety.
It has extended social distancing rules until August 1 in an effort to halt the spread of the virus. Local residents are banned from going out from 06.00pm till 06.00am of the following day under new rules starting July 26.
HCM City, the busiest and most populous city in Vietnam, has recorded nearly 70,000 locally transmitted COVID-19 cases since April 29. Thousands of new cases are logged every day and the number of cases is expected to rise in the coming days.
Japan transfers COVID-19 vaccine tech to Vietnam
A Japanese drug maker has signed a deal on COVID-19 vaccine technology transfer with two Vietnamese companies, according to Dr. Nguyen Ngo Quang, deputy director of the Department of Science, Technology and Training.

The agreement was penned by Shionogi of Japan and the International Progress Joint Stock Company (AIC) and the Company for Vaccine and Biological Production No.1 (VABITOECH), Dr. Quang said on July 27.
The impending transfer of relevant vaccine technology is the Recombinant SARS-CoV-2 Spike Protein (BaculovirusExpression Vector System), said the official, disclosing no further information.
Earlier, VABIOTECH and DS-Bio, a Vietnamese Vaccines and Biological Products Joint Stock Company, had signed an agreement with Russia's sovereign wealth fund Russian Direct Investment Fund (RDIF) to manufacture glass vials and package the Sputnik V vaccine in Vietnam. Thousands of the vaccine samples have been sent to Russia to undergo evaluation and quality assessment.
The United States had also agreedto transfer the COVID-19 mRNA vaccine technology to VinGroup, the largest Vietnamese conglomerate, in May.
As of 4 p.m. on July 27, more than 4.6 million doses of COVID-19 vaccines have been administered nationwide.
The Ministry of Health is accelerating the COVID-19 vaccination drive in order to inoculate 70% of the Vietnamese population and reach herd immunity by early next year.
Localities asked to conduct quick Covid-19 tests for truckers
The Ministry of Health has asked 63 cities and provinces nationwide to conduct quick Covid-19 tests for truckers transporting goods.
In Official Dispatch No. 5982 signed by Deputy Minister of Health Do Xuan Tuyen, the Ministry of Health asked the Ministry of Transport and provincial governments to distribute quick Covid-19 test kits that have been allocated to the local authorities to perform Covid-19 tests on truckers in an effort to ensure the smooth transportation of goods amid the complicated Covid-19 situation.
The provincial departments of transport and health are in charge of conducting the tests and confirming the test results. They are asked to work closely together to ensure the efficiency of Covid-19 testing.
Based on the Covid-19 situation, the local governments can adjust the number of test kits allocated to each locality.
On July 19, Deputy Minister of Health Do Xuan Tuyen signed an urgent document on Covid-19 testing for truckers and facilitating the transportation of goods, which was sent to the Ministries of Industry and Trade, Transport, and Public Security, and the governments of cities and provinces.
Accordingly, drivers must hold negative Covid-19 test certificates when transporting goods from areas imposing social distancing in accordance with the prime minister's Directive No. 16 to areas with more relaxed social distancing measures.
The tests can be conducted following real-time polymerase chain reaction or quick tests and the test results are valid for 72 hours.
Besides, the drivers are required to restrict contact with others and stick to their routes.
5 priority groups allowed to go out in HCM City after 6pm
HCM City authorities have exempted certain categories of people from the dusk-to-dawn restriction they have imposed hoping to break the back of COVID-19.
They are emergency personnel and those involved in pandemic control, reporters and newspaper delivery people, sanitation workers, workers who fix electricity and other infrastructure problems, essential transportation vehicle drivers, and workers at gas stations on the city's borders
The ban on leaving home between 6pm and 6am, starting on the evening of July 26 , was imposed after the southern economic hub failed to see signs of improvement in the pandemic situation after 56 days of social distancing and more than two weeks of the stringent Directive 16, which virtually mandates a lockdown.
The restriction will last until August 1.
Streets were mostly empty on the first evening of the night-time restrictions.
Police officers, military personnel and local officials patrolled the streets, monitoring checkpoints and fining violators.
In Tân Bình District, police warned a few people who were on the streets after 6pm.
They included a 40-year-old man who wore medical gloves and mask and was riding home with an oxygen cylinder.
He told officers his daughter suffered from liver tumour and her oxygen cylinder had run out. Needless to say, they let him go.
At Thủ Đức city checkpoints, the only vehicles they saw were their own and those used for COVID control.
At around 9pm a man on a motorbike was stopped on Đỗ Xuân Hợp Street. The 22-year-old from District 1 told officers his girlfriend was sick and he was carrying medicines for her. But he was fined nevertheless since he was not in the five priority categories.
In other districts, the police fined several people for violating the ban and coming out into the streets.
Phu Bai airport official arrested over graft
Tran Xuan Long, office chief of the Phu Bai International Airport in Thua Thien-Hue Province, has been detained for alleged appropriation of VND5 billion.
The provincial investigators yesterday, July 26, issued a decision prosecuting and arresting Long, aged 43, residing in the central province's Huong Thuy Town, on charges of property embezzlement, reported Nguoi Lao Dong newspaper.
Earlier, the provincial police had launched an investigation and started legal proceedings against a graft case.
According to initial investigation results, from October in 2017 to January this year, during his time to join the management and operation of the Phu Bai airport, Long had abused his position and power to appropriate VND5 billion by franchising taxi services at the airport to Phu Hoang Thinh JSC (Vang Taxi) and TC Hue Taxi Company (Thanh Cong Taxi).
HCM City sets up four more COVID-19 treatment hospitals with 10,400 beds
The authorities of Ho Chi Minh City, Vietnam's biggest pandemic hotspot, on July 27 decided to establish another four COVID-19 treatment hospitals, which together accommodate 10,400 beds.
One of them is converted from the Hoc Mon regional general hospital with 700 beds and 610 medical staff.
The second, namely the Nguyen Tri Phuong COVID-19 treatment hospital, is located in District 5, having 250 medical staff and offering 200 beds.
The third, called the temporary COVID-19 hospital No.11, is located in Thu Duc City, with 950 staff and 5,500 beds.
Meanwhile, the temporary COVID-19 hospital No.12, also in Thu Duc City, has 4,000 beds served by 700 staff members.
To date, the city has 37 hospitals for treating COVID-19 patients, with their total number of beds amounting to about 55,000.
According to the city's Centre for Disease Control (HCDC), the southern economic hub has recorded 67,990 COVID-19 cases so far, with the number of people under quarantine reaching 47,082 as of July 27 morning./.
Ba Ria-Vung Tau sets up additional nine Covid-19 hospitals
The southern province of Ba Ria-Vung Tau has decided to establish nine more hospitals for Covid-19 treatment amid the locality's sharp rise in new Covid-19 infections.
The nine hospitals with a total number of 1,790 sick-beds will be located at the dormitory of Medical School, Phu My Town Stadium, Cao Van Ngoc Primary School in Long Dien District, Song Cau Primary School in Chau Duc District, Thang Tam Primary School in Vung Tau City, Chu Van An Secondary School in Phu My Town, the Teachers Training College, HIV/AIDS Prevention and Control Centre and Ba Ria-Vung Tau Gymnasium.  
Under the instruction of the provincial people's committee, the Department of Health and Military Command will co-operate with concerned agencies to install medical facilities and others to ensure the hospital operation.
Since June 28, the province has confirmed 1,011 Covid-19 patients.
Between 6 pm on Monday and 6 am on Tuesday, the province recorded 143 Covid-19-suspected cases in Vung Tau City and Xuyen Moc and Long Dien districts.
Ba Ria-Vung Tau is among 19 southern localities which have imposed social distancing measures in line with the government's Directive 16 since July 19.
NA's discussions on July 27 focus on national target programmes, five-year development plan
The national target programmes on sustainable poverty reduction and new-style countryside building and the socio-economic development plan for the next five years were among the focuses of the ongoing first session of the 15th National Assembly (NA) on July 27.
Investment in the two national target programmes for 2021 - 2025 was under discussion in the morning.
In the afternoon, legislators looked into the five-year national financial plan, the five-year public borrowing and debt repayment plan, and the medium-term public investment plan for 2021 - 2025.
They also approved the draft resolutions on the socio-economic development plan for the five-year period and the 2022 law and ordinance making programme.
On July 28, the NA is set to vote on a resolution on the Government's structure and membership, the appointment of the justices of the Supreme People's Court, and resolutions on socio-economic and State budget affairs.
Lawmakers will work on the appointment of deputy prime ministers, ministers, and other Government members. They will also vote on the State President's proposal on the vice chairpersons and members of the National Defence and Security Council, along with a resolution on the medium-term public investment plan for 2021 - 2025.
After that, the NA will wrap up its first session./.
Traffic death toll hits 3,635 in seven months
Vietnam saw 7,137 traffic accidents taking place between December 15, 2020 and July 14, 2021, claiming 3,635 lives and injuring 4,984 people.
These figures represented annual decreases of 10.74 percent, 4.12 percent and 14.8 percent, respectively.
In the period, 4,493 road accidents killed 3,572 people and left 2,349 injured. The total cases increased 0.25 annually, but the number of deaths and injuries was down by 3.64 and 0.13 percent on-year.
Meanwhile, 44 railway accidents left 38 dead and 12 injured, while twenty-six accidents on waterways claimed 17 lives and injured one.
In July (June 14 – July 14) alone, the number of traffic accidents was 792, causing 435 deaths and injuring 509 people./.
Additional 12,000 volunteers get second Nano Covax vaccine shots in third trial phase
Research centres on July 27 began the injection of the second shots of COVID-19 Nano Covax vaccine for 12,000 volunteers as part of the third-phase human trials of the home-grown vaccine, according to the Military Medical University under the Ministry of National Defence.
They are among 13,000 volunteers involving in the third trial phase, 1,000 of whom already received the second doses on July 22.
Lieutenant Colonel Associate Prof. Dr. Chu Van Men, Director of the Center for Clinical Trials and Bioequivalence under the Military Medical University, said that all the volunteers, receiving only the 25mcg doses, are in stable health conditions.
Nano Covax has been developed by the Nanogen Pharmaceutical Biotechnology JSC based on recombinant DNA/protein technology from May 2020.
It went through the first phase trial from December 18, 2020, and the second phase from February 26, 2021. The third phase started on June 11, 2021.
Results from the first two trial phases showed that all volunteers developed antibodies against SARS-CoV-2.
The Ministry of Health and the National Council of Ethics in Biomedical Research on June 25 agreed with the Pasteur Institute in Ho Chi Minh City and the Military Medical University to speed up the third-phase clinical trial of the vaccine in which volunteers were expected to have received the first jabs by July 15 and the second shots by August 15.
Vietnam has so far approved six vaccines for emergency use, namely Janssen, Moderna, Sputnik V, Pfizer, Sinopharm and AstraZeneca.
The Government is making efforts to secure at least 150 million vaccine doses to inoculate 70 percent of the population.
On July 27 morning, Vietnam confirmed an additional 2,764 COVID-19 cases, raising the national total to 109,111. The number of cases reported since the fourth coronavirus wave hit the country in late April reached 105,338./.
PM issues youth development strategy for 2021-2030
Prime Minister Pham Minh Chinh has recently issued the Vietnamese Youth Development Strategy for the 2021-2030 period under Decision No.1331/QD-TTg.
The strategy aims to build a contingent of Vietnamese youths who have a strong sense of patriotism, strong will, national pride, revolutionary ideals, aspirations, moral virtues, good health and lifestyle, dynamism, creativity, and science-technology mastery.
It outlines six key tasks, including raising their awareness of laws, offering legal assistance and fair access to study opportunities and innovations, improving vocational training quality and creating sustainable jobs, developing young and quality human resources, protecting and improving their health and spiritual lives, and upholding their role in socio-economic development and national defence.
By 2030, 80 percent of youths are expected to receive career and job orientations, while 60 percent will undergo vocational training in combination with job creation. Each year, at least 700,000 young people will be able to get jobs.
The rate of unemployed youths in urban and rural areas will be reduced to below 7 percent and 6 percent, respectively.
Annually, over 80 percent of young people in urban areas, 70 percent in rural areas and 60 percent in ethnic minority and mountainous areas in especially difficult circumstances will receive support to join cultural, art, sport and community activities in their schools, workplaces or residential areas.
At least half of young people will be able to master digital tools for communications and business on digital platforms by 2030./.
First private hospital in HCM City to receive Covid-19 patients
A private hospital in HCM City will put 100 sick beds into operation next week for Covid-19 treatment amid the locality's on-going Covid-19 spread.
The move was followed by the HCM City People's Committee's call of local health facilities to join Covid-19 treatment activities.
Hoan My Thu Duc International General Hospital under Hoan My Medical Corporation submitted the proposal to establish a Covid-19 treatment centre to municipal authorities on July 24. 
On July 26, Deputy Prime Minister Vu Duc Dam had a meeting with the hospital leaders to discuss the establishment of the centre.
Hoan My Thu Duc International General Hospital's Covid-19 treatment centre is scheduled to become operational next week. Situated around 10 kilometres from Covid-19 Intensive Care Hospital, it is quite convenient to transport patients among two facilities.
Hoan My Thu Duc International General Hospital has been in use since late 2020.
Hoan My Medical Corporation has planned to raise the Covid-19 treatment sick-bed number to 200 in the coming time.
The corporation has called on the voluntary participation of more than 3,000 medical staff from its 15 hospitals and six clinics in the Covid-19 treatment at the centre.
The health sector will also support the treatment of patients in critical conditions through consultations. 
Bookings for quarantine hotels can be made via city website or app
People who are close contacts of COVID-19 cases can book hotels for quarantine at the www.hochiminhcity.gov.vn website of the city Department of Tourism.
Overcrowding is occurring at quarantine facilities in the city as the number of COVID-19 cases has risen, leading to an increased need for quarantine at hotels.   
The department is co-operating with Traveloka Việt Nam to provide information on hotels used as quarantine facilities and their prices as well as unoccupied rooms.
People can book online and pay via the website of www.traveloka.com/vi-vn/promotion/khachsancachly or the Traveloka application, starting on August 1.
This co-operation is part of the programme called HCM City Tourism Sector Joining the Fight against COVID-19.  
The Department of Tourism is working with people's committees in Thủ Đức City and districts to call on 395 hotels to register as quarantine facilities for COVID-19 patients' close contacts (called F1). 
Among these, 117 hotels have been approved by the Department of Health. The rest are in the clarification process.  
The department is working with the Department of Health and districts to ask hotels to provide rooms for frontline health workers who need accommodation after working hours to limit transmission risk to their relatives.
At least 164 hotels with 4,541 rooms have provided preferential prices for frontline health workers.
On July 19, the Department of Tourism said that 20 other hotels were providing free accommodations and meals to frontline health workers.
Non-profit Food Bank Việt Nam is collaborating with Ambassador Hotel in District 1 and Bảo Long Hotel in Gò Vấp to provide free accommodation to 210 doctors, nurses and volunteers involved in fighting COVID.
As of July 26, the Ministry of Health had reported 62,906 COVID-19 patients in HCM City since the fourth wave started on April 27.
Among these, 657 cases are using ventilators and 12 others are on an extracorporeal membrane oxygenation (ECMO) machine.
The city has recorded three more clusters in District 10 and Tân Bình, with a total of 37 clusters under strict supervision and rapid localisation.  
According to the city Centre for Diseases Control and Prevention, the city has divided the second branch of Psychiatric Hospital in Bình Chánh District into two parts, including one for treatment of people with mental illness.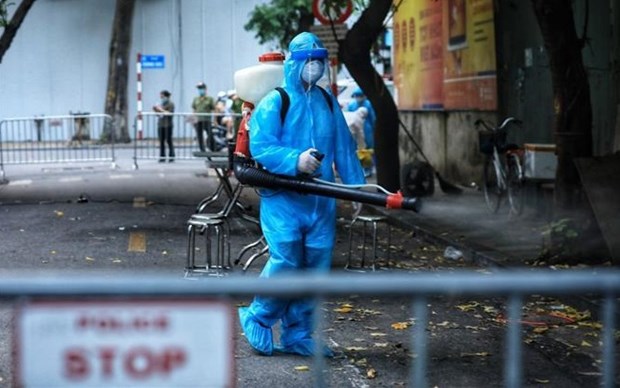 Medical workers disinfect Vong Duc street, downtown Hanoi, after a COVID-19 case was detected here. (Photo: VNA)
Online youth piano competition launched nationwide
Young pianists from across the country will be given the chance to showcase their talents by participating in an online piano competition which will take place from July 28 to July 31 whilst staying at home as part of the national COVID-19 control efforts.

The competition is being organised by the Hanoi College of Arts and is open to piano players between the ages of six and 25 from across the country, with the aim of uncovering emerging talents, whilst maintaining training and passion for music among young people nationwide.
The competition is made up of four categories for pianists based on age, with groups for those between ages six to eight, nine to 12, 13 to 17, and 18 to 25. Each competitor will perform two optional pieces of classical music.
The organisers will be holding both the preliminary and final rounds virtually. So far, they have received the registration of many contestants from Hanoi, Hai Phong, Ninh Binh, Thanh Hoa, and Khanh Hoa provinces.
The first, second, and third prize winners will progress to the piano faculty at Hanoi College of Arts for the 2021 to 2022 academic year.
Theatre comes to national TV about COVID-19 pandemic
A series of TV broadcasts dedicated to different art genres will be screened nationwide this month, to help struggling theatre troops that have been unable to perform due to restrictions on gatherings caused by the COVID-19 pandemic.
Deputy head of the Culture Ministry's Department of Performing Arts Trần Hướng Dương, said the department's representatives have worked with theatres under the culture ministry to select several quality stage productions to film and broadcast on VTV (Việt Nam Television), VOV (Voice of Việt Nam) as well as on other provincial TV and radio channels.
"With 12 theatres under the ministry and a large crew of talented artists, the TV broadcast programme is expected to offer the best productions of performing arts from drama, tuồng (classic opera), chèo (traditional opera), cải lương (reformed opera), puppetry, circus, to folk and contemporary dance and music," he said.
To open the series, on Tuesday, an art programme celebrating the 74th anniversary of the Vietnamese War Invalids and Martyrs' Day (27/7/1947 – 27/7/2021) will be live broadcast on VTV2 from the Hà Nội Opera House.
As COVID-19 restriction has been tightening in the city, the programme, titled Những Ngôi Sao Bất Tử (The Immortal Stars), will be staged without an audience.
Performed by artists of the Việt Bắc Folk Music and Dance Theatre, the performance will depict the great sacrifices of the invalids and martyrs, who, during the resistance wars, devoted their lives and blood to the country's freedom and independence. Vietnamese heroic mothers, whose husbands and children died during the wars, will also be praised at the event.
Acting director of the theatre, Meritous Artist Lê Khánh Toàn said that the programme has been created as an emotional and "poetic" production featuring the performances of several talented artists.    
The programme will include dance performances by young choreographers Thanh Hằng, Hải Trường, Trần Thảo Nhi, Lê Hoàng Phương Linh, who are expected to bring fresh and cheerful dance repertoires. 
"However, the specific folk dance style, which is the 'signature style' of our theatre, still remains in those performances," he said.
Together with the art performance by the Việt Bắc Folk Music and Dance Theatre, a play entitled Trung Thần (A Loyal Court Servant) by the Việt Nam Tuồng Theatre will be presented on TV screens this month.
Directed by People's Artist Hoàng Quỳnh Mai, the play won the Silver Medal at the National Festival of Classic Opera, Drama and Folk Music 2019.
It is about General Lê Văn Duyệt (1763-1832), a loyal servant of the Nguyễn Dynasty who made great contributions to the country. A brilliant politician and military strategist, Duyệt helped Nguyễn Ánh [the future founding emperor of the Nguyễn Dynasty] to take down the Tây Sơn troop, unify the country and establish the Nguyễn Dynasty. After Nguyễn Ánh came to power as Emperor Gia Long in 1802, Duyệt became a high-ranking mandarin, serving the two first Nguyễn emperors Gia Long (1802-1819) and Minh Mạng (1820-1840).
The play features the most outstanding tuồng artist including Mạnh Linh (as General Lê Văn Duyệt), Lộc Huyền (as Mrs Phân, wife of Lê Văn Duyệt), and Tuấn Hiệp (as Emperor Minh Mạng).
The play will be screened in the Television Theatre programme on July 31.
"Having such an unexpected 'long break' due to COVID-19, all of us are longing to be on the stage again. Although the show will be presented without an offline audience, everyone is very happy to be under the spotlight to sing and to live with our passion," actress Lộc Huyền said. 
"Like a bridge, we hope the Television Theatre programme can help to maintain the audience's habit of enjoying performing art, and it will also help to bring them back to the theatres once the pandemic is over."
4.0 solution for the stage
Heavily affected by the COVID-19 pandemic, most of the theatres and stages have been operating without any revenue. The theatres' management board have struggled to cover essential expenditure, and at the same time to find new solutions for their artists to perform.
However, the theatres do not have to manage on their own in this difficult time.
In order to ensure COVID-19 safety measures, the Department of Performing Arts has created the Youtube channel Nghệ Thuật Biểu Diễn Việt Nam (Vietnamese Performing Art) to introduce a number of stage productions that were presented in national competitions and art festivals in 2020.
Deputy head of the Department of Performing Arts Dương affirmed that both the Television Theatre programme and 'online theatre' are essential to bringing professional art closer to the audience, especially in the pandemic.
"These forms can help both artists and audiences get all up-to-date information about professional art competitions and festivals," he said.
He also added that even if the theatres and stages re-opened, the TV broadcast of performances still needed to be maintained because "this is a trend for performing art to be promoted widely to all audiences in the current 4.0 era," he said. 
Hanoi to preserve first human settlement
The Hanoi Department of Culture and Sports has proposed that the capital's People's Committee adopt its plan to preserve the Vuon Chuoi archaeological site in Kim Chung commune in Hoai Duc district, which is believed to be the city's first human settlement. 
In its first plan, the department suggests studying the protection of the 6,000 square metre relic area in the eastern part of the archaeological site. A wide range of measures will be sketched out to preserve and promote the value of the sites, while evacuating all relics in the western part before land clearance for the construction of Ring Roads 3 and 5.
The second plan states that the western part will then be preserved like the eastern part, and only flyovers should be built as part of the construction of the ring roads.
The Vuon Chuoi archaeological site is the most important and largest relic complex of the pre-Dong Son and Dong Son Cultures (700 BC – 100 AD)./.
Veterans find home in Hà Nam nursing centre
Nguyễn Đình Cường, 62, a veteran, has lived in Duy Tiên War Invalids Nursing Centre in Hà Nam Province for more than 40 years.
Cường, who was severely injured in the war against the Khmer Rouge regime in 1978 in Cambodia, said the centre has been a warm home for him along with many other veterans.
"The medical staff have taken care of my health and spirit every day for more than 40 years as if they are my family," he said.
He said he decided to not get married after he returned from the war and instead he chose to live at the centre in between visits to his mother which he does twice a year.
Cường said every year, on War Invalids and Martyrs' Day (July 27), he receives gifts and encouragement from the Government, the Ministry of Labour, Invalids and Social Affairs as well as the local authority.
"I feel touched," he said.
Another veteran, Nguyễn Thanh Huyên, of Giao Thuỷ District, Nam Định Province, who has also lived at the centre for more than 40 years after he was badly crippled fighting against the Khmer Rouge.
Huyên said the material life of soldiers had improved year after year.
All of the veteran's rooms have had air conditioning and televisions installed, he said, and the rooms are always clean and airy.
Cường and Huyên are among 59 veterans, who are long term residents of the centre. The oldest veteran is over 90 years old while the youngest veteran is just over 60.
Most of the veterans have serious injuries that have reduced their working capacity by 81 per cent.
Therefore, doctors and nurses at the centre have to help the veterans eat and bathe and to take their medicine every day.
Đoàn Văn Kiện, deputy director of the centre, where he has worked for nearly 30 years, said that taking care of wounded and sick soldiers was not simply about prescribing medication but also taking care of their spirit.
"Most of the wounded and sick soldiers were injured as teenagers or in their early 20s, they hadn't even had the chance to fall in love with anyone," he said.
"They then decided to not get married because of their severe injuries," he added.
As a result, the veterans don't just suffer from physical pain but they also suffer from loneliness and emptiness, he said.
Kiện said he and other medical staff were always ready to listen to the veterans talk, he said.
Although the work is not easy, Kiện said it is important to take care of and serve the wounded soldiers who had sacrificed their blood and bone for the cause of national liberation and reunification.
The doctors and nurses working at the centre have a caring attitude and feel a sense of responsibility to the wounded soldiers, he added.
Mã Thị Bích Nhạn, director of the centre said that taking care of veterans was a political task and it had special meaning. It expresses our gratitude to the previous generations who bravely fought and sacrificed for the independence and freedom of the nation.
Thus, doctors and medical staff of the centre will continue making efforts to better take care of the veterans in the future, she said.
Vietnam wins two honourable mention certificates at FIAP contest
The Vietnam Association of Photographic Artists (VAPA) has brought home two honourable mention certificates in the print and digital categories at the International Federation of Photographic Art (FIAP)'s 29th Colour Biennial, the association has announced.

The two certificates were presented to two photo collections themed 'Traditional Crafts' in the print section and 'Vietnam Viewed from Above' in the digital session.
The 29th FIAP Colour Biennial 2021 was held in France. Each member federation can select their own works or collections for submission, with a title for the collection being mandatory.
Vietnam's entries to the contest were selected from nearly 760 artworks by 200 photographers by the VAPA./.
Brave soldier a shoo-in for business success
In 2006, a former Vietnamese soldier started a shoe business, which has since gone on to be very successful.
Using a soldier's brave spirit, Đào Văn Vanh has developed Thuận Hưng Co. Ltd. in the northern port city of Hải Phòng to having more than 200 employees.
Vanh, 69, is agile, talkative and excited when discussing his days as a soldier.
He enlisted in the army in March 1967, and after a short training in the north he was assigned to Battalion 14, Division 2, Military Region 5, and remained a soldier in the unit until 1975.
The most memorable period for him was 1971-72 when he participated in the Road 9 Campaign in southern Laos when he shot down three enemy aircraft, was admitted to the Party and awarded the Third Class Victory Medal.
Vanh was later injured in a firefight and assessed as having an injury rate of 4/4 – the lightest level for war invalids.
In 1975, Vanh returned to his hometown and left the army to work at a cement factory, but soon quit to study carpentry.
The year 2006 saw him set up his own company in a new field: making toe-capped shoes.
Starting a business was a bold move insofar as he had no assets except some family land, no management experience and did not know where to buy raw materials or how to sell the products too.
Nevertheless, he still decided to build a factory on his family's land, with an investment of VNĐ1.2 billion (US$52,190) which he borrowed. He eventually linked up with Đỉnh Vàng Co. Ltd. – a large leather shoe company in Hải Phòng.
His lack of experience made things difficult at first, but he strode on with a soldier's spirit, even through the ups and downs of the coronavirus crisis.
At the beginning, Thuận Hưng had 40 employees on a small factory scale. Now the company has more than 200 local workers, with an average income of VNĐ6-8 million per month each.
Lê Thị Miền has worked at the company for 11 years, earning VNĐ6-10 million per month, and said that Vanh was always interested in the lives of his employees, ensuring their rights, so they love the company and consider it their second home.
Phạm Hữu Dũng, chairman of the local Commune People's Committee, said that the company had made an important contribution to social security in the area.
Vanh and his family also eagerly participate in communal activities. It is these good deeds that see Vanh be visited and given gifts by local authorities, along with other soldiers, for Invalids and Martyrs Day on July 27.
Young volunteers help teach Quảng Trị students
Hồ Thị Bảo Trân, a primary student in a mountainous area in central Quảng Trị Province, experienced a totally different summer holiday this year.
Apart from usual activities such as working with her parents in the fields and chores at home, she has joined a class to study soft skills for primary students at a community house near her home in Krông Klang Town in Đakrông District.
The class runs from 7.30am to 9.30am Monday to Thursday. During the two-hour session, Trân studies maths, languages and soft skills, which the second grader had never learnt before.
"I like going to the class as I have been guided to read, write and do maths, especially playing physical games, and been given fresh milk during the break," she said.
The class is among one of several projects organised by a youth union group in Krông Klang Town, the Đăkrông Regional Development Programme of World Vision and Krông Klang Town Women's Union.
The class started on June 26 at the Khóm A Rồng Community House for 20 local primary students from disadvantaged households. In most sessions, students will review lessons on maths and languages. The final session of the week will see students focus on soft skills to avoid physical dangers, such as how to prevent drowning. They will be welcomed to share their stories to the class.
Three or four volunteers, mainly local teachers or students, will take charge of each class.
Hồ Thị Liên, a parent in Krông Klang, said she was very worried her child might have an accident when following his friends to a local lake or venturing up the mountains without adult consent.
"I cannot stay at home to look after him, but I am so worried as he stays at home alone. Things have been better since he joined the class. He has learnt new lessons and likes going to school," she said.
Hồ Thị Lương, secretary of the Youth Union of Krong Klang, said during the summer holidays, there were many potential risks of injuries such as landmines or drowning.
In addition, due to the language barrier, students from Pakô and Vân Kiều ethnic minorities still have difficulties in Vietnamese pronunciation, writing and common calculations. Therefore, the classes will help students with basic knowledge before entering the new school year.
Lương said the Youth Union's representative and the Women's Union went to each of the student's homes to ask the parents to let their children join the class.
At first the children were timid and confused, so the teachers spent time talking with them, bonding and sharing their dreams and ambitions. They also created entertainment to increase interaction between students and teachers.
"Now the children have become bolder and their knowledge more solid," she said.
Other classes such as courses for first graders in Đông Hà City and English classes for children in Triệu Phong District have also received support from local people.
Mai Văn Nam, deputy Secretary of Quảng Trị Province's Youth Union, said the union would continue to expand the classes in other areas to find out the best model for each locality. 
Hanoi medical staff set off to help southern Covid-19 hotspot
Hundreds of medical staff from around the country have set off to help southern provinces over the last few days, where the number of Covid-19 infections has been increasing rapidly. Responding to a call from the Ministry of Health, staff at the Friendship Hospital in Hanoi have provided assistance in fighting the outbreak in Ho Chi Minh City. 
For these staff, who have been fighting Covid-19 in many hotspots, this trip is even more special because they know it will be quite long.
The hospital's delegation includes 10 doctors and 25 nurses, who are young and enthusiastic and specialize in emergency and intensive care treatment.
The entire team has been fully vaccinated and are equipped with professional knowledge about the treatment of Covid-19 patients.
More than 4,000 health workers around the country have been supporting Ho Chi Minh City.
As the number of Covid-19 cases in the city continues to rise, however, the Ministry of Health is calling on more doctors, nurses, and medical technicians to help relieve some of the burden on the city's healthcare system./.
Raising vigilance against the risk of 100,000 COVID-19 cases
The number of COVID-19 cases in Vietnam continues to rise and does not seem to have reached its peak.
Over the last four days, the number of cases has ranged from 6,000 to more than 9,000 cases per day and the whole country had recorded a total of 98,465 patients by the afternoon of July 25, nearly touching the threshold level of 100,000 cases, a number never thought of three months ago.
Therefore, in addition to strictly implementing the set solutions, it is necessary to prepare for the wider spread of the pandemic and the associated increasing number of patients.
Directive 16 and even 16+ or 16++
More than 20 provinces and cities nationwide have implemented social distancing according to Government Directive 16/CT-TTg. Besides the initial results, there are still localities that have yet to seriously implement the order.
Through inspecting some areas in Ho Chi Minh City, Deputy Prime Minister Vu Duc Dam expressed his concern as he observed many people were out on the road even though the city had issued Directive 12-CT/TU on strengthening measures to implement Government Directive 16.
Statistics from the Department of Transport of Ho Chi Minh City showed that traffic volume decreased by 84% in the first few days of implementing Directive 16, but then increased again and had only fallen by 70% as compared to normal levels.
The Deputy PM requested the city strictly follow the Directive otherwise it would be impossible to fight the pandemic while asking the city to re-establish discipline in implementing social distancing throughout the locality, especially in blockade areas.
According to epidemiologists, in order to reduce the number of COVID-19 infections, it is necessary to thoroughly carry out Directive 16 and even 16+ or 16++ and people are only allowed to go out in certain circumstances.
In areas with a large number of cases, the involvement of the authorities, police and military forces is needed to set up a curfew and to ensure the lowest number of people on the street.
All places likely to be crowded, such as supermarkets, pharmacies, and vaccination points, must be equipped with ropes and marked to ensure distance between people while severe punishment should be imposed on those who do not wear masks or gather in groups of more than two people in public places.
Preparing treatment plans
Up to now, the treatment strategy for people infected with COVID-19 in Vietnam has not changed while localities treat cases with close monitoring of the development of each case as the Delta variant pushes the number of infected cases up and up.
In particular, it is necessary for localities to prepare three treatment areas including a concentrated treatment area for asymptomatic COVID-19 patients, a treatment area for patients with symptoms, and a treatment area for seriously ill patients who need ECMO, dialysis, and mechanical ventilation.
According to Assoc. Prof. Dr. Nguyen Lan Hieu, director of the Hanoi Medical University Hospital, it is urgent to establish treatment centres for seriously ill patients so that the number of ICU beds is not less than 5% of the estimated total number of infections.
The classification of patients must be well organised to help those at risk of exacerbation (from the 7th to 9th day after onset of the disease and people with underlying medical conditions) have early access to intensive treatment while lower-risk patients will self-monitor their health at field hospitals, local health stations or at home.
In particular, the disease progresses very quickly in the 7th to 9th day from its onset, so it is necessary to closely monitor health during this period. Treatment facilities also need to be upgraded and equipped with necessary devices as soon as possible through the mobilisation of all possible resources.
Dr. Pham Quang Thai from the National Institute of Hygiene and Epidemiology notes that the number of severe cases only accounts for a small percentage while mild patients occupy a much higher proportion. If mild patients are not taken care of, this may lead to the possibility of worsening or not complying with quarantine regulations, resulting in further infection in the community.
It is essential to have a network of collaborators and counselors to provide spiritual support to this group to help them easily overcome the disease because as long as they get better within 10 days of the virus' onset, the infection risk to the community is extremely low (almost non-infectious).
Except for symptomatic and severe cases, remaining cases can be tested rapidly on the 10th day and released early when no longer showing symptoms and testing negative. Thus, patients can safely stay in one place and wait to go home instead of worrying which could make the disease get even worse.
HCMC strictly punish people going out without necessary purposes
 
Ho Chi Minh City has formed many checkpoints in its districts and Thu Duc City to verify whether all passing people are with purposes regulated in Directive 16 or not. Those without necessray purposes, including shippers transporting unessential items, are fined from VND1-3 million.
At the checkpoint on Phan Dang Luu Street in Binh Thanh District, the border between the districts of Binh Thanh, Tan Binh, Phu Nhuan, the police examined each vehicle passing, most of which are shippers. They discovered many violators of Directive 16 and asked them to turn back.
Similarly, at the checkpoint on Vo Van Tan Street in District 3, the functional agencies strictly punished anyone traveling without a necessary purposes. People showing a certified pass but going to wrong direction or shippers carrying unessential goods or merchandise with no formal order into District 3 are not allowed to pass.
At many checkpoints in Phu Nhuan District, the police had to explain the logic to shippers who objectedly said that they did not know the content of the packages. At last, those shippers understood and signed in the violation record.
According to Tran Huu Loc, an officer in the Urban Security Management of Phu Nhuan District, only in the morning of July 26, there were 20 violation records of people going out for unnecessary purposes, many of which belonged to shippers with unessential items. Besides giving fines, the functional force also explained in detail the regulations and reminded them to stay at home unless in emergency or for buying essential commodities.
Chairman of the People's Committee of Go Van District Nguyen Tri Dung informed that his district establishes several patrol teams and sets up 12 main fixed checkpoints to punish anyone traveling on the streets unable to show regulated documents.
In District 11, there are 4 main checkpoints at the four borders with neighboring districts. In each ward, there are fixed checkpoints as well, along with its patrol teams to punish people going out with unnecessary purposes. Residents in the district receive a shopping card to do their grocery shopping twice a week on assigned dates. This is to minimize gatherings and people going out with unclear reasons.
Chairman of District 8 People's Committee Tran Thanh Tung reported that his district has three main checkpoints located on Duong Ba Trac Street, Pham Hung Street, and Interprovincial Road No.5, together with 16  checkpoints in its 6 wards. Its patrol teams take turn to check around all streets to pinpoint violators and fined 90 cases of people going out with unnecassary purposes, street traders.
The localities in Hoc Mon District regularly remind residents to stay at home as much as possible. The patrol teams of the district on July 26 fined over 200 cases of people going out without necessary purposes.
The police force in Thu Duc City besides patroling the streets for law violators cooperate with the medical team to perform quick tests on passer-bys. They have discovered many Covid-19 positive cases. In addition, the localities here use security camera systems and community Covid-19 teams to monitor people in medical lockdown areas. Zalo is also used to remind residents not to break the laws.
Tuan Quan – Extremely valuable prehistoric archaeological site
Archaeologists have discovered findings with cultural values of the prehistoric period in Vietnam through an urgent archaeological excavation of Tuan Quan relic site in northern Yen Bai province, which confirms that the site is a particularly rare and precious relic belonging to the late Stone Age and feudal periods.
The Tuan Quan archaeological site is located in Yen Ninh ward in Yen Bai city with two smaller sites of Tuan Quan No. 1 and No. 2.
It was discovered in 2001. The Tuan Quan No.1 relic site was surveyed in 2018 and excavated for the first time in 2019, while the Tuan Quan No. 2 site has been explored since 2002.
During the digging at the Tuan Quan No.1 site, archaeologists discovered a large number of stone tools of different kinds and shapes, which helped them confirm that the site was built about 11,000 years ago during the Hoa Binh culture. A small number of prehistoric ceramic pieces as well as Vietnamese and Chinese pottery pieces were also found at the site, along with bronze coins belonging to the Nguyen Dynasty. The pottery pieces are thought to date back to Dong Dau - Go Mun cultures.
At the Tuan Quan No. 2 site, archaeologists discovered a number of pieces of tiles, bricks, pottery, and glazed terra-cotta dating back to the Le and Nguyen Dynasties (17th - 18th centuries). They also found two relatively complete kilns at a depth of 1.4m.
Ly Kim Khoa, Vice Director of Yen Bai Museum who directs the excavation of the Tuan Quan No. 2 site, said that the kilns are like those made in late Le Dynasty or early Nguyen Dynasty (17th - 18th centuries).
Meanwhile, Dr Pham Thanh Son from the Institute of Archaeology, held that the Tuan Quan No. 1 site may date back to 10,000 -15,000 years ago, with high archaeological values.
An archaeological report in early July 2021 also confirmed that Tuan Quan is an extremely precious relic site in the system of prehistoric archaeological sites in Vietnam, which plays a very important role in the exploration of the origin of Son Vi- Hoa Binh Culture in Vietnam and Southeast Asia./.
DPRK leader congratulates President Nguyen Xuan Phuc
Chairman of the State Affairs Commission of the Democratic People's Republic of Korea (DPRK) Kim Jong Un on July 26 sent a message of congratulations to Nguyen Xuan Phuc on the occasion of his election as President of Vietnam.
Phuc was elected President of Vietnam on July 26 during the first session of the 15th National Assembly./.
New dance emerges on TikTok to fight COVID-19


If you're bored at home because of social distancing watch this video and learn a new dance. Hundreds of people posted on TikTok videos of themselves dancing to a COVID 'fight song' to stay active and positive. Maybe we will see yours? 
Fallen soldiers honoured on War Invalids and Martyrs Day
The Prime Minister on July 27 decided to bestow upon 242 fallen soldiers the certificate recognising their dedication to the Fatherland.
The "To quoc ghi cong" (The Fatherland acknowledges the merit) certificate honours 242 martyrs from the Ministry of Public Security, the Ministry of Labour, Invalids and Social Affairs, the Ministry of National Defence, and 31 localities nationwide.
Vietnam marks the War Invalids and Martyrs Day on July 27 annually.
Seventy four years ago, then President Ho Chi Minh designated July 27 as the War Invalids and Martyrs Day to remind the entire Party, armed forces and people of the tradition of expressing gratitude to forerunners, thereby contributing to the great national unity bloc and public trust in the Party and State./.
Photo exhibition sheds light on AO/dioxin disaster in Vietnam
A photo exhibition on six decades of the Agent Orange (AO)/dioxin disaster in Vietnam took place in the northern port city of Hai Phong on July 27.
The event featured 60 photos following the themes of AO/dioxin pains; a concerted effort in support of and care for the victims; the building of the city's association for AO/dioxin victims; and related people-to-people activities and the struggle for justice for the victims.
Nguyen Huu Y, head of the municipal association for AO/dioxin victims, said the exhibition aims to spread a message that surmounting AO/dioxin consequences is the responsibility of entire society and that the victims are in dire need of care and attention from the community.
From 1961 to 1971, the US military sprayed about 80 million liters of toxic chemicals, 61 percent of which were Agent Orange, containing 366 kg of dioxin, on to nearly a quarter of South Vietnam. About 86 percent of the area was sprayed more than two times, 11 percent of the area was sprayed more than 10 times.
As a result, around 4.8 million Vietnamese were exposed to the toxic chemical. Many of the victims have died, while millions of their descendants are living with deformities and diseases as a direct result of the chemical's effects.
Hai Phong has a total of 17,047 people infected and suspected of being exposed to the toxic chemical, of whom more than 10,000 are the direct victims, and over 6,000 are biological children and grandchildren of those who fought in the resistance war.
More than 1,000 victims have died. As many as 6,462 victims, who are receiving monthly allowances, are residing in Hai Phong.
In recent years, the city annually spent over 40 billion VND (1.74 million USD) on offering gifts to war veterans exposed to the toxic chemical on two occasion of the Lunar New Year holiday and War Invalids and Martyrs Day (July 27)./.
NA discusses investment in new-style rural development
The 15th National Assembly discussed investment policy for the National Target Programme on New-style Rural Development for the 2021-2025 period during its ongoing first session in Hanoi on July 27.
At the event, Minister of Agriculture and Rural Development Le Minh Hoan said the programme must cover all 63 cities and provinces, making rural areas worth-living places.
Apart from upgrading infrastructure and improving people's lives, he called for further attention to improving their income and life quality via new farming models, circular and smart agriculture.
The programme sets agriculture, farmers and rural areas as three indispensable factors and the restructuring of agriculture creates a driving force to build new-style rural areas.
Additionally, improving knowledge of farmers, rural environment and culture, gender equality, and nutrition for rural residents also contribute to the success of the effort, he said.
The minister also highlighted leadership at the grassroot level as a factor decisive to the success of the programme. Therefore, he proposed offering training courses to communal-level leaders to help them access new values in the programme./.
Deputy PM visits HCM City's 175 Military Hospital
Deputy Prime Minister Vũ Đức Đam urged the 175 Military Hospital in HCM City to mobilise all possible medical sources to combat the pandemic.
He paid a working visit to inspect the COVID-19 prevention and control work at the hospital on Tuesday morning.
Since the pandemic broke out in HCM City, the 175 Military Hospital has assisted the city in testing and vaccinating people.
The hospital on July 16 put into operation a COVID-19 treatment centre for patients in a moderate to severe condition. The centre was established in just 48 hours.
According to Major General Nguyễn Hồng Sơn, the hospital director, after the first week, the centre received 83 patients, of which 23 patients required mechanical ventilation, two patients required dialysis and one required ECMO treatment.
The hospital is studying plans to cope with a large influx of patients and is ready to offer assistance to military hospitals in the southeastern region.
Deputy PM Đam praised the hospital for its contribution to the fight against COVID-19. He said the virus was being spread widely in HCM City and other neighbouring localities, requiring local authorities to take special measures to respond.
"People need to accept sacrificing personal interests, give up some personal habits and needs for a while to avoid heavy losses that might be caused when the pandemic situation is far beyond the control of the medical system," he said.
He urged HCM City to map out plans for different scenarios of the pandemic's development and prepare human resources and medical equipment to receive a large number of patients. The Ministry of Health, relevant sectors and localities must send medical equipment to facilities treating serious cases.
He said there must be no shortage of protective equipment for healthcare and frontline workers.
In the context of an increasing number of patients, sectors and localities must focus on treatment targets of each layer in the five-layer treatment model, he said.
"HCM City's mission now is to ensure strict observance of social distancing rules, protecting medical workers and ensuring collaboration between sectors, and localities in receiving and transferring patients," Đam said.
Colonel General Võ Minh Lương, Deputy Minister of National Defence and head of the Government's special working group in HCM City, proposed the health ministry and HCM City's authorities support 175 Military Hospital with medical equipment to meet treatment demands.
Lương said the Ministry of National Defence would launch blood donation campaigns to ensure blood reserve supply for military and non-military hospitals. 
Six isolation areas to be established in Hóc Môn District
Hóc Môn District in the outskirts of HCM City, plans to establish six isolation areas to accommodate symptomatic COVID-19 patients for treatment.
On July 26, the district recorded a total of 3,320 positive cases in the fourth wave of the pandemic. Since then the number of infections in the areas has continued to increase by more than 100 cases every day.
Director of Hóc Môn District Health Centre Nguyễn Văn Trường said that previous positive cases were taken to hospitals in the inner city for treatment. Hóc Môn District General Hospital, however, over a week ago, was upgraded so that it could receive 493 symptomatic COVID-19 patients.
The hospital director, Đặng Quốc Quân said that in the future, the hospital will be able to accommodate up to 700 patients. Additional advanced medical equipment will be acquired to help treat COVID patients.
"Currently, 15 beds for mechanically ventilated patients in the intensive care unit of the hospital are full," he said.
"We are doing everything to promptly handle severe cases to minimise mortality," he went on.
The district currently has an isolation area that is treating 332 COVID cases, but there are only three doctors and three nurses. The local health department has asked the HCM City Department of Health to send more doctors to assist.
Lê Thụy Mỹ Châu, Vice Chairwoman of Hóc Môn District People's Committee, said that there were few motels and hotels in the local area, so schools were being used as temporary isolation areas.
Medical staff were on duty at isolation areas to classify patients. Those with underlying diseases and clear symptoms were transferred to city hospitals immediately.
The district also organised quick tests for random cases at quarantine checkpoints in 12 communes and towns.
Almost every day, up to 20 COVID cases are detected through random testing.
Transporting patients to high-ranking hospitals in the city had been difficult due to the increasing number of infections.
When receiving news that a patient is seriously ill, the district's medical staff immediately contact the emergency portal 115 HCM City to call a car, and actively enter all the patient's data, for quick transfer to the city hospital, a local doctor said.
Source: VNA/VNS/VOV/VIR/SGT/SGGP/Nhan Dan/Hanoitimes 

NA Chairman delivers speech on War Invalids and Martyrs Day