Additional 57 local COVID-19 cases recorded in Vietnam
Vietnam detected 60 new cases of COVID-19 over the past six hours to 6pm on June 9, including 57 domestically-transmitted infections and three imported cases that were quarantined right upon their arrival.
Among the domestic cases, 20 were recorded in Ho Chi Minh City, 19 in Bac Giang province, 12 in Bac Ninh province, four in Hanoi, one in Lang Son province and one at the Vietnam National Cancer Hospital (Hospital K) in Tan Trieu commune, Hanoi's outlying district of Thanh Tri.
The latest cases brought the daily count on June 9 to 407, including 26 imported and 381 domestic cases, according to the Ministry of Health.
Of the local infections, 370 were found in quarantine facilities or locked-down areas.
As of 6pm on the day, the domestic tally stood at 7,954, of which 6,384 were recorded since the new wave started on April 27.
Sixteen provinces that were hit by the pandemic have gone through 14 days without new infections.
Meanwhile, 87 patients were given the all-clear on the day, raising the number of recoveries to 3,636. Fatalities related to COVID-19 reach 55.
Among the active patients, 224 have tested negative for the coronavirus SARS-CoV-2 once, 75 twice and 72 thrice./.
Vietnam logs 283 more COVID-19 cases at noon on June 9
The Health Ministry announced 283 more cases of COVID-19 at noon on June 9, which comprise 82 infections newly detected in the past 6 hours to 12pm and 201 cases detected earlier in Bac Giang province but yet to be registered in the national statistics, lifting the national tally to 9,505.
The ministry said among the 82 new locally-transmitted cases, 53 were in Bac Giang, 20 in Ho Chi Minh City, six in Bac Ninh province, three in Ha Tinh province, and one in Hanoi. Bac Giang and Bac Ninh are the country's current two largest pandemic hotspots.
Meanwhile, the 201 newly-registered cases were detected during screening testing of people in lockdown area in Bac Giang's Viet Yen district from May 27-29.
The numbers of locally-transmitted and imported cases rose to 7,897 and 1,608, respectively. Meanwhile, the total number of domestic infections reported since April 27 when the fourth coronavirus wave hit the country amounted to 6,327.
To date, the number of recoveries was 3,549, while the death toll hit 55.
Among those under treatment, 218 people have tested negative for the virus once, 92 twice, and 78 thrice.
The MoH called on citizens to follow the 5K message, including khau trang (facemask), khu khuan (disinfection), khoang cach (distance), khong tu tap (no gathering), and khai bao y te (health declaration), to help contain the outbreaks./.
Quang Ninh province reopens certain services, local tourism
Quang Ninh province, a major tourism and economic hub in northern Vietnam, has allowed certain services and local tourism to resume operation since 12:00 on June 8 after no new cases of COVID-19 community transmission were recorded here for one month to June 7.
Accordingly, local tourist attractions, relic sites, places of worship, along with cultural and sports services, gym and yoga centres, billiard clubs as well as coffee shops, cafes, restaurants, tea stalls, lottery stores have opened their doors. Golf courses are also permitted to welcome local players.
Meanwhile, dance halls, karaoke and massage parlours, bars, pubs, clubs, and game stores remain closed.
The provincial People's Committee demanded the abovementioned sites comply with the regulated COVID-19 prevention and control measures.
It told the chairpersons of district-level localities to consult with local Party committees and steering boards for pandemic prevention and control about the resumption of those services and activities in their areas.
They have the responsibility to manage, instruct, examine, and monitor the sites and must suspend any activity or service failing to adhere to anti-COVID-19 requirements.
Meanwhile, the Quang Ninh Department of Tourism is responsible for coordinating with the Department of Health to discuss with other provinces and cities, basing on evaluations by the National Steering Committee for COVID-19 Prevention and Control, to work out plans for welcoming tourists from "safe" areas nationwide so as to swiftly and strongly revive tourism in the time ahead.
The Tourism Department was also requested to work with the administrations of localities in the province, the Quang Ninh Tourism Association, management boards of tourism areas, travel companies, hotels, restaurants, and relevant enterprises to develop travel stimulus programmes and special tourism products.
Notably, the provincial People's Committee is encouraging tours with packaged services, including coronavirus pooled testing.
The Tourism Department needs to publicise the tours and tourism programmes before June 11, according to the committee.
To augment efforts against COVID-19, authorities have ordered local production and business establishments and industrial parks to conduct random antigen or pooled tests every week for 20 percent of their employees, labourers living in boarding houses, and all the workers supplying services for businesses in industrial parks.
Quang Ninh has been working to tighten measures to prevent the disease transmission from other localities in an appropriate manner while easing restrictions within the province in a controllable manner. It has stayed vigilant and kept paying attention to grassroots anti-pandemic efforts by enhancing villages, wards, and townships' capacity.
It is also pushing ahead with monitoring people related to COVID-19 clusters in other localities and stepping up control over people and vehicles entering the province.
As many as 49 COVID-19 rapid response teams have been set up across Quang Ninh. The provincial People's Committee has also established three teams specialised in inspecting pandemic prevention and control measures at industrial parks, factories, enterprises, and construction sites.
Secretary of the Quang Ninh Party Committee Nguyen Xuan Ky, head of the provincial steering committee for COVID-19 prevention and control, said the province has set the working theme for 2021 as "keeping the province safe and sustaining the growth trend in the new normal; accelerating development and completing uniform and modern socio-economic infrastructure; and promoting regional connectivity," so as to create prerequisites for Quang Ninh to achieve the twin targets of controlling the pandemic and boosting socio-economic development./.
Vietnam sets up technology centre for COVID-19 fight
The Ministry of Information and Communications (MIC) on June 4 issued Decision No.769/QD-BTTTT on the establishment of a technology centre serving the nation's efforts of COVID-19 prevention and fight.
Located in Cau Giay district, Hanoi, the centre will consist of department leaders of the MIC and the Ministry of Health.
Some business leaders have also been also invited to join the centre members, including Nguyen Tu Quang, CEO of Bkav – a famous anti-virus software company in Vietnam, and Ngo Vinh Quy, deputy general director of Viettel and others.
At noon of June 5, Vietnam reported 96 new COVID-19 infections, including 91 locally-transmitted cases: Bac Giang (65), Ho Chi Minh City (15), Ha Tinh (2), and others in other cities and provinces.
So far, Vietnam recorded a total of 6,910 infections and 51 cases of death.
Criminal proceedings started against former leaders of Khanh Hoa for violations of land management regulations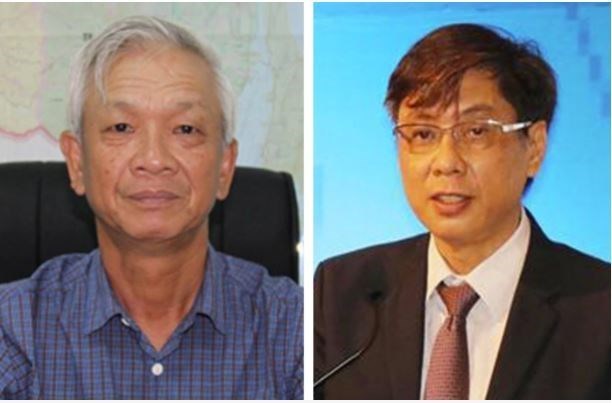 Le Duc Vinh (R) and Nguyen Chien Thang (Photo:baochinhphu.vn)

Police in the south central province of Khanh Hoa on June 8 started a criminal case into the violation of land management regulations at the Cuu Long Son Tu spiritual-ecological tourism project and the Vinh Trung villa project in Chin Khuc mountainous area of Khanh Hoa, under Clause 3, Article 229, the 2015 Criminal Code. 
Criminal proceedings were also launched against three former officials of Khanh Hoa province involved in the case. Two of them are former Chairmen of the provincial People's Committee Le Duc Vinh, 56, and Nguyen Chien Thang, 66. The third one is Le Mong Diep, 66, former Director of the provincial Department of Natural Resources and Environment.
The trio were arrested the same day, and their houses were inspected under decisions approved by the provincial People's Procuracy./. 
Hanoi: Action month for drug prevention 2021 launched
Vice Chairman of the Hanoi People's Committee Chu Xuan Dung on June 7 signed to issue a plan on implementing the action month for drug prevention this year in the capital city.
Accordingly, the month is being carried out throughout June, with focus on improving the effectiveness of communications work on and education of laws and regulations on drug prevention and control.
Besides, the city also aims to promote communications to create changes in the sense of responsibility and actions of authorities and heads of organisations, agencies, businesses and schools as well as people from all walks of life in preventing and combating drugs and related crime, thus contributing to serving the tasks of the capital's socio-economic development and foreign affairs
The plan is issued in response to the Prime Minister's dispatch dated May 27 on the implementation of the action month for drug prevention and control and the organisation of activities responding to the action month (June), International Day Against Drug Abuse and Illicit Trafficking and Vietnam's anti-drug day (June 26)./.
Vietnam confirms 64 new COVID-19 cases
Vietnam recorded 64 more COVID-19 infections, including 41 domestic and 23 imported cases, in the past 12 hours to 6:00 am on June 9, lifting the national tally to 9,222, according to the Ministry of Health (MoH).
The ministry said among the new locally-transmitted cases, 24 were detected in Bac Giang province and 17 in Bac Ninh province, which are the country's current two largest pandemic hotspots.
The number of locally-transmitted and imported cases has so far stood at 7,614, and 1,608, respectively. Meanwhile, the total number of domestic infections reported since April 27 when the fourth coronavirus wave hit the country amounted to 6,044.
On June 8, 40 patients were given the all-clear, raising the number of recoveries to 3,549, while the death toll rose to 55.
An additional 10,119 people were given COVID-19 vaccine shots in 11 provinces and cities nationwide on June 8, pushing the total number of administered doses to over 1.35 million.
The MoH called on citizens to follow the 5K message, including khau trang (facemask), khu khuan (disinfection), khoang cach (distance), khong tu tap (no gathering), and khai bao y te (health declaration), to help contain the outbreaks./.
UNICEF provides Vietnam with vaccine refrigerators
As many as 174 refrigerators for storage of vaccines, funded by the Global Alliance for Vaccines and Immunisation (GAVI) and supplied by the United Nations Children's Fund (UNICEF), arrived in Ho Chi Minh City on June 8.
The aid was part of GAVI's Cold Chain Equipment Optimisation Platform for medical establishments.
The eco-friendly fridges, which are manufactured by B Medical company in Luxembourg, will be sent to district-level medical stations in 23 Central Highlands and southern provinces to store vaccines, including those for COVID-19, contributing to strengthening the local medical system, especially the Expanded Programme on Immunisation of Vietnam.
Véronique Maeva Fages from GAVI said other cold storage equipment supported by COVAX Facility will be delivered to Vietnam later this year.
UNICEF Representative in Vietnam Rana Flowers said in the near future, UNICEF will provide Vietnam with a number of vaccine storage equipment, including over 2,200 fridges, cold storage trucks, and tens of millions of syringes and safety boxes.
The National Institute of Hygiene and Epidemiology is working on procedures to receive and transport the fridges to beneficiary provinces./.
Former RoK Ambassador to Vietnam honoured with Friendship Order
The Vietnamese Embassy in the Republic of Korea (RoK) held a ceremony on June 8 to present Vietnam's Friendship Order to former RoK Ambassador to Vietnam Lee Hyuk in recognition of his great contribution to the friendly and cooperative relations between Vietnam and the RoK.
Addressing the ceremony, Vietnamese Ambassador to the RoK Nguyen Vu Tung praised the work of the RoK diplomat in promoting economic, trade-investment, scientific-technological and labour ties between the two countries.
He particularly hailed his role in organizing activities to mark the 25th anniversary of bilateral foreign relationship.
As Secretary General of the ASEAN-Korea Centre during 2018-2021, Lee Hyuk actively organized activities to enhance the RoK-Vietnam ties in the framework of ASEAN and RoK-ASEAN ties.
For his part, Lee Hyuk pledged to continue contributing to the development of RoK-Vietnam relations in his various positions, including Vice Chairman of the RoK-Vietnam Friendship Association.
The Friendship Order is a noble distinction of the Vietnamese State conferred on foreigners who made great contributions to building, consolidating and developing the friendship between Vietnam and other countries in the world./.
Officials propose delay of SEA Games 31, ASEAN Para Games 11
The Vietnam Sports Administration (VSA) under the Ministry of Culture, Sports and Tourism held a working session with the Vietnam Olympic Committee in Hanoi on June 8 to discuss preparations for the 31st Southeast Asian Games (SEA Games 31) and the 11th ASEAN Para Games (ASEAN Para Games 11).
General Secretary of the Vietnam Olympic Committee Tran Van Manh said a document was sent to members of the Southeast Asian Games Federation's Executive Committee to seek opinions on the plan for the two tournaments amid the COVID-19 pandemic.
Participants at the event agreed to delay the competitions.
Director of the VSA's Information Centre Dam Quoc Chinh said Vietnam has yet to build a process of pandemic prevention and control as well as quarantine for a regional-scale sport event.
Following the session, the VSA will report the specific organisation plan to leaders of the ministry for submission to the government and the Southeast Asian Games Federation for consideration at the next meeting./.
Faster actions needed to end HIV/AIDS in 2030: Deputy PM
It is necessary to speed up efforts to put an end to the AIDS pandemic in 2030, Vietnamese Deputy Prime Minister Vu Duc Dam said at the United Nations (UN) General Assembly's high-level meeting on HIV/AIDS on June 8.
Addressing the event held virtually, the Deputy PM stressed the need to ensure sufficient resources for HIV/AIDS response, especially for developing nations, non-disruptive supply of antiretrovirals and accelerating the development of HIV vaccines and cure medicines.
Dam reiterated Vietnam's commitment to achieve the 90-90-90 target (90 percent of all people living with HIV know their disease status, 90 percent of all people with diagnosed HIV infection receive sustained antiretroviral therapy, and 90 percent of all people receiving antiretroviral therapy will have viral suppression), stressing that to reach the upcoming 95-95-95 goal, the world needs 100-100-100 effort, and even more.
At the meeting, President of the UN General Assembly Volkan Bozkir, UN Deputy Secretary-General Amina J. Mohammed, and UNAIDS Executive Director Winnie Byanyima lauded the active engagement of member countries in coping with HIV/AIDS over the years.
Bozkir described AIDS as an epidemic of inequalities. To end AIDS by 2030, he called for ending inequalities.
Ending the disease is both a prerequisite for — and a result of — implementing the Sustainable Development Goals, he stressed.
According to UNAIDS, 37.6 million people across the globe were living with HIV in 2020, including 27.4 million people accessing antiretroviral therapy, more than three times higher than that in 2010, at 7.8 million.
The number of people died from AIDS-related illnesses fell 43 percent in 2020 to 690,000./.
HCMC presents online Covid-19 map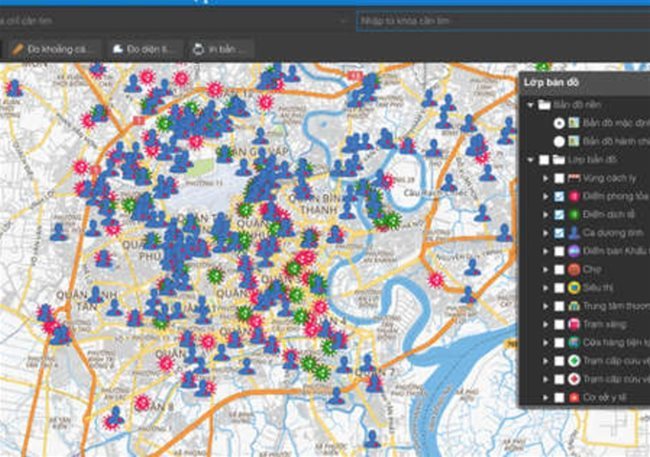 The online Covid-19 map of HCMC can be accessed via either a smartphone or a computer - PHOTO: SCREEN SHOT

The HCMC Department of Information and Communications has introduced an online map that enables users to keep a close eye on the Covid-19 situation in the city.
Via the map, citizens can find information related to the Covid-19 pandemic next to their houses or at other locations in the city. It is easy for users to access the map with a smartphone or a computer connected to the Internet.
The map also provides useful information such as facial mask suppliers, medical centers, necessity providers as well as analysis and statistics serving the management, supervision and control of the pandemic.
To access the map, users can visit https://1022.tphcm.gov.vn/ or https://bando.tphcm.gov.vn/covid19.
Information on the map will be provided by the HCMC Center for Disease Control and will be regularly updated following the center's announcements.
The HCMC Department of Information and Communications hoped that the map would be one of the effective tools for people and managers in the city to fight off the Covid-19 pandemic.
The department will work with the HCMC Department of Health and the HCMC Center for Disease Control to develop some new functions for the map such as information about areas under lockdown, new Covid-19 cases in select areas, communes, wards and districts that are collecting samples from local residents for Covid-19 tests and routes that will help commuters avoid high-risk areas.
Thousands volunteer for Vietnam Covid-19 vaccine clinical trial
Over 6,000 volunteers have registered for the third-stage trial test of the Made-in-Vietnam Covid-19 vaccine, Nano Covax.   
On June 7, after the Military Medical University called for volunteers 10 days ago, over 6,000 volunteers have registered for the trial. The third stage will be carried out on 13,000 volunteers at various places in Vietnam including the Military Medical University in Hung Yen Province, Pasteur Institute in HCM City and in Long An and Tien Giang provinces.
The third stages will include smaller steps. The results from the first and second stages showed that Nano Covax is safe and all of the volunteers developed lots of antibodies, much more than expected. The antibody concentrations were still high after being vaccinated for four to five months. Nano Covax is also effective against the variants that originate from the UK and the US. The impacts on the Indian variant are still under research.
Nano Covax is developed by Nanogen Company in HCM City in May 2020. The first trial stage was held on December 18, 2020, and the second stage started on February 26, 2021. The second stage was also held at the Military Medical University in Hung Yen and Ben Luc Medical Station in Long An.
Associate Professor Dr Ho Anh Son, deputy director of the Vietnam Military Medical University's Institute of Biomedicine and Pharmacy, said they were still monitoring the health of the volunteers after getting the second shots in the second stage.
"The number of antibodies increased and they are all healthy. There have been no emergency cases. This is a good sign so far," he said.
The third stage will be carried out with the optimal dosage of 25mcg. The trial is expected to be held this week.
Vietnamese Cambodian people affected by floating house relocation decision
Thousands of Vietnamese Cambodian people are facing difficulties due to the decision by local authorities to dismantle their floating houses on the Mekong River.
On June 2, the Phnom Penh government issued a decision to force people to remove all floating houses, fish rafts, and boathouses on the Mekong River for the protection of the environment, ecosystems, biodiversity, and health. If people do not conform, they would face legal action. 
Meanwhile, many Vietnamese Cambodian people have been living there for generations.
On June 4, Vietnamese Ambassador to Cambodia Vu Quang Minh led a delegation to visit the community to know more about the situation.
At the meeting with the delegation, Sym Chi, head of Khmer-Vietnam Association, said that around 1,000 Vietnamese Cambodian households are living in floating houses in the affected areas.
Although the local government has been planning the relocation for years, this is the first time the people were informed officially about this. The relocation had to be carried out within one week, which was more difficult during the pandemic.
Pham Van Quan, 61, said that his family had been living there for four generations with all the legal papers as required. They are very worried about where they can move to now.
To Van Trong, also from the area, said that his family and most of the people in the area had lived in floating houses in Prek Pnov district's river, Phnom Penh, since 1980.
The people expected that local authorities would have a more appropriate relocation plan for them to look for a new accommodation place and job.
According to Trong, they can't know where to go as they can't live on Tonle Sap and on the mainland too. Meanwhile, they have only one week to relocate. If they have to move so quickly, they can't sell their fish which needs to be raised for a few months.
Ambassador Minh showed his sympathy with the people's difficulties and encouraged them to keep calm and conform to Cambodian law. The Vietnam Embassy to Cambodia will also mobilise resources to help people overcome the challenging period.
HCM City handles Covid-19-related waste
Garbage generated by COVID-19 quarantine areas is becoming a great concern as HCM City is near its maximum treatment capacity.
Huỳnh Minh Nhựt, director of the HCM City Urban Environment Company Limited (CITENCO), which oversees the collection and treatment of all medical waste in hospitals and centralised quarantine zones, said that daily output has increased from 23 tonnes to 35 tonnes per day, while the capacity to treat medical waste is 42 tonnes per day.
If the amount of coronavirus-related waste continues to surge, it will overload the treatment plant, leading to a backlog which could endanger the environment.
According to Nhựt, the process of collecting and treating medical waste and waste from isolation areas is carried out according to strict safety standards. Garbage collection workers are equipped with protective gear.
Associate Professor Dr. Phùng Chí Sỹ, director of the Environmental Technology Centre (ENTEC), told Thanh Niên (Young People) newspaper that domestic waste from quarantine centres and lockdown areas is classified as hazardous waste and requires strict treatment procedures.
Medical waste is taken to Đông Thạnh waste treatment zone in Hóc Môn District where it undergoes disinfection processes, both chemically and thermally. After the trash is burned, the ash is solidified and buried in a location reserved for hazardous waste.
Other waste, such as face masks and protective clothing, is treated separately according to regulations, while the rest can be sent to landfills to be treated by burying and destroying, similar to the handling of waste generated during livestock and poultry epidemics.
CITENCO has proposed that the city create guidelines for the handling of COVID-19-related waste to avoid the risk of spreading disease in the community through garbage.
CITENCO has arranged 300 workers divided into three shifts a day to collect garbage in isolation areas under strict regulations.
CITENCO has plans to have their workers vaccinated at some point in the future.
Currently, the city has two concentrated COVID-19 quarantine centres run by the military, five centres at the city level, 23 at the district level, and 42 hotels with paid quarantine services, offering a total of 10,481 beds, according to the municipal health department.
The company suggested that local authorities encourage people in quarantine centres and lockdown areas to separate medical waste from domestic waste in order to reduce the amount of hazardous waste sent to incineration plants.
Avoid excessive COVID-19 measures that disrupt business and production: Gov't
Prime Minister Phạm Minh Chính on Saturday issued a dispatch to ministries and local authorities on avoiding excessive COVID-19 measures that cause negative impacts on business and production activities.
The dispatch states that a number of localities have implemented social distancing measures to curb the spread of COVID-19, others have carried out measures to manage people returning or arriving from outbreak-hit regions, however, some have "imposed rigid, even extreme measures" that heavily affect business and production, and threaten to cause disruptions to the supply chain on a large scale.
The move came nearly a day after the southern province of Đồng Nai early Friday issued an urgent dispatch requiring all people returning or arriving from HCM City – which is under two-week city-wide social distancing order to contain a large COVID-19 outbreak – to be either quarantined at home or at centralised facilities (fees borne by the quarantined person) starting Saturday.
The sudden requirement caused a significant backlash among the businesses in HCM City and Đồng Nai as there are a large number of labourers and experts travelling between the two neighbouring localities on a daily basis. Đồng Nai on early Saturday issued a revision, dropping the mandatory quarantine for workers, experts and employees who resided in HCM City but worked in Đồng Nai or vice versa.
However, these cases must observe basic COVID-19 prevention and control measures, and the employing companies must register the licence plate of the bus transporting their employees between the two localities to Đồng Nai police, and submit health declaration forms at the checkpoints.
In the cable, the Government leader asked that heads of ministries, State agencies, and local authorities to follow instructions of the Party Secretariat on carrying out the dual goals of both outbreak containment and economic development.
Localities must discuss with each other before implementing any travel restrictions, it stated.
The Ministry of Transport is supposed to coordinate with the Ministry of Health, the Ministry of Public Security and the Ministry of Industry and Trade, in reviewing the organisation of transport activities to and from outbreak-hit places to balance between outbreak containment and ensuring uninterrupted business and production, to promptly correct the application of excessive measures that cause congestion. 
Infrastructure boosts development of Hải Phòng City
Improved transport and tourism infrastructure has boosted the socio-economic development of Hải Phòng City over the past five years.
According to the city's People's Committee chairman Nguyễn Văn Tùng, in 2021-2030, the city plans to build more than 100 bridges with a total investment of some VNĐ83 trillion (US$3.6 billion).
In 2015-2020, Hải Phòng built 45 bridges, including the Tân Vũ-Lạch Huyện bridge - one of the longest sea bridges in Southeast Asia with a length of about 16km.
The bridge not only shortens the travel time from Hải Phòng to Cát Bà Island but also serves as a trade connection between the city and other countries through Lạch Huyện Port.
Another bridge that has connected traffic between Hải Phòng's inner city and Thuỷ Nguyên District, as well as a tourist highlight of the port city, is Hoàng Văn Thụ Bridge belonging to the technical infrastructure project in the new urban area of northern Cấm River.
This bridge is known as the most beautiful bridge in Hải Phòng.
The Hoàng Văn Thụ Bridge's operation is one of the steps contributing to the completion of the new city centre planning.
In addition to the outstanding development of its road transport system, Hải Phòng has also strengths in terms of its seaports.
Lạch Huyện deep-water seaport was put into operation in 2019 and became the first port in the northern region to receive large tonnage ships of 12,000TEU and 132,000 DTW transporting goods directly to Europe and the Americas instead of transiting via foreign ports as before.
Chairman of the Việt Nam Chamber of Commerce and Industry Vũ Tiến Lộc said: "With the advantage of being the main gateway to the sea of ​​the whole northern region, Hải Phòng has a strategic location playing a vital role in the development of the northern key economic regions."
"In particular, Hải Phòng holds a key position in the 'Two Corridors - One Economic Belt' Co-operation between Việt Nam and China as well as is an area with strategic relationships with major growth poles in East Asia and Southeast Asia," Lộc added.
The city's economic indicators last year and the first four months this year, increased by 1.5 to 2 times compared to other localities nationwide despite the complex developments of the COVID-19 pandemic.
Minister of Industry and Commerce Nguyên Hồng Diên said: "Hải Phòng is currently a 'fertile land' for both domestic and foreign investors".
A representative of the Hải Phòng Economic Zone Management Board said that as of April this year, the city has 770 projects with a total investment capital of more than $20.669 billion.
From the beginning of this year, the city saw 12 new projects registered with a total investment capital of $87.81 million and 20 projects which increased their capital by a total of $914.55 million.
The projects are mainly in the processing and manufacturing industries.
In 2021-2025, the city plans to establish 15 new industrial parks with an area of ​​​​more than 6,400 hectares.
In addition to attracting investment, the development of transport infrastructure has helped make tourism a key economic sector of the port city.
According to vice chairman of the city People's Committee, Lê Khắc Nam, before 2012, Hải Phòng's tourism industry always failed to meet its targets but from 2013, the number of tourists coming to the city has increased year by year, especially in 2016-2021, when the number of tourists increased by an average of 20 per cent per year.
"In 2021-2025, Hải Phòng identified tourism as one of the three pillars of the city's economic development," said Nam.
"To develop the industry, the city focused on infrastructure to attract big investors in this field," he said.
By the year 2025, there will be six more 5-star hotels put into operation, raising the number of 5-star hotels to 10.
Cát Bà Island, coastal Đồ Sơn District and Vũ Yên Island are three key tourist destinations of the city, he added.
HCM City urges residents to fill out online health declaration forms
HCM City People's Committee has instructed authorities in Thủ Đức city and all districts to strongly encourage residents to fill out online health declaration forms so that COVID-19 cases can be detected as soon as possible, the committee's chairman Nguyễn Thành Phong said at an online meeting on Monday.
"Social distancing and serious preventive measures help the city control transmission of COVID. We can detect and treat patients early before they show symptoms," Phong said.  
He instructed local authorities to assess the effectiveness of preventive measures and carry out stronger measures if necessary.
The Department of Health should mobilise more health officials to speed up COVID-19 screening at industrial parks and export processing zones, Phong said. Drugstores should also work with local health centres if they detect people with symptoms who buy medicine.
The Department of Industry and Trade should direct relevant agencies to ensure trade, consumption and supply of goods between the city and other provinces, and make plans to store goods for six months to serve the people.
The city has the fourth highest number of COVID cases in the country, he said, adding that it is expected to record more cases because of large-scale screening.
Nguyễn Tấn Bỉnh HCM City, head of the city Department of Health, said the city is tightening preventive measures in the next nine days to stamp out the outbreak.  
Based on the assessment of results after the 15- day social distancing period ends, the city will then consider resuming non-essential services, Bỉnh said.   
The city had recorded 640 COVID-19 patients as of June 7, according to the Ministry of Health. Of these, 268 have recovered, 371 are under treatment, and one has died.
The city Hospital for Tropical Diseases has admitted three severely ill patients, including one from An Giang Province General Hospital and the others from Long An Province's regional general hospital.  
There were 362 cases related to the Gò Vấp District outbreak cluster, as of May 26.
The city Department of Information and Communications has launched a digital map providing information about quarantine and lockdown areas, COVID-19 patients, and health facilities.
The database for the map is regularly updated by the city Centre for Diseases Control and Prevention.
People in the city can view the map on their computers or mobile phones by accessing https://hatangdothi.tphcm.gov.vn/covid19/, https://1022.tphcm.gov.vn, or https://bando.tphcm.gov.vn/covid19. 
Bac Ninh women work together to fight COVID-19
The northern province of Bắc Ninh is the second worst-hit locality in Việt Nam's fourth wave of  COVID-19 infections since late April, with over 1,000 cases to date.
To help fight the outbreaks, the women's unions at all levels in the province have promoted volunteering activities, energising the frontline forces.
For more than 20 days, women in Vũ Ninh Ward of Bắc Ninh City have taken turns cooking meals and sending them to doctors, nurses, and forces in swelling number of quarantine areas.
These were not only meals to help people overcome hunger, but also show gratitude and bringing family warmth to everyone.
Vũ Thị Tiến, chairwoman of the Women's Union of Vũ Ninh Ward, said that since the Women's Union of Bắc Ninh City launched the cooking activity, the ward union's members enthusiastically participated in the movement.
The core group involved in cooking the meals were female workersin the ward. Although each person had her own job in the office and was busy with their families, they tried to manage their time to participate in the volunteer work, Tiến said.
Nguyễn Thị Thanh Hòa, a member, said that in order to have delicious and nutritious meals for about 70 people every day, the women in the logistics team discussed the menus the day before.
"Early the next morning, we had to go to the market and buy food and then take turns cooking while working," Hoà said.
"Every day, we try to work two or three times harder than before to contribute to the fight against the pandemic," Hoà said.
Bắc Ninh City has been going through a difficult and decisive time in pandemic prevention and control, so those at the disease control checkpoints and medical forces always have to work hard.
They worked regardless of time, day and night, often away from their families, so the women in the ward tried to prepare delicious, nutritious food, helping people feel secure in their duties.
Nguyễn Gia Bình, a 70-year-old man in Vũ Ninh, who voluntarily worked at a checkpoint, said: "Every day, I received hot meals from the women of Vũ Ninh Ward. I really appreciated their work. The meals helped us overcome fatigue."
Gia Bình Township has a field hospital to treat COVID-19 patients.
The doctors and nurses here always face the risk of disease transmission.
Sharing those difficulties and hardships, the district's Women's Union also launched a movement of cooking delicious meals for the frontline forces.
Nguyễn Thị Vân, the head of a 'pandemic kitchen' in Gia Bình Township said the kitchen was established on May 11 with 10 people who are members of the township's Women's Union, using the financial contributions of the union's members.
"Since it was set up, the kitchen has received a lot of support from the union's members and other benefactors of the district because people realise this is a meaningful activity," said Vân.
"At present, the kitchen serves more than 200 breakfasts and a number of side meals every day. The menus are regularly changed every day, including sticky rice, noodles and various types of vermicelli to help frontline forces keep their strength against the pandemic," Vân said.
Military Lieutenant Colonel Nguyễn Huy Diện who is in charge of Gia Bình Township's concentrated quarantine area with 290 F1 COVID-19 patients, said that for almost a month, the area had received the attention of benefactors, regularly receiving gifts, necessities and daily meals from the women's kitchen.
The officials and employees at the quarantine area felt the attention of leaders at all levels, especially the Women's Union, contributing to motivating the forces here to complete their tasks.
Quế Võ District has recorded 93 infected cases with dozens of clusters.
The district imposed medical quarantine on 25 hamlets of 20,000 households with 72,000 residents.
Together with the authorities, the district Women's Union has contributed significantly to fight the pandemic.
Lê Thị Phượng, chairwoman of the district Women's Union, said that the union had actively grasped the situation and assigned staff to support the medical declaration and taking samples for tests.
In order to ensure food supply in the locked down areas, the Women's Unions of the communes established 85 logistics women's groups (inside and outside the quarantined areas) to purchase daily necessities, and sell agricultural products for the families who must isolate at home, said Phượng.
According to Trần Thị Vân, chairwoman of Women's Union of Bắc Ninh Province, women in the province organised many meaningful activities such as cooking meals fo people in quarantine areas, field hospitals, and medical checkpoints; buying food and daily necessities for families in quarantine areas; visiting and giving gifts to staff at medical checkpoints and supporting the families of members who were in extremely difficult circumstances due to the impact of the pandemic.
Since the beginning of May, the women in the province donated money and gifts worth nearly VNĐ6 billion (US$260,000), of which nearly VNĐ3 billion in cash, 400,000 medical masks, 11,000 cloth masks, 6,000 bottles of hand sanitiser, over 400 sets of PPE and many essential necessities such as 7.5 tonnes of rice, 30,000 eggs, over 700 boxes of milk, and over 70 tonnes of vegetables and fruits, said Vân.
"The COVID-19 pandemic causes many problems. The whole government system, mass organisations and society in the province were working together to contribute to the fight against the disease," said Vân.
"Every simple act of Bắc Ninh's women helped motivate the province to soon beat the pandemic," the chairwoman added. 
Ministry asked to complete closed management process for immigrants
Permanent members of the National Steering Committee for COVID-19 Prevention and Control has asked the Health Ministry to soon complete the closed management process for immigrants to Vietnam.
During a meeting on June 8 chaired by Deputy Prime Minister Vu Duc Dam, who is also head of the steering committee, they listened to reports on turning the reception of experts and overseas Vietnamese into a closed process as directed by the Prime Minister and the committee.
Participants called for making clear the responsibility of concerned units in following prevention and control regulations, and raising awareness of ensuring the community safety among immigrants. As planned, immigrants will be divided into different groups.
They shared the view that if things are under control, the pandemic will be basically curbed but several cases in the community are likely to appear.
They also urged relevant forces to stay vigilant and ready to combat the pandemic./.
Phu Quoc wants domestic flights suspended as Covid spreads
Phu Quoc Island off Kien Giang Province has proposed suspending domestic flights, especially those from Covid-19-hit provinces and cities, to prevent the spread of the disease.
Tong Phuoc Truong, secretary of the Phu Quoc City Party Committee, said the city made the proposal as large cities such as HCMC and Hanoi had yet to put Covid-19 under control and some localities in the Mekong Delta had reported their first locally-infected cases, according to the local media.
At present, there is only one to two flights from Hanoi and HCMC to Phu Quoc, so the suspension will not cause great impact. Meanwhile, if Covid-19 cases are detected in Phu Quoc, many areas in the city must be locked down, Truong added.
Le Viet Bac, director of the Kien Giang Department of Transport, said the province would consider the proposal but the suspension decision was under the jurisdiction of the Ministry of Transport.
Regarding the fact that many Vietnamese people in Cambodia have rushed to return to Vietnam through the Ha Tien International Border Gate, Le Quoc Anh, secretary of the Party Committee and chairman of Ha Tien City in Kien Giang Province, said 50-70, even 179 Vietnamese people returning from Cambodia were sent to centralized quarantine centers in the city.
The city is quarantining nearly 400 people, while the capacity of centralized quarantine centers in the city is some 720 people and treatment facilities can receive only 100 patients.
Anh said the city had called on Vietnamese people to enter Vietnam through other border gates, besides Ha Tien.
Cao Thanh Nam, director of the Kien Giang Center for Disease Control, said a field hospital with 400 beds in Ha Tien City was set to be put into operation and its capacity could be raised to 500 beds if needed. The hospital can treat 50 critical patients.
The center has prepared centralized facilities in the Giang Thanh, Kien Luong and Hon Dat districts.
HCMC aims to vaccinate all residents against Covid-19
HCMC is striving to access the most possible Covid-19 vaccine sources at the earliest to provide the vaccines to all residents, said secretary of the HCMC Party Committee Nguyen Van Nen.
At a meeting on June 7 of the municipal steering committee for Covid-19 infection prevention and control, Nen said 140,000 people working in the frontlines had been injected with the Covid-19 vaccine, meeting the target, news site VnExpress reported.
The city has prepared sufficient funds to buy Covid-19 vaccines for all residents.
Vietnam's Covid-19 vaccine which is produced in the city has undergone the third phase of its trial. 
If successful, locally-made Covid-19 vaccines will be available next quarter, Nen said.
Earlier, the HCMC Department of Health had received 71,800 doses of the AstraZeneca Covid-19 vaccine for the third time. The vaccination will be completed before August 15.
Of these, nearly 54,600 doses will be provided to those who have got the first shot. The remaining will be prioritized for six groups: those working at medical and quarantine facilities, medical students working as volunteers, members of steering committees for Covid-19 infection prevention and control at all levels, those providing essential services at the airport and seaports and those aged below 65 and receiving treatment for underlying illnesses.
Assessing the city's anti-pandemic measures, Nen said the decision to practice social distancing was prompt, contributing to preventing the further spread of the coronavirus. The number of new Covid-19 cases has gradually fallen.
Without social distancing, the city might have lost control. Although the employment of the measure has been haphazard in some areas, it has been effective in general. Local residents, religious organizations and enterprises have supported the city's decision.
At present, the number of people undergoing quarantine is high. Some centralized quarantine centers have a 70%-80% occupancy. Therefore, the city needs to prepare an additional 30%-40% beds in quarantine facilities.
Vaccine passports proposed for drivers transporting farm produce through border gates
The Ministry of Agriculture and Rural Development has proposed the national steering committee for Covid-19 infection prevention and control vaccinate and issue Covid-19 vaccine passports for drivers transporting agricultural products through border gates.
The solution will help facilitate the transport of cargo and the completion of customs procedures and save costs and time for enterprises, the local media reported.
Through surveys at border gate areas and meetings with the governments of Lang Son and Lao Cai provinces, the ministry realized that the pandemic had affected the consumption of agricultural products, especially their export through border gates.
In reality, many northern border provinces have established specialized driver teams to ensure safety while transporting and completing customs procedures for farm produce exports. However, State management agencies and exporting enterprises are finding it hard to manage these teams.
Amid the complicated developments of the pandemic, vaccination is the most optimal solution. Therefore, the Ministry of Agriculture and Rural Development suggested the national steering committee for Covid-19 infection prevention and control direct the relevant agencies to work with border localities to provide the vaccines to drivers of the specialized teams and conduct Covid-19 tests on them.
The ministry also proposed the steering committee ask border localities to remove obstacles facing the trade of agricultural products in the Vietnam-China border areas.
Vietnam considers waste as resource
Currently, Vietnam has generated more plastic waste, threatening wildlife and spreading toxins. The Law on Environmental Protection which was amended in 2020 passed by the National Assembly has strongly manifested that Vietnam considers waste including plastic waste as a resource. 
Policy-makers introduced policies to enhance the management, reuse, recycling, and reduction of plastic waste with an expectation to improve people's awareness and habits and the stronger participation of businesses and manufacturers. Deputy Minister of Natural Resources and Environment Vo Tuan Nhan once shared that businesses play a significant role in the current fight against plastic waste.
The city-based Urban Environment Company Limited (CITENCO) and the Packaging Recycling Organization (PRO) Vietnam jointly signed a memorandum of cooperation "Building a collection and treatment of recyclable waste from the program of sorting domestic solid waste at source".
The project aims at four basic goals including establishing infrastructure for the collection, classification, and pre-treatment of recycled waste; building a network to connect with recycling establishments to pilot models related to recycled waste; petitioning policy-makers to create encouraging mechanisms and favorable market conditions for recyclable waste; advising city dwellers to sort out the garbage at their houses.
According to the Department of Legislation and the Ministry of Natural Resources and Environment, the revised Law on Environmental Protection (2020) specifically makes it compulsory to collect/take back and recycle batteries and accumulators, electrical and electronic equipment, packaging products, and tires.
In addition, the manufacturer is responsible for the entire life cycle of the product, forcing the waste to be disposed of by the manufacturer's financial contribution to waste treatment. The Ministry of Natural Resources and Environment will transfer the sum of money contributed by producers and importers to the collection and treatment of domestic waste transparently and publicly.
Vietnam speeds up technology for Covid-19 prevention 
The center will gather, manage and distribute electronic medical declaration data, quarantine data, public feedback collected at Covid-19 checkpoints.
Vietnam has established a national technology center to manage all Covid-19 data and ensure security for 24 hours per day and seven days per week.
Do Cong Anh, deputy head of the Authority of Information Technology Application under the Ministry of Information of Communications (MIC), was appointed the center's director.
The center will coordinate with agencies, organizations and businesses participating in technical support in the fight against the Covid-19 pandemic.
It will design, develop, operate, and monitor network security solutions for anti-pandemic technology platforms and systems.
The center will also gather, manage and distribute electronic medical declaration data, quarantine data, public feedback collected at Covid-19 checkpoints.
Besides, other tasks include developing and acquiring technologies for Covid-19 prevention and control.
Data on people related to the novel coronavirus control measures would be deleted after a month, according to the MIC.
Minister of MIC Nguyen Manh Hung said last week that technological solutions, including contact tracing and medical declaration apps, are a vital part of Vietnam's Covid-19 fight along with testing and vaccination.
The MIC also warned that people using smartphones without contact tracing apps in crowded places could be punished, though the ministry did not specify the punishment.
For the past time, Vietnam has been using a number of applications to serve the Covid-19 fight, including the Vietnam Health Declaration app, Bluezone and NCOVI, which help users make medical declarations and record close contacts between app users and visits to public locations.
Almost six weeks since the outbreak of the new Covid-19 wave, Vietnam has recorded 5,758 infections in 39 cities and provinces. Bac Giang has the highest number of infections, with 3,181, followed by the neighboring province of Bac Ninh with 1,099. Hanoi comes third with 437 cases including more than 150 people in two locked down hospitals, and Ho Chi Minh City with 402.
Vietnamese expats in Egypt contribute to vaccine fund
The Vietnamese Embassy in Egypt on June 8 launched a fundraising campaign to call for donations to the COVID-19 vaccine fund in the home country.
The activity was in response to the call of the State President, Prime Minister, Vietnam Fatherland Front's Central Committee and Ministry of Foreign Affairs.
Attending the event were the entire staff of the embassy and representative agencies of Vietnam in Egypt.
Speaking at the event, Vietnamese Ambassador to Egypt Tran Thanh Cong reviewed the COVID-19 pandemic in Vietnam and the nation's prevention and control efforts.
Cong called on the Vietnamese community in Egypt to promote the spirit of great national unity and mutual support, and contribute both financially and spiritually to the fight against COVID-19 at home./.
Laos joins hands with Vietnam to fight COVID-19
Several organisations and units of Laos have offered financial donations to the Vietnamese Government and people to support their fight against the COVID-19 pandemic.
Secretary and Governor of Luang Prabang province Khamkhan Chanthavisuk came to the Vietnamese Consulate General in Luang Prabang on June 8 to hand over 10,000 USD in support of the northern mountainous province of Dien Bien to combat COVID-19.
The same day, representatives from Xayabury province also went to the Vietnamese Consulate General to present about 27,600 USD to assist Yen Bai, Quang Ninh, Son La, Thai Binh and Dien Bien provinces of Vietnam.
Affirming the importance of the Laos – Vietnam friendship, the Lao side wished that the Vietnamese Consulate General and localities would actively work with northern Lao localities to share experience in coping with the pandemic.
They expressed their belief that the Vietnamese Party, State, Government and people will soon curb and win over the pandemic.
Vietnamese Consul General in Luang Prabang Nguyen Dang Hung thanked the Lao friends for their meaningful and timely gifts, and vowed to send the donations to Vietnam soon to serve the fight against the pandemic./.
More donations to COVID-19 vaccine fund
The COVID-19 vaccine fund continues to receive donations from many organisations and individuals both in and outside the country.

The national men's football squad have contributed 300 million VND (13,075 USD) to the COVID-19 vaccine fund, in response to a call by the Prime Minister.
Coach Park Hang-seo thanked Vietnamese leaders and fans for their sentiments towards the team, and expressed his belief that Vietnam will successfully contain the pandemic.
The staff of the Vietnamese Embassy in Germany and Vietnamese representative offices in Berlin each contributed at least one day's salary to the fund, and the "Van nghe Thang Muoi" (October Art) club in Germany on June 8 sent over 2,150 EUR (2,600 USD) to the fund via the embassy.
On June 8, the Vietnamese Union of Friendship Organisations (VUFO) also handed over more than 471 million VND to the Vietnam Fatherland Front to help with the fight against COVID-19. The money was donated by staff members of the VUFO and its member organisations and partners./.
Bac Giang aims to develop 32 urban areas by 2030
The northern province of Bac Giang is striving to develop 32 urban areas by 2030, raising its urbanisation ratio to about 32.4 percent in 2025 and 45-59 percent in 2030, according to Secretary of the provincial Party Committee Duong Van Thai.
Thai said that to this end, the locality will focus on expanding the urban area system with modern and synchronous social and technical infrastructure.
Attention will be paid to ensuring a good living environment in green, clean, beautiful and smart urban areas, said the provincial leader.
He revealed that in the coming time, Bac Giang will focus on completing its policies and mechanisms regarding the development of urban areas and urban service, trade and economy, laying the foundation for attracting investment in the field.
The province will also improve planning work, thus ensuring a long-term vision for its development, he said.
Thai said that Bac Giang will mobilise resources for urban development and invest more in urban framework infrastructure system, while encouraging investors to invest in urban trade and services.
In the 2016-2020 period, the province implemented 47 urban and urban service development projects with total investment of over 13.59 trillion VND (589 million USD), along with 14 housing development projects with total investment of more than 8.45 trillion VND (366.2 million USD).
Bac Giang is among the first localities to make provincial development planning, which serves as the foundation for its future socio-economic development, including urban expansion.
On November 21, 2019, the National Assembly's Standing Committee issued a resolution on the re-arrangement of administration units at communal level of Bac Giang./.
Cambodia appreciates Vietnam's support in fighting COVID-19
Cambodian Deputy Prime Minister and Foreign Minister Prak Sokhonn highly appreciated the aid and support of the Vietnamese Government and people for the fight against COVID-19 in Cambodia, the country's Ministry of Foreign Affairs and International Cooperation said in a press release issued on June 8.
The press release informed on the outcomes of the Deputy PM and FM's working visit to Chongqing, China on June 7 – 8 to attend the the ASEAN-China Special Foreign Ministers' Meeting and the 6th Mekong-Lancang Cooperation Foreign Ministers' Meeting.

Prak Sokhonn held a meeting with Vietnamese Foreign Minister Bui Thanh Son on the sidelines of the ASEAN-China Special Foreign Ministers' Meeting, during which they exchanged views on bilateral and multilateral cooperation of mutual interest, particularly preparations for the commemoration of the 55th anniversary of Vietnam-Cambodia diplomatic relations in 2022.
Both sides expressed their satisfaction with the enhanced traditional friendship and fruitful cooperation in many areas including trade, investment, health, education, tourism, and connectivity between the two countries, which they said have been built upon the solid foundation of trust, mutual understanding, solidarity, and good neighborliness.
They noted with satisfaction the remarkable increase of two-way trade despite the challenges of COVID-19 as well as the operation of the Meun Chey – Tan Nam International Border Check Point by the authority of Cambodia's Prey Veng province and Vietnam's Tay Ninh province on May 31, which they said will facilitate cross-border trade and people-to-people connectivity.
The officials reaffirmed their strong commitment to working closely together to further enhance bilateral relations and multifaceted cooperation for mutual interest of the two nations and peoples.
They agreed to arrange the organisation of the 19th meeting of the Joint Committee for Bilateral Cooperation (JCBC) and the 7th Political Consultations between the two foreign ministries.
Prak Sokhonn also accepted Son's invitation to pay an official visit to Vietnam at an appropriate time. He also invited Son to co-chair the 19th JCBC meeting and pay an official visit to Cambodia./.
Vice State President visits COVID-19 control forces along southwestern border
Vice State President Vo Thi Anh Xuan has visited COVID-19 prevention and control forces on Vietnam's southwestern border in the Mekong Delta province of Kien Giang.
Visiting sea border checkpoints No 47 and 50 and land border checkpoint No 42 under the Border Post of the Ha Tien International Border Gate, Xuan lauded the efforts of border guards in overcoming the difficulties to complete their mission and contribute to controlling COVID-19.
At a working session with Kien Giang leaders in Ha Tien city on the same day, the Vice State President hailed the province's effective measures to efficiently control COVID-19, thus keeping the locality free from the pandemic so far.
She asked Kien Giang to be more active in allocating means and forces for COVID-19 prevention and control in order to implement the "dual target" of controlling the pandemic and ensuring economic development and social welfare.
The locality should further strengthen its coordination with other provinces and forces based in the province and the region to ensure smooth and effective operations in all circumstances, she said.
She also advised the province to remain abreast of directions from central agencies regarding pandemic prevention and control while flexibly conducting exchanges with border guard forces in neighbouring countries and preventing the spread of the pandemic via borders.
Kien Giang should also pay greater attention to the care of officials and soldiers operating along the border, she added.
According to Vice Chairman of the Kien Giang Provincial People's Committee Nguyen Luu Trung, the province has tightened its management of border gates and border crossings while allocating more personnel to sea and land border posts.
The province has arranged 144 checkpoints and 24 mobile teams for pandemic prevention and control, while managing people returning from pandemic-hit areas and coordinating with other localities to identify people with close contact with confirmed COVID-19 patients and conduct COVID-19 testing, he said.
Trung said that, currently, the province can test 1,700 samples a day. It has so far recorded no COVID-19 cases in the community.
Earlier, on June 7, Xuan held a working session in the province's Giang Thanh district, focusing on measures to improve the living conditions of local people in border areas. On the occasion, she presented the province with five respirators along with facemasks and gifts for policy beneficiaries and poor households. She also presented 200 million VND to children impacted by COVID-19./.
Vietnam looks to further expand cooperation with Pakistan
Vietnamese Ambassador to Pakistan Nguyen Tien Phong has presented his letter of credentials to Pakistani President Arif Alvi. 
During a meeting with the President on June 7, Phong conveyed President Phuc's regards to the Pakistani leader, which highlight the message that Vietnam wants to further promote cooperation with Pakistan in many fields, especially economic and trade ties.
The diplomat expressed his pleasure and honour at receiving the assignment in Pakistan - a country that is making positive steps forward in economic development, gradually stabilising in politics and security, and playing an important role in the South Asian region and the world.
He promised to do his utmost to promote bilateral cooperation through maintaining and promoting existing cooperation mechanisms and political and economic consultations.
The two countries should expand cooperation in trade and investment and fields such as culture, education, sports, tourism, and the training of high-quality workers, Phong stressed.
They will celebrate the 50th founding anniversary of diplomatic ties in 2022, he said, expressing his belief that under the leadership of senior leaders, the Vietnam - Pakistan relationship will develop strongly in the time to come.
For his part, President Alvi congratulated Vietnamese leaders and people on important socio-economic achievements in recent years, and especially the success of the 13th National Party Congress, the election of deputies to the 15th National Assembly, and its positive results in the fight against the COVID-19 pandemic.
He expressed his belief that the Vietnamese ambassador will fulfil his responsibilities, further contributing to developing the friendship and multifaceted cooperation between the two countries, especially economic and trade ties./.
Vietnam reports 55th COVID-19-related death
Vietnam confirmed its 55th COVID-19-related death on June 8, who is an 88-year-old woman in Luc Ngan district of northern Bac Giang province – the country's current largest pandemic hotspot.
The patient died on June 7, with cause of death registered as severe pneumonia due to SARS-CoV-2, acute respiratory distress, septic shock, multiple organ and heart failure along with hypertension and type 2 diabetes.
She tested positive for the virus on May 16 at the general hospital of Bac Giang province and was transferred to Bac Giang Lung Hospital on May 26 suffering from severe pneumonia due to COVID-19.
After being moved to intensive care, her condition did not improve. She was intubated with mechanical ventilation on June 2.
She also received continuous dialysis, broad-spectrum antibiotics, antifungal drugs and was treated for blood clotting disorder.
The patient fell into a deep coma on June 7 with severe kidney and liver failure./.
Vietnam attends 6th Mekong-Lancang Cooperation Foreign Ministers' Meeting
Vietnamese Minister of Foreign Affairs Bui Thanh Son on June 8 suggested the Mekong-Lancang Cooperation (MLC) implement the three urgent tasks of fighting the COVID-19 pandemic, maintaining economic growth, and preventing environmental degradation.
Addressing the sixth MLC Foreign Ministers' Meeting in Chongqing, China, Son proposed major measures to realise the tasks, including sharing information and experience in fighting the pandemic and facilitating the cross-border circulation of goods.
Other measures include stepping up cooperation in the sustainable management and use of water resources in the Mekong River and promoting coordination between the MLC and ASEAN and other regional and sub-regional cooperation mechanisms.
Foreign ministers from Cambodia, Laos, Myanmar, Thailand, China, and Vietnam spoke highly of cooperative outcomes over the last five years, especially in the management of water resources in the Mekong River.
They pledged to enhance the MLC by consolidating friendly neighbourliness, actively contributing to the socio-economic development of member countries, building the ASEAN Community, and realising sustainable development goals by 2030.
The ministers emphasised the fundamental cooperation principles of consensus, equality, mutual consultation, interest sharing, and respect for the UN Charter, the ASEAN Charter, and international law, in line with the regulations and laws of each country.
The meeting adopted three documents on enhancing cooperation in sustainable development, encouraging cooperation between localities, and cooperation in traditional medicine.
The MLC will pay attention to cooperation in water resources and environment, the COVID-19 fight, post-pandemic economic recovery through boosting trade and investment ties between the six countries, and promoting partnerships between authorities in localities to utilise their potential and competitive edge./.
Vietnamese in Cambodia donate to COVID-19 vaccine fund
A fundraising campaign in support of Vietnam's COVID-19 vaccine fund has been launched in Preah Sihanouk province of Cambodia by the Consulate General of Vietnam in the province and the Executive Board of the provincial Khmer-Vietnamese Association.
More than 2,000 USD was raised at the launching ceremony on June 8.
Consul General Vu Ngoc Ly briefed participants at the ceremony on the current COVID-19 situation in Vietnam and efforts made to contain the pandemic.
Speaking highly of the assistance for the Vietnamese community in Cambodia and compatriots at home in the recent past, Ly called on those residing in Cambodia at large and in the country's southwestern region in particular to further support the Vietnamese Government and people in the fight against COVID-19.
The campaign will last until the end of this month./.
Source: VNA/VNS/VOV/VIR/SGT/Nhan Dan/Hanoitimes

Vietnam reports 54th COVID-related death