Hai Phong proposes Tien Lang as second airport for Hanoi area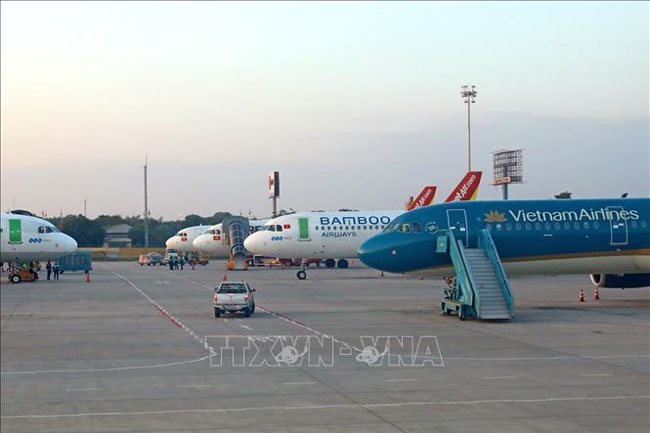 Aircraft are parked at the Noi Bai International Airport. Haiphong has proposed that Tien Lang Airport should be the second one to serve the Hanoi area - PHOTO: VNA

The Haiphong government has proposed the Ministry of Transport determine Tien Lang Airport as the second one in the Hanoi area in the national airport development plan in the 2021-2030 period, with a vision to 2050.
The northern port city has also suggested the ministry raise the capacity of the Cat Bi International Airport to 13 million passengers per year by 2030 and 27.6 million by 2045 and develop small airports on the Cat Ba and Bach Long Vi Islands for rescue and tourism, the local media reported.
According to Haiphong's leaders, the city's general planning until 2035 with a vision to 2045, which is being considered by the Ministry of Transport, includes the Tien Lang Airport project and roads and urban railways connecting to the airport.
Haiphong made the proposal although it is not located in the Hanoi area as under the prime minister's decision in 2016, the capital city area includes Hanoi and nine neighboring provinces--Vinh Phuc, Bac Ninh, Hai Duong, Hung Yen, Ha Nam, Hoa Binh, Phu Tho, Thai Nguyen and Bac Giang.
The Tien Lang Airport will be some 120 kilometers east of Hanoi's downtown area. Haiphong is now connected with Hanoi through the Hanoi-Haiphong Expressway.
Under the draft national airport development plan in the 2021-2030 period, with a vision to 2050, the second airport in the capital city area will have an annual capacity of 50 million passengers and will be developed after 2040. Additionally, the Tien Lang Airport was proposed to replace the Cat Bi International Airport when the latter exceeds its designed capacity.
Earlier, some experts had proposed the location for the second airport of the capital city area in Ung Hoa District and localities bordering Hanoi in the south, such as Hai Duong and Ha Nam.
Over the past few months, many localities, such as Cao Bang, Ha Tinh, Ninh Binh, Ha Giang, Binh Phuoc and Bac Giang, have proposed building new airports or developing their military airports into those used for both civil and military purposes.
Nearly 1,000 People Vaccinated Against COVID-19
As many as 955 frontline workers have been vaccinated against COVID-19 since March 8 when Viet Nam first started administering 117,600 doses of Oxford/AstraZeneca vaccine to its people.
The figure includes 474 in Ho Chi Minh City, 127 in Ha Noi, and the rest in Hai Duong - the current biggest COVID-19 hotspot in Viet Nam.
The vaccinated frontliners are medical workers, tracking and quarantine staff, who have reported no serious side-effects, including pain at the injection site, headache, nausea, chills, fever, and anaphylactic reaction or allergy.  
The Ministry of Health are negotiating with other foreign vaccine manufacturers namely Pfizer, Moderna, Johnson & Johnson and Gamaleya to ensure COVID-19 vaccination supply as soon as possible.
As reported earlier, Viet Nam will receive 5.657 million doses of COVID-19 vaccines by the end of April.
So far, the country documented 1,588 domestically-transmitted infections, including 895 cases since the third wave of local transmission on January 27. The Treatment Sub-committee said that 2,004 patients have been declared clear of the coronavirus so far.
The capital city of Ha Noi has gone 23 days without new local transmission, while the latest cases in Hoa Binh, Dien Bien, Ha Giang, Binh Duong, Hung Yen, Bac Giang, Gia Lai, Bac Ninh, Quang Ninh and Ho Chi Minh City were 26 days ago./.
Two killed in monastery guttering collapse
Two workers have been killed while working at a renovation site of the Franciscaines Missionnaires de Marie in Lam Dong Province. 
The authorities in Lam Dong announced on March 11 that they have halted the renovation work and blocked the accident site for investigation. Both the police of Lam Dong Province and the inspectorate of the Department of Labour, Invalids and Social Affairs are working on the case.
Initial investigation results show that the rain gutter suddenly collapsed on March 9 and killed the two workers who are both from Thanh Hoa Province.
The monastery was built in late 1930 and is one of the architectural highlights of Lam Dong Province. After 1975, it was converted into a school and hotel. In 2014, it was transferred to Ho Chi Minh City University of Architecture.
In 2019, the Ministry of Construction gave its approval to the renovation of the monastery.
The project is managed by Huy Hoang Company and started at the end of February. The total renovation site in the first phase covers over 39,800 square metres of land.
Quang Ninh resumes inter-provincial coach, tourism services
The northern province of Quang Ninh resumed the operation of inter-provincial coaches to areas free from COVID-19 pandemic, except Hai Duong province, and tourism activities on March 11, after 16 days without new infection cases.
The province also encouraged tourist arrivals from localities nationwide, except those still imposing lockdown and social distancing measures in line with the Prime Minister's Directives No.15 and No.16.
Cinemas, bars, pubs, Internet and game shops, discotheques and karaoke parlors, exclusive of those in Dong Trieu town, are allowed to reopen and required to seriously follow pandemic prevention and control measures as instructed by the Health Ministry.
Tourism service facilities and religious establishments must also follow prevention measures in the new normal.
Earlier on March 3, the Van Don international airport also reopened. It has so far welcomed eight domestic flights carrying 717 passengers. Nearly 27,000 Quang Ninh people have also visited local destinations.
Those coming to the province must fill in health declarations to mitigate infection risks.
Quang Ninh is also keeping a close watch over border areas, trails and waterways to deal with illegal entries and the use of illegal migrant workers./.
Man arrested for involvement in organising illegal entry, exit
Police in the Mekong Delta province of An Giang said on March 10 they have detained a local man for his involvement in organising illegal entry and exit.
Nguyen Van Khanh, born in 1988 and residing in the province's An Phu district, was defined to be involved in organising illegal entry of 13 Chinese nationals in An Giang's Chau Doc city.
These Chinese citizens were arrested on March 7 while attempting to leave Vietnam for Cambodia on a 16-seat car.
The driver, Nguyen Phuong Hung, born in 1986 and residing in Chau Doc city's Vinh My ward, admitted he was hired to transport these people.
The arrest took place when he was waiting for a person to hand over the Chinese citizens and take his money.
The police have completed documents and transferred them to the provincial People's Procuracy for approval of decisions to launch criminal proceedings against the case and related people/.
Ethanol Phu Tho case: former PetroVietnam executive faces up to 13 years in jail
A prison term from 12 to 13 years has been proposed for former Chairman of the Board of Directors of the Vietnam National Oil and Gas Group (PetroVietnam) Dinh La Thang, during an ongoing trial on the case of violating regulations on investment in construction works, causing serious consequences at an ethanol plant in the northern province of Phu Tho.
Combined with sentences given to him in previous cases, Thang would spend a total 30 years in prison, a procuracy representative told the trial on March 10.
For former Chairman of the Board of Directors and former General Director of the PetroVietnam Construction JSC (PVC) Trinh Xuan Thanh, the Hanoi People's Procuracy proposed jail sentences of 11-12 years for "violating regulations on investment in construction works, causing serious consequences", and 10-11 years for "abusing position and power while performing duties". Taking into account previous sentences, he would face life imprisonment.
Former General Director of the PetroVietnam PetroChemicals and Biofuel JSC (PVB) Vu Thanh Ha faced proposed imprisonment of 7-8 years for "violating regulations on investment in construction works, causing serious consequences".
Prison terms ranging from 30 months to six years were sought for other defendants, including former executives of PVB and PVC, on the same charge.
Chairman of the Board of Directors and General Director of the Kinh Bac Petroleum Construction and Investment JSC Do Van Hong would face a jail sentence of 6-7 years for "abusing position and power while performing duties".
According to the indictment, Thang signed a resolution to approve the investment in the project in October 2007. With Thang's instruction, PVC/Alfa Laval/Delta-T joint contractors, who had no previous experience in carrying out ethanol projects, were appointed to implement the project.
As a result, the project was continuously behind schedule and stopped in March 2013 with no construction items done.
Wrongdoings of the defendants were said to cause a loss of more than 543 billion VND (23.49 million USD).
At the court, Thanh confessed that when signing the contract on the implementation of the project with a funding of 59 million USD, he was aware that the amount is not enough to cover the implementation./.
Vietnam, New Zealand look to beef up cooperation
Vietnamese Deputy Prime Minister and Minister of Foreign Affairs Pham Binh Minh held a virtual discussion on March 10 with New Zealand Minister of Foreign Affairs Nanaia Mahuta, during which they agreed to promote the role of the two foreign ministries in bolstering cooperation between Vietnam and New Zealand.
Both expressed their satisfaction that the strategic partnership established in July 2020 between the two countries is developing effectively and extensively.
Mahuta congratulated Vietnam on the success of the 13th National Party Congress and on its role as ASEAN Chair in 2020 and non-permanent member of the UN Security Council in 2020-2021.
She also praised Vietnam's achievements in implementing the dual goals of COVID-19 containment and socio-economic development.
For his part, Minh expressed his belief that New Zealand will be one of the leading countries in successfully controlling the COVID-19 pandemic and restoring economic growth.
The two officials agreed to strengthen high-level exchanges and meetings, promote two-way investment, enhance the efficiency of the economic - trade cooperation commission mechanism, and quickly compile and sign an action programme for implementing the Vietnam - New Zealand Strategic Partnership in 2021.
Vietnam and New Zealand will foster ODA cooperation, implement an action plan on defence cooperation in 2018-2021, promote links between schools and universities in the two countries, restore tourism cooperation, and promote people-to-people exchanges.
The two nations will also beef up coordination at multilateral forums, including mutually supporting candidacies for UN agencies and organisations, as well as coordinating in the implementation of the Comprehensive and Progressive Agreement for Trans-Pacific Partnership (CPTPP) and the Regional Comprehensive Economic Partnership (RCEP).
Minh pledged to work closely with New Zealand to successfully implement APEC Year 2021.
He also took the occasion to invite Mahuta to visit Vietnam at an appropriate time./.
Son La's sappers safely dispose 500-kg bomb left from war
The sapper force under the Military High Command of the northern mountainous province of Son La on March 10 safely set off a 500-kg bomb left from the war in Mai Son district.
The bomb was detected by local residents in Co Noi commune of Mai Son district while digging land. The sappers defined that the bomb, which is 0.75m in diameter and 1.5m in length, was left from the resistance war against French colonists.
The force collaborated with the Mai Son Military Command and local authorities to move the bomb out of the residential area and safely set it off./.
No COVID-19 infections documented on March 11 morning
Vietnam logged no COVID-19 cases in the past 12 hours to 6:00 am on March 11, according to the National Steering Committee for COVID-19 Prevention and Control.
The country documented 1,588 domestically-transmitted infections, including 895 cases since the latest outbreak hit Hai Duong province and some other northern localities on January 27.
As many as 44,540 people who came in close contact with COVID-19 patients or arrived from pandemic-hit areas are under quarantine nationwide, including 497 at hospitals, 15,056 at other quarantine sites, and 28,978 at home.
Among the patients under treatment, 48 have tested negative for the SARS-CoV-2 once, 42 twice, and 118 thrice.
The Treatment Sub-committee said that 2,004 patients have been declared clear of the coronavirus so far.
Hanoi has gone through 23 days without new local transmissions, while other ten cities and provinces have logged no new cases in 26 days, including Hoa Binh, Dien Bien, Ha Giang, Binh Duong, Hung Yen, Bac Giang, Gia Lai, Bac Ninh, Quang Ninh and Ho Chi Minh City.
In a bid to live safely with the pandemic, people should strictly follow the Ministry of Health's 5K message: khau trang (facemask), khu khuan (disinfection), khoang cach (distance), khong tu tap (no gathering) and khai bao y te (health declaration)./. 
Hai Phong traces people related to new COVID-19 patients
The northern city of Hai Phong is promptly tracing people who had close contact with two local residents who were tested positive to coronavirus SARS-CoV-2 when arriving in Australia.
The patients included a 42-year-old woman and her child, born in 2003, residing on Nguyen Cong Tru street of Le Chan district. They travelled to Hanoi on February 26 where their samples showed negative results. They flew to Australia on February 28 and arrived in the country on March 1 after transiting in Singapore.
The child tested negative to the virus on March 3, while the mother was declared to infect with disease three days later.
The city's authorities have asked people who had contacts with the two patients from February 20-28 to contact medical centres in their residential areas or the hotline of the Hai Phong Health Department, 0978 789 499, 0902 210 218, or 0912 498 366 to receive support.
So far, the city has found five F1s and 35 other people who had contact with the patients, and put them under quarantine. Their samples have been taken for testing./.
Vietnam makes inroads into COVID-19 vaccination coverage
Negotiations between the Ministry of Health and vaccine manufacturers such as Pfizer, Moderna, Johnson & Johnson and Gamaleya are underway to ensure COVID-19 vaccination coverage as soon as possible.
The Ministry of Health encourages all eligible enterprises to negotiate with suppliers for vaccine imports in order to help the nation ward off the coronavirus.
To date, Vietnam has secured several supplies of COVID-19 vaccines, including support from COVAX Facility – a mechanism set up by the World Health Organization (WHO), the Global Alliance on Vaccines and Immunization (GAVI), UNICEF, the Coalition for Epidemic Preparedness Innovations (CEPI), and manufacturers and partners for the development of vaccines to ensure that all countries have fair and effective access to vaccines.
According to an announcement from UNICEF, the COVAX Facility has committed to supplying Vietnam with 30 million doses of AstraZeneca vaccine this year, with the first batch of 1.37 million doses expected to arrive on March 25, while the second with 2.8 million doses on April 25. The remaining 25.9 million doses will be transported to the Southeast Asian country from August to November.
The second supply of AstraZeneca vaccine comes from the Vietnam Vaccine Joint Stock Company (VNVC). Last month, 117,600 doses of AstraZeneca vaccine produced by SK Bio of the Republic of Korea arrived in Vietnam. A total 29.87 million doses will arrive in the nation in April (1.48 million doses), May (2.76 million doses), June (5.04 million doses), July (7.32 million doses), and August (13.27 million doses).
As many as 955 AstraZeneca vaccine shots were given to frontline medical workers in Hanoi, Ho Chi Minh City, Hai Duong and Gia Lai during March 8-10. They were part of the Vietnam's first batch of 117,600 doses of the AstraZeneca vaccine that arrived late last month./.
Vietnam completes first shots of Nano Covax in 2nd-stage human trials
The Hanoi-based Vietnam Military Medical University and the Pasteur Institute in Ho Chi Minh City have completed the administration of the first doses of Nano Covax in the second-stage human trials of this homegrown COVID-19 candidate vaccine.
The inoculation for 560 volunteers, with 280 getting shots from each unit, was carried out in 12 days.
Initial assessment shows that Navo Covax is "relatively safe" for the volunteers, said Chu Van Men, Director of the Military Medical University's Centre for Clinical Trials and Bioequivalence.
The 560 volunteers were divided into four groups, with 80 people injected with placebo and three other groups administered with 25mcg, 50mcg, and 75mcg doses.
Among them, there are 105 people aged over 60, and the eldest is 76 years old. Some also have "not-too-serious" underlying health conditions like high blood pressure, blood lipid disorders, diabetes, and cardiovascular diseases.
Men said all the volunteers are currently in stable health condition, noting that their blood samples will be collected for antibody testing on the 28th, 34th, and 42nd days, as well as after three and six months, since the first jabs.
They are set to get the second shots of Nano Covax after the next 28 days, he added.
To accelerate the progress, the second-stage human trials were conducted in two places, Hanoi and southern Long An province, so as to shorten the research duration to three months, instead of six months, but still meet scientific requirements, he went on.
A preliminary report on testing results is scheduled to be issued this May.
The third phase of human trials is expected to cover 10,000 – 15,000 people in both Vietnam and other countries.
The first-stage trials of Nano Covax showed that the vaccinated volunteers have had antibodies against the UK variant (B117). Phase 2 focuses on seeking antibodies against the UK and South Africa variants, according to Men.
Navo Covax, developed by the Nanogen Pharmaceutical Biotechnology JSC, is the first COVID-19 vaccine of Vietnam to be tested in clinical trials.
The country also has other COVID-19 candidate vaccines under development: IVAC from the Institute of Vaccines and Medical Biologicals, VABIOTECH from the Company for Vaccine and Biological Production No 1, and POLYVAC from the Centre for Research and Production of Vaccines and Biologicals./.
Vietnamese wins ASEANO sponsorship for plastic pollution research
Nguyen Thi Trang, a Vietnamese predoctoral fellow at the Asian Institute of Technology and three other researchers from Indonesia, the Philippines and Thailand have received 30,000 USD sponsorship from a research grant competition of the ASEAN-Norwegian Cooperation Project on Local Capacity Building for Reducing Plastic Pollution in the ASEAN Region (ASEANO).
Trang received 7,500 USD grant for her doctoral research on the impact of plastic litter on the seagrass communities in Phu Quoc Marine Protected Area in Vietnam. She will conduct her research over a three-month period.
At the awarding ceremony on March 9, Norwegian Ambassador to ASEAN Morten Hoglund underlined Norway's strong commitment to cleaning oceans and rivers, adding that it has been one of the country's strongest priorities globally over the past few years.
ASEANO is part of the Norwegian-ASEAN Regional Integration Programme (NARIP). The three-year programme mainly focuses on capacity and knowledge development in tackling plastic pollution in the ASEAN region.
ASEANO aims to illuminate driving forces behind plastic pollution and evaluate the implications of plastic pollution for the economy, development, environment, and human well-being.
Ratnawati, research manager of Indonesia's Center for Southeast Asian Studies (CSEAS) said that the objective of the ASEANO research grant competition is to provide an opportunity for transfer of knowledge and know-how among academics in ASEAN member countries and find the solution to plastic pollution by evidence-based policy.
The competition received 181 research proposals from the entire ASEAN region./.
Pho ranks 2nd of world's 20 best soups by CNN
The American news channel CNN has named pho bo (Vietnamese beef noodle soup) second on the list of 20 best soups in the world.
The beef in the soup is simmered for hours with cinnamon, star anise and other warm spices to create a wonderfully aromatic base for this rice noodle soup, according to CNN.
CNN described pho bo as a bowl of flat, soft rice noodles dipped in a fragrant beef or chicken broth flavoured with condiments.
The soup is considered a national dish and can be found all over the country though it originated in the north before being taken to the south, where people have added their own influences to the dish.
Pho has been getting rave reviews from global travel magazines for decades, and no visitor to Vietnam fails to mention it.
French bouillabaisse, Spanish gazpacho, Chinese Lanzhou beef noodle soup and Thai Tom yum goong were also on the list./.
Beauty of Vietnamese ao dai honoured
The ao dai has long been Vietnam's traditional outfit and a typical cultural characteristic of the country. It has constantly changed throughout the ups and downs of history but still possesses its traditional values, contributing to the elegance and charm of Vietnamese women.

For centuries, the ao dai has been a part of Vietnamese life or shown on ancient bronze drums.
The ao dai has undergone many changes in modern times.
The primitive version of an ao dai is a Giao Linh dress (around 1744) - a four-piece dress worn with a long black skirt and a coloured fabric belt around the waist.
Later, the outfit was redesigned into a neater version, with dark colours.
Urban women in Vietnam then wore ao ngu than (a five-piece dress) in the 19th century, to distinguish themselves from the lower class.
In the early 20th century, the ao dai lemur was introduced, adding Western details such as puff sleeves and a heart-shaped neck. It was, however, considered indecent and against traditional values.
After the ao dai lemur faded into history, painter Lê Phổ again changed the ao dai, adding elegant lines that were more suitable for Vietnamese women and culture.
In the 1960s, the Dung tailor shop in then Saigon created the raglan ao dai. The long dress had sleeves connecting the neck to the armpits, with the front and back flaps connected by a row of buttons from the top down to the armpits and along one side.
The ao dai has continued to change with many styles and materials adopted.
In the minds of Vietnamese people and in the eyes of international friends, the traditional long dress is a symbol of the country's people and culture.
The ao dai has indeed become a symbol of Vietnamese women. It can be worn to school or to work, when going go out and to parties, during Tet holidays and important socio-cultural events, and when visiting sacred places such as pagodas, temples, and churches.
And wearing an ao dai is always part of beauty contests.
The ao dai and the culture of the traditional outfit has been honoured at many major modern festivals.
Its beauty has been an endless source of inspiration for Vietnamese artists in songs and paintings.
The outfit is also a typical cultural product, and a "messenger" in promoting Vietnamese tourism.
In recent years, artists and stylists have given it a new beauty. The ao dai has been renovated, combining the quintessence of traditional culture and modern fashion.
Through its many modifications, the ao dai still expresses vitality. It has overcome many challenges to preserve its sound traditional values, honour women, and remain a symbol of Vietnamese culture, contributing to promoting the country's image around the world./.
HCM City needs $4.17 billion for 15 key transport projects
Ho Chi Minh City needs 96 trillion VND (4.17 billion USD) to implement 15 key transport projects, according to the municipal Transport Department.
Of the figure, over 31.1 trillion VND will be sourced by the city's budget and the remainder will come from public-private partnerships and other sources.
The projects include the construction of Can Gio and Thu Thiem bridges, the expansion of National Highways 1 and 13, and elevated roads No.1 and No.5, among others.
Director of the municipal Transport Department Tran Quang Lam said the department will work closely with transport departments of provinces in the southern key economic region to submit a proposal to the Transport Ministry asking to step up regional connectivity projects such as Cat Lai bridge and expansion of Ho Chi Minh City – Long Thanh – Dau Giay expressway.
Vice Chairman of the municipal People's Committee Le Hoa Binh asked the department to build a strategy and roadmap for the next five years to monitor their implementation./.
Vietnamese Embassy steps up cooperation with Swiss university
Vietnamese Ambassador to Switzerland Le Linh Lan on March 8 had a working session with the Board of Directors of the University of Applied Sciences and Arts Northwestern Switzerland (FHNW), discussing measures to promote research exchange activities and cooperation in business training, and popularise Vietnam's business and investment climate.
At the event, the University's Board of Directors expressed their wish to further cooperation with the Vietnamese Embassy, and join hands with the Embassy to organise various activities in celebration of the 50th anniversary of the Vietnam-Switzerland diplomatic ties in 2021.
Initially, both sides should work together to hold several research cooperation activities as well as introduce Vietnam's investment climate, cuisine and culture to Swiss enterprises and students.
Highlighting Vietnam's successful implementation of its "dual targets", Ambassador Lan said the country has brought the COVID-19 pandemic under control while maintaining economic growth at 2.91 percent in 2020.
She was upbeat about the cooperation between the two nations, particularly in the context that leaders of both sides want to push the signing of a free trade agreement (FTA) between Vietnam and the European Free Trade Association (EFTA) after nine years of negotiation.
The FTA signing in 2021 when both nations are celebrating their 50th anniversary of diplomatic relations is a significant event, serving as a locomotive for the bilateral trade and investment collaboration.
Lan believed that the complementary nature of the two economies will help Vietnam take advantage of Switzerland's strengths in innovation and competitive capacity.
The FHNW is among five largest public universities in Switzerland, and in top 500 largest universities in Europe. The university has cooperation projects with more than 400 partners worldwide. It is running three cooperation programme with Vietnam, including the MBA-MCI programme with Ho Chi Minh City University of Technology from 2009, Swiss Innovation Challenge Vietnam from 2017, and the tripartite cooperation programme on media and response to COVID-19 with Vietnam's Foreign Trade University and Indonesia's Bandung Institute of Technology./.
Binh Duong promotes green urban spaces
With impressive socio-economic growth over recent years, Thu Dau Mot in southern Binh Duong province is striving to become a modern and green city to improve the quality of life of local people.
 
This is one of many newly-opened parks in Binh Duong's provincial capital of Thu Dau Mot.
Covering an area of 550 sq m, the park has become a popular spot for people in nearby industrial parks and neighbouring areas to meet.
Green spaces at tourism sites, residential areas, the inner city, and elsewhere have helped beautify one of the most developed cities in the southern region. Over the last three years, Thu Dau Mot has invested nearly 900,000 USD in greenery projects.
Demand for green space is an urgent issue on the context of rapid urbanisation, and the city's policy of turning "golden land" areas into parks has partly met the needs of local residents./.
Phan Thiet airport construction to resume this month, finish next year
Construction of the civilian-military Phan Thiết airport is expected to resume at the end of this month and be completed by next year, Deputy Defence Minister Senior Lieutenant General Trần Đơn said at a recent meeting between his ministry and the Bình Thuận Province People's Committee.
The 545.5ha airport is expected to cost over VNĐ11.8 trillion (US$513.8 million).
The civilian component of the airport will be built by Rạng Đông JSC under the BOT (build-operate-transfer) model at a cost of VNĐ3.83 trillion.
The military component will be built by the ministry's Air Defence – Air Force Service.
The work first began in 2015 and was slated to be finished in 2018, but due to plan adjustments and other reasons related to the military component, it was delayed.
Đơn said funding had been a big issue and delayed the work, but now the Government has decided to fund the military components.
The military component's pre-feasibility study has been sent to it for approval, and construction is expected to start again within March.
Rạng Đông JSC has been instructed to finalise adjustments to its pre-feasibility study and submit it so that work on the civilian component can begin simultaneously.
All the land required has been acquired except from three households with around 3.7 hectares, who find the compensation not reasonable enough and are not willing to move.
The Phan Thiết City People's Committee has been tasked with working with them and completing the acquisition.
If the project goes on schedule, the airport can open after 20 months along with the Đầu Giây – Phan Thiết Highway.
Phan Thiết will be one of the six domestic airports in the south.
By 2030 Việt Nam will have 28 airports, including 13 international ones. 
Quang Ngai proposes new waterway route for Danang-Ly Son transport
Chairman of Quang Ngai People's Committee Dang Van Minh has proposed to run a waterway route connecting Danang City and Ly Son Island.
On February 22, the Ministry of Transport has sent an official document to Quang Ngai, proposing to open the waterway route from Danang City to Ly Son Island, Quang Ngai Province.
However, Quang Ngai Department of Transport rejected the project, saying that the travel demand in the province are too low. If a new route is opened, it would badly affect all waterway development plans, programmes and goals for Quang Ngai tourism.
On March 5, Chairman of Quang Ngai People's Committee Dang Van Minh rejected the Department of Transport's consultancy. He agreed to open the new route and added it to Circular 36 about waterway passenger routes to islands.
There are six boats in total working on Sa Ky-Ly Son route in Quang Ngai to meet all travel demands of the locals and tourists. Tourists in Danang who want to travel to Ly Son Island have to travel to Quang Ngai first to go to Sa Ky Port. It is hoped to make travelling from Danang to Ly Son more convenient with the new waterway route.
Minh said, "In order to develop tourism, co-operation among localities is needed. The new route will bring more choices for tourists, the province and Ly Son Island."
In late February, Danang authorities proposed to open two new waterways including Danang City-Ly Son Island, Quang Ngai Province and the Danang City-Cham Island, Quang Nam Province. Both projects have gained approval from the Ministry of Transport.
University offers free accommodation for poor female students
HCM City University of Technology and Education has offered free accommodation for poor female students.
The university's small-scale dormitory nicknamed Happy House has started receiving disadvantaged students from March 8, International Women's Day.   
The dormitory can accommodate 40 students. Donors and lecturers from the university built the dormitory.
Associate Prof. Dr. Do Van Dung, vice headmaster of the university, said that the university has witnessed many female students facing financial difficulties. So the university called for donations for the dormitory's construction.
HCM City University of Technology and Education has many activities to support students, including the discount of 50% of tuition fees for female students.
Chinese men flee Covid-19 quarantine
Authorities in the southern province of Binh Duong are seeking a Chinese man who fled a local Covid-19 quarantine area.
Binh Duong Provincial People's Committee on Tuesday evening said that they have asked police in Thuan An City to seek a Chinese man, whose name has not been disclosed, after he escaped from a local quarantine area the same afternoon.
The man cut the metal bars on the window of his room and fled on the afternoon of March 9, the committee said.
According to a police report, the man was detained at a local casino after he failed to show identification documents.
He was sent to Thuan An Healthcare Centre for a 14-day quarantine for Covid-19 prevention following regulations by the government. However, he had only stayed for 10 days when he left.
The man had tested negative for SARS-CoV-2 in his first viral testing.
Earlier on February 18, two other Chinese men, 20-year-old Ly Dong Jie and 32-year-old Xu Wei, also fled the Di An City Healthcare Centre after staying for nine days for Covid-19 prevention.
Local authorities have asked the police to seek for them but the two men have not been found yet.
HCM City's Hospital for Tropical Diseases receives aid to serve COVID-19 treatment
Tuoi Tre (Youth) Newspaper in conjunction with the Ho Chi Minh City Young Entrepreneurs Association on March 10 presented medical equipment worth 6.5 billion VND (282,600 USD) to the HCM City Hospital for Tropical Diseases to serve its treatment for COVID-19 patients.
The equipment included an extracorporeal membrane oxygenation (ECMO) machine, two continuous dialysis machines and two monitors, which were purchased with funds donated by individuals, businesses, readers of the Tuoi Tre Newspaper.
Le The Chu, Editor-in-Chief of the Tuoi tre Newspaper said that the donation is part of the second phase of a programme to support the fight against COVID-19, especially in emergency activities and treatment.
In the first phase, the programme received 28.2 billion VND in cash and kind to support various activities, including presenting medical equipment, awarding scholarships, donating capital to pandemic-affected people, support frontline forces in the fight against the pandemic, Chu said.
Besides the programme, in February 2021, Tuoi Tre Newspaper launched another campaign to raise funds for buying COVID-19 vaccines. As of March 9, the campaign has raised more than 6.3 billion VND from readers, businesses, and organisations nationwide./.
Unannounced inspections on apartment trading's documents
The HCMC Department of Industry and Trade was recently asked to conduct unannounced inspections to see if investors of apartment complexes had prepared and provided sufficient legal documents for their tenants on request of the HCMC People's Committee. 

Vice Chairman the People's Committee Le Hoa Binh in an official document requested relevant departments to inform apartment investors as well as closely enforce the law regarding the necessary legal contract forms in the Decree 76/2015 on the Law on real estate business. 
The request was issued upon the request of the HCMC Department of Justice, Department of Construction due to multiple reports from the press and people on apartment project owners failing to observe the law, leading to inconvenience for their tenants.
This course of actions also aims to avoid civil conflicts and better regulate real estate investment and trading activities in the city.
Lam Dong to install traffic control cameras along Bao Loc mountain pass
The Department of Transport of Lam Dong Province proposed the People's Committee of Lam Dong Province to install surveillance cameras for handling traffic violations at more than 10 positions along Bao Loc mountain pass in 2021.  

There are nearly 100 curved sections, including 35 circular roads of less than 50-meter radius with limited visibility and a high risk of traffic unsafety. 
As this reason, the Department of Transport of Lam Dong Province proposed the People's Committee of Lam Dong Province to approve for upgrading two curved sections at Km101 + 700 and Km104+300, and replacing uncovered ditches to reinforced ditches with concrete and installation of other safety systems such as road surface markings, reflected road studs, guard-rail fences, etc. 
The project has total capital of VND27 billion (US$1.2 million). 
According to Sai Gon Giai Phong (SGGP) Newspaper, traffic accidents have occurred on National Highway No.20 through Bao Loc mountain pass, causing many deaths and injuries. 
HCMC approves project to improve high-schoolers' computer skills
Deputy Chairman of the Ho Chi Minh City People's Committee Duong Anh Duc has just approved the project to improve high-schoolers' computer skills for the 2021-2030 period. 
Under the project, high school students must grasp computer skills - abilities and knowledge which allow them to use computers and related technology. From 2021 to 2022, 90 percent of students in national-level high schools must master computer skills and 30 percent of them get international certificates of computer technology.
Additionally, 40 percent of students in normal high schools acquire computer skills and 20 percent of them get international certificates of computer technology.
With regard to teaching staffs, 80 percent teachers are able to provide knowledge of computer technology and most of schools in the city have laboratory rooms.
According to the project, most of students of national-level high schools learn computer technology and half of them get international certificates while 50 percent of students in normal high schools learn the important technology and 30 of them obtain international certificates for the 2023-2025 period.
From 2025 to 2030, most of students of national-level high schools learn computer technology and 80 percent of them get international certificates while 80 percent of students in normal high schools learn the important technology and half of them obtain international certificates.
The city's state budget and social contributions will cover the project implementation.
Beforehand, the Department of Education and Training in HCMC announced the computer technology will be officially included in the new education program and primary students will learn it; therefore, investment in laboratory rooms in schools for teaching the subject is necessary for the upcoming time.
Especially, from 2014 until now, schools have piloted teaching computer technology following Internet and Computing Core Certification Spark, one of the most popular certifications used in elementary and middle school computer classes and MOS which had been recognized by the Ministry of Information and Communications and the Ministry of Education and Training.
The IC3 Spark exam is a digital literacy certification designed to familiarize young students with technology related to the Internet, computers, and digital citizenship.
Primary schools in the southern metropolis are using teaching and learning materials including Practicing computer technology with IC3 Spark, Fahasa-published IC3 Spark.
Apart from that, junior high schools have been using material Internet and Computing Core Certification (IC3) in addition to other normal textbooks. Students at senior high schools must learn two periods of computer technology as per the direction of the Ministry of Education and Training. Some schools even have curriculums of computer technology according to Microsoft Office Specialist's material.
The Department of Education and Training said that teaching and learning the computer skills are considerably based on parents' consensus and students' interest. In the academic year 2018 - 2019, roughly 410,579 of 434 primary schools in the city were taught the technology and most of high schoolers were taught the subject. However, the program has not satisfied students' demand.
Despite difficulties along the way, after four years of the program implementation, 4,524 primary students have got IC3 Spark certificates, 280 junior high schoolers scooped IC3 certificates and 10,277 senior high schoolers achieved MOS certificates. Moreover, many students won prizes in the national and international examinations; subsequently, they were admitted in universities without sitting for examination and later received scholarships from famous schools in the world for further studying abroad.
Increasing success in integrating technology in traffic, neighborhood control
Traffic control cameras along cross-region highways since July 2020 have successfully recorded tens of thousands of traffic violations in place of law enforcers, while many localities plan to utilize surveillance systems to aid neighborhood watch, police authorities noted. 

More than 10,000 traffic violations ranging from exceeding the speed limit to parking offence have been caught on camera along the Noi Bai – Lao Cai Highway alone, resulting in more than 1,000 tickets worth some VND14 billion (about US$605,575).
Furthermore, the Vietnam's Traffic Police Department (C08) recently assigned the gov't funded surveillance system along National Route 1A to Binh Thuan local police, helping them pinpoint hundreds of violators.
Meanwhile, Lam Dong Province traffic police in light of major road accidents in the past few months are also looking to install cameras along the Bao Loc mountain pass to discourage speeders.
Traffic enforcement cameras not only help keep habitual traffic offenders in check where there are no law enforcers, but also partially prevent bribery by limiting direct contact between on-scene police and perpetrators, making them pay the fines afterwards.
Simultaneously, many localities have mobilized non-public resources to install surveillance cameras at areas prone to traffic accidents, trespassing, or vandalism. If local law enforcers can gain access to street-facing CCTV cameras, they believe it could further enhance public safety and command people's attention in regards to observing the law.
Social monitoring will be further actualized when the Amended Law on Residence comes into effect on July 01, utilizing citizen monitoring by identification codes integrated into personal ID cards, a method used in developed countries to maintain public safety.
Ministry requires four expressway projects' adjustment in Mekong Delta
The Ministry of Transport (MoT) yesterday required the Directorate for Roads of Vietnam and the Management Board of My Thuan Project to adjust four expressway projects in the Mekong Delta.
Particularly, the MoT asked relevant units to adjust the route and investment plans for Can Tho – Ca Mau expressway, Chau Doc – Can Tho – Soc Trang expressway, Ha Tien– Rach Gia – Bac Lieu expressway and Tra Vinh – Hong Ngu expressway.  
Based on the adjustment, the Ministry of Transport will appraise and submit the adjusted projects to competent authorities for addition to the planning of Vietnam's expressway development up to 2020 and orientation to 2030.
As stated by the Ministry of Transport, the adjustment is in accordance with the Construction Law, the Law on Public Investment and must ensure the construction progress of the four expressway projects in the period of 2021 – 2025.
Construction of Tan Son Nhat Airport's Terminal 3 to start in October
Construction of Terminal 3 of Tan Son Nhat International Airport will start in October, said the Airports Corporation of Vietnam (ACV) on March 9. 

The pre-feasibility study report on the building of the terminal has been completed, but the 16,05 hectares of land in Tan Binh District's Ward 4 for the project have not been handed over to ACV. The Ministry of Defense previously asked the High Command of Air Force and Air Defense to finish the handover procedure soon.
The terminal 3 is designed with a capacity of receiving 20 million passengers per year and expected to help ease overload at terminal 1. The project has a total capital of VND10.99 trillion (US$474 million), including the expansion of aprons and construction of supporting structures of technical system, inter-terminal transfer service, wastewater treatment plants, airport drainage systems and surface water control.
The project is scheduled to be carried out within 24 months.
UNDP Resident Representative: 55% of Mekong Delta population affected by climate change by 2100
It is estimated that 40% of the Mekong Delta would be submerged by the year 2100 in which 55% of the local population will be directly affected, said UNDP Resident Representative in Viet Nam Caitlin Wiesen.
The Resident Representative made the point in an interview with the VGP regarding the seriousness level of climate change in the Mekong Delta. 
Ms. Caitlin Wiesen stressed that the Mekong Delta is certainly one of the most important regions in Viet Nam. It is home to 17 million people, serving as the largest agricultural production center within Viet Nam. It is vital for food security in Viet Nam, not only Viet Nam but also neighboring countries within the region and beyond as well.
However, it is one of the most vulnerable regions coping with climate change in Viet Nam in terms of saltwater intrusion, cyclones, floods, droughts, and sea level rises. It is estimated that 40% of the Mekong Delta would be submerged by the year 2100, affecting 55% of the local population.
When asked about her comment on the measures taken so far by the Government under the leadership of Prime Minister Nguyen Xuan Phuc to help the Mekong Delta overcome negative impacts of climate change, she asserted that the UNDP would really like to commend Prime Minister Phuc and the Government of Viet Nam for the leadership, policies, and investment.
She spoke highly of important policies that have been introduced, including Resolution No.120 and that focuses on the sustainable climate resilient development of the Mekong Delta. 
In 2020, the Government established the Mekong Delta Coordinating Council, responsible for handling complex governance issues within the Mekong Delta, she added.
Earlier, in 2013, the first plan for development for the Mekong Delta was introduced. The plan has been updated into a master plan for the sustainable and resilient development of the Mekong Delta in the 2021-2030 period. 
In terms of recommendations in terms of moving forward for the Vietnamese Government in handling with consequences of climate change, she highlighted the importance of looking at integrated planning and governance. "It is important to look at resources not from one district or one region within the Delta but how they are engaged together" the Resident Representative stressed. 
She suggested making maximum use of all the resources available, the natural resources that are available to help manage the risks and also the development potentials. 
Caitlin Wiesen referred to development risks, adding that as climate patterns are changing the impacts on the Delta, all development risks should be taken into account in different dimensions. These are vulnerability mapping and risk mapping. And this is especially important that this data is accurate and up-to-date, and taking into account latest developments. 
She confirmed that community engagement is extremely important. Communities are on in the front lines. They're the first ones that are often hidden, impacted by climate change and they need to be included, engaged and participate in the planning, particularly the development of the master plan for the Mekong Delta for the next period. 
Similarly, the private sector plays a critical role, and it's very important that the private sector is consulted and engaged in the development of the plan that we can't development master plan, and according to a study that was undertaken and this was undertaken by UNDP together with German Development Cooperation (GIZ) and the Ministry of Planning and Investment. 
"There is estimated that there is a private sector could invest upwards of US$32 billion in the Mekong Delta across a range of areas. These range from renewable energy to agriculture to agriculture, food processing and other areas. However, there needs to be engagement with them to enable that investment in the way that's going to facilitate private sector development and also benefit local populations. So these I think are extremely important", said Caitlin Wiesen.
The UNDP Resident Representative stressed the need to promote innovation, and there's a great opportunity to look at innovation and how smart agriculture can be can use the different tools, Industry 4.0 tools, AI, and others that are available for the production that can benefit local populations at the same time being more green, more sustainable and resilient. 
The Mekong Delta is home to 17 million people, serving as the largest agricultural production center within Viet Nam.
UNDP has been honored and privileged to be working together with the government, with development partners, NGOs and local populations to address the challenges within the Mekong Delta, said Caitlin Wiesen, adding that their support has had quite a range and one of the ways in which they engage is looking at finding innovative climate change adaptation solutions that benefit the people and local population and local businesses within the Mekong Delta. 
The UNDP has also undertaken a number of analytical studies and these analytical studies look at hydrological, mapping and forecasting and integrated water retention planning. 
She stated that important planning dimensions that the UNDP has been engaged in the analysis to help perform that process in terms of disaster management and because it is such a vulnerable and disaster prone region, UNDP's work very closely with the Viet Nam Disaster Management Authority (VNDMA), and in 2016 and most recently in 2020 to address the impacts of saltwater intrusion and severe drought, historic proportions in 2020. 
The UNDP has provided support in the provision of water tanks and drinking water, also water for agriculture to over 6000 households in the Mekong Delta as well as provide livelihood support and livelihood support to over 300,000 persons that were actually impacted and 23,000 persons who were actually supported with livelihood support by UNDP. 
Particularly, the UNDP has been involved over the last years and restoration and rehabilitation of mangrove by generating some 3000 hectares which are absolutely vital as they protect communities, local livelihoods and local business from storm surge. 
The UNDP has also supported the livelihoods of numbers of people for livelihood support that's integrated together with mangrove restoration as well. 
"As we're looking at the long term policy support and in terms of long term policy support, we need to continually update and look at the vulnerability mapping together with the hydrological mapping and look at the balances that need to be created between water retention on the one hand, flood management on the other, in ways that provide integrated solutions that work across the different entities", the UNDP Resident Representative in Viet Nam emphasized.
She expressed her belief that together with the government and the other and other partners and NGOs, local population and private sector, the UNDP can make a significant difference if having coordinated efforts together with a strengthened regional governance system so that the UNDP can better balance the natural resource endowments of some districts and regions within the Mekong Delta in managing the risks as well. 
And together, this could have a significant impact not just for the Mekong Delta, but for the overall sustainable development of Viet Nam, the country, the food security of its people, and people within the region. 
The UNDP is also engaging very closely together with local communities and provincial level government and partners to strengthen regional governance, which is one of the most important ways of improving this situation, the sustainable development of the Mekong Delta. 
She mentioned to more innovative ways of engaging with the private sector, looking at climate smart technologies, integrating these with agriculture and ensuring the tracking and production of small medium enterprises and their businesses in ways that show that there's a clean and green supply chain. 
One that's going to be more green, clean will have greater economic returns to the micro small and medium enterprises and their businesses. 
The area the UNDP is focused on is looking at unleashing innovative resourcing for micro small and medium enterprises, she said, adding that this is very important if the development of the Mekong Delta and its future is to be sustainable and inclusive.
It is ensured that those people who are on the front lines of climate change adaptation and its impacts of climate change are going to benefit from the future that is designed and developed within the context of the new master plan for the Mekong Delta from 2021 to 2030. 
Hanoi: Future Blue Innovation Competition for high school students launched
The Hanoi Ho Chi Minh Communist Youth Union (Hanoi HCYU), VinFast, and AngelHack, a global hackathon organisation, launched the Future Blue Innovation Competition 2021 for high school students on March 10.
Speaking at the launch ceremony at the Hanoi - Amsterdam High School for the Gifted, Tran Quang Hung, Vice Secretary of the Hanoi HCYU, said the Future Blue Innovation Competition provides a playground for students from some 200 high schools in the capital.
The challenge is to create a product, service, or communications campaign to a "blue" planet of ocean, mountain, forest, air, technology and future, Hung said, adding that entries should focus on eight areas: plastic waste reduction and treatment; carbon emission reductions; sustainable agriculture; renewable energy; tackling air, land and water pollution; biodiversity preservation; climate change; and vehicles of the future.
It aims to offer an opportunity for local students to accelerate innovation and seek initiatives in environmental protection.
The competition will run until May 9. Participants are requested to register and submit their entries at http://www.futureblueinnovation.vn/ before April 20. Entries are then shortlisted for the final round, to be held sometime in May, where candidates will present and defend their projects in front of a judging panel.
One first, one second, and two third prizes will be awarded, alongside two honourable mentions.
It forms part of activities to celebrate the 90th anniversary of the HCYU (March 26)./.
27 football clubs to compete in 2021 Bamboo Airways National Cup
The 2021 Bamboo Airways National Cup will involve 27 football clubs playing in a knock-out tournament.
This is the third year in a row Bamboo Airways has been the main sponsor. A deal to this effect was signed between the carrier and the Vietnam Professional Football Joint Stock Company (VPF) in Hanoi on March 10.
The tournament will kick off on April 23 with the fixture between the Topenland Binh Dinh and Long An Football Club at Quy Nhon Stadium.
This year's champions will walk home with a trophy and prize money of 1 billion VND (43,290 USD) while the runners-up will receive half that amount. The two third-placed teams will bag 200 million VND each.
The carrier will also be the official transportation partner of the tournament.
Meanwhile, V.League 2021, Vietnam's top professional football league, is set to return on March 13, with a detailed plan requiring further discussion, the VPF has announced. The league was previously postponed because of COVID-19./.
Women's role in sustainable development highlighted
Women should be encouraged to carry forward their strength and contribute to national development and sustainable development in general, heard a forum in Hanoi on March 10.
The forum, themed "Promoting the implementation of the sustainable development goals (SDGs) from a gender perspective," was jointly held by the Vietnam Women's Union (VWU) and the United Nations Entity for Gender Equality and the Empowerment of Women (UN Women).
In the spirit of the resolution adopted at the 13th National Party Congress, the VWU will work to further promote the role and contributions of women to the country's rapid, sustainable development, said VWU President Ha Thi Nga.
The forum offers an opportunity for delegates to share experience and initiatives in realising the SDGs, especially the goal of gender equality and women's empowerment, according to the official.
The VWU will make greater efforts in implementing programmes, projects and activities to support startups by women, enhance women's role in new-style rural area building, promote women's participation in politics, and prevent and combat gender violence, Nga pledged.
Kamal Malhotra, UN Resident Coordinator in Vietnam, said Vietnam is one of the countries that have exerted great efforts in enhancing gender equality in Asia-Pacific, saying the country has a wonderful opportunity to prove its leadership in this regard amidst the COVID-19 spread.
The UN stands ready to support the Vietnamese people and government in the work, he said.
According to Deputy Minister of Planning and Investment Nguyen Van Trung, despite the impact of the pandemic, Vietnam still ranked 49th out of 199 countries in gender equality in 2020. In ASEAN, the country only ranked behind Thailand.
He suggested creating equal employment opportunities for women in all sectors, and consulting public opinions, particularly disadvantaged women, so that their needs and wishes are reflected in policies and laws./.
Source: VNA/VNS/VOV/VIR/SGT/Nhan Dan/Hanoitimes