Quiz promotes knowledge on regulations on NA, People's Councils elections
A contest for Vietnamese citizens all over the world to study current regulations on elections of deputies to the National Assembly and People's Councils will go online from 0:00 on April 1 to 24:00 on April 30.
The event, to be held by the Ministry of Justice in collaboration with the National Assembly Office, is part of the activities in response to the upcoming election slated for May 23.
Besides, it aims to raise public awareness of the significance of the elections, while promoting IT application into law popularisation and education.
The contest focuses on the Law on Election of Deputies to the National Assembly and Deputies to People's Councils in 2015, several regulations under the 2013 Constitution, Law on Organisation of the National Assembly, and Law on the Organisation of Local Governments.
Contestants should access to https://thitimhieuphapluat.moj.gov.vn, the Ministry of Justice's portal, the National Election Council's portal, the Vietnam National Assembly Television's website, Dai Bieu Nhan dan e-newspaper, and Vietnam law e-newspaper to answer 20 questions.
Each contestant is allowed to do the test three times to improve the results.
Excellent contestants will receive certificates and gifts from the organising board, with one first prize worth 6 million VND (261 USD), five second prizes each worth 3 million VND, 10 third prizes each worth 2 million VND, and 20 consolidation prizes each worth 1 million VND./.
Vietnam records three imported COVID-19 cases on March 22 evening
Vietnam saw three imported COVID-19 case in the past 12 hours to 6pm of March 22, raising the national count at 2,575, according to the Health Ministry.
Of the total patients, 1,601 were locally transmitted cases, including 908 since January 27.
Also on the same day, 36 more patients were given the all-clear, raising the total number of recoveries to date to 2,234.

Among the patients still under treatment, 36 have tested negative for SARS-CoV-2 once, 17 twice and 55 thrice. Death toll remains at 35.
Meanwhile, 37,754 people are being quarantined nationwide, with 490 at hospitals, 18,620 at concentrated quarantine facilities and 18,644 at their accommodations.
The Ministry of Health advised people, included those who have been injected with COVID-19 vaccine, to continue preventive measures, including the "5K message" (in Vietnamese) - Khau trang (facemask) - (Khu khuan) disinfection - (Khoang cach) distance - (Khong tu tap) no gathering – (Khai bao y te) health declaration./.
No new COVID-19 cases reported on March 22 morning
Vietnam saw no new COVID-19 case in the past 12 hours to 6am of March 22, keeping the national count at 2,572, including 2,198 recoveries, according to the Health Ministry.
So far, 10 localities have experienced at least 36 days without any new local infections, namely Hoa Binh, Dien Bien, Ha Giang, Binh Duong, Hung Yen, Bac Giang, Gia Lai, Bac Ninh, Quang Ninh and HCM City.
Hanoi has also been through 33 days of no new domestically-transmitted COVID-19 infections, while Hai Duong, the largest hotspot in the latest wave of COVID-19, three days.
Among the patients still under treatment, 37 have tested negative for SARS-CoV-2 once, 18 twice and 63 thrice. Death toll remains at 35.
Meanwhile, 37,174 people are being quarantined nationwide, with 490 at hospitals, 17,990 at concentrated quarantine facilities and 18,694 at their accommodations.
According to the National Expanded Programme on Immunization, as of 4pm of March 21, an additional 1,530 people had received COVID-19 vaccine, raising the total number of vaccinated people to 33,981.
The Ministry of Health advised people, included those who have been injected with COVID-19 vaccine, to continue preventive measures, including the "5K message" (in Vietnamese) - Khau trang (facemask)- (Khu khuan) disinfection- (Khoang cach) distance- (Khong tu tap) no gathering – (Khai bao y te) health declaration.
As the pandemic situation eases, as from 0:00 of March 22, the northern province of Quang Ninh had lifted all COVID-19 checkpoints and re-opened all business activities. As of March 21, the province has gone through 40 days without any new local COVID-19 infections./.
About 4,000 liters of diesel oil pumped out of sunken ship in Mui Ne
About 4,000 liters of diesel oil has been pumped out of the sunken ship carrying 1,500 metric tons of fly ash in the waters off Mui Ne in the South-Central Province of Binh Thuan. 
A representative of Truong Tam Maritime Company today said that the company and related competent agencies made concerted efforts to pump nearly 4,000 liters of diesel oil mixed with water out of the wrecked ship safely. The operation was a race against time in 15 minutes.
As media released, the Bach Dang ship, with a capacity of 2,500 metric tons, with seven sailors aboard capsized and sank on its way to carry the fly ash from Vinh Tan 2 thermal power plant in the province to the Southern Province of Dong Nai.
Luckily, all of the sailors were rescued and 4,000 liters of diesel oil remained in the ship's fuel tank when it capsized. The ship has since been lying upside down on the sea, with neither oil spill nor fly ash spreading.
After all 4,000 liters of diesel oil was pumped out of the ship's fuel tank, the salvage and treatment of fly ash will continue.
Foreigner knocks down power poles causing massive blackout in Thu Duc City
The foreign man who knocked down four power poles causing a massive blackout in newly-established Thu Duc City's Thao Dien Ward confessed that he fell asleep while driving.
The accident left hundreds of households in the ward without power.
Police yesterday announced to be investigating the crash, which could lead to charges for the driver.
According to initial probe, police officers identified a foreigner with Italian nationality who said he has been living in Vietnam for years and owning a company in Thao Dien Ward. He admitted because of hard work, he was sleepy on driving.
He crashed and knocked down many electricity poles resulting in power blackout.
At the local police station, he promised to offer compensation. However, police officers said that in addition to compensation, the driver will face an administrative fine.
As Sai Gon Giai Phong Newspaper released yesterday, a 7-seater sedan ploughed into pedestrians on a pavement and then knocked down four power poles. Luckily, no injuries were reported but the vehicle was seriously damaged and 122 households experienced power cut.
Police quickly arrived at the scene and cordoned off the area as well as asked witnesses for their investigation.
Vietnamese citizens hit by pandemic in Cambodia receive support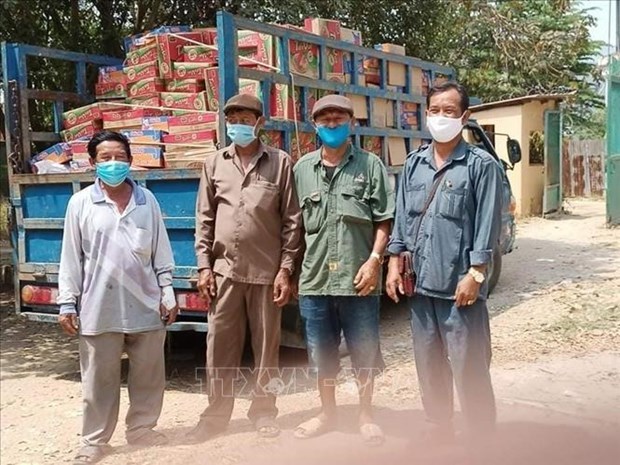 Food transported to Vietnamese expats in Kandal province.
Vietnamese expatriates in Cambodia's Kandal and Prey Veng, who are facing tough challenges during COVID-19 quarantine, received food assistance from the Vietnamese Embassy and Khmer-Vietnam Association in the host country on March 19 and 20.
According to the embassy, markets and essentials services have been available for locals since the first COVID-19 cases were detected in the two provinces.
Livelihoods of the Vietnamese under quarantine have been stabilised gradually, it said.
On March 20, the Khmer-Vietnam Association in Kandal province received and presented 500 gifts, including rice and noodles, to Vietnamese-Cambodian families in Luek Daek, Mukh Kamphool, Lvea Aem, Kien Svay and Ponhea Lueu districts. The gifts were donated by the Associations of Friendship Organisations in Dong Thap province and Tan Chau town in An Giang province, and several Vietnamese philanthropists.
One day earlier, the association in Prey Veng province distributed rice and noodle to 408 Vietnamese households in Prek Sai Kho commune, and presented gifts to 135 Khmer families affected by the pandemic through the local authorities./. 
61 laborers illegally enter Vietnam to escape Covid-19 pandemic in Cambodia
Sixty-one Vietnamese laborers illegally entered the country to escape the Covid-19 pandemic in Cambodia, said colonel Nguyen Thuong Le, Head of the border guard station in the Mekong Delta Province of An Giang on March 21.
Border guards in the international border gate Tinh Bien in An Giang Province discovered 61 illicit immigrants including eight children, quarantining them in centralized wards to prevent Covid-19 spread as per the present regulation.
According to police's primary identification, all of these immigrants are Cham ethnic minority people  who are permanent residents in An Phu District in An Giang Province. They came to Cambodia for working in one year. However, due to complicated Covid-19 outbreaks in Cambodia lately, they tried to return to An Giang Province.
They will receive punishment for illegal immigration.
Nurturing Vietnam-Laos special solidarity
The Communist Party of Vietnam (CPV) Central Committee sent a letter of greetings to the Central Committee of the Lao People's Revolutionary Party (LPRP) on the occasion of the Lao Party's 66th founding anniversary (March 22, 1955-2021).
In the message, the CPV Central Committee wrote the Vietnamese Party and people are delighted at great achievements gained by the Lao Party and people in the past struggle for national liberation and the current renewal, and national building and safeguarding.
Vietnam believes that under the leadership of the LPRP, Laos will gain new and greater achievements in its renewal process, successfully implement targets set out in its 11th National Party Committee's Resolution, and successfully build a socialist-oriented State of peace, independence, democracy, unification and prosperity, wrote the letter.
The Vietnam-Laos great friendship, special solidarity and all-round cooperation, nurtured and developed by late Presidents Ho Chi Minh and Kaysone Phomvihane and generations of the two countries' leaders and peoples, have been continuously consolidated and deepened in all fields, thus contributing practically to each country's renewal, and national building and safeguarding, it said.
The Vietnamese Party, State and people always treasure and bear in mind the great, valuable and effective support of the Lao Party, State and people, and will do their utmost to, together with the Lao side, maintain, protect and develop the bilateral special solidarity, for the interests of the two peoples, and for peace, stability, cooperation and development in the region and the world, wrote the letter.
On this occasion, Party General Secretary and State President Nguyen Phu Trong sent flowers to Lao Party General Secretary and Prime Minister Thongloun Sisoulith, and the Vietnamese Party Central Committee's Commission for External Relations sent a message to its Lao counterpart./.
Tien Giang focuses on administrative reform
The Mekong Delta province of Tien Giang is focusing all resources on speeding up the reform of administrative procedures and expanding the use of information technology (IT), which has effectively contributed to fostering local socio-economic development.
According to assessments from the provincial People's Committee, administrative reform has been carried out effectively by all local departments and sectors.
The year 2020 was also the fourth year Tien Giang implemented a project on "Application of information technology in State offices". All local offices have used software to receive and handle documents, and applied the province's "single window" software to receive, handle, and return documents.
To better serve locals and businesses, the provincial People's Committee has asked leaders of units and localities to continue stepping up administrative reform and IT application at State offices, which are considered important solutions to realize three breakthrough missions set out in the resolution of the 11th provincial Party Congress.
The resolution requires that the top leaders of offices and units must play the leading role in the work.
Besides, the province will continue revising legal documents and administrative procedures to ensure their legality and feasibility./.
Vietnam records no new COVID-19 in March 21 afternoon
Vietnam had no new COVID-19 cases to report in the past 12 hours to 6pm March 21, according to the Health Ministry.
This keeps the national count at 2,572, and the death toll remains at 35.
As of March 21, 2,198 patients have been given the all-clear. The death toll remains at 35.
Among the patients still under treatment, 37 have tested negative for SARS-CoV-2 once, 18 twice and 63 thrice.
Meanwhile, 37,174 people are being quarantined nationwide, with 490 at hospitals, 17,990 at concentrated quarantine facilities and 18,694 at their accommodations.
Metro Line No1 in HCM City likely to be completed after 2021
Metro Line No1 in HCM City likely to be completed after 2021. Illustrative image (Photo: VNA)
The completion of Metro Line No1 project in Ho Chi Minh City linking Ben Thanh Market in District 1 with Suoi Tien Tourist Park in District 9 is likely to be delayed to after 2021, the municipal Management Authority for Urban Railways (MAUR) has stated.
According to a recent report of the MAUR on the impact of COVID-19 pandemic on urban railway projects in the city, NJPT Association, the general consultant for the project, has repeatedly informed the investor about the impact, which may delay the construction and installation packages from 4-6 months and the package of equipment from 6 - 8 months.
Only 82 percent of the construction work was completed in 2020 due to effects of the COVID-19 pandemic, 3 percent lower than the set plan. The reason behind the delay is that foreign experts could not arrive in Vietnam for working, the MAUR noted.

The authority is working closely with contractors to manage and speed up construction progress.
The 2.05- billion-USD Metro Line No 1 is the first of at least six to be built in the city and aims to ease traffic congestion in its north-eastern gateway.
Including four major bidding packages using official development assistance (ODA) and funds from the Japan International Cooperation Agency (JICA), the project is designed to have 14 stations, three of them underground.
There will be 17 three-carriage trains plying the route, running at a maximum speed of 110 km/h above ground and 80 km/h below ground./.
Visitors book tours to southern resorts for upcoming holiday
Recent days has seen the representatives of many domestic travel agencies busy arranging a large number of tours to famous sites throughout the southern region, including Phu Quoc island ahead of the April 30 and May 1 holiday, a positive indicator for the recovery of the domestic tourism industry.
 
At present, four-star and five-star hotels and resorts are viewed as the most attractive locations due to the launch of discount programmes.
Tourists need only to spend between 36.9 - 65.2 USD, on staying one night at a luxury accommodation, meaning that they are fully booked these days.
Along with lodging establishments enjoying a boost in business, travel agencies have also seen an increasing number of tourists in recent times. Phu Quoc island, Con Dao, Quy Nhon, and Da Nang are among the most popular holiday destinations at present.
A combo deal including air tickets, hotels, and breakfast would serve to attract customers. Tourists often gather in groups of families and friends at weekends, with a tendency to travel to places which are far from city centres and have few guests, large green space./.
HCMC to stabilize tuition fee in non-public schools
The education sector in Ho Chi Minh City will recheck and stabilize tuition fee in non-public preschools and high schools in 2021.
The Department of Education and Training organized a meeting to review its planning – financing mission in 2020 and implementation of new tasks for 2021.
Speaking at the meeting, Deputy Head of the Division of Planning – Financing Mai Phuong Lien said that to attain the goal of 300 classrooms per 10,000 population in the age of three to 18 as per the resolution of the tenth Congress of the Communist Party of Ho Chi Minh City, local administrations in 21 districts and Thu Duc City must devise  their public investment plan for the 2016-2020 period with 832 projects to build 15,940 classrooms with a total cost of nearly VND70 trillion (over US$3 billion).
As of December, 2020, the city education sector has so far built 292 classrooms per 10,000 population in the school age , achieving 57.84 percent of the year's plan.
In 2020 alone, the city had 90 projects to build 1,371 classrooms totaling VND4,575 billion. Specifically, the city has built additional 429 , 381, 357 and 116 classrooms for primary schools, preschools, junior high schools and senior high schools respectively.
According to the Department of Education and Training's statistics, the spending for school construction in 2020 increased by 4.66 percent compared to 2019. As scheduled, total spending for repairing facilities and purchase of equipment in 2021 for schools will be nearly VND190 trillion.
The Department said that the private schools developed without strategy; as a result, school system in the city has ensure its plan.
When it comes to construction of public schools, the progress of upgrade and building of schools has fallen behind the plan and the proportion of national-level schools is still low.
This year, the city will issue decision on appropriate tuition fee and complete financing mechanism in a bid to build advanced schools to keep pace with other nations in the Asian region and in the world.
Quang Hai voted as best midfielder in AFC Cup history
As the nation's star player in midfield, local footballer Quang Hai has received the most votes in a poll among fans to find the best midfielder in the Asian Football Confederation (AFC) Cup's history.
The talented Vietnamese playmaker finds himself in first place for the best midfielder award after gaining 60.01% of the overall votes.
Coming in behind the Vietnamese midfield maestro, Hasan Abdel-Fattah of Jordan ranked in second place with 21.76% of the vote, followed by Safiq Rahim of Malaysia with 11.04%.
The poll was organised by the AFC and ran from March 12 to March 18.
"Nguyen Quang Hai has already left a significant mark on the AFC Cup, particularly in his exceptional 2019 campaign," the AFC's wrote on their website.
"The then 22-year-old was simply devastating throughout the tournament, setting up a hatful of goals in the group stage and scoring two screamers in the Inter-zone play-off semi-final against Altyn Asyr, with only an away goals defeat to 4.25 SC preventing Hanoi from becoming the first Vietnamese club to reach the final. Quang Hai is scheduled to return to the AFC Cup in 2021," it added.
This year is set to see the return of Quang Hai to the competition due to his club side Hanoi FC qualifying for the 2021 version of the continental tournament.
Hanoi FC have been drawn in Group G alongside Boeung Ket Angkor FC of Cambodia, Bali United FC of Indonesia, and the winner of an upcoming play-off match.
HCM City: Pandemic-hit workers to receive free vocational training
Workers in Ho Chi Minh City who were laid off or had their hours cut as a result of COVID-19 will have the opportunity to attend free vocational training courses under a new programme initiative, according to Vice Chairman of the municipal Federation of Labour Pham Chi Tam.
Jointly launched by the city's Federation of Labour and the Cao Thang Technical College, the programme aims to help affected workers make a career shift, improve their professional skills, and seek new employment.
Courses will be held from April 1 to June 30 on weekday evenings and weekends.
Tam said courses will be offered on 24 simple professions in seven industries: information technology, heat engineering and refrigeration technology, mechanics, electricity, electronics, transportation mechanical engineering, economics, and foreign languages.
Not only are the courses free, they will also enable trainees to practice on advanced equipment, he noted, adding that they will even be paid for apprenticeships at companies and receive certificates of completion.
Each person is allowed to attend a maximum of two courses./.
HCM City posts solid performance in Overseas Vietnamese affairs
The Ho Chi Minh City Committee for Overseas Vietnamese (OV) Affairs must continue to perform well in implementing State management over OVs in the city, giving advice on caring for poor Vietnamese abroad and connecting city leaders and OVs, and strengthening communications on Party and State policies and laws among the community, a city leader has said.
Addressing a conference to kick-start the committee's tasks in 2021, Vice Chairman of the HCM City People's Committee Duong Anh Duc said the committee and the OV community made major contributions in 2020 to the city's success in implementing the "twin targets" of combating COVID-19 and boosting economic development.
He noted that the city's gross regional domestic product (GRDP) grew 1.39 percent during the year, while exports hit 43.8 billion USD, up 3.1 percent year-on-year.
It granted licences to 950 foreign-invested projects worth 4.36 billion USD, he noted, adding that remittances last year reached 6.1 billion USD, a 15 percent increase against 2019.
He asked the committee to continue reforming operational content and methods, focusing on the city's 2021 motto of building urban administration and improving the investment environment, while continuing to give advice to city leaders on the gathering of ideas from OVs regarding digital transformation, digital economy, and other programmes of the city.
Speaking at the event, Ambassador Luong Thanh Nghi hailed the success of the city's Committee for OV Affairs in 2020 and underlined the potential the OV community holds as well as their aspirations to contribute to national construction, defence, and development.
He said he hopes that the committee will continue to promote its achievements, supporting the Vietnamese community abroard in maintaining traditional cultural activities and strengthening their connectivity to help them make more contributions to the development of the city and the country as a whole in the current period.
In 2021, the committee aims to continue expanding activities for the community, including organising exchanges and get-together programmes as well as other events to gather their ideas on the city's development.
On the occasion, the city's committee presented Ministry of Foreign Affairs' Certificates of Merit to Vo Thanh Chat, Vice Chairman of the HCM City Committee for Overseas Vietnamese Affairs, and a number of collectives and individuals showing outstanding performance in people diplomacy./.
Forest God worship ritual recognised as intangible cultural heritage
The Ministry of Culture, Sports and Tourism has officially recognised the Forest God worship ritual carried out by the Mong ethnic people of Si Ma Cai district in the northern province of Lao Cai as part of national intangible cultural heritage.
The tradition typically takes place in February and June each year in accordance with the lunar calendar.
Through the Forest God worship ritual, the Mong ethnic community prays for good weather, a good harvest for a new crop, wealth, and solidarity.
The ritual also helps to educate local people about the need for greater environmental protection and to love both nature and the motherland.
Thanks to the practice, many forests of the Mong ethnic people throughout Si Ma Cai district remain intact.
Hanoi vows to make SEA Games, ASEAN Para Games 2021 a success
The administration of Hanoi remains highly determined to successfully host the 31st Southeast Asian (SEA) Games and the 11th Association of Southeast Asian Nations (ASEAN) Para Games later this year.
This statement was made by Chu Xuan Dzung, vice chairman of the local administration, during a meeting held on March 18 in Hanoi with the Ministry of Culture, Sports and Tourism.
He noted that the hosting of such an important regional sporting event is an honour for the capital, adding that the city is establishing various sub-committees and devising organizational plans to ensure the event will be a great success.
Due to fears relating to the potential spread of COVID-19, detailed plans must be carefully prepared, including the organisation of both the opening and closing ceremonies, the arrival of participating teams, and the accommodation of foreign athletes, said Dzung.
Improvements to eight sporting venues which will host various events in the competition will also get underway across Hanoi, with work set to be completed before June ahead of the games, according to Tran Thi Van Anh, deputy director of Hanoi's Department of Culture and Sports.
The 31st SEA Games is scheduled to be held between November 21 and December 2 and will feature 40 sports which will take place across Hanoi and 11 neighbouring localities.
The 11th ASEAN Para Games will run from December 17 to December 23 with 11 sports being held in Hanoi.
Expert discusses Lee Nguyen's slow start in V.League 1
Despite making a big splash with major signings including former US national team player Lee Nguyễn, HCM City FC have had a poor start to the V.League 1 season.
The team currently sit 10th in the table with three points in three matches and perhaps most concerning is star player Nguyễn's struggles in his two matches.
"First, his stamina is not ensured and this is a critical issue," football pundit Vũ Mạnh Hải told thethao247.vn.
"After quarantine, his training was not fully complete, so on the pitch, he could neither move much not nor show any skill.
"If the fitness is not there, it will lead to poor technical play and work rate. That's why Lee Nguyễn has underperformed," Hải said.
According to Hải, the development of the V.League 1 is also another reason why the 35 is facing difficulties.
"Although he used to play football in Việt Nam, that was a long time ago. When he returned, the Vietnamese players' expertise has improved a lot so when being pressed, he will face many challenges.
"Overall, I think age has affected him a lot because Lee is already 35. He is not weak yet, but his physical ability has been decreasing. Without good preparation and training, along with lifestyle problems, it's tough for him to perform his best.
"That's why fans are very disappointed after watching the former MLS star's performance at the beginning of the season," He added.
City's only victory was the match against Hồng Lĩnh Hà Tĩnh at home at Thống Nhất Stadium on January 24.
They face huge tests over the coming days, with the HCM City derby today against Sai Gon FC and a match with heavyweights Ha Noi FC on Tuesday.
The two blockbuster matches are a chance for Lee Nguyễn to show his quality and prove the early-season struggles are nothing to be concerned about, or they could mark an early end to HCM City's title ambitions.
Bruno Cunha brace leads Hanoi to win over Thanh Hoa
Hà Nội FC made it two wins from their last two on Thursday night against Thanh Hóa, with a 3-2 win going some way to dispelling concerns about their early season struggles.
The country's most successful team in recent years had started the season in January in an abysmal form with two losses, but the COVID-19 pandemic-imposed mid-season break seems to have done wonders for them with wins over Hải Phòng and now Thanh Hóa since football restarted earlier this month.
Bruno Cunha celebrates one of his goals against Thanh Hóa. — Photo thethaovanhoa.vn
The home side came out of the traps flying at Hàng Đẫy Stadium and within six minutes were leading 2-0.
Three minutes in Thanh Hóa goalkeeper Nguyễn Thanh Điệp spilled Nguyễn Văn Quyết's tame shot straight into Ngân Văn Đại's path, and the forward made no mistake from point-blank range for his second goal in two games.
A mere three minutes later the lead was doubled as Brazilian forward Bruno Caunha lashed in his first goal for Hà Nội when Đỗ Hùng Dũng laid the ball off after a goalmouth scramble.
Rather than let their heads drop Thanh Hóa dug deep and played some good football which was rewarded with a goal in the 35th minute, veteran striker and captain Hoàng Vũ Samson prodding home from a yard out after Hà Nội made of mess of defending a corner.
Curiously, Thanh Hóa coach Ljupko Petrovic substituted Gramoz Kurtaj at half-time, despite the midfielder putting in a composed performance.
Nevertheless, Petrovic's men could have equalised in the 53rd minute when Nguyễn Văn Vinh got on the end of a free-kick on the edge of the six-yard box, but the defender's header went just wide.
Hà Nội punished the away side's profligacy 10 minutes later when Cunha netted his second by heading home Trần Văn Kiên's deep cross from the right at the back post.
Thanh Hóa kept fighting right until the end and pulled another goal back in the 90th minute through Hoàng Đình Tùng, however it was too little too late and Hà Nội held on to secure all three points.
While the visitors and their vocal support will feel unlucky not to have come away with something from the game, Hà Nội showed part of why they've been so formidable in recent years, as despite failing to hit top gear they ground out three points.
In Thursday's other match, Sông Lam Nghệ An defeated Quảng Ninh 1-0. On Friday evening, Bình Định take on SHB Đà Nẵng, Nam Định face champions Viettel and HCM City FC face local rivals Sài Gòn FC.
Bat Trang craft village centre nearly complete
The Centre for Quintessence of Vietnamese Craft Village in the Bat Trang Ceramic Village is being completed in Hanoi to showcase craft village products.
The centre has been built since 2018 and designed by architect Hoang Thuc Hao. The complex covers 3,700 square metres and cost VND150bn (USD6.5m). It is expected to be opened in June to showcase the products of Vietnamese craft villages and preserve the traditions of Bat Trang Ceramic Village.
Pham Thuy Duong, the centre's CEO, said, "We want to build the centre to honour our ancestors, our crafts and hometowns. This will be like a common house of Bat Trang Village where the village's quintessence is preserved and promoted to visitors."
The building has a shape of seven swirly blocks resembling seven on-going works on the pottery wheels. The centre will work as both a museum and a commercial gallery.
The ground floor will exhibit general craft products and the higher floors will exhibit famous ceramic types of Bat Trang Village.
An Giang aims for sustainable poverty reduction
The Cửu Long (Mekong) Delta province of An Giang will spend more than VNĐ30.5 billion (US$1.3 million) this year to implement projects under the National Target Programme on Sustainable Poverty Reduction.
Poor households will receive support to pursue agricultural production or business, while poverty-reduction models will be expanded in border communes, according to the province's Department of Labour, Invalids and Social Affairs.
Media campaigns raising public awareness about poverty reduction will also be launched, and officials will learn how to better evaluate poverty reduction efforts.
In An Giang, poor and near-poor households live mostly in mountainous or remote areas and in ethnic-minority dominated areas.
The province in recent years has implemented various measures to help poor households escape poverty. Its Fund for the Poor mobilised more than VNĐ948 billion ($40.8 million) from various sources over the past five years.  
Last year, the province provided soft loans worth more than VNĐ900 billion ($38.8 million) to 2,400 poor households, 7,300 near-poor households, and 3,900 newly escaped poor households. 
The province provided free health insurance cards for poor and near-poor households, and reduced and exempted school fees for children of poor and near-poor households last year.
It also invested in 75 infrastructure projects worth VNĐ26 billion ($1.1 million) in highly disadvantaged communes and border communes last year.
Last year it expanded five poverty-reduction models under the National Target Programme on Sustainable Poverty Reduction for 120 poor and near-poor households in highly disadvantaged communes and border communes.
The province also helped poor and near-poor households diversify their livelihoods, and expanded another 17 poverty-reduction models not under the National Target Programme on Sustainable Poverty Reduction to 417 poor and near-poor households last year.
The poverty-reduction models include breeding animals, growing short term crops, and making handicraft products.
More than 80 per cent of households applying poverty-reduction models escaped poor or near-poor status over the past five years.
Around 4,000 poor households escaped poverty last year. The province now has 10,200 poor households, accounting for 1.9 per cent of the province's total households.
Though the province has achieved positive results, some poor households have waited for assistance from the State and community even after receiving vocational training, jobs and soft loans for doing business, according to the province's Department of Labour, Invalids and Social Affairs.
Châu Văn Ly, director of the department, said: "The province will strengthen communication with poor people to understand their wishes and have measures to help them do production or business to improve their income and life."
It will also help more poor households access soft loans for doing production or business, provide vocational skills and jobs for the poor, and create favourable conditions for the poor to escape poverty on a sustainable basis.
The province will set up a criteria system to monitor and evaluate poverty-reduction work at all levels, especially in districts and communes.
Hai Phong beat Binh Duong to top V .League
Jeremy Lynch scored the only goal to help Hải Phòng beat Bình Dương 1-0 on Saturday and take them top of the V.league 1.
This was Bình Dương the second consecutive defeat in the national premier league, leaving coach Phan Thanh Hùng smarting.
"Hải Phòng actively waited for the opportunities to counterattack with the aim of playing for a draw. We controlled the ball well, but the performance of attackers like Nguyễn Tiến Linh, Victor Mansaray,  Pape Omar  or Tô Văn Vũ in this match wasn't good. We couldn't make the most of our chances and were beaten by Hải Phòng's counterattack."
Talking about the strength of Hải Phòng, coach Phan Thanh Hung added: "Hải Phòng have only lost one match from the beginning of the season. They won against defending champions Viettel at Hàng Đẫy Stadium. Hà Nội FC also struggled to defeat Hải Phòng. I think that from now on the remaining teams in the league will know the true strength of Hải Phòng."
With this loss, Bình Dương dropped to 10th place with just six points after four matches.
In the other match, Hồng Lĩnh Hà Tĩnh tied with Hoàng Anh Gia Lai (HAGL) 0-0.
"For the first time, I looked forward to the end of the match," coach Phạm Minh Đức said after the match.
"Hà Tĩnh haven't won for three matches. The 1-2 loss with Quảng Ninh Coal had a great influence on the next matches of the team. That is why the result of this match has a very special meaning," Đức said.
As for coach Kiatisuk Senamuang of HAGL, he said that his team only aimed to earn one point and his team achieved that goal.
Yesterday, HAGL traveled to Hà Nội to prepare for the match against Viettel on March 24. This is expected to be a difficult match for HAGL because in fixture last year at Hàng Đẫy Stadium, HAGL lost to Viettel 1-4. 
Two girls found dead at Topaz Home Apartment
Police of District 12 and functional forces of the city police this morning came to Topaz Home Apartment in Phan Van Hon Street, Tan Thoi Nhat Ward, District 12, Ho Chi Minh City where two girls had died in a suspicious falling-down. 
According to the initial information, some security officers of Topaz Home Apartment found two girls with motionless nearby the apartment's parking area.
After checking the site, the two girls were confirmed to die with a suspicious falling-down.
Currently, the police forces are at the site for investigation.
Literary works on border, sea and island displayed
A programme named 'Homeland's seas and islands Space' opened at the Vietnam National Village for Ethnic Culture and Tourism in the Dong Mo tourism area of Son Tay town, Hanoi, on March 20, showcasing over 50 literary works on Vietnam's borders, seas and islands.
Under the framework of the event, 'A Little Spring' is taking place at the Vietnam National Village for Ethnic Culture and Tourism, the programme featuring the participation of young writers from the Vietnam Writers Association and the Youth Club for the Homeland's seas and islands as part of the Ho Chi Minh Communist Youth Union Central Committee.
'The Homeland's seas and islands Space' introduces more than 50 literary works on the nation's borders, seas and islands, across various genres - poems, school songs, short stories, novels, autographs, notes and dissertations, including many compositions from young writers and poets.
Of particular note, many works have received awards such as the Vietnam Book Award, the Literature and Arts Award of the Ministry of Defence as well as commendations from the Naval High Command and the Vietnam Writers' Association from 1974 to the present day.
In addition, the programme also displays 33 national flags used in the Truong Sa (Spratly) archipelago; 36 photos showing beautiful moments and images of soldiers' trips to the Truong Sa archipelago, the lives of soldiers and people on the islands, the love between the soldiers and local people and the love of the mainland for the islands.
The artifacts and pictures vividly prove Vietnam's sovereignty over the Truong Sa and Hoang Sa (Paracel) archipelagos; reflecting the life and work of the naval army. Many artifacts and images, meaningful gifts from journalists who used to work in Truong Sa, are featured.
On the opening day, the programme received significant attention from ethnic minorities, currently living and promoting their community's identity at the Vietnam National Village for Ethnic Culture and Tourism.
Exhibition introduces beauty of Vietnam's old features
The Vietnam Fine Arts Association alongside the Hanoi Fine Arts Association, have opened an exhibition named 'Net Xua' (Old Features) at the Fine Arts Exhibition House, No. 16 Ngo Quyen, Hanoi, on March 19.
The exhibition displays nearly 50 works from authors who are members of the 'Bui Coffee' art group – an association that regularly organises exhibitions, connecting art lovers and artists.
Works made from a variety of materials such as lacquer, oil paint, silk, acrylic, rekindle viewers memories through beautiful images rich in traditional cultural value, such as communal roofs, banyan trees, water stations, temples, traditional festivals, old women and traditional markets.
The exhibition runs until March 28.
Hoi An restarts many interesting tourist events
Hoi An ancient city in Quang Nam province will host a wide range of tourist events and activities from March 20 to May 1 to welcome visitors back at a time when the COVID-19 pandemic has basically been brought under control in the city.
Visitors to the city during this time will be invited to join a programme held on March 20 in response to the International Day of Happiness, a lantern night in the old quarter on March 26, a visual arts programme on March 28, and a music night on April 1 in commemoration of celebrated musician Trinh Cong Son.
Tourists will also be offered a 50% ticket discount when visiting the old quarter, Thanh Ha ceramic village and the Tra Que vegetable in the city.
In addition, the Embassy of the Republic of Korea (ROK) in Vietnam and the Korean Cultural Centre will also coordinate with Hoi An city authorities to host an 'ROK Cultural Days in Quang Nam' event from April 9 to 11, featuring many exciting exchange events and arts performances.
On the occasion, the city's hospitality sector will introduce several new tourist products, including a fashion show and a stage programme entitled 'A Moony Night on Hoai River', aiming to provide travellers with unforgettable memories during their stay in the city.
According to Truong Thi Ngoc Cam, Director of the city's Centre for Culture, Sports, Radio and Television, the city always places as a top priority the safety of visitors and the prevention of the spread of the COVID-19 pandemic, aiming to make Hoi An a safe and friendly tourist destination.
Over 300 residents in Binh Dinh poisoned including nine hospitalizations
Over 300 residents in the Central Province of Binh Dinh were poisoned including nine hospitalizations; therefore, authority in the province has jumped into investigation of the cause of the incident. 
More than 300 residents in mountainous communes in Tay Son District; nine of them were brought to the local hospital for treatment. A leader of the local medical center in Tay Son District this morning confirmed that over 300 people in Binh Tuong and Vinh An communes have been experiencing abdominal pain, vomiting, and headache. Seriously, nine of them had to be taken to infirmaries for further treatment.
Presently, the medical center in Tay Son District reported the incident to the provincial Center for Disease Control and carried out probe into the case.
According to primary information, poisoned victims all used water from a water plant in the two communes; as a result, health authority said water contamination is highly likely to be the source of poisoning cases.
State competent agencies have been conducting further investigation.
Ministry adds Korean in national high school exam in 2021
Vietnamese Ministry of Education and Training has just decided to add Korean in the national high school examination so that candidates can sit for Korean test for graduation as well as applying for universities in 2021. 
With the recent inclusion of Korean, there will be more foreign languages such as English, Chinese, German, Japanese, French, Russian, and Korean for candidates to choose for the national high school examination.
Moreover, to assist candidates to use their exam results and apply for universities in 2021, the Ministry of Education and Training required schools to review and add major code of Korean for admission to different majors as per the current admission regulations.
The national high school exam is expected to consist of Math, Literature, and Foreign Language. Noticeably, senior high schoolers must take natural science tests including Physics, Chemistry, and Biology and social science test including History, Geography, and lessons for citizenship education for candidates pursuing general education while History and Geography for candidates pursuing continuous education .
The exam is scheduled to take place at the beginning of July, 2021.
Four trains for first metro line to arrive in HCMC before July
The next four trains for the first metro line project in HCMC are expected to be transported from Japan to Vietnam between April and July this year if the Covid-19 pandemic is brought under control, said Huynh Hong Thanh, deputy head of the Management Authority for Urban Railways (MAUR) of HCMC.
During an inspection by a team led by HCMC Chairman Nguyen Thanh Phong on March 16 into the construction site of the Ba Son underground station, part of the first metro line project, Thanh said two trains were scheduled arrive in Vietnam in April or May. Two months later, the next two trains would be handed over to Vietnam, news site VnExpress reported.
After arriving in HCMC, the four trains, together with the first one which was transported to Long Binh Depot in Thu Duc City in October last year, will be operated on a trial basis.
MAUR had earlier planned to run the trains on a trial basis in the last quarter of this year. They will run on an elevated section from Binh Thai Intersection to Long Binh Depot before the entire system is put into trial operation.
At the same time, other works serving the metro line's operation will also be conducted, such as training laborers, transferring technology, checking and handing over the project.
The first metro line in HCMC was designed to have 17 three-carriage trains. Each train is capable of carrying 930 passengers and can move at a maximum speed of 110 kilometers an hour on elevated sections and 80 kilometers an hour on underground sections.
The average distance between every two stations is over one kilometer, so trains will run at a speed of some 40 kilometers per hour.
According to Thanh, the project is facing some obstacles. However, the progress of some packages has been ensured, such as the CP1b package to build an underground section from the Opera House station to the Ba Son station, which is expected to be 99% complete by the middle of this year.
He added that the project was still expected to be completed by the end of this year as planned. Due to the pandemic, MAUR will come up with another detailed plan on the project's progress, assess the impact of Covid-19 on its execution and propose new solutions.
HCMC Chairman Phong said the city had directed MAUR to determine when the project would be put into commercial operation, which will be a foundation to work out difficulties.
The first metro line project requires an investment of VND43.7 trillion. It was designed to be nearly 20 kilometers long with three underground stations and 11 elevated stations.
The project is some 83% complete and is expected to be put into operation next year.
Vietnam works with foreign countries to adopt vaccine passports
As many countries are planning to roll out Covid-19 vaccine passports to rekindle commerce and travel with foreign markets, Vietnam is in the process of working with foreign countries to accept vaccine passports via QR codes.
Before getting Covid-19 vaccines, residents will have to download the e-Portfolio app and re-declare their information, making it easier for QR scanning, it was announced at a meeting held by the national steering committee for Covid-19 infection prevention and control on March 19.
After being injected with two shots of the Covid-19 vaccine, the system will be updated and the vaccinated will be verified. When travelling abroad, residents will have their vaccination passport QR codes scanned.
Besides, representatives of competent agencies and mobile carriers said that the technical infrastructure system of vaccine passports for foreigners is almost complete and will be ready for use in April.
The national steering committee said that the infrastructure system must be deployed after detailed policies on vaccine passports are adopted.
The Ministry of Health was told to continue working with foreign health agencies to join the international joint effort to reopen doors for commerce and travel.
In addition, State agencies' preparation for technical infrastructure and vaccine passport policies, local transport operators, airlines and tour operators said they were ready for a vaccine passport pilot.
National flag carrier Vietnam Airlines said that it was willing to team up with competent agencies to study and pilot a vaccine passport scheme to gradually reopen international air routes.
Anti-Covid-19 measures adopted by Vietnam Airlines were assessed to meet safety standards, even higher than those set by global airline alliance SkyTeam.
On March 18, Cao Thi Tuyet Lan, head of the department for market development and foreign relations at the HCMC Tourism Association, said that adopting vaccine passports would offer convenience for foreign and local travelers.
Source: VNA/VNS/VOV/VIR/SGT/Nhan Dan/Hanoitimes