Reports on State President, Government's performance under discussion


The National Assembly (NA) is looking into the State President and the Government's reports on their performance during the 2016-2021 tenure on March 29, part of the ongoing 11th session in Hanoi.
At the session's opening sitting on March 24, State President Nguyen Phu Trong delivered a report on the performance of the President in 2016-2021, noting that the State leader's performance outcomes have made important contributions to bringing into play the patriotic tradition, the will, and the strength of the great national solidarity; stepping up the building of a pure and strong Party and political system; continuing to comprehensively and uniformly promote "Doi moi" (Renewal); effectively handling national issues and pressing problems in society; improving people's material and spiritual lives; boosting judicial and administrative reforms; enhancing defence and security capacity to firmly safeguard the country's independence, sovereignty, unity, territorial integrity, and maritime sovereignty; and fostering Vietnam's foreign relations, international integration, and stature in the region and the world.
The Government's report on the five-year performance noted that closely following the Party and the NA's resolutions and developments in reality, in the motto of being "a development-facilitating and incorruptible Government that acts drastically to serve the people", the Government and the Prime Minister have focused on directing all-level authorities and sectors to take drastic, uniform, and effective moves to carry out the tasks and solutions and achieve the targets set for all areas. They have mobilised the engagement of the entire political system, as well as the solidarity and joint efforts of the whole Party, people, army, and business community.
The Government has paid attention to perfecting mechanisms and policies to create breakthroughs in development, made exerted efforts to tackles difficulties and obstacles facing people and enterprises for an optimal business climate, thereby promoting socio-economic development in the short term and providing a foundation for fast and sustainable development in the long run.
Particularly, the report noted, facing complex developments of the COVID-19 pandemic, the entire Party, people, and army have stayed unanimous and determined to realise the twin targets of effectively fighting against the outbreak and recovering and boosting socio-economic development.
The plenary discussion on March 29 is broadcast live on television and radio./.
Hanoi seeks government approval for second airport construction
Hanoi is seeking the government's approval for the construction of a second airport.
The proposal was made by the Hanoi People's Committee Chairman Chu Ngoc Anh to Prime Minister Nguyen Xuan Phuc at a meeting with municipal authorities on Sunday.  
According to the Hanoi official, the second airport is aimed to ensure the annual capacity of 100 million passengers.
The Hanoi Department of Planning and Architecture previously recommended the project to the city People's Committee for consideration.
Under the department's proposal, the project is located in Ung Hoa District in the south of Hanoi.
The second airport in Hanoi will have two runways and is expected to become operational after 2040. The project is expected to ease Noi Bai International airport's overcapacity.
By 2050, Noi Bai International Airport's passenger numbers would exceed 100 million. By that time, despite being expanded, this figure would still mean Noi Bai would be stretched.
Vietnam adopts ten-year climate-resilient urban development plan
Prime Minister Nguyen Xuan Phuc has approved a plan on developing climate-resilient urban areas in Vietnam in the 2021 – 2030 period.
The plan aims to facilitate Vietnam's active response to climate change, promote the efficient use of natural resources in upgrading and developing urban areas and effectively reduce air, water and soil pollution in accordance to international standards.
It will also enable the review and improvement of legal documents, planning and governance in urban development amid increasing climate change risks; and enhance coordination among ministries, governmental agencies and local administrations in managing climate-resilient urban areas.
The plan will be carried out in centrally-run provinces and cities nationwide, with a focus placed on those prone to floods, flash floods, and landslide in the northern mountainous, central coastal, southeast and Central Highlands regions.
The plan will be divided in three phases – from 2021 – 2025, 2026 – 2030 and beyond 2030./.
National conference popularising resolution of 13th National Party Congress 
A socio-economic development strategy for the next 10 years was presented by Prime Minister Nguyen Xuan Phuc on Sunday. He was speaking at a national online conference, held in Hanoi to popularise the Resolution adopted at the 13th National Party Congress.
The PM evaluated the implementation of the previous development strategy during 2011-20, and summarised key points of the new one, which will be carried out from now until 2030. He highlighted three main factors of the new strategy, which are igniting the people's nation-building aspirations, taking advantage of science and technology advancements, and developing Vietnam into a modern industrial country with high average income by 2030.
"These are big goals and responsibilities. If we don't aim for them our country will lag behind," PM Phúc said. "If we have the right directions and feasible solutions, they will be achievable."
The new strategy aims to ensure the average income per person will be US$7,500 a year by 2030, and $18,000 in 2045.
Gross domestic product (GDP) is expected to grow 6.5-7 per cent a year from now until 2025.
PM Phúc also highlighted the country's major achievements in the past decade, saying they were not the results of only one tenure of the Communist Party of Việt Nam but the accumulation of many tenures, with support from all social classes.
He also pointed out five lessons learned in the last 10 years, with the first being ensuring equilibrium between growth and stability, maintaining macroeconomic stability, and solving major economic concerns.
He stressed the importance of developing culture, society and people in line with economic growth, as well as taking education, science and technology advancement and national solidarity as the main motivation for the country's development.
The PM added: "The people's consensus and solidarity will maximise all resources in nation building. Not only in building the Party but also in developing the national economy, and local economies in all sectors."
The online conference was started by the Party Central Committee's Secretariat on Saturday.
In participation are 67 Party Committees of centrally-run cities, provinces and central agencies, and more than 7,300 committees at local levels.
Addressing the event, Võ Văn Thưởng, Politburo member and Standing member of the Party Central Committee's Secretariat, stressed the significance of in-depth study and popularisation, and implementation of the Resolution, which should become a regular activity throughout the tenure and one of the major tasks of 2021.
He said that the proper and creative implementation of the Resolution from State officials and Party members will create consensus among the people, promoting patriotism, self-reliance and the great national solidarity strength and the desire for national development, contributing to successfully implementing the Resolution.
This will also help combat degradation in political ideology as well as signs of "self-evolution" and "self-transformation" among Party members, while protecting Party ideological foundation and fighting wrongful and hostile arguments.
Highlighting the need to roll out a strict and high-quality popularisation of the Resolution, Thưởng asked participants to clarify major contents and new policies in documents of the 13th National Party Congress, thus pointing out advantages and difficulties as well as challenges facing the national revolution in the future, while applying the policies to suit specific conditions of each locality, and successfully realising political tasks in the 2021-2025 period.
He underlined that it is necessary to have quick replies to questions from officials, Party members and people regarding the contents of the Resolution, orienting public opinion and creating consensus in society.
Meanwhile, it is crucial to soon apply the Resolution into life, he stated, asking Party Committees and organisations to soon build their action plans to specify the Resolution.
He also asked for the strengthening of inspection and supervision as well as evaluation of activities to popularise the document, as well as the building of action plans to implement it in each locality and agency.
Participants at the two-day event heard a number of reports on different topics related to major documents of the 13th National Party Congress, focusing on core issues, new features and mindset shown in the documents, affirming achievements and lessons drawn from the 35 years of national reform, especially five years of implementing the Resolution of the 12th National Party Congress. 
Dong Nai Province sends 12 Chinese people to concentrated isolation area
The Dong Nai Province Department of Health took 12 Chinese immigrants to the concentrated isolation area of Dong Nai Medical College in Tan Bien Ward, Bien Hoa City.
The medical staff also took samples for SARS-CoV-2 virus testing for the people; and then the above cases had the first negative result for SARS-CoV-2 virus.
Additionally, the local health sector also made a list of all the people who had close contact with the immigrants, disinfected Dao Tien guesthouse in Quarter 2, Tan Tien Ward, Bien Hoa City.
While waiting for the test results, the local authorities will control the guesthouse and perform restrictions on going in and out the hostel.
Earlier, the functional forces of Tan Tien Ward received information about 12 Chinese immigrants without any documents at Dao Tien guesthouse.
Through the working process, these people cannot present documents as required.
Dien Bien Airport to be expanded to handle bigger planes
Prime Minister Nguyễn Xuân Phúc has approved a project to expand Điện Biên Airport in the northern province of Điện Biên so the airport can handle bigger planes and more flight routes.
The airport, which is 500km west of Hà Nội, is the only commercial airport in the northwest of Việt Nam.
Built in 1954, the airport currently has one runway with a length of 1,830m and a width of 30m that can only handle the ATR72 and smaller aircraft.
Its current passenger handling capacity is 0.3 million per year via its only route, Hà Nội – Điện Biên operated by Vietnam Air Services Company -VASCO.
Under the new decision, the project with a total investment of VNĐ1.547 billion (US$67.11 million) will enhance the airport's capacity to half a million passengers a year and enable it to receive aircraft like the Airbus A321, Airbus A320 and equivalents.
The move is expected to attract more airline operators to launch flights to the airport.
The expanded airport is also expected to drive Điện Biện Province's socio-economic development, as well as the northwestern region's in general.
The project will be implemented in 34 months and funded by the Airport Corporation of Viet Nam (ACV).
The Government leader tasked the Ministry of Planning and Investment to be responsible for the appraisal, supervision and evaluation of the expansion project.
Điện Biên Province People's Committee is assigned to complete procedures and arrange the funding for land clearance.
According to a 2030 detailed plan from the Ministry of Transport, the Điện Biên Airport will have a capacity of two million passengers and 10,000 tonnes of cargo per year. 
No new COVID-19 infections logged on March 29
Vietnam has no new COVID-19 cases to report in the past 12 hours to 6am of March 29, keeping the national count at 2,591 of which 1,603 cases were domestic infections, said the Ministry of Health.
A total of 2,308 COVID-19 patients in Vietnam have been given the all clear by now, and the death toll remains at 35.
Among those still under treatment, 30 have tested negative for SARS-CoV-2 once, 38 twice and 57 thrice.
A total of 44,833 people are being quarantined nationwide, with 483 at hospitals, 18,412 at concentrated facilities and 25,938 at their accommodations.
According to the National Expanded Immunisation Programme, an additional 862 people received COVID-19 vaccine shots on March 28, bringing the total number of vaccinated people to 45,140.
 The Disease Control Centre of Ho Chi Minh City reported on March 28 that competent agencies in the city had found three more people who entered the country illegally in the same group with patient 2580. The first test on those three turned out negative.
So far, nine out of 10 persons in the group arriving in Phu Quoc island on a fishing boat on March 22 have been traced, with five found in HCM City, two in Hai Phong, one in Hanoi and one in Gia Lai province. Of those nine persons, three have tested positive for SARS-CoV-2./.
Chinese stopped after illegally entering Vietnam
Police in the northern province of Quang Ninh have arrested four Chinese people who entered Vietnam illegally.
At around 3 am on Sunday, on National Highway 18A, Quang Ninh's police saw a car travelling from the northern province of Lang Son to Ha Long City. 
The vehicle was stopped to be checked. The four Chinese people in the car, including three men and one woman, failed to show their entry papers.
The case is now under further investigation.
Vietnamese authorities have dealt with numerous incidents of illegal entry by Chinese people. Earlier this month, 34 Chinese nationals were found illegally entering the southern province of An Giang.
The Vietnamese Border Guard is monitoring around 5,000 kilometres of land borders, and over 3,000 kilometres of maritime border. Rough terrain and severe weather conditions make it difficult for border management.
Vietnam Food Administration warns of Botulinum toxin in canned food
The Vietnam Food Administration has warned of Botulinum toxin in canned food proposing related competent agencies to trace back the origin and stop sales of canned pâté food.
Beforehand, the Southern Province of Binh Duong's Thuan An District had seen one death and many hospitalizations relating to Botulinum toxin after eating canned pâté food on March 28, the administration has required an investigation.
According to the administration, the product origin must be traced back and sales of the food was banned. Moreover, punishment will be imposed on violators.
Additionally, competent agencies must increase information of the poisoned product to the public and supervision on the production and preservation of the canned food and fermented products.
Deputy Chief of the administration Tran Viet Nga said that all tinned food products and fermented products all produced toxic substances. Therefore, household businesses must not manufacture vacuum-packed food to keep it for a long time. Consumers need to check production date and expired date when they buy canned food products.
Thanh and Le triumph at Tien Phong Marathon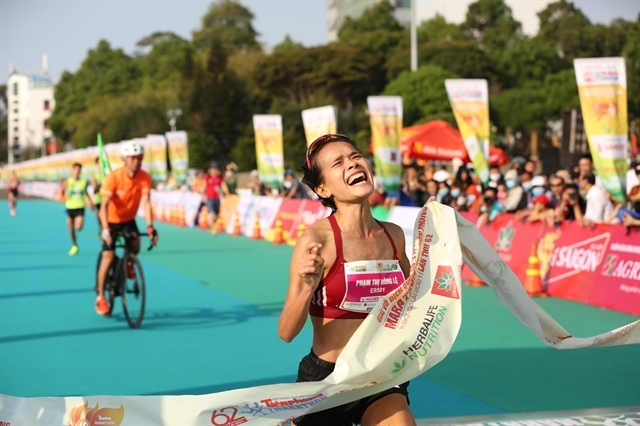 Pham Thi Hong Le celebrates her win at the Tien Phong Newspaper National Marathon Championship on Sunday. Photo tienphong.vn
Vietnamese national team runners Hoàng Nguyên Thanh and Phạm Thị Hồng Lệ triumphed in the men's and women's marathon event of the Tiền Phong Newspaper National Marathon Championship in the Central Highlands province of Gia Lai yesterday.
This is the second time in a row Thanh has took the title of this category after the race held in Lý Sơn Island, Quãng Ngãi Province last year.
Thanh won with a time of 2:26.56, followed by Bùi Thế Anh of the Military team with a time of 2:29.03 and Phạm Tiến Sản of Bắc Giang with a time of 2:29.51.
"Today's race was very difficult with many slopes. In the first 30km, I had to compete fiercely with Anh of the Military team. The last kilometres I could speed up. I am very happy as I defended my title in the marathon event successfully. The result in this race is the best achievement in my career up to now," said Thanh.
The title in this event will be a driving force for Thanh to seek a gold medal in the upcoming Southeast Asian (SEA) Games to be held in Việt Nam later this year.
On the women's side, SEA Games bronze medallist Lệ finished first with a time of 2:52.13. Hoàng Thị Ngọc Hoa of Bình Phước and Lèo Thị Tình of Sơn La were the runners-up.
Lệ had carefully prepared for this year's race and travelled to Gia Lai in early March to train.
"The track was quite challenging for the athletes because of many ramps, but I didn't feel pressured because I carefully prepared for the race. I am very happy to triumph in this year's event," said Lệ.
In the 21km event, SEA Games champion in the 5,000m and 10,000m Nguyễn Văn Lai of the Military team won by clocking a time of 1:12.10.
Meanwhile, Đỗ Quốc Luật of the Military team won the men's professional 10km event with a time of 32:34, leaving behind Lê Trung Đức of Thanh Hóa and his teammate Nguyễn Quốc Anh.
Luật is SEA Games defending champion in the men's 3,000m steeplechase.
The race saw a record of the largest number of participants with about 5,000 registered in both professional and amateur categories. 
Young Southeast Asian Leaders Initiative Summit 2021 launched
The US Mission to Vietnam and Arizona State University (ASU) seek candidates for the 2021 Young Southeast Asian Leaders Initiative (YSEALI) Summit: Power of STEAM Education & Workforce Innovation.

Participants join the Young Southeast Asian Leaders Initiative (YSEALI) Summit in 2019.
YSEALI alumni between the ages of 18 and 35, who have relevant expertise, projects, or ideas for projects that demonstrate active regional engagement or strengthen partnerships between the United States and ASEAN, and are proficient in both written and spoken English, are invited to apply to participate in the Summit. 
The application deadline is 11:59P.M., Sunday, May 9th, 2021 (Vietnam time).
Launched in 2013, the Young Southeast Asian Leaders Initiative (YSEALI) is the US government's signature program to strengthen leadership development and networking in Southeast Asia. 
Through a variety of programs and engagements, including US educational and cultural exchanges, regional exchanges, and seed funding, YSEALI seeks to build the leadership capabilities of youth in the region, strengthen ties between the United States and Southeast Asia, and nurture an ASEAN community. 
YSEALI focuses on critical topics identified by youth in the region: civic engagement, sustainable development, education, and economic growth.
Sponsored by the US Department of State and co-hosted by the US Mission to Vietnam and Arizona State University (ASU), the 2021 YSEALI Summit: Power of STEAM Education & Workforce Innovation will invite 150 participants from ASEAN countries and Timor-Leste to join a series of online sessions from July-August 2021, followed by an in-person summit in Ho Chi Minh City, Vietnam from October 18-22, 2021 (depending on the COVID-19 situation).
The summit will include the participation of high-energy young leaders and mentors, as well as trade professionals, industry specialists, civic leaders, and government officials who will present inspirational case studies and lead interactive discussions focused on STEAM (Science, Technology, Engineering, Art and Mathematics) and Industry 4.0 (a focus on interconnectivity, automation, machine learning, and real-time data). 
These activities, along with site visits, roundtable discussions, collaborative projects, and advanced skill-building workshops, will inspire participants in the development of cohesive, responsive, and innovative solutions to build a highly skilled workforce, which will empower economic development in the region. 
The summit will also provide a plethora of networking opportunities that will facilitate the formation of strong bonds within the ASEAN community, including a cultural night where participants will wear their national clothing and host country booth exhibitions, country-specific presentations, cultural performances, and a food fair.
All costs related to participation, including program administration, international and domestic travel and ground transportation, insurance and incidental allowances, housing and subsistence expenses will be paid for by the US Department of State.
HCMC: Over 1,400 healthcare workers vaccinated
As of present, 1,405 healthcare workers in HCMC have got Covid-19 vaccination shots. Almost people who have allergic reaction after getting vaccinated have been observed and recovered well. 
No new COVID-19 cases have been detected in HCMC on March 28, according to the HCMC Center for Disease Control (HCDC).
In total, there are 219 confirmed cases of coronavirus in the city. Of which, 211 patients have recovered and the 8 remaining others are still under treatment. A total of 2,414 people are being quarantined and 45 other at their accomodations.
The municipal government has carry out the implementation of mass vaccination campaign that prioritized selected groups.
The situation of affected areas, the sealed off locations, quarantine rules and guidance on coronavirus testing are always updated on HCDC's webstie. People coming to the city from provinces and cities nationwide have been asked to pay for the two-week quarantine period.
The functional units have monitored the implementation of quarantine regulations at quarantine facilities in the city and hospitals, concentrated areas in districts, paid quarantine facilities in hotels and resorts; and people who return home after completing the quarantine period.
Metro Line construction barriers to be removed by April
The construction barriers around Metro Line 1 (Bến Thành - Suối Tiên) on Lê Lợi Street (District 1) will be removed before April 30 (Reunification Day), which is expected to improve traffic conditions, according to the HCM City Management Authority for Urban Railways (MAUR).
Work on sewers, a temporary floor, walls, and other architecture is being completed. MAUR said that traffic and business in the centre would improve when the construction work is completed.
In April last year, another part of the underground section along Lê Lợi Street from Đồng Khởi Street to Nguyễn Huệ Street was completed.
The nearby Opera House metro station is one of three underground stations of Metro Line 1 (Bến Thành - Suối Tiên).
The station has four floors, each used for a specific purpose. The B1 floor in the style of the Opera House's design will have a waiting lobby, ticket booths and information desks. The second and fourth floors will be used as platforms. The third floor will have staff and technical rooms, among others
Metro Line 1, which is 20 kilometres long with 3 sub-stations and 11 stations, is 83 per cent complete and is expected to officially open for use in 2022. 
New public venue established by the Red River
A new public venue and art space have been set up at the Phuc Tan Ward in Hanoi's Hoan Kiem District.
Phuc Tan Ward largely suffers from underinvestment in infrastructure. But its image has been improved thanks to the project to improve public spaces of Think Playgrounds. The project has gained support from the local authorities, the public, and organisations that love Hanoi.
Spanish designer Diego Cortizas helped created the wall murals of the venue.
"When we think about public venues, we often think about big park and squares and pay less attention to small spaces in urban areas. Such spaces are very important for public activities. With help from the government and community, such spaces will make Hanoi become a city worth living even in the suburban," said Le Quang Binh from For a Worth-Living Hanoi Network.
Local Nguyen Van Tao said after the venue was established, it has become their central area and the locals contributed money and effort to make it safer and better.
The public venue at Phuc Tan is one of 200 public spaces that Think Playgrounds have been able to restore or created. Nguyen Tieu Quoc, representative of Think Playgrounds said everyone had a desire for a good public space.
"We almost faced no trouble in persuading the locals," he said.
Not far away is an art space set up by Hoan Kiem People's Committee a year ago. On March 23, a fashion show of designer Diego Cortizas was held by Hoan Kiem Center for Culture - Information and Sports, Phuc Tan Ward People's Committee and the artists in the Phuc Tan Public Art Project. The show had attracted many locals.
Nguyen The Son, a member of the Phuc Tan Public Art Project, said he and his friends in Hanoi had never been to Phuc Tan and was glad and his contribution helped recreate the face of Phuc Tan.
"People living in these suburban areas are almost considered second-class citizens in Hanoi. We've changed a dilapidated and run-down area into space which they can be proud of. Hanoi is lacking public and green spaces like this," he said.
He went on to say that once the locals love their living area, they will put effort into maintaining, keeping it clean and preventing it from deteriorating like the Hanoi ceramic mosaic mural.
TV show featuring street musical performances goes viral
Xuân Hạ Thu Đông Rồi Lại Xuân (Spring, Summer, Autumn, Winter, and Spring again), a TV reality show showcasing street performances of favourite Vietnamese singers, is going viral on social media in Việt Nam.
HCM City Television (HTV) and Forest Studio began producing the show in January. It has attracted 42,777 followers on its Facebook page and more than 265,000 subscribers on its YouTube channel.
Its videos, which screen live performances on HCM City streets, have earned tens of millions of views on YouTube.
Its most liked video showcases a mashup of Ngày Chưa Giông Bão (The Calm Before the Storm) and Always Remember Us This Way.
Four days after its release, it ranked No 2 on YouTube trending in Việt Nam, with 2.2 million views.
A mashup sung by Hòa Minzy and Văn Mai Hương has attracted nearly 13.9 million views since March 5.
The song is listed in the show's seventh extended play (EP) featuring film soundtracks, which was ranked No 1 on Apple Music Chart in Việt Nam on March 21.
Nguyễn Kim Quyên, a resident in Đồng Nai Province, said: "I love the mashup so much. I listen to it several times a day."
She was impressed with the voices of both songstresses. "Hòa Minzy is a big improvement in the show, and Hương has a strong and powerful voice and professional skills," Quyên said.
Hòa Minzy, Hứa Kim Tuyền and Anh Tú are permanent singers on the show.
The trio has collaborated with guest performers, such as pop stars Uyên Linh and Văn Mai Hương, winner and first runner-up of the TV reality music show Vietnam Idol 2010.
The performances also include Phạm Quỳnh Anh, a member of HAT girl band who was popular with Vietnamese audiences in the 2000s, and young singers LyLy, Ali Hoàng Dương and Bùi Công Nam.
During the show, the singers covered Vietnamese and foreign songs featuring different topics like love songs, film soundtracks, and favourite Vietnamese songs in the 2000s.
Most of them are popular with Vietnamese audiences for years, such as Tình Thôi Xót Xa (Bitter Love), Ước Gì (I Wish), and Vietnamese version of Aloha by South Korean band Cool.
The artists also performed soundtracks from the 2001 Chinese TV series Romance in the Rain, the musical drama A Star is Born and Vietnamese movie Mắt Biếc (Blue Eyes) are featured as well.
Anh Tú, the first runner-up of the TV reality music show The Voice Việt Nam 2017, said: "Covering my favourite songs brings me so many emotions that takes me back to my youth."
Tú was happy working with his close friends Hòa Minzy and Tuyền, as well as Vietnamese top singers.
"It's a great opportunity for me to share singing experiences and improve my skills," he added.
The 29-year-old singer and his friends said they wanted to thank audiences in HCM City and across the country who gave them huge support and contributed to success of the show.
Kim Guk Jin, a representative of Forest Studio, told local media that Xuân Hạ Thu Đông Rồi Lại Xuân aims to create a playground for Vietnamese singers and music makers to talk about music and sing together.
The show is a place where singers can share their passion and love for music, inspiring audiences.
Xuân Hạ Thu Đông Rồi Lại Xuân airs every Thursday on HCM City's HTV. 
Miss Vietnam Global 2021 to move online
The Miss Vietnam Global 2021 pageant is scheduled to take place online due to of the impact of the novel coronavirus (COVID-19) pandemic.
Contestants aged 18 and above with Vietnamese nationality are able to register for the beauty contest.
Each entrant must submit four photos, including one portrait and three photos which showcase them wearing an Ao Dai, a traditional long dress, an evening gown, and a sports outfit.
The contestants must also send in a one-minute video clip as part of the introduction about themselves, whilst also stating their goals and special talent.
The judging panel will consist of numerous celebrities, including head of the organizing board and people's artist Tran Nhuong, actor Nguyen Cong, in addition actor and film producer Tran Bao Son.
The subcategories will get underway through an online format, with the award-giving ceremony slated for August 28 in the southern province of Ba Ria-Vung Tau.
The competition's winners will then be invited to visit various sightseeing spots in the United States and participate in a music gala which will take place in the country in December.
Miss Vietnam Global is an annual beauty contest which is held for Vietnamese women from all around the world, with this year marking the 15th edition of the pageant.
The most recent award went to Miss Vietnam Global 2019 Hoang Bao Ngan from the University of Houston in Texas. The beauty contest was cancelled in 2020 due to the complicated developments relating to the COVID-19 pandemic.
Scholarships to be given to poor ethnic minority students to motivate them
In a bid to encourage destitute ethnic minority students who are studying in higher educational institutions in Ho Chi Minh City, the Students Assistance Center in Ho Chi Minh City announced scholarships for 2021.
Despite numerous challenges, ethnic minority students have demonstrated their thirst for knowledge and cherish their dreams for a better future.
Therefore, to lift their spirit, the Students Assistance Center will grant scholarships to students who are pursuing studies in universities with four -year enrolment, colleges with three-year enrolment whose index of academic performance scores in the 2019-2020 school year of 7.5 up for schools providing annual training courses and 3.0 for schools providing credit courses.
Scholarship recipients are those who have received any scholarships of a social organization in 2020. Students who are from extremely disadvantaged families, orphans and participate in social works are top priorities.
As scheduled, the scholarship will be given on April 25.
Officials urge better control of illegal immigration to prevent COVID-19
Officials have called for border controls to be improved to stop illegal immigration from spreading COVID-19.
It is crucial to strengthen the management of immigration activities in border localities, while increasing support measures and co-operation with localities, heard a meeting of the standing board of the National Steering Committee for COVID-19 Prevention and Control in Hà Nội on late Friday.
According to a representative from the Ministry of Health, after six consecutive days with no new domestically-transmitted COVID-19 infections, Viet Nam saw two new cases from people who entered illegally the country last Thursday.
The ministry asked localities related to the new cases to promptly trace and test people who had close contacts with the patients.
Health minister Nguyễn Thanh Long underlined the need for border localities to work harder to supervise entry and map out scenarios for COVID-19 testing, quarantine and treatment, minimising impacts on the local socio-economic situation.
Along with following the Ministry's Health's anti-pandemic guidance, people were advised to report people returning from pandemic-hit areas or foreign countries who fail to make health declarations.
The board asked ministries, sectors and localities to create conditions for those who wish to enter Việt Nam after receiving COVID-19 vaccine shots, with the strict implementation of preventive measures.
Amid the complex developments of the COVID-19 pandemic, border guards of the northern province of Lào Cai have worked with their Chinese counterparts to strengthen patrols along the border.
Vietnamese and Chinese patrol forces have set up nine joint teams to prevent cross-border crimes and end illegal immigration.
On Saturday, a team from the Ministry of Health, led by deputy minister Đỗ Xuân Tuyên, inspected COVID-19 prevention and control work at Mộc Bài International Border Gate in southern Tây Ninh Province.
The northern province of Hải Dương – the largest hotspot of the recent COVID-19 outbreak, on Friday removed the lockdown for its last location - the Văn Xá resident area in Nguyễn Ái Quốc Ward of Hải Dương City. 
Central region eyes on a million green roof-top solar houses
Local solar power manufacturer SolarBK group plans to develop a million green roof-top systems on properties in the central region and central highlands regions.
The project will be carried out in Đà Nẵng, Quảng Ngãi, Thừa Thiên-Huế, Đắk Lắk, Khánh Hòa.
Director of SolarBK's central region branch, Bùi Huy Hiệu said the region has potential for renewable energy development using sun, sea (tide) and wind power.
He added that although the region has seen is an attraction for tourism and 'green and clean' high-tech industries, it has yet lured renewable energy investors.
Hiệu said Đà Nẵng is seen as one of the most important markets in expanding renewable energy projects in central region as SolarBK alone has developed 188 roof-top solar projects with total 3.5MWp (megawatt peak) – nearly 10 per cent of total capacity of the central region (40MWp).
He said some key projects in the city already have solar power including Vincom Đà Nẵng trading centre, a member of VinGroup, Đà Nẵng Technology and Science University, Marina Complex and CocoBay with total 433.79KWp.
According to the Central Power Corporation, SolarBK and other renewable energy developers have built more than 1,000 roof-top solar power projects, of which 52 per cent are on residential buildings, supplying 1.7 million KWh to the city's grid each year.
It said more new projects with a total capacity of 5,000 KWp are planned in the city in the future.
At least US$304,000 had been paid for local solar roof-top systems following solar power contracts between power corporations and households.
Statistics from the department showed that Đà Nẵng has great renewable energy potential, with 2,000 hours of sunlight per year and an estimated 1,140 MW (Megawatts) of solar power.
Đà Nẵng, in co-operation with the European Union, launched solar energy projects at two hospitals, two schools and six households and built a database of solar power capacity in the city as well as a policy framework for clean energy development.
SolarBK said it had completed solar and wind-power projects in 33 islands and islets and 15 DK1 platforms (off-shore steel rigs for providing maritime services and research) with total capacity 155MWh per month, supplying power 24 hours. 
It has built off-grid solar power projects in Thổ Chu Islands, off Kiên Giang, Sơn Chà Islet off Thừa Thiên-Huế, An Bình Islet of Quảng Ngãi Province, and two systems for the centres of children with disabilities in Quảng Ngãi and ethnic school in Đắk Lắk.
SolarBK said it has installed solar power system to provide free charging for mobile phone, wireless and advertisement for commuters and tourists at public bus stops and sun powered public lighting systems at two public parks, and two cruises serving for river tour at night.
Đà Nẵng has planned to develop 'green and clean' energy from biogas, ocean, tide, wind and solar power in building it as the first 'green and smart' city in Việt Nam by 2025. 
Short films encourage actions to protect the environment
The For Vietnamese Stature Foundation (VSF) on March 27 introduced five short films which encourage and promote small actions that promote environmental protection at a talk show in Hà Nội. 
The short films, which can be found on https://bit.ly/phimmoitruong, focus on forest protection, water and electricity savings, plastic waste reduction, and sustainable fashion.
The films feature famous public figures such as actress Hà Hương, MC Phan Anh, MC Danh Tùng, MC Thuỳ Linh, and participation of many directors and filmmakers in Việt Nam and abroad.
VSF encourages stakeholders to use the films as communication materials in environmental protection projects.
VSF jointly implemented the films with Touch, TH Group and Bắc Á BANK.
The talk show "Youth and civil society organizations (CSOs): Action for a green environment and environmental non-profit community film series" with 70 participants aims to promote cooperation between youth and CSOs in environmental protection.
It's part of the project "Youth for Environment" that encourages the participation of youth in environmental issues, and promotes positive changes in governmental policies and laws on environmental issues for sustainable development.
The project is one of 13 initiatives funded by the Asia-Pacific Media Grants 2020 of the Earth Journalism Network. This is the only project in Việt Nam to receive funding from EJN.
Previously, VSF implemented a number of environmental projects in collaboration with youth under the programme "Action for the Environment", one of five core programmes of VSF.
Trần Thị Như Trang, director of VSF, said: "The environmental non-profit community films will be widely used in events, forums or activities of stakeholders as environmental communication material, spreading a green lifestyle and actions that are environmentally friendly, for a sustainable future."
Participants were also introduced to other models of cooperation between CSOs and young people through projects on marine plastic waste and climate change adaptation, as well as traditional environmental communications and communication through art forms, resource mobilisation of CSOs in youth-collaboration projects, and future plans for projects. 
Ambassador promotes business cooperation with Venezuelan state
Vietnamese Ambassador to Venezuela Le Viet Duyen made a working trip to Trujillo state from March 25 to 28 to promote business connection and cooperation between Vietnamese and Venezuelan enterprises.
Hosting the Vietnamese diplomat, Governor of Trujillo Henry Rangel Silva affirmed Duyen's visit is a boost to Vietnam – Venezuela collaboration prospect in trade and investment.
With its rich soil, Trujillo shares similarities with Vietnam in the development of agriculture, animal husbandry, and tourism, the governor said, stating that the state wants to learn from Vietnam's experience to further tap into its own potentials and develop local rice projects.
For his part, Duyen highlighted his wish to discuss multifaceted cooperation between Vietnam and Trujillo.
He hoped that with assistance from the Venezuela-Vietnam Chamber of Commerce (CAVENVIET), the sides will step up join projects in economy, trade, investment, and agriculture.
As part of the trip, the embassy organised a workshop on Venezuela's economic, trade, investment policies as well as opportunities for Vietnam in investment and expansion of labour and export market. The event gathered representatives from the Trujillo administration, the CAVENVIET and about 30 local companies.
Addressing the workshop, Duyen introduced Vietnam's strengths in the export of rice, coffee, peppercorns, mobile phone-electronic components, apparel and aquatic products.
The ambassador affirmed Vietnam is willing to share its reform experience to help Venezuela implement economic reform, including the development of agriculture.
Vietnam has strengths in farming production experience, human resources, techniques and varieties, while Venezuela boasts advantages regarding soil, climate, and market, therefore Vietnam pays significant attention to agricultural cooperation with Venezuela, Duyen stated./.
Ham Thuan Nam holds potential in tourism
Nearly 30 km from Phan Thiet city in the south-central province of Binh Thuan, Ham Thuan Nam district possesses substantial potential for tourism development. In addition to strengths in spiritual and sea tourism, it also has the conditions necessary to develop eco- and agri-tourism.

The Bung Thi hot springs are located in the Ta Kou Nature Reserve in Ham Thuan Nam district. Visitors can enjoy pristine and peaceful nature, and relax in natural hot mineral water from mineral wells with temperatures up to 85 degrees Celsius.
Not far from the hot springs is a clear cold stream that weaves through rocks and merges with the hot springs to form a body of water that combines the two sources of hot and cold water.
The Bung Thi hot springs have not been exploited for tourism, but with people looking for exploration, the management board of the Ta Ku Nature Reserve have arranged teams to take tourists there.
Ham Thuan Nam district has 20,000 ha of fruit orchards, offering potential for it to develop eco-tourism. It has also developed community tourism and has initially received positive feedback from tourists.
Eco-tourism and orchard tours are opening up a new direction in agri-tourism, contributing to the development of the local tourism sector and agricultural products. Hopefully, in the near future, with the connection of resort-oriented tourism and orchard tours, Ham Thuan Nam will attract many more visitors./.
Hoi An launches new art performance to attract tourists
Hoi An People's Committee, the Voice of Vietnam (VOV), and the Quang Nam Tourism Association came together to co-host the "Hoi An Show" on March 28 as part of a range of activities aimed at restarting the central city's tourism sector moving into the post COVID-19 period.
The show, directed by writer Nguyen Quang Vinh, saw a total of 150 artists, including professional and amateur performers portray the history of the ancient town between the 16th and 19th century, along with showcasing the traditional crafts and dances of the Cham people, as well as folk art forms such as Bai Choi singing.
This marked the first time that a real show has recreated the old busy trading port town from the previous centuries, with the event featuring legend stories about the Japanese Bridge.
Most notably, tourists to Hoi An ancient town have begun to bounce back in recent times after a period of being impacted by the COVID-19 pandemic, with the city welcoming approximately 150,000 visitors during the first quarter of the year.  
Furthermore, the show has also been organised in order to celebrate the 46th anniversary of the city's liberation.
Nguyen Van Lanh, vice chairman of Hoi An city in the central Quang Nam province, said the "Hoi An Show" programme features activities aimed at reviving Hoi An's tourism industry in the post COVID-19 period, adding that the show aims to promote the central city as a safe destination for visitors nationwide.
Moreover, a range of COVID-19 preventive measures imposed during the scheme ensured safety, such as arranging large-screen televisions in public places, whilst local residents were required to maintain a safe distance, Lanh noted.
Running Man Vietnam 2021 comes back this summer
The Vietnamese version of the popular Korean variety show Running Man is set to come back for a second season this summer, according to SBS, the terrestrial TV network from the Republic of Korea (RoK) which is behind the 11-year-old show.
The 2021 show will see the appearance of eight celebrities, including emcees, singers, actors, and actresses, as opposed to seven in the first 2019 season.
Along with some old cast members, the latest season will welcome new faces, including young artists who have a large number of fans, so as to bring a fresh and interesting atmosphere to the show.
Most notably, the producer of Running Man plans to hold a FanFest music gala during the third quarter of this year in order to allow audiences to play as participants of the show. Vietnamese artists will then be accompanied by other invitees from China and the RoK to perform as part of the music gala. 
A new title for Running Man Vietnam 2021 will be selected by viewers through a public vote with the aim of strengthening the interaction and connection among the show's organisers and viewers.
The show is scheduled to be broadcast on Ho Chi Minh City Television (HTV) channel. As the first edition was produced in 2019, this year's version will feature new games and scenes in an effort to attract more viewers.
Official urges building action plans to implement 13th Party Congress's Resolution
Head of the Party Central Committee's Commission for Popularisation and Education Nguyen Trong Nghia asked Party committees of provinces, centrally-run cities, centrally-run Party committees and Party organisations to continue to organize conferences to popularise the documents of the 13th National Party Congress to all officials and Party members.  
In his closing remarks at a two-day national teleconference to study the resolution of the 13th National Party Congress on March 28, Nghia said immediately after this conference, all organisations, agencies, units, localities must urgently build plans of actions and plans to carry out the resolution of the 13th National Party Congress.
He also required the mass media and rapporteurs at all levels to intensify communication activities to spread the essential content of the Party Congress's documents, while fighting  distorted, misled and hostile viewpoints so as to orient public opinions in the direction of honouring and spreading the good deeds to defeat the bad, thus contributing to strengthening confidence in the goal of building a prosperous and happy country.
During two days of March 27 and 28, key officials of Party committees, administrations, Vietnam Fatherland Front committees, and socio-political organisations as well as many cadres and Party members attended the conference.
Speakers at the event included members of the Politburo and the Party Central Committee's Secretariat of the 13th tenure. They presented the key issues, new perceptions and mindset in the documents of the 13th National Party Congress, so as to help the participants gain deep understanding of the congress's resolution.
The speakers also analysed the achievements and lessons learnt from the 35 years implementing the renewal cause, clarified the advantages, opportunities as well as difficulties and challenges the country is facing in the time ahead, and guided the participants in how to apply the knowledge in implementing their organisations' political tasks during the 2021-2026 tenure. /.
New perceptions, mindset about Vietnam's national defence
The new perceptions and mindset about Vietnam's national defence were presented by Sen. Lt. Gen. Phan Van Giang, member of Politburo, Chief of the General Staff of the Vietnam People's Army, and Deputy Minister of National Defence, at a teleconference on March 28.
Speaking on the second day of the national event to disseminate the resolution of the 13th National Party Congress, Giang said all those who respect the independence and sovereignty of, set up and expand the friendship and equitable and win-win cooperation with Vietnam are partners of the country.
Any forces that hatch plots or take actions to sabotage Vietnam's national construction and safeguarding goals, to overthrow the socialist regime, or violate the country's independence, sovereignty, and interests are the antagonists of the country, he went on.
Talking about the new perceptions and mindset about Vietnam's national defence, he noted that the strength to protect the Fatherland comes from the great national solidarity; the combination of the strength of the people and the era; the country's integrated strength in terms of politics, economy, culture, society, culture, defence, security, and diplomacy; and the strength of the entire political system and the entire people under the Party's leadership and the State's management, with the armed forces being the core.
The 13th National Party Congress has defined that consolidating national defence and safeguarding the Fatherland is an "essential and regular" task and also a prerequisite for performing the core duty of developing the economy, while a developed economy and a stronger country will be an effective way to safeguard the nation.
This is the fundamental theoretical viewpoint that dominates and decides all the contents about national defence and Fatherland safeguarding in the new context, the Deputy Minister said.
In terms of the all-people national defence, Giang said it is built on the foundation of national politics, spiritual strength, human resources, material resources, and finance, and building the all-people national defence comprises of building defence potential, defence forces and the all-people defence posture.
The official also highlighted the task of improving the effectiveness of international integration and defence diplomacy so as to make use of every resource for defence capacity building. According to him, defence diplomacy is important to the building of all-people national defence so as to bring into play the strength of the people and the era and create a solid foundation for safeguarding the Fatherland early and from afar.
Defence diplomacy has become one of the pillars of the Party, State, people's diplomacy, he added./.
Virtual job fair links Vietnamese with Japanese employers
A virtual job fair was held on March 27 with a view to connecting Vietnamese job seekers in Japan with local employers.
The event, organised by the Vietnamese Youth and Student Association in Japan (VYSA), brought together representatives of Japanese companies, Vietnamese students who have graduated or are scheduled to graduate in 2021, as well as those looking for new jobs.
Via the Zoom platform, young Vietnamese people talked to Japanese businesses looking to recruit new employees and listened to other participants sharing their experience.
This job fair is the largest of its kind held free of charge for Vietnamese people by the VYSA.
Amid growing difficulties in the labour market in Japan due to the COVID-19 pandemic, the VYSA hoped this annual event would help make it easier for young Vietnamese to find employment here./.
Hai Duong closes temporary hospital for COVID-19 treatment
The temporary hospital for COVID-19 treatment No 2 in northern Hai Duong province was dissolved on March 28, after the outbreak in the biggest hotspot of the latest coronavirus resurgence had been brought under control.
The hospital, converted from the Hospital of the Hai Duong Medical Technical University in Hai Duong city, received the first COVID-19 patients on January 29.
During the past two months, it gave treatment to 376 patients, including 55 children, 36 others aged over 60, and 38 with underlying health conditions. The oldest is 92 years old and the youngest 21 days old.
As many as 323 patients have recovered and been discharged from hospital while the remaining 53 have been sent to other healthcare establishments in Hai Duong province for further treatment.
Assoc. Prof. and Dr Dinh Thi Dieu Hang, Rector of the Hai Duong Medical Technical University, said the temporary hospital was equipped with all modern equipment necessary for COVID-19 treatment.
Apart from specialised and personnel assistance from the Hanoi-based Bach Mai Hospital and 116 medical professionals of Hai Duong province, the university also mobilised nearly 900 of its employees and students to help with treatment, contact tracing, and testing, she noted.
After the temporary hospital's dissolution, the university hospital will be disinfected and resume normal activities.
As of 5pm on March 27, Hai Duong province had recorded 726 cases of COVID-19 in the new outbreak, including 621 recoveries and no deaths.
Only 144 people having direct contact with confirmed cases are being monitored at concentrated quarantine sites, and 186 others with close contact with them are under quarantine at home or accommodation facilities at present, according to the provincial centre for disease control./.
Seminar talks addressing environmental problems in 4IR
A seminar discussing measures to tackle environmental problems in the context of the Fourth Industrial Revolution (4IR) was held in Hanoi on March 27, in response to the Earth Hour 2021.
Experts noted that access to information on the environment has become easier in recent years thanks to 4IR technologies such as big data, artificial intelligence and cloud computing. 
For example, a Weather Research and Forecasting (WRF) model coupled with Chemistry - WRF-Chem - has been launched in the north of Vietnam, to simulate air quality in the region, particularly particulate matter pollution,  Assoc. Prof. Dr Nguyen Thi Nhat Thanh said.
Furthermore, Vietnam has applied an ensemble machine learning approach incorporating satellite aerosol optical depth, land use, meteorological data and monitoring stations since 2012 to forecast the distribution of particulate matter across the nation.
Meanwhile, PAM Air, which provides real-time data on air quality index and warnings against pollution, has built an Internet of Things (IoT) ecosystem through websites moitruongthudo.net and cem.gov.vn, as well as mobile apps of Hanoi Smart City and PAM Air app.
At the seminar, experts and participants discussed chances and challenges that organisations and individuals face in technology development and application. 
Environmental management units are advised to integrate research outcomes and applications of the 4IR in their management, counselling and decision-making activities.
Communications should also be bolstered to enhance cooperation between authorities, researchers and people for a clean and green air environment./.
PM stresses key components of development strategy for next 10 years
Prime Minister Nguyen Xuan Phuc pointed out the three key components of the socio-economic development strategy for 2021-2030 while speaking on the second day of a national teleconference on March 28.
At the meeting, held to disseminate the resolution of the 13th National Party Congress, PM Phuc presented the main content of the strategy for the next 10 years and the development orientations and tasks for 2021-2025.
He noted the first key component is spiritual momentum and determination, elaborating that it is necessary to inspire the aspiration to develop the country and strongly bring into play the values of the Vietnamese culture and people as well as the strength of the era.
The second is the way and the means to do so, which is mobilising every resource for fast and sustainable development on the basis of science, technology, innovation, and digital transformation.
The third is the goal to strive for, which is turning Vietnam into a developed nation with modern industry and upper-middle income (7,500 USD per person) by 2030, when the Party turns 100, and a developed nation with high-income (18,000 USD per person) by 2045, when the country marks its centenary.
For the five years from 2021-2025, Vietnam looks to obtain annual GDP growth of about 6.5-7 percent on average, the PM noted.
Looking back on the implementation outcomes of the development strategy for 2011-2020 and tasks during the last five years, the Government leader held that Vietnam has gained a number of important and relatively comprehensive achievements in all areas, which have contributed to the huge and historic attainments during the 35 years of "Doi moi" (Renewal).
What have been achieved over the past 10 years, especially the last five years, are the fruits of not only a single tenure but many consecutive tenures by many generations of people under the Party's leadership.
Highlighting the national solidarity and concerted efforts amid the unpredictable international and domestic situation, PM Phuc said the material and spiritual lives of Vietnamese people have been improved considerably and, particularly, people's trust in the regime and Vietnam's prestige in the world have been enhanced.
He also cited several positive figures such as an average economic growth rate of 5.95 percent during the last 10 years and 2.91 percent in 2020 despite difficulties caused by the COVID-19 pandemic. The labour productivity increased 5.9 percent on average in 2016-2020, higher than the rise of 4.3 percent during the five previous years.
Vietnam's GDP now totals 343 billion USD, ranking 37th in the world. It is also one of the 16 emerging economies, among the 10 fastest growing countries, and standing fourth in ASEAN in terms of per capita GDP.

At the same time, the PM emphasised the need to address outstanding problems in the medium and long-term. In particular, he pointed to the importance of cultural, social and human development, while noting that education-training, science-technology and innovation must be considered a foundation, a main driving force of development.

Moreover, he underlined consensus among the people, describing it as the strength to achieve any goal./.
Vietnam saves 353,000 kWh of electricity during Earth Hour
Vietnam saved 353,000 kWh of electricity, equivalent to 658.1 million VND (28,635 USD), during one hour from 20:30 to 21:30 on March 27, when the entire country turned off unnecessary electric appliances in response to Earth Hour 2021, according to the National Power Dispatch Centre.
Themed "Speak up for nature" this year, the event launched by the World Wide Fund for Nature (WWF) in Vietnam, the Ministry of Natural Resources and Environment, and the Ministry of Industry and Trade, has received warm response from people across 63 cities and provinces.
The Electricity of Vietnam (EVN) and its member companies nationwide encouraged organisations, offices and customers to switch off unnecessary electrical devices during Earth Hour.
This year's event aimed to highlight the connection between humans and nature and the correlation relationship between species, thus prompting specific actions in saving energy so as to reduce greenhouse gas emissions
Another target of the event is to calls on organisations and individuals to limit the use of single-use plastics to wipe out plastic waste in the environment.
The campaign in Vietnam this year focused on communications activities via social networks.
Starting as a symbolic "lights out" event in Sydney in 2007, the Earth Hour has become one of the world's largest grassroots movements for the environment. It has inspired and empowered individuals, communities, businesses, and organisations in 190 countries and territories to take action on climate change and environmental loss.
Earth Hour – an initiative of the WWF - is the largest social event in the world, which has been observed in 7,000 cities and towns across 172 countries and territories.
Vietnam first joined the drive in 2009. Last year, the country saved 436,000 kWh of electricity, equivalent to 812.9 million VND./.
VEAM's former executives face charges for misconduct
Ministry of Public Security investigators have proposed the Supreme People's Procuracy indict multiple former senior executives of Vietnam Engine and Agricultural Machinery Corporation (VEAM) for mismanagement and misuse of State assets.
Facing the charges under Article 219 of the Penal Code are Tran Ngoc Ha, former chairman and former general director of VEAM; Lam Chi Quang, VEAM's former general director; Vu Quang Tam and Vu Tu Cong, former deputy general director of VEAM; Nguyen Manh Chung, former director of VEAM-affiliated Tractors and Agricultural Machinery Company Limited, Dao Quoc Viet, former director of Vetranco and Tran Quang Tien, chairman of Dai Nam Group.
The investigation results released by the investigators on March 27 showed that Tran Ngoc Ha, who held the position as chairman of VEAM in the 2011-2014 period and as general director between 2015 and 2019, held a key role in deciding all operations of the corporation.
However, during his term as chairman and general director of VEAM, a unit under the Ministry of Industry and Trade, his serious misconduct and the lack of close governance and management of production and business activities caused losses and wastefulness for the State.
His irregularities caused a massive loss of over VND135 billion to State assets, according to the results of the investigation into the management and use of funds at VEAM. From 2007 to 2013, VEAM provided guarantee for Vetranco six times to borrow money from some banks and made loans for the latter which went against Vietnamese regulations.
Besides, Tran Ngoc Ha and Vu Quang Tam decided to pour US$400,000 into a project to develop two new automobile models for export to Sri Lanka. The plan was not approved by the VEAM member council, going against the corporation's rules and the regulations. The project caused a loss of VND10 billion for State assets, the local media reported.
In addition, Ha was found to approve a project to manufacture four-wheel medium tractors, sign some agreements with many mistakes and make fake agreements, causing a loss of some VND240 billion.
Six suffer from poisoning after eating vegetarian pâté
Three more residents in Binh Duong Province have been sent to hospital in HCMC after allegedly being poisoned by vegetarian pâté, taking the total number of patients hospitalized for poisoning in HCMC to six as of now.
Tran Van Song, deputy head of People's Hospital 115, told Tuoi Tre Online this morning, March 26, that the hospital recently admitted the three fresh cases, in addition to a previous case.
The patients, residing in Binh Duong, were eating bun rieu chay (vegetarian vermicelli soup with a distinctive crimson color) that the family of C.N.H. cooked for many people at a local temple in the province's Thuan An District on March 20. In the evening, C.N.H. started to feel dizzy.
According to the family members of C.N.H., among the ingredients used to cook the dish, was pâté from an inflated can.
C.N.H., aged 53, suffered from difficulty while swallowing and was taken to the hospital on March 21. She then quickly developed symptoms of respiratory and circulatory failure and went into a coma. She is receiving intensive care treatment at the hospital.
Her 42-year-old sister and 16-year-old child also ate the bun rieu chay that day and were hospitalized in HCMC several days later, showing similar symptoms of muscle weakness, respiratory and circulatory failure. However, the 42-year-old woman died.
Given the many cases of poisoning, the HCMC Department of Health has requested local residents to stop consuming any food linked to vegetarian pâté until more information is available.
Further, those who have consumed the vegetarian pâté with these patients should visit the nearest hospital for monitoring and examination.
Source: VNA/VNS/VOV/VIR/SGT/Nhan Dan/Hanoitimes