131 new COVID-19 cases recorded in Vietnam on May 15 evening
The Ministry of Health announced 131 new COVID-19 infections since 12:00pm on May 15, including two imported and 129 in local quarantine facilities.
This means Vietnam now has 2,522 domestic and 1.463 imported COVID-19 cases.
Among the active patients, 46 have tested negative to SARS-CoV-2 once, 25 twice, and 28 thrice. As many as 2,668 patients have been given the all-clear.
The death toll of the pandemic in Vietnam is now 36./.
Illegal foreign migrant workers in Vietnam to be deported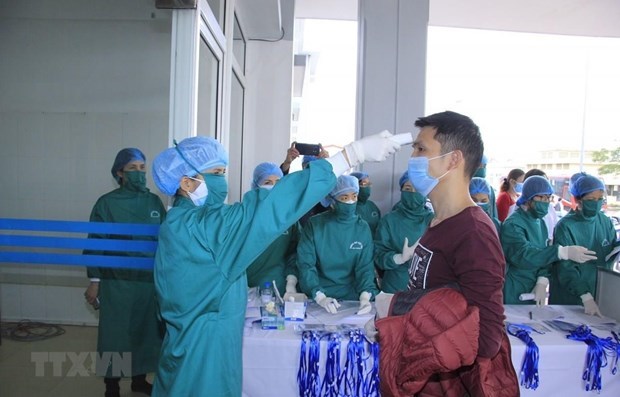 A Chinese worker quarantined in Vietnam

Minister of Labour, Invalids and Social Affairs Dao Ngoc Dung has asked for tightened management over foreign labourers working in Vietnam.
In a recent dispatch to Chairpersons of municipal and provincial People's Committees, he said provincial and municipal authorities should consider deporting foreign workers without work permits or those failing to comply with entry and exit rules applicable to foreigners in Vietnam.
Minister Dung said in the document that amidst complex developments of the COVID-19 pandemic, many localities across the country have been facing a situation in which foreigners enter Vietnam illegally to seek employment not in accordance with local laws.
He asked local authorities to strengthen labour inspection and strictly handle any individuals or organisations that receive and use illegal workers, as well as violations of labour legislation.
Relevant agencies are required to review the employment of foreign workers at all businesses and other establishments.
At the same time, it is necessary to strengthen the management of all entries of foreigners as well as the registration of employment of foreigners at enterprises and other entities.
It is a must to ensure no illegal foreign immigrants are employed in Vietnam, the minister said in the dispatch.
Local authorities should review and strictly control the issuance of work permits for foreign workers in accordance with existing regulations and procedures.
He also requested relevant agencies to inspect the compliance with regulations on COVID-19 prevention and control at all enterprises and other establishments that employ foreigners.
Any violators of such rules must be strictly dealt with and suspended from operation, the minister said./.
Vietnam reports additional 18 COVID-19 infections
The Ministry of Health announced 18 new COVID-19 infections over the past six hours to 12:00pm on May 15, including two imported cases and 16 in quarantine facilities.
The two imported are Vietnamese citizens returning from Malaysia and Japan and being quarantined in Ba Ria-Vung Tau province and Da Nang city, respectively.
Among the domestically-transmitted cases, nine were reported in Bac Giang province, two in Dien Bien, two in Hanoi, and one in Bac Ninh, Ha Nam and Hung Yen each.
The new cases brought the national tally to 3,854, with 2.393 domestic and 1.461 imported cases.
The MoH's Department of Medical Examination Management reported that 2,658 patients have been given the all-clear. The death toll remains at 35.
Meanwhile, 28,405 people are in concentrated quarantine facilities nationwide.
Among the active patients, 49 have tested negative to SARS-CoV-2 once, 25 twice, and 18 thrice./.
Vietnam records 20 new COVID-19 cases on May 15 morning
As many as 20 new COVID-19 cases were recorded over the last 12 hours to 6:00am on May 15, all of them in quarantine facilities, according to the Ministry of Health (MoH).
The new cases brought the national tally to 3,836, with 2,377 domestic and 1,459 imported cases.
The MoH's Department of Medical Examination Management reported that 2,657 patients have been given the all-clear. The death toll remains at 35.
Meanwhile, 77,648 people are being quarantined nationwide.
Among the patients, 49 have tested negative to SARS-CoV-2 once, 25 twice, and 18 thrice.
The Ministry said an additional 10,515 people were administered COVID-19 vaccine nationwide on May 14, raising the total number of vaccinated people to 969,697./.
Hanoi students win medals at 2021 Nordic-Baltic Physics Olympiad
Students from Hanoi bagged one gold, two silver, and a bronze at the 2021 Nordic-Baltic Physics Olympiad, the municipal Department of Education and Training announced on May 14.
Tran Dinh Dung won the gold medal, while silver medals went to Nguyen Manh Duc and Le Duc An and Dinh Tran Hai Chien picked up the bronze.
All are in Grade 11 at the Hanoi-Amsterdam High School for the Gifted.
First held in 2003, the Nordic-Baltic Physics Olympiad targets high school students in Nordic-Baltic countries.
In 2021, due to impact of the COVID-19 pandemic, the competition was organised online in Sweden from May 8-13.
This is the first time students from Hanoi have participated./.
Third phase of COVID-19 vaccination campaign begins
Minister of Health Nguyen Thanh Long has asked agencies and localities nationwide to immediately make plans to carry out the third phase of COVID-19 vaccination on greater scale compared to the previous phases.
According to the official, 1.682 million doses of AstraZenceca COVID-19 vaccine will arrive in Vietnam on May 16, which are supplied by COVAX Facility via the UN Children's Fund (UNICEF).
Dr Duong Thi Hong, Deputy Director of the National Institute of Hygiene and Epidemiology said that the Expanded Programme on Immunisation will continue to hold trainings on COVID-19 vaccination, especially pre-vaccination screening and response to post-injection reations to ensure safety.
Meanwhile, Prof. Dr Phan Trong Lan, head of the Ho Chi Minh City Pasteur Institute underlined the significance of COVID-19 vaccination amid the complicated pandemic situation in the region and the world with over 3 million deaths so far.
Minister Long said that the Ministry of Health has negotiated with many countries, organisations and vaccine producers, resulting in 110 million doses of vaccines committed for Vietnam, including 31 million doses from COVAX Facility, 30 million from AstraZeneca, and 31 million from Pfizer/BioNTech. The ministry has registered with COVAX to buy additional 10 million doses of COVID-19 vaccine under the cost-share mechanism, he added.
Long affirmed that the ministry is still working with other suppliers to diversify sources of supplies.
Since March 2021, the COVID-19 vaccination scheme has been carried out, with priority given to frontline medical workers and people involving in COVID-19 prevention and control activities.
As of May 13, 959,182 doses of COVID-19 vaccines had been administered to the target groups in an effective and safe manner. The second phase of the scheme is expected to complete on May 15./.
First olfactory stimulation books for children launch  
English vocabularies are also printed alongside with pictures of fruits and flowers, helping children to either remember the words and feel the scent.
The set of two scented books with size 20.5cm x 20.5cm, the first of its kind made in Vietnam, has been introduced to consumers in the country.
The scented book, authored by Dinh Ti Books, set for children from two to six years old, consisting of two volumes themed flowers and fruits fragrances.
Each page of the book is attached with a stamp illustrating the fragrance of flower or fruit referred to in the text. In order to use the book, readers just gently rub on the stamps to release the fragrance.
The scents that are introduced in the books are those of flowers and fruits like lavender, orchid, strawberry, banana, watermelon, among others which are pleasant and relaxing.
A representative of Dinh Ti Books told Hanoitimes that the scents used in the book are all tested and certified to ensure health safety. Besides, the corners of the book are rounded, which are safe for children.
English vocabularies are also printed alongside with pictures of fruits and flowers, helping children to either remember the words and feel the scent. Parents and children can scan attached QR code with their mobile devices to hear the correct pronunciation of English words in the book.
The scented books, which are created by Vietnamese painters and authors, with high hope to increasing book reading interest among children as well as their parents.
Coastal areas of Ninh Thuan polluted by waste
Coastal areas of Ninh Thuận Province are at high risk of pollution from the large amount of waste discharged in the locality.
Many embankments and canals have been filled with garbage, increasing the likelihood of disease outbreaks.
In many embankments, fishing ports, seafood markets and canals in residential areas of coastal localities in Phan Rang City and Ninh Hải and Thuận Nam districts, waste has piled up on the shore, with garbage floating in the canals and ditches.
Black canals and ditches have caused an unsightly appearance, harmed the marine environment and affected people's health.
The sea embankment stretching hundreds of metres in Đông Hải Ward in Phan Rang has become a gathering place for all kinds of non-biodegradable domestic wastes.
Rubbish from production activities damaged fishing nets and dead animal carcasses emit a stench and lure flies and mosquitoes, impacting the lives of people living near the embankment.
A local woman, Nguyễn Thị Ánh, said authorities have put up signs banning dumping but some people ignored them to throw rubbish into the embankment.
"Every time there is a strong wind, garbage is scattered on the shore, into the sea, for a long time, it accumulates in piles," she said.
"Whenever the sea wind blows, the smell of rotten garbage enters local houses. It is unbearable, we have to close the doors tightly all day."
Nguyễn Văn Vinh, Deputy Chairman of Đông Hải Ward People's Committee, said local authorities have put up the anti-dumping signs in residential areas but to little effect.
"Local authorities will arrange more garbage trucks along the embankment route, increasing the working time of sanitation workers," he said.
"We will check and severely fine acts of environmental pollution."
The Đầm Nại embankment area extending from the foot of Ninh Chữ Bridge to Tri Thủy Bridge (Ninh Hải District) is also full of garbage.
This area is home to the Nại seafood market and is used by a large number of boats all day, creating a large amount of waste from processing aquatic and seafood products, as well as ice production.
Wastewater and solid waste such as styrofoam boxes, damaged fishing nets and other items are discharged into the environment.
Waste pollution in this area has been an issue for many years, but the situation remains the same.
The province has implemented many measures to clean up the environment at beaches, fishing ports and residential areas, using garbage collection trucks and getting people to sign commitments not to litter.
Littering has been limited, but the marine environment pollution due to plastic waste and domestic waste is a huge challenge for Ninh Thuận.
"It is time for local authorities and communities to be more drastic in controlling the waste collection, transportation and treatment along the coast," said Vinh.
"At the same time, Ninh Thuận Province needs to have necessary punishments to strictly handle acts of discharge causing environmental pollution." 
Hanoi targets high voter turnout in upcoming general elections: City's election head 
The entire political system has to step up efforts to ensure high voter turnout in the upcoming elections for deputies of the 15th National Assembly and all-level People's Councils for the 2021-2026 period.
Chairman of the Hanoi People's Council and the city's Head of Election Committee Nguyen Ngoc Tuan stressed the view while leading a delegation to check the preparation process for the elections and measures against the Covid-19 pandemic at Me Linh district on May 13.
"This is essential to ensure the worthy candidates are elected as representatives for the people," said Tuan.
Tuan urged the local authorities to continue organizing meetings between voters and candidates in the forms of face-to-face and online, while raising public's awareness on their lawful rights and responsibilities regarding the election.
"In areas with large number of voters, there should be different time slots for people to go to the polls as measure to ensure safe distance," Tuan suggested.
Tuan also stressed the importance of maintaining public order at each polling station, saying this is a major factor for the success of the election.
As the Covid-19 situation remains serious in Hanoi with a total of 60 local infection cases as of today [May 13], Tuan called for the authorities of Me Linh to stay alert and strictly comply with instruction from the government and the city on Covid-19 prevention and control.
"There has not been any Covid-19 case in Me Linh, however, the risk is high given the fact that the district is bordered by Dong Anh district or Vinh Phuc province which are the localities recording a high number of Covid-19 cases, not to mention a number of industrial parks in the locality," added Tuan.
At the meeting, local authorities said the district has been promoting the election via multiple platforms, including posters, media and loudspeakers.
Meanwhile, the district has set up 10 task forces to supervise the election preparation process at 18 wards and villages under its administration. 
On May 23, 2021, over 69 million voters nationwide will go to the polls to elect members of the 15th National Assembly and the People's Councils at all levels for the term 2021 - 2026.  
Hanoi, the city of roughly 10 million people, has around 5.8 million voters.
Nepalese media praises Vietnam's steps to limit COVID-19 impacts
Nepalese newswire peoplesreview.com.np on May 12 ran an article praising Vietnam's decisive steps to minimise both health and economic outcomes from the COVID-19 pandemic.
It wrote that Vietnam effectively combated the pandemic thanks to the Government's quick and decisive action while public compliance with precautionary measures, including social distancing, was adopted,
Factories focused on building medical supplies, preventing health centres from lacking personal protective equipment and ventilators, it said.
According to the article, Vietnam's economy is resilient, expanding by 2.91 percent in 2020 – one of the world's highest growth rates – and is projected to grow by 6.5 percent in 2021.
And before COVID-19, the country has made significant progress in public finance integration. The construction of these financial, external, and financial buffers before the epidemic made Vietnam more resilient to shock.
COVID-19 worsened their liquidity and soluble position by raising financial stability concerns through bank exposure. The monetary, financial, and financial sector policies implemented by the Government have helped reduce corporate defaults and the immediate risks to the general public, it added./.
Cameras requested at hotels used as Covid-19 quarantine facilities
Hanoi authorities have ordered 19 local hotels which provide Covid-19 quarantine services to install surveillance cameras for better monitoring.
Under the instruction of the Hanoi Department of Tourism, the hotel cameras will be linked to the surveillance system of the Ministry of Information and Communications.
Earlier, all quarantine sites across the country were asked to install cameras before May 10 to be connected to the Ministry of Information and Communications surveillance system. 
This is aimed to tighten control over Covid-19 prevention regulations at quarantine areas. Some people have absconded from quarantine sites.
According to the Hanoi Department of Tourism, tourism service providers have to upgrade traveller information to report to local authorities in necessary cases.
A hotel in Nam Tu Liem District, Hanoi, which is used as a quarantine site was criticised for charging high fees but offering poor quality services, including meals. The hotel admitted they had failed to maintain the quality of their services and agreed to reduce quarantine fees.
Hanoi to open more bus lines to Noi Bai Airport 
This move aims at expanding the mass transit system of Hanoi, ensuring traffic safety and curbing personal vehicles on roads.
The Hanoi People's Committee has requested the Ministry of Transport to consider opening another four more bus lines from the city's downtown to Noi Bai International Airport.
The four new bus lines are those departing from Ocean Park Urban Area, Nuoc Ngam Bus Station, Splendora Urban Area and Thanh Ha Urban Area to Noi Bai Airport.
This move aims at expanding the mass transit system of Hanoi, ensuring traffic safety and curbing personal vehicles on roads, the People's Committee of Hanoi said.
According to current regulations, the opening of a bus line with the starting or ending point in Noi Bai international airport must be agreed by the People's Committee of Hanoi and the Ministry of Transport.
Hanoi currently has a number of bus lines connecting downtown with Noi Bai airport such as line 86 (Hanoi station - Noi Bai airport), 68 (Ha Dong - Noi Bai airport), 90 (Kim Ma - Noi Bai airport), 17 (Long Bien-Noi Bai airport), 109 (My Dinh-Noi Bai airport).
In the first-quarter financial report, the Hanoi Transport Corporation (Transerco) said its revenue reached about 52% of the set plan, marking a decrease of VND68 billion (US$2.94 million).
Covid-19 pandemic has been blamed for the decrease in bus ridership as it has led to school closure and social distancing. Other reasons are the policy of free travel pass for the elderly and the competition of technology drivers such as Grab, Be, according to Transerco.
The non-subsidized airport bus lines and Citytour buses continue to see a sharp drop in revenue compared with the plan, the trip volume has been cut by 35-50%, the passenger volume has decreased by 60-70% compared to pre-Covid level due to the ban of foreign entry.
Hanoi recommends COVID-19 response measures
Hanoi has recently recommended the Government direct competent ministries and sectors to timely issue guidance on meting out punishment to violations of COVID-19 prevention rules in the capital city amidst the new COVID-19 resurgence.
In its latest report on COVID-19 control work sent to the Prime Minister on May 13, the city also suggested tight management of passenger and goods transport vehicles from other provinces to the city as the pandemic has become more complicated.
The Ministry of Health (MoH) should direct hospitals to provide localities with a list of positive cases found in the hospitals along with detailed information on the patients so that the local authorities can trace the suspected COVID-19 cases in a timely fashion.
Hanoi also urged neighbouring provinces to inspect the implementation of pandemic prevention measures at industrial parks and processing zones in line with the MoH's instruction, and reduce labourer movement between localities.
The city suggested that localities adjacent to Hanoi compile and keep updated lists of workers and experts at the industrial and processing areas who are living in other localities including Hanoi, and share the information with Hanoi, along with information of the vehicles and transport businesses who sign contract to transport those labourers and experts.
Hanoi has logged 62 locally-transmitted COVID-19 infections since the beginning of the latest outbreak on April 29.
It has suspended the operations of a number of non-essential establishments, including sidewalk eateries, karaoke parlours, bars, cinemas, gyms, spas and stadium. Most recently, the city decided to close all sport events, golf courses and training facilities in response to the new COVID-19 outbreak./.
Quang Nam develops sustainable sea, island tourism
The central coastal province of Quang Nam has focused resources on upgrading tourism infrastructure as the locality is looking to develop sustainable sea and island tourism products.
It has established tourism as a spearhead economic sector, with a goal of attracting over 12 million visitors, half of them coming from overseas.
Tourism currently makes up over 5 percent of the province's GRDP and has created 30,000 jobs. By 2030, Quang Nam's tourism sector will hopefully be the region's spearhead economic sector, making up 7-8 percent of its GRDP and creating over 50,000 jobs.
According to Director of the provincial Department of Culture, Sports and Tourism Nguyen Thanh Hong, Quang Nam is working to create strong "brands" for its sea and island eco-tourism models.
Quang Nam's Hoi An ancient city, a UNESCO cultural heritage site, has over the recent years been a top global travel destination and considered as a living museum of history and architecture.
Besides, the province also boasts Cu Lao Cham (Cham Island) which was recognised as a World Biosphere Reserve by UNESCO in May 2009 thanks to its diverse eco-system and ancient cultural and historical sites.
Secretary of the Party Committee of Hoi An Tran Anh said sustainable sea and island tourism development has been an inevitable choice of the ancient city.
The city has successfully restored local coral reefs to serve scuba diving visitors, particularly foreigners, he said, adding with support of advanced technologies, locals in Tan Hiep commune assisted marine reserves to recover more than 6,000 coral reefs./.
COVID-19 situation eases in Laos, Cambodia
Laos logged the lowest number of domestic infections since April 20 and Cambodia continued to record a lower number of new cases on May 14.
The Lao Ministry of Health confirmed 16 new cases of COVID-19, including one domestic infection, and one more death from the coronavirus epidemic on the day. The remaining 15 imported cases have been immediately placed under quarantine upon arrival.
As of May 14 afternoon, the total number of confirmed cases in Laos rose to 1,498 with two deaths. A total of 513 COVID-19 patients have recovered and been discharged from hospitals.
Meanwhile, Cambodia's number of new infections on May 14 stood at 358, down from 448 cases documented on May 13 and 472 on May 12.
The new infections included 350 local and eight imported cases, the country's health body said in a statement.
Five more fatalities were recorded on the day, taking the death toll to 147, it said, adding that 348 more patients recovered from the disease, raising the total number of recoveries to 9,867.

To date, the nation has confirmed a total of 21,499 COVID-19 cases, of which 20,835 were related to the February 20 community event.
In Singapore, 24 community cases were among 52 new COVID-19 infections reported as of noon on May 14, said the local Ministry of Health (MOH). This was the nation's highest number of new daily COVID-19 cases since Jan 30, when 58 cases were logged.
Twenty of the new community cases are linked to previous clusters, of which 13 have been linked to the Changi Airport cluster.
Singapore has so far logged a total of 61,505 COVID-19 cases, including 61,029 recoveries and 31 deaths.
Singapore will apply new restrictions from May 16 to June 13 to curb the spread of the disease in the community.
On the same day, the Philippines' Department of Health reported 6,784 new COVID-19 infections, bringing the total number of confirmed cases in the country to 1,131,467.
The death toll climbed to 18,958 after 137 more patients died from the disease on May 14, it said.
In Thailand, there were 2,256 new COVID-19 cases and 30 deaths posted on the same day.
According to the nation's Center for COVID-19 Situation Administration (CCSA), the new cases took the total count to 96,050 and the death toll to 548./.
Top legislator hosts Japanese Ambassador
Chairman of the National Assembly Vuong Dinh Hue on May 14 received Japanese Ambassador to Vietnam Yamada Takio, who expressed his strong wish for Hue's further support for boosting the two countries' relations in his new post.
Chairman Hue lauded the role of the ambassador and the embassy in fostering the nations' extensive strategic partnership over the past time.
He said Yamada has made contribution to promoting Japanese Prime Minister Suga Yoshihide's visit to Vietnam – his first trip overseas after taking office in October last year, and to enhancing exchanges between the two countries' high-ranking leaders, particularly recent phone talks between Party General Secretary Nguyen Phu Trong and State President Nguyen Xuan Phuc and PM Suga.
The top legislator said he is pleased to see that, on the basis of their bilateral political trust, the two countries' economic, trade and investment cooperation has continued to develop and achieve impressive results.
He affirmed Vietnam always considers Japan an important and long-term partner, and supports Japan in making positive contributions to peace and development in the region and in the world.
Vietnam also appreciates and attaches importance to Japan's ODA for the nation, he said. He took the occasion to thank Japan for its provision of a cold chain for Vietnam's preservation of COVID-19 vaccines. Hue said he hopes Japan will share and transfer the COVID-19 vaccine production technology for Vietnam.
Expressing his delight at progresses recorded in cooperation between Vietnamese and Japanese law-making bodies, Hue expected the ambassador will pay attention to strengthening exchanges between parliamentarians of the two countries, especially young and female parliamentarians; and boosting information and experience cooperation and exchange in legislative work, supervision and decision-making regarding important national issues.
For his part, Yamada said he will forward Hue's practical recommendations to the President of the House of Councillors and Speaker of the House of Representatives of Japan
The diplomat said a recent survey by the Japan Bank for International Cooperation showed that the Japanese business community considers Vietnam the most attractive investment destination in the ASEAN region. 
This shows that Japan attaches great importance to Vietnam and predicts more active works from the nation in Vietnam in the future, he said, adding that the embassy make efforts to fully convey Japanese firms' opinions to the National Assembly of Vietnam./.
Deputy PM orders maintaining readiness in pandemic fight
Deputy Prime Minister Vu Duc Dam on May 14 emphasised the spirit of readiness as COVID-19 would break out in the community anytime.
Speaking at a meeting of permanent members of the National Steering Committee for COVID-19 Prevention and Control, Dam, who is also head of the committee, said pandemic hotbeds in such localities as Ha Nam, Da Nang, Vinh Phuc and Yen Bai have basically put under control.
The situation would be seen in Bac Giang and Bac Ninh provinces in the next three to five days, he added, asking the Ministry of Health to provide more support for the two localities in the combat, particularly in testing.
He pointed out limitations in tracing and managing F2 and F3 cases, and urged localities to seriously observe regulations in this regard.
Dam reiterated the need to follow the health ministry's 5K message of khau trang (face masks), khu khuan (disinfection), khoang cach (distancing), khong tu tap (no gatherings), and khai bao y te (health declaration).
Dang Quang Tan, head of the ministry's Department of Preventive Medicine, reported that as of 9am on May 14, Vietnam's total COVID-19 cases stood at 3,756, including 2,298 domestically-transmitted infections.
As many as 728 cases have been detected since the fourth wave of the pandemic hit the country on April 27, of which 15 have been given the all-clear.
More pandemic clusters would be found in other localities, especially those with large gatherings during the National Reunification Day (April 30) and Labour Day holidays, he said.
He, therefore, suggested mass screening and testing, focusing on high-risk places such as entertainment areas, industrial parks, supermarkets and schools./.
Voters need to make health declarations: home affairs minister
Those who engage in the upcoming elections, including voters and members of election groups, need to make health declarations in person or through apps, according to a document freshly signed by Minister of Home Affairs Pham Thi Thanh Tra.
The elections of deputies to the 15th National Assembly and all-level People's Councils for the 2021-2026 tenure are set for May 23.
Given the complex developments of COVID-19, Tra, who is also a member of the National Election Council, ordered wearing masks, avoiding big gatherings, and keeping physical distance of at least two metres at polling stations.
Municipal and provincial election committees should put forth flexible voting scenarios based on reality in each locality, the document reads.
Voters should not go to polling stations in crowds, Tra said, suggesting communal People's Committees and election groups arrange the voting time for each village and residential area./.
Lao leader thanks Vietnam for support in COVID-19 fight
Lao Party General Secretary and State President Thongloun Sisoulith has thanked Vietnamese leaders for their messages of sympathies over the COVID-19 situation in Laos.
In a thank-you letter to Party General Secretary Nguyen Phu Trong and State President Nguyen Xuan Phuc, Thongloun Sisoulith said the Vietnamese leaders' messages have vividly demonstrated the great friendship, special solidarity and comprehensive cooperation between the two countries.
The Lao leader also highlighted Vietnam's valuable, timely and effective support to Laos in personnel, medical supplies and medicines, saying the assistance has significantly contributed to the pandemic fight in his country.
"We always keep a close watch on the COVID-19 situation in Vietnam, and highly value the measures taken by the Vietnamese Party and government to contain the pandemic," he said.
Vietnam is one of the countries that have reaped great successes in COVID-19 prevention and control which have been lauded by the international community, the Lao leader continued.
"We believe that under the leadership of the Community Party of Vietnam and with the great national unity bloc, Vietnam will beat COVID-19," he said, pledging that Laos will closely cooperate with Vietnam to win over the pandemic./.
Ha Giang voters pin hopes on election day
There is now less than two weeks to go before the election of deputies to the 15th National Assembly and members of People's Councils at all levels for the 2021-2026 tenure. Voters in the northern mountainous province of Ha Giang have expressed a belief that the deputies elected will contribute greatly to policies for the construction of the homeland. 
Over recent years, ethnic groups in general and those in Ha Giang province in particular have benefited from numerous preferential policies to overcome hardships and improve their livelihoods. Today's achievements are also thanks to elected representatives listening to the aspirations of the people.
As election day is fast approaching, Ha Giang voters have high hopes that elected deputies will represent the voice and aspirations of the people, contribute to socio-economic development, and improve the livelihoods of local ethnic minority groups./.
New green growth strategy to promote carbon-neutral economy
The Ministry of Planning and Investment is working with relevant ministries, sectors, and localities to draft a national strategy on green growth for 2021-2030 and vision to 2050.
Part of making Vietnam a carbon-neutral economy as soon as possible, the draft strategy sets targets on reducing greenhouse gas emissions, greening all economic sectors, promoting sustainable consumption, and enhancing resilience during the green transition process, among other matters.
Science and technology, digital transformation, innovation, culture, healthcare, education, and equality in access to opportunities and benefits from growth achievements will be promoted to ensure the dual tasks of achieving green and inclusive growth and building a Vietnamese society in which no one is left behind.
Targets, missions, and measures in the new strategy will be based on a wide range of quantitative methods, econometric models, cost-benefit analysis, and the impact on socio-economic development.
The strategy updates new factors of influence to the green growth and ensures synchronicity with the 2030 Sustainable Development Goals and the Paris Agreement on greenhouse gas emission reductions.
The strategy will be adjusted to limit any overlaps and create favourable conditions for implementation, monitoring, and evaluation.
According to the ministry, the national strategy on green growth during 2011-2020 and vision to 2050 was approved by the Prime Minister on September 29, 2012. After eight years of implementation, it helped raise public awareness about the significance of green growth. Measures to cut greenhouse gas emissions were carried out widely, resulting in such emissions falling 12.9 percent compared to the normal development scenario.
Energy consumption per unit of GDP declined by an average of 1.8 percent each year, while 46.9 percent of businesses targeted cleaner production by 2020 compared to 28 percent ten years earlier. In particular, outstanding loans funding green growth stood at nearly 238 trillion VND (10.36 billion USD) by 2018, or 235 percent higher than the figure in 2015./.
Kien Giang working hard to conserve forests, improve livelihoods of coastal residents
The Mekong Delta province of Kien Giang has been investing in recovering local mangrove forests, improving the livelihoods of coastal residents, combating coastal erosion, and protecting the environment.
Of its more than 89,600 ha of forestry land, more than 76,200 ha is covered with forests, including 58,000 ha of natural forests and 18,180 ha of artificial forests.
Local forests, including special-use, protection, and commercial forests, are concentrated in the U Minh Thuong and Long Xuyen Quadrangle areas, the island districts of Phu Quoc and Kien Hai, and some island communes in Kien Luong district and Ha Tien city.
Forestry coverage in the province now stands at 12 percent.
A large number of production models combining forestry and aquaculture have proven effective, helping raise incomes while protecting forests.
Afforestation is being carried out in the coastal zones of An Bien, An Minh, and Hon Dat districts, funded by the climate change response and green growth programme, in order to cope with coastal erosion.
Projects to form alluvial ground for planting mangrove forests and protecting sea dykes have been implemented. As a result, 35 ha of forest in the coastal areas of An Bien district's Nam Thai commune and another 50 ha along the coast from Binh Son to Binh Giang communes in Hon Dat district have taken shape.
Kien Giang has also revised its forestry zoning plans to maintain an appropriate area of special-use and protected forests and convert poorly-performing commercial forests into agricultural land.
Forestry protection has also been entrusted to local households, who are in turn permitted to use forests to earn a living.
Authorities have also promoted forest environment leasing, in which ecotourism is associated with forestry conservation and development.
Kien Giang has also taken strong action to manage and protect local natural forests, including closing all such areas and prohibiting any activities harmful to forests.
Relevant forces coordinated with authorities last year to prosecute 177 cases violating the Law on Forestry, collecting fines of more than 2 billion VND (87,200 USD).
Thanks to such efforts, deforestation, forest encroachment, and illegal resources exploitation have been contained, keeping the forest area stable./.
Vietnam, Netherlands promoting people-to-people diplomacy
The Ho Chi Minh City Union of Friendship Organisations (HUFO) hosted a ceremony on May 14 to celebrate the 48th anniversary of diplomatic relations between Vietnam and the Netherlands.
Addressing the ceremony, HUFO Vice President Tran Hoang Khanh Van said the two countries have witnessed solid progress in bilateral relations over the 48 years, especially their decision to lift ties to a strategic partnership in 2019.
People-to-people relations between Vietnam and the Netherlands had existed before the two countries established diplomatic ties, she added.
Of particular note, the Medical Committee Netherlands-Vietnam (MCNV), which was set up in the Netherlands in 1968, has conducted a range of activities to support the Vietnamese people.
In addition to MCNV, many Dutch non-governmental organisations (NGOs) continue to cooperate with and help Vietnam in the fields of health, education, and poverty reduction, she said.
HCM City is one of the leading localities nationwide in implementing cooperation activities with the Netherlands, especially in climate change adaptation and sustainable agricultural development, Van added.
For his part, Consul General of the Netherlands to HCM City Carel Jacob Johan Richter affirmed that Vietnam is a priority country in his country's external relations, especially in trade and investment and sustainable development.
The Netherlands also remains an important economic partner of Vietnam, he said, adding that there is great potential and prospects for the two sides to further foster relations in the future.
On the occasion, a committee to promote the establishment of a Vietnam-Netherlands Friendship Association in HCM City was launched. The association is expected to strengthen multifaceted cooperation between the two countries as well as mutual understanding, solidarity, and friendship between their people./.
Vietnam gives high priority to relations with Cambodia: top legislator
Vietnam always attaches importance and gives high priority to consolidating and enhancing the "fine neighbourliness, traditional friendship, and comprehensive, sustainable and long-term cooperation" with Cambodia, National Assembly Chairman Vuong Dinh Hue affirmed on May 14.
During a reception for Cambodian Ambassador Chay Navuth, Hue said despite COVID-19, leaders of Vietnam and Cambodia have maintained regular exchanges and bilateral cooperation mechanisms.
The chief legislator highlighted the positive growth of the two-way trade that hit 3.89 billion USD in the first four months of this year, up 122 percent year-on-year.

Hue lauded achievements Cambodia has recorded over the past time, as well as the Cambodian government's strong efforts and measures to fight the COVID-19 pandemic.
The Vietnamese leaders and people always keep a close watch on the pandemic situation in Cambodia, Hue said, expressing his hope that Vietnam's support will contribute to the pandemic combat in the neighbouring country.
He used the occasion to thank Cambodia for its attention to the Vietnamese community in the country amidst the pandemic, including the vaccination towards Vietnamese students and Vietnamese Cambodians.
Vietnam also plans to give COVID-19 vaccine shots to Cambodian students and citizens, he told the ambassador.
Hue also spoke highly of the fruitful cooperation between the Vietnamese National Assembly and the Cambodian National Assembly and Senate, both bilaterally and multilaterally.
Vietnam and Cambodia have actively coordinated and assisted each other to organise multilateral diplomatic events hosted by the respective countries, and provided mutual support at regional and international parliamentary forums.
He thanked Cambodia for backing Vietnam in its role as Chair of ASEAN and the ASEAN Inter-Parliamentary Assembly (AIPA) in 2020, saying Vietnam stands ready to coordinate with and support the Cambodian NA to host the 13th Summit of the Asia-Europe Meeting (ASEM 13) in late 2021, and fulfill its role as Chair of ASEAN and AIPA in 2022.
He asked the ambassador to convey his invitations to Cambodian NA President Heng Samrin and Senate President Say Chhum to visit Vietnam at a suitable time.
For his part, Chay Navuth noted his belief that with its active preparations, Vietnam will successfully organise the elections of deputies to the 15th legislature and all-level People's Councils for 2021-2026 on May 23.
He thanked the Vietnamese Party, State and people for gifting a building to the Cambodian NA's Secretariat and committees, saying the construction is scheduled to begin in late 2021 or early 2022.
The ambassador also praised Vietnam's assistance to the Cambodian legislature in personnel training over the past time./.
Cyber security and safety must be guaranteed during digital transformation
Vietnam needs to foster rapid and sustainable digital transformation but at the same time must ensure cyber security and safety, Deputy Minister of Information and Communications Nguyen Huy Dung has emphasised.
Digital transformation and cyber security and safety are two aspects of a development trend, he told a teleconference with localities on May 14 aimed at bolstering their capacity in managing and implement digital transformation and information safety.
The Government issued the National Digital Transformation Programme in 2020, he said, and 2021 is a year of action to accelerate the process in all fields.
Digital transformation includes three main pillars: digital government, digital economy, and digital society.
During the digital transformation process, at the central level, the Ministry of Information and Communications is the national coordinating agency performing the functions and tasks of State management and law enforcement on national digital transformation, e-government and digital government development.
At the local level, he went on, the Departments of Information and Communications are to lead digital transformation in their localities.
It is necessary to determine which information systems must have cyber security and safety guaranteed at all costs, Dung stressed, adding that other information systems will be guaranteed in the way of risk management.
Vietnam has some 60,000 digital technology enterprises and the sector needs to mobilise all to address common problems in digital transformation facing the country and localities, he added./.
Singapore tightens COVID-19 preventive measures
Singapore will further tighten its COVID-19 measures from May 16 to June 13 as it sought to control an increase in untraceable infections.
It will be the most stringent restriction after the country eased a lockdown last year.
Gatherings will be limited to two people while families receive only two guests. Restaurants can only provide delivery or takeout services, and foot traffic will be further reduced.
Companies will have to make working from home the default for employees who are able to do so.
Changi airport has become the largest COVID-19 cluster of the country with 46 cases, followed by the outbreak at Tan Tock Seng hospital with 44 infections.
Many people travelled to the airport over the past few days and some of them infected with the coronavirus, posing risks of undetected cases in the community.
Testing and tracing origin of infections will be prime measures of Singapore in the coming time, said Health Minister Gan Kim Yong.
The inoculation drive plays a key role in coping with the pandemic. About 1.9 million people had been vaccinated with at least one dose as of May 13.
Meanwhile, Harry Roque, spokesperson of the Philippine President, has announced that the country will ban international arrivals from Oman and the United Arab Emirates (UAE), starting May 15, amid concerns over the new coronavirus variant first detected in India.
The Philippines has decided to retain the travel ban on some South Asian nations, namely India, Pakistan, Nepal, Bangladesh and Sri Lanka, for another two weeks until May 31.
The country now has 1,124,724 confirmed COVID-19 cases, including 18,821 deaths./.
Source: VNA/VNS/VOV/VIR/SGT/Nhan Dan/Hanoitimes

 21 more cases recorded in Bac Ninh coronavirus hotspot