Vietnam records 117 COVID-19 cases in six hours
Vietnam recorded 117 new COVID-19 infections, including one imported case and 116 in quarantine sites or sealed-off areas, in the last six hours to 6pm on May 17, according to the Ministry of Health (MoH).
The imported case is a 23-year-old Vietnamese woman returning from Japan. She is being quarantined upon her arrival in Khanh Hoa province.
Among the domestically-transmitted cases, 61 were reported in Bac Giang, 38 in Bac Ninh, seven in Da Nang, five in Hanoi, two in Phu Tho, two in Hung Yen, and one in Vinh Phuc.
So far, Vietnam has seen 2,890 domestic infections and 1,469 imported cases. The number of COVID-19 cases since April 27, when the new outbreak began, now stands at 1,320.
Among patients still under treatment, 46 have tested negative for the coronavirus SARS-CoV-2 once, 26 others twice, and 28 thrice. Up to 2,668 patients have recovered while 37 others have succumbed to the disease.
There are 108,288 people having close contact with confirmed cases or coming from foreign pandemic-hit regions under quarantine at present./.
Vietnam confirms 28 further local infections over six hours
An additional 28 cases of local transmission were confirmed by the Ministry of Health during the six hours to midday May 17, bringing the total number of locally- transmitted cases to 1,204 since the virus resurged in the nation on April 27.
The new local infections were recorded in four northern localities, including Bac Giang (14), Dien Bien (7), Ha Nam (5), and Lang Son (2).  They all came into close contact with confirmed coronavirus cases.
In addition, two imported cases were also detected in capital Hanoi and Ba Ria-Vung Tau province, including one being a French national and the other Vietnamese citizen.
The national infection tally amounted to 4,242, including 2,774 domestic infections and 1,468 imported cases.
According to the Ministry of Health's Department of Medical Examination and Treatment Department, the country has seen 2,668 recoveries so far.
Earlier in the morning, the Ministry of Health also confirmed the 37th COVID-19 death in the nation.
Vietnam has been facing a fresh coronavirus wave that started on April 27 and has so far registered 1,204 cases in 27 cities and provinces, with the northern province of Tuyen Quang added to the list on May 16. 
Vietnam records highest number of F1 positive cases amid latest outbreak
Over the course of just 20 days the number of new novel coronavirus (COVID-19) cases detected in the country hit a record of over 1,000, forcing many areas and dozens of hospitals to be put into lockdown.

Deputy Minister of Health Prof. Dr. Tran Van Thuan made the remarks during a recent interview granted to Voice of Vietnam (VOV).
The fourth wave of COVID-19 outbreaks to hit the nation is continuing to develop in a complicated and challenging manner due to multiple outbreaks with several sources of infection, along with new strains of the virus.
Since the resurgence of COVID-19 in the nation on April 27, the number of positive cases has risen past the 1,000 mark in 26 provinces and cities, including Bac Giang, Bac Ninh, and some other northern localities. The number of fresh cases is anticipated to continue rising over the next few days due to more F1 contacts likely to be detected from current F0 cases, the health official said.
"We have never seen the number of F1 positive cases as much as this wave, which shows the faster spread of the new strain as the WHO said that this time the new strain of virus is transmitted through the air. That's why the role of the 5K message given by the Ministry of Health, especially wearing masks and keeping a proper distance, is very important and the key to beating COVID-19 is through both 5K message and vaccination," Deputy Minister Thuan emphasised.
With regard to the upcoming inoculation scheme, the Deputy Health Minister said the vaccination scheme will be prioritised for provinces that have a high rate of infection, including Bac Giang, Bac Ninh, and some other provinces.
Through COVAX's supply mechanism the country has received 917,000 doses of the COVID-19 vaccine. The Ministry of Health and the National Expanded Immunization Program have now used most of the available vaccines, even exceeded the planned level after over 994,000 doses were administered. Indeed, provinces nationwide are set complete this stage of the vaccine rollout before May 23. 
Referring to the experience from the first drive of COVID-19 vaccination and amendments and supplements to the procedure for the next injection, Deputy Minister Thuan said according to preliminary statistics released by the Ministry of Health, the rate of mild side effects was 18%. This includes signs such swelling, heat, redness, pain, and fever, whilst 24 cases were seriously affected, resulting in one death.
Through this initial drive, the Ministry of Health will continue to propagate people to understand the important role of vaccines in relation to pandemic prevention, thereby enabling citizens to ramp up co-operation with the health sector in this regard, stated Deputy Minister Thuan.
He concluded by underling the necessity of intensifying training for health workers in terms of first aid skills as a means of increasing the possibility of saving the lives of vaccinated people who suffer from post-injection side effects.
HCM City districts told to repair degraded sidewalks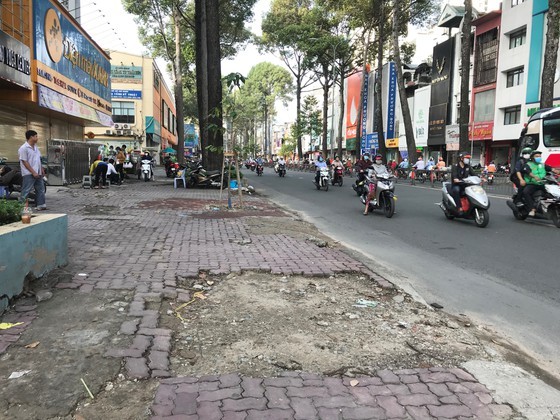 Part of a sidewalk on Ba Tháng Hai Street in District 10. HCM City district authorities have been told to repair damaged sidewalks in their localities as soon as possible. — Photo sggp.org.vn
The HCM City Department of Transport has told local authorities to repair damaged sidewalks in their home districts as soon as possible.
City districts will be responsible for investing, building and repairing damaged sidewalks.
In June 2019, the city Department of Transport asked districts to upgrade and repair sidewalks to ensure safety. However, many damaged sidewalks in localities have not been repaired.
According to the department, city sidewalks have deteriorated because many motorbike drivers use the sidewalks as a traffic lane, especially during rush hour.
In addition, many stores and restaurants encroach on the sidewalks or use them to park motorbikes and cars.
Local authorities were also told to strictly handle people who ride motorbikes on the sidewalk and vendors who set up stands and motorbike parking on sidewalks.
Sidewalks in need of repair are located on Cách Mạng Tháng 8, Trường Chinh and Cộng Hòa streets in Tân Bình District, Nguyễn Thị Minh Khai Street in District 3, Ba Tháng Hai Street in District 10, and Phan Xích Long street in Phú Nhuận District, among others.
Nguyễn Kim Chi, who lives on Ba Tháng 2 Street, told Sài Gòn Giải Phóng (Liberated Sài Gòn) newspaper that the sidewalk on the street has deteriorated over the years and has become much worse.
"I have fallen several times after stumbling into potholes on the sidewalk," she added.
Local residents want authorities to repair the damaged sidewalks as soon as possible. 
Hanoi and neighbouring provinces seek approval on plan to build fourth ring road
Hanoi and the provinces of Hung Yen, Bac Ninh, Bac Giang and Vinh Phuc have submitted a proposal to the Prime Minister requesting the inclusion of the capital city's fourth ring road on the list of key national projects.
Most of the 98-kilometre long road is located in the capital city (56.5 kilometres) while the sections in Hung Yen Province and Bac Ninh Province are 20.3 kilometres and 21.2 kilometres long, respectively.
The two provinces of Vinh Phuc and Bac Giang are outside the fourth ring road but are adjacent to the starting and end points of the road.
At an estimated cost of VND135 trillion (US$5.87 billion), the road is designed to improve connection between Hanoi and provinces in the capital region.
It is also expected to boost socio-economic development in areas along its path and the wider Red River Delta region.
In its proposal, the five localities agree that in order to ensure its connectivity, the project will not be divided into smaller projects where each locality will build the section traversing it.
They also suggested that the expressway component of the road should be elevated instead of running at ground level, which could help address 23 at-grade intersections with other roads to ensure uninterrupted connectivity.
Since it is not feasible to use government funding and the investment time will be prolonged, given the project's huge cost, the five localities have suggested building the road using a combination of public investment and public-private partnerships.
Gia Lai loses forest land to illegal rubber plantation
Hundreds of hectares of forest land have been illegally used to plant rubber in the central highlands province of Gia Lai for years and the culprit has not been caught. 
Nguyen Anh Vu, head of the Management Board for Protection Forests in Ia Puch Commune said 359.8ha of forest land had been destroyed and 200ha of which has been replaced with illegal rubber plantation.
Two years ago, they had already noticed dozens of people going to the forest to collect rubber but they were not able to find out which company destroyed the forest. The employees said they were from other districts and provinces.
"Those rubber trees look like they were planted from 2008 to 2010," Vu said.
Over 1,200ha of forest land under the Management Board for Protection Forests in Ia Puch Commune has been destroyed. The authorities have identified the culprits who destroyed 870ha. Most of the land was encroached by local people.
For the rest of the land, an investigation in 2019 was carried out and concluded that the managing companies did know about the deforestation but failed to file a report to the authorities.
In 2019, the police in Gia Lai prosecuted Nguyen Thi Huong and Phan Quoc Huy for irresponsibility. Huong and Huy were directors on the Management Board for Protection Forests in Ia Puch Commune from 2008 to 2012.
The forest land was allocated to Quoc Cuong Gia Lai JSC, Quang Duc Company, Chu Prong Rubber Company and Trung Nguyen Rubber Company. However, the authorities said they had not been able to find the culprit.
Boat people run out of jobs amid Covid-19 pandemic
Hundreds of tourist boats are being left idle while boat people struggle to find incomes at the UNESCO's Heritage Trang An Tourism Site in Ninh Binh Province.  
Hundreds of tourist boats are being left idle amid Covid-19 pandemic at the UNESCO's Heritage Trang An Tourism Site in Ninh Binh Province. 
After Ninh Binh People's Committee ordered all tourist spots to close in early May, all boat people in the area became unemployed. Earlier, because there were no international tourists and only a few domestic tourists, the boat people may only had one trip a month and couldn't afford daily expenses.
A boatman from Ninh Xuan Commune said he used to have three to five tour trip a month but now the boats were mostly left idle.
Nguyen Thi Hanh said she used to earn over VND4m (USD174) a month thanks to the boat but now both she and her husband have to do many odd jobs to earn money.
"We became porters, bricklayers and whatever we can do and earn about VND3m a month," she said.
Statistics from the Management Board of the Trang An Landscape Complex and Tam Coc-Bich Dong Complex show that over 3,000 boat people have become unemployed. Over 1,000 other boat people in different tourist spots like Thung Nham or Van Long Lake also became unemployed.
Ha Duc Kim, chairman of Ninh Xuan Commune People's Committee, said they had 700 unemployed boat people in the area.
"It's still unclear when the outbreak will be controlled so people can travel and work again. We will give career consultancy to the boat people so that they can other jobs," he said.
Hoang Van Hoan, vice chairman of Truong Yen Commune People's Committee, said there were 800 boat people in their commune.
"Some people have found jobs as bricklayers but the incomes are really not much," he said.
Health sector must overcome difficulties, prioritise public health: PM
Prime Minister Phạm Minh Chính encouraged the health sector to overcome difficulties and shortcomings and consider protecting public health the first and foremost task.
In a working session with leading officials of the Ministry of Health on Saturday, PM Chính stressed the need to ensure safety and success for the upcoming elections of the 15th National Assembly and all-level People's Councils for the 2021-26 tenure.
To that end, the health sector and others must continue stepping up inspections and perfection of mechanisms and policies on COVID-19 prevention and control, he stressed.
It is necessary to promote proactive testing, and speed up the implementation of a "vaccine strategy" by increasing access to effective vaccine sources and stepping up vaccinations.
The Government leader called for a change in the popularisation of pandemic prevention and control so people will voluntarily join the fight for their own health and for the national interest.
PM Chính directed the sector to carry out urgent tasks, including completing institutions, mechanisms and policies in accordance with the situation, raising the quality of human resources, especially in remote areas, investing in developing specific medicine, mobilising all legal resources in bettering healthcare, and stepping up the application of information technology in the sector.
Speaking at the meeting, Minister of Health Nguyễn Thanh Long said that the number of new COVID-19 cases in Việt Nam may continue increasing; however, the sources of infection of all new cases have been identified.
Regarding the testing capacity, Long stated that Việt Nam now can test nearly 66,000 samples per day, and increase to 290,000 samples at maximum if necessary.
Perseverance and calm needed in fight against COVID-19: secretary of Hà Nội Party Committee
Politburo member and secretary of the Hà Nội Party Committee Đinh Tiến Dũng requested to focus all resources to firmly protect the achievements in COVID-19 control, and not let the pandemic spread widely in the community.
He made the statement during a press briefing on Sunday.
During the fourth COVID-19 outbreak, Hà Nội has had more than 200 cases, of which more than half come from the Central Hospital for Tropical Diseases No 2 and the National Cancer Hospital in Tân Triều.
Dũng affirmed that the key to leading and directing the COVID-19 prevention and control was to "continue to be patient, calm, lucid, determined to maintain the achievements in the fight against the pandemic, and focus on protecting hospitals and industrial zones".
"Only when the pandemic is under control can we maintain production and business, economic growth and ensure social security," he said.
Dũng expressed his belief that with the spirit of community responsibility and joint action, Hà Nội will continue to be exemplary, taking the lead in repelling the COVID-19 pandemic, successfully holding the election for National Assembly and People's Council deputies on May 23.
Dũng said that all levels and branches of the capital city must coordinate with management boards of industrial zones so that each industrial zone becomes a "fortress" against the pandemic.
Specifically, there must be a separate plan for pandemic prevention and control, suitable to the zones' characteristics and situation.
Particularly for the health sector, Dũng requested to regularly review, inspect and supervise to ensure strict procedures for receiving patients, patients' family members, and managing people entering and leaving the hospital.
Dũng directed the health sector to focus on completing testing and screening of people returning from pandemic areas, promptly quarantine to prevent the pandemic from spreading to the community.
Man prosecuted for arranging illegal stay for foreigners in Vietnam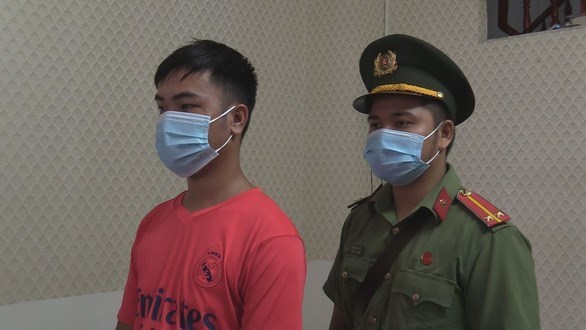 Tran Danh Tuong was prosecuted for arranging illegal stay for foreigners in Vietnam (Photo: Binh Duong Police)
The investigation policy agency of southern Binh Duong province's police on May 16 decided to prosecute a man for arranging illegal stay for foreigners in Vietnam.
Tran Danh Tuong, 24, from the central province of Binh Thuan, picked three Chinese nationals in Ho Chi Minh City on April 15, and drove them to his home in the neighbouring province of Binh Duong although he knew that the Chinese had illegally entered Vietnam.
After being detected by competent forces on April 19, the Chinese were put under quarantine in accordance with COVID-19 prevention and control regulations.
The trio will be sent to China after they complete the quarantine period./.
Soldiers on Việt Nam-Laos border fight pandemic
Lieutenant Ngô Văn Bình, 35, was honoured to be one of 13 Party young members commended by the Nghệ An Provincial Youth Union in early 2021 for his contribution to the fight against the COVID-19 pandemic.
He works at the Mỹ Lý Border Guard Station in the Việt Nam-Laos border area.
He said when the COVID-19 pandemic began to break out more than a year ago, the Mỹ Lỹ Border Guard set up three checkpoints at Nghệ An Province along the Việt Nam-Laos border area.
Bình was the first soldier who volunteered to participate in night patrols at these checkpoints.
Initially, the checkpoints were only temporarily constructed with tents.
"The sun burns in the summer, and it is chilly cold in the winter," Bình said. "Overcoming harsh conditions, our soldiers have tried to fulfil their duties, detect and arrest many illegal entrants."
Bình has been at the forefront of the COVID-19 fight and has helped his team spray disinfectant chemicals at 25 villages and nine schools and distribute 450 flyers with information about the pandemic and 1,500 face masks for free to local people.  
The soldiers have even built a community house where children and people of the two border communes of Bắc Lý and Mỹ Lý can come to read books and gather.
"At the community house, we receive hot news provided by local people about border crimes or illegal entries, "said Bình.
The two communes are located adjacent to Laos, in a remote and impoverished area, so many people cannot read or write, so Bình works hard to ensure all citizens understand COVID-19 prevention measures.
"The best way to do anti-pandemic education is by pictures," he said. Bình himself painted those pictures.
In 2020, Bình and his teammates discovered 19 cases and arrested 23 illegal smugglers, seizing more than 23.7 gram of heroin and nearly 1,000 synthetic drug tablets.
He also worked with the Youth Union of Bắc Lý Commune to construct 3km of roads, organise free medical examination and drug supply worth more than VNĐ150 million (US$6,500) and donate 400 gifts worth VNĐ240 million ($10,400) to poor households.
Lieutenant Colonel Nguyễn Sỹ Đức, Chief of the Mỹ Lý Border Guard Station, said: "Bình is trusted by the commanding board of the unit and assigned many tasks in many working fields.
"He always works hard, completes his tasks and has become an excellent Party member," Đức said. "In 2020, he was awarded the title of Emulation Soldier."
Bình's hometown is in Hưng Nguyên District, Nghệ An, more than 250km from the Mỹ Lý Border Guard station.
He said that his family was a rock for him, giving him the strength to do his job.
Although he had rarely visited his family in the past year or so, he always received encouragement from them.
"I am proud to be a border guard," he said.
"For all my achievements, apart from the leaders' guidance and colleagues' help, my family is always the fulcrum."
Facing the new developments of the COVID-19 pandemic in Laos, on May 2, the Command of the Nghệ An Province's Border Guard received 66 officers of the provincial Military Command to strengthen the fight against the pandemic in border areas. 
Army to support localities in fight against COVID-19: Minister
Minister of National Defence Sen. Lieut. Gen. Phan Van Giang said that his ministry will increase forces and vehicles to support localities to push back the fourth wave of COVID-19 outbreaks.
At a meeting on May 16 with the ministry's Steering Board for COVID-19 Prevention and Control, and competent units, Giang ordered the whole military to focus on COVID-19 prevention and control, with a priority given to strengthening forces along the borderlines.
He particularly stressed that military hospitals must work to prevent COVID-19 from penetrating these establishments, adding the military forces will support the Ministry of Health to transport COVID-19 vaccines to key areas.
Giang requested Military Region 1 to build field barracks to ensure pandemic prevention work, while asking competent sides to step up communication and collaboration with localities to devise plans to ensure security and safety for the upcoming elections amid complicated developments of the COVID-19 pandemic.
The military medical sector will soon add more equipment as well as mobile testing vehicles in response to emergencies of the pandemic, he emphasised.
Meanwhile, Maj. Gen. Nguyen Xuan Kien, Director of the Military Medical Department under the General Department of Logistics, briefed participants on the COVID-19 prevention work in military units in the past time.
The military has given 82,000 COVID-19 vaccine shots to officers and soldiers so far, and carrying out 72 quarantine sites with nearly 16,000 quarantined people, he said, adding around 12,000 officers are on duty at over 1,800 posts along the borderlines to prevent illegal immigration.
The military medical sector has mobilised forces and vehicles, getting ready for pandemic prevention work.
Currently, the military is activating its pandemic prevention system at the highest level, and making preparations for concentrated quarantine sites and COVID-19 treatment hospitals with sufficient equipment and medical supplies.
On May 16, the defence ministry enhanced forces and mobile testing vehicles to support Bac Giang and Bac Ninh provinces to combat the pandemic, he added./.
Early voting held in island, remote areas
Soldiers and people living and working in the island township of Truong Sa and the island communes of Sinh Ton and Song Tu Tay, in Truong Sa district of central Khanh Hoa province, went to the polls on May 16, a week ahead of the official election day, to cast their ballots to elect deputies to the 15th National Assembly and the People's Councils at all levels for the 2021-2026 tenure.
As the COVID-19 pandemic has become more complicated, prevention measures were put in place to ensure safety for locals.
Chairman of Truong Sa district People's Committee Le Dinh Hai, head of the district's electoral commission, said that prior to the election day, two surveillance vessels were arranged to transport ballot boxes, voters' cards, and decorations serving the elections to each island and polling station, adding they would receive the ballot boxes and return to the shore by May 22.
Truong Sa district has six election constituencies with 24 election groups, three of which held early election.
Meanwhile in the central province of Quang Nam, early voting was successfully held in six border communes of Nam Giang district, with nearly 5,000 voters, mostly Co Tu and Gie Trieng ethnic people, casting their ballots at 24 polling places.
According to Director of the provincial Department of Home Affairs Tran Thi Kim Thoa, the locality ensured good security and social order before and during the election day, while facilities and documents were meticulously prepared ahead of the day.
Furthermore, COVID-19 prevention measures were put in place, with arrangement of facemasks and sanitizers, as well as implementation of distancing./.
HCM City: Monks, Buddhist followers offer prayers to COVID-19-hit India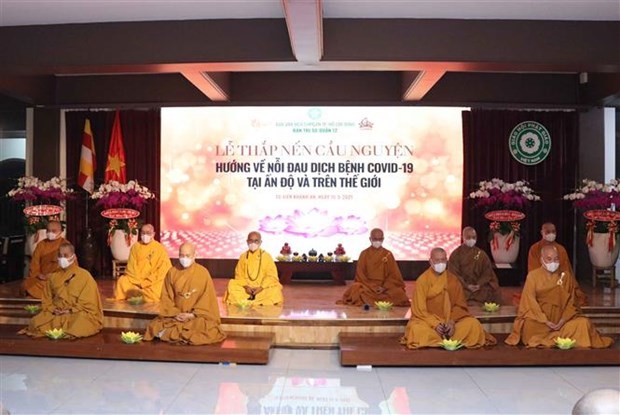 Vietnamese monks offer prayers to India.
Special prayers were offered to India, which has experienced a great deal of loss from COVID-19, by Vietnamese monks and Buddhist followers in Ho Chi Minh City at a ceremony held on May 15.
The event was held by the Culture Department of the Vietnam Buddhist Sangha (VBS) – Ho Chi Minh City chapter in collaboration with the board of directors of the VBS in the city's District 12.
According to Venerable Thich Tri Chon, head of Culture Board of the VBS's HCM City chapter, the candle offering and prayer aimed to call on Buddhist followers to turn their hearts to India – the cradle of Buddhism, and share difficulties with the Indian people in the fight against COVID-19.
As much as 1 billion VND (43,380 USD) was presented to the VBS – HCM City chapter, who would later give it to the Indian Embassy in Vietnam in order to support Indian Buddhist followers and people to prevent the pandemic.
The ceremony was organised in accordance with social distancing requirement and was broadcast live on the VBS – HCM City chapter's media channels, and social networks.
Earlier on May 5 , the VBS – HCM City chapter called on Buddhist followers and benefactors to make donations to help India combat COVID-19.
To date, the chapter has provided the city's COVID-19 prevention and control fund with 1.5 billion VND to buy COVID-19 vaccines, and supported poor Buddhist followers and Vietnamese expats, who are battered by COVID-19 in Laos and Cambodia./.
Tra Vinh eyes makeover of agriculture with advanced techniques, restructure
The Mekong Delta province of Tra Vinh has stepped up support for farmers adopting advanced techniques to improve product value and income.
Pham Minh Truyen, director of its Department of Agriculture and Rural Development, said advanced farming techniques are used on more than 17,400ha of rice, vegetables, fruits, and aquaculture.
The techniques include using automatic irrigation facilities, nano fertilisers, net houses, and hydroponic methods for crops and using modern facilities for intensive shrimp farming.
However, the area and output of high-quality products remain small and linkages between farmers and companies are not strong.
To improve the value of agricultural products, the province will spend 368 billion VND (15.9 million USD) to help farmers, co-operatives and co-operative groups apply advanced techniques in the 2021- 25 period.
They will be offered financial assistance to buy equipment and machinery required to grow products to good agricultural practices (GAP) standards, build brands, carry out promotions, and link up with companies to secure outlets.
The province will help farmers with around 10,000ha change their crops and livestock by 2025.
It plans to help them switch to high-value crops and more lucrative livestock or aquatic species on 1,550ha of low-yield rice fields this year.
It will invest more than 3.42 trillion VND (148.2 million USD) in aquaculture infrastructure to help adapt to climate change, saltwater intrusion and lack of water.
It is calling on companies to invest in agriculture to improve produce value.
It is seeking investment in a number of agricultural projects that use advanced techniques such as breeding of brackish water shrimp, organic shrimp for export under the shrimp – forest farming and shrimp – rice farming models.
It is also calling on companies to invest in processing fruits, coconut and peanut, and will offer them incentives related to land rents and land clearance compensation and financial support to build infrastructure and train their workers.
It targets agricultural production worth 30 trillion VND (1.3 billion USD) in 2025 to account for 21 percent of its economic output.
In the last five years it has restructured agriculture on nearly 19,800ha and rolled out various efficient farming models that use advanced techniques.
Models for farming white – legged shrimp, giant river prawn, vegetables, fruits, and coconut promise to provide farmers with annual incomes of 100 – 500 million VND (4,300 – 21,600 USD) per hectare, according to the department.
Restructuring cultivation
The Department of Agriculture and Rural Development has strengthened advocacy activities to encourage farmers to reduce the cultivation of a third rice crop and switch to other suitable crops to mitigate the impacts of climate change.
This has persuaded thousands of farmers to switch to growing crops like corn, pumpkin, water melon, cucumber, and vegetables in unproductive rice fields in elevated areas and those lacking irrigation, and in sugarcane fields.
Tra Vinh is one of the delta's largest sugarcane producing provinces, but farmers here have been suffering in recent years due to low prices.
Huynh Van Thao, head of the Tra Cu District Bureau of Agriculture and Rural Development, said nearly 2,000 sugarcane farmers in the district have switched to other crops on more than 1,000ha of sugarcane fields.
"[This] offers farmers an income of 50 – 80 million VND (2,200 – 3,500 USD) per hectare per crop."
Tra Cu district used to have more than 5,000ha under sugarcane previously, but has reduced gradually to 1,431ha now, according to its Bureau of Agriculture and Rural Development.
This year the province is offering support to thousands of sugarcane farmers in Tra Cu to switch to other crops, livestock farming and aquaculture.
Those who switch to vegetables, mushrooms, fruits, coconut, rice, pig, cow, goat, duck, black tiger shrimp, white – legged shrimp, river giant prawn, tra fish, and snakehead fish based on GAP standards are provided 6 – 10 million VND (260 – 430 USD) per hectare.
Truyen said the support policy also encourages farmers to embrace advanced farming techniques and VietGAP standards, which enables their produce to have high value and be sold easily, he added./.
Thailand readies to reopen skies
Thailand's Transport Ministry is gearing up for the resumption of air travel in November since the nation is promoting mass COVID-19 inoculation campaign.
Transport Minister Saksayam Chidchob said on May 15 after a meeting between the members of the Civil Aviation Board that he had asked the Civil Aviation Authority of Thailand to collaborate with public health agencies, airlines and airport authorities to lay out measures to prepare for the country's reopening to international visitors later this year.
The measures, however, should align with other countries, Saksayam said.
Thailand plans to wave its mandatory quarantine for vaccinated visitors to the capital Bangkok and top tourist destinations from October, he added.
The new plan could draw 3.5 million tourists this year, generating 298 billion THB (9.5 billion USD) in revenue, said Traisuree Taisaranakul, deputy government spokesperson, in a statement.
She said at least 70 percent of residents in each of the 10 provinces planned for the reopening must first be inoculated.
The announcement comes as the resort island of Phuket prepares to open to vaccinated travellers in July in a pilot scheme for the broader plan. It is seeking to inoculate most of its residents before the reopening, and before the national vaccination drive begins.
The Thai government said the country needs 150-200 million doses of COVID-19 vaccine in the time ahead. More than 2 million doses have been given to the Thai people so far./.
Southeast Asian nations continue stringent measures against COVID
The health ministry of Laos on May 16 reported 21 new cases of COVID-19, including 10 locally-transmitted infections.
After 25 days of lockdown, Vientiane capital city has still recorded 11 community cases, with new clusters. However, most of other cities and provinces have detected no new local infections.
The ministry warned of the rise in COVID-19 cases among women and children, saying it is preparing personnel to cope with the third wave of the pandemic.
The country has counted 1,591 cases so far, of which 1,400 are locally transmitted.
Cambodia has reported a decline in new COVID-19 cases for five consecutive days, with 350 infections logged on May 16, including nine imported cases.
The country's tally now stands at 22,184, with 12,120 recoveries and 150 deaths.
Dr. Or Vandine, Secretary of State and Spokesperson of the Cambodian Ministry of Health, said new variants B-1617 and B117 could spread in Cambodia if people neglect the implementation of health measures.
The new COVID-19 variants are highly contagious and severe, she said, calling on people to be very careful although COVID-19 cases in Cambodia are expected to gradually decrease.
Meanwhile, Thailand on May 16 reported 2,302 new COVID-19 cases and 24 more deaths.
The latest cases bring the total number of COVID-19 infections in the country to 101,447 with 589 deaths.
The Corrections Department has found another 1,219 people infected with COVID-19, six of them in critical condition, in three prisons in Greater Bangkok.
The figure brings to nearly 5,000 the number of confirmed coronavirus cases that the public has been told about in the country's badly overcrowded prisons, the Bangkok Post newspaper said.
The latest discovery came from 100 percent active case finding at Klong Prem Central Prison, where 510 infections were found, Bangkok Remand Prison (88) and Thonburi Remand Prison (621), according to a department briefing on May 15.
The Philippines' Department of Health (DOH) reported on the day 5,790 new COVID-19 infections, bringing the total number of confirmed cases in the Southeast Asian country to 1,143,963.
The death toll climbed to 19,191 after 140 more patients died from the viral disease, the DOH said.
A fire hit the state-run Philippine General Hospital at Taft Avenue, Manila early May 16 morning, according to the Bureau of Fire Protection.
Authorities said the blaze started in an operating room on the third floor of the facility. It reached first alarm at 12:41 a.m. and was quickly raised to the second level at 12:58 a.m., the BFP-National Capital Region reported.
No one was hurt in the fire, the Manila Public Information Office said. Authorities are still investigating the cause of the incident.
Thirty-eight community cases were among 49 new COVID-19 infections reported in Singapore as of noon on May 16, said the Singaporean Ministry of Health.
This is the highest number of community cases reported since April 14, 2020, when 40 community infections were reported. Singapore's "circuit breaker" started on Apr 7, 2020.
Tighter restrictions to curb the spread of the coronavirus in the community kicked in on May 16 and will last until Jun 13.
Indonesia on May 15 implemented random COVID-19 tests and mandatory checks on travellers returning from their hometowns following Hari Raya Aidilfitri, in a bid to stave off a surge in COVID-19 cases.
The random tests will be carried out in 21 locations on travellers departing from provinces across Java island to Jakarta, said Airlangga Hartarto, head of the COVID-19 mitigation and national economic recovery committee.
It is also mandatory for all travellers from Sumatra island to the capital via Bakauheni port in Lampung to produce COVID-19 test results that show they are free of the virus./.
National Olympiad on Marxism-Leninism, Ho Chi Minh's Thought launched
The fourth National Olympiad on Marxism-Leninism and Ho Chi Minh's Thought kicked off on May 16 under the theme "Anh sang soi duong" (The light illuminates the road).
The Olympiad was organised by the Ho Chi Minh Communist Youth Union Central Committee, the Party Central Committee's Commission for Information and Education, the Ministry of Education and Training and the Ministry of Labour, Invalids and Social Affairs.
Run until July 10, the contest is divided into two groups of individuals and teams. The form of the Olympiad will include an online contest and performing on the stage via three rounds.
Vietnamese students in and outside the country can join the Olympiad individually via mobile app "Thanh nien Viet Nam". Meanwhile, each team will have five members representing a province or city at the contest.
Winners of the Olympiad will receive total awards of more than 340 million VND (14,777 USD).
Addressing the launching ceremony, Nguyen Anh Tuan, member of the Party Central Committee and First Secretary of the Ho Chi Minh Communist Youth Union Central Committee, said that the Olympiad aims to enhance the education of Marxism–Leninism and Ho Chi Minh's Thought, helping to raise political awareness and fostering the revolutionary ideal for youth union members and students.
Tuan said that this year, the contest is available on the mobile app "Thanh nien Viet Nam" instead of a website, enabling students and youngsters to join it more easily.
Due to impacts of the COVID-19 pandemic, the final round will not be held directly but in the online format, he said.
Tuan asked the Ho Chi Minh Communist Youth Unions and Students' Associations of provinces and cities across the country to step up communications on the Olympiad.
Right after the launching ceremony, students and youngsters in 67 Ho Chi Minh Communist Youth Unions joined the contest online./.
Canada seminar spotlights President Ho Chi Minh's life and career
The Canada – Vietnam Friendship Society (CVFS) on May 15 held an online seminar featuring the life and career of late President Ho Chi Minh on the occasion of his 131st birthday (May 19).
Participants, including Vietnamese people working, studying and living in Canada as well as Canadians, watched documentaries and listened to songs about the late President.
Steve Rutchinski from the CVFS said Vietnam is consitent with President Ho Chi Minh's teaching and legacy. Under the leadership of the Communist Party of Vietnam, the country has successfully coped with challenges, including the COVID-19 pandemic and impacts of the science-technology and digital technology revolution.
The event aimed to help international friends understand more President Ho Chi Minh./.
Relief aid provided for needy households in Cambodia's Preah Sihanouk
The Vietnamese Consulate General in Cambodia's Preah Sihanouk province and the Executive Board of the provincial Khmer-Vietnamese Association on May 16 presented 434 gift packages to disadvantaged households.
The gift packages, including rice, noodles and necessities, have been provided for more than 400 Vietnamese households and over 30 Cambodian families in Preah Sihanouk.
Tran Van Nam, President of the provincial Khmer-Vietnamese Association, said to prevent the spread of the COVID-19 pandemic, local authorities have locked down Preah Sinanouk city over the past month, affecting the daily lives of local residents.
On behalf of the Vietnamese community in the province, he thanked the Vietnamese Party, State and Consulate General and donors for their valuable support, saying such a humanitarian activity will help Vietnamese people stabilise their lives.
According to Nam, the association has called on Vietnamese people not to return to Vietnam amidst the COVID-19 spread to support anti-pandemic efforts in the homeland.
Earlier, the Consulate General presented hundreds of gifts to Vietnamese and Cambodians in locked down areas./.
Indian author Geetesh Sharma's love for Vietnam
Geetesh Sharma, Indian author, poet, and social activist, loved everything about Vietnam and fought for Vietnam's independence and freedom.

It is hard to find any other Indian who knows as much about Vietnam or has worked harder for the Vietnam-India relationship. 
Geetesh Sharma, who was born in 1932 and passed away in early May, was President of the India-Vietnam Solidarity Committee in West Bengal. He was an active contributor to people-to-people diplomacy between India and Vietnam.
He was known in the early 1970s for supporting Vietnam's resistance war for reunification. Between 1970 and 1975, Sharma joined Indian students, farmers, and intellectuals who took to the street in West Bengal to demonstrate their solidarity with the Vietnamese people.   
Sharma was a member of the India-Vietnam Solidarity Committee since its very first days in 1974. In 1994, he was elected Committee President, a position he held until his death. Sharma worked tirelessly for five decades to promote the bilateral relationship, travelling all across India and to 30 other countries. Everywhere he went, he spoke highly of the Vietnamese people, the rightness of their fight for independence, and their courageous spirit, creativity, tolerance, and benevolence.
Associate Professor Doctor Le Van Toan, Director of the India Research Center, remembers Sharma as a tenderhearted friend of Vietnam. 
"89-year-old Sharma has visited 30 countries all over the world, but he has spent more time in Vietnam than in any other countries. Vietnam and President Ho Chi Minh are eternal in his heart. He travelled across Vietnam from north to south to record its development, its traces of war, and the vestiges of Indian culture there," said Toan.        
Sharma both witnesses and contributed to the Vietnam-India relationship. Ha Minh Hue, Vice President of the Vietnam-India Friendship Association, spent years working with Sharma.
"Sharma is a popular author and journalist in India. Many of the 23 books he wrote are about Vietnam and President Ho Chi Minh. His profound knowledge of Vietnam help the two peoples grow closer to each other. His great legacy is a collection of books in English, Bengali, and Hindi, that embody his intimate affection for Vietnam," said Hue.
In 2004, Sharma was awarded a medal and an insignia of peace and friendship as a recognition of his efforts to foster the friendship and cooperation between India and Vietnam.   
Sharma once said "I often tell myself that I owe Vietnam a debt that I can't pay back fully during my life so I will do as much as I can for Vietnam."
Geetesh Sharma is gone, but he will forever be missed.
Tiền Giang to produce more dragon fruit as part of climate-change adaptation plan 
The Cửu Long (Mekong) Delta province of Tiền Giang, the country's largest fruit producer, is expanding its dragon fruit growing area as part of its agricultural restructuring and climate-change adaptation plans.
Tiền Giang has nearly 10,000ha of dragon fruit. Of the specialised dragon fruit area of 7,400ha in Chợ Gạo District, more than 5,200 ha have yielded an annual output of 162,000 tonnes.
Dragon fruit, one of the province's key specialty fruits, has competitive advantages and can adapt to climate change.
Ngô Hữu Tuệ, secretary of the Chợ Gạo District Party Committee, said to improve quality and competitiveness at home and abroad, the district has encouraged farmers to grow the fruit under Vietnamese good agricultural practices (VietGAP) standards.
Last year, the province granted VietGAP certificates for 1,118ha of dragon fruit in the district, taking the district's total VietGAP dragon fruit area to 2,180ha, up 9.2 per cent of the target set for last year.
Dương Thanh Tám, who grows a 0.9ha red-flesh dragon fruit orchard in Chợ Gạo's Tân Thuận Bình Commune, said that under VietGAP standards, farmers use mainly biological pesticides and organic fertilisers.
Instead of using concrete posts to grow dragon fruits under traditional growing methods, Tám uses trellises, which offer higher yield and quality.
He earns a profit of VNĐ600 million (US$26,000) a year from his orchard.
Many rice farmers in the district have switched to growing GAP-standard dragon fruit and have joined agricultural co-operatives to secure outlets for their produce.
Lê Văn Thuỷ in Chợ Gạo's Mỹ Tịnh An Commune said he turned his 1ha unproductive rice field into dragon fruit using Global GAP standards, and joined the Mỹ Tịnh An Dragon Fruit Co-operative.
Thuỷ has also used advanced farming techniques like irrigation spraying and electric lamps at night to stimulate growth in order to produce off-season fruits that sell at higher prices.
Thuỷ and other co-operative members have been trained in farming techniques under VietGAP and Global GAP standards. Their cost of registering for VietGAP and Global GAP certificates is also subsidised.
Thuỷ has a farm contract with outlets which ensures a minimum price of VNĐ10,000 a kilogramme. He earns nearly VNĐ1 billion ($43,400) a year from growing the fruit under Global GAP standards.
"The profit is more than 10 times higher than from high-quality rice," he said.
The price of off-season dragon fruit is normally three times higher than the price of main season dragon fruit. Off-season red-flesh dragon yielded an average profit of VNĐ300 million ($13,000) per hectare a crop for farmers. The off-season harvest of dragon fruit lasts between November and April.
The district's dragon fruit was awarded a collective brand name "Thanh long Chợ Gạo" by the National Office of Intellectual Property.
The district's dragon fruit has been exported to many markets, including the EU and the US.
Chợ Gạo District plans to expand its specialised dragon fruit growing area to more than 7,500ha by the end of this year.
It also plans to have an additional 500ha of dragon fruit granted VietGAP certificates this year, taking the district's total VietGAP area to 2,684ha by the end of this year.
The district will provide VietGAP standard farming techniques to about 1,800 farmers this year, and strengthen linkages between farmers and buyers.
The district has nearly 9,400ha of various types of fruits, including dragon fruit, and green-skin and pink-flesh grapefruit.
Online talk show calls for stopping second-hand smoke
Smoking is the leading cause of lung cancer in Việt Nam. Tobacco smoke contains more than 7,000 chemicals, of which 69 cause cancer, participants heard at an online talk show on Friday to respond to World No Tobacco Day on May 31.
With the message "Give up smoking for the health of your loved ones", the seminar was jointly organised by the Vietnam Women's Union, the Tobacco Harm Prevention and Control Fund and technical support from the Global Health Organisation Vital Strategies as part of a communication programme on preventing the harmful effects of second-hand smoke.
Health experts said that second-hand smoke can exist everywhere and especially there is no safe threshold when exposed to second-hand smoke, affecting the community whose victims are mostly women and children.
The event introduced a short video clip that tells a true story about Lê Thị Tình, a woman who was often exposed to second-hand smoke. Her husband and father in law all died as a result of smoking. Her son has a mental disorder. Tình has struggled every day with lung cancer and has a very difficult situation.
Through Tình's story, the programme aims to increase public awareness, especially among women, about the harmful effects of second-hand smoke as well as to encourage them to speak up to protect themselves and their loved ones from second-hand smoke and advise those around them to give up smoking.
Speaking at the event, Head of the Department of Family and Social Affairs, Director of the Vietnam Women's Union's Centre to support women in HIV/AIDS prevention and reproductive health care Trương Thị Thu Thủy said women were the most vulnerable to second-hand smoke.
"Therefore, Thuỷ said, a women-oriented communication programme is to protect the rights of women and children to live a healthy life, as regulated in the Law on Prevention of Tobacco Harms 2013. Communication programmes on tobacco harms focus on women because the role of women in society is becoming more and more important. Women are not only influenced, but also create a lot of influence on family members and other people in the community. They are also inspirational people who change the perception of people around them," said Thuỷ.
Thuỷ added that through the communication programme, the Vietnam Women's Union wanted to expand access to communication activities on building smoke-free homes.
Director of the health ministry's Medical Services Administration, Director of the Tobacco Harm Prevention and Control Fund Lương Ngọc Khuê said that the fund will work closer with the Vietnam Women's Union to promote the communication campaign on preventing the harmful effects of secondhand smoke, in which the highlight is the expansion of a smoke-free family home model, thereby contributing to building a smoke-free environment in the community.
Attending the online event, Miss Universe Việt Nam H'Hen Niê also called on people to give up smoking for the health of them and beloved ones in their family.
According to a survey in 2015, with 45.3 per cent of male smokers, Việt Nam was one of the countries with the highest cigarette consumption in the world. The proportion of exposure to second-hand smoke at homes reached 62 per cent, at workplaces 42 per cent and in restaurants 80 per cent. 
Company director stripped of post for violating COVID-19 prevention regulations
The management board of the State-run Hà Nội Housing Development and Investment JSC (Handico) on Saturday announced a decision to remove Nguyễn Văn Thanh from the position of company's director for violation of COVID-19 prevention and control regulations.
Thanh and his wife had travelled to Đà Nẵng during the public holiday on April 30 (National Reunification Day) – May 1 (International Labour Day), and returned to Hà Nội on May 2. They had met several people and attended many meetings and other activities despite returning from an outbreak-hit region – allegedly having falsely submitted or failed to declare their travel history, even after his wife started showing symptoms of a sore throat on May 9.
The couple were confirmed as positive for coronavirus on May 12, and about 200 direct contacts have been identified, with many having been infected and various locations across the city under lockdown, including the emergency ward of Hữu Nghị (Friendship) Hospital.
The company's board concurred that Thanh's violations were "serious, adversely affecting the COVID-19 situation in the capital city and public health, causing public uproar and undermining the company's reputation and operations." 
Various activities held to mark 80th anniversary of Vanguard Children Union
Various practical activities and effective youth projects took place across the nation on the occasion of the Ho Chi Minh Vanguard Children Union's 80th founding anniversary (May 15, 1941-2021).
On May 15, a delegation from the Ho Chi Minh Communist Youth Union (HCYU) Central Committee handed over a children's playground project worth VND 220 million to Phong Thanh Kindergarten at Phong Thanh Commune, Cau Ke District, Tra Vinh Province.
On the occasion, the HCYU Central Committee, the Central Council of the Ho Chi Minh Vanguard Children Union and the Youth Unions of the Ministry of Public Security jointly awarded 60 "Learning Corners" projects, worth VNA 1 million each, to students living in difficult circumstances in Cau Ke District.
The Central Council of the Ho Chi Minh Vanguard Children Union also presented the project of reading space, worth VND 200 million to Phong Phu B Primary School in Phong Phu Commune, Cau Ke District.
Previously, the delegation had commenced the construction of "Happy House", worth VND 80 million, for students in extremely difficult circumstances; "An Yen bridge No. 2" project, worth VND 150 million in An Phu Tan Commune, Cau Ke District; and the "Lighting up the roads" project, worth VND 240 million.
In Ho Chi Minh City, the Youth Union's Science and Technology Development Center launched a mobile learning coach with scientific lessons introduced via VR technology. The coach will serve young people during their 3-month summer this year with one-week stop in each commune. It will also provide online public services and digital transformation on weekdays and an innovative platform for students on weekends.
Kim Dong Publishing House has just published and republished a new form of 21 colour comic publications with the theme of the glorious tradition of the Ho Chi Minh Vanguard Children Union and heroic teens through the stories of many writers such as To Hoai, Le Van, and Xuan Sach.
CAAV asks airlines to refund airport service fee for canceled tickets
The Civil Aviation Authority of Vietnam (CAAV) has sent a document to local airlines saying that they must refund the airport service fee and screening fee to passengers who cancel their air tickets.
Due to the complicated Covid-19 situation, a large number of passengers had to cancel their air tickets. However, some local airlines including Vietnam Airlines, Vietjet, Bamboo Airways and Pacific Airlines have refused to refund the passenger service charge (airport service fee) and passenger security service charge (screening fee) to those who had canceled their flights.
At present, the domestic airfares comprise the ticket fee, value added tax, airport service fee, screening fee, system management fee and fuel surcharge.
According to Article 8 of Circular No. 53 dated December 31, 2019, of the Ministry of Transport, the airport service fee and screening fee will be submitted to the management units of airports. Value added tax is fixed and will be sent to the State budget, while system management fees vary depending on the airlines.
"When a passenger cancels a ticket, the airport service fee and screening fee collected by the airline from the passenger are not part of the amount payable by the carrier to the passenger service, passenger security and baggage service providers. Therefore, these fees must be returned to passengers," CAAV said.
The authority asked the airports to publicly and transparently inform passengers about their rights and the procedures of receiving refunds for airport service fees and screening fees after canceling air tickets.
At present, the screening fee is VND20,000 per passenger, while the airport service fee ranges between VND60,000 and VND100,000 per passenger depending on the airports.
Source: VNA/VNS/VOV/VIR/SGT/Nhan Dan/Hanoitimes

Localities should be ready to combat outbreak: Deputy PM