Billion-dollar smart city will express the spirit and vision of a new Hanoi
Vietnamese developer BRG Group and Japan's Sumitomo Corporation have officially announced their US$4.2 billion smart city project on the outskirts of Hanoi.
Through a 50/50 joint venture, a whopping 270 hectares of land located some 20 minutes from the city will begin development early next year and is expected to be complete by 2028.
The smart city will be state of the art in that it will employ Industry 4.0 technology such as the Internet of Things to ensure energy is conserved. It will also feature surveillance cameras that come with the capabilities to recognise faces together with AI.
Reality a long-term vision
Marking the first milestone of the North Hanoi Smart City Project just before the 65th anniversary of Hanoi's Liberation on October 10, Nguyen Thi Nga, chairwoman of BRG Group said, "We build a smart city not for our generation, but for many Vietnamese generations of the future. Here, the capacity of Vietnamese people will be truly activated and maximised, thereby creating momentum to promote the country's socio-economic development."
Ten years ago, the businesswoman proposed to invest in a project on the two sides of the Nhat Tan-Noi Bai route. In May 2009, BRG Group was assigned the task. Since then, Nga and her partners have embarked on a journey of numerous challenges to realise the dream of a Hanoi for future Vietnamese generations.
"I still remember when the international planning contractor required a topographic survey for the entire 2,080 hectares, and to know the location of houses, temples, roads, or schools. Engaging in finance, I can see clearly the cost, not to mention challenges of time and its feasibility. But we still had to do it anyway," she said.
She could also never forget the sheer number of meetings with government and Hanoian authorities, besides overnight discussions with international consultants. "Sometimes the ideas of foreign architectural planners and management agencies were not unified, and work needed considering so many times. I felt tired and very lonely with almost no-one understanding or accompanying me, while I also needed to take care of the group's other issues," Nga said.
However, with a great love for Hanoi and the desire to give people a new quality environment, Nga and BRG Group have now reached the next stage. In December 2015, under the authorization of the Prime Minister, Hanoi officially approved the planning map.
After completing the detailed plan, BRG Group has continuously sought partners. It required devoted partners and sharing of a mutual vision for sustainable development. The goal was to create a city of new vitality, bringing modern and classy living standards, and creating motivation for socio-economic development for the country.
Sumitomo Corporation, one of Japan's leading firms, ultimately officially shook hands with BRG Group to develop the smart city venture.
Hanoian heart and spirit
Masayuki Hyodo, president and CEO of Sumitomo, said at the groundbreaking ceremony of the project that he "really admires the vision and passion" of the BRG Group leader.
"Her love for the country and for Hanoi is an inspiration," Hyodo said.
"This project does not copy the model of any city, but is a beautiful scheme with the latest 4.0 technologies, bringing together a new quality of life for people," Hyodo emphasised.
Located on the main route linking Hanoi city centre with Noi Bai International Airport, the smart city project is considered to be a bridge to speed up commercial trade co-operation between Vietnam and other countries in the region and around the world.
According to the plan for the BRG-Sumitomo joint venture, people will enjoy the maximum benefits from comprehensive development of modern and sustainable infrastructure, thereby accelerating the process of socio-economic development in the capital city.
The smart city venture will apply many advanced technologies across areas such as smart energy, smart mobility, smart governance, smart learning, smart economy and smart living.
A smart building management system and renewable energy technology will also be prioritised to optimise energy supply and storage.
In parallel with the smart city design, it is expected that the joint venture will also build a detailed plan on the application of 5G technology, face recognition, and blockchain.
Developing smart cities will not only support Hanoi to solve existing problems in, for instance, transport infrastructure, healthcare, education, energy, and inadequacies in urban management and planning; but it will also activate new growth engines for the country, soon realising the resolutions on Industry 4.0 that the Politburo has just promulgated, which focuses on the target of at least three smart cities in three key economic regions across the country by 2025.
Medipeace offers rehabilitation equipment to disabled children in Quang Tri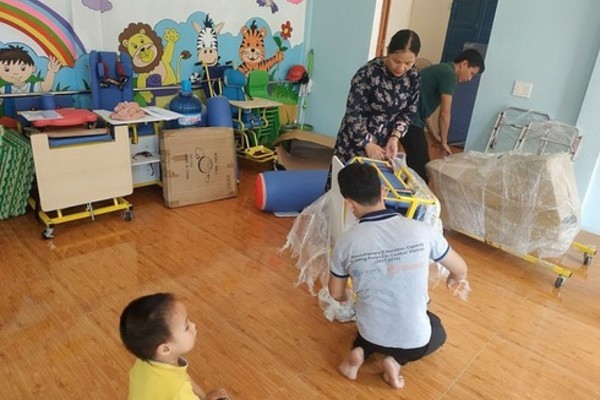 Medical equipment are delivered to rehabilitation rooms at communes throughout Quang Tri province.
Medipeace, the Republic of Korea (RoK)'s medical organisation for peace, has recently presented medical equipment to be used in eight rehabilitation rooms for disabled children in several communes throughout the central province of Quang Tri.
The medical equipment is being given as part of a project sponsored by the Korea International Cooperation Agency (KOICA) through Medipeace, which first started in 2012.
Through the project, Medipeace has funded VND 359 million during this year to provide rehabilitation equipment to children suffering from disabilities. In addition, the funding has gone towards helping build two new rehabilitation rooms in the communes of Hai Quy and Trieu Lang.
Volunteers from the RoK, along with rehabilitation technicians and local medical workers, will use these tools to provide direct support to disabled children in the rehabilitation rooms situated in these localities.
The project will also offer help at home to ensure that parents of children with disabilities will have the opportunity to play with their children. Most notably, volunteers from the RoK will visit families in order to provide additional guidance to parents to ensure they are using the tools given to them effectively.
Through funding, a total of 205 children with disabilities have been granted access to rehabilitation equipment to improve their communication and life skills.
Elderly complain anti-poverty cow donation policy doesn't work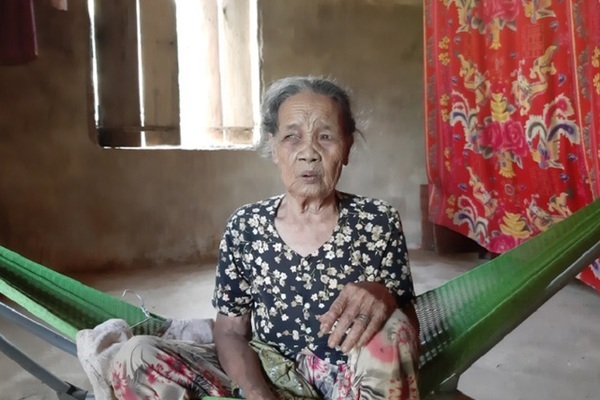 84-year-old Nguyen Thi Khe
Many elderly people from low-income families in Quang Binh Province have complained about being given cows as part of the Resilience and Escape Poverty project as they can no longer work.
Poor families in Truong Thuy Commune, Le Thuy District were given cows in the programme to escape poverty carried out by the Fatherland Front Committee in Quang Binh. However, a large number of households are lonely elderly people.
84-year-old Nguyen Thi Khe lives alone in a 30-square-metre house. She has leg, ear and eye problems so it's difficult to cook every day. As she couldn't afford a cowshed, she tied the cow in the garden.
"I had to hire someone to take care of the cow. After two months, I had to sell the cow for VND4m (USD174)," Khe said.
The officials of Truong Thuy Commune tried to persuade her to buy the cow back for an inspection. According to the regulations, the locals must take care of the cows for at least 36 months before they can sell it. Because Khe couldn't take care of the cow, she was removed from the poor household list.
Truong Thi Lanh, who is near 90 years old, also lives alone. When the authorities required everyone to take a cow-raising training class, she had to ask her nephew to take her place. The cow was sent to her children who are living in another place.
"I can't walk around easily anymore and don't have the health to raise a cow. I do not dare to sell the cow so I sent it to my children," she said.
Many people have raised concerns about the programme's practice and effectiveness.
Truong Tan Chau, chairman of Truong Thuy Commune Fatherland Front Committee, said there had been three buffalo-giving events since 2017 and 12 cows had been given away. Truong Thuy Commune has 21 poor households and most of them are lonely elderly people. However, according to the programme, they must give the cows away to poor households so they had no other choice.
Vietnam Airlines sells 30,000 cheap tickets on Hanoi-HCM City route
National flag carrier Vietnam Airlines has offered up to 30,000 cheap tickets on Hanoi-HCM City route.
The sale on October 10-20 will be applied for flights which depart at 5:30 am, 9 pm and 10 pm every day between October 15 this year and March 31 next year.
An one-way ticket is just VND789,000 (USD34.3) per one-way ticket.
This is the firm's new promotional programme for its flights on early morning and late evening.
Passengers on these flights also enjoy luggage as well as food and drinks policies as other flights of Vietnam Airlines.
Saigon Station to sell 287,000 train tickets for Tet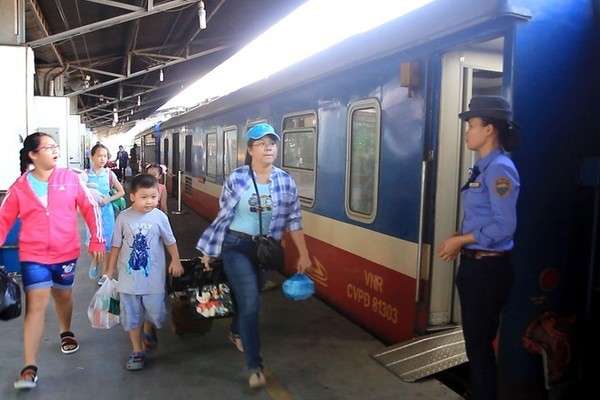 Saigon Railway Transport JS Company has announced that the firm will sell around 287,000 train tickets for the Lunar New Year holiday.
The tickets will be sold from October 20 through www.dsvn.vn, vetau.com.vn, and giare.vetau.vn or at railway ticket offices.
Customers can also buy the tickets through applications, including Momo, Vimo, ViettelPay or by phone.
Each passenger is only allowed to buy four one-way tickets.
To meet the high demand, the company will also offer hard seats using plastic chairs for passengers on some routes.
The Tet train schedule will begin from January 12 to February 11 next year.
At the peak time, around 44 trains will be operated, including 20 on the North-South route.
Logo designing contest for ASEAN youths launched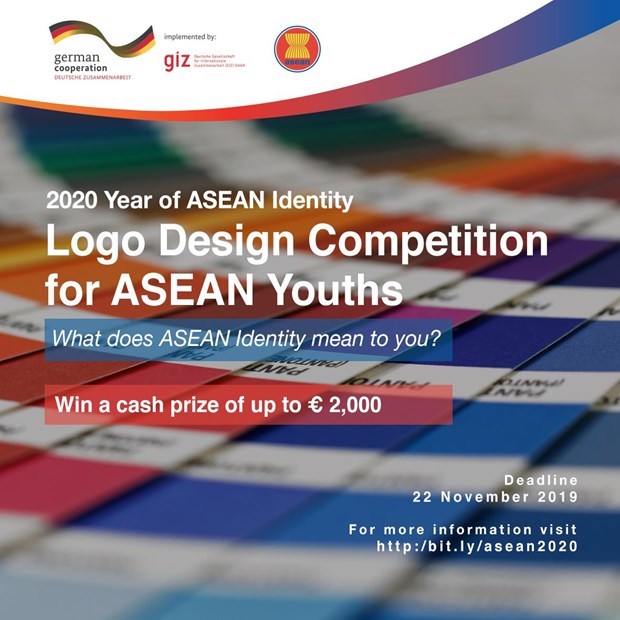 The 2020 Year of ASEAN Identity Logo Design Competition for ASEAN Youths has been launched by the ASEAN Secretariat and the ASEAN-German Cooperation.
2020 has been designated as the Year of ASEAN Identity to further develop and foster a sense of belonging and shared identity among the peoples of ASEAN.
ASEAN citizens aged between 18 and 35 are eligible for the contest. Contestants are limited only to individuals and they may submit no more than two entries, with no fee required. The contest is open until November 22 (Indonesia time).
Each logo submission must be accompanied by a write-up of no more than 50 words on contestants' interpretation of the ASEAN identity through their design.
Contestants must affirm their submissions are their own original work, have not been copied from others or from previous designs. All submissions become the sole property of the ASEAN Secretariat.
The winning entry, selected by a panel comprising the ASEAN Secretariat and German Corporation for International Cooperation GmbH (GIZ), will be judged on the merits of originality, relevance, adaptability and aesthetics.
The winner will walk home with a cash prize of 2,000 EUR (2,200 USD), a return flight from an ASEAN nation to Indonesia and two nights' hotel stay in the country for the launch and awarding ceremony.
Meanwhile, the first and second runners-up will receive cash prize of 1,000 EUR and half of that amount, respectively./.
Work on hi-tech healthcare complex starts in Hanoi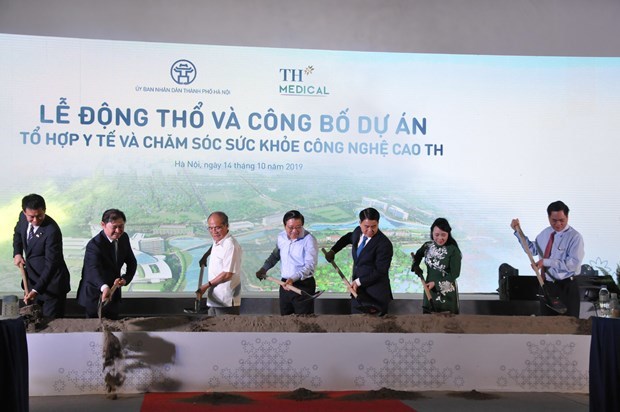 At the groundbreaking ceremony (Photo: moh.gov.vn)
The first phase of a hi-tech healthcare complex, expected to cost more than 1 billion USD, kicked off in Hanoi's outskirt Dong Anh district on October 14.
The 40ha complex, invested by TH Group, is divided into two stages with the first slated for completion in the second quarter of 2022, providing 300 beds.
The second stage is expected to be finished in 2025, raising the number of beds to 1,000.
The TH Medical complex will include five main areas that are an e-prevention centre, an international hospital, a wellness and rehabilitation centre, an international R&D centre and a geriatric centre and nursing home.
Addressing the groundbreaking ceremony, Chairman of the Hanoi People's Committee Nguyen Duc Chung highlighted the significance of the project in improving healthcare services for local residents, pledging that the city will support the implementation of the project.
During the ceremony, the TH Group and TH Medical signed a cooperation agreement with Keio University and Keio Hospital of Japan on collaboration in the project's management, operation and personnel exchange.
Statistics from the Ministry of Health revealed that healthcare spending accounts for approximately 7 percent of the country's annual GDP. People's spending on overseas medical treatment reached nearly 2 billion USD./.
Cities in Mekong lower reaches boost tourism cooperation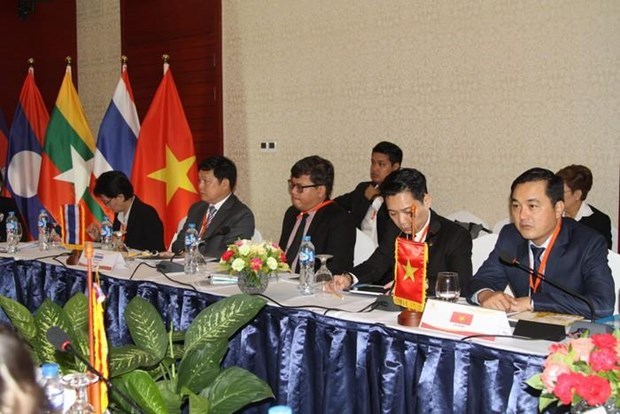 Vietnamese delegation at the event (Photo: VOV)

A delegation of Vietnam led by Director of Ho Chi Minh City's Department of Tourism Bui Ta Hoang Vu attended a conference on tourism development of five cities of Mekong countries, which took place in Vientiane capital city of Laos on October 14.
The event, the fifth of its kind, also saw the participation of tourism leaders of Phnom Penh, Vientiane, Yangon and Bangkok.
They discussed measures to improve and upgrade tourism products and services and enhance attraction of cities in Mekong River's lower reaches.
The event was designed to link tourism human resources, as well as bolster and arrange activities in this field of Mekong tourist cities. It was viewed as a significant stride in the tourism cooperation framework of Mekong nations and the Ayeyawady-Chao Phraya-Mekong Economic Cooperation Strategy (ACMECS).
Speaking at the opening ceremony, Governor of Vientiane Sinlavong Khutphaythoun affirmed that following previous editions of the conference, countries which Mekong River flows through and the five cities in particular have cooperated and exchanged experience for further development.
The Lao official said leaders of the country always support the tourism development strategy of Mekong nations and pledge to fulfil its duties to strengthen cooperation between the cities and countries, thereby bringing about practical results.
Participants reviewed results of cooperation between the cities, discussed standards of services, along with cultural and natural heritage conservation and restoration, among others.
The sides issued a joint statement and approved a joint action plan in the 2019-2020 and the host of the sixth edition slated for 2020./.
Vinschool students release first English book
A panel discussion at the launch ceremony of "So That I Will Roar You Gently", written by 11 young writers from the Vinschool Education System at the Hanoi Book Street on October 12.
An English book written by 11 young writers from grades 7 to 12 at the Vinschool Education System was released officially to the public and readers nationwide at the Hanoi Book Street on October 12.
Divided into three chapters with 13 short stories, So That I Will Roar You Gently consists of stories revolving around the lives and thoughts of young people at school, from school to class, and family to society.
The stories also represent a wider community of Vietnamese youngsters, and are not just about school and learning. They also examine family bonds, emotions and feelings at times of separation, the writers' aspirations for change, and internal conflicts or doubts about the future. Students also showed their talents with impressive illustrations in the book.
The book also tells of children's astonishment on their journey of awareness, and the anxiety of psychological changes at school age. Colors, Where All the Wind Blows, Someone in the Crowd, Teaching Them a Lesson and Far from Home are the whispers of children, expressing their opinions as well as their need for understanding and sharing from adults.
"Thanks to the book, I was able to realise my potential, and I hope that every message in my stories will be well-received by readers," said Ð?c Toàn, the author of five stories in the book.
The book is the result of a project at Vinschool's Gifted and Talented Education (GATE) Centre that aimed to give students the opportunity to speak their minds and to arouse their creative thinking.
The first publishing run has 2,000 copies on sale for VNÐ150,000 (US$6.5). Money from the sale of the books will be used for charity purposes in efforts to help poor students and disadvantaged children in the country, according to a GATE Centre representative. 
Religions join hands in environmental protection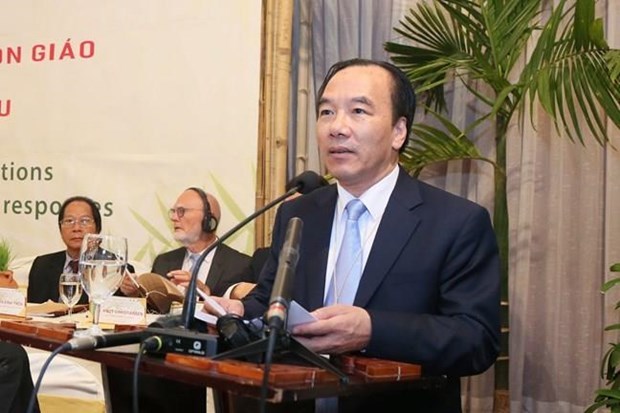 Vice Chairman of the Vietnam Fatherland Front Central Committee Ngo Sach Thuc speaks at the event (Photo: baotainguyenmoitruong.vn)

Religious groups have proactively joined hands in environmental protection and response to climate change, heard a national conference held in the central province of Thua Thien-Hue on October 14-15.
They have engaged in a coordination programme signed with the Vietnam Fatherland Front (VFF) Central Committee and the Ministry of Natural Resources and Environment in 2015 to promote the role of religious groups in protecting the environment during 2015-2020.
The groups have issued documents, messages, programmes and plans calling their followers to actively participate in environmental protection and climate change response campaigns. Dignitaries have enhanced communication work to raise followers' awareness of environmental protection during festivals, religious practices, and training courses, among others.
To date, more than 1,000 piloted environmental protection models have been set up by religions with the support of the VFF and the environment ministry to mitigate damage caused by natural disasters.
At the conference, Vice Chairman of the VFF Central Committee Ngo Sach Thuc laid stress on the importance of the Party, State and people's engagement in environmental protection work, saying the coordination programme has achieved positive results and created a radical change in awareness of organisations and people from all walks of life.
As the programme still shows its limitation, the conference, which had plenary and discussion sessions, would focus on orientation, plans and commitments of the religious groups to promote the coordination programme, he added.
According to Thuc, after four-year implementation of the progamme, all 63 localities nationwide have signed the programmes with the VFF, and local natural resources and environment sectors and religious groups./.
Football tourney in Japan supports Vietnamese people after disaster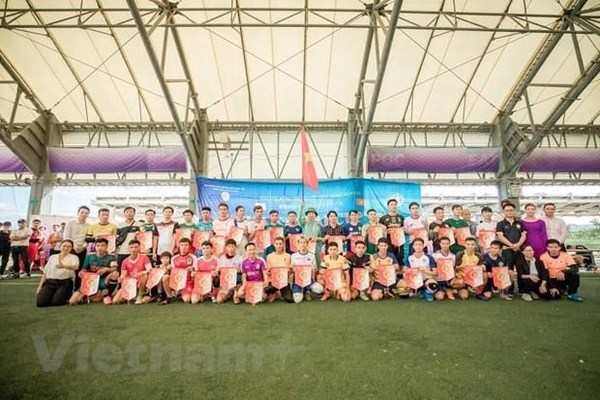 Participating teams' representatives pose for a group photo
Nearly 1,000 overseas Vietnamese (OVs) in Japan participated in a football tournament aiming to help the Vietnamese community overcome the consequences of Typhoon Hagibis, which recently wreaked havoc in the country.
The "FAVIJA Kansai Cup 2019" kicked off in early October and the final round took place on October 13, right after the typhoon made landfall in Japan.
It was held by the football association of Vietnamese people in Japan (FAVIJA) under the sponsorship of the Vietnamese embassy in the country.
The tourney, held in Osaka city in Japan's central region, saw the participation of 34 teams of OVs in the country which were divided into eight groups.
FC Kazoku triumphed at the tournament, followed by FC NTO, Huu FC and Thanh Hoa Osaka FC.
FAVIJA Chairman Do Quang Ba said the top four will compete at a football tournament for OVs across Japan slated for November./.
Hanoi works hard to enhance people-to-people diplomacy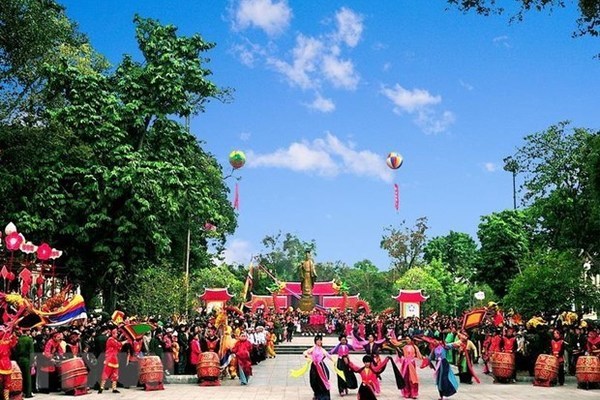 A programme marks the 65th anniversary of Hanoi's liberation
The Hanoi Union of Friendship Organisations (HUFO) has proven its role in enhancing friendship and solidarity, and expanding multi-faceted cooperation between the capital city and other major cities worldwide.
People-to-people exchanges have contributed to building a peaceful and stable environment, thus promoting the image of Vietnam in general and Hanoi in particular in the eyes of international friends.
Being aware of its position as the national centre of politics, economy and culture, and the gateway of international exchanges, Hanoi has paid special attention to external affairs, especially people-to-people exchanges.
Tran Thi Phuong, Vice President of the HUFO, said the union has maintained friendship and cooperation with foreign diplomatic offices in Vietnam, and performed its core role in peace and friendship activities.
She further said the HUFO has coordinated with relevant municipal departments, agencies and localities, the Vietnam Union of Friendship Organisations (VUFO) and international organisations in the communications work, helping to boost and expand Hanoi's foreign relations.
Hanoi has used the occasions of major holidays as well as big international events which it hosts to promote the culture, land and people of Vietnam and the city, while introducing its cooperation potential to international friends, Phuong added.
The HUFO has organised annual New Year tours named "Du xuan huu nghi" to cultural and historical relic sites and craft villages with the participation of representatives of foreign diplomatic corps and international organisations.
Such activities have helped foreigners understand more about the culture and land of Hanoi that has been recognised by UNESCO as a "City of Peace", while intensifying solidarity and mutual understanding between Vietnamese and international friends, Phuong said.
Apart from annual events in celebration of National Days of countries and diplomatic ties between Vietnam and foreign nations, the HUFO has launched new activities, including exhibitions, workshops, book fairs, and contests to seek ambassadors for peace.
The union is continuing its efforts to implement people-people diplomacy and raise public awareness of the work, practically and effectively contributing to spurring the city's construction and development, and advancing its position in the new period, Phuong said.
65 years since its liberation, Hanoi has affirmed its role as the national centre of politics, economy, society and science, and is integrating intensively into the world.
The city has worked hard to build a safe, friendly and attractive environment, becoming a trustworthy destination for both domestic and international friends, she noted.
Hanoi welcomed more than 4.7 million foreign tourists in the first nine months of 2019, a year-on-year increase of 10.1 percent, announced the municipal Department of Tourism.
The capital city hosted a total of 21.5 million visitors in the period, up 9.5 percent against the same period last year and making up 74.46 percent of this year's target. This included more than 16.8 million domestic holidaymakers, up 9.3 percent year-on-year.
This year, Hanoi was again listed on various tourism rankings. Japan's All Nippon Airways included the city among the 26 best Asian cities for a combination of business and leisure. The capital city was ranked fourth among the 25 destinations in Asia and 15th among the 25 destinations in the world in 2019 by TripAdvisor. Most recently, it was named on the Cable News Network (CNN)'s list of the 17 best places in Asia.
The city is striving to welcome 29 million tourists and earn 103 trillion VND (4.44 billion USD) in tourism revenue in 2019.
In the list of the top 100 city destinations 2018 released by Euromonitor International, Hanoi ranked fourth among capital cities in Southeast Asia in terms of foreign tourist numbers, following Bangkok (23.69 million), Singapore (18.55 million) and Kuala Lumpur (13.43 million).
Coordination between airlines, the domestic and foreign media, embassies, international organisations and travel companies will be strengthened to hold trips for businesses and reporters from key markets, according to the municipal Tourism Department./.
Role of science-technology in plastic waste management discussed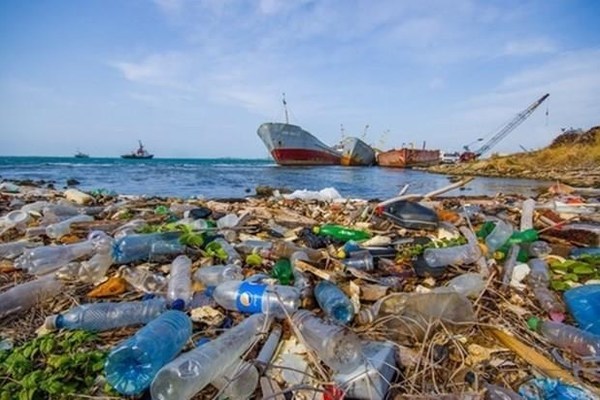 Plastic waste is currently a threat to the environment.
"Promoting the role of science and technology organization in the management and reduction of plastic waste" was the topic of a scientific conference that took place in Hanoi last week.
The event was co-held by the Vietnam Union of Science and Technology Associations (VUSTA) and the German Development Cooperation Organisation (GIZ) on October 11.
The conference aimed to create a forum for scientists and policy makers to exchange and share information about national plans and programmes on plastic waste management and reduction, while discussing the challenges in creating data sources to manage plastic waste in Vietnam.
From there, the delegates proposed recommendations on scientific methods to create data sources for the management of plastic waste, as well as policies, mechanisms and financial resources to mobilise the participation of scientists in the field.
In his opening remarks, VUSTA Vice President Nghiem Vu Khai said plastic waste is currently a threat to the environment, seriously affecting ecosystems, water quality and people's livelihoods.
The Ministry of Environment and Natural Resources is urgently drawing up the National Action Plan for Ocean Waste Management with a vision to 2030, he said.
According to the draft plan, by 2030, all coastal tourism and service areas will stop using disposable plastic products, the country will reduce 75 percent of its ocean plastic waste, and all marine protected areas will no longer have plastic waste.
Vietnam will expand its monitoring system and periodically evaluate the state of plastic waste in the estuaries of its six major river basins.
The delegates also listened to presentations about plastic waste pollution in the Saigon River, the current status of plastic disposal in Vietnam and the role of science and technology in the war against plastic waste, and an assessment of current plastic waste pollution in Vietnam's coastal tourist areas.
Three group discussions were also organised, focusing on challenges in developing data resources, proper methods and approaches to creating data resources; and policies to facilitate scientists' activities to develop data sources./.
"Village without waste" project implemented in Quang Ngai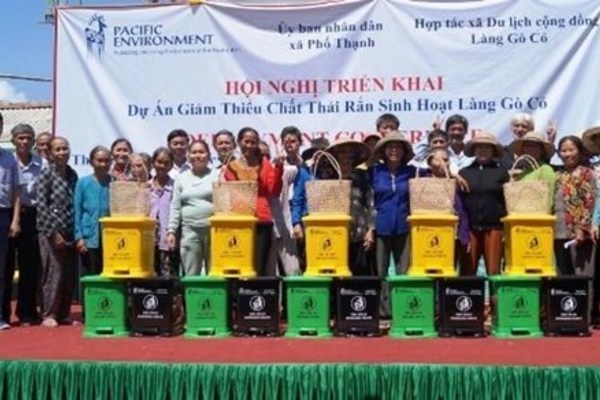 At the launching ceremony of the project (Source: https://moitruong.net.vn)
A 10,000 USD project funded by Pacific Environment (PE) to minimize domestic solid waste has kicked off in Duc Pho district, the central province of Quang Ngai.
Running until November 16, the project aims to help locals in Pho Thanh commune implement a waste classification model, produce and use organic fertilizer for cultivation in the locality, reduce the use of disposable plastic products and expand the "village without waste" model in the province.
Local residents are being shown how to classify waste in the right way, and equipped with equipment and knowledge to produce compost.
The project also focuses on collecting and analysing waste to determine the amount and type of waste discharged into the environment, and which types of waste are most favoured locally, thus providing information for agencies in charge of managing waste so they can make recommendations on how to improve the waste management system.
The project aims to minimise the risks of environmental pollution, and promote the rural environmental protection movement in Quang Ngai./.
Experimental theatre festival honours traditional artist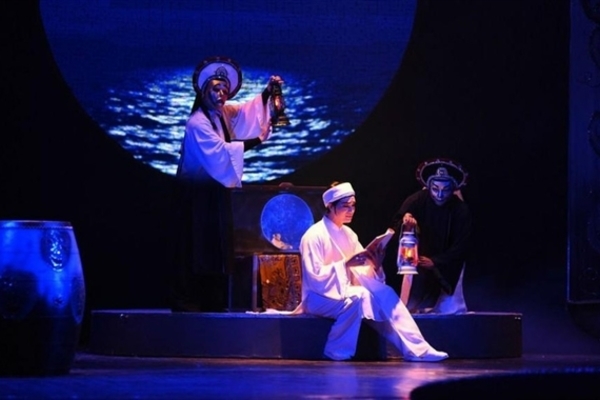 Artist Lê Trung Thảo (white dress) performs a cải lương play. — Photo phunuvietnam.vn
HCM City-based artist Lê Trung Thảo won the Gold Medal at the 4th Hà Nội International Experimental Theatre Festival on Sunday night.
Thảo performed a traditional cải lương (reformed theatre) piece entitled Nhật Thực (Eclipse) by director Lê Nguyên Đạt.
Through a natural phenomenon – an eclipse, the play conveys the story that good things are sometimes obscured by darkness.
In that moment, people look back and look at themselves. It's like an artist who finds a new direction to preserve and develop traditional art.
"I'm moved to receive the gold medal," said Thảo. "We've put in a lot of effort to achieve this success. We know now that audiences still love cải lương. After the festival, Nhật Thực will have eight shows in HCM City. That is a big reward for us. I want to thank director Đạt, script writer Lê Duy Hạnh and our team."
The play was highly appreciated by international artists who attended the show.
"The play is beautiful and charming," said Kyriaki Spanou, art director of a Greek troupe. "It combines western and eastern culture and different kinds of art genres such as body performance, dancing, singing, light and visual effects."
"I like Nhật Thực and I'm impressed by the leading role," said South Korean Yoon Woo-young. "I think I want to try something like Nhật Thực next time I'm in Việt Nam."
Gold medals were also presented to Israel's Ofer Freeman, Singapore's Zhou Mi; Greece's Dimitros Mamios, India's Monalisa Chatterjee and Korea's Seol Jae-keun.
Israel's Ayit Ensemble's Bpolar; Việt Nam Puppetry Theatre's Thân Phận Nàng Kiều (The Fate of Kiều); Việt Nam National Drama Theatre's Sự Sống (Life) and Việt Nam Youth Theatre's Vanya also picked up gold medals.
Bpolar is a modern visual adaptation of Diary of a Mad Man about the story of a clerk who falls in love with his manager's daughter. The play redefines the borders between theatre and cinema.
Vietnamese director Nguyễn Tiến Dũng and Israeli light designer Uri Morag were among others honoured at the festival.
The festival was held from October 4-13 with the participation of seven international troupes and 14 Vietnamese troupes.
Spanish capital hosts ASEAN Family Day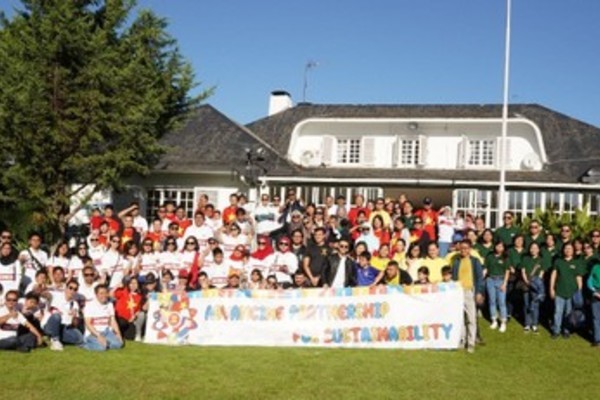 Embassies of five ASEAN member states in Madrid, Spain joined together to participate in celebrations for ASEAN Family Day on October 13 which brought approximately 150 embassy staff, family members and ASEAN community representatives together.
The festive day is an annual occasion which aims to strengthen solidarity among member states of the ASEAN Committee in Madrid (ACM) while providing an excellent opportunity for them to share the delicious cuisine of each country.
Vietnamese embassy staff introduced a variety of dishes to visitors, including Nem, spring rolls, along with traditional confectionery such as Keo Lac, peanut candy, Banh Dau Xanh, green bean cake, and Banh Dua Nuong, coconut cake.
In addition to being able to sample an array of dishes, guests also had the chance to take part in various team games throughout the day.
A host of activities such as a singing contest and a quiz testing knowledge about the ASEAN Community, its culture and cuisine were also held to highlight the ACM's diplomatic role in building a strong ASEAN community.
Founded in 1967, the Association of Southeast Asian Nations (ASEAN) is a group of 10-member countries, namely Brunei, Cambodia, Indonesia, Laos, Malaysia, Myanmar, the Philippines, Singapore, Thailand, and Vietnam.
Aircraft abandoned in Hanoi airport worth over $73,000
A valuer has determined that the Boeing-727 abandoned for 12 years at the Noi Bai airport is worth VND1.7 billion ($73,000).
The valuer, a local company, was hired recently by the Civil Aviation Authority of Vietnam (CAAV) to conduct an appraisal of the aircraft in accordance with Vietnam's law on public property, said Dinh Viet Thang, Director General of CAAV.
It had been said earlier that it was difficult to value the aircraft because of its lack of documentation, and because the B727-200 is a model that is no longer popular. Built decades ago, there was no aircraft to compare the abandoned plane to.
The CAAV had said that they would not hire foreign consultants to determine the value of the aircraft because it would cost more than what the aviation authority would get from auctioning the aircraft, Thang said.
Earlier, Hanoi-based TiffSon, a company that provides inventory solutions through bartering goods and services, had offered VND3 billion ($129,000) worth of beer, wine and confectionery for the abandoned aircraft.
More recently, a Hanoi nursing center suggested that the abandoned aircraft be used to allow seniors to experience what it's like being on a plane, and offered to exchange three nursing care packages for the B727.
But, Thang said, "There will be no bartering for the aircraft. It will be disposed of in accordance with the law. We have reported to higher authorities and are awaiting directions," he said.
The CAAV had proposed that the B727 be handed over to state-owned the Airports Corporation of Vietnam (ACV), which runs 21 airports in the country, because the company has lost around $800,000 over storing the plane for 12 years.
This would allow ACV to "write off " the expense, or in other words, consider the expense an investment to purchase the aircraft. Further, auctioning the aircraft carries litigation risks if the buyer believes that the value of the aircraft was not equivalent to the money spent, Thang said.
The Boeing 727-200, which belonged to the Royal Khmer Airlines, had run into technical problems after carrying passengers to Hanoi's Noi Bai airport. It did not meet safety conditions to return to Siem Reap, and has been parked at Noi Bai since May 1, 2007.
The Cambodian airline went bankrupt soon after and left the plane in Hanoi, because it would cost too much to repair.
Cambodian authorities have subsequently removed the aircraft from its national registry, allowing the CAAV to deal with the asset in accordance with Vietnamese law.
Commission spearheads malaria fight
While the Asia Pacific region has seen remarkable success in the malaria battle, specific and deliberate actions are being called for in order to accelerate the decline in transmission so as to eradicate the disease globally by 2050.
Recent East Asia summits saw regional heads of government and foreign ministers resolve to eliminate malaria in the region in the next ten years. The commitment, along with relevant resources, is leading to plummeting malaria case numbers and death rates across the region.
The Asia-Pacific launch of the Lancet Commission's seminal report, held on October 8 at the National ­University of ­Singapore, displayed ­existing evidence with new epidemiological and financial analyses to demonstrate that eradication of the disease is possible within a generation if the right tools, strategies, and funding are deployed. Authored by 41 of the world's leading malariologists, biomedical scientists, economists, and health policy experts, the commission's report is the first peer-reviewed academic document of its kind.
"For too long, malaria eradication has been a distant dream, but now we have evidence that it can be eradicated by 2050," said Sir Richard Feachem, co-chair of the Lancet Commission and director of the Global Health Group at the University of California.
While parts of the world have seen a recent resurgence of malaria cases, Asia Pacific continues to show encouraging signs of progress. Between 2016 and 2017, India achieved a 24 per cent drop in cases. Many countries once plagued by malaria, including Singapore and Sri Lanka, have eliminated it, and momentum seems to be building. China, Malaysia, and Timor-Leste recently reported zero cases of indigenous malaria, and Bhutan and Nepal are on the cusp of elimination.
"The expertise and technology to eradicate malaria are now available here in the region. Whether we succeed is actually a matter of political will," said Vivian Balakrishnan, Singapore's Minister for Foreign Affairs. "Countries like Singapore are supporting their peers. The experience gained in the Asian elimination journey can support the effort to eradicate malaria globally."
This momentum must be maintained to overcome the threat of drug-resistant malaria looming over the Greater Mekong Subregion and beyond. Multi-drug resistant malaria first emerged in Cambodia and Thailand in 2008 and has since been detected in Laos, Myanmar, and Vietnam. Until eradication is achieved, drug resistance will pose a constant threat to progress and will require ongoing investments.
"If drug resistance were to spread, there is a risk that malaria will resurge and jeopardise the successes achieved and investments made," said Arjen Dondorp, one of the commissioners and deputy director of Malaria Research at the Mahidol Oxford Tropical Medicine Research Unit in Thailand.
Asia Pacific's war on malaria presents urgency, and the commission has called for several actions to achieve the goals set, including effective management and implementation of malaria programmes, which will be aided through partnerships with the private sector; and devising innovations vital to overcoming biological challenges to eradication. These innovations include new diagnostics, drugs, vector control, and novel approaches that can address the region's most pressing technical challenges of outdoor biting, resistance, and meeting the needs of communities at high risk of malaria.
According to the Lancet Commission, strong and committed leadership and governance are essential to ensure that eradication is achieved; an example set by Vietnam. Since 2014, Vietnamese leaders, including former Prime Minister Nguyen Tan Dung, and Deputy Prime Minister Vu Duc Dam, have joined efforts with regional leaders to fight malaria in Vietnam and in the Asia-Pacific region. Additionally, malaria eradication will require increased annual investment. Global malaria eradication is likely to cost somewhere between $6 billion and $8 billion per year. Currently, the world spends around $4.3 billion annually, thus the commission proposes a significant increase in government malaria spending, as the upward trend of domestic financing for malaria in Asia Pacific must be sustained.
VFDA debuts at Busan International Film Festival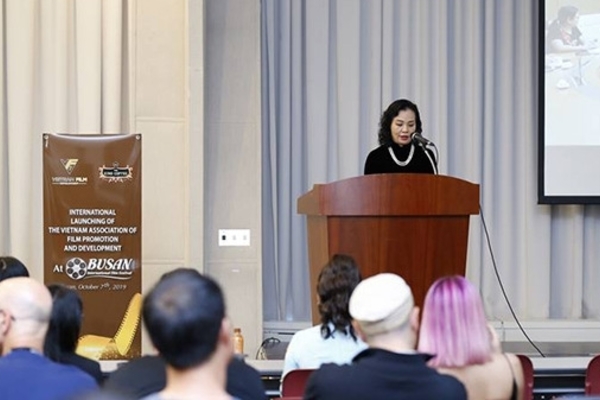 The Vietnam Association of Film Promotion and Development (VFDA) chaired by Dr. Ngo Phuong Lan organised a ceremony from October 3 to 12 at the 24 Busan International Film Festival to introduce the functions, tasks, and the role of the association and contemporary Vietnamese cinema.
The programme focused on promoting the image, culture as well as the potential of the filming context, the film production environment in Vietnam to attract filmmakers and film producers from in the region and around the world to make films in Vietnam.
Established more than two months ago, the association aims to protect and support local film producers and businesses to boost the development of the Vietnamese cinema industry. It also creates opportunities to expand international cooperation, contributing to promoting the image of Vietnamese land, people and traditional cultures through movies.
The Association organised activities to connect and support Vietnamese film producers and foreign film producers to make films in Vietnam.
The VFDA is considered as a bridge between Vietnamese and national filmmakers to get more good Vietnamese films attending the international film festivals.
Also, at the Busan International Film Festival 2019, Dr. Ngo Phuong Lan, Chairwoman of VFDA was invited to be chairwoman the Jury of the NETPAC (Network for the Promotion of Asian Cinema).
This is a great honour for Vietnamese cinema. According to Dr. Ngo Phuong Lan, VFDA has just been established, but it endeavors to implement practical activities to introduce, promote and increase cooperation between Vietnamese film producers and foreign film producers. With the efforts of the association, in the near future, there will certainly be more foreign films produced in Vietnam and more domestic films of artistic quality for the public.
ICHAM introduces Italian olive oil in HCMC
The Italian Chamber of Commerce in Vietnam (ICHAM) organized the "True Italian Taste - Olive Oil" event last week to promote the Italian knowledge as well as the European country's genuine products to HCMC.
"Authentic Italian olive oil, with some drops of it able make your dish taste different" was the introduction of the genuine Italian products in the event. Olive oil is among the most versatile ingredients used in Italy. It is used in the dressing of almost every dish, especially some traditional recipes.
President of ICHAM Michele D'Ercole spoke at the event that "True Italian Taste - Olive Oil" has been presented in 23 countries worldwide including Vietnam to provide broader knowledge to identify genuine Italian products. More than 40 master classes and 165 Italian food educational events were held globally between 2016 and 2018 and there are more to come from 2019 to 2020.
Italian Consul General in Vietnam Dante Brandi said that in Vietnam, the project will focus on two main subjects. The first aim is to support Vietnamese food importers to better understand regional specialties of Italy to be able to provide more diversity to Vietnamese consumers. Second, it is to provide the public with more information and know how to combine food materials from Italy to have the best diet for health.
The event was organized in collaboration with the Consulate General of Italy in HCMC.
Concert and art auction raises funds for kids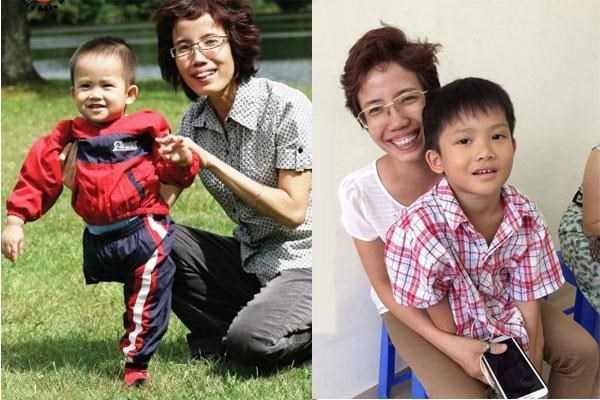 Now and then, Tran Mai Anh and her adopted boy named Thien Nhan (Photo: afamily.vn)

Vietnamese and international artists will perform at a charity concert entitled Look at The World at the Hanoi Opera House on October 16.
They include pianists Alessandro Marino from Italy and Nguyen Duc Anh, singer Pham Thu Ha, conductor Dang Chau Anh, Sol Art Choir and South Korean professor Sung Don-son.
The concert will include an auction of paintings by artist Van Duong Thanh.
All proceeds will go to the Thien Nhan and Friends Fund, which was founded in 2011 by Tran Mai Anh to support genital reconstruction for children in Vietnam.
In 2016, Anh, a mother of two, adopted a boy who had been abandoned by his own mother and attacked by wild animals, losing his genitals and right leg, in the central province of Quang Nam.
"I respect the fund," said artist Thanh. "We hope that the audience will help handicapped children become more confident."
Thanh created the paintings Tinh Mau Tu (Mother's Love) and Hoa Mua Xuan Hanh Phuc (Happy Spring Flowers) for auction at the concert.
Mother's Love depicts a bird under the wing of its mother.
"I was moved by the story of Anh and her adopted child. It was emotional to paint the mother spreading its strong wings to protect the baby from life. The bird is a noble symbol of Vietnamese art, symbolising nobility and altruism," Thanh said.
Artist Thanh had paintings included in the Vietnam Museum of Fine Arts collection when she was 20 years old. She has created nearly 2,000 paintings and has held 85 solo exhibitions.
She has won awards, including the International Excellence of Art in 1995 and 1997 given by CFMI US-France.
The concert will be from 7.30pm to 9.30pm. Tickets are sold online at https://forms.gle/ATZaQ47tZDf3R9CV7 from 100,000 VND (4 USD) to 1,500,000 VND. For further information call 0796384579./.