Vietnamese honoured at ESCI Best Practices Awards Programme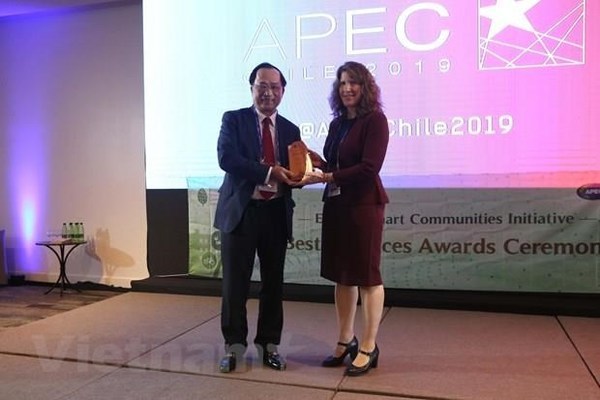 Deputy Minister of Public Security, Assoc. Prof. Nguyen Van Thanh at the award ceremony in Chile
Deputy Minister of Public Security, Assoc. Prof. Nguyen Van Thanh has won the silver prize of Best Practices Awards Programme of the Energy Smart Communities Initiative (ESCI) under the Asia-Pacific Economic Cooperation (APEC) forum.
With a project on turning Vietnam's Hai Phong into a green port city, Thanh, who is former Secretary of the city's Party Committee, brought home the silver prize in the category of Low Carbon Model Towns.
Addressing the award ceremony in Chile's Antofagasta on October 14, Thanh said his project aims to build Hai Phong as an ecosystem, with scientific applications in planning, management and development.
Activities that target the reduction of greenhouse gas emissions, environmental protection and climate change adaptation will serve as a driving force for green growth and sustainable economic development, he said.
Regarding the application of the model in APEC economies, especially developing and developed ones, Thanh stressed the need to raise public awareness, create new momentum for the economy, generate more jobs and shift towards renewable energy.
He also suggested expanding the public transport system, increase the use of bio-energy and consolidate natural infrastructure, including water and land resources.
To maintain and develop natural resources, and reduce pollutants, it is necessary to develop and duplicate the model of low-carbon cities, he said.
According to organisers, 63 cases from 17 APEC economies participated in the 2019 ESCI Best Practices Awards Program. A total of 25 finalists come from 13 economies have undergone the stress and strain of tough semi-final competition to become the last 11 winners.
Ten other winners were honoured in the categories of Smart Transport, Smart Buildings, Smart Grids, and Smart Jobs and Consumers./.
Laos plans to begin work on Laos-Vietnam railway in 2021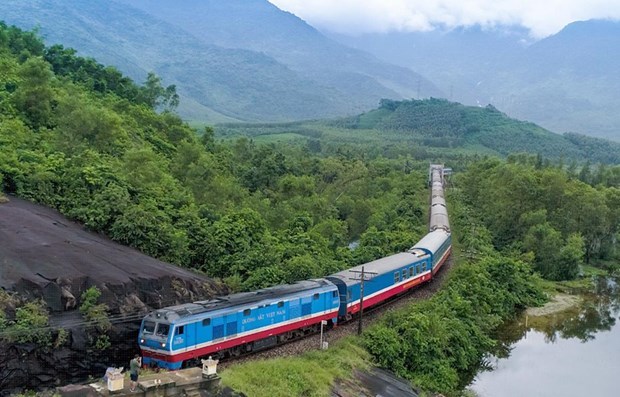 The Lao Government has entrusted the Petroleum Trading Lao Public Company (PetroTrade) to conduct a feasibility study on a Laos-Vietnam railway project, the Vientiane Times reported.
On behalf of the Lao Government, the Ministry of Planning and Investment and PetroTrade signed a memorandum of understanding on October 15 to study and complete a detailed design of the railway.
The route will run from Thakhaek district in Khammuan province of Laos to the Vietnamese border to connect with Vung Ang seaport in Vietnam's central Ha Tinh province. It will connect Laos to the ASEAN region and enable the development of infrastructure and facilities for trade-investment and agriculture, which gives Laos the potential to become a modern and industrialised country.
The railway will also transform Laos from a landlocked to a land-linked country, connecting regionally to realise the socio-economic development plan, according to the Vientiane Times.
PetroTrade Chairman Chanthone Sitthixay said the railway will cover a distance of between 240km and 270km, including about 150km on the Lao side and another 120km on the Vietnamese side. After obtaining permission from the Vietnamese Government, the company will continue the survey from the Vietnamese border to the Vung Ang seaport.
He noted the survey and design will be completed in 8-12 months. Later if the firm obtains official permission from the Lao and Vietnamese governments, construction of the railway shall be initiated at the end of 2021 and expected to be completed by 2024.
It will be a single-track railway in line with international standards to accommodate cargo and passenger transport with a speed of between 90 and 120km per hour, using equipment and technology from Indonesia, he said, adding that the project investment value will be determined and announced at future press conferences./.
Contest aims to eliminate gender stereotypes in fairy tales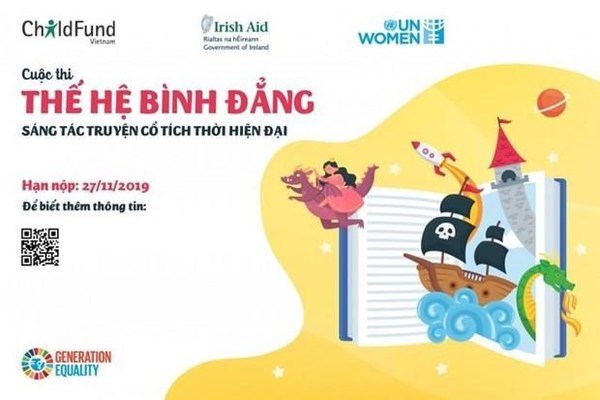 A contest on modern fairy tale creation is launched in Hanoi on October 17 with the aim of eliminating gender stereotypes and preconceptions in fairy tales.
A contest on modern fairy tale creation was launched in Hanoi on October 17 with the aim of eliminating gender stereotypes and preconceptions in fairy tales.
Jointly held by the United Nations Entity for Gender Equality and Empowerment of Women (UN Women), the Irish Embassy in Vietnam and ChildFund Vietnam, the contest has been designed for Vietnamese of all ages, especially children and teenagers.
Winners will have a chance to work with a group of experts to develop their stories into comic books or cartoons.
The contest's objective is to highlight the improved public awareness of gender equality in Vietnam, particularly in the sphere of literature and arts, creating a premise for next generations to access gender equality-related books.
It targets the empowerment of women and children, and the reduction of gender inequality in literature.
The entries, each not exceeding 2,000 words, will be submitted to UN Women Vietnam's address at 304 Kim Ma, Hanoi, or email: unwomen2010@gmail.com
The contest will last until November 27, 2019./.
Int'l conference looks into advanced communication technologies 
An international conference on advanced technologies for communications (ATC 2019) was opened in Hanoi on October 17, providing a platform for Vietnamese and foreign scientists to share information on relevant fields.
The three-day event, held by the Radio and Electronics Association of Vietnam, the New York-based IEEE Communications Society and the Hanoi-based University of Transport and Communications, attracts more than 200 delegates from 26 countries, including those from Vietnamese ministries, sectors, universities and research institutes, along with domestic and foreign businesses.
Vietnamese Deputy Minister of Information and Communications Pham Hong Hai said telecommunication and communication technologies play a crucial role in the Fourth Industrial Revolution. Meanwhile, smart cities and e-government are among the targets Vietnam is aiming at.
Therefore, to soon become a digital country, Vietnam needs to share and learn ideas and experience from international experts and scientists, especially in advanced telecom and IT technologies, he noted.
About 70 speeches will be delivered during the ATC 2019, focusing on the 5G network and its application, smart transport systems, integrated networks, electronics, antenna and transmission, signal processing, and microwave engineering.
Organisers said they have received 125 reports from over 420 speakers of 26 countries. Most of them are in-depth studies with many discoveries and new tests about the most advanced telecom and IT technologies.
The conference is also a chance for scientists and businesses to introduce their research findings and transfer technologies.
The latest technologies of many tech groups like VNPT, Keysight Technologies, Rohde & Schwarz, Alongis Corporation, and Savis Technology Group, are also being showcased at the event./.
First liver transplant successfully performed in central region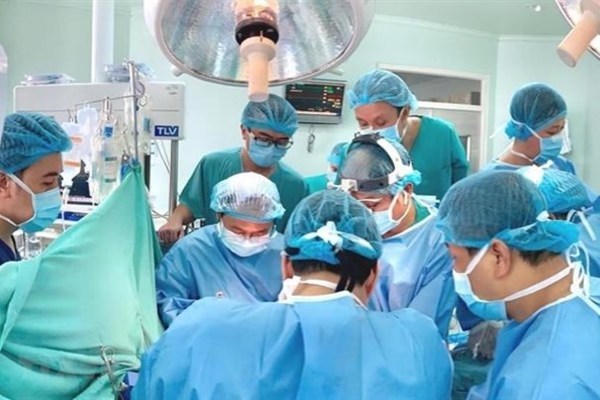 Doctors in Hue Central Hospital performs the liver transplant.
 :
Doctors of Hue Central Hospital in Thua Thien-Hue province have successfully performed a liver transplant on a patient with a tumour and hepatitis B.
The 52-year-old patient, Le Khac Ty, had been treated in intensive care at the hospital since 2014 for a tumour, as well as hepatitis B and cirrhosis.
He was advised to have a liver transplant and was put on the waiting list.
The patient received the new liver, which was donated by a brain dead patient in Hanoi, on August 31.
After 45 days of transplantation, the patient well recovered and came his normal life.
This was the first patient in the central and Central Highlands regions who was successfully transplanted liver by doctors of the Hue Central Hospital./.
VPBank Hanoi Marathon becomes official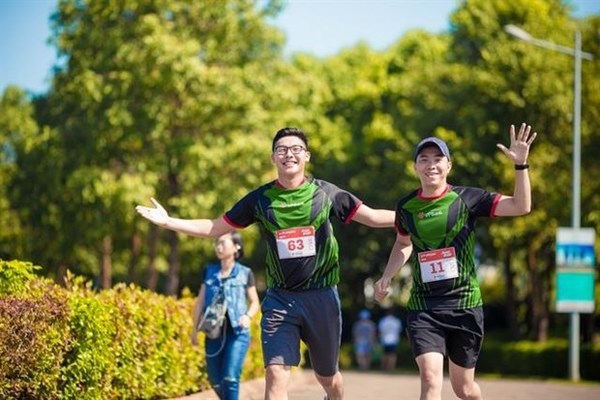 The VPBank Hanoi Marathon has become an official international marathon tournament in the capital city, the organising board told a press conference in Hanoi on October 16.
The 42km race will start at 4:30am on October 20 in front of Ba Kieu temple near Hoan Kiem lake in the very heart of the city, with 5km, 10km, 21km and 42km categories.
The event will attract about 7,000 professional and amateur athletes, over 1,500 of them foreigners. They will run through major tourist landmarks such as Hoan Kiem lake and West Lake, Long Bien bridge, Hanoi Flag Tower, Temple of Literature, and Tran Quoc pagoda, which will popularise Hanoi's tourism to foreign friends.
For each km or each photo at the VPBank Hanoi Marathon – Run & Share competition, VPBank will contribute 5,000 VND to one of the five charity funds chosen by participating athletes.
In September, VPBank Hanoi Marathon officially became a member of the Association of International Marathons and Distance Races (AIMS) and met the Boston Marathon standards recognised by the International Association of Athletics Federations and AIMS.
It is also one of the two official marathon tournaments by the Vietnam Athletics Federation.
Director of the municipal Department of Culture, Sports and Tourism To Van Dong expressed his hope that VPBank Hanoi Marathon will become an international cultural-sport event, contributing to the popularisation of Hanoi's culture, tourism and food to the world./.
Exhibitions on industrial machines, equipment open in HCM City
A series of international exhibitions on industrial machines and equipment kicked off in Ho Chi Minh City on October 16.
The four-day 19th Vietnam International Printing & Packing Industry Exhibition (VietnamPrintPack) attracts nearly 380 businesses from 18 countries and territories such as the UK, India, the Republic of Korea, Turkey, and China.
More than 600 pavilions introducing products, technology and technical solutions for the printing and packing sector are set up at the event.
Meanwhile, the first ever Vietnam International Bakery Equipment Show 2019 drew about 70 enterprises from China, Japan, and Malaysia.
Many seminars will be held at the expo, including on "Bakery Trends in Asia," "Food safety assurance in bakery production, trading and consumption" and "Bakery and Vietnamese people's health."
A "Family Day" to be held on the last day of the event will provide visitors with information on baking techniques and a chance to learn new baking methods./.
Quang Nam, Lao province to reinforce ties in border-related issues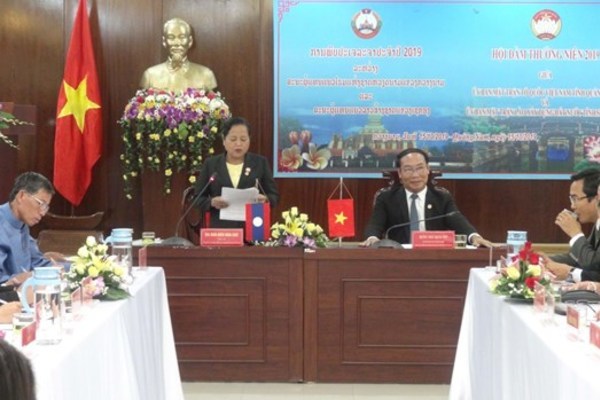 The talks between the Vietnam Fatherland Front Committee of Quang Nam province and the Lao Front for National Construction Committee of the Lao province of Sekong on October 15
The Vietnam Fatherland Front (VFF) Committee of Quang Nam and the Lao Front for National Construction (LFNC) Committee of the Lao province of Sekong held talks in Tam Ky city in the central Vietnamese province on October 15.
At the annual event, Chairman of the VFF Committee of Quang Nam Vo Xuan Ca informed participants of the local socio-economic situation, along with the coordination, information exchange and mutual assistance between the two provinces.
He noted that exchange activities and the twinning of villages in Quang Nam and Sekong have helped strengthen the solidarity and friendship between Vietnam and Laos.
Chairwoman of the LFNC Committee of Sekong Bunhien Bunchit appreciated Quang Nam's active and effective support for the Lao province, which has helped improve the material and spiritual lives of locals.
To realise the bilateral cooperation agreement, the LFNC Committee of Sekong and the VFF Committee of Quang Nam have coordinated with socio-political organisations to increase communications to raise border residents' awareness of the importance of building a border of peace, friendship and solidarity, along with the Vietnam-Laos agreement on land border and border gate management regulations.
Joint patrols have also been maintained to protect the shared border and border markers, the officials noted.
At the talks, Quang Nam and Sekong agreed to continue communication activities and the implementation of the countries' protocol on border and border markers. They will continue encouraging border residents to further engage in economic development and poverty elimination, while working together to deal with undocumented marriages and irregular migration across the border.
The two provinces will also coordinate more closely to search for the remains of volunteer Vietnamese and Lao soldiers who laid down their lives in each other's countries, the officials said.
Vietnam and Laos share a border of about 2,337km that runs across 10 Vietnamese provinces and 10 Lao provinces. The section between Quang Nam and Sekong is more than 140km long./.
Can Tho helps Khmer ethnics develop livelihoods, preserve script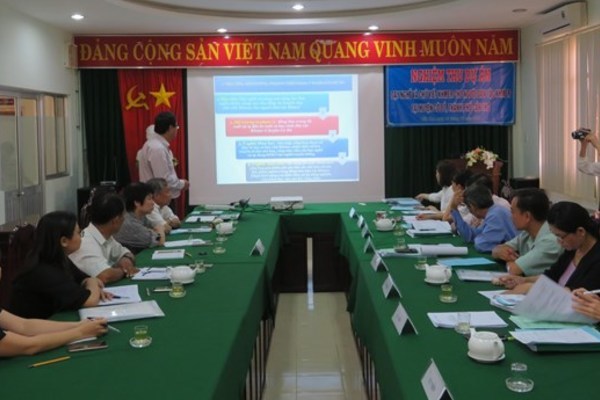 A 600 million VND (25,983 USD) project has launched Khmer script and vocational training classes for 183 Khmer ethnic people aged between 15 and 60 in Co Do district in the Mekong Delta city of Can Tho.
At an event to introduce the project on October 16, Tao Viet Thang from the municipal Committee for Ethnic Minority Affairs and head of the project said a research team has implemented a script teaching model at Khmer pagodas, while training ethnic people to grow rice and make handicrafts.
The team found that the group's rice cultivation method was out of date, resulting in low productivity and unstable incomes. In response they organised seminars and invited experts to help Khmer people apply technology to production and select suitable rice varieties to improve their earnings. The team has also opened water hyacinth weaving classes for the group to capitalize on cheap local materials that are readily available.
Witnessing the falling number of Khmer people who could write in their own language, the project invited intellectuals and teachers within their community to revive the language. The initial outcome has shown positive improvements.
Tran Thanh Be, former director of the Can Tho Institute of Socio–Economic Development Studies, lauded the project's socio-cultural-economic value, saying further assistance from relevant public sectors and departments is needed to replicate the model for other ethnic communities across Can Tho./.
Government officials trained for global citizenship
Thirty-two educators and government officials from seven countries in Southeast Asia are participating in a capacity-building workshop on fostering global citizenship for sustainable communities in Southeast Asia
Thirty-two educators and government officials from seven countries in Southeast Asia are participating in a capacity-building workshop on fostering global citizenship for sustainable communities in Southeast Asia that opened on in HCM City on October 15.
The four-day workshop is jointly organised by the Southeast Asian Ministers of Education Organisation (SEAMEO) Regional Training Centre in Vietnam and the Asia-Pacific Centre of Education for International Understanding (APCEIU).
Toh Swee-Hin, Professor Emeritus in Education at the University of Alberta in Canada, said that global citizenship education aims to empower learners to assume active roles to resolve global challenges and to become proactive contributors to a more peaceful, tolerant, inclusive and secure world.
Global citizenship education toward a culture of peace seeks to develop citizens who have the values, attitudes, knowledge, capacities and skills to actively and responsibly participate in all dimensions of societal development at local, national and global levels, he said.
It promotes a critical consciousness and understanding by citizens of the root causes of multiple conflicts in local, national and global levels of life, including the interconnection of global relationships and structures with local and national realities.
It also empowers active citizens to engage in personal and social action to build a peaceful, compassionate, loving, respectful and sustainable world, he said.
Global citizenship education applies a lifelong learning perspective and requires both formal and informal approaches, he added.
Jihong Lee, head of APCEIU's Office of Education and Training, said that educators and government officials play crucial roles in bringing changes to our education and society through policies, curriculum, teaching and learning practices as well as pedagogies.
Community support and participation is important to make the efforts sustainable and attainable, and the collaboration between educators and government officials at central and local levels is also very crucial.
The workshop aims to spark passion for transformative education, and enhance capacities to carry out innovative initiatives on global citizenship education at the local, provincial, national and regional levels, she said.
APCEIU was established in 2000 under an agreement between UNESCO and the Government of the Republic of Korea in order to promote education for international understanding and global citizenship education with UNESCO member states./.
Deputy PM pushes construction of Long Thanh int'l airport
Deputy Prime Minister Trinh Dinh Dung inspects resettlement area for Long Thanh international airport
Deputy Prime Minister Trinh Dinh Dung has asked for the first stage of construction at Long Thanh international airport in the southern province of Dong Nai to be launched in the first quarter of 2021.
During a working session with provincial authorities on October 16, Dung said the province should step up site clearance, build resettlement areas, and ensure national safety and order as the project impacts over 5,000 households.
The locality was asked to closely control construction in areas around the airport, and seriously deal with any land speculation.
The Ministry of Natural Resources and Environment and the Ministry of Planning and Investment will send officials to Dong Nai to work on compensation for the affected households and project disbursement.
The Transport Ministry has been assigned to direct the Airports Corporation of Vietnam to prepare for the construction.
According to provincial authorities, site clearance will be completed this year.
Vice Chairman of the provincial People's Committee Tran Van Vinh said over 1,800ha of land will be used during the first stage.
In order to ensure the project's progress, authorities recently held a working session with the Transport Ministry on zoning off the road from National Highway 51 to the airport, saying that it must be finished next year to make it easier for vehicles to enter the construction site.
Minister of Natural Resources and Environment Tran Hong Ha pledged to send experts to the province to speed up the work./.
UNDP-funded programme raises awareness of climate change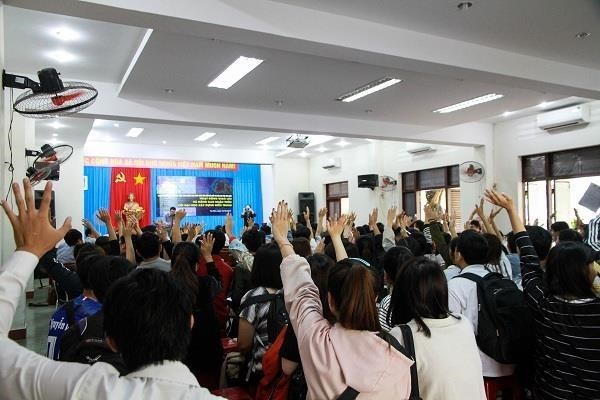 An event funded by the UN Development Programme (UNDP) in Vietnam to raise awareness of climate change has been held for students from the Central Construction University in the central province of Phu Yen.
Phu Yen is one of the central coastal provinces most heavily affected by climate change. The activity aimed to highlight the role of low-cost and resilient housing design, and share knowledge related to climate change in coastal areas.
The event also offered a good chance for students to show their initiative and produce practical designs that benefits the community and minimizes the impact of climate change.
The programme was organized under the framework of an innovation competition themed "Designing resilient houses - sustainable communities with climate change in the coastal areas", which aimed to explore viable designs for resilient homes that can withstand floods and storms.
The competition is part of a project themed "Improving the resilience of vulnerable coastal communities to climate change related impacts in Viet Nam" supported by the Green Climate Fund (GCF), the UNDP and the Government of Vietnam./.
Forum discusses improving women's role in traffic safety
The National Traffic Safety Committee and the Vietnam Women's Union (VWU) held a second forum on women and traffic safety in the central city of Da Nang on October 16.
Participants discussed women's role in ensuring traffic safety and measures to reduce traffic accidents such as starting traffic safety meetings, competitions and seminars, among others.
Chief of the committee Nguyen Trong Thai said the rate of alcohol and beer use in Vietnam is alarming. Statistics show that 15 – 20 percent of traffic accidents are caused by drunk drivers.
Over the years, the VWU has regularly held seminars, forums and exchanges on traffic safety in combination with communication activities at the grassroots level.
Its chapters have raised public awareness about laws and policies to ensure traffic safety and order, and promoted the use of helmets for children.
According to the committee, the number of traffic accidents together with that of fatalities and injuries has fallen in recent years.
In the first nine months of this year, there were over 12,600 traffic accidents, down 40.28 percent annually, but killing more than 5,600 people and injuring 9,600 others./.
Fire-fighting drill held in Da Nang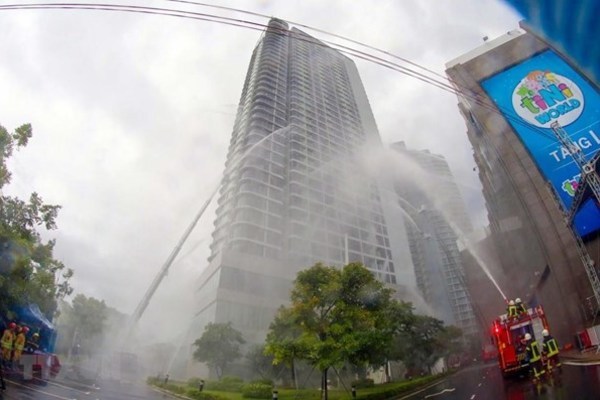 The drill draws more than 1,500 people and 100 vehicles
More than 1,500 people and 100 vehicles took part in a fire-fighting drill held on October 16 in the central city of Da Nang by the Ministry of Public Security, the Ministry of Defence and the municipal People's Committee.
The scenario was a blaze in the Han River Restaurant on the third floor of Vinpearl Condotel Riverfront Da Nang Hotel caused by a gas leak, which led to the collapse of the restaurant and part of the second floor.
Rescuers tried to evacuate 300 people from the building and extinguish the blaze.
Firemen and vehicles from the neighbouring provinces of Quang Nam and Thua Thien-Hue were mobilised to support the efforts, while the Ministry of Defence sent rescue helicopters to the site.
The drill took place safely and successfully.
According to the organisers, the practice aimed to raise awareness among departments and agencies across the city about fire prevention and fighting and rescue activities, while enhancing coordination between police forces and other relevant units in handling massive fires and explosions.
It was also used to test the effectiveness of fire-fighting equipment and communication work during an unexpected incident./.
Activities planned for World Day of Remembrance for Road Traffic Victims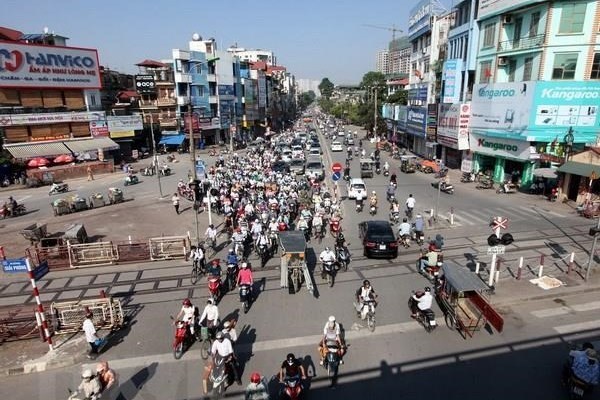 Ảnh:
The National Traffic Safety Committee will organize a range of activities across the country in response to the World Day of Remembrance for Road Traffic Victims (November 17).
The activities are meant to raise the alarm about traffic accident, enhance the public's awareness about traffic safety rules, and call for help for traffic accident victims and their families.
They will be held during one month before the main event, which is a memorial service for traffic accident victims to be held in Ho Chi Minh City on November 17.
Communication campaigns will be organized on various channels, and agencies, political-social organisations, companies and philanthropists will offer assistance to families of traffic accident victims.
The National Traffic Safety Committee will set up three delegations to visit victims receiving treatment at Viet-Duc Hospital in Hanoi, and victims' families in especially difficult circumstances in Dak Lak, Gia Lai, Ninh Binh and Thanh Hoa provinces.
The committee will also coordinate with Prudential Vietnam and local traffic safety committees to present scholarships to children of traffic accident victims in many provinces.
A total of 12,675 traffic accidents occurred nationwide in the nine months to September 14, killing 5,659 people and injured 9,619 others, according to a report of the National Committee for Traffic Safety.
The number of accidents dropped 4.28 percent compared to the same period last year, while the number of deaths and wounded victims also declined 5.87 percent and 6.78 percent in the period, respectively.
Among the accidents, 12,501 happened on the roads, 121 on the railways, 43 on waterways and 10 at sea./.
Truck-coach collision kills one, injures 10
One person died and ten others were injured in a collision between a truck and a coach in central Ngh? An Province on Tuesday.
The accident happened at around 11am on Vinh City's bypass road in the province's Nghi Loc District.
According to some witnesses, the truck hit the 49-seat coach travelling in the opposite direction when it was attempting to pass a vehicle in front of it.
A co-driver was reported dead at the scene.
The injured passengers were immediately taken to the 115 Ngh? An Hospital to receive treatment.
The accident blocked traffic for hours.
The case is under further investigation.
HCM City hospitals urged to improve quality further as patients remain dissatisfied
The HCM City Department of Health has instructed hospitals to further improve their services warning that patients are still not satisfied with them.
The latest survey by the department last month found that patients were unhappy about having to wait too long to get medicines covered by health insurance and the lack of seats at public hospitals.
The total number of patients expressing dissatisfaction was 3,952, 1.7 per cent more than in August but 36.2 per cent less than in September last year.
The monthly survey is meant to help hospital managers know about and rectify shortcomings to improve patient's satisfaction, the department said.
At most public hospitals, it has installed touch screen kiosks for patients to complain about services. The complaints are sent to the department for its monthly survey.
While many hospitals received complaints about the medicines covered by insurance and seats, some have been addressing them using IT solutions.
At Phú Nhu?n District Hospital, for instance, prescriptions made by doctors are sent in serial order to the system in its pharmaceutical department. There the department workers check the prescriptions on their computer screens and get the medicines for patients.
Earlier patients had to bring their prescription to the pharmaceutical department and wait to get the medicines.
Dr Võ Van Minh, the hospital's director, told Sài Gòn Gi?i Phóng (Liberated Sài Gòn) newspaper the new procedure reduced the waiting time from 34 minutes to 12 and, importantly, prevented errors.
Reforming procedures related to examination and treatment is one of the hospital's main targets to improve patients' satisfaction, according to Minh.
The Children's Hospital 1 has a mobile phone app for parents to register their ill children and fix an appointment from home instead of coming to the hospital, collecting a token and waiting for their turn as they used to do in the past.
They can also pay for the treatment through the application, according to the hospital.
The app also stores, manages and monitors patients' medical information and reminds them of their follow-up schedule.
Assoc Prof Dr Nguy?n Thanh Hùng, the hospital's director, said the aim was to create a smart system of healthcare services through a combination of human intelligence and IT solutions, an indispensable need if the country was to integrate globally.
Before introducing the app, the hospital offered this service on its website.
The use of IT helped reduce overloads and burnout for hospital staff and makes healthcare more efficient and faster, he added.
Assoc Prof Dr Tang Chí Thu?ng, the department's deputy head, said hospitals had their own plans to improve administrative procedures.
Those with shortcomings should take the initiative to rectify them, he said.
Statistics from the department show that the number of outpatients at hospitals increased by four million year-on-year in the first nine months of this year.
There were more than 36 million outpatients in all.
Central localities jointly promote tourism in Singapore
Tourism management agencies in Thua Thien-Hue, Danang and Quang Nam have teamed up to launch a tourism event on October 15 in Singapore, introducing popular destinations in the three central localities to international tourists.
The event is part of ITB Asia 2019, an international three-day trade show and convention for the tourism industry in Marina Bay Sands, Singapore.
Gathering nearly 100 participants who are representatives of tour operators, press and tourism officials of Singapore, the event was expected to help the three Vietnamese localities woo more Singaporeans and international tourists who have layovers in this island country, said Nguyen Thanh Hong, director of the Tourism Department of Quang Nam Province.
The three localities collaborated to become a preferred destination, offering three tourism product groups: the World Heritage Road, beach resorts and community-based ecotourism, Hong added.
To encourage more international visitors from Singapore to visit the region, new air routes connecting the two locations have been launched.
Nguyen Van Phuc, deputy director of Thua-Thien Hue Tourism Department, told the Saigon Times that local carriers, including the newly established Vietravel Airlines, Vinpearl Airlines and Kite Airs, have set up major tourism projects in the three localities.
Accordingly, they are also preparing to operate regular or chartered flights linking the Central region with Singapore and other large markets, Phuc added.
Speaking at the event, commercial counselor Tran Thu Quynh, head of the Trade Office at the Vietnamese Embassy in Singapore, said that the number of visitors to the three localities would rise if more flights from Singapore and other nations to the Central region are launched.
With its diversity of tourism resources, the Central region has increasingly attracted Southeast Asian visitors who wish to experience the local culture and lifestyle, participate in cruise tourism or attend conferences, she said.
PM urges Hai Phong to take lead in agriculture modernisation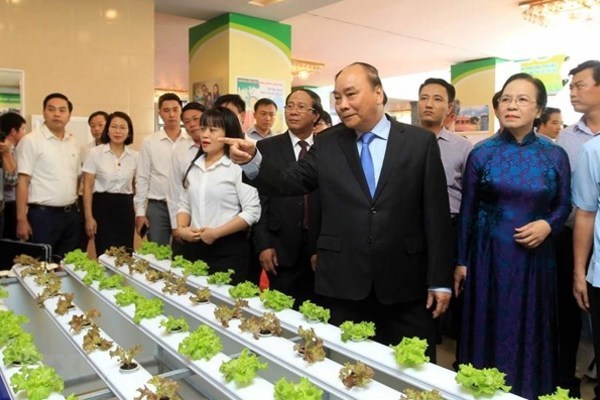 Prime Minister Nguyen Xuan Phuc visits a pavilion showcasing Hai Phong's agricultural products
Prime Minister Nguyen Xuan Phuc said he expects the northern port city of Hai Phong will take the lead in developing a modern agricultural industry while addressing a conference on October 15 to review the implementation of the national programme on new-style rural building areas in the city in 2010-2020.
He congratulated Hai Phong on its achievements in the field, contributing significantly to the achievement in rural development across the country.
The PM said building new-style rural areas is a strategic and long-term revolution, demonstrating the due attention of the Party and State to agriculture, farmers and rural areas.
The programme also creates a firm foundation for the country's modernisation and industrialisation, which needs the active involvement of the whole society, he said.
The PM asked Hai Phong to exert more efforts as no district in the city has been recognised as new-style rural area, while 40 districts nationwide have gained this status.
He suggested Hai Phong address small-scale agricultural production and waste treatment while diversifying products with high quality for exports.
According to Chairman of the municipal People's Committee Nguyen Van Tung, all of the 139 rural communes in the city have met all criteria for new rural areas.
Over 92 percent of rural households in the city have accessed to clean water. Only one percent of households are living under the poverty line (the nationwide proportion is 4.5 percent). The annual per capita income in rural areas in 2019 is estimated at 55 million VND (2,366 USD), up 18.05 million VND against 2015.
The city strives to have all districts meet new-style rural criteria, and four districts, 20 communes, and 100 hamlets meet criteria for model new-style rural areas by 2025.
On this occasion, the municipal People's Committee presented emulation flags to two collectives, certificates of merit to 84 collectives and 298 individuals in recognition of their significant contributions to the implementation of the national target programme on building new-style rural areas./. 
Hanoi launches Month for the Poor 2019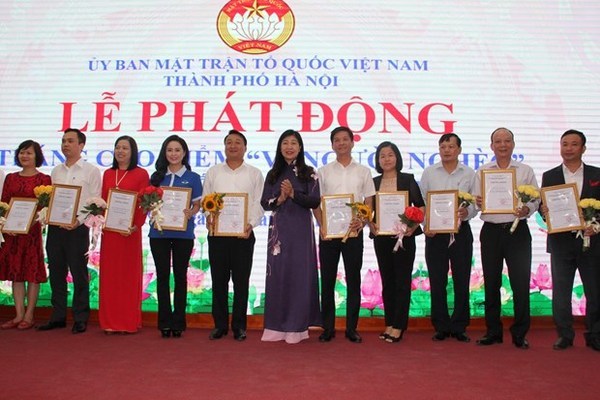 The Fund for the Poor of Hanoi received over 7.2 billion VND (309,600 USD) from organisations and individuals at a ceremony held in the capital city Hanoi on October 15 to launch the Month for the Poor.
According to President of the Vietnam Fatherland Front (VFF) Committee of Hanoi Nguyen Lan Huong, the month will run through November 18.
Donors can contribute to the fund directly at the committee's office at 29 Ly Thuong Kiet Street, Hoan Kiem District, or through bank transfer to the VFF account number 376 109 057 259 91046 at the State Treasury.
On the occasion, the city VFF Committee also handed over the funding to build five charity houses, along with three breeding cows and two motorbikes to local poor households.
In 2018 and the first nine months of 2019, the fund raised more than 80 billion VND for the poor, while supporting the construction of 3,000 charity houses and the upgrading of more than 2,000 houses.
It provided capital and production materials for more than 5,000 poor households, assisted more than 3,000 poor households to access health care services, and offered scholarships to 13,000 poor students.
At the same time, through the Hanoi branch of the Vietnam Bank for Social Policies, the fund provided 14 billion VND for poor households with zero percent interest rate to help them promote production. Thanks to the capital, many households have escaped from poverty, contributing to reducing the poverty rate in the city to 1.16 percent./.
Scholarships granted to disadvantaged students in Binh Dinh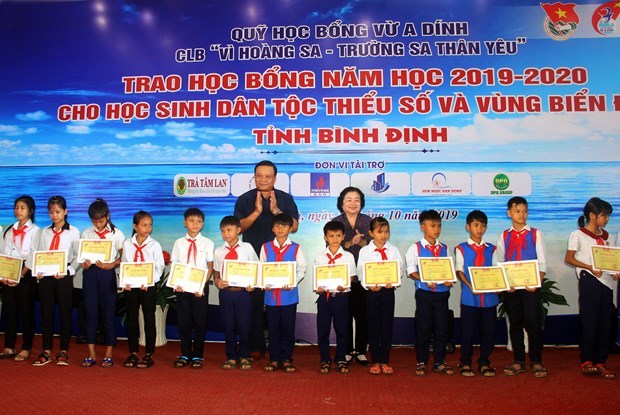 The Vu A Dinh Scholarship Fund and its "For beloved Hoang Sa and Truong Sa" club on October 15 granted 110 scholarships to disadvantaged students in the south-central coastal province of Binh Dinh.
The scholarships, each worth 1 million VND (43 USD), were presented to 50 ethnic minority students as well as 60 children of naval soldiers and poor fishing families.
Speaking at the event, Vice Director of the Binh Dinh Department of Education and Training Le Thi Dien praised the scholarships' meaning to the country's work to promote learning and build an education society.
Former Vice President Truong My Hoa, who is also Chairwoman of the fund and head of the club, said the scholarships honour the students' efforts in overcoming difficulties and achieving outstanding academic performances.
So far this year, the fund and the club have granted 8,000 scholarships.
The Vu A Dinh Scholarship Fund – named after a young ethnic liaison boy who was killed during the French resistance war – was set up in 1999 by the Ho Chi Minh Communist Youth Union to support poor ethnic students in their study.
In 2014, the fund established its "For beloved Hoang Sa-Truong Sa" club with the aim of offering assistance to naval soldiers and fishermen who are safeguarding the country's sovereignty over the sea and islands./.
Quang Tri new water supply system built
A truck delivers building materials to construct the water treatment plan after the project was launched.
A total of 980 billion VND (42.14 million USD) has been poured into a water supply project in Hai Lang district, the central province of Quang Tri.
By the end of 2020, the system will provide 50,000cu.m of clean water per day, for both households and factories in the provincial Southeast Economic Zone and its vicinity including Quang Tri town, Hai Lang and Trieu Phong districts.
The project's total capacity is 270,000cu.m of water per day. During the first phase, implemented from 2019 to 2025, 95,000cu.m of water will be treated each day.
There will be a water pumping station and a water piping system in Hai Le commune, a reservoir of 450,000cu.m and a pumping station in Trieu Son commune, and a water treatment plant suppling 50,000cu.m of clean water and a water piping system in Hai Que commune.
The Quang Tri Southeast Water Supply Company, the project's investor, pledged to design and operate the system following international standards and only use equipment imported from G7 countries.
Speaking at the launch on October 15, Nguyen Quan Chinh, Vice Chairman of the provincial People's Committee, said the supply system is one of first three projects launched in the zone, helping to set a foundation for others to follow.
The province's southeast economic zone was established by the Prime Minister in October 2016.
The zone covers nearly 24,000ha, over three coastal districts in Trieu Phong, Hai Lang and Gio Linh including My Thuy Port, a non-tariff area and other areas for factories, logistics and tourism services.
It will be connected with the East-West Economic Corridor spanning more than 1,450km through Myanmar, Thailand, Laos and Vietnam via Lao Bao International Border Gate./.
Ha Long city welcomes 7.9 million visitors in nine months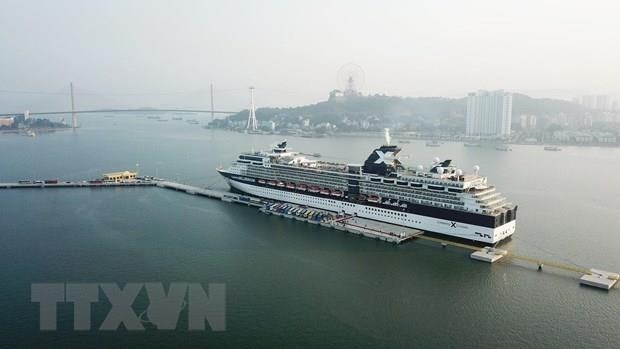 Ha Long city in the northeastern province of Quang Ninh welcomed 7.9 million visitors in nine months of this year, up 21 percent.
Tourism revenue surpassed 15.7 trillion VND (682.6 million USD), up 35 percent annually.
The World Heritage Site Ha Long Bay is now home to about 500 cruise vessels, 189 of them offer overnight accommodation.
Municipal authorities regularly inspect service quality at restaurants, lodging facilities, entertainment areas and shopping malls.
In the past nine months, they received 141 calls through hotlines and promptly dealt with visitors' complaints, thus improving their satisfaction.
Goods sold at supermarkets and shopping malls ensure quality with clear origin.
Tourism infrastructure is also upgraded, including Road 18A, while a coastal road linking Ha Long city with Cam Pha city is expanded.
In August, British travel magazine Rough Guides included Ha Long Bay in its selection of the 100 most beautiful places to visit next year.
In the Rough Guides to the 100 Best Places on Earth, the magazine describes "the scattering of limestone pinnacles jutting out of the smooth waters of Ha Long Bay", around four hours northeast of Hanoi, as an "incredible sight". The bay was the only Vietnamese destination in the list.
In September, Ha Long Bay was named as one of the most popular attractions in Asia, according to the South China Morning Post (SCMP) based in Hong Kong.
Around 5.2 million foreigners visited Ha Long Bay in 2018, up 22 percent from a year ago, accounting for 30 percent of the 15.6 million foreign tourist arrivals to Vietnam./.