136,000 tonnes of rice allocated to pandemic-hit localities
The General Department of State Reserves under the Ministry of Finance provided over 136,300 tonnes of rice to help pandemic-hit people from August 16 to October 8.
Of the rice amount, more than 75,413 tonnes of rice sourced from the national reserve have been transferred to 9 southern provinces and cities to help thousands of people facing difficulties due to the COVID-19 pandemic. Particularly, Ho Chi Minh City received over 71,000 tonnes of free rice.
Meanwhile, 4,117.8 tonnes of rice were handed over to Binh Phuoc, Bac Lieu and Soc Trang provinces while 1,847 tonnes of rice were given to Quang Nam and Quang Ngai provinces
From September 20 to September 22, the State Reserve Department in the North Central Highlands region allocated over 208.8 tonnes of rice to support 3,360 households with 13,925 people in 10 districts of Gia Lai province.
The State Reserve Departments at localities were tasked to work with local authorities to deliver the rice to people in need at the earliest.
According to the General Department of State Reserves, the timely provision of food from the national reserve is one of the important political tasks particularly in the context of social distancing in many localities due to the complicated development of the COVID-19 pandemic./.
Exchange programme strengthens Vietnam-Hungary traditional friendship
An exchange was held in the Hungarian eastern city of Hajdúszoboszló from 15-17 as a tribute to former Hungarian officials who joined the international mission supervising the implementation of the Paris Agreement on ending the war in Vietnam in the 1973-1975 period.
The event saw the presence of President of the Hungary-Vietnam Friendship Association Dr. Botz László, a former senior military officer of Hungary, and more than 50 members of the association, as well as Vietnamese Ambassador to Hungary Nguyen Thi Bich Thao, President of the Vietnamese Association in Hungary Vu Quy Duong and representatives from the Vietnamese community in the European country.
Addressing the event, Dr. Botz László recalled his memory as a member of the Hungarian mission supervising the agreement, underlining that during his time in Vietnam, he was impressed at the resilience and heroic spirit of Vietnamese people and support from international friends to Vietnam.
With his love for Vietnam, after concluding his mission, he and his fellow officers formed the Hungary-Vietnam Friendship Association at a hope to help younger generations get deeper understanding on the land and people of Vietnam as well as the traditional friendship between the two countries.
For her part, Ambassador Thao lauded the precious contributions by the Hungary-Vietnam Friendship Association, Dr. Botz László, the Vietnamese Association in Hungary and its President Vu Quy Duong as well as other individuals in reinforcing the traditional ties between Vietnam and Hungary and boosting the bilateral partnership.
The ambassador affirmed that always remembers valuable support from international friends, including Hungarian people to the country's struggle for national independence and reunification in the past as well as the current national construction and defence.
Vietnam and Hungary have shared traditional friendship and comprehensive partnership over the past more than seven decades, she noted, stressing that the Government and people of Vietnam highly values the effective assistance from the Government and people of Hungary, especially during the recent fight against COVID-19.
She expressed her hope that the Hungary-Vietnam Friendship Association and Hungarian friends will continue to accompany the Vietnamese Association in Hungary in strengthening the friendship between the two nations and boosting bilateral friendship.
Vu Quy Duong, President of the Vietnamese Association in Hungary, told the Vietnam News Agency that this is an occasion for the former Hungarian officials engaging in the international mission supervising the implementation of the Paris Agreement on ending war in Vietnam in the 1973-1975 period, to recall their memory during their time in Vietnam, and for strengthening the solidarity among Vietnamese and Hungarian people.
Within the framework of the event, various activities were held, including a documentary film screening on Hungarian friends during the war in Vietnam. Participants also had a chance to enjoy Vietnamese art and traditional dishes of Vietnam and Hungary./.
People traveling to Hue from 'orange and red zones' must test negative for Covid
The People's Committee of Thua Thien-Hue Province has updated guidance on the monitoring of people traveling to the central province applicable from October 16.
The new guidance is based on the pandemic risk levels regulated by the Ministry of Health (MoH).
People coming to Covid-free areas, a.k.a. green areas, are recommended to have a negative test result valid for 72 hours, file a health declaration and self-monitor their health.
According to MoH's website at nguyco.antoancovid.vn, people from Danang, Phu Yen or part of Hanoi, which are ranked as green zones, will apply the above regulations.
Meanwhile, people coming from low-risk yellow areas such as Quang Nam, Quang Tri or another part of Hanoi are recommended to have a negative test result valid for 72 hours and file a health declaration.
Persons who received two doses of a Covid vaccine or recovered from Covid within the past six months should self-monitor their health for seven days. Those who are unvaccinated or who received just the first dose shall be subject to medical supervision at their stay for seven days and continue to self-monitor their health for another week.
Those from high-risk (orange) and extremely-high-risk (red) zones such as Can Tho, Quang Binh, Gia Lai, HCMC, Binh Duong and Ba Ria-Vung Tau are subject to stricter regulations. They must show a negative test result and self-isolate at home.
People who are on official duty, diplomatic missions and investors are required to only have a negative test result valid for 72 hours and make a medical declaration, apart from getting the approval from the province.
Weather turns cold in northern, north central regions
The weather has turned cold in the northern and north central regions, with temperatures in some mountainous areas dropping below 17 degrees C, due to a new strong cold wave.
Shower is forecast for the northern plain and coastal areas, with temperatures dropping to 18 degrees C at the lowest.
Strong northeasterly winds of 39-49 km per hour with gusts of 75-88 km per hour are recorded in the Gulf of Tonkin.
Under the impact of the cold wave, torrential rains are forecast for the areas from south Nghe An province to Thua Thien-Hue province, posing high risk of flash floods and landslides in mountainous areas and flooding in low lands.
The national steering committee for natural disaster prevention and control instructed localities in the northern and north central regions to closely monitoring high risk areas so as to timely evacuate residents when necessary. Coastal localities are asked to take the initiative in controlling the movement of fishing boats to ensure safety./.
Vincom hosts stone sculpture exhibit showcasing contemporary local artists
To showcase artwork by contemporary Vietnamese sculptors, the Vincom Centre for Contemporary Art (VCCA) is collaborating with the Lương Art Space to host an exhibition. 'Biến Chuyển', which translates as 'Transforming', runs until January 2, 2022 and showcases diverse and significant contemporary artworks. 
The exhibition introduces to the public 35 works from nine famous Vietnamese sculptors: Đào Châu Hải, Lê Thị Hiền, Khổng Đỗ Tuyền, Lê Lạng Lương, Lương Văn Việt, Trần An, Thái Nhật Minh, Lương Trịnh and Đào Tân.
The idea originates from Ninh Vân in Ninh Bình Province, where there is a long-standing traditional stone craft village.
Artists used pure stone material to create their pieces, colours and shapes according to their different styles and personalities. Some have broken with tradition to express contemporary ideas that will appeal to a wide range of audiences.
"The artistic evolution of 'Biến Chuyển' brings the collective minds of the sculptors towards the homeland, the origin, where many generations of elite artisans have created architectural and artistic works across the country," sculptor Khổng Đỗ Tuyền shared.
Lương Xuân Đoàn, President of the Vietnam Fine Arts Association, commented, "Vietnamese contemporary sculptures will continue to be different. The more different, the better and each artist is posing their own challenges. When I feel the new voices of artists through these works, it is they who are creating the energy that nourishes the hope of Vietnamese contemporary sculpture."
Exhibition 'Biến Chuyển' is open with free entry till January 2, 2022 at Vincom Centre for Contemporary Art (VCCA), Royal City. 
As well as the exhibition, VCCA will organise art talks held by famous artists, experts and critics.
During the exhibition, VCCA will ensure the strict implementation of pandemic prevention and control activities, including: limiting the number of visitors, ensuring medical declarations are made, measuring body temperature at the entrance of Vincom Royal Shopping Centre, and requiring visitors to wear masks and keep their distance. 
Hanoi, HCMC asked to report violations in collection of Covid testing fees before Oct 18
The Ministry of Health has asked the Hanoi and HCMC Departments of Health to report violations, if any, in the collection of Covid-19 testing fees and handle them before October 18 as some hospitals and clinics there have failed to comply with testing regulations.
The ministry has written to the local Departments of Health nationwide, hospitals under the management of the ministry, ministries, agencies and private clinics on the testing fee collection, the local media reported.
According to the Ministry of Health, the pandemic is not yet under control in many parts of the nation, so it is necessary to ensure fast testing to detect Covid-19 infections.
The ministry asked units to review and inspect compliance with the regulations on testing and fee collection.
Hospitals and clinics must follow the ministry's guidelines on Covid-19 testing and must not abuse the Covid-19 testing procedure and burden patients, especially those suffering from chronic diseases.
They were also asked to cooperate with insurers to help patients who are asked to undergo Covid-19 tests.
Majority of businesses to start immediate recruitment
Nearly 57 percent of companies plan to start recruiting immediately as things resume normality, after the fourth Covid-19 wave forced their suspension for months.
 
IT has the highest demand growth rate for recruitment, rising 50 percent and 45 percent from pre-pandemic levels in Hanoi and Ho Chi Minh City, respectively.
Half of respondents said they would recruit completely new and inexperienced employees as they seek to optimize recruitment costs, with priorities for sales and IT candidates, said the survey, which polled over 400 employers and 1,200 jobseekers in August.
The figures show a high demand for labor amid major shortages being reported in southern manufacturing facilities as workers leave major industrial localities like HCMC and Binh Duong for their hometowns, their cash depleted.
More than 87 percent of jobseekers said they were affected by the pandemic.
More than half of respondents have been tightening their spending.
Nearly 52 percent of employees will switch to a new job when the Covid-19 situation is controlled./.
Exchange programme cements Vietnam-Hungary friendship
The Vietnamese Association in Hungary and the Hungary-Vietnam Friendship Association co-hosted an exchange programme on October 15-17 to honour Hungarians who joined the international delegation overseeing the implementation of the Paris Peace Agreement in Vietnam in the 1973-1975 period.

Dr. Botz László, head of the Hungary-Vietnam Friendship Association, said that he and his colleagues were honoured to be selected as members of the delegation because it was the first time that Hungary had participated in an international mission to monitor and protect peace abroad.
During their stay in Vietnam, they saw with their own eyes and admired Vietnamese people's sacrifices and heroic spirit in the struggle for national liberation and reunification as well as support of international friends for Vietnam.
Upon returning to Hungary, László and his colleagues founded the Hungary-Vietnam Friendship Association to help Hungarians further understand Vietnam and promote the friendship between the two countries.
In her address, Vietnamese Ambassador to Hungary Nguyen Thi Bich Thao affirmed that Vietnam is always grateful for valuable support from international friends, including Hungarians, in its past struggle for national liberation and reunification, as well as in the current national construction and defense.
She thanked the Hungarian Government and people for providing Vietnam with the AstraZeneca vaccine and medical supplies to help the Southeast Asian nation combat the ongoing fight against COVID-19.
Ambassador Thao expressed her wish that the Hungary - Vietnam Friendship Association and Hungarian friends who love Vietnam will continue to accompany the Vietnamese Association in Hungary to further strengthen the traditional friendship and comprehensive partnership between the two countries.
Vietnam wants to keep South Korean coach
Vietnam is planning to negotiate a contract renewal with South Korean Coach Park Hang-seo after he returns to the country. 
Vietnam is planning to negotiate a contract renewal with South Korean Coach Park Hang-seo after he returns to the country. 
There have been rumours that local football authorities would not renew the contract of head coach Park Hang-seo after some consecutive losses at the ongoing final round of the 2022 FIFA World Cup Asian qualifiers.
The Tien Phong Newspaper on Saturday cited a representative of the Vietnam Football Federation (VFF) as saying that coach Park was still the best option for the Vietnamese national team at present.
According to the Ten Phong Newspaper, the representative denied South Korea's Sport Chosun Newspaper's opinion that coach Park might lose his position as head coach of the Vietnamese football team. He said the VFF appreciated the great contributions of Park to the national team and wanted him to continue. They would negotiate a new contract with Park's representative, Lee Dong-jun, soon.
Earlier General Secretary VFF, Le Hoai Anh confirmed that they had sent a proposal to coach Park's representative, Lee Dong-jun, to settle a date for negotiating the contract renewal.
"We had agreed that we would negotiate it after the match with Oman," Anh noted.
Permanent Vice President of VFF, Tran Quoc Tuan, said that they were not so disappointed and surprised with the team's failure at the 2022 FIFA World Cup Asian qualifiers and they considered this was a good chance to prepare for better results for the 2026 FIFA World Cup.
"The failure in some recent matches could be a good lesson for the Vietnamese players, especially young players," Tuan said. "We have given opportunities to many young players. We've carefully watched them and listened to opinions from experts. Having a chance to play with the best teams in the region meant they improved a lot."
Vietnam have set a milestone in advancing to the final 2022 FIFA World Cup Asian qualifiers for the first time in their domestic football history, but have yet to register a point after four consecutive defeats.
Vietnam are in the same group as Japan, Australia, Saudi Arabia, China and Oman.
Ba Ria-Vung Tau reopens beaches
The southern province of Ba Ria-Vung Tau reopened its beaches, indoor and outdoor sports activities, and a wide range of essential services starting today, October 16.
The provincial government yesterday issued a document adopting some measures on safe adaptation to the Covid pandemic.
Local residents are allowed to access beaches, but must wear face masks before and after sea bathing and practice anti-Covid measures.
Outdoor sports activities can resume but participants are banned from large gatherings of more than 20 people. Indoor sports activities are subject to a limit of 10 people and participants must get at least one Covid vaccine shot.
Many essential services such as vehicle repair shops, operation and maintenance services, grocery, book and electronics stores are also allowed to reopen.
Restaurants and eateries can offer take-away services. In addition, hair salons can reopen but gatherings of more than five people at the same time are banned.
Further, indoor meetings and events are capped at 30 attendees, except for events allowed by the provincial government.
Other activities will continue to be shut until further notice.
Mekong Delta region faces water shortages, saline intrusion
The Mekong Delta region faces the risk of water shortages, drought and saline intrusion due to low water sources from the upper Mekong River and human exploitation of land and forests in the upstream, experts have warned.
Speaking at a meeting last week, Prof. Dr. Chau Nguyen Xuan Quang, deputy director of the Institute of Environment and Natural Resources under the Vietnam National University in Ho Chi Minh City, said that water levels in rivers had followed a downward trend in recent years.
Higher levels of saline intrusion are expected to occur in the region more frequently, leading to a lack of fresh water.
"The upstream flow towards the Mekong Delta region is decreasing, so saline intrusion will increase," he said.
Saline intrusion in the region depends on the water source from the upper Mekong River, high tides and many other changes.
Floods in the Mekong Delta were the largest in 2011 and they dropped gradually in the following years with the lowest recorded in 2016, significantly affecting agricultural and aquaculture activities and people's livelihoods.
"Frequent and intense drought has become worse in the region since 2015," Quang said.
Experts have pointed out that in addition to the impact caused by the operation of upstream reservoirs, human exploitation of land and forests in the upstream have caused the river to change its flow, causing flood water to flow downstream much later and lower than before.
Prof. Dr. Chau Nguyen Xuan Quang, deputy director of the Institute of Environment and Natural Resources, said: "Floods are decreasing while droughts are increasing, affecting the water resources of the region.
"The consequences are unpredictable. Solutions are needed to deal with abnormal factors from the upstream area."
Population growth has accelerated urbanisation, while ground subsidence is 2-3cm per year, he noted.
Urbanisation has increased over the past 20 years, contributing to global warming in the region with the temperature increasing by an average of 1.3 to 1.4 degrees Celsius between 1986 and 2014.
It is expected to rise by between 1.9 and 3.5 degrees by 2099.
Factories and industrial zones activities have caused water pollution, while excessive exploitation of groundwater is also a factor affecting water resources.
Sea level rise is another issue, causing saltwater intrusion (could reach 100km deep). Quang proposed that a comprehensive system be built to control saltwater intrusion and flood impact from the sea.
Dr. Truong Thanh Canh, lecturer at the University of Natural Sciences in HCM City, said it was important for the Mekong Delta to restore wetlands. "We should choose crops or new production models that need less water to save it."
He recommended that the region develop a strategic plan that will give priority to more practical solutions instead of trying to change external factors such as those in the upstream area.
Provinces in the region should stay updated on hydro-meteorological forecasts and take proactive measures to prevent droughts and saline intrusion.
"We need a comprehensive solution suitable to the natural, geological and hydrological conditions of our country to save water resources," he said.
The Mekong Delta is a key economic region covering 40,000sq.km, and is home to some 18 million people.
Water resources sustain the lives of the people and the ecosystem in the region. Agriculture and aquaculture are key economic sectors in the region, of which water is essential, according to the Institute of Environment and Natural Resources./.
Bình Định hopes to restore national heritage sites using US$14.6 million of Government support
Authorities in Bình Định Province have requested VNĐ344 billion (US$14.6 million) to restore and promote sites of national cultural heritage in the province. 
The proposal has just been sent to the Ministry of Culture, Sports and Tourism, the Ministry of Planning and Investment and the Ministry of Finance, and is awaiting approval.
Restoring the Dương Long Tower in Tây Sơn District, which was listed as a national relic in 2015, will cost about VNĐ65 billion.
According to French archaeologist Henri Parmentier, Dương Long Tower was built around the end of the 12th century and has important historical significance.
The cost of displaying furniture and artefacts at Bình Định Museum, as well as building the Bình Định Traditional Martial Arts Centre, is expected to cost VNĐ80 billion and VNĐ60 billion, respectively.
In 2012, Bình Định martial arts was recognised as a National Cultural Heritage by the Ministry of Culture, Sports and Tourism.
The Bình Định Department of Culture and Sports and the Department of Cultural Heritage is working on an application to UNESCO for the martial arts to be recognised as a world cultural heritage.
Improving the technical infrastructure of Bánh Ít Tower Complex (Tuy Phước District), Thủ Thiện Tower (Tây Sơn District) and Phú Lốc Tower (An Nhơn Town) is also planned, with an investment of VNĐ25 billion, VNĐ15 billion and VNĐ20 billion, respectively.
The tomb of the famous Tuồng artist Đào Tấn (Tuy Phước District) and the Imperial Citadel are also included in the restoration plan, along with many other sites in Bình Định.
According to Lâm Hải Giang, Deputy Chairman of Bình Định Provincial People's Committee, restoring the province's heritage sites is of utmost importance. 
"Although Bình Định's cultural, historical heritage and tourist landscape resources are rich and diverse, investment in these sites has not matched their historical significance," Giang said.
"One of the difficulties is due to the deterioration of this system. A lack of capital for investment, poor conservation, and promotion of these heritages are also limitations."
According to the Bình Định Department of Culture and Sports, the province has 133 ranked relics, including two special national monuments, 34 national-level monuments and 97 provincial-level relics.
However, most of them have degraded over time. 
Stamp set released to honour global geoparks in Vietnam
A set of stamps named "Global Geopark" will be released by the Ministry of Information and Communications on October 30, 2021, aiming to promote the image and honour the three Global Geoparks in Vietnam recognised by UNESCO.
According to the information by Vietnam Stamps Company, designed by artist Nguyen Du (Vietnam Post Corporation), the set includes three stamps measuring 46x31 millimetres and one bloc measuring 120x80 millimetres.
The stamps featuring images of Dong Van Karst Plateau Geopark in Ha Giang Province and Non Nuoc Cao Bang Geopark in Cao Bang Province are priced at VND 4,000.
Meanwhile, the stamp featuring Dak Nong Geopark, which is the third UNESCO-recognised Global Geopark in Vietnam after Dong Van Karst Plateau Geopark and Non Nuoc Cao Bang Geopark, is printed in a VND 8,000 denomination.
In the centre of the bloc is a stamp featuring an image of Dong Van Karst Plateau Geopark in Ha Giang Province. The block has a value of VND15,000.
The collection will be available at post offices nationwide until June 30, 2023.
The Global Geopark is a unique, natural area with clear boundaries, containing a collection of geological heritages of scientific value, distributed within a certain area, in harmony with the natural landscape, while simultaneously containing the values of biodiversity, archaeology, history, culture and society and possessing a suitable area for local economic development through tourism development and other ancillary services.
Agoda reveals post-pandemic travel trends in Vietnam
Up to 60 percent of the Vietnamese are optimistic that tourism will take off again in the next six months, according to the Welcome Back to Travel survey recently released by the online travel platform Agoda.
 
The survey polled more than 1,103 adults online from July 15-19.
Two out of five respondents said they expect restriction-free travel within Asia, and 38 percent anticipated all international destinations to see no restrictions in the next six months.
Women were more inclined to anticipate restriction-free domestic travel, with 63 percent as compared to 56 percent among men. Meanwhile, those aged 35-44, or 52 percent, did not expect domestic travel to resume in the next six months.
For travel in Asia, 40 percent of respondents expected to travel without restrictions. International travel with restrictions is predicted by 62 percent.
About inbound tourism, almost half of respondents did not expect inbound travel to resume in at least 12 months, or until 80 percent of the Vietnamese are vaccinated./.
Experts discuss strategy for development of cultural industries in Vietnam
Experts have shared advice and experience to help Vietnam better develop and protect its cultural products.
The Copyright Office of Vietnam in collaboration with the British Embassy and Rouse Law Company Limited organised a seminar on the Strategy for the Development of Cultural Industries in Vietnam late last week.
The seminar was held online with the goal of finding out the development direction for the cultural industry in Vietnam, within the framework of the Financial Sector and Intellectual Property Programme (FSIP), which is part of the UK-funded ASEAN Economic Reform Programme to help the Government of Vietnam develop an intellectual property system.
The creative sector, such as music, film, media and digital art, usually includes creative services with intellectual property at its core. FSIP is conducted to assist relevant state management agencies such as the Copyright Office of Vietnam, the National Office of Intellectual Property of Vietnam and other agencies under the Ministry of Culture, Sports and Tourism in developing models to promote and support ownership for businesses operating in the creative industries, by absorbing and learning from the experience of other countries.
At the seminar, experts from the British Embassy and Rouse Group spoke about the development of cultural industries in the UK, the experiences of other countries and lessons learned on state management for the development of five cultural industries: cultural tourism, film, fine arts, photography and exhibitions, performing arts, and advertisement.
Speaking at the seminar, Deputy Director of the Copyright Office of Vietnam Trinh Tuan Thanh said: "The cultural industry is a new field in Vietnam. Therefore, we have been facing a number of difficulties and challenges. The sharing of UK experts will be a premise for the Ministry of Culture, Sports and Tourism to accumulate experience and promote the development of the cultural industry."
Cultural industries are those that produce tangible and intangible products of art and creativity that have the potential to promote wealth and income generation through the exploitation of cultural values and produce knowledge-based products and services.
In 2016, the then Prime Minister approved the strategy to develop Vietnam's cultural industries to 2020, with a vision to 2030, with specific goals in 12 areas: advertising; architecture; software and entertainment; crafts; design; film; publishing; fashion; performing arts; fine arts, photography and exhibitions; television and radio; and cultural tourism.
The Ministry of Culture, Sports and Tourism is assigned to directly manage five branches of cinema; performing arts; fine arts, photography and exhibitions; advertisement; and cultural tourism.
In 2020, following the direction of the then Prime Minister, the Ministry of Culture, Sports and Tourism coordinated with other ministries, branches and localities to implement the strategy for developing the cultural industry and achieved great results, such as promulgating policies, plans and cultural diplomacy activities to promote cultural industries at home and abroad, implementing communication activities to raise public awareness about the role, position and importance of cultural industries for socio-economic development in the new period.
Some sectors have generated significant revenue, such as fashion, cinema, cultural tourism, performing arts. In particular, the film industry's revenue in 2019 was more than 4 trillion VND./.
Vietnam U-23 team defeat Kyrgyzstan 3-0 in friendly match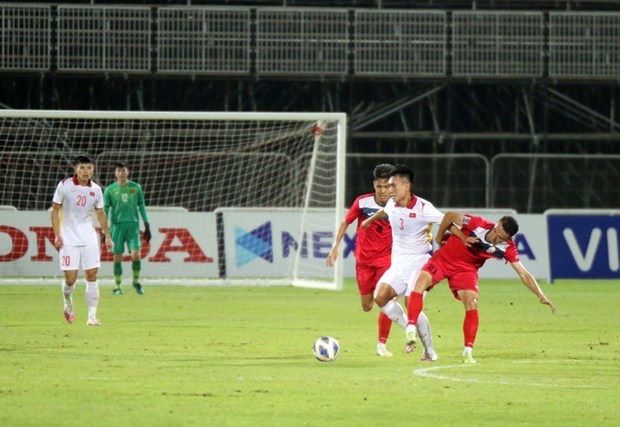 Vietnam U23 football team defeat Kyrgyzstan 3-0 in a friendly match on October 17. (Photo: VFF)
Vietnam U23 football team defeated Kyrgyzstan 3-0 in a friendly match on October 17 , the second of its kind ahead the upcoming AFC U23 Asian Cup qualifiers.
In the first half of the game, Vietnam was awarded a penalty after an illegal tackle from Kyrgyzstan's Uulu on Xuan Tu of Vietnam. Van Do took a successful free-kick to score the opener 38 minutes into the game.
Van Dat doubled the gap just five minutes after half time, which encouraged the Vietnamese players to perform even better in the remaining time of the match. It was also Dat to score another goal in the 60th minute, sealing a convincing 3-0 victory for Vietnam.
The win is a positive signal for Vietnam U23 team who is expected to see a bumpy road ahead./.
Conference highlights ways to protect children in cyberspace
Children need to learn how to protect their personal and social well-being in cyberspace, Phan Thi Cam Giang, a lecturer at the Vietnam Women's Academy's branch in Ho Chi Minh City, said at a recent online conference.
Children are currently spending a great deal of time online, especially for academic study, due to the COVID-19 pandemic. They often feel restless when electronic devices such as their smartphone are not near them, according to Giang.
Her 2019 study of online game addiction among 300 students at one secondary school in HCM City showed that 80 percent accessed the internet for more than four hours each day. Besides online games, they were also attracted by YouTube and other websites.
Children need to be more aware of their usage and learn how to manage themselves and make decisions about their responsibilities, according to Giang.
Many parents lack the skills necessary to protect their children in cyberspace. Some parents have contacted psychologists to help children control their game or internet addiction.
As parents, many delegates in the conference said they needed guidance on the skills and tools that would help protect their children in cyberspace.
Children can face serious risks, including cyberbullying, sextortion and risks to privacy. These have become particularly acute amid the COVID-19 outbreak.
Dr Hoang Tuan Ngoc, a lecturer at HCM City University of Education, said that her survey about abuse among students showed that 30 percent of them had experienced abuse in an internet environment.
Government programmes
Nguyen Thi Nga, deputy head of the Department of Child Affairs under the Ministry of Labour, Invalids and Social Affairs, said the Government had issued legal regulations on protecting safety for children in cyberspace.
Prime Minister Pham Minh Chinh has approved a national programme on child protection online, which aims to protect the privacy of children and prevent and handle acts of abuse.
It focuses on supplying children with age-appropriate knowledge and skills so that children can protect themselves when online.
A network for rescue and protection of children in cyberspace has also been set up. The department operates the hotline 111 to receive information relating to children' problems.
According to a department report, more than 700,000 child sexual-abuse images and videos were found online in Vietnam last year.
A UNICEF survey of children and young people in Vietnam showed that one-fifth of the total number of surveyed children had been victims of cyber bullying.
Nearly 20 million children in Vietnam use social media.
Tran Thi Kim Thanh, head of the Children Affairs and Gender Equality Division under the HCM City Department of Labour, Invalids, and Social Affairs, said the division would work with the city Department of Education and Training to have programmes to strengthen communication about knowledge and skills on keeping safe in cyberspace for parents and children.
The division's staff will receive training about this issue./.
Da Nang to reboot tourism from October 20
The central city of Da Nang plans to reboot local tourism from October 20, as the COVID-19 pandemic has been under control.
From November, the city will embark on "travel bubble" with the central province of Quang Nam and the northern province of Quang Ninh, heard a meeting between the municipal People's Council and local voters last week.
Director of the municipal Tourism Department Truong Thi Hong Hanh said the city will initially welcome domestic visitors and pilot the serving of foreigners with the slogan "Enjoy Da Nang", ensuring safety of tourists and employees in the sector.
Also in November, the city will serve international visitors who come for official duty, visit relatives and return home. They will be put under quarantine for a week and follow other regulations by the Health Ministry. Others include tourists on full-package tours and those with vaccine passports, focusing on those from the Republic of Korea and Russia.
Russia plans to bring 2,000 – 4,000 visitors to Vietnam each month, Hanh said.
Chairman of the municipal People's Committee Le Trung Chinh said between now and early 2022, the city will continue facing difficulties caused by the pandemic. In order to restore its economy, the city will suggest the State allocate more vaccines for the second jabs and those aged 12-17.
In the immediate future, Da Nang will build economic recovery scenarios for the last three months and 2022, resume several services and pilot domestic and foreign tourism activities in line with the most suitable roadmap, he said./. 
Ninh Thuan works to protect sea turtles
Having seen a significant reduction in the number of sea turtles and their breeding activities, the central coastal province of Ninh Thuan is making efforts to address the situation.

The Nui Chua National Park is among the rare destinations in Vietnam where sea turtles lay their eggs. It used to host green, loggerhead, and hawksbill sea turtles, but only green turtles have arrived during nesting season in recent years.
The peak of the nesting season in the park falls between June and October. In recent years, though, the number of sea turtles spotted during this time has fallen.
"In the evening, we patrol and protect the mother turtles, and move nests or eggs that are near the sea to safety," said Pham Anh Dung, deputy head of the Sea Preservation Department of the Nui Chua National Park. 
Each year, the Nui Chua biodiversity conservation centre releases hundreds of turtles into the sea.
Since the beginning of this year, 78 turtles have been spotted looking for a place to lay their eggs, resulting in 1,250 babies released into the sea. A rescue team also released a 10 kg blue turtle.
Since 2000, with the aid of domestic and international organisations, like the Institute of Oceanography in Nha Trang, the World Wildlife Fund, and the Global Environment Fund, Nui Chua National Park has run a project to survey visiting turtles and their nesting conditions. The results were then used to protect the species, particularly at the three protection zones of Bai Thit, Bai Ngang, and Bai Hom beaches.
"Normally, when the turtles are injured, we will feed them and take care of them, bathing them with disinfectant for a while. After they recover, we release them back into the sea," said Ngo Minh Quoc - Marine Preservation Department of the Nui Chua National Park.
The park has built a facility to treat turtles saved from illegal captivity, with volunteers trained to monitor them during their nesting time and to protect the eggs. The volunteers join patrols of the park's rescue team along the beach and carry out communications campaigns.
Also joining the effort, Ninh Thuan authorities have requested intensified inspections of the illegal captivity, transport, and distribution of sea turtles and their eggs in the local area, with strict punishment imposed on violators./.
Vietnam records 3,193 new COVID-19 cases
Vietnam on October 17 reported 3,193 new infections of COVID-19, including 18 imported cases, according to the Ministry of Health.
The figure is 36 cases lower than the previous day.
HCM City detected the highest number of infections with 1,059, followed by Binh Duong province with 537 and Dong Nai province with 517.
The national tally now stands at 864,053, including 859,372 cases recorded since the fourth coronavirus wave hit the country in late April.
The Ministry of Health also reported that 3,413 patients nationwide are in serious conditions, with 473 requiring invasive ventilation and 21 on life support (ECMO).
On the same day, the country saw 63 deaths from the disease. The death toll now hits 21,194.
A further 1,340 patients were given the all-clear on the day, taking the total recoveries to 791,844.
By October 16, the country had injected nearly 61.92 million doses of COVID-19 vaccines, with more than 17.84 million people now fully vaccinated./.
HCM City: Over 111,000 employees receive allowances from unemployment insurance fund
More than 111,000 employees in Ho Chi Minh City have benefited from the Government's new support package sourced from the unemployment insurance fund, according to the city's Social Insurance Agency.
Specifically, from October 1-15, the agency supported 4,512 units and 111,127 employees, with a total amount of 235 billion VND (10.3 million USD).
In addition, over 81.860 units with over 1.76 million employees in the city have their premiums reduced from 1 percent of their wage funds to zero percent, with a total amount of 1.9 trillion VND.
On October 1, the Government issued Decision No. 28/QD-TTg providing regulations on the implementation of support policies for employees and employers impacted by the COVID-19 pandemic, using the unemployment insurance fund.
About 30 trillion VND (1.31 billion USD) from the fund will be used to support labourers who are covered by unemployment insurance as of September 30, 2021, excluding employees in State agencies, socio-political organisations, people's armed forces and public non-business agencies who are paid by the State budget.
Accordingly, different levels of allowances from 1.8 million VND to 3.3 million VND will be given to each labourer depending on the time they has paid unemployment premiums.
Employers, excepting State agencies, socio-political organisations, people's armed forces and public non-business agencies funded by State budget, who are joining unemployment insurance before October 1, 2021, will have their premiums reduced from 1 percent of their wage funds to zero percent for a duration of 12 months from October 1./.
Hanoi receives donations for COVID-19 fight
The Vietnam Fatherland Front Committee of Hanoi on October 16 received over 85.3 billion VND (3.7 million USD) in cash and kind donated by agencies and enterprises to support the capital city's COVID-19 fight.
The Hanoi Health sector presented 1.314 billion VND to buy vaccines, while the Truong Hai Automobile Joint Stock Company (THACO) donated 300,000 test kits, 30 ambulances and supported 30 mobile vaccination vehicles worth 84 billion VND.
Addressing the event, Chairwoman of the Vietnam Fatherland Front Committee of Hanoi Nguyen Lan Huong highly appreciated the help of agencies and businesses in the city's pandemic prevention and control. The city has completed two major campaigns of mass testing, and vaccinations against COVID-19 for the city's population.
She said she believes that with the solidarity of the people, the capital and the whole country will soon repel the COVID-19 pandemic, bringing the life to the new normal.
Also at the event, the Vietnam Fatherland Front Committee of Hanoi transferred 300,000 COVID-19 test kits, 30 ambulances and 30 mobile vaccination vehicles to the city's Department of Health./.
Linh sets sight on SEA Games after Olympic debut
Nguyễn Thùy Linh believes that choosing to follow her sporting dreams was the best decision of her life, but it's not been an easy path to take.
She may well be the nation's number one female badminton player, but to reach that level needed hard work, focus, and extreme dedication.
Linh recently featured in the Toyko Olympics, and at just 23 years old, she knows it won't be her last. Next, she is setting her sights on success at the Southeast Asian (SEA) Games, hoping to collect a gold medal on home soil.
Winning the country's only ever badminton gold at the SEA Games will not only be a remarkable achievement but also fulfill a promise she made to her late grandfather, a man who always encouraged her to follow her dreams.
"To compete at the Olympics is the dream of every athlete," Linh told the Việt Nam News. "The only word I can use to explain how I felt was 'happy' when I received my own 'ticket' to Tokyo."
Linh was drawn in a difficult group at the games, with all three opponents ranked higher than her, including world number one Tai Tzu Ying.
"I spent nearly two years training locally because of the COVID-19 pandemic. But thinking about Tokyo made me very proud and excited. I worked hard and luckily, I maintained my performance in Tokyo," said Linh, who is the third female Vietnamese player in an Olympics.
"After the draw, people said it was a pity that I was in the same group with Tai. But in fact, seeds were divided equally into groups, so whatever group I was in I would face strong opposition," said Linh.
"I also kept a positive spirit, asking myself to do the best and never give up, no matter if I won or lost."
The world No 48 has not been seen that often at elite-level tournaments, but she did enough in her Olympic debut to suggest that she aspire for higher things. She dismissed Qi Xuefei of France and Jaquet Sabrina of Switzerland in straight games while giving Tai much to think about in their match.
She added: "So far, the match against Tai was my favourite as I played against my idol. Olympics and idol at the same time, it was double happiness for me, especially I heard that she might retire next year, so it would be my only chance to play her."
Linh said Tai was one of her inspirations to take up badminton.
"I did not worry but was excited," she said. "I wanted to have a competitive match and show my abilities against Tai. Of course, she did not know my special feeling. She is an amazing athlete but had to play hard to take points from me.
"After the Olympics, my confidence and competitiveness got better. I think I can do well in other tournaments."
Future targets
Future tournaments will be the world championship in Spain in December and the 31st SEA Games, both are huge challenges.
"The world championship, like Olympics, attracting all the best athletes from everywhere. I will have to work hard to go to Spain with in form and play as well as I can," said Linh.
"Badminton has developed strongly in Asia, and Southeast Asia in particular. It is home to some of the world's high-ranking players, making the SEA Games a really tough tournament, and winning a medal will not be easy," said Linh who was eliminated from the first round at the 2019 event in the Philippines.
After Tokyo, she has begun a new campaign with a higher volume of exercises and difficulty levels to improve her physique, speed, improvisation, and endurance throughout matches.
She will also have an intensive training course back in Tokyo to sharpen her skills in the coming weeks when the COVID-19 pandemic is better controlled.
"To be No 1 of Việt Nam is not my final target. Like many others, I always look toward higher results in my career. I hope to have my name on the world map of badminton. And also, I want to be the first player to win gold medal for Việt Nam at the SEA Games."
A place in the world top 30 and a position in the coming Games' top three are top priorities. And further, she wants to have a chance at the Paris Olympics in 2024.
She added: "Chances are ahead and I will definitely have to face many strong rivals like Tai on my way to success. I will have to try harder and harder to go as far as possible." 
Vietnamese Ambassador joins activities in Moldova
Vietnamese Ambassador to Ukraine and Moldova Nguyen Hong Thach recently joined working sessions with officials of Moldova.
At a working session held on October 15, Minister of Economy and Infrastructure of Moldova Sergiu Gaibu briefed Thach on Moldova's strengths in economic cooperation and investment, expressing his hope that Vietnamese firms will explore and bolster investment in the European nation.
The ambassdor pointed out that although Vietnam and Moldova have nurtured a long-standing friendship, economic cooperation remains modest compared to their potential. Therefore, he vowed to prioritise bilateral economic-trade cooperation during his term.
On the same day, the Vietnamese diplomat worked with leaders of the Chamber of Commerce and Industry of Moldova on measures to promote partnership between firms of the two countries and cooperation chances.
Moldovan firms showed their interest in Vietnam's aquatic products and garment-textile, and wished to export its staples like wine and components of hydropower plants.
Also on the day, the Vietnamese Ambassador worked with head of the Directorate for Bilateral Cooperation Mihaela Manoli and of the Multilateral Cooperation Directorate Andrei Popov at the Ministry of Foreign Affairs and European Integration of Moldova.
The Moldovan side expressed a hope that the countries will foster cooperation activities after a halt triggered by COVID-19.
The two sides agreed to hold the next meeting of the Vietnam-Moldova Inter-Governmental Committee on Economic-Trade and Scientific-Technological Cooperation as soon as possible, extend the educational cooperation agreement, and bolster collaboration in the International Organisation of La Francophonie.
The ambassador thanked Moldova for supporting Vietnamese candidates to run for positions at United Nations agencies, and underscored the important role of the Ministry of Foreign Affairs and European Integration of Moldova in promoting the multifaceted cooperation between the countries.
He asked the sides to bolster the implementation of signed projects, paving the way for cooperation expansion and negotiations for a free trade agreement./.
Belgium-Vietnam Association supports AO/dioxin victims
A get-together and exhibition on Agent Orange (AO)/dioxin victims in Vietnam has been held in Brussels, Belgium, by the Belgium - Vietnam Association (ABV).

The October 15 event was attended by Tran To Nga, a Vietnamese French woman and an AO victim, who lodged a lawsuit against US firms that had manufactured the toxic AO defoliant used by the US military during the war in Vietnam.
A documentary featuring the life of Vietnamese in intoxicated areas was screened at the event.
At the event, Nga introduced her book written in French entitled Ma terre empoisonnée (My Poisoned Land).

The ABV has worked to help ease difficulties of AO/dioxin victims and continue to support Nga, said its President Pierre Grega.
The association has also presented scholarships to Vietnamese children who suffer from AO-related illnesses.

The VAVA and a number of Vietnamese Agent Orange/Dioxin victims filed a lawsuit to the US Federal District Court in Brooklyn, New York against 37 US chemical companies that had produced and supplied chemicals to the US military for its use in the war in Vietnam, demanding for justice. However, it was refused by the court.

Following the lawsuit, in 2015, Nga lodged a lawsuit against 26 US firms that had manufactured the toxic AO defoliant used by the US military during the war in Vietnam.

The Crown Court of Evry then rejected the lawsuit due to lack of authority to handle a case related to actions of the US Government during the war. However, Nga affirmed that she will continue to pursue the lawsuit./.
Localities in Mekong Delta seek economic recovery after COVID-19
Can Tho City and six provinces in the Mekong Delta region will take part in an online meeting on October 19 to enhance cooperation in pandemic prevention and control and economic recovery.
The meeting will be hosted by the municipal People's Committee and its Department of Planning and Investment.
The event will focus on cooperation in the key fields of health, agriculture, trade and services, information and communications, transport, and jobs and labour in Can Tho City and An Giang, Kien Giang, Hau Giang, Soc Trang, Bac Lieu and Ca Mau provinces.
The localities will discuss support for treatment for COVID-19 patients, sharing of vaccines and medical essentials, and dissemination of guides on health treatment at clinics and hospitals in seven provinces and city.
They will also discuss promoting connections between manufacturers and suppliers and traders and trade promotion agencies. In addition, they will try to find ways to sell their specialties and agricultural products on online trading platforms.
Can Tho City and the six provinces aim to establish an economic entity, or a commodity market, to promote online trade and tourism.
They will create a priority lane for transport of medical equipment, essential goods and forces serving pandemic prevention and control, along with agricultural and aquaculture products and construction materials.
Passenger and goods transport, as well as logistics, in the region will also be enhanced.
The seven localities cover more than 24,100 square kilometres with a total population of 9.2 million.
According to the Ministry of Health, since the fourth wave, the Delta region has recorded more than 23,300 COVID-19 cases and 325 deaths.
The localities have controlled the outbreak and are returning to a new normal./.
Vietnamese Innovation Network in Europe debuts
The Vietnamese Innovation Network in Europe (VINEU) was launched at a ceremony held at the Embassy of Vietnam in Germany and via videoconference on October 16.
Speaking at the opening ceremony, Dr Nguyen Manh Hai, Counsellor in charge of investment at the Vietnamese Embassy in Germany, underlined that the establishment of VINEU will offer a platform to intellectuals and scientists in Europe to share knowledge and experience in science and technology, thereby contributing to innovation and socio-economic development in Vietnam.
Deputy Minister of Planning and Investment Tran Huy Dong said the establishment of the VINEU is hoped to enhance access to technology and innovation in European nations via Vietnamese experts, as well as expand opportunities in cooperation, investment and trade for Vietnam's innovation activities, notably in the fields of artificial intelligence, big data and health care.
Director of the Vietnam National Innovation Centre (NIC) Vu Quoc Huy said the NIC, with a network of nearly 1,000 experts and intellectuals across the globe, will continue to support activities of the VINEU and its affiliates to foster Vietnam's innovation work in the coming time.
Representatives of some businesses and organisations of Vietnam and Europe also shared innovation activities, research studies and products at a seminar held on the sidelines of the launch event./.
Hanoi assessed as "green zone": City Centre for Disease Control
Hanoi is now at Level 1 in COVID-19 prevention and control, which means Hanoi is a "green zone" with the low pandemic risk and in the "new normal" status, according to the municipal Centre for Disease Control (CDC).
In the city, over the past two weeks, only four cases have been detected in the community, including one in Hang Trong ward of Hoan Kiem district and three in La Khe ward of Ha Dong district.
To date, up to 98 percent of the local residents aged 18 and above have been given at least one shot of COVID-19 vaccine.
In general, all 579 wards and communes, and 30 districts are assessed to have the low pandemic risk.
The capital city also has stopped examining people and vehicles entering or exiting the city when they pass pandemic checkpoints./.
National target programme on socio-economic development in ethnic minority areas approved
A new national programme aims to improve the lives and livelihoods of ethnic minority groups in Vietnam.
As part of the national target programme, approved by Deputy Prime Minister Pham Binh Minh, by 2025, ethnic minorities' income will be double that of 2020.
The first stage will be rolled out in the 2021-25 period.
The overall objective is to exploit the potential and advantages of ethnic minority and mountainous areas, promote economic development, ensure social security, and put in place rapid and sustainable poverty reduction.
It hopes to gradually narrow the gap between the areas' living standards and average income and the national average income, reduce the number of communes and villages with special difficulties and set up an inter-regional socio-economic infrastructure system.
The areas will receive better education, training and healthcare, markedly improving people's lives, raising the quantity and quality of State employees who are ethnic minorities, preserving and promoting ethnic minorities' culture.
Gender equality and urgent issues facing women and children will be resolved as well as maintaining social order and safety, ensuring national border security, consolidating and strengthening the great national unity.
The programme aims to reduce the rate of poor households by more than three percent per year, and all roads will be paved with asphalt or concrete. All schools and medical stations will be upgraded, and 99 percent of households will have access to electricity.
Up to 90 percent of ethnic minorities will have access to clean water and all have television or radio to receive information.
The programme hopes to move 60 percent of ethnic minority households living in remote and isolated areas at risk of flash floods and landslides. Land shortages will also be resolved.
More than 98 percent of five-year-old children will attend school. The rate of students at primary schools, junior secondary schools and high schools will be 97, 95 and 60 percent, respectively.
As many as 98 percent of ethnic minorities will be covered by health insurance and more than 80 percent of pregnant women will receive periodic examinations. The rate of malnourished children will be under 15 percent.
Under the programme, 50 percent of ethnic minorities of working age will receive proper vocational training that is suitable to their aspirations and living conditions.
At least 3,250km of rural roads will be paved with asphalt or concrete. More than 268,860 households will get access to clean water.
More than 320 boarding schools, more than 1,100 day-boarding schools, seven reserve universities and three boarding high schools will get more teaching materials and equipment.
More than 17,400 households will receive land and more than 18,300 others receive houses.
The programme will offer vocational training to about 2.25 million people.
About 320 training courses on intangible culture will be organised and 200 projects on traditional culture, which are at risk of disappearing, will be supported.
More than 5,000 poor students will get help to continue their studies every year.
Eighty villages will be used to promote tourism and 800 clubs for traditional culture will be founded.
More than 224,900 prestigious people in the community will be educated about necessary work related to ethnic minority affairs and 30,000 workers at the grassroots level will be taught IT skills./.
Phu Quoc changes to better serve tourists, investors
Phu Quoc island in the southern province of Kien Giang is making it new to welcome tourists and investors as it plans to reopen its door to international tourists from this November.
To welcome international tourists using the "vaccine passport", airlines and Phu Quoc airport said they had completed the preparations.
According to Huynh Quang Hung, Chairman of Phu Quoc city People's Committee, the pilot plan to welcome visitors is divided into two phases. Currently, big names like Vingroup and Sun Group which own large resorts and entertainment complexes are aiming to welcome visitors in the first stage.
A representative of Sun Group said that during the social distancing period, the group still maintained and renewed facilities of its resorts and hotels, and developed unique products and services in order to achieve more tourists once Phu Quoc reopens its door.
Sun Group is also making love-themed interactive murals on buildings, inspired by classical European art and Vietnamese folk art.
In addition, a current "hot" investment destination like Phu Quoc also takes advantage of the social distancing period to make changes to attract investors.
Director of the provincial Tourism Department Bui Quoc Thai said the reception to tourists from the airport and hotels will be rehearsed from November 1-11 before the island city is officially open.
During the pilot period, the scheme is only applied for those involved in full-package tours organised by travel agents, and not for those with other purposes. Foreign tourists joining in the scheme will make immigration procedures via charter or commercial flights.
The province has chosen seven enterprises in Phu Quoc, 14 four to five-star hotels with 8,000 rooms to serve foreigners. All of their staff have been given two full vaccine shots./.
Vietnam holds potential for robot, AI development: insiders
Vietnam holds huge potential in the application and development of new technologies amid the wide utilisation of robot and artificial intelligence (AI) in daily life activities.
Speaking at a recent webinar on media response and pioneering technologies, OhmniLabs CEO Thuc Vu said the COVID-19 pandemic has fostered the development of the robotics industry.
In the future, robot can facilitate remote travel as tourists may stay in Vietnam and shop in Paris, visit a museum in New York and join a meeting in Tokyo, he said, expressing his hope that 'Made-in-Vietnam' robot may earn international recognition in terms of technology.
Bui Hai Hung, head of VinAI Research, a member of Vingroup, said that with Vietnam's development and potential in human resources, there are plenty of room for AI's growth in the coming time.
He hailed ability of young Vietnamese as they are able to swiftly grasp new technologies and fully engage in international studies in a short period of time. This is a positive sign for Vietnam's AI development capacity, he added.
For his part, Thieu Phuong Nam, CEO of Qualcomm Vietnam, Laos and Cambodia, underlined that Vietnam is turning into an innovative hub in Southeast Asia.
Vietnam is also the third nation that Qualcomm has chosen to arrange its innovation challenge for tech startups, as the firm has realised potential and ability of tech workers in the Southeast Asian nation.
The application of advanced technology is key for economic growth amid the shift toward higher-value-added activities, Nam said.
He believed that new technologies such as AI, 5G and Internet of Things (IoT) will help countries move from manufacturing to innovation economy./.
Government chief orders consistency in carrying out anti-pandemic policies
Prime Minister Pham Minh Chinh has underscored the need to ensure unanimity and consistency in leadership, direction, administration and organization regarding the implementation of policies, resolutions and regulations on pandemic prevention and control.

During an online meeting with the Steering Committees for COVID-19 Prevention and Control of 63 provinces and cities on October 17, the Government chief said that after more than 5 months since the fourth wave of COVID-19 outbreak that hit the nation, the pandemic has been basically contained nationwide.
The Government's Resolution 128, which took effect on October 11, marked a major change in Vietnamese anti-pandemic measures aimed at helping the country gradually return to a life in a new normal and live safely alongside the COVID-19 pandemic.
Currently, many provinces and cities have eased social distancing measures, gradually shifting to safe and flexible adaptation and effective control of the COVID-19 pandemic, he said.
This fourth pandemic wave coupled with the presence of new and dangerous variants of SARS-CoV-2,  has negatively affected the Vietnamese economy in various areas. The nation's GDP surged a mere 1.42% during the past nine months of this year, after suffering a fall of 6.17% in the third quarter compared to that of last year's same period.
Furthermore the unemployment rate in the third quarter of 2021 stood at 3.72%, and the underemployment rate in the working age was 4.39%, the highest since the first quarter of 2020.
However, the pandemic has been gradually put under control thanks to the sustained efforts, solidarity and determination of the entire Party, people and army, especially in hotspots such as Ho Chi Minh City and the southern provinces of Binh Duong, Dong Nai and Long An, Chinh said.
The cabinet leader urged ministries, sectors and localities to continue doing well in forecasting and fully grasping the pandemic situation and developments, while finalizing a master programme on pandemic prevention and control and a programme on socio-economic recovery and development to effectively carry out the  dual goal of pandemic prevention and control and socio-economic recovery and development.
It is imperative to pay greater attention to social welfare, restore the labour supply chain, maintain political stability and social order and safety, take proper measures to soon reopen schools in safe places. This should be done along with devising solutions to take care of orphaned children due to the pandemic, and accelerate vaccination, and provide better treatment for COVID-19 patients, he stressed.
Local tennis players advances to semi-finals of Egyptian tournament
Leading Vietnamese tennis player Ly Hoang Nam won his quarter-final match on October 15 played at the M15 Sharm El Sheikh tennis tournament in Egypt.

Nam successfully beat Nathan Seateun of France with a final score of 2-0 after two sets. The good result against a strong rival therefore earned Nam an additional four points.
Moving forward, the local tennis player will next face No.1 seed Marek Gengel of the Czech Republic in the semifinals.
The event will mark the return of Nam competing in global tournaments in the system of the Association of Tennis Professionals (ATP) and the International Tennis Federation (ITF) after an absence of 18 months. Most recently, he was disqualified from the first round of the 2020 ATP Challenger Tour in March last year.
Nam is currently 781th in the ATP's rankings. So far in his career Nam won the boy's doubles title alongside his Indian partner Sumit Nagal in the 2015 Wimbledon Championships, becoming the first Vietnamese tennis player to win a Grand Slam trophy in the process.
Double amputee does not let misfortune stand in his way
Nguyễn Thế Cường, a double arm-amputee, lives in Hoà Vang District of Đà Nẵng City. Despite having no hands, Cường uses his legs for farming, and has started his own business in his commune. 
His farm is located close to the edge of the forest. It does not have a beautiful name like many other farms in Hoà Ninh Commune, but instead pokes fun at his own misfortune. 
Every morning, the local people can hear the sound of soil-milling machinery at the Cường Cụt Farm (Amputated Cường's Farm). 
He puts on safety glasses, stoops over and presses his shoulders tightly to the two hands of the machine to prepare the soil for vegetable planting.
After tilling the land he uses a shovel to create beds so that his wife can spread the seeds.
Farming is hard even on those who have not suffered Cường's misfortune, but he manages the challenge as well as anyone. 
In 2004, he had an accident when he was a second-year student at Đà Nẵng University of Technology. He had taken on work as a builder to pay his tuition fees. 
While working at a construction site he was electrocuted by a 220KW current. Cường's life was saved at the hospital but both arms had to be amputated to the armpit.
He had to stop studying, and his future became uncertain. 
When he returned to his hometown of Quảng Nam Province, Cường became shrouded in self-doubt and depression. However, with the encouragement of his family and friends, he began learning to write with his feet. 
"To adapt to not having hands, the first thing I did was to practise writing with my feet," Cường told Tiền Phong (The Vanguard) newspaper.
After mastering the art, he then started to use his feet to type on a keyboard. When he became proficient in operating computers with his feet, Cường decided to move back to Đà Nẵng City to open a small Internet shop to make a living.
Amputated gamer
Within a few months of opening his internet shop, Cường became a famous gamer in Đà Nẵng City.
One day, in an "online martial arts congress", Cường appeared and surprised everyone with his skills. 
The turning point in his life however was meeting a girl named Trần Thị Minh Thư from the Central Highlands province of Gia Lai.
Cường first met Thư when he went to try on prosthetic hands in HCM City. Thư was there as her father is also an amputee from an accident.
After meeting a few times Thư fell in love with Cường because of his cheerful and optimistic personality.
The love of the young couple did face some challenges. Despite emphasising with Cường's situation, Thư's father did not want his daughter to marry a disabled person like him. 
However, following her heart, Thư moved to Đà Nẵng City with Cường. In 2009, they got married.
Thư's love has given Cường even more strength. She has become arms to help him become stronger and more confident in life.
"Life took away my hands, but in return, it gave me a wife who loved and understood me better than anyone else," Cường said.
"It was she who helped me achieve my dreams and ambitions and continue moving forward," he said.
From the initial internet shop, the couple saved money to open more shops in Đà Nẵng. Cường also learned to become a good computer repairman.
"At that time, installing Windows application and fixing computer errors were very popular, so Cường had many clients," Thư said.
"He set up a company for computer repair and application installation. Everyone admired him when they saw him doing his job with his feet," his wife said.
"And because of being kind and cheerful, he was liked by many clients so he earned well," she said.
Moving on to farming
Gradually, revenue from the internet shops and computer repair business decreased. In 2017, the couple decided to go to southern Bình Dương Province and Đà Lạt City to learn about growing organic vegetables.
Appreciating the disabled man's will, many experts and farm owners passed on their organic vegetables growing secrets to him.
Armed with this knowledge, Cường decided to open a business on vegetable planting. Coincidentally, the city was running a project to support the development of high-tech agriculture.
The couple decided to take a risk by mortgaging the family's house and other property to borrow more than VNĐ1 billion (US$44,000). They used the money to rent three hectares of land in Hoà Ninh Commune to grow organic vegetables.
"Organic farming was a new story. I had to learn about using beneficial microorganisms to control harmful microorganisms and not to use pesticides. Knowledge is need on crops, varieties, nutrition and care methods," Cường said.
"Learning to farm was difficult but learning to farm without hands took even longer. It was very very difficult," he said.
At first, the couple faced many difficulties and challenges. The image of a man without two arms farming in the mountains surprised many local people. 
They paid hundreds of millions of đồng on renting labour and buying vegetable seeds. Many times they struggled because of the weather and organic diseases in their products. 
However, thanks to their determination the couple's farm has gradually yielded good results.
During the COVID-19 pandemic, Cường and Thư redoubled their efforts to ensure a fresh supply of vegetables.
The couple plan to gradually supply produce from their farm directly to customers' dining tables.
Cường knows that the days ahead will be full of tough challenges, but with will and energy, he and his wife will reach their targets.
Agricultural co-operatives urged to further engage in digital transformation
Farmer Đào Đức Hải, a member of a Tây Nguyên wild pig raising co-operative in Ea Kar District, the Central Highland province's of Đắk Lắk, finds it easy to use his smartphone to update his information and details on his 17 pigs via an app called AutoAgri.
Each of his pigs has a mini web page where buyers, bankers and the agriculture management authority could learn all about the animal. Every pig has its own QR code too.
Other members of the wild pig raising co-operative are using AutoAgri to apply digital technology in their farming for better production and market access.
Nguyễn Thị Thành Thực, member of the Executive Committee of the Vietnam Digital Agriculture Association (VIDA), said that AutoAgri was a smart agricultural solution that allows users to digitalise data for each member of the co-operative.
The users upload photos, videos and notes, making online asset books to monitor land, animals, crops, products and farming process.
They also have an electronic diary instead of paper-based ones.
Co-operative managers and authorities could oversee and assess the users' farming and products thanks to the electronic diary.
"Digital transformation in agriculture is the digitalisation of data relating to the agricultural value chains and connecting them on digital platforms," Thực said, adding that the use of digital technologies like Big Data or AI to change the way farmers work and manage their farming.
Drones, e-commerce, product origin traceability, cashless payment and social networking could help speed up digital transformation in agriculture.
"Digital transformation would help connect small farming households, forming co-operatives which purchase the same input products, do the same farming work and sell the same products, which results in reduced production costs and better market access," she said.
Once connected on digital platforms with transparent systems, they could avoid suspicion and co-operate better, she said.
However, in Việt Nam, digital transformation in agriculture faced difficulties, especially in terms of cost and complicated applications.
Nguyễn Trung Vẹn, vice chairman of Trà Vinh Province Co-operative Alliance, said that most of the local co-operatives did not arrange funding for technological improvement and digital transformation.
The co-operatives also faced a shortage of IT personnel and had not learned proper skills to master technological advances, Vẹn said.
However, as co-operatives were now better aware of the important role of digital transformation, especially when they wanted to reach more consumers, and those consumers required product origin traceability.
Lê Quang Cường from Đồng Tháp Province Co-operative Alliance, said that farmers were still hesitant to approach digitalisation.
Many of them were not interested in changing and they still kept conventional ways in farming and managing their work.
"It's necessary to change the mindset and awareness among co-operatives' managers first," he said, urging support to improve understanding and skills for managers as well as online trading skills for farmers.
On Friday, the Vietnam Cooperative Alliance (VCA) in collaboration with the Oxfam in Vietnam, along with representatives of cooperative alliances in provinces and cities organised a webinar "Developing smart, digitalised and climate-resilient agricultural cooperatives in Việt Nam".
Speaking at the webinar, Phạm Quang Tú, Deputy Director of Oxfam in Việt Nam, said that digital transformation was a development trend worldwide and in many different socio-economic fields.
"Digital transformation is of great significance, promotes the production of quality goods and opens up opportunities for enterprises and cooperatives to attain fast and sustainable development," he said.
In Oxfam's group of solutions, the economic cooperative area was one at the centre of attention. The organisation wanted to find specific and timely solutions to assist co-operatives in implementing an effective digital transformation process, gradually helping cooperatives adapt to climate change and the era of information technology development.
In Việt Nam, digital transformation in agricultural co-operatives and the Vietnamese economy still faces many obstacles, he said.
Phạm Quang Hà, Chairman of the Scientific Council, Việt Nam Digital Agricultural Cooperative, said that developing smart agricultural co-operatives was a mandatory requirement.
"It's necessary to change the principles of agriculture, from exploiting to maintaining, fostering, restoring, and at the same time using systematic interactions, ensuring the diversity of components," he said.
Đặng Văn Chính, Director of Huế IT Co-operative (HueTechCo.op) said that key to the success of a smart co-operative model was to integrate as much as possible in terms of production and business activities in both agriculture and public investment into the information portal.
"This is the basis for businesses and people to trace, monitor, manage, and conduct business activities to proactively adapt to changes," he said. 
Representative missions aboard required to improve external informationDeputy Minister of Foreign
Affairs Đặng Hoàng Giang has appreciated the important contributions of the Vietnamese representative missions abroad to promoting the image of the nation to the world as well as providing information on the regional and international situations for the domestic audience.
Giang made the statement while chairing an online conference on external information work held on October 13-14 with the participation of 70 Ambassadors, Consuls General, and representatives of Vietnamese representative missions abroad and several units of the Foreign Ministry.
He stressed that the new requirements of the country and the change of the situation, as well as the rapid development of technology, especially digital technology, had been setting new tasks that would require new and breakthrough solutions to improve the efficiency of external information work. This would require great responsibility, activeness and creativity of the heads of representative missions overseas as well as the capacity and skills of the missions' staff.
At the conference, Ambassadors, Consuls General and representatives of Vietnamese representative missions abroad said the work of external information was always one of the top priorities of their offices. 
They said that in the future, besides the traditional but still effective implementation measures, the missions would make use of the development of digital technology in conducting external information work such as new media forms, social networks, and digitisation of publications.
Deputy Foreign Minister Giang asked the overseas Vietnamese representative agencies to optimise their role, bring into full play on-site resources, and coordinate with external information agencies at home to improve the quality of external information work.
The Ministry of Foreign Affairs will closely coordinate with domestic ministries, sectors and localities to orient and provide the best support for the representative missions abroad to make a breakthrough in external information work, practically serving the implementation of the country's strategic goals, and contributing to enhancing Việt Nam's prestige and position in the world. 
Ha Noi plans to bury telecommunications and electricity cables on 300 streets
The capital city of Ha Noi plans to bury telecommunications and electricity cables on 300 streets in 11 districts and towns by 2025, reported the municipal Department of Construction.
Since the beginning of the year, the city has completed construction of underground cable infrastructure on 13 streets, located in districts of Hoan Kiem, Ha Dong and Cau Giay, bringing the total number of routes completed to 187.
The Department of Construction will continue to bury 58 lines in the last months of the year. However, the department said that the work might still face obstacles because of a lack of labour due to the COVID-19 pandemic.
VNPT Group, Viettel Group, MobiFone Corporation and Ha Noi Electricity Corporation have committed to support Ha Noi in deploying synchronous underground telecommunications lines and medium and low voltage power lines along streets in line with the capital's socio-economic development master plans.
Vietnam reports falling number of Covid-19-related deaths
An additional 3,193 Covid-19 infections were confirmed in Vietnam on Sunday and the death toll has decreased, according to a report from the Ministry of Health.
According to the ministry's report, 3,175 of the new patients are locally-transmitted cases confirmed in 48 localities including HCM City (1,059), Binh Duong (537), Dong Nai (517), Tay Ninh (156), An Giang (117), and Kien Giang (93). There were 18 imported patients confirmed today.
The new infections showed a decrease of 36 cases compared to yesterday's figure. There were 1,339 infections found in the community.
As of Sunday evening, 859,372 infections have been reported since the new outbreak occurred in the country in late April. Some localities that have recorded the highest number of patients include HCM City (417,724), Binh Duong (225,414), Dong Nai (58,622), Long An (33.738), and Tien Giang (15,011). The outbreak has so far spread to 62 out of 63 cities and provinces nationwide.
With these new infection cases, the number of Covid-19 patients in Vietnam has increased to 864,053. The country now stands 40th among 223 countries and territories worldwide in the number of infections.
On October 17, an additional 1,340 more patients recovered from the disease, raising the number of recoveries in the country to 791,844.
On Sunday evening, a further 63 deaths related to Covid-19 were announced, bringing the total number of fatalities in Vietnam to 21,194. The deaths were reported in some localities including HCM City (38), Binh Duong (13), Dong Nai (2), Kien Giang (2), Soc Trang (2), Dak Lak (2), Quang Ngai (1), Bac Lieu (1), Binh Thuan (1), and Dak Nong (1).
Vietnam today administered more than 1.25 million doses of Covid-19 vaccines. The country has so far conducted over 61.91 million Covid-19 vaccine shots, with over 17.84 million people having received two doses.
Vietnamese monochord performed at Expo 2020 Dubai
Vietnamese meritorious artist Le Giang had performed the Dan bau (monochord), a Vietnamese traditional musical instrument, along with a Middle Eastern famous traditional band at the Expo 2020 Dubai, according to the Vietnam Pavilion at the event.
The show took place on the evening of October 12 on the largest outdoor stage of the Expo 2020 Dubai complex. It was part of Jalsat Nights - one of the top art shows at the event.  The Dan bau was the only musical instrument that was invited to be present at Jalsat Nights.
Jalsat Nights is a music series held monthly from October 2021 to March 2022 within the framework of Expo 2020 Dubai. It received special attention from the media and people of the Gulf countries.
The organisers had an ambitious plan to not only showcase a part of the musical heritage of the United Arabian Emirates, but also give viewers a unique experience by introducing traditional instruments from several countries around the world.
As one of the world's largest non-commercial exhibition events, EXPO 2020 Dubai took place in the Middle East for the first time, attracting the participation of more than 190 countries and international organisations.
The Vietnam Pavilion at the Expo 2020 Dubai complex opened on October 1, creating a great impression on international visitors.
Choosing the main theme 'Distilling the Past, Shaping the Future', the Vietnam Pavilion shows creativity in the interior, art displays, model installations combined with technology interaction along with an attractive culinary space and special art performances, promising to promote the beauty, potential, and development opportunities of the country.
Vietnam Day, slated for December 30, 2021,  is considered the most highlight event of Vietnam at Expo 2020 Dubai with the participation of senior leaders from the country./. 
Hanoi stops examining commuters, vehicles at Covid checkpoints
The capital city of Hanoi has stopped checking commuters and vehicles entering and leaving the city when they pass through Covid checkpoints, according to the municipal anti-Covid authority.
Traffic police from now on will stand guard at the checkpoints to ensure traffic safety and handle any problems arising, the local media reported.
Checkpoint No.8, which was previously set up at a toll station on the Hanoi-Haiphong Expressway section passing through Tan Tien Commune, Van Giang District of Hung Yen Province, has also recently been removed. The competent forces will maintain the operations of the remaining checkpoints to regulate traffic flow and ensure traffic safety.
Dinh Tien Dung, Secretary of the Hanoi Party Committee, has also signed Directive 8 asking local authorities to ensure smooth transportation and create favorable conditions for commuters. People who completed the mandatory quarantine must be given support to return to their home, workplace to serve production recovery.
Residents traveling from/to BR-VT not required to have negative Covid test certificates
The southern province of Ba Ria-Vung Tau has allowed residents to travel from/to the province without requiring them to show a negative Covid-19 test certificate.
The provincial government on October 15 issued a document on measures to adapt safely and flexibly to the Covid-19 pandemic and control it effectively. Accordingly, checkpoints at the gateways to the province will be kept in place to instruct residents to make health declarations, the local media reported.
Additionally, the province called on residents to go out only if necessary.
Residents were allowed to travel within the province, except for those coming to/from high-risk and extremely-high-risk areas. The province will remove checkpoints in communes and districts and set up patrol teams to conduct random checks.
As for transport activities, drivers and driving assistants must get at least one Covid-19 vaccine dose and undergo Covid-19 tests every week, except for those who have been fully vaccinated.
People coming from high-risk and extremely-high-risk areas will monitor their health at home for seven days and undergo Covid-19 test on the first quarantine day of their arrival if they have been fully vaccinated or recovered from Covid-19 within the past six months.
Those who have got one Covid-19 vaccine dose will self-isolate themselves for seven days at home, monitor their health for another week and undergo Covid-19 tests on the first and seventh days after their arrival.
Unvaccinated people will be sent to centralized quarantine facilities for 14 days and undergo Covid-19 tests in line with the regulations.
Meanwhile, people returning from moderate-risk will monitor their health for 14 days if they have been fully vaccinated or recovered from Covid-19 within the past six months. Those who have got one vaccine dose or have not been vaccinated will self-isolate themselves for seven days at home and monitor their health for 14 more days.
The elderly, those suffering from underlying illnesses, pregnant women and those aged below 18 will be isolated at home.
Source: VNA/VNS/VOV/VIR/SGT/SGGP/Nhan Dan

HCM City sends health workers to aid other localities in COVID-19 combat