Hanoi FC gunning for AFC Cup Inter-zonal Final victory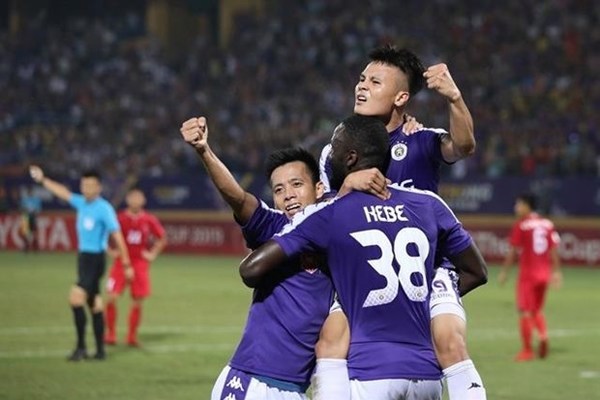 Hanoi FC players celebrate their goal in the first leg with the DPRK's April 25 Sports Club at the AFC Cup Inter-zonal Final at Hang Day Stadium (Photo: toquoc.vn)
V.League 1 champions Hanoi FC will be gunning for glory against the Democratic People's Republic of Korea (DPRK)'s April 25 Sports Club (4.25 SC) in the second leg of AFC Cup Inter-zonal Final at Kim Il-sung Stadium on October 2.
The two sides drew 2-2 in the first leg at Hang Day Stadium in Hanoi on September 25.
ASEAN Zonal champions Hanoi need to beat their rivals who were East Zonal winners or finish with a high-scoring draw.
The team from the capital will feature the first Vietnamese side to play at the ground since a training session held by The Cong in 1968.
Hanoi's attack will feature Nguyen Van Quyet, Nguyen Quang Hai and Pape Omar Faye.
However, Hanoi will be without No 1 goalkeeper Nguyen Van Cong due to injury. Bui Tien Dung or Phi Minh Long will stand in for him having not featured much this season.
"Anything can happen in football. Hanoi's strength lies in solidarity. I have high hopes we will complete our mission of defeating 4.25 SC and making it through to the next round," said coach Chu Dinh Nghiem.
"Cong's injury is a pity for the whole team. However, Long and I will try our best. Hanoi have arrived in Democratic People's Republic of Korea determined to win. We will give more than 100 percent," said goalie Dung.
According to defender Do Duy Manh, 4.25 SC are a strong team with good discipline and physical strength. Hanoi will have to overcome these difficulties if they want to get a good result.
"As a defender, it's really tough to play against tall and powerful forwards, but we will have to stop them in the second leg," said Manh.
Beating the DPRK side will be a tough task for Hanoi.
With two away goals in the bag, 4.25 SC will start the return meeting with an advantage. Moreover, since making their AFC Cup debut in 2017, 4.25 SC have played 14 games at home and have yet to taste defeat.
"We are looking to the home game; the first match was just the first step towards reaching the final," said striker Kim Yu-song, who is the tournament's joint second scorer with nine goals.
"Hanoi are very strong going forward, but we will have an advantage because our fans can help us win the game," Kim added.
In their two previous AFC Cup appearances, 4.25 SC have reached the Inter-Zone semi-finals and the Inter-Zone Final. With a formidable home record and two away goals in the bag, O Yun-son's side are confident of reaching the final.
However, with confidence after wrapping up a second successive V. League title and having not been beaten in more than four months, Hanoi are expected to make a splash in the DPRK.
The match will begin at 3pm (Hanoi time) today, but due to local rules, it won't be broadcast live./. 
FLC Group wins lawsuit against online newspaper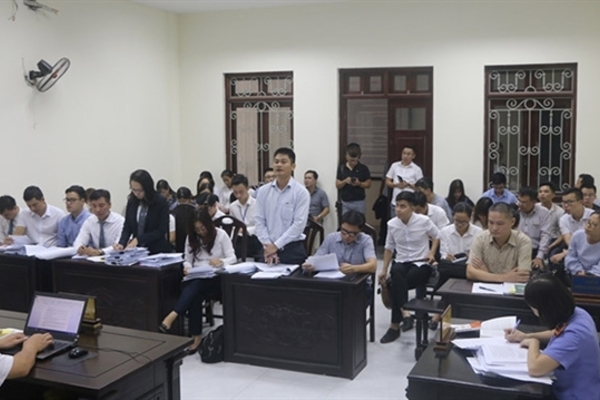 The first instance trial brought against Giáo dục Việt Nam online newspaper by FLC Group, which has accused the newspaper of posting incorrect information. — Photo thanhnien.vn
A court in Hà Nội has ruled in favour of FLC Group in a lawsuit against online Giáo dục Viet Nam (Viet Nam Education) newspaper.
In its verdict on Monday, Cầu Giấy District's People's Court asked the newspaper to immediately remove false information which it had posted. The newspaper was ordered to publish a correction and apology on mass media and notify the group.
The newspaper will also have to pay compensation of VNĐ14.9 million (US$643) to the group as well as VNĐ745,000 for court fees. The two parties have the right to appeal within 15 days of the date of sentencing.
Previously, FLC Group sued the online newspaper because it published an article relating to the debt between FLC and Hòa Bình Group, saying the group was in debt to the tune of hundreds of billions of Vietnamese đồng.
In the lawsuit, the FLC said that FLC Group and Hòa Bình Group are co-operating in business and executing normal economic contracts.
Regarding the existing debt, the two groups are negotiating to reach an agreement on the implementation of the contracts. There was no dispute between the two parties, FLC contended.
The posting of information by the newspaper was inaccurate, affecting the co-operation and image of the enterprise.
The newspaper said the article was accurate and objective. However, FLC Group did not agree and filed a lawsuit to the People's Court of Cầu Giấy District.  
New training programme for young people announced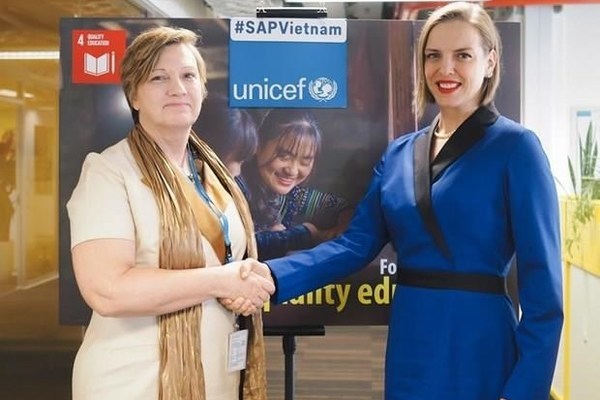 Rana Flowers (L) and SAP Vietnam Managing Director Josephin Galla (Photo: UNICEF)
 


The SAP, one of the largest European software companies, and the United Nation Children's Fund (UNICEF) have announced a new cooperation programme on training life and digital skills for young people in poor Vietnamese regions.
The fund said on October 1 that the course will benefit 11,000 students in high schools and vocational training schools during the first year, focusing on female students, including ethnic minorities and disabled ones.
Rana Flowers from the UNICEF expressed her delight at cooperating with the SAP to tap the ability of young people, helping them contribute to socio-economic development.
SAP Vietnam Managing Director Josephin Galla vowed to enhance coordination with Government agencies and build the best curricula for workforce in the future.
The programme is part of the Generation Unlimited campaign, which is a global partnership launched a year ago to prepare young people to become productive and engaged citizens. It connects education and training to employment and entrepreneurship, empowering every young person to thrive in the world of work./. 
Da Nang marathon calls for efforts to protect children from sexual abuse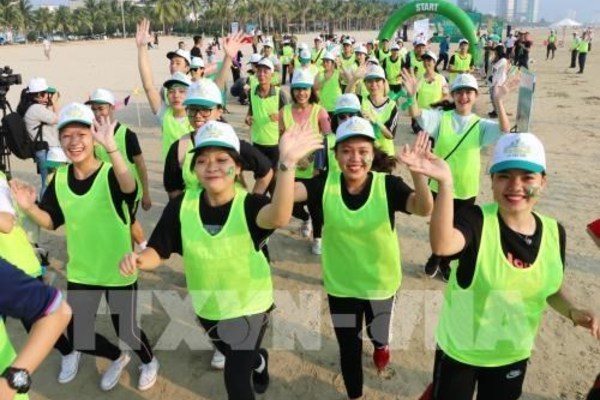 Runners at the event

More than 300 volunteers who are athletes, officials from agencies, students and locals in the central city of Da Nang joined a marathon on October 1 to call for stronger public awareness of preventing trafficking and sexual abuse against children.
The event was jointly held by the Da Nang Association for Charities and Children's Right Protection and the US's Orphan Voice organisation.
The participants take part in a 160km running race in three days (55km a day) until October 3 from the Bien Dong Park through Son Tra, Hai Chau, Lien Chieu and Hoa Vang districts.
Opening the event, Le Thi Tam, President of the Da Nang Association for Charities and Children's Right Protection said that the programme aims to call for the engagement of families, the community as well the whole society in preventing and combating the trafficking and sexual abuse against children.
This is the second time the event has been held in Da Nang, which is expected to build a friendly and worth-living city that is peaceful for all, especially children.
Da Nang is carrying out a project to fight crime against children, prevent law violators who are adolescents and combat domestic violence and human trafficking in the 2018-2020 period.
The project is to reduce the number of children suffered from sexual harassment by 50 percent, and timely supporting 100 percent of children who are victims of sexual abuse and violence. It will also strive for 100 percent of districts building and implementing a community-based model to prevent and support law violators who are adolescents./.
Book fair celebrates Hanoi Liberation Day
A book fair will be held at Thăng Long Citadel to celebrate the 65th Hà Nội Liberation Day on October 10.

The five-day event, from October 2 to 6, will include a book launch, seminar and talk show.

"This year, the fair will be even bigger and feature domestic and foreign publishing houses," said Nguyễn Thị Mai Hương, deputy director of the Information and Communications Department.
Publishing houses and book distribution companies such as Kim Đồng Publishing House, Literature Publishing House, Nhã Nam, Thái Hà and Đinh Tị will also be at the fair.

A novel written in Vietnamese by Serbian author Marko Nikolic, Phố Nhà Thờ will be released by Nhã Nam Books.
The fair will also welcome publishing houses and associations from Myanmar, the Phillippines, Malaysia, Indonesia, Japan and the Southeast Asia Publishing Association.

A space with the theme Hà Nội - 20 Years of City for Peace will display books and documents to introduce the history and culture of Thăng Long - Hà Nội.

Paintings themed I Love Hà Nội - The City for Peace by foreign children will be exhibited.

Seminars will be held with the participation of writers and researchers to introduce two books entitled Tuyển Tập Tư Liệu Công Ty Đông Ấn Anh về Kẻ Chợ - Đàng Ngoài 1672 - 1697 (Collection of British East India Company about Thăng Long - The North 1672 - 1697) and Tư Liệu Công ty Đông Ấn Hà Lan về Kẻ Chợ - Đàng Ngoài 1637 - 1700 (Collection of Dutch East India Company about Thăng Long - The North 1637- 1700).

Various talks will take place on the sidelines of the fair with participation of writers Chu Lai, Trung Sỹ and historian Dương Trung Quốc.
RoK experts assist energy efficiency projects in Vietnam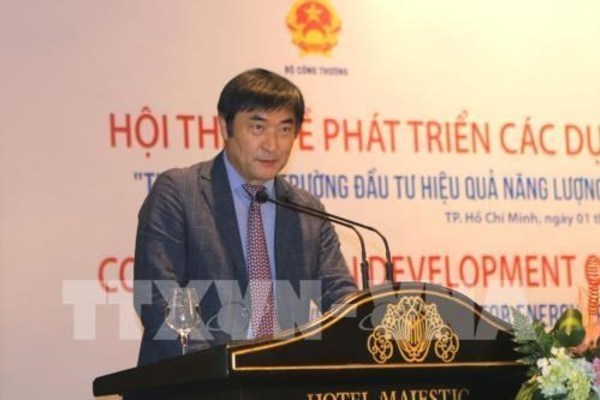 KOICA Country Director for Vietnam Kim Jin-oh speaks at the conference
A conference on the development of energy efficiency projects took place in Ho Chi Minh City on October 1.
The event was part of the project "Promoting Investment Market for Energy Efficiency in Industrial Sector in Vietnam", which is sponsored by Republic of Korea (RoK).
It is launched by the Korea International Cooperation Agency (KOICA) and the Energy Efficiency and Sustainable Development Department under Vietnam's Ministry of Industry and Trade.
Since November 2017, the project has reaped fruitful results and provided direct technical assistance to energy service providers and Vietnamese officials in energy efficiency.
After evaluating energy-saving technologies in more than 2,400 businesses, it has chosen 10 firms which will conduct energy accounting under the supervision of RoK energy experts.
KOICA Country Director for Vietnam Kim Jin-oh said the project has entered the third phase, lasting until 2030. With the support of RoK experts, Vietnamese firms are projected to invest 200,000 USD and save up about 78,000 USD annually, while cutting down 600,000 tonnes of carbon dioxide per year.
He added that the RoK agency is eager to contribute to the realisation of Vietnam's energy efficiency targets set by the Government.
The project also sees the participation of commercial banks, which will funnel capital for businesses to launch energy efficiency projects./.
Việt Nam U22 pull out of BTV Cup 2019
The national U22 team won't compete in the upcoming BTV Cup 2019, the Việt Nam Football Federation (VFF) has announced.
The U19 team under the newly-appointed coach Philippe Troussier will replace the U22 team to play in the international friendly event hosted by club side Becamex Bình Dương.
According to the VFF, the change aims to help U22 team focus on training to prepare for the upcoming Southeast Asian Games in the Philippines.
The U22 team will only play a friendly match with the United Arab Emirates at Thống Nhất Stadium in HCM City on October 13.
At the BTV Cup 2019, besides Việt Nam U19, the event will feature U19 Bình Dương and two other foreign teams from Japan and South Korea. It will begin on November 13.
Exhibition on mental health opens at Deutsches Haus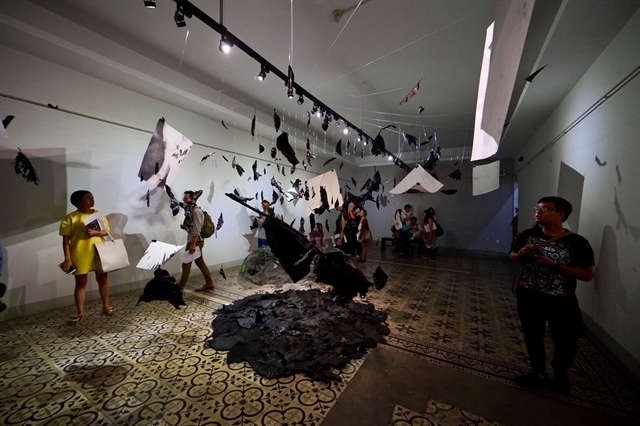 "The Fair" exhibition will take place on Saturday at Deutsches Haus in District 1 in HCM City. -- Photo Courtersy Wintercearig project
An art exhibition about mental health titled "The Fair" will take place on Saturday at Deutsches Haus in District 1 in HCM City.
The event, which is part of the Wintercearig Project, will last from 2pm to 9pm. It aims to help people focus on their mental health with a combination of science, art and technology, helping people to connect and access information to better understand mental health issues.
At the exhibition, visitors will experience artistic creations and enjoy performances, including four interactive booths with four different art forms that permit visitors to engage in expressive activities related to their respective psychological issues. There will be performances related to "Stress and Anxiety Disorder" and "Depression", while typography by local artists will help visitors visualize the words "Anxiety Disorder", "Stress", and "Depression".
From these activities, participants can identify and face their own issues as well as understand the importance of maintaining a healthy mental state, or more simply, connect with each other, experience art, and find a balanced state of mind.
Tricia Nguyễn, founder of the Wintercearig project, said: "Using different art forms can help you express your emotions safely and creatively. You don't need to be an expert or an artist to create something beautiful and meaningful. The arts are naturally therapeutic in their own way. By providing the public with visualisations, a general concept can be understand and different forms of art can be sampled.
We hope they can find their own way to deal with their issues that cause daily stress, especially students with academic pressure. This is also a place for each of us to understand and know how to help our loved ones who are facing the same problem."
Tricia came up with the idea for Wintercearig in late 2016 after being diagnosed with PTSD, anxiety and bouts of depression. For many years of dancing and drawing, art has helped her through many difficult times.
"Through research I have found that there is a great stigma about mental health and the lack of treatment facilities in Việt Nam. I think art can be a great way to express one's feelings without the fear of being judged. I am willing to support the community here in understanding the psychological issues we face," she said.
According to figures from the Ministry of Health, about 15 per cent of the Vietnamese population suffers from common mental disorders related to stress, and 3 million from severe mental disorders. The Institute of Mental Health said that 30 per cent of the Vietnamese population suffers from mental disorders, of which depression accounts for 25 per cent.
According to the World Health Organization (WHO), by 2020 depression will be the second most common disease that affects people (after heart disease) worldwide. However, depression is only one aspect of mental illness which can include anxiety, hyperactivity disorder and other disorders.
Thousands of households evacuated due to Ca Mau erosion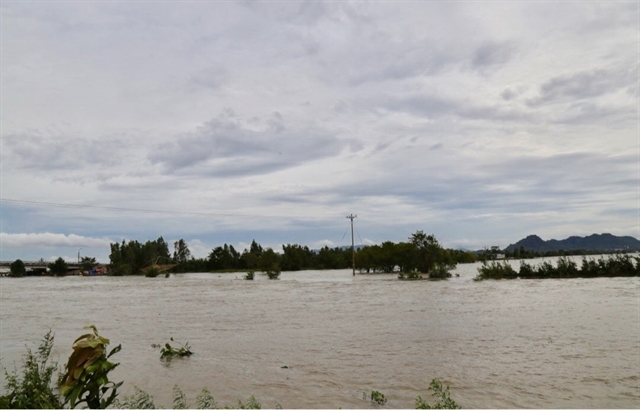 Authorities in Ca Mau Province have announced the need to evacuate nearly 7,000 people due to erosion.
Nguyen Duc Thanh, the chief officer at Ca Mau People's Committee, said on September 30 that the erosion along river banks and coastal areas were continuing and worsening.
Statistics from the Department of Agriculture and Rural Development show that over 1,000 households have lost their houses. The authorities announced the need to relocate 3,000 households in danger zones that are being threatened by erosion and flooding. 500 households live near the canals and channels are also facing erosion and flooding.
It is estimated that the evacuation plan will need over VND940bn (USD40.5m).
Chairman of Ca Mau People's Committee Nguyen Tien Hai already issued urgent warnings over the erosion along river banks on September 20. Ca Mau Province has over 25km of coastal lines and estuaries and over 1.2 km of river banks that have been damaged by erosion and in need of repair. Most of the erosion is in Dat Mui, Vien An, Tam Giang Tay, Nguyen Huan and Tam Giang Dong communes.
Trial of illegal surrogacy ring adjourns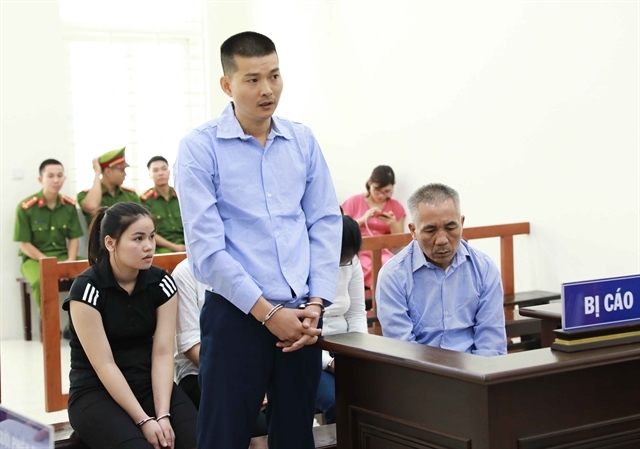 Cai GuoLin, the alleged leader of an illegal surrogacy ring, in court.
A Hà Nội court has decided to adjourn a hearing regarding an illegal surrogacy ring due to the absence of some key participants.
The Hà Nội People's Court on Monday opened the first hearing of five people accused of operating a surrogacy network for commercial purposes, the first time the crime has gone to the city's court.
Due to the absence of representatives from the People's Procurary for health reasons and six other participants that were summoned by the court, the judge panel decided to postpone the trial to October 14.
The accused are Chinese nationals Cai Guo Lin, 37, Cai Guo Fang, 54, Triệu Thị Hằng from the central province of Thanh Hóa, Hoàng Thị Thu Trang from the northern province of Hưng Yên and Nguyễn Thị Ngọc from Bắc Ninh Province.
According to the indictment, Cai Guo Lin worked at a private hospital specialising in fertility and in-vitro fertilisation (IVF) services in China, which is owned by Guo Yong.
In early September 2018, Cai Guo Lin and Cai Guo Fang were sent to Việt Nam to find surrogate mothers.
After arriving, Cai met a Chinese doctor named Apo who introduced him to Trang, an interpreter at Thiên Hòa Clinic in Hà Nội's Cầu Giấy District.
Cai asked Trang to work as an interpreter for him and search for potential surrogate mothers.
Trang is alleged to have asked Hằng to find a surrogate mother. Hang introduced N.T.T, 31, from Hà Nội's Long Biên District, to Cai who brought her to China for the duration of the pregnancy.
In November last year, Hằng introduced Trang to six other women willing to be surrogate mothers.
On December 11, Cai, Hằng, Trang and Ngọc took the surrogate mothers from Hà Nội to HCM City before departing to Cambodia.
When in HCM City, the group stayed at a hotel in District 3. After becoming scared of the prospect of being trafficked, one of the women called her family, leading to the arrests being made. 
The Guide Awards 2019 highlight role of private sector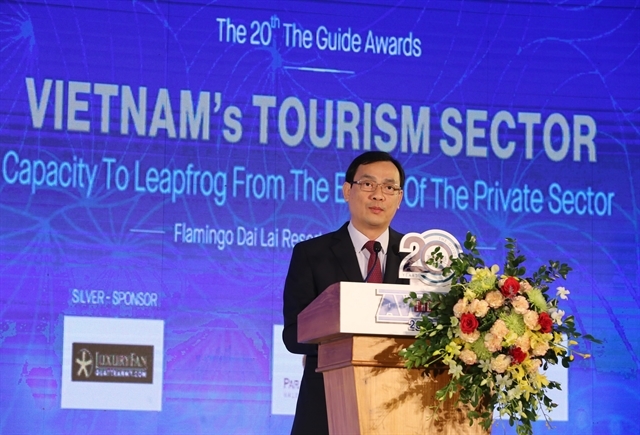 Head of the Việt Nam National Administration of Tourism Nguyễn Trùng Khánh delivers his speech at The Guide Awards 2019. — Photo courtesy of The Guide
The Guide Awards 2019, which gathered representatives from leading hotels, resorts and tourist enterprises, has emphasized the significant contribution made by the private sector in national tourism development.
In a speech delivered at the ceremony last week at the Flamingo Đại Lải Resort in Vĩnh Phúc Province, head of the Việt Nam National Administration of Tourism Nguyễn Trùng Khánh said that the private business sector had developed rapidly, proving itself one of the key segments for Việt Nam's economy.
"Investment in this sector in 2018 increased 18.5 per cent in comparison with the previous year, accounting for 43.4 per cent of total social investment.
In the first eight months of 2019, Việt Nam received more than 11 million tourists, an increase of 8.7 per cent compared to the same period last year. The number of domestic tourists hit 59.7 million and total revenue from domestic tourists reached VNĐ442.2 trillion (US$19.06 billion), increasing 9.6 per cent year on year, Khánh said.
The tourism sector had been earmarked as key to domestic growth, he added.
"To transform Việt Nam into tourism magnet, the Government, authorities and companies have put in a lot of effort over the years," he said.
The Top 10 The Guide Awards 2019 included Vinperal, FLC Luxury Resort, Flamingo Đại Lải Resort, JW Marriott Hanoi Hotel, and MerPerle Hon Tam Resort. The list also featured The Recerie Saigon Hotel, Lotte Hotel Hanoi, Paradise Cruises, Azerai La Residence Hue Hotel, and the chain of Ashima Hotpot restaurants.
The event also included a discussion on the theme 'Việt Nam's Tourism Sector – Capacity to Leapflog from the Efforts of Private Sector' with the participation of economist Trần Đình Thiên, Deputy Chairwoman of the Vĩnh Phúc Provincial People's Committee Vũ Thị Thu Thủy, and representatives from hospitality and tourism enterprises including FLC Group, Lux Group, Flamingo Holding Group and Paradise Group.
Organised by The Guide magazine, the annual awards celebrate the achievements and contributions of enterprises, organisations and individuals in Việt Nam to the country's tourism sector.
Number of Vietnamese students in RoK increases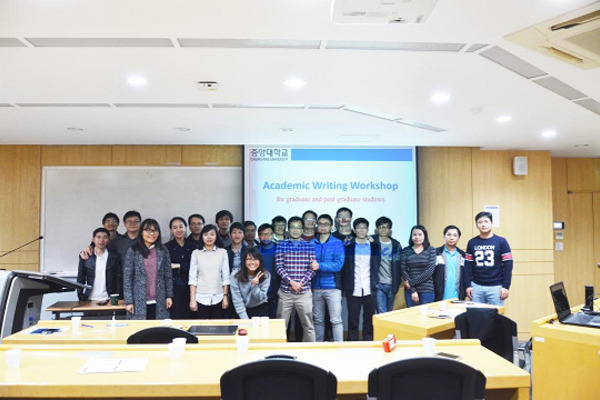 Vietnamese students at a writing workshop held at Chung-Ang University in Seoul (Photo: vsak.com.vn)
The number of Vietnamese students at the Republic of Korea's universities and colleges reached 37,426 in 2019, up over 10,000 against 2018.
The figure is projected to continue growing in the future, in line with Korean investors' higher investment in Vietnam and increasing impact of K-pop music and Korean dramas.
Official data from the Republic of Korea's education authorities recorded more than 160,165 foreign students across universities and colleges this year, an annual increase of 12.6 percent and almost doubling the figure for 2009. The number of those from Vietnam accounted for 23.4 percent of the total, expanding 14 times in a decade.
China has so far sent the highest number of student to RoK, at 71,067 this year. However the figure reflected an annual decline of 3.9 percent./. 
Hoi An Memories show receives The Guide Awards 2019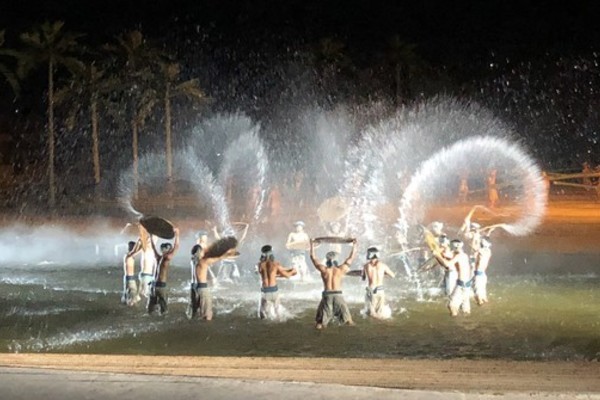 The Ky uc Hoi An (Hoi An Memories), a 60-minute show on the history and development of Hoi An town received The Guide Awards 2019 for being recognized as the best outdoor visual art performance in the country.
The title "Hoi An Memories Spectacle Show - Where Vietnamese Values of History and Culture Awaken in Art" aims to honor the performance for its contribution in promoting Vietnamese tourism.
The show which reappears the culture and life of Hoi An people long ago, fisherman started to build houses and settle down welcomed their one-millionth visitor on September 21.
"Hoi An Memories" sees more than 500 outdoor performances since its debut in March, 2018 with the participation of 500 artists on an area stage of 25,000 m2.
The Guide Awards is an annual event organized by The Guide magazine (Vietnam Economic Times) recognizing the achievements and contributions of enterprises, organizations, individuals and localities in Vietnam to the country's tourism development.
First held in 1999, The Guide Awards are sponsored by the Vietnam National Administration of Tourism and the Vietnam Economic Science Association. The Awards have gained in prestige over the years and earned recognition and appreciation from tourism enterprises and State management agencies.
The Ky uc Hoi An (Hoi An Memories), a 60-minute show on the history and development of Hoi An town received The Guide Awards 2019 .
Hanoi plans street closure around Hoan Kiem Lake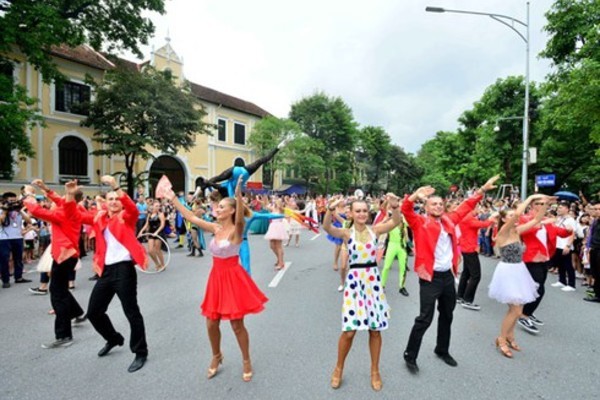 The pilot scheme first targets to expand walking space of Hoan Kiem Lake and its vicinity, road closure will also contribute to improving Hanoi`s environment.
The Hanoi People's Committee has just assigned the municipal Department of Transport to consider closing streets around Hoan Kiem Lake for traffic in one month in a move to study a long-term and overall solution for restricting vehicles entering Hanoi's downtown, local media reported.
This is one of the proposals included in the three-year report on the pedestrian space area around Hoan Kiem Lake, which is considered the icon of Hanoi, and surrounding areas.
Head of the Office of the Hanoi People's Committee Vu Dang Dinh told VnExpress that this only a pilot move. Whether the ban is effective 24/7 or in certain hours during the day will depend on the research results.
The pilot scheme first targets to expand walking space of Hoan Kiem Lake and its vicinity. Besides, road closure will also contribute to improving the capital's environment, Dinh added.
The municipal People's Committee has assigned Hoan Kiem district to complete a plan to expand the walking space as it has become crowded.
Once the three-year report on piloting walking space around Hoan Kiem Lake and its vicinity is completed, Hanoi's authority will end the pilot period and officially inaugurate the walking space.
According to the report, pedestrian streets around Hoan Kiem Lake have created a destination and a highlight of the capital city and helped diversify cultural activities, services and tourism. So far, it has received good feedback from local and international tourists.
However, there remain issues to be addressed such as peddling, walking dogs and cats in the area, among others.
Hoan Kiem district needs to keep studying to improve management of walking space including maintenance of trees, lawn and flowers, lighting, vending machine, water purifiers, among others.
Besides, the Hanoi People's Committee will research traffic around the pedestrian space around Hoan Kiem Lake and surrounding areas for an appropriate traffic plan.
The municipal Department of Culture and Sports will be responsible for licensing all events around the lake. It is required to make public the annual calendar of events which will be held around the lake by October 30 every year.
Korean man wanted by Interpol arrested in Danang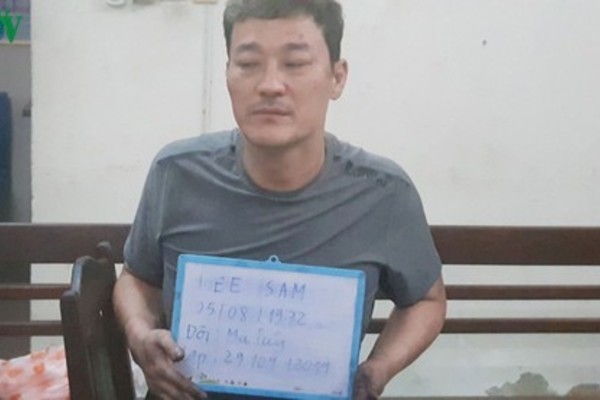 Suspect Lee Sam at the police station
Working in co-ordination with forces from Thach Thang ward, police in Hai Chau district successfully arrested Lee Sam, a Korean national wanted for drug offences, at the Novotel hotel in the central city of Danang on September 29.
Following the arrest, police forces launched a search on his apartment at the Azura building on Ngo Quyen street, Son Tra district. During the search, two nylon bags containing drugs were discovered.
After taking a sample from the suspect, Lee Sam tested positive for drugs.
Following a further inspection of the man's background, it was discovered that Lee Sam is also wanted for murder by Interpol.
The case is currently under further investigation.
Vietnam world's third largest source of DDoS cyberattacks: report
The number of DDoS attacks coming from devices in Vietnam was the world's third highest in the second quarter of 2019, after the U.S. and China.
8.7 percent of global DDoS attacks originated from Vietnam in Q2, following the U.S. (22.8 percent) and China (13.7 percent), according to a recent report by Hong Kong-based Nexusguard, a leading cloud-based DDoS security solutions provider.
"Accounting for more than one billion of the world's Internet users, it's no surprise that the U.S. and China also lead the pack as top sources of DDoS attacks worldwide," the report said.
Russia and France rounded up the top five while the rest of the top 10 comprised Egypt, Brazil, Germany, the Netherlands and South Korea.
27.41 percent of DDoS attacks in the Asia-Pacific region came from Vietnam, while China led with 43.19 percent.
Nexusguard also warned about DDoS attacks aimed at communication service providers, including telecom suppliers.
Perpetrators are using smaller, bit-and-piece methods to inject junk into legitimate traffic, causing attacks to bypass detection rather than sounding alarms with large, obvious attack spikes, the company said.
Its report revealed that Vietnam Posts and Telecommunications Group (VNPT) ranked second on the list of global internet service providers most attacked by DDoS in the second quarter, after the U.S.-based cloud infrastructure provider DigitalOcean.
On the other hand, Vietnam suffered 3,159 cyberattacks in the first six months, half of them through emails with malicious links. This represented a 45.9 percent decrease from the same period last year.
Last September, Russia's Kaspersky Lab named Vietnam among the top 10 countries hit by DDoS attacks in the last quarter of 2017 and also among the top 10 nations affected by botnet-assisted DDoS attacks, with more than 637,000 computers being hit.
Voluntary boat rescue team established in Quang Binh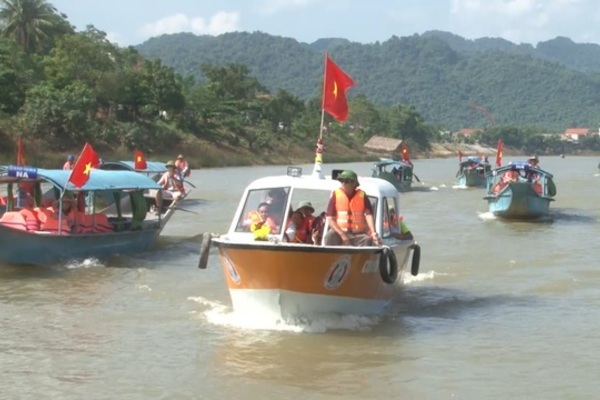 Rescue team on the Son River
An official in Quang Binh Province has set up a volunteer boat rescue team to aid local people and visitors to Phong Nha Cave.
Son Trach Village in Bo Trach District is located inside the Phong Nha-Ke Bang National Park. Its river tourism is highly developed, receiving a large number of tourists every day. However, the river rescue is still neglected which led to unwanted fatalities, especially during the rainy season.
Pham Ngoc Sam, party secretary of Ha Loi Village, decided to take actions to prevent accidents and deaths on the rivers. He called for donations and spent his own money and collected nearly VND400m (USD17,200) to buy boats and equipment and set up a rescue company on the Son River.
The team has recruited 40 volunteers for the job. They have 18 boats with life jackets and first aid kits.
"First and foremost, this is a charitable activity to help other people during the rainy season. Moreover, the number of tourists travelling by boats is high so a rescue team is necessary. We also want to make Quang Binh tourism more professional," Sam said.
Phan Thanh Luan, vice chairman of Son Trach Commune, said a tourist boat had recently capsized on Son River. Moreover, the local people and students must also travel by boats to go to school and work.
"We are willing to help and have called for other organisations and agencies to co-operate with Son so that the rescue work will be more efficient," he said.
Hà Giang launches fund to build houses for poor people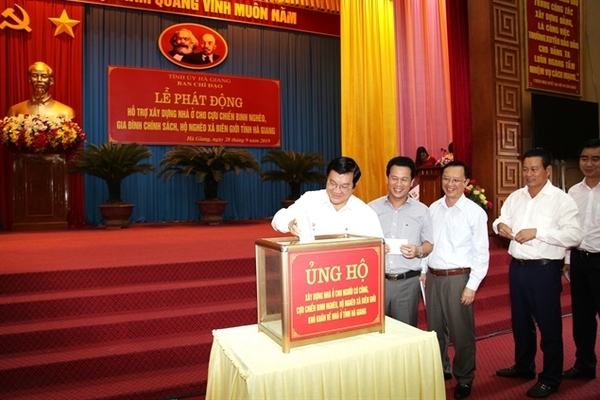 Former President Trương Tấn Sang and leaders of Hà Giang Province donate to the fund for the poor.
A ceremony to launch a fund to build houses for impoverished war veterans and families who devoted themselves to the resistance wars was held on Saturday in the northern mountainous province of Hà Giang.
More than 100 enterprises took part in the ceremony.
Nguyễn Văn Sơn, chairman of the Hà Giang People's Committee, said the province was one of the poorest in Việt Nam with 10,100 poor households.
The province is looking to build more than 3,000 houses for needy people by the end of 2021 with donations from the community. Each house will cost VNĐ60 million (US$2,600).
Provincial leaders and enterprises from different provinces and cities donated around VNĐ65 billion ($2.8 million) to the fund.
Martyrs' remains buried in Thái Nguyên 
The remains of ten martyrs who died in the resistance war against French colonialism were solemnly buried on Saturday in Phổ Yên Town in the northern province of Thái Nguyên.
The ceremony was held by the Steering Committee on Search and Repatriation of Remains of Fallen Soldiers, the Thái Nguyên Department of Labour, Invalids and Social Affairs and the Phổ Yên Town
People's Committee.
The unidentified remains had been discovered on three farms in Phổ Yên Town.
HCM City needs long-term master plan to ensure water supply: experts
International experts share experiences in water supply system management and solutions for HCM City at a conference held on Friday.
HCM City needs a master plan for 30 years to make sure that investments in water supply dovetail with the overall long-term plan, experts have said.
The master plan should give directions and guidance and be implemented with flexibility, Sytze Jarigsma, former resident project manager of the Utility Support Programme funded by the Dutch embassy, said.
The plans allows application of new technology if available and welcomes improvements based on newer insights, he told a conference on Friday on international and domestic experience in research and application for water supply recommendations for HCM City for the 2019-35 period.
Raw water development needs urgent consideration, he said.
Currently, there are three water sources for the city, the Đồng Nai and Sài Gòn rivers and groundwater, he said.
The Đồng Nai is a good source for probably another 10 years or so, but after that climate change is expected to affect salinity too much, he said.
The Sài Gòn River is already a good source that has been affected by high salinity and pollution, he said.
Groundwater abstractions would be phased out soon to limit ground subsidence, he predicted.
Raw water intakes at existing upstream Dầu Tiếng and Trị An lakes would be options for the city, he said.
It would be an achievement if non-revenue water or water losses could be brought down to 20 per cent, and not much more could be expected, he said.
In the long term, new pipes would be installed and bad ones would be removed, resulting in reduction in water losses, he said.
Paul Smith of the Australian Water Association (AWA) said the greatest risks to consumers of drinking water are pathogenic micro-organisms.
Protection of water sources and treatment are of paramount importance and cheaper than treatment, he said.
A drinking water system must have and continuously maintain robust multiple barriers commensurate with the level of potential contamination, he said.
Võ Văn Hoan, deputy chairman of the city People's Committee, said rapid urbanisation has put pressure on the city's water infrastructure, which is ageing.
It is a great challenge for the city to maintain water supply and keep pace with the economic growth, he said.
It has made huge efforts to accomplish the target of supplying clean water to 100 per cent of households, he said.
But the city is in the downstream area of the Đồng Nai River and Sài Gòn River, and is affected by what happens upstream, he said.
Climate change and pollution have worsened water supply, he said.
"The city is urgently developing a project for drinking water supply."
It brought down water losses to 23.3 per cent from 26 per cent in 2017 and 30.9 per cent in 2015.
Its daily water supply total capacity is 2.4 million cubic metres.
According to the Department of Construction, the city will upgrade 1,430km of old pipelines and install more new pipelines by 2025.
Vietnam's Ao Dai, culture promoted in South Africa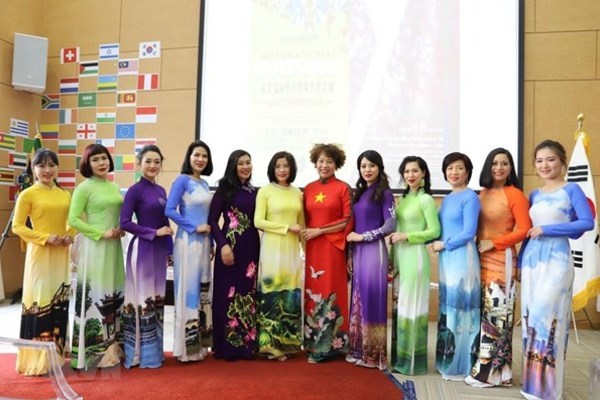 Vietnamese performers a the festival
Vietnam's Ao Dai (traditional long dress) and folk dances were introduced at an international cultural festival held by the International Diplomatic Spouses Association (IDSA) in South Africa on September 28.
Through patterns printed on the dresses, international friends learned more about Vietnam's famous sites like Thap Rua (Turtle Temple), One-Pillar Pagoda, UNESCO-recognised Ha Long Bay, Hoi An ancient capital city and Ben Thanh market.
The Vietnamese delegation has the largest number of performers and is the only to present folk dances at the festival.
Festival goers also enjoyed traditional dishes of the 28 participating countries and territories.
According to the IDSA, all proceeds collected in the festival will be used to support social sponsor centres in South Africa./.
Volunteering day calls for youth's actions against climate change
Organisers present awards to groups and individuals with active contributions to the community (Photo: tuoitrethudo.com.vn)
The Global Volunteering Day 2019 took place in Hanoi on September 29, calling on the young to join hands in dealing with climate change.
The annual event was organised by the Volunteers for Peace Vietnam (VPV) and the Centre for Sustainable Development Studies (CSDS), with the support of the Irish Aid and the UN Development Programme in Vietnam.
It served as a forum for discussing and sharing information and ideas while encouraging actions with positive impact on the environment and the community, towards the achievement of the 17 Sustainable Development Goals.
In his opening speech, CSDS Director Don Tuan Phuong said the event was the rendezvous of volunteers from many countries to share their experience and learn about culture of one another's nations.
"In response to the UN's summits this year, we call on young people to act to fight climate change to protect our planet. We believe that many small actions will create big changes," he stressed.
The event attracted about 1,200 people, including volunteers from more than 30 countries and territories along with representatives of non-governmental organisations.
Aside from promoting the public's attention to environmental and climate change issues, the day also raised money for a child-friendly school project implemented by the VPV Club, the CSDS and the Sao Bien (Starfish) – an Austrian non-governmental organisation.
This project aims to provide basic educational infrastructure, like school facilities, clean water and playgrounds with equipment made from recycled materials, for disadvantaged areas, thus helping achieve Sustainable Development Goal 4 – quality education.
Also at the event, the final round of the "Youth Drivers for Change" Awards 2019 was held. The awards are intended to honour the groups with active and impressive contributions to the community and affirm the Vietnamese youth's engagement in the settlement of social issues around the globe./.
Binh Thuan's Cham community celebrates Kate festival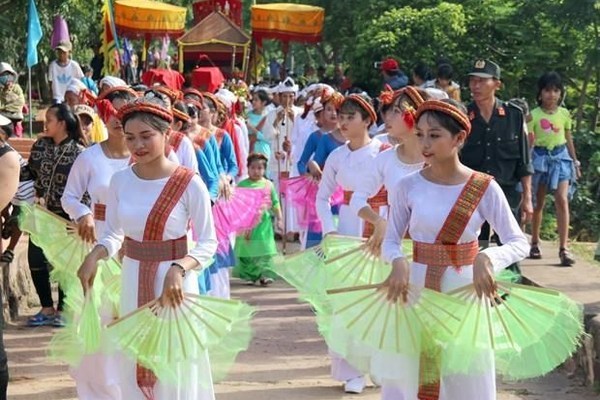 The Po Sah Inu Goddess costume procession
The ethnic Cham Brahman people in the central province of Binh Thuan on September 28 flocked to the Po Sah Inu tower in Phan Thiet city to open their biggest yearly occasion – the Kate Festival.
The opening ceremony was followed by a series of traditional rituals, including the Po Sah Inu Goddess costume procession, door-opening ceremony of the main tower, and Linga-Yoni worship items bathing rite.
The event also featured folk competitions and games like gingerbread making and rice pounding contests, attracting a large number of visitors.
Iana, a Russian tourist, said that she has attended the festival six times and loves the local traditional costume, music, and gingerbread.
Fenix from Hong Kong, meanwhile, said this is his first time to the enticing event, which reflects the community's typical characteristics.
Falling on the first day of the seventh month of the Cham calendar, Kate is the biggest event in the year of the Cham followers of Brahmanism to pay respect to gods and pray for productive harvests and multiple natural and human resources.
There are about 153,000 Cham people in Vietnam, of whom over 41,000 live in Binh Thuan, mainly in Bac Binh, Tuy Phong and Tanh Linh districts./.
Lemon tree helps improve lives for Tuyen Quang farmers
Local residents in Ham Yen district, Tuyen Quang province have escaped from poverty and made profit thanks to a new lemon variety that bears both fruits and flowers during four seasons.
From the beginning of this year, Hoang Thi Huyen, a farmer in the northern province of Tuyen Quang, has harvested over 65 tonnes of citrus fruit, earning around 43,000 USD in profit. Huyen's farm houses 700 four-season lemon trees.
There are over 80 hectares of four-season lemon trees in Ham Yen district, with each hectare turning out an average output of 30-35 tonnes of fruit. In addition to the current orange variety, the four-season lemon fruits are now helping local residents escape from poverty.
Phu Luu commune is seeking to set up a four-season lemon tree cooperative in a bid to make the tree the province's staple plant. The commune also urges locals not to excessively expand the growing area to avoid oversupply./.
Bac Ninh moves to preserve folk singing
Trong Quan singing is a traditional art form in Bac Ninh province for centuries. However, the province has faced various difficulties in preservation of the traditional singing.
Trong Quan singing (improvisational antiphony between boys and girls) has been practiced by locals in Bac Ninh for hundreds of years, starting from the 13th century.
The preservation work, however, is facing obstacles since there are less people learn and practice the art form. Efforts to preserve Trong Quan have mostly been made by the artisans and those who have an attachment to the art form. This makes it difficult for younger generations to fully appreciate the beauty and value of Trong Quan.
In order to preserve the art genre, experts say it should be included into teaching curricula at high schools to promote its value./.
Ban Gioc waterfall festival to launch in October
The third Ban Gioc waterfall festival will be held on October 5 and 6, at Ban Gioc waterfall tourist area, Cao Bang province.
The festival will feature various rituals and festive activities, including a water procession ceremony to pray for peace along with favourable wind and rain and a light festival.
Locals and visitors will have the chance to join folk games such as tug of war, sack race, stick pushing, catching ducks blindfolded and peeling chestnuts.
Ban Gioc is the largest natural waterfall in Southeast Asia and also the world's fourth largest cross-border waterfall./.
Kien Giang province improves life for ethnic minorities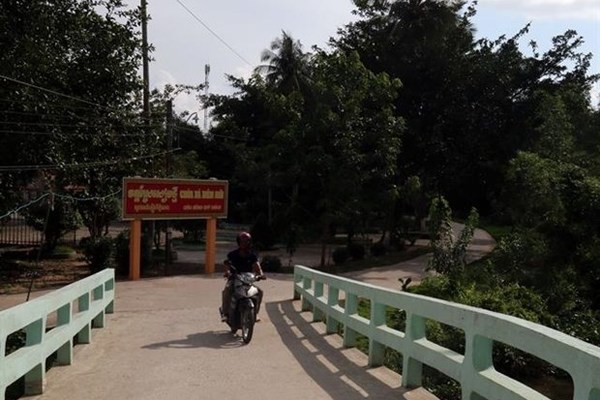 The lives of ethnic people in the Mekong Delta province of Kien Giang have improved in recent years with the province implementing several measures for their socio-economic upliftment.
In 2016 -18 the province spent more than 194 billion VND (8.3 million USD) to build infrastructure like bridges, roads and water supply facilities in ethnic minority areas and give housing and farming land to ethnic people, according to the province's Ethnic Minority Affairs Board.
The province also undertook many programmes and campaigns to help poor ethnic people, mobilising more than 800 billion VND (34.4 million USD) from individual and organisational donors for the purpose.
The Kenh 2 Hamlet Khmer Women's Union in Vinh Thuan district's Tan Thuan commune has for instance helped its members abandon backward customs and taught them effective farming models to improve their incomes.
The union's programme of "three cleans" (clean home, clean kitchen and clean street) has improved the living conditions and reduced sickness in the hamlet.
The union established a co-operative group for rotating rice with other crops in 2013 and admitted 21 local households as members so far. They are taught farming techniques and provided with soft loans.
According to Nguyen Ngoc Tinh, secretary of the Kenh 2 Hamlet Party Committee, the rice yields of the participating households have increased from seven tonnes per hectare per crop to eight tonnes.
They can earn an average of 150 million VND (6,445 USD) per hectare from growing a crop of water melon, cucumber or pumpkin.
Thi Um, one of the group members, said her family used to grow two rice crops a year but the income was not enough to cover the family's expenses.
After joining the group, her family has begun to use advanced farming techniques to increase yield.
"Thanks to the group, my family has repaid all its debts and built a new house worth 150 million VND," she said.
The province Women's Union has given 100 million VND (4,300 USD) to the Hamlet 2 Khmer Women's Union to provide loans to the group members for growing crops.
In Giang Thanh district's Vinh Dieu commune, many poor Khmer households have escaped poverty through the province's support policies.
In 2003 some 320 poor families, nearly half of them Khmer, in Giong Rieng, Chau Thanh, Go Quao, and An Bien districts moved to live in Vinh Dieu border commune.
After the families moved in there, local authorities built roads and power supply and irrigation systems and gave them soft loans.
Every year the commune People's Committee calls on donors to build houses for poor Khmer people.
The commune has carried out effective farming models like raising buffalos and cows and growing lotus in rice fields.
Danh Nho, whose family was among those that migrated there, said after more than 10 years of living there and with the province's support policies, his and other Khmer families had stable lives and houses to live in.
"My children have been educated well and have proper jobs."
After moving to the commune, Nho was given 3ha of farmlands and money to prepare the land for growing crops.
In 2012 he received 20 million VND (859 USD) to build a house and soft loans for growing crops.
The province has 285,550 people belonging to 26 ethnic minorities, who make up 15.4 percent of the total population.
Of them, 237,867 are Khmer.
The average income in ethnic areas increased from 29 million VND (1,250 USD) in 2015 to 39 million VND (1,680 USD) last year, said the board.
The number of poor ethnic households in the province reduced from 10,346 to 4,845./.
Event promotes community health among Vietnamese expats in Czech Republic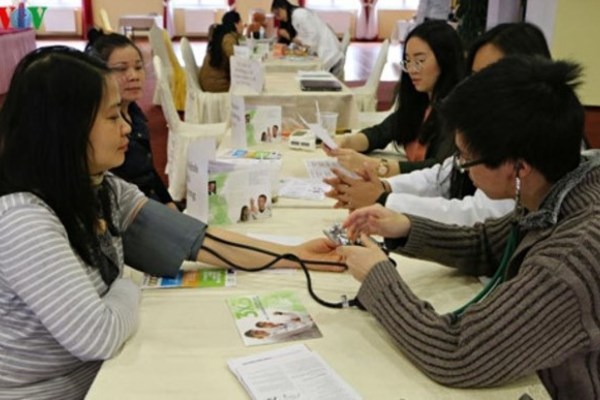 An event aiming to raise awareness on public health care for Vietnamese expatriates in the Czech Republic took place at the community's SAPA shopping centre in Prague on September 28.
Organised by Medviet, a group of Vietnamese doctors and medical students in the European country, it featured activities to test participants' knowledge on health and health insurance systems, free checkups and consultations, and a talkshow with doctors.
The event aims to help the Vietnamese expats update their knowledge on the prevention and treatment of common diseases and boost connectivity between them and Vietnamese doctors working in the Czech Republic, Tran Thi Hoai Anh, a student from the Charles University and head of the organising board, told the Vietnam News Agency.

She unveiled that seven doctors and 10 medical students, both Vietnamese and Czech nationals, joined the event this year.
Doctor Ngo Viet Dung, who is working at the Motol University Hospital, hopes there will be more similar health care programmes to be held in the future.
Petr Sipek, a Czech doctor, said the event helps increase linkage among the Vietnamese overseas community and between the community with Czech healthcare personnel./.
Tourist magnet in Ha Giang strives for sustainable development
Tourist arrivals to Hoang Su Phi district topped 28,600 with 8,000 foreigners in 2018. In the first half of this year, the district welcomed over 19,000 tourist arrivals, bringing nearly 560,000 USD to the locality.
With rich cultural values and untouched natural beauty, Hoang Su Phi district has developed community-based and adventure tourism products, including trekking and homestays. So far, there are seven cultural villages being established and gained public attention in the district.
Every year, the district government organises training workshops for local residents on sustainable tourism development.
Hoang Su Phi district, with its stunning landscapes and distinctive cultural values, holds huge potential for ecotourism and community-based tourism. However, in order to bolster sustainable tourism in the locality, experts urge local authorities and relevant agencies to join hands in improving infrastructure and standardize tourism products./.
Conference talks STEM teacher education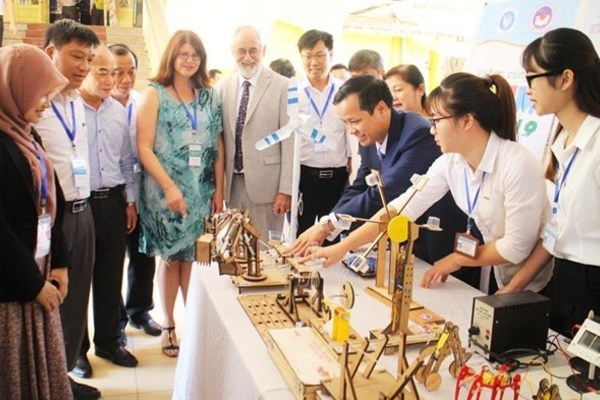 On the sidelines of the conference (Source: baothainguyen.vn)
The International Conference on Teacher Education Renovation, themed I AM STEM 2019, was held at the Thai Nguyen University of Education in the northern province of the same name on September 28.
The event brought together experts and researchers from Vietnam and foreign countries like Thailand, Laos, Indonesia, Australia, New Zealand, Ireland and the Philippines.
In his opening remarks, Associate Prof. Mai Xuan Truong, head of the Thai Nguyen University of Education, stressed the significance of STEM (science, technology, Engineering and Mathematics) education to improving economic competitiveness amidst globalization and the fourth Industrial Revolution.
Reports presented at the conference focused on such issues as IT application in STEM teacher education, STEM education in developing countries, STEM teacher education in the context of the fourth Industrial Revolution and STEM education in disadvantaged, mountainous and ethnic minority-inhabited areas./.
Bac Giang – Lang Son highway opens to traffic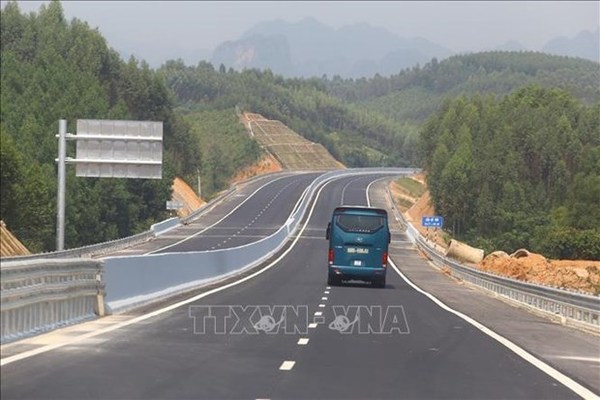 Part of the Bac Giang - Lang Son highway
Deputy Prime Minister Trinh Dinh Dung cut the ribbon to open the Bac Giang-Lang Son Highway to traffic on September 29.
Addressing the event, the Government leader lauded efforts made by the Lang Son People's Committee, the project's management board, and other relevant agencies in overcoming difficulties to shorten the construction time of the highway.
He asked the agencies to speed up land clearing progress for the completion of remaining supporting items before the end of this year.
Dung assigned the Ministry of Transport to coordinate with relevant ministries, sectors and Lang Son authorities in preparing for the investment in the Huu Nghi – Chi Lang highway to fully launch the highway route that runs from Hanoi through Bac Ninh, Bac Giang to Lang Son, ending at the Huu Nghi border gate.
The Bac Giang-Lang Son Highway stretches 64km from the intersection with National Highway 1 in Mai Sao Commune, Chi Lang District of Lang Son province to the National Highway 1 section crossing Hanoi – Bac Giang area. The road is 25m wide with designed speed of 100km per hour. It has four lanes and two emergency ones.
Thanks to the highway, travel time between Hanoi and Lang Son now reduces to 2.5 hours from the previous 3.5 hours.
The construction of the project, worth more than 12.18 trillion VND (524.8 million USD), began in 2015. However, the then contractor's weakness had led to the project lagging 2 years behind schedule. The new contractor took over in June 2017./.
Myriad of activities to be held at Culture Village throughout October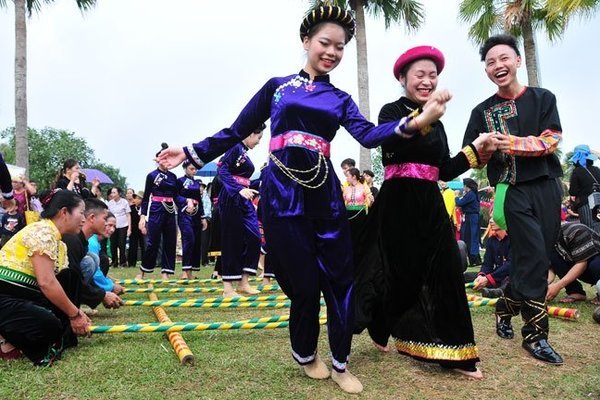 Ethnic people excitingly join bamboo pole dance in the village (Photo: dangcongsan.vn)
A myriad of activities will take place at the Vietnam National Village for Ethnic Culture and Tourism in Son Tay Town's Dong Mo, on the outskirts of Hanoi, throughout this October, attracting the participation of 13 ethnic groups who live in the village.
Entitled "Season comes with flowers' colour", the month-long programme will include flower planting activities to beautify the village, and taking care of 'tam giac mach' (buckwheat) flower and 'da quy' (wild sunflower) gardens in the village.
Traditional crafts will also be introduced to visitors on the occasion, including bamboo weaving and bamboo knitting, together with interesting folk games such as bamboo pole dancing, walking on stilts, and 'con' (a ball made of colourful pieces of cloth) throwing.
In addition, traditional rituals of participating ethnic groups will be reproduced at the village, including the Co Tu people's installation of 'cay neu' (a tall bamboo tree with decorations used to ward off evil spirits), the Kho Mu people's new-season welcoming ceremony, and the Khmer people's Kathina (robe offering) ceremony.
Visitors to the village can also try their hands at making and trading cakes, and can join in peace-praying rituals, which take place every weekend at Khmer pagodas and Cham temples in the village.
Developing tourism in association with preservation of heritage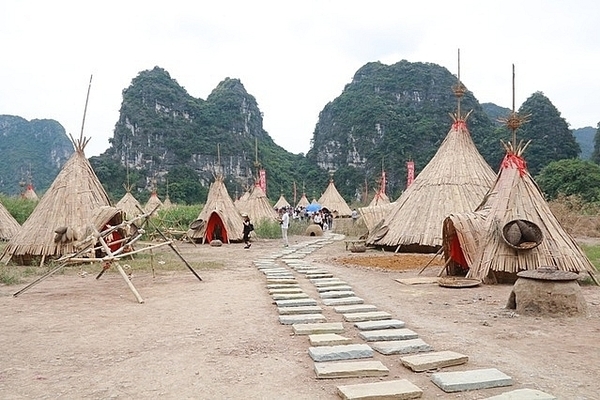 The appearance of the 'Kong: Skull Island' film studio will would make visitors misunderstand it is a part of Trang An world heritage.
Ninh Binh provincial authorities have removed the 'Kong: Skull Island' film studio from the centre of Trang An world heritage site, following UNESCO's recommendations.
A few days earlier, the Yen Bai provincial authorities' decision of stopping registration for Guinness World Record recognition of a biggest-ever performance of a Xoe dance, involving 5,000 people, was appreciated by experts, becoming a good precedent in behaviour towards preserving heritages.
The 'Kong: Skull Island' film studio, with part of the original aboriginal village and local cast members dressed up as aboriginal people to reproduce scenes from the film, has attracted thousands of visitors over recent times. UNESCO was concerned that the appearance of the film studio, which was not related to the local culture or the value of Trang An landscape, would cause visitors to misunderstand this fictional product of the film as a part of the world heritage site.
The big performance of Xoe dance is a central tourism product of Muong Lo Cultural – Tourism Festival and a typical cultural feature of the Northwestern region. Yen Bai Province had announced the preparation of dossiers for a world record, aiming to promote the ancient Xoe folk dance of Thai ethnic minority group in the region to the world. However, after hearing experts' suggestions, the provincial authorities decided to not seek Guinness World Record recognition. According to the experts, the participation of large numbers of people in a big performance does not make sense in preserving the heritage and may violate the UNESCO's recommendations because the dossier of Xoe Thai art has been submitted to the UNESCO for recognition of a representative intangible cultural heritage of humanity.
Vietnam has set several records, such as quan ho (love duet) singing with the participation of 3,000 people and a giant banh chung (square glutinous rice cake) to worship Hung Kings. However, they were not meaningful.
Cultural and natural heritages are a valuable resource and one of the typical conditions for tourism development. However, tourism is also a means to convey and demonstrate cultural values as well as to awaken and arouse cultural values that are falling into oblivion. However, uncontrolled tourism activities in many localities have caused many negative impacts on the heritages.
How to develop tourism while preserving the origin of theheritages is still a challenge for the authorities. However, it is very important for relevant agencies to hear recommendations from experts and consider carefully before making their decision on behaviour and exploitation of heritages in order to harmonise preservation and sustainable development.
RoK promotes culture and tourism in Ho Chi Minh City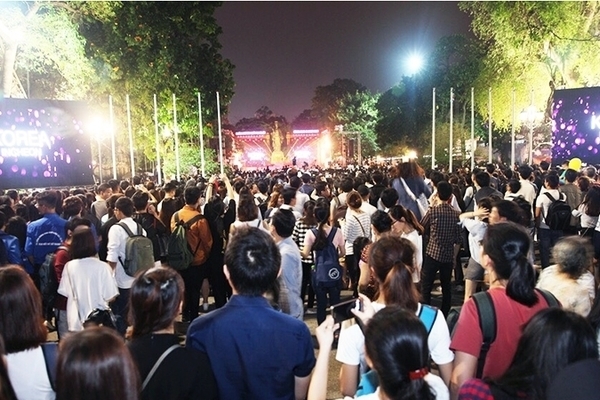 The event attracts a large number of visitors.
The Korean Tourism and Culture Festival was held on Nguyen Hue Pedestrian Street, Ho Chi Minh City,from September 28-29.
Hosted by the Korean Tourism Organisation (KTO) of the Republic of Korea, the event was held on the occasion of the 30th anniversary of the RoK-ASEAN relations,following the success of a similar event held for the first time in Hanoi in 2017.
About thirty pavilions at the festival featured various themes from K-Style to popular tourist attractions in the RoK.
Visitors also had the chance to try traditional Korean garments, make decorative items and join music and art performances of famous Vietnamese and RoK artists.
Another highlight was the promotion of the Hallyu Korean cultural wave, with activities such as trying on traditional Korean costumes, making decorative items, quizzes, and music and arts performances.
Heads of KTO offices in six Southeast Asian countries discussed tourism source markets in Southeast Asia at a conference held during the festival.
In 2018, the RoK received more than 460,000 visitors from Vietnam, up 30% year-on-year. As of September this year, the number was up 25% year-on-year to more than 409,000, and is expected to exceed 585,000 for the full year.
Nguyen Thien Thanh scholarships granted good, poor students in Mekong delta
On the 100th birthday celebration of Prof. Dr. Nguyen Thien Thanh and review of 10-year operation of the Mr. and Mrs. Nguyen Thien Thanh's Scholarship, his family and benefactors gave VND1 billion (US$43, 000) each to two schools.
Nguyen Thien Thanh senior high school for the Gifted in the Mekong delta province of Tra Vinh and Nguyen Thien Thanh junior high school in the Ca Mau province are beneficial of the amount of VND1 billion each.
Moreover, the family gave VND3.58 billion (US$154, 000) to the scholarship fund.
Professor Nguyen Thien Thanh, Hero of Labor, People's Doctor, had devoted his whole life for the country's Revolution and the development of military medicine and community healthcare. He is father of HCMC Party Secretary Nguyen Thien Nhan,.
At the end of 2009, despite old ages, on a trip to return to their homeland in Tra Vinh Province, Mr. and Mrs. Nguyen Thien Thanh still granted an amount of money which they have earned for years to help poor, good students in the province to continue pursuing their studying.
Since 2009, the Scholarship Management Council and Prof. Nguyen's family have encouraged organizations and benefactors to donate an amount of VND12.4 billion (US$534, 000) to present 1,416 scholarships.
Workshop on youth action for climate launched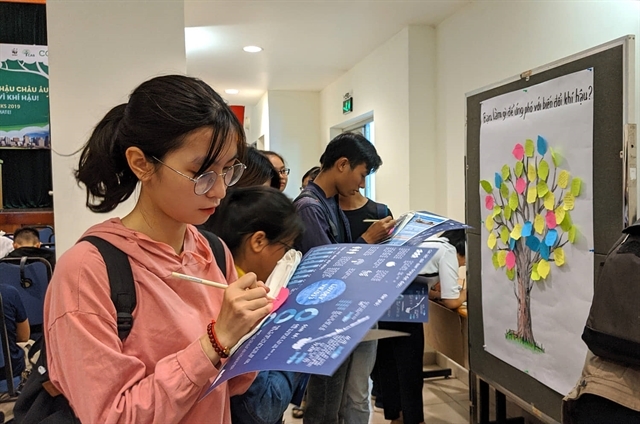 Visitors at the workshop sign a commitment to prevent climate change. — Photo Courtesy of the European Union Delegation
A workshop themed "Youth Action for Climate" was launched on Friday in the central city of Đà Nẵng to develop active and constructive engagement in climate action.
The workshop was organised by the European Union in partnership with Climate Change Working Group (CCWG) and the University of Đà Nẵng.
The activity is a part of the the European Union Climate Diplomacy Week 2019.
250 participants attended the workshop, including representatives from several organisations working in climate change in Việt Nam and 200 students from universities, high schools and international schools in Đà Nẵng.
The workshop provided an opportunity for representatives to engage in a frank and constructive exchange, and to explore effective ways to engage young people in these projects.
Koen Duchateau, head of the Cooperation Section of the European Union Delegation, said: "The youth for climate movement that is rapidly developing around the world is a sign of the growing awareness in our societies that climate change is a reality already today."
"The EU has been in the front line of climate action and is keen to promote a learning dialogue and build support for the changes necessary for the transition to low-emission, climate-resilient societies," he said.
The most captivating part of the workshop was an example of how their lifestyles could affect climate change. Their choices could have a great impact on the future.
Also on Friday, the "Development of Solar Energy in Đà Nẵng (DSED)" project officially inaugurated a rooftop solar power system at Võ Thị Sáu Primary School in Đà Nẵng.
The system has been funded by the EU within the framework of the DSED project and implemented by the Đà Nẵng Energy Conservation and Technology Consultant Centre.
The project had selected four public facilities including Đà Nẵng Hospital, the Đà Nẵng Oncology Hospital, Võ Thị Sáu Primary School and Hoàng Diệu Secondary School to install pilot solar systems. 
Hospitality brand launches lifestyle publication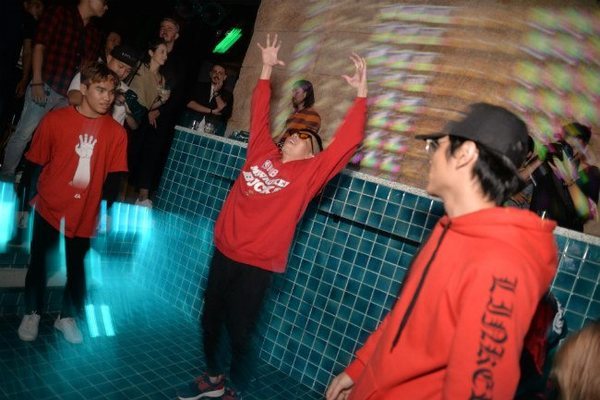 MK dance crew perform at the launching event of The Dot Magazine - PHOTO: COURTESY OF WINK HOTELS
Vietnamese hospitality brand Wink Hotels has launched a bilingual online lifestyle publication called The Dot Magazine.
Featuring people from different walks of life, including marketers, artists, directors, and chefs, the magazine is a cultural guide to Vietnam with music mixes, city guides, radio shows, and many other contents.
To celebrate the launch of The Dot Magazine, Wink Hotels invited 180 guests to a party at Bam Bam bar last month to enjoy fantastic performances by artists such as DJ and producer Don Nodey, MK dance crew, beatboxer Thai Son, German-Vietnamese singer Tuimi, and rapper Dat Maniac.
Wink Hotels is a new hospitality brand emerging in Indochina that takes a bold approach to affordable luxury in the region. The brand caters to modern and aspirational travelers, offering high-quality experiences that are grounded in the local destination.
Two Wink Hotels are under construction in HCMC and Danang, and the first will open in 2020 at 75 Nguyen Binh Khiem Street in District 1, HCMC.
New school library inaugurated in Quang Binh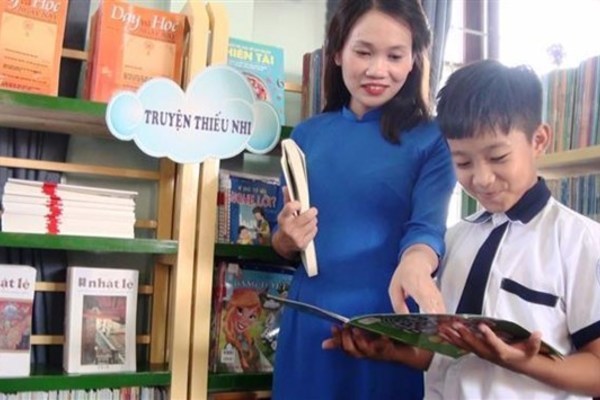 A teacher and student read books in the newly inaugurated school library
The non-governmental organisation Zhi-shan Foundation Taiwan of China's Taiwan and the Department of Labour, Invalids and Social Affairs of the central province of Quang Binh inaugurated a library at a local school on October 1.
On the occasion, devices and documents for book-reading activity were also presented to 10 schools in the locality.
At the ceremony, Deputy Director of the provincial department Trinh Dinh Duong spoke highly of the role of books and affirmed that the library will help teachers and students acquire knowledge, thus improving their studies.
In the 2019-2020 academic year, 10 school libraries were built in Quang Binh while book-reading events were arranged for local primary students.
In addition, this year, the Taiwan-based organisation handed over grants worth nearly 1 billion VND (43,100 USD) to foster book-reading activities of 23 schools in Quang Binh.
Present in Vietnam since 1995, the foundation has funded numerous long-term health and education projects to help disadvantaged children.
In 2017, it gave scholarships to 3,234 poor students, and funded the building of semi-boarding nursery schools, benefiting 6,500 children.
As many as 2,716 children with disabilities have received free orthopaedic surgeries funded by the organisation since 2001./.