University filing lawsuit against its scholarship winners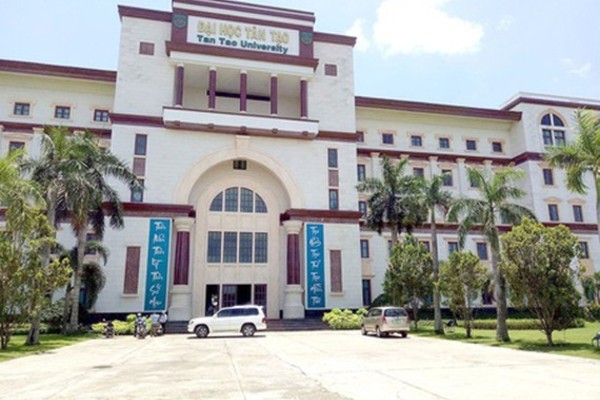 Many former students of Tan Tao University have raised their annoyance after being unreasonably sued by the university for not paying back their scholarship money.
On September 19, 2019, the People's Court of Chau Thanh A District in Hau Giang Province received a lawsuit from Tan Tao University and Tan Duc Investment Joint Stock Co. claiming Do Nhat Minh Truc, former student in that university and current student in the Medicine Department of Vo Truong Toan University, not paying back the scholarship money along with its interest.
Accordingly, Tan Duc Investment Joint Stock Co. asked that the above student repay the total sum of more than VND350 million (US$15,121), including the scholarship money of VND156 million (US$6,740), the interest of late payment worth 43.7 million ($1,888), and the compensation of VND156 million ($6,740).
Besides the one against Do Nhat Minh Truc, the People's Court of Chau Thanh A District also received many similar lawsuits from the same university against others students. They were first sent to the People's Courts of District 6, District 8, District 11, Binh Tan District, and Binh Chanh District in Ho Chi Minh City (HCMC), to the People's Courts of Ben Luc District and Can Duoc District in Long An Province, where those students live permanently. These cases were then sent to the People's Court of Chau Thanh A, where their current university (Vo Truong Toan University) is located.
According to the claim of Tan Duc Investment Joint Stock Co., this company established an ITA Fund to deliver scholarships for poor and excellent students of Tan Tao University. The criteria to approve the scholarship include students' academic result and the detail of only offering scholarship to those being able to finish the academic year. Therefore, if a scholarship winner is expelled from school or stop learning without a proper doctor's statement, that student must repay double the scholarship sum.
When receiving the request of the above students to transfer to Vo Truong Toan University, Tan Duc Investment Joint Stock Co. requested that they pay back the received scholarship along with the late payment interest.
As stated by Ms. Tran Thi Kieu My, representative of Do Nhat Minh Truc, when accepting learners, Tan Tao University said that its freshmen in the Medicine Department would receive a full scholarship, and this would continue as long as their academic result was excellent, with no need to sign any commitment with any sponsor or the university itself. As a result, the above students used this money for studying purposes.
The problem arose when in the second semester of the second year, Tan Tao University changed the scholarship policy without noticing the concerned students.
What is more, in 2017, parents of many students here expressed their annoyance when the university unexpectedly raised school fees and continuously adjusted the scholarship policy, with the request to keep the initially committed fee.
Following that, several students of the university contacted the representative unit of the Ministry of Education and Training in HCMC, saying they were given a hard time transferring to another university or asked to repay their scholarship money. The Ministry's inspectors have already demanded Tan Tao University to give related documents for those students to successfully change to other educational institutes as wished. Yet after that incident, this university immediately filed the above lawsuit.
The Ministry of Education and Training has concluded that this university seriously violates many educational regulations related to enrolling students, employing insufficient teaching staff, irregularly issuing qualification, and opening unapproved majors. Its school fee collection using USD monetary is yet another law disobedience.
The lawsuit against Do Nhat Minh Truc, which should have been carried out on October 18, was postponed since the plaintiff was absent. Ms. Kieu My annoyingly said that the university's action aims at creating more havoc in its former students and warning its current students from making the same school transfer decision.
Vietnamese surgeons succeed in operating on three-year-old with thyroid cancer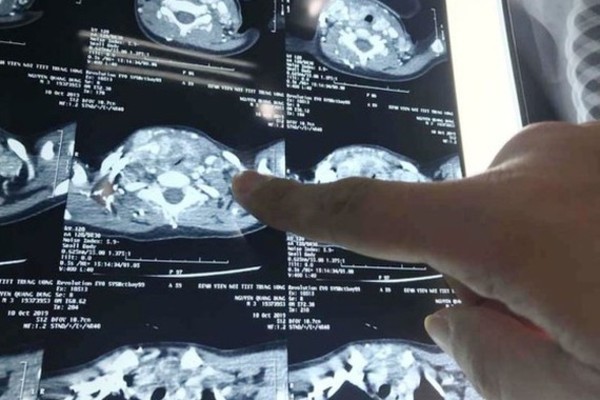 Surgeons of the National Hospital of Endocrinology have just successfully carried out an operation on an three-year-old kid with metastasized medullary thyroid cancer.
The toddler has been the youngest case in the National Hospital of Endocrinology so far. The operation was complicated because the tumor has spread to nerves, jugular vein and trachea.
According to the toddler's family, the child, born in 2016 in the central province of Quang Binh, suffered from wheezing, chewing difficulties, shortness of breath and small nodes in neck area two months ago.
The patient was then brought to local infirmaries for medical checkup yet doctors here did not detect what disease the kid was suffering.
The patient was then rushed to the National Hospital of Endocrinology where doctors diagnosed the kid to have thyroid cancer and the tumor has developed in the windpipe to cause shortness of breath. He must undergo an operation soon.
Director of the Hospital Assoc. Prof. Dr. Tran Ngoc Luong said that his surgeon team carried out a two-hour sophisticated surgery. Professor Luong acknowledged that it is rare disease amongst kids with the ratio of five percent.
Dental clinics fined for falling foul of regulations
The Ho Chi Minh City People's Committee and the Department of Health have thrown a book at three dental clinics which have fallen foul of regulations.
BF dental clinic at B1-12 Nam Thien Residential Quarter in Pham Thai Buong Street in District 7 was forced to pay VND143 million (US$ 6,178) fine because the clinic has provided treatment which is not included in its permit as well as employed foreign dentists without registration.
Before, the Department of Health had imposed a fine of VND42 million on I-dent at 193a-195 Hung Vuong Street in District 5 forcing the clinic to stop using radioactive source and radiation.
Moreover, the clinic was asked to remove advertisement of treatment without registration.
Beauty salon Thao Tay at 324 – 326 Tran Hung Dao Street in District 1 was asked to pay a fine of VND35.7 million because of unallowed advertisement and unfully written medical record as per the law.
Vietnamese farmers succeed in growing exotic fruits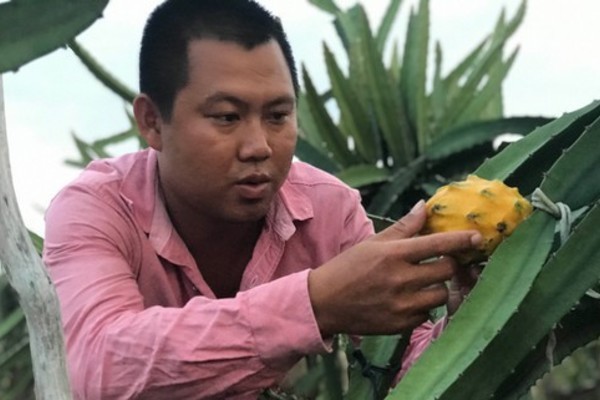 Currently, several farmers have successfully grown various types of exotic fruits with productivity and quality as high as imported fruits. Owing to that, domestic consumers are now able to buy these products at lower prices than those of imported fruits.
After learning that Colombian passion fruits, which have a sweet taste and rich aroma, are sold at VND240,000 per two pcs on the market, through a website that sells the seeds of Colombian passion fruits, Mr. Nguyen Huu Cong, a farmer in Long Phung Commune in Long Phu District in Soc Trang Province, ordered a bag of 10 Columbian passion fruit seeds. When he sowed those seeds, only 5 seeds sprouted and grew, but only three vines gave fruits. After nine months of cultivation, passion fruit vines gave the first ripe fruit. Mr. Cong continued to grow another 12 passion fruit vines under another model which gives passion fruit vines more space to develop and bear more fruits.
'Unlike regular passion fruit variety, growing Colombian passion fruits requires extremely little care and little fertilizer. Growers only need to build frame for passion fruit vines to grow on then they will continuously bear fruits. The growing time of passion fruits is from three to four years. The only difficulty is that at the time passion fruits are nearly ripe, they are usually vulnerable to fungal diseases and fruit flies. Especially, in comparison with regular passion fruits, Colombian passion fruits can be eaten fresh with a sweet taste,' Mr. Cong shared.
Thai red sweet corn Ruby Queen, which is well-known all around the world for many years, now has been successfully grown by Vietnamese farmers. Having harvested for five crops, Mr. Le Thanh Nam, a farmer in Tan An City in Long An Province, is growing 2,000 square meters of Thai red sweet corn. After a crop of 60 days, he earned a profit of VND40 million. On average, he grows 6,000 seeds on an area of 1,000 square meters and will collect around 4,000 corns. At the present, the price of Ruby Queen sweet corns is quite stable as the seed trading company also ensures consumption of red sweet corn with market price from VND20,000-VND30,000 per corn.
Nguyen Duy Khang, a farmer in Duong Xuan Hoi Commune in Chau Thanh District of Long An Province, excitedly said that he has just harvested his first Ecuadorian dragon fruits. He said that he saw yellow dragon fruits from Ecuador being displayed at a price of above VND700,000 per kilogram at an exotic fruit store. After searching for information in the Internet, he found that cuttings of Ecuadorian dragon fruit stem were sold in Thailand's market so he bought them for trial cultivation. After a year, his Ecuadorian dragon fruit plants started to bear fruits. However, it takes around three months from flowering to ripening, about one month longer than other varieties of dragon fruit. But Mr. Khang continued his trial cultivation on an area of one hectare.
According to Mr. Tran Viet Kien, director of Nova Seed Company, after two years of trial cultivation for three crops on the same land, Ruby Queen red sweet corn variety gave good productivity so it was recognized by the Ministry of Agriculture and Rural Development. Ruby Queen red sweet corn is the first sweet corn that is edible without being boiled or cooked. In order to ensure product quality as well as to prevent farmers from growing red sweet corn massively, Thai corn seed supplier only provide corn seeds at a certain quantity to prevent Ruby Queen red sweet corns from losing their prices. In addition, the company also ensures consumption for farmers so as to control food safety issues as red sweet corn can be used fresh.
Meanwhile, Mr. Nguyen Huu Cong currently is cooperating with Happy Trees Company to expand another two hectares of Colombian passion fruits. Mr. Huynh Minh Tuan, director of Happy Trees, said that each passion fruit vine after five months of hybridization will start to give ripe fruits for the first time. With 15 passion fruit vines, around 300-400 kilogram of passion fruits will be collected. A kilogram consists around 15 passion fruits and costs VND100,000 per kilogram. On average, 1,000 square meters can accommodate 100 passion fruit vines and harvest duration is about 20 days. The next harvest will be in the next three months. Passion fruits can be harvested twice a year and each vine gives an average 20-30 kilogram annually.
As for exotic cultivars, it is essential to know their origins. They must be adaptable to the climate of Vietnam. And there must have experts to monitor and evaluate quality. Ideally, trial cultivation models need to be informed to authorities in order to avoid massive cultivation.
Mr. Nguyen Nhu Cuong, acting director of the Department of Crop Production under the Ministry of Agriculture and Rural Development, said that the model that connects farmers and enterprises is quite effective. Enterprises with financial potential and administrative skills will bring good farming practice methods to farmers. Certainly, if enterprises earn profits, farmers will also receive their benefits. It is necessary to diversify fruit products in order to increase income for farmers. Before expanding market, enterprises need trial or test cultivation model to be successful then apply widely. In the context of climate change, new cultivars contribute to the development of agriculture in crop restructuring.
Farmers in Mekong delta earn more thanks to agricultural restructuring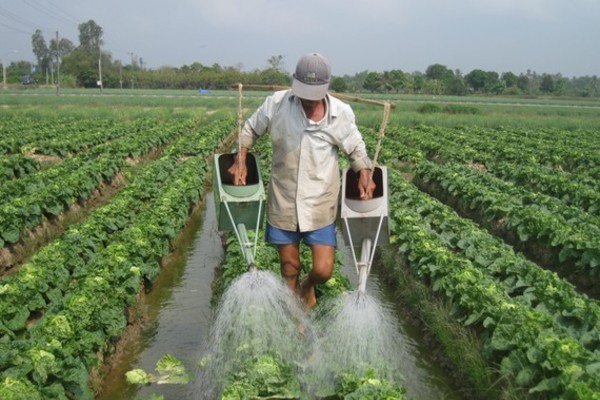 The Ministry of Agriculture and Rural Development yesterday announced farmers in the Mekong delta have earned more thanks to agricultural restructuring.
According to the Ministry, in 2019, farmers in the Mekong delta have switched 77,885 hectares of low yield rice area into growing other crops with high yield.
The restructuring of agricultural production in the region has achieved positive result because farmers earned higher income of VND17,718 billion ($764.7 million) including profits of VND10,672 billion.
In addition, after switching to grow another crop in ineffective rice fields, farmers have saved irrigation water and cost of pumping, equipment and labor.
Specifically, of 77,885 hectares, around 64,523 hectares are for growing vegetables, approximately 12,593 hectares for growing orchard and 768 hectares for breeding aquatic species.
For instance, jackfruits are grown in 4,728 hectares, mango in 1,470 hectares, special orange in 1,470 hectares, and dragon fruit in 1,234 hectares. Fruits bring a turnover of over VND607 million per hectare while rice brings VND386 million per hectare.
Because of the low price of rice and the risk of saltwater intrusion in the Mekong delta in the upcoming time, the Ministry of Agriculture and Rural Development advised farmers to continue switching land for growing rice, in case of low yields, into growing other crops with high yield or breeding aquatic species in order to raise farmers' income and adapt to climate change.
Film festival honors female film-makers
A film festival honoring female film-makers will be held in Hanoi early next month as part of the Australian Embassy in Vietnam's annual Gender Month.
The festival will take place on November 1 and 2 in the setting of Okia Theater owned by Nguyen Hoang Diep, a female film-maker well known in the Hanoi arts community.
The program features short films from Australia's FlickerFest and from Vietnam. The evening will close with a question and answer session with "Birdie" director Shelly Lauman, who has come to Vietnam as a guest of the Australia Now ASEAN program.
Participants will also hear global rights organization Plan International and the Geena Davis Institute explain the impact of film and media on girls' aspirations.
Their recent study Rewrite Her Story analyzes the representation of girls and women in positions of leadership in films and advertising across the world.
Phan Rang set to bring electric cars into operation
A number of 8-seater and 14-seater electric cars are expected to brought into operation on October 25 by the Phat Hoang Long - Ninh Thuan Company to serve tourists throughout Phan Rang city in Ninh Thuan province.
The electric cars have been beautifully designed and tested in order to meet safety and friendly environmental standards, and come with highly professional and dedicated staff.
The company will offer visitors with tours to places of interest such as 16/4 square, the city's night market, local supermarkets, the city's resorts, seafood restaurants along Ninh Chu beach, and a number of interesting destinations located in the city.
The price for an eight-seater electric car is VND220,000 VND for a one-way route and VND 400,000 VND for a return trip, whilst the price for a 14-seater electric car is set at VND 300,000 for a one-way route and VND 550,000 for a return trip.
Visitors can experience sitting on the streetcar in order to see the city at night and snap amazing photos.
During the initial opening period from October 25 to November 25, the company will offer a 10 per cent discount for travelers who use the service.
Visitors can contact the hotline on (0259) 2200200 - 3771999 - 0933.88.77.55 for further information.
By bringing electric cars into operation, Ninh Thuan province is aiming to enhance green tourism activities regionally, whilst also presenting visitors with an array of options in order for them to experience what the province has to offer.
Danang approves master plan for high-tech park development to 2030
Danang People's Committee has just approved the overarching project for the development of Danang High-Tech Park by 2030.
Specifically, the master plan was enacted with a view to helping the city mobilise resources from the central to the local level.
It also aims to form effective co-ordination between the Danang High-Tech Park Management Board and city-based industrial parks with the concerned agencies and units in the city and other localities in the central and Central Highlands regions.
The project is also associated with the economic development goals outlined in Resolution No.43-NQ/TW dated January 24, 2019 of the Politburo, ensuring that the contribution of Danang High-Tech Park to the city's GRDP will reach at least 15 per cent by 2030.
The scheme has set out specific objectives for 2020-2025 and 2026-2030, thereby identifying key tasks in infrastructure investment, development of functional sub-zones associated with production, research-incubation-training, logistics and high-tech services, and supporting industries creating favourable conditions to strongly attract high-tech industry investment for Danang Hi-Tech Park.
After nine years of construction and investment, Danang High-Tech Park has basically completed 85 per cent of the work volume of phase 1 and 70 per cent of the work volume of phase 2, providing more than 350ha of cleared space for investors with full basic infrastructure for production.
After nine years of construction and investment, Danang High-Tech Park has basically completed 85 per cent of the work volume of phase 1 and 70 per cent of the work volume of phase 2, providing more than 350ha of cleared space for investors with full basic infrastructure for production.
According to Danang Department of Planning and Investment, up to now, Danang High-Tech Park has attracted 17 projects, including eight FDI projects with a total capital of about $331 million (accounting for 58.8 per cent) and nine domestic investors with a total capital of VND5.353 trillion ($232.7 million, accounting for 41.2 per cent).
In particular, it courted the project on building the Sunshine aerospace component factory of US investor UAC with a total investment of up to $170 million, one of the largest FDI projects in Danang city.
Besides perfecting infrastructure to attract investment for hi-tech production activities, Danang High-Tech Park also works on building a hi-tech enterprise incubation centre, investing in training centres, as well as technology development and application research centres to form a series of research, incubation, and training centres as an initial basis for the formation of an innovative startup ecosystem right at the park.
Northern region braced for cold spell to hit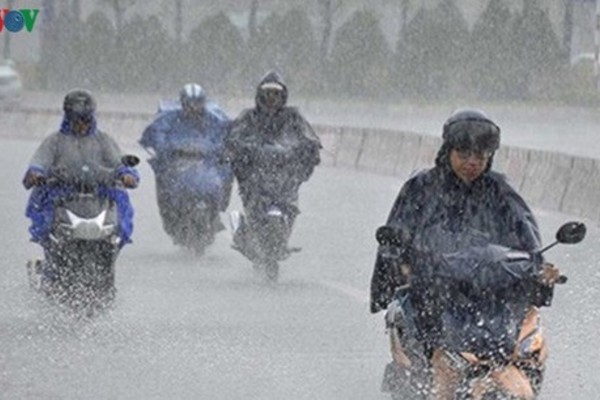 A cold snap is forecast to hit the north of the country, including the capital Hanoi, from October 23, according to information released by the National Centre for Hydro-meteorological Forecasting.
Many areas throughout the north are expected to endure heavy rain from the evening of October 23, with temperatures falling to between 20 degrees and 23 degrees centigrade. In addition to this drop, some mountainous areas could potentially see temperatures drop to 18 degrees centigrade.
Mountainous regions such as Lao Cai, Yen Bai, and Ha Giang are being urged to brace for potentially deadly landslides, whilst local authorities have been urged to take measures ahead of time in a bid to help residents and prevent any significant damage to people, property, and infrastructure.
The cold spell is due to last until October 25.
Furthermore, Hanoi is also expected to be affected by the cold snap. Heavy rainfall is anticipated to hit the capital from October 23 to 25 with temperatures falling to 21 degrees.
Hanoi strives to control dengue fever by November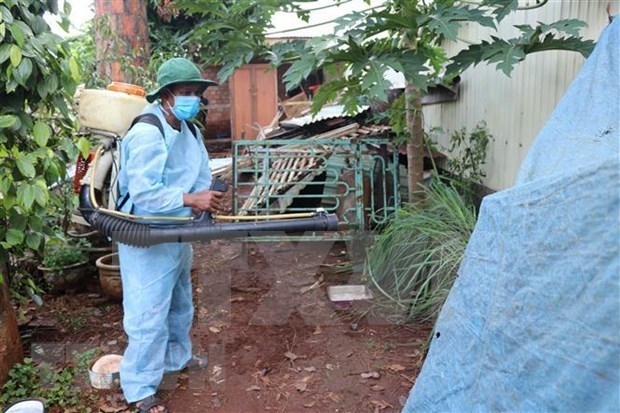 Hanoi has been taking measures to cope with dengue fever with the aim of controlling the epidemic by November.
According to the municipal Department of Health, the city saw 831 new cases from October 14-20, raising the total number of infection cases since early this year to 7,646. No deaths have been reported.
The number of patients has increased since September, it said, adding that districts with a high number of cases included Ha Dong, Cau Giay, Nam Tu Liem, Dong Da, Thuong Tin, Thanh Tri, Hoang Mai, Thanh Oai, Hoai Duc and Bac Tu Liem.
The Hanoi Centre for Preventive Medicine warned that dengue fever will continue to spread this year as the peak of the epidemic normally falls in November.
The centre has asked health stations across the city to monitor the epidemic, while deploying campaigns to clean up the environment and spray chemicals to kill mosquitoes and larva.
At the same time, health staff have been sent to dengue fever hotspots to carry out prevention and control activities./.
Sisters to represent Vietnam at World Memory Championships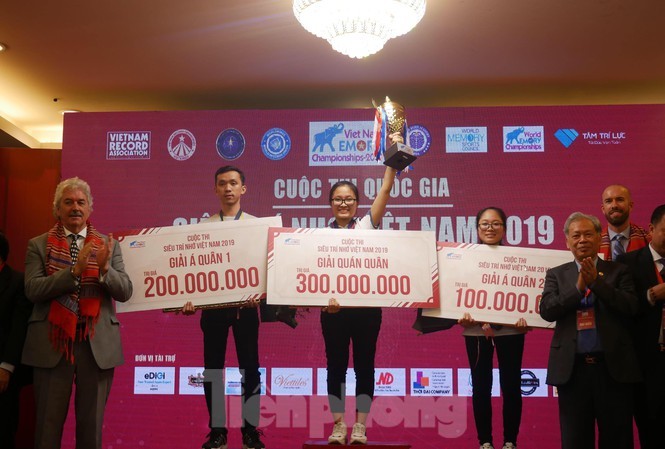 Two sisters have won first and third prizes at the first Vietnam Memory Championship and will attend the Asian and world tournaments in Malaysia and China.
The final round of Vietnam Memory Championship was held on October 20 with nearly 100 participants divided into four age groups.
This is the first memory tournament in Vietnam held to honour people with a super memory.
19-year-old Dang Ngoc Phuong Trinh won the first prize of VND300m (USD13,000). The first runner-up is Vo Thanh Liem and the second runner-up is Dang Thu Hien who were awarded VND200m and VND100m respectively.
Dang Ngoc Phuong Trinh and Dang Thu Hien are siblings from Lam Dong Province. They are both students who major in English at the University of Technology and Education in HCM City.
Trinh achieved many Vietnamese records including the person who memorised the most numbers; person remembering the most historical events in five minutes; person remembering the most full names in five minutes and as the person remembering the most correct binary numbers in 5 minutes; person who remembers most random numbers in 15 minutes.
Both sisters will be able to attend the Asian Memory Championships in Malaysia and World Memory Championships in China.
Trinh said she often read books about memory and watched video clips about memory training on the internet. Trinh's father died since they were small. Her mother worked hard to raise three children alone.
"We study hard because we love our mother. Winning the prizes on Vietnamese Women's Day is the best gift to our mother," she said. "We'll use the prize money to pay our tuition and help my mother repay debts she made in order to put us to schools."
Danang seeking to diversify foreign tourists
The central city of Danang is making efforts to attract more visitors from different markets to avoid the dependence on the Chinese and South Koreans who account for the majority of the city's international travellers.
In the first nine months of this year, Danang welcomed more than 7 visitors, up 18.4% on-year, including 2.8 million foreigners, up 20.9%. Among those, Chinese and South Korean visitors accounted for nearly 80% of the city's foreign travellers during the phase.
Many travel firms worried that Danang is facing an imbalance in foreign tourist numbers, which would cause the city to depend on Chinese and South Korean travellers.
According to Cao Tri Dung, head of Danang Tourism Association, over the past recent years, Danang has witnessed a sharp rise in Northeast Asian tourists, particularly from China and South Korea. This was a good signal for the municipal tourism sector.
But, the domination of Chinese and South Korean travellers would pose risks for the city's tourism industry. In case, these two markets face any negative impacts, the number of tourists to Danang would drastically fall.
"We have recognised this and are trying to boost tourism promotion activities to other markets, including Japan, Australia, India, Western Europe and Russia from now to 2021 besides keeping visitors from China and South Korea stably," Dung added.
Despite holding a modest rate, tourist number from Thailand to Danang between January and September this year grew by 42.9% on-year. Currently, around 60 direct flights from Danang to Thailand were being conducted per week. Flights from Danang to other markets such as Taiwan, Malaysia and Canada have also been increased by 50% against last year.
The Danang Department of Tourism reported that the city will open direct air routes to Jakarta, Phnom Penh and Vientiane cities.
Danang and the Central Highlands province of Dak Lak will also plan to co-operate In eco-tourism and community tourism in the 2019-2025 period.
Taekwondo ahletes take home golds from Greece Open
Việt Nam won two gold medals at the Greece Taekwondo Open which ended in Chalkida, Evia Island, on Sunday.
Trương Thị Kim Tuyền beat Anthoula Sinani of the hosts 24-22 in the women's U49kg class.

Her teammate Trần Thị Ánh Tuyết beat Faidra Kaltekin, also of Greece, 14-11 in the women's U57kg category.
Việt Nam sent four athletes to the Open.

Two other athletes, Phạm Đăng Quang was ousted in the men's U58kg quarter-finals and Lý Hồng Phúc was eliminated from the first round of the men's U68kg.
Thanh to take charge of wrestling federation
Members of the Việt Nam Wrestling Federation which has been established to push the development of the sport in the country. — Photo hanoimoi.com.vn
Lý Duy Thanh has been voted first president of the Việt Nam Wrestling Federation, which was introduced to the public on Sunday in Hà Nội.
Thanh, deputy chairman of the Gia Lâm District People's Committee, will be assisted by four deputies and an executive committee of 25 other members, who will work from 2019-24.
The new federation aims to develop the sport throughout the country and find talented athletes for national teams.
The federation also hopes to maintain and improve local tournaments while sending athletes to international events aiming at taking medals from high-level competitions such as the Asian Games and world championships.
Wrestling is one of Việt Nam's strong points in events like the SEA Games, and Vietnamese athletes won two slots at the Rio Olympics in 2016.
HCM City ensures traffic safety and order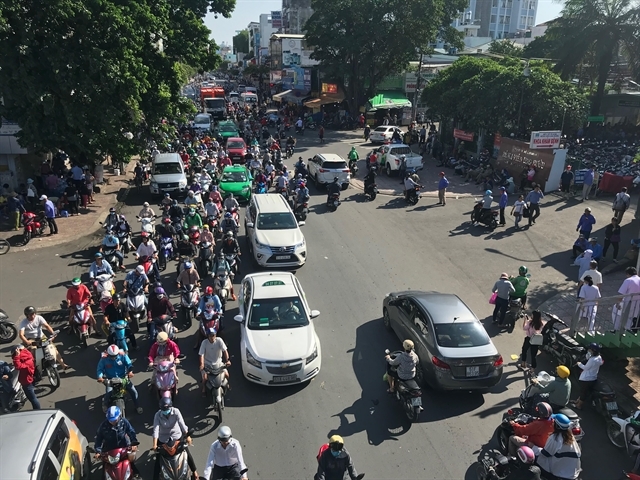 The HCM City Department of Transport has taken a number of steps to ensure traffic safety and order.
The HCM City Department of Transport is taking steps to ensure traffic safety and order in the remaining months of the year.
Technology used at traffic signals at intersections provides information to the Traffic Control and Monitoring Centre, while cameras at intersections record information about traffic flow and areas that need inspections.
The department has also directed a number of agencies to link security cameras at office buildings and residential areas with the Traffic Control and Monitoring Centre.
It has also created a traffic portal to provide online traffic information so that drivers can avoid traffic jams.
Traffic hotspots that have a high risk of accidents have been identified. Information about these hotspots has been transferred to the city's Traffic Safety Board so that public awareness campaigns in these areas can be organised.
The department has also worked with schools and related units to disseminate traffic safety information in public areas such as bus stations and parks.
To ensure pedestrian safety, the department has placed steel barriers on some sidewalks to prevent motorcycles from riding on them.
Traffic police have been told to strictly handle violators and strengthen inspections.
The department is also working with other agencies to repair damaged roads and to complete traffic infrastructure projects on schedule.
To reduce congestion, it will also conduct research on rearranging the traffic flow on roads that lead to Cát Lái Port, Tân Sơn Nhất airport, and the city centre.
The city has identified 28 major congestion spots. By the end of this year, the city aims to eliminate two or three of them, with priority given to Tân Sơn Nhất International Airport and Cát Lái Port.
Bribery case relating to protection racket dismissed for further investigation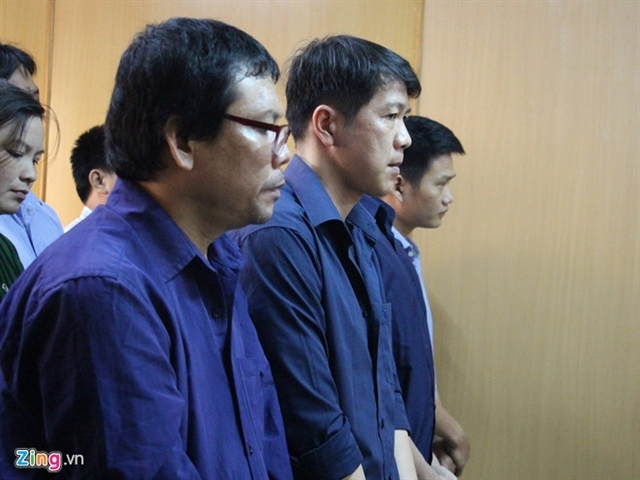 The defendants at the first instance court. — Photo news.zing.vn
A man and a woman accused of organising a traffic bribery racket, where police officers were paid off to turn a blind eye to road violations, have had their verdicts overturned, pending further investigations.
The two ring leaders of the gang, Nguyễn Văn Thới, 43, and 37-year-old Lê Thị Cẩm Vân, were sentenced to jail for 14 and nine years respectively by HCM City People's Court in an October first-instance trial last year.
But HCM City's High-level People's Court on Monday decided to dismiss the previous verdict while further inquiries into the allegations take place.
They were accused leading a gang of corrupt officers who would ignore traffic violations committed by drivers who are part of a club who had paid money to escape penalties.
The pair had arranged for logos to be printed that could be placed on cars, to signal to the corrupt police officers that these vehicles have paid the protection money and the police officers and inspectors would look the other way.
The scam took place across three localities in the south – HCM City, Đồng Nai and Bình Dương.
According to the indictment, from January 2014 to August 2015, Thới's gang earned VNĐ23 billion (US$992) through selling logo while Vân's ring collected nearly VNĐ8 billion.
Thới and Vân were accused of paying nearly VNĐ5 billion and VNĐ630 million, respectively, to traffic police and inspectors.
Eight accomplices were also given prison sentences ranging from one to 10 years.
Nguyễn Cảnh Chân, 46, former traffic police at Đồng Nai Province Police, was sentenced to eight years for "brokering bribery".
The Jury Board said that there was no evidence against the serving police officers apart from the testimonies and the officers have themselves denied any involvement.
Although the court said the bribery charges were correct, they ordered a retrial and more investigations to determine exactly which police officers were paid off.
The case file showed a list of 79 traffic police officers and traffic inspectors involved. Through the defendant's testimony, the Ministry of Public Security's investigation agency also gathered some evidence including telephone number, and documents recording the amount of money giving and name of officer accepting bribes.
At the appeal trial, a representative form High-level People's Procuracy said in cases of bribery there must be a person who gave bribes and another person who accepted. It was not reasonable to prosecuted defendants who gave bribes and acted as middleman while ignoring the crime of persons who have taken bribes.
He proposed the Jury Board suggesting the public security ministry's Investigation Agency and Supreme People's Court to clarify traffic police and inspectors involved in the case.
Trà Vinh expands organic peanut farms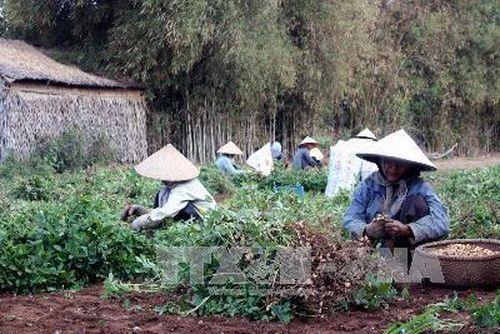 Harvesting peanuts in Trà Vinh Province's Cầu Ngang District.
The Cửu Long (Mekong) Delta province of Trà Vinh has encouraged more farmers to grow peanuts with organic fertiliser and less irrigation water to save labour costs and improve income.
The winter-spring 2016-17 crop planted by farmers of the Đồng Tâm Co-operative in Cầu Ngang District's Long Sơn Commune had positive results.
Established in 2016, the group has 15 household members, including nine poor households and one near-poor household.
In the 2016-17 winter-spring crop, the co-operative members grew peanuts under the new model on a total area of 4ha.
They were supported by the Project for Adaptation to Climate Change in the Mekong Delta in Trà Vinh Province (AMD Trà Vinh).
The project paid for peanut seeds, fertiliser and automatic irrigation system, and helped them install automatic irrigation system and make organic fertiliser from agricultural by-products.
The cost of implementing the model was VNĐ457.3 million (US$19,800), including VNĐ207.6 million from the AMD Trà Vinh and VNĐ249.7 million from the members.
An automatic irrigation system includes a pump, water pipes and sprinklers. It costs about VNĐ30-35 million to install an automatic irrigation system on one hectare and can be used for five to seven years.
The model saves labour costs as it requires only one labourer to irrigate one hectare of peanuts, while traditional farming methods need four people.
Trần Văn Bảnh, head of the group, said peanuts planted under the model had a yield of 8-9 tonnes per hectare, up 1.5-2 times higher than traditional farming.
The members had a profit of VNĐ50 million ($2,160) per hectare a crop, two times higher than traditional farming.
Besides harvesting peanuts, the members also use peanut by-products to feed cows and improve income.
Trần Văn Nông, one of the members, said he also had 2,000sq.m of peanuts that were provided with financial support for installing automatic irrigation system.
He has invested automatic irrigation system for an additional 1,000sq.m of peanuts with his own money, he said.
With the success of the model, 70 households in Long Sơn Commune have applied the model for their peanut fields.
Huỳnh Quãng Sơn, deputy head of the province's Agriculture Extension Centre's Plant Cultivation Division, said agricultural production plays a crucial role in the province's economy as the province has 180,000ha of arable land, accounting for 78 per cent of its total area.
Under the province's policies of turning ineffective rice fields into growing areas for other crops to increase value and adapt to climate change, peanuts are suited to the province's soil and weather, he said.
Farmers can use agricultural by-products to make organic fertiliser which improves yield and quality.
Trà Vinh has more than 17,00ha of coastal sand dunes, the largest in the delta. The coastal sand dunes normally face shortage of irrigation water in the dry season and are not suitable for rice cultivation.
Peanut vines are suited for growing in coastal sand dunes.
Phạm Minh Truyền, deputy director of the province's Department of Agriculture and Rural Development, said that peanut cultivation has faced a shortage of quality peanuts for seeding.
The province can produce only 20 per cent of peanuts for seeding and has to buy 80 per cent from other provinces.
It also lacks companies that invest in processing peanuts, so farmers face difficulties in finding stable peanut outlets, he said.
The province's People's Committee has decided to spend more than VNĐ12 billion ($519,000) to improve the value chain for peanut in the 2018-20 period.
The province, one of the delta's largest peanut producers, has 4,420ha of peanuts, including 3,400ha in Cầu Ngang District.
It has zoned a 500ha specialised farming area that will produce two crops of peanuts for seeding a year beginning next year.
It also plans to expand peanut cultivation area to 8,450ha with an annual output of 45,000 tonnes next year.
Communes must keep up the good work
Members of the Hồ Chí Minh Communist Youth Union of Hà Nội's Đan Phượng District take care of trees and clean streets as part of the district's new-style rural area building efforts.
More than 60 per cent of all communes in Việt Nam are meeting standards set to become environmentally aware.
Their efforts are part of a 10-year national programme to build new-style rural areas for the 2010-19 period.
The achievements include farmers raising earthworms (Perionyx excavates) to deal with livestock waste, sorting waste at source, building household wastewater-treatment stations and improving landscape by growing more trees and flowers.
Nguyễn Xuân Hùng, of Hà Nội's Gia Lâm District, collects 360 tonnes of cow manure from local farmers each month to raise earthworms.
Cow manure is used as food for the worms who then produce manure considered the best type of organic fertiliser for plants. Mature earthworms can also be used as feed for cows, chickens, pigs and fish.
The model has helped reduce cow manure discharge in the district. Data showed that only in Phù Đổng Commune, about 20 tonnes of cow manure is discharged into environment daily.
The model is believed to not only protect environment but also create jobs for local residents.
Hùng said he now earns VNĐ20,000 (US$86 cents) per kilo of earthworm breeding, VNĐ100,000 ($4.3) per kilo of mature earthworm and VNĐ 2,500 ($11 cents) each kilo of organic fertiliser.
In Đan Phượng District, communes met environmental criteria after residents cleaned ponds full of rubbish, improved the water quality to create a space for children swimming as well as growing more trees and flowers along rural roads.
In the central province of Hà Tĩnh, more than 71,000 households are sorting waste at source and about 30,000 households were trained to make organic compost for crop production.
In the northern province of Thái Nguyên, the Sông Công City built a household-wastewater treatment station, covering about 5,000sq.m in 2014. The station treats 750cu.m of wastewater daily on the principle of sedimentation and anaerobic biodegradation. (The degradation of compounds by microorganisms in the absence of oxygen is termed as anaerobic biodegradation.)
The city grows trees, flowers and dug a pond to create a green space for local residents.
The national target programme, initiated by the Government in 2010, has 19 criteria in different aspects, including environmental criteria, aiming to boost the development of rural area across the country.
But despite these remarkable achievements, there is still room for improvements.
Once a commune meets the required levels, some feel they have achieved all they need to do, and standards slip.
Some of the 5,543 communes nationwide are letting standards slip, and need to be reminded the importance of environmental sustainability, Vietnam News Agency reported.
Other communes are neglecting their environmental responsibilities and instead focusing on infrastructure investment.
Trần Thị Thành, from the Hà Tĩnh Province's Environment Protection Department recommended empowering people with the knowledge needed to make sure they were aware of the importance of environmental solutions.
She also said attracting private investment to operate wastewater treatment systems was another solution.
Deputy Minister of Natural Resources and Environment Võ Tuấn Nhân said to fix the situation, the Ministry of Agriculture and Rural Development was asking government to install stricter requirement on tree planting as well as managing wastewater.
Lack of adequate drainage causes serious flooding in Vinh City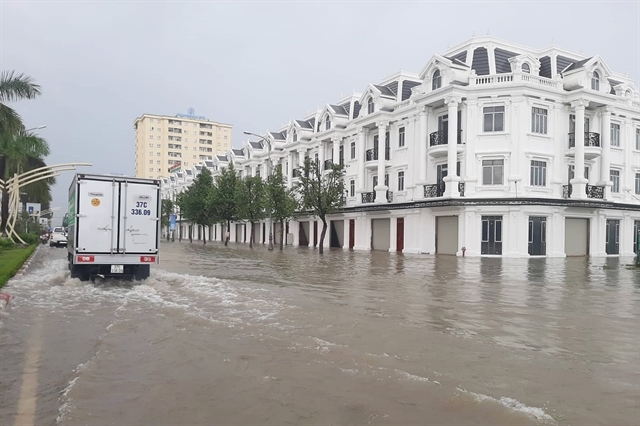 Lenin Boulevard in Nghệ An Province's Vinh City was flooded due to prolonged heavy rains on October 15-16.
While officials in Vinh City attributed the worst flooding in the city's history to excessive rainfall, local residents said a lack of adequate drainage and rapid urbanisation were the main causes of the inundation, Người Lao Động (Labourer) newspaper reported.
Heavy rains on October 15-16 killed three and caused VNĐ80 billion (US$3.4 million) in losses to property and crops, according to the People's Committee of Vinh City in central Nghệ An Province.
As many as 5,680 houses were inundated. Traffic congestion and power cuts caused by the flooding have affected the lives of local residents for several days.
Vũ Trần Tuấn, a resident from Đông Vĩnh Ward, said in spite of upgrades at the beginning of the year, no drainage system had been built on Trần Bình Trọng Street, preventing water from flowing away when it rained.
"We complained to local authorities on the building of the system many times but nothing has been done," he said.
Cao Văn Toàn, chairman of Đồng Vĩnh Ward's People's Committee, said the delay in implementing the projects, including a ditch connecting Phan Thúc Trực Road with Trần Bình Road, was one of the reasons for the flooding.
Similar problems occurred in other wards of the city.
Ponds and lakes have been filled in for construction and unused land has been encroached upon, affecting water drainage.
"In the past, rain water passed through the field into the sewer, but the water flow has been obstructed by the construction of a road connecting Vinh City's Quán Bàu Ward with Hưng Nguyên District's Hưng Tây Commune," Nguyễn Văn Thắng, who lives in Hưng Đông Commune, told the newspaper.
According to Đinh Tiến Dũng, director of Vinh City Urban Infrastructure Development and Management Company, the city's drainage system failed to keep up with the pace of urbanisation.
Wards had sewers but they were small and inadequate, so they were unable to handle heavy rain, he said.
To cope with the situation, Nghệ An Province's People's Committee has asked relevant agencies to review the drainage system and dredge rivers, streams and canals to prevent garbage from obstructing the flow of water, Dũng added.