Man prosecuted after fire kills two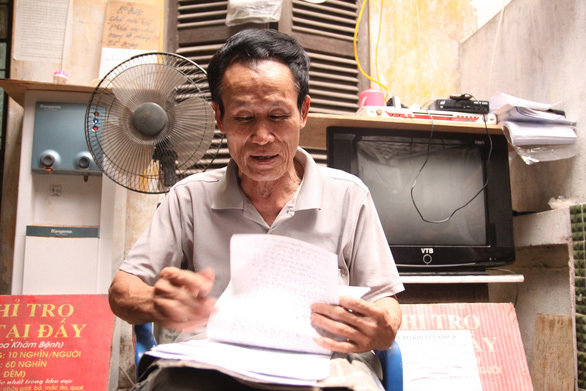 Nguyễn Thế Hiệp was prosecuted as his boarding houses did not follow fire prevention and control regulations leading to the death of two people. — Photo tuoitre.vn
The Ba Đình District People's Court on Thursday began legal proceedings against a man for violating regulations on fire prevention and control.
Nguyễn Thế Hiệp, 72, lives in Ngọc Khánh Ward, Ba Đình District. He is the owner of a boarding house which went up in flames on September 17 last year killing a couple.
Hiệp faces from five to 12 years in prison.
The indictment said that Hiệp had five boarding houses for rent in the Alley 879, Đê La Thành Road in Ngọc Khánh District.
Hiệp widened the boarding houses with iron frames and wooden bulkheads without asking for permission from concerned organisations. He also did not equip fire extinguishers and emergency exits based on regulations.
On April 3 last year, inspectors from the Ngọc Khánh Ward asked Hiệp to improve the poor condition in his houses. Hiệp promised to do so but did not complete the work.
A fire broke out on September 17 last year due to an electrical short circuit. The fire killed Tạ Văn Tính, 43 and his wife Hà Thị Lành, 42, from Thanh Sơn District, the northern province of Phú Thọ.
Losses were estimated at nearly VNĐ1.9 billion (US$82,600).
Ha Tinh busts large drug trafficking ring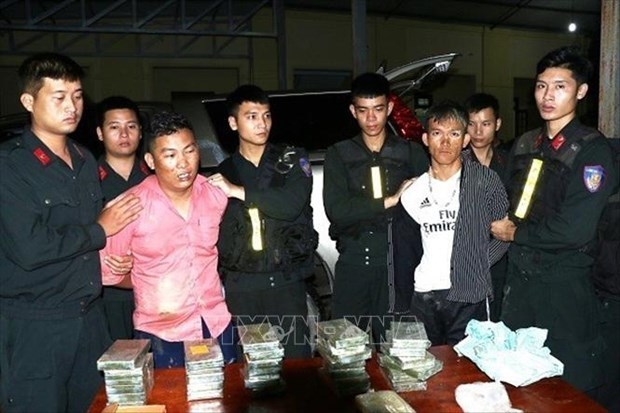 The arrested men and seized drugs at scene
Police in the central province of Ha Tinh, on October 25, said they have captured two men for trafficking 30 heroin bricks and 6,000 methamphetamine pills.
In the evening of October 24, the force stopped a suspicious car travelling on National Highway 8A. However, the driver speeded up in order to escape and only stopped after several crashes along the way.
Police officers then had to open fire to arrest two suspects – Ha Van Sinh from the central province of Thanh Hoa and Giang Seo Chinh from the northern mountainous province of Lao Cai, both born in 1994.
The two admitted they were transporting the drugs from Ha Tinh's Huong Son district to Vinh city in the neighbouring province of Nghe An.
The case is under further investigation./.
Damaged section of the bypass in Gia Lai to be fixed
Cracks on the newly-built bypass running through Gia Lai Province's Chư Sê District. — Photo vov.vn

The People's Committee of Gia Lai has agreed with the Ministry of Transport's proposal to dismantle a section of a bypass which suffered severe subsidence and undertake measures to repair it.
The bypass – worth VNĐ250 billion (US$10.8 million) – runs through Chư Sê District and connects to the Hồ Chí Minh Road. The bypass is in a state of serious disrepair with cracks and subsidence, even though it was completed four months ago.
The cracks on the bypass reportedly occurred after heavy downpours in the province's Chư Sê District between August 23 and September 3.
The damaged section is 3.8km in length.
The crack reportedly widened after a month.
Earlier, the provincial People's Committee reported the incident to the Government Office, the Ministry of Transport (MoT), the Ministry of Construction and relevant agencies.
The construction unit has set up a barrier around the broken road surface to avoid traffic accidents.
The MoT has said the weak foundation and groundwater were the main causes of the subsidence. It was not detected and solved before and during the project's implementation, it said.
The ministry also asked authorised agencies to clarify the responsibilities of involved individuals and units.
The bypass is 10.8km long and still awaiting testing before being put into operation.
Hà Nội extends contract with keeper Long, Dũng's future unclear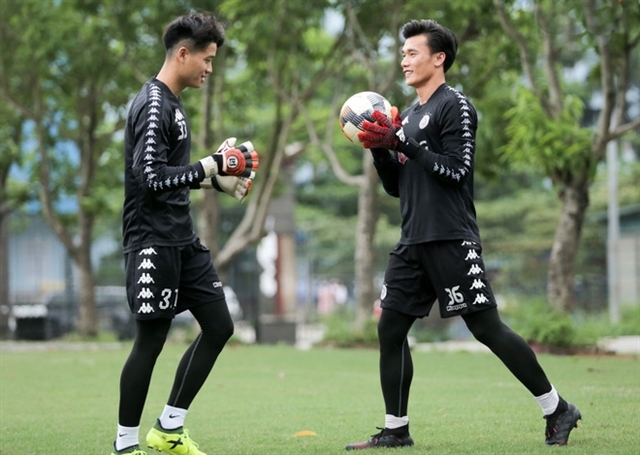 Phí Minh Long (left) and Bùi Tiến Dũng during a training at Hà Nội FC. — Photo sport5.vn
Hà Nội FC have extended goalkeeper Phí Minh Long's contract, hours after they received the V.League 1 trophy on Wednesday.
Long, 24, was trained at Hà Nội FC's training centre. He was set to become a free agent at the end of this year.
The new deal ties Long to Hà Nội for another three years.
The news was confirmed by Hà Nội FC's executive director Nguyễn Quốc Tuấn.
At the same time, their second goalkeeper Bùi Tiến Dũng is set to end his one-year contract with the national champions.
However, the national U22 team member has not yet discussed a new deal with the team, and Long's extension further muddies his future.
Dũng, 22, did not have many chances to play for Hà Nội as their No 1 keeper Nguyễn Văn Công played well all season. His performance in these opportunities was also not persuasive. Dũng played in the V.League's last match on Wednesday and Hà Nội suffered a 4-2 loss to Quảng Ninh.
On Sunday, Hà Nội will play the National Cup semi-final against HCM City. Chu Đình Nghiêm has not confirmed where Dũng or Long will start in goal.
Photo exhibition on Vietnamese voluntary soldiers, experts in Laos
Officials visit the exhibition that opened in Vientiane, the capital of Laos, on October 25
A photo exhibition opened in Vientiane, the capital of Laos, on October 25 on the occasion of the 70th traditional day of Vietnamese voluntary soldiers and experts in Laos (October 30, 1949 - 2019).
The show, held by the Lao Defence Ministry, is the first of a series of activities to mark the day.
On display are 168 photos arranged in three sections. The first one introduces images of Vietnamese voluntary soldiers and experts operating in Laos from 1945 to 1954, when the two countries fought side by side against French colonialist invaders.
The second section features the Vietnam-Laos fighting alliance, with Vietnamese and Lao soldiers living and fighting together in the war against American imperialist for national liberation from 1955 to 1975.
The third one highlights the Vietnam-Laos relations during the period of national construction and defence from 1976 to now.
The photo exhibition aims to help the Lao people and international friends understand better the noble international spirit of Vietnamese voluntary soldiers and experts who performed international missions in Laos.
The exhibition will remain open until the end of the year./.
Seminar discusses ways to improve tertiary education quality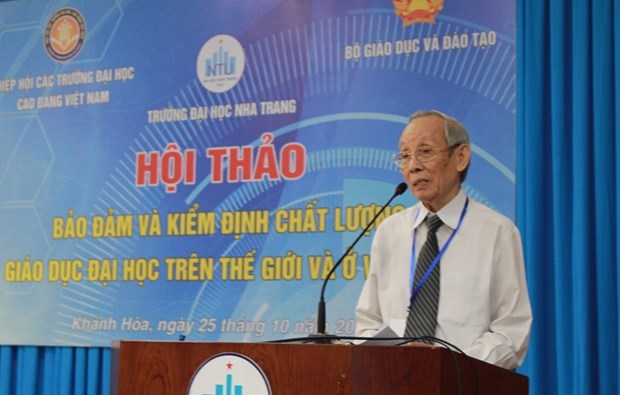 Chairman of the Vietnam Association of Universities and Colleges Tran Hong Quan addresses the seminar in Nha Trang city, the central province of Khanh Hoa, on October 25
A seminar was held in Nha Trang city, the central province of Khanh Hoa, on October 25 to look into shortcomings at tertiary education establishments and ways to address them amid the urgent demand for better quality in higher education.
The event, organised by the Vietnam Association of Universities and Colleges and the Ministry of Education and Training, was attended by nearly 250 delegates who are managers, researchers, experts and lecturers at institutes, universities and colleges from nationwide.
Chairman of the Vietnam Association of Universities and Colleges Tran Hong Quan said in the education and training reform policy, quality accreditation is considered an important factor to standardise and improve the quality and capacity of Vietnam's tertiary education system. This is also an educational issue attracting great attention in the Fourth Industrial Revolution era.
Participants in the seminar focused on several pressing issues, including the assurance and accreditation of quality at educational establishments; the quality of existing tertiary curricula; the revisions and supplements to the Law on Higher Education that are relevant to tertiary education quality assurance and accreditation; the policies, mechanisms and system for ensuring tertiary education quality; and accreditation process.
Representatives from Times Higher Education presented this British rating agency's latest world university rankings and analysed the position of Vietnamese universities in this list. They also pointed out impact of their presence in the list and how Vietnamese universities can enter the rankings.
There are five education quality accreditation centres in the country at present. So far, 123 universities and five colleges have met domestic accreditation standards, and seven have satisfied foreign standards. Meanwhile, among the 5,000 training programmes, only 139 have been recognised by foreign accreditation agencies and 19 have received domestic recognition./.
Vietnam stands fourth in ASEAN in electricity access index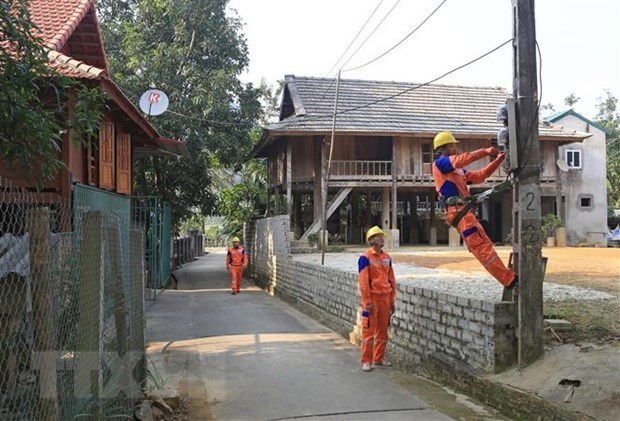 Vietnam still comes fourth in ASEAN and 27th among 190 countries and economies in electricity access index, according to the Doing Business 2020 report recently announced by the World Bank.
The overall index improved for the sixth consecutive year with 88.2 point, up 0.26 point from 2018, measuring procedures, time and cost of national grid connection, power supply reliability, and transparency in power prices.
Vietnam is also among the top four member countries of the Comprehensive and Progressive Agreement for Trans-Pacific Partnership (CPTPP) in terms of electricity access.
In order to score high in the index, the Vietnam Electricity (EVN) has conducted digital transformation measures to improve customer services, including providing services registration, contract signing and payment online while improving transparency of procedures and regulations via its customer care website, round-the-clock hotline, and mobile application.
This year, the EVN launched all services on electronic platform and upgraded information technology infrastructure.
In September 2019, it piloted electricity bill payment on national public services portal, which will become official nationwide in November.
The EVN also offered its services on all online public service websites and public administration centres in all cities and provinces./.
Vietnam-Russia jazz concert held in Moscow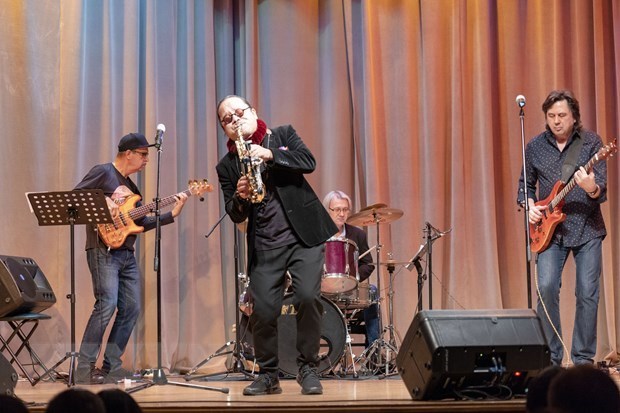 A Vietnam - Russia jazz concert took place in Moscow, Russia on October 24, as part of activities during the Vietnam – Russia, Russia - Vietnam Year 2019 – 2020.
Co-organised by the ASEAN Centre under the Moscow State Institute of International Relations, the Vietnamese Embassy in Russia, and the Russian Consulate General in Ho Chi Minh City, the event looked towards the 70th anniversary of bilateral diplomatic ties, thus strengthening cultural exchange and fostering Vietnam – Russia friendship.
Audiences were mesmerised by popular Vietnamese and Russian folk music pieces played by Vietnam's well-known saxophonist Tran Manh Tuan and Russian guitarist Dmitry Maloletov, along with bass guitarist Aleksey Pleshchunov and drummer Kirill Sukharev.
They also entertained audiences with a selection of world-famous jazz compositions.
It was the first time a jazz concert by Vietnamese and Russian artists had been held in Russia./.
Belgian beer festival underway in Hai Phong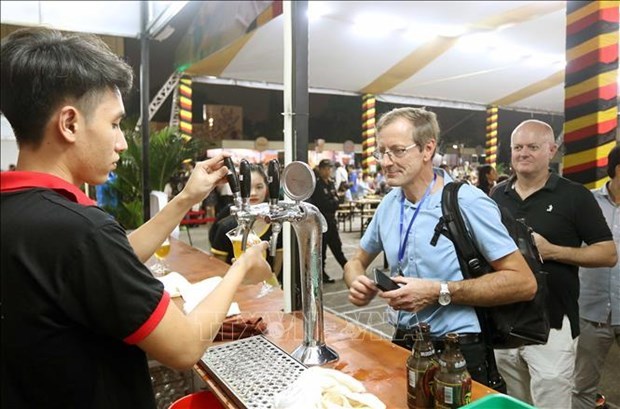 The Belgian beer festival is underway in the northern port city of Hai Phong from October 25-27, starting a series of Belgian festivals and events in the locality.
Speaking at the event, Belgian Ambassador to Vietnam Paul Jansen said beer is part of the Belgian culture, and the Belgian beer culture has been recognised by the UNESCO as part of the intangible cultural heritage of humanity.
Visitors will have a chance to enjoy a wide variety of Belgian beer and food.
The festival of this kind has been held successfully in Hanoi and Ho Chi Minh City for years.
On the occasion, the organiser Deep C Industrial Zones presented 200 million VND (8,600 USD) to "For the Poor" fund.
As part of the festival, a logistics development seminar and classical concert were also held./.
ASEAN-themed photos, documentaries on show in Khanh Hoa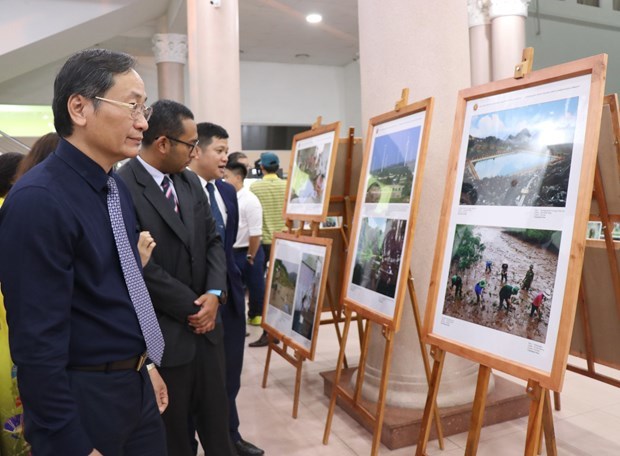 Visitors to the exhibition that opened in Nha Trang city, Khanh Hoa province, on October 25
An exhibition on photos and reportage – documentary films about the ASEAN Community opened in Nha Trang city, the central province of Khanh Hoa, on October 25.
The four-day event showcases 300 photos together with nearly 100 reportage and documentary films that won prizes or entered the final rounds of photo and reportage – documentary film festivals on the ASEAN Community held in Vietnam over the past years.
They depict the land and people of the ASEAN Community, as well as environmental protection and climate change response efforts by the 10 Southeast Asian nations.
In his opening speech, Deputy Minister of Information and Communications Hoang Vinh Bao said Vietnam attaches great importance to the improvement of public awareness of ASEAN and the ASEAN Community.
He noted the display reflects the Vietnamese people's willingness to join hands with their peers in the region in building the ASEAN Community – a people-centred community for peace, stability and development.
Vice Chairman of the Khanh Hoa provincial People's Committee Nguyen Dac Tai said the display introduces the land and people of ASEAN countries to local residents, along with domestic and foreign visitors, thus helping enhance the mutual understanding, solidarity and friendship in the grouping.
It is also an occasion to popularise Dong Nai's development potential to visitors, the official added.
After the event, all the photos and reportage – documentary films will be presented to the Khanh Hoa provincial People's Committee to continue serving communication campaigns about the ASEAN Community, especially in 2020 when Vietnam will chair the bloc.
Founded in 1967, the Association of Southeast Asian Nations (ASEAN) groups 10 member countries, namely Brunei, Cambodia, Indonesia, Laos, Malaysia, Myanmar, the Philippines, Singapore, Thailand and Vietnam./.
Ooc Om Bok highlights traditional values of Khmer people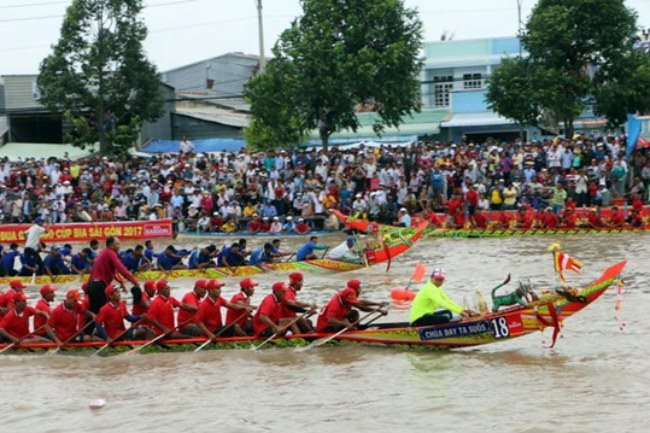 Boat race is the main activity of Ooc Om Bok festival
The Ooc Om Bok festival will be held in the Mekong Delta province of Soc Trang with a host of cultural and sporting activities from November 5 to 11 to promote traditional values of Khmer people.
Ngo Hung, Vice Chairman of Soc Trang Province, said the festival also helps promote the province's landscapes and people to local and international tourists.
The Ooc Om Bok will feature a moon worshiping ritual, a water lantern festival, art performances, a show of traditional Khmer costumes, a street food festival, and other exciting activities.
The festival also features a ghe ngo (Khmer long boat) race on November 10 and 11, with two distances: 1,000 meters for women and 1,200 meters for men. The event is a traditional ritual to bid farewell to the God of Water after the harvest season, according to the Vietnam News Agency.
Ghe ngo is made from timber in the shape of a naga snake, the sacred object of Khmer people. The boat is about 24 meters long, 1.2 meters wide and is able to hold about 40 people.
The week-long Ooc Om Bok festival is expected to attract hundreds of thousands of participants, so the local authorities are working hard to ensure safety and security for the event.
Cultural industries should be placed in the right position, says expert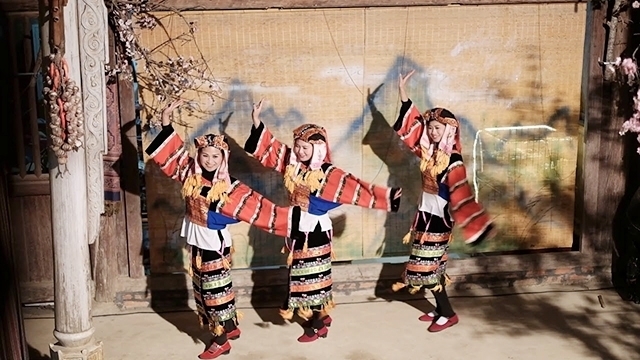 Lo Lo people in Ha Giang Province perform a dance.
Having been identified as an area with great potential to the national economic structure, the Vietnamese cultural industry has recorded positive movements but still requires further efforts to boost the sector's strategic development.
Director of the Vietnam National Institute of Culture and Arts Studies, Assoc. Prof., Dr. Bui Hoai Son, has shared with Nhan Dan Weekend on the solutions to clearing bottlenecks for the cultural industry in Vietnam.
The cultural industry generates significant revenue for many countries, and the dividends are created in a sustainable manner, without environmental pollution, without huge costs in human resources and other conditions. For that reason, Son said that if Vietnam focuses on the development of cultural industries, it would change its economic structure in a positive way. "Instead of focusing on making products that bring about negative environmental consequences and consume non-renewable resources, we can develop our nation with products made of human creativity," he said.
Culture and arts play a very important role in stimulating human creativity. Vietnam is developing towards being a start-up nation, in which the core of start-ups is creativity, and culture is capable of producing creativity. "That is one of the fundamental reasons for us to pay more attention to the development of cultural industries", Son added.
He stressed that it is a very convenient time for Vietnam to boost cultural industries amidst nations around the world having shifted their priorities from heavy industrial production and manufacturing, which causes environmental pollution and negatively affects the country's sustainable development, towards creative economy, digital economy and cultural industries, to create green and sustainable growth.
Vietnam is among the countries that should soon formulate strategies for developing cultural industries. On September 8, 2016, the Government issued a strategy for the development of cultural industries by 2020, with a vision to 2030. It set up the agency in charge of this issue, which is the Cultural Industry Management Office, under the Copyright Office of Vietnam. Additionally, Vietnam has also built some statistical indicators. "Determining statistical indicators of these sectors helps to visualise the resources contributing to society, as well as to identify the real situation from which to develop support policies," said Son.
After three years, happily, the movements are actually somewhat faster and more vivid than the speed of policy formation, Son stated, quoting the figures from 2016, in which there were about 60 creative hubs nationwide. That number reached 140 in 2018. Creative hubs are an indication of a nation's creativity. "People become aware of how they could make money from culture, such as with the story of the Golden Bridge in Da Nang," he said.
However, more efforts are required to remove bottlenecks and promote the development of cultural industries in Vietnam in the near future. "At first, we must bring the spirit of the strategy for development of cultural industries by 2020, with a vision to 2030, into practice. It is necessary to raise the public awareness on the appropriate position and role of cultural industries in the national development, from which to take concrete actions," Son suggested.
In addition, some regulations need to be adjusted for the development of cultural industries, such as those that still identify creative hubs as a social enterprise model. Besides, it is necessary to develop preferential policies on taxes and land use for this field, as well as to adopt the donation and sponsorship law, which is expected to create new impetus for cultural development.
"We also need a branding policy for Vietnamese artists and cultural products. In order to do so, it is necessary to focus on hosting international cultural events in Vietnam and making favourable conditions for Vietnamese artists to participate in international events, thus contributing to increasing the quality and durability of existing events," Son proposed.
In addition, he also suggested that attention should be paid to changing the creative education programmes in schools, in order to train creative human resources suitable for today's society.
Roadshow promotes Da Nang's tourism in Thailand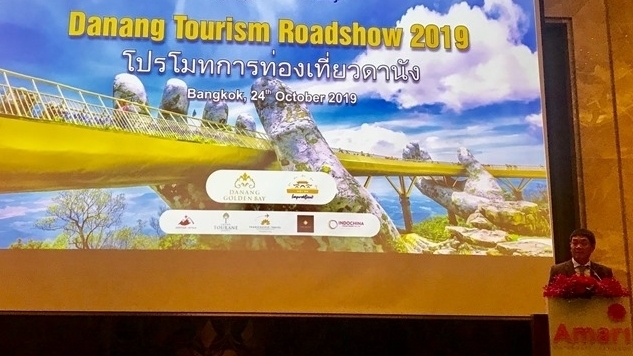 The roadshow to promote Da Nang's tourism in Bangkok
The central city of Da Nang held an event in Bangkok, Thailand on October 24 to promote its tourism to Thai travel companies and connect them with Vietnamese partners.
The Da Nang Tourism Roadshow 2019 saw the participation of representatives of the Tourism Authority of Thailand, the Thai Travel Agents Association and local tourism companies.
Speaking at the event, Vietnamese Ambassador Nguyen Hai Bang said Da Nang has become one of the most outstanding tourist destinations in Vietnam and Asia over the past years.
The city attracts foreign visitors thanks to its UNESCO-recognised heritage, clean and beautiful beaches, developed infrastructure, pure air and the hospitality of locals, he said.
Over the recent past, Thailand has emerged to be one of the key source of international tourists to Da Nang, the ambassador noted.
Direct flights between Bangkok and Da Nang operated by Bangkok Airways, Air Asia and Vietjet Air, and the upcoming launch of Vietnam's national flag carrier Vietnam Airlines have helped to enhance trade, economic, tourism and cultural links between the two cities and countries, he said.
A representative of the Da Nang Tourism Department introduced the major attractions in Da Nang as well as its tourism connectivity with other localities like Hoi An, Hue and Quang Binh.
Thai media reported that in the first eight months of this year, 310,955 Thai tourists visited Vietnam, up 46.3 percent year-on-year, and the number is expected to grow further in the time ahead thanks to the increase of flights.
The media said Vietnam's central region is popular among Thai holiday-makers, with Da Nang, Hue and Hoi An being the top choices.
Rescued animals handed over to Cuc Phuong National Park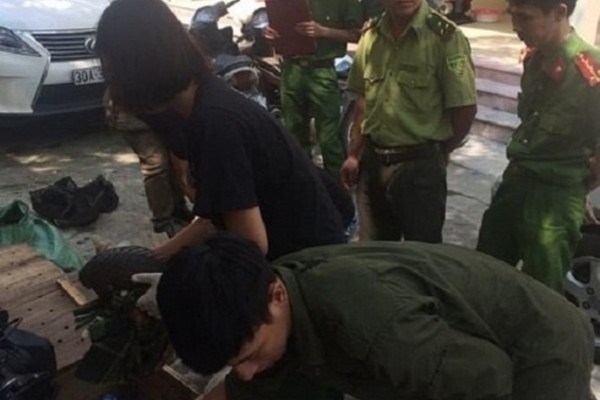 The pangolins and turtles are handed over to the Cuc Phuong National Park. Photo: (kiemsat.vn)
Rangers working in the central province of Thanh Hoa province have discovered an operation involving the illegal transportation of pangolins and turtles.
The animals were successfully found following a police search on a suspicious vehicle heading North-South in the province.
Aside from 11 cows being in the 37-07452-registered truck, police conducted a search of a handmade iron box that had been placed inside the vehicle. Inside they discovered 24 pangolins, weighing a total of 106.4 kg.
Furthermore, 46 turtles weighing a total of 22 kg were also found hidden in a styrofoam box which had been placed on the roof of the vehicle.
The driver was identified as 37-year-old Pham Van Trong of Nghe An province. When questioned, he was unable to provide legal documents for the transportation of the animals.
Following the rescue, the pangolins and turtles were handed over to the Cuc Phuong National Park.
The case is currently under further investigation.
Smart city to boost sustainable growth and prosperity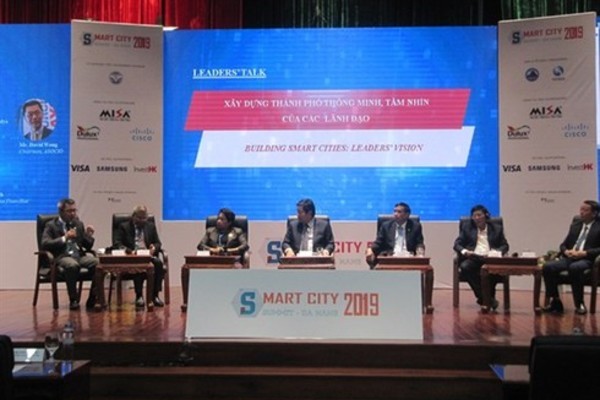 A talk is held at the Smart City Summit Da Nang 2019. Smart city solutions will be a choice for Vietnam to boost its digital economy development in the next decade.
Smart city building is a crucial solution to boost economic growth and prosperity in Vietnam, while investing in 'smart city' projects is the best way for Vietnam to digitalise, an expert has said.
Chairman of the Vietnam Software and Information Technology Services Association (VINASA) Truong Gia Binh made the statement at the opening ceremony of the Smart City Summit in Da Nang city recently, stressing smart city development is crucial.
"It's a must and very urgent. We have a good choice for catching the world of rapid digitalisation. The government should offer smooth conditions for businesses investing in big data, digital platforms and infrastructure as well as speeding up digital economy transformation in the next decade," Binh said.
Binh also emphasised that people, businesses and local governments must be involved in building smart cities, and serving the people has to be a focus of the smart city.
He said local people have the right to ask their local government for social security, fresh water, clean air, smooth traffic, safe food, convenient health care and transparency, and smart cities will be a sustainable and cost-saving choice for Vietnam.
Nguyen Mung, solution manager of Phi Long Technology company, said it started building a smart traffic solution in Da Nang from 2017.
He said the system, which monitors 3,000 traffic cameras, has been operating at the city's congested sites as well as tracking traffic violations.
Mung said face identification systems have been developing at shopping and trading centres, hotels and restaurants in seven provinces and cities in Vietnam.
Also on the occasion, the Ministry of Information and Communication and VINASA presented certificates to the top 50 leading IT businesses in Vietnam, and the top 10 businesses with capacity for the 4th Industrial Revolution.
In March, Da Nang won an ASOCIO Smart City Award for its outstanding initiatives of a smart city during the ASOCIO Smart City Summit in Bangkok, Thailand, and it is planning to become the first city in Vietnam to join the ASEAN smart city network by 2030.
Ninh Thuan farmers grow more foreign grape varieties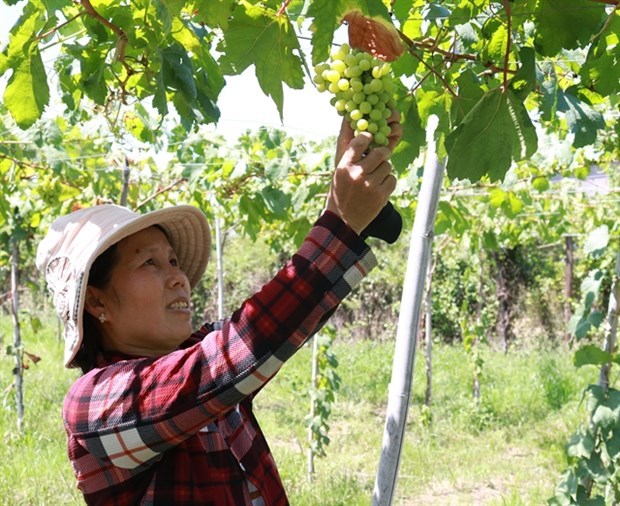 Truong Thi Thu Thao grows Scarlotta, a US red seedless grape variety, in Ninh Phuoc District's Phuoc Dan Town. 
The south-central province of Ninh Thuan, the country's largest grape producer, is expanding cultivation of high-quality foreign grape varieties.
Truong Thi Thu Thao in Ninh Phuoc district's Phuoc Dan town was one of the first farmers to grow Scarlotta, a US red seedless grape variety.
Thao has planted nearly 200 Scarlotta grape vines on a 500sq.m area, and plans to grow more.
Scarlotta grapes are harvested five months after planting with a yield of more than 50 kilos per vine a year, she said.
The grape variety is resistant to disease and suited to the province's dry and hot weather. Scarlotta berries are large, sweet and slightly crispy.
Nguyen Vui, owner of Toan Thinh grape seedling establishment in Phuoc Dan, said foreign grape varieties normally have large berries with good shape and colour, and a sweet and crisp taste with fragrant flavour. They are neither too sour nor too sweet.
His establishment is selling seedlings of many foreign grape varieties like Scarlotta, Kyoho, Black Queen and Shine Musat to farmers.
The province, which has the lowest rainfall in the country, has more than 1,200ha of grapes.
The province's grape area accounts for only 3-3.5 percent of the province's total farming area, but the value of grape accounts for 19-20 percent of the province's total agriculture value, according to the province's Department of Agriculture and Rural Development.
The red cardinal and NH 01-48 grapes are the province's two major grape varieties.
The red cardinal was the first grape variety planted in the province and now accounts for 80 percent of the province's grape area.
NH 01-48 green grape is a high-quality table grape variety but its yield and quality are stable in only some areas that have suitable weather and soil conditions.
To improve the quality of grapes, the province has conducted research to create new seedless grape varieties like NH 04-61, NH 04-128 and NH 01-152, and to develop high-quality foreign grape varieties.
Pham Dung, head of the department's Plant Protection and Cultivation Sub-department, said the department would work with farmers to complete a draft on growing processes for foreign grape varieties. The processes will be transferred to farmers to ensure high-quality grape varieties in the province.
The province has encouraged grape farmers to use Vietnamese good agricultural practices (VietGAP) standards.
Under its plan to restructure agriculture in the 2017- 2030 period, the province will expand its grape cultivation in Ninh Hai, Ninh Phuoc and Ninh Son districts and Phan Rang-Thap Cham city.
The plan targets having 2,000ha of grapes with an output of 50,000 tonnes next year. The province has about 8,000ha of arable land suited for growing grapes./.
Korean Culture Day takes place in Da Lat city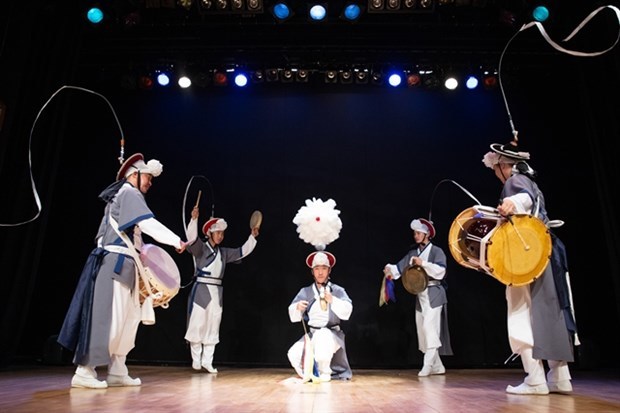 Traditional troupes will perform at the Korean Cultural Day in Da Lat city. (Photo courtesy of Korean Cultural Centre)
Korean art troupes will perform at the Korean Culture Day held in Da Lat city in the Central Highlands province of Lam Dong on October 26.
The art troupes include the Pyung Ryu-In percussion troupe; 20th Century B-boy; traditional Inpungnyu troupe and Dong-A University's Taekwondo troupe.
The Pyung Ryu-In percussion troupe was established in 2009 by musicians who graduated from Korea National University of Art.
The troupe's repertoire combines traditional and contemporary music.
The performances will begin at 7pm at Lam Vien Square.
The Korean Culture Day is co-held by the Korean Culture Centre; Korean Tourism Organisation and Korea Agro-Fisheries & Food Trade Corporation and Lam Dong province.
Coming to the event, people will enjoy food, try to make Korean handicrafts with traditional hanji paper and learn about Korean travel./.
Bạc Liêu to expand 2 sustainable shrimp farming models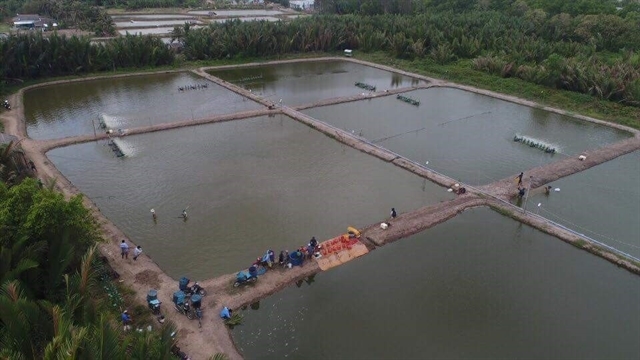 The Cửu Long (Mekong) Delta province of Bạc Liêu plans to expand its efficient and sustainable super-intensive shrimp farming and shrimp-rice farming models.
The former model was first developed by companies in 2017 and later expanded to households, according to the province's Agriculture Extension Centre.
The province has 1,845ha of super-intensive shrimp farming ponds, including 950ha belonging to companies and 324ha to households.
The model requires large initial investment of VNĐ1-1.6 billion (US$43,100-69,000) per hectare, but offers profits of VNĐ600 million-1 billion ($25.900-43,100) a year.
Under the shrimp-rice farming model, farmers grow rice in the rainy season and breed shrimp in the dry season on the same rice fields.
The rice yield is 4.4-5 tonnes per hectare per crop and the shrimp yield is 230-350 kilogrammes.
The shrimp-rice farming model is friendly to the environment as farmers use few pesticides and chemicals and it adapts to climate change.
The province has 37,700ha under the model, and, according to its Agriculture Extension Centre, has the capacity to expand it to 50,000ha.
Speaking at a seminar in Bạc Liêu on Thursday, Dương Thành Trung, chairman of the province's People's Committee, instructed local agencies to co-operate with research institutions to finalise the farming processes for the two models and train farmers.
Waste treatment facilities should be included in the super-intensive model to protect the environment, he warned.
The growth of shrimp co-operatives and co-operative groups that use advanced farming techniques should be fostered, he said.
The province encouraged farmers to breed shrimp to quality standards like Vietnamese good agricultural practices (VietGAP) and Aquaculture Stewardship Council (ASC), he added.
Lưu Hoàng Ly, director of the province's Department of Agriculture and Rural Development, said the province was quickly building infrastructure for a hi-tech agriculture zone to develop shrimp farming.
This would help to develop the province into the country's shrimp industry hub, he said.
The province plans to have four hi-tech aquaculture areas, including one for producing fry, by next year, and 10 by 2025.
It targets exports of $750 million worth of shrimp next year and $1 billion by 2025.
Bạc Liêu expects to produce 155,000 tonnes of shrimp this year, 15.1 per cent more than last year, according to the department.
Hưng Yên man devotes himself to caring for orphans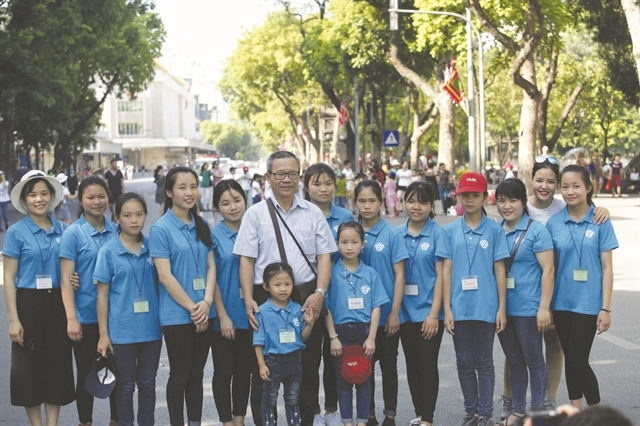 Nguyễn Trung Chắt and the children on a visit to Hà Nội. Photo baodantoc.vn


The Hy Vọng Tiên Cầu Centre in Hiệp Cường Commune, the northern province of Hưng Yên's Kim Động District is often filled with the laughter of more than 100 orphans.
Its founder, Nguyễn Trung Chắt, a local man has spent 17 years caring for the children.
Chắt, 67, was born to a poor farming family in Phú Cường Village.
In 1992, he participated in some UNESCO orphan projects in Việt Nam. At that time, he visited many orphanages, and met many children with hardships.
He witnessed abandoned babies just several days old, wrapped in torn clothes, left in bags or boxes by roads, in bushes or in front of hospitals. In 2004, he set up the centre that was initially located in a house owned by Kim Động District's education department.
"I intended to spend money upgrading the house, but during the repair process, the house collapsed because it was too old," he said.
Chắt decided to borrow money from relatives and friends and took all his savings to rebuild the two-floor house at a cost of more than VNĐ300 million (US$13,000)
"They are unlucky children, many of whom have been abandoned by their parents when they were born," Chắt said "Several children were just a few days old when they were abandoned, deprived of breast milk and getting cold on the street as they were just wrapped in old cloths.
"Many children lost their parents due to accidents or illness. Their grandparents can't look after them, so they are sent to the centre."
He remembered at first, the centre received 24 orphans.
Initially, the centre only adopted children at age of six or older but as he saw many young babies abandoned, he decided to help them.
Chắt brings hope to orphans, according to local residents.
Đào Thị Luyến, 14, born in a poor family in Ngọc Thanh Commune, Kim Động District, suffered from congenital heart disease and had to drop out of school.
Chắt took Luyến to the centre to look after her. In 2011, Chắt and others funded a heart operation at Hà Nội's Việt Đức Hospital for Luyến. After surgery, she recovered and is now healthy.
Besides Chắt, the centre now has three caregivers.
"We always love the orphans like our own children," said Nguyễn Thị Với, 45, a caregiver at the centre.
"We are willing to be their mothers to take care of them and educate them."
To minimise living expenses, caregivers and older children have to plant vegetables and breed fish and poultry for their daily meals, though individuals, social organisations and local authorities have donated money and gifts to improve the children's living conditions.
Every month, the centre uses its limited budget to buy milk, books and necessary personal items for the children.
Chắt said many older children were studying at the district's vocational training school with a hope that after leaving the school, they could support themselves.
Over the past 15 years since its establishment, hundreds of orphans have been raised with the unconditional love of Chắt, caregivers and kind benefactors nationwide.
Poor children in Mekong Delta learn self-defence skills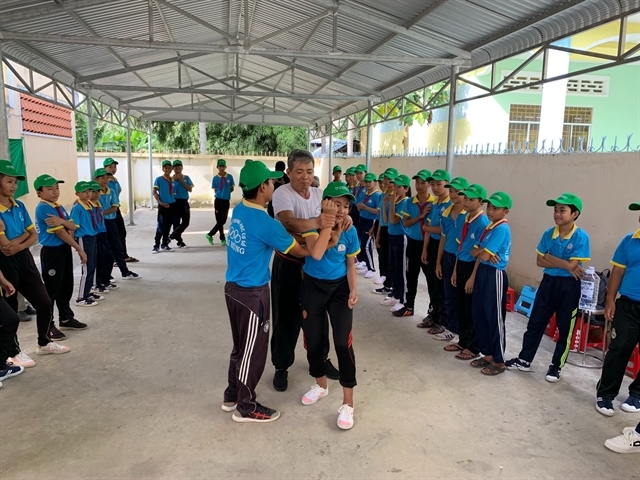 Children are learning martial arts as a part of the programme named Giving Knowledge – Training Skills. — Photo Courtesy of Saigon Children

More than 200 school students in Tiểu Cần District in the Mekong Delta province of Trà Vinh on Friday learnt about the risks they face every day and self-defence skills.
Giving Knowledge – Training Skills, a campaign run by Saigon Children's Charity CIO in co-operation with FE CREDIT, helps poor children have a chance to go to school and equip them with necessary skills.
The class aimed to sharpen the children's perception of risk and strengthen their belief in their ability to defend themselves successfully against any violence or sexual assault.
According to UNICEF Việt Nam, 68.4 per cent of Vietnamese children under 18 years have experienced physical or sexual violence at least once.
The programme also gave away scholarships to 102 primary and secondary school poor and near-poor students.
With the programme's holistic approach, and not only financial assistance but also personal development offered, every major aspect of children's well-being is addressed.
The scholarship package also includes frequent visits by the scholarship donors to each student's house to encourage and support them, regular soft-skill training and fun activities to foster students' personal development.