Headmaster receives 8-year sentence for sexually abusing male students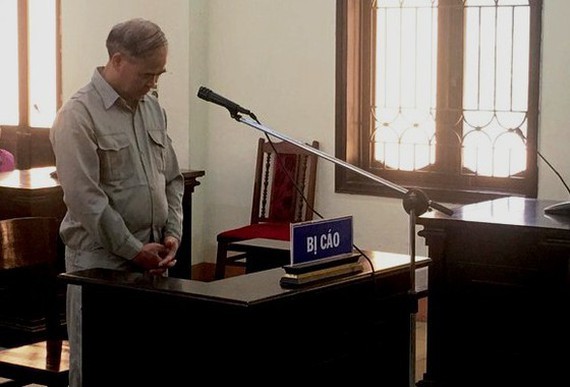 Former headmaster Dinh Bang My at court (Photo: SGGP)
Former middle school headmaster of Thanh Son Junior High School for ethnic minority children in the northern province of Phu Tho was sentenced to spend at least 8 years in prison for sexually abusing male students below 16.
The provincial People's Court yesterday sentenced 58-year-old middle school headmaster Dinh Bang My to eight years in prison for sexually abusing students between 2016 and 2018.
Additionally, the man was also required to pay VND17 million (US$733,783) each for five students who were forced to have oral sex with him and satisfy him by hand and VND20 million to four other students who were forced to have sexual intercourse with him.
According to court documents, My asked the seventh, eighth and ninth graders to come to his sleeping room to have oral sex with him many times from end of 2016 to December 2018 in the school sleeping room where he had sex intercourses.
Afterwards, My gave confectioneries or a sum of VND20,000- VND50,000 to students.
Amongst students, the youngest one was born in 2005.
Son La arrests drug trafficker
The border guard and police forces in the northern border province of Son La on October 29 arrested a man for drug trafficking, and seized two bricks (about 680g) of heroin, 3.5kg of opium and a gun.
The suspected is Song A Chua, born in 1986 and residing in Co Noi commune, Mai Son district of Son La. Chua was arrested in Co Tom village, Phieng Khoai commune of Yen Chau district.
Chua confessed that he bought the drug in the border area from an unknown man to sell.
The case is under further investigation./.
Woman undergoing microblading dies of brain bleeding
Ho Chi Minh City-based Gia Dinh People's Hospital yesterday announced that the woman who had undergone microblading, a cosmetic tattooing procedure that fills in thin eyebrow areas to make them look fuller, died of brain bleeding after three –days of intensive care unit treatment.
The 65-year-old woman was taken to the hospital from a beauty salon in District 1 when she fell into coma and had breathing problem.
Physicians rushed to provide intensive care to her yet their efforts to save her have been unrewarded.
Before, four incidents relating to plastic surgery have taken place in Ho Chi Minh City within two weeks. Two of patients died and the remaining patients were in critical condition.
Photo exhibition on Vietnamese volunteer soldiers in Laos


The photo exhibition aims to help the Lao people and international friends understand better the noble international spirit of Vietnamese volunteer soldiers and experts who performed international missions in Laos.
On display are 168 photos arranged in three sections. The first one introduces images of Vietnamese volunteer soldiers and experts operating in Laos from 1945 to 1954, when the two countries fought side by side against French colonialist invaders.
The second section features the Vietnam-Laos fighting alliance, with Vietnamese and Lao soldiers living and fighting together in the war against American imperialist for national liberation from 1955 to 1975.
The third one highlights the Vietnam-Laos relations during the period of national construction and defence from 1976 to now.
The exhibition will remain open until the end of the year./.
HCM City hospital provides free dental care to disadvantaged people in Đồng Tháp
Some 1,500 adults and children in the Cửu Long (Mekong) Delta province of Đồng Tháp have benefited from free dental check-up and treatment provided by the HCM City Hospital of Odonto-Stomatology.
The programme, organised in Tháp Mười District on October 26 and 27, sought to benefit disadvantaged people and improve community awareness of oral health and prevention of dental diseases.
The hospital's medical personnel also provided the beneficiaries with knowledge about oral health like how to brush their teeth properly, the importance of oral hygiene and the need to periodically have dental checks.
Programme highlights film production opportunities in Vietnam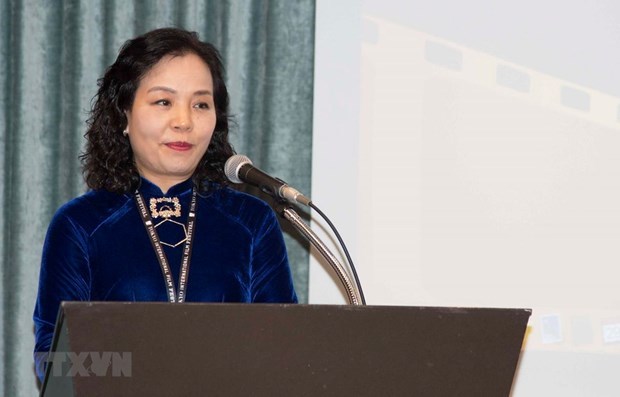 VFDA President and General Secretary Ngo Phuong Lan
The potential and opportunities for film production in Vietnam were introduced at a programme held by the Vietnam Association of Film Promotion and Development (VFDA) in Tokyo on October 29.
The event was held within the framework of the 32nd Tokyo International Film Festival, taking place in Japan from October 28 to November 5.
Speaking at the programme, Vietnamese Ambassador to Japan Vu Hong Nam laid stress on the thriving Vietnam-Japan friendship, saying both sides have favourable conditions to boost collaboration thanks to their cultural similarities.
In the past years, they have worked together on several film projects like "Nham mat thay mua he" (Summer in Closed Eyes), "Nguoi cong su" (The Partner), "Khuc hat mat troi" (A Song to the Sun), and "Duoi bau troi xa cach" (Under the Same Sky), which received a warm welcome from both Vietnamese and Japanese audiences. Filmmakers from both nations hold huge potential to further coordinate in the future, he added.
According to VFDA President and General Secretary Ngo Phuong Lan, images of the Vietnamese landscapes and people, its filmmaking environment and relevant procedures were introduced at the programme, aiming to lure international filmmakers to the country.
The association stands ready to support directors and producers who are interested in making a film in Vietnam, she added.
The VFDA was established on July 25 this year to encourage the production of high-quality films while assisting foreigners to make films in Vietnam, making contributions to popularising local traditions and culture to foreign friends and promoting the Vietnamese cinema brand in the context of deep global integration./.
Hanoi named as host of Vietnam Tourism and Cultural Heritage Festival
The Vietnam Tourism and Cultural Heritage Festival 2019 is set to transpire at the Vietnam Cultural Arts Exhibition Center in Hanoi from November 21-26.
Ahead of the event, the Ministry of Culture, Sports and Tourism has assigned the Vietnam Cultural Arts Exhibition Center to co-ordinate alongside relevant units in order to organise the festival as part of a range of activities to mark the Vietnam Cultural Heritage Day (November 23).
The Vietnam Tourism and Cultural Heritage Festival 2019 promises to introduce guests to the unique cultural heritage values of Vietnam, with a particular emphasis being placed on globally renowned UNESCO-recognised heritage sites.
The event will provide a platform for a variety of regions from across the nation to introduce and promote their local culture, trade and tourism potential, whilst also serving to strengthen connectivity in a bid to boost tourism development.
This year's festival will see the participation of a number of cities and localities including Hanoi, Thua Thien Hue, Da Nang, Quang Ngai, Gia Lai, Dak Lak, and Ho Chi Minh City.
Hanoi boosts educational cooperation with New Zealand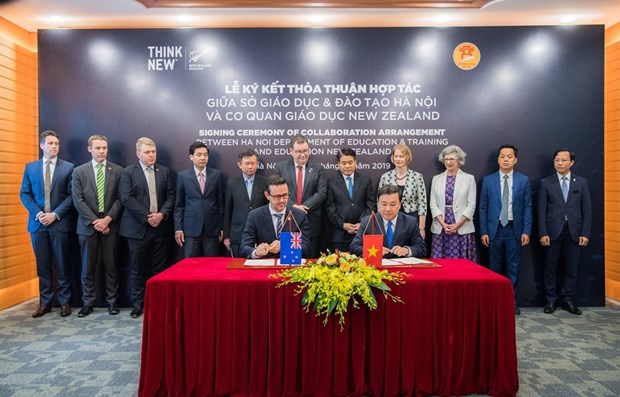 At the signing ceremony
A memorandum of understanding (MoU) on cooperation between Education New Zealand and the Department of Education and Training of Hanoi was signed in the Vietnamese capital city on October 29.
Speaking at the signing ceremony, Chairman of the Hanoi People's Committee Nguyen Duc Chung highlighted the city's recent education reforms. However, he noted that with the current education needs, Hanoi still lacks English teachers and programmes taught in English language.
While highly evaluating the quality of New Zealand's education programmes, Chung expected that the signing of the MoU marked a new milestone, opening more opportunities for expanding educational cooperation between New Zealand and Hanoi.
Chung hoped more specific and practical cooperation programmes between the two sides will be implemented, thus helping Hanoi learn experience in training human resources for education management.
For his part, Finance Minister of New Zealand Grant Robertson showed his impression for the development of Vietnam in general and of Hanoi in particular, affirming this is a solid premise for strengthening the relations between the two countries in the coming time.
Issues related to curriculum reforms and enhancement of educational management capacity are New Zealand's strengths and interests, he said, expressing his belief that the MoU will help promote not only cooperation programmes but also specific education projects, thus helping Hanoi to modernise its education system, towards laying a foundation for cooperation in other fields between the two nations.
Under the MoU, the two sides agreed to provide further training for talents and train Hanoi's students through New Zealand's scholarships for high school students in Hanoi and other scholarship programmes of New Zealand's schools, as well as contests to encourage skills and knowledge development of students in Hanoi.
Education New Zealand and the municipal Department of Education and Training will cooperate to improve skills and professional competence of Hanoi's teachers and educational managers; promote cooperation and exchanges between Hanoi's schools and New Zealand counterparts; and work together to introduce New Zealand's high schools, universities and industrial-technological institutes as well as scholarship programmes and study opportunities in the Oceania country./.
Asian artists dance together in Hanoi
The show features three art works by choreographers 3T (whose real name is Pham Khanh Linh) from Vietnam, Thai Nikii and Japanese kEnkEn.
Vietnamese choreographer 3T has prepared a 45-minute dance entitled "How It Will Be If... Let's Dance" which features street dances' characteristics and is imbued with Vietnamese music.
Launched in 2014, Dance Dance Asia showcases Asian street dance talents. It aims to promote cultural exchange in Asia through the medium of street dance, one of the most exciting and innovative forms of performing arts today.
Dance Dance Asia has staged performances and tours 15 times in nine cities in Asia. After Hanoi, the show will be held in Bangkok on November 1 and 2./.
Students' creative approach warns against speeding
A group of students in HCMC have created a multi-language animated public service announcement (PSA) that aims to raise young people's awareness of the fatal consequences of speeding.
The animated video, titled "Don't Risk It", showcases two contrasting scenes, one of a driver speeding in a video game simulation, versus a scene in which a driver speeds in real life, blurring the lines between reality and games.
This innovative approach is the fruit of a partnership between students of RMIT University Vietnam's School of Communication and Design and the Asia Injury Prevention (AIP) Foundation.
"In video games, you can crash many times without facing any real consequences. But in reality, you only get one life. The PSA is meant to encourage young people to think about the potential dangers of speeding and the very real consequences of a road crash," the students explained.
The PSA has been created in both English and Vietnamese, and promoted across AIP Foundation platforms.
HCMC authorities address plastic surgery services
People's Committee in Ho Chi Minh City directed district administrations to tighten management over facilities to provide plastic surgery services following two deaths relating to the service in the city lately.
HCMC authorities address plastic surgery services
District authorities must increase supervision to beauty salons and hospitals which secretly offer unregistered cosmetic surgeries or beauty services without permission. Especially, administration must monitor these advertising about unregistered services.
The municipal Department of Health must shut down illegally-opened facilities or those establishments proving illicit medical services as per the regulations.
Competent agencies must publicize their supervision in media.
One percent of unnecessary medical tests cut, US$10 million saved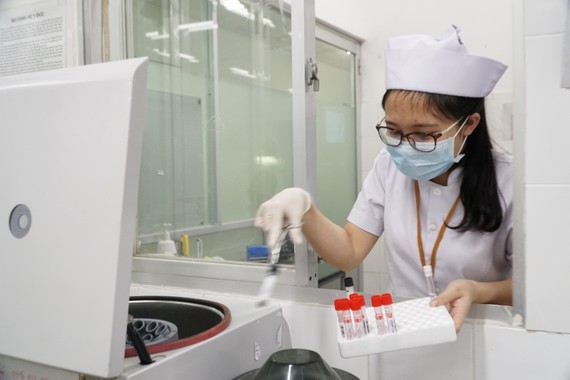 Professor Vu Quang Huy from the University Medical Center in Ho Chi Minh City said that if just one percent of unnecessary medical tests is cut every year, VND237.5 billion ($10 million) could be saved.
One percent of unnecessary medical tests cut, US$10 million saved
Professor Huy made the statement at a scientific conference themed "Quality management and road map for c organized by the Ministry of Health in HCMC.
Around 4.75 million medical tests are carried out in hospitals yearly and the number of tests increases by 10 percent per year.
Approximately 250 million biochemical, 200 million blood and 25 million microbiological tests are conducted at hospitals a year, an annual increase of 10 percent.
Different hospitals don't accept medical test results carried out by other resulting in a waste of time and money because patients are often required to redo all their tests when they switch hospitals.
However, doctors have had no choice but ask patients to undergo medical examinations such as blood tests, liver tests because these are usually changed.
Forum discusses smart, sustainable, adaptable cities
At the plenary session
Vietnamese Deputy Minister of Transport Le Anh Tuan touched upon the role of smart, low-carbon transport system in building smart, sustainable and adaptable cities, while presiding over a plenary session of the 12th Intergovernmental Regional Environmentally Sustainable Transport (EST) Forum in Asia in Hanoi on October 29.
Tuan also highlighted the role of sustainable transport in reducing greenhouse gas emissions and realising sustainable development goals.
Delegates looked into the EST's future role in Asia, emerging trends of urban transport in the region, how to duplicate transport solutions with calculation of emerging trends, contributions of transport to sustainable development, and nationally determined contributions (NDCs).
A Japanese representative said a smart city needs technologies, good planning, renewable energy, and green, clean transport.
Experience and new initiatives regarding smart transport and low-carbon technologies in the transport sector presented at the forum would be applied in the participating countries, helping them complete the goal of sustainable cities and communities set in the United Nations 2030 Agenda, Tuan said.
Established by the UN in 2005, the forum is an important part of the EST initiative. The annual event aims to boost Asian countries' awareness of environmental protection in transport sector, as well as build safer, more beautiful and sustainable urban areas and communities via effective development policies, plans and programmes.
It has 25 member countries namely Afghanistan, Bangladesh, Bhutan, Brunei, Cambodia, China, Indonesia, India, Iran, Japan, the Republic of Korea, Laos, Malaysia, Maldives, Mongolia, Myanmar, Nepal, the Philippines, Pakistan, Singapore, Sri Lanka, Thailand, Timor-Leste, Russia and Vietnam./.
PVF signs comprehensive partnership deal with FK Sarajevo
The Promotion Fund for Vietnamese Football Talent (PVF) Football Academy signed a comprehensive partnership development agreement with FK Sarajevo Club of Bosnia & Herzegovina on October 28.
Under the terms of the deal, the Vingroup-owned PVF Football Academy and FK Sarajevo will cooperate on speciality and technique. FK Sarajevo will bring Vietnamese players to train and compete in Bosnia & Herzegovina and vice versa.
It is a three-year deal (2019-2022) and can be extended with the agreement of both sides.
PVF General Director Phan Thu Huong said with the aim of training and improving skills of Vietnamese footballers, FK Sarajevo will become a stage to bring Vietnamese footballers to Europe. Sarajevo also supplies quality foreign players for domestic teams. The PVF and Sarajevo will together share knowledge, experience in training and developing footballers, with the aim of Vietnamese football reaching the final round of the FIFA World Cup 2026.
Meanwhile, Chairman of FK Sarajevo Senad Jahic said that Vietnamese football has made quick progress in regional and world events. PVF has had many players contributing to the achievements of national teams, such as entering the final round of the FIFA World Cup U20 2017, first runners-up at the AFC U23 Championship 2018, winner of AFF Suzuki Cup 2018 and one of best four teams of ASIAD 2018.
He believed that cooperation will be a chance to develop football in both countries as well as improve the image of Vietnam and Bosnia & Herzegovina.
During the visit and working in Vietnam, U19 players of FK Sarajevo will take part in the International U21 Football Tournament to be held in the central city of Da Nang from October 30 to November 5.
Earlier, Vingroup and the Vietnam Football Federation (VFF) signed a cooperation agreement to train and prepare for international tournaments during 2019-2024, towards the target of entering the final round of the Olympics 2024 and World Cup 2026./.
Singapore presents ASEAN Scholarships to Vietnamese students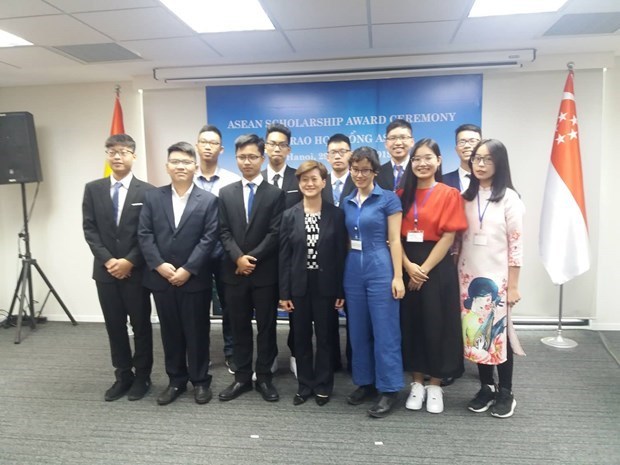 At the awarding ceremony
Singaporean Ambassador to Vietnam Catherine Wong on October 29 awarded ASEAN Scholarships to seven Vietnamese students from northern provinces.
The seven students, together with another five recipients from southern provinces, will commence their study in Singapore from the 2020 school year.
The students were chosen from nearly 300 applicants.
Under the scholarships, students between the ages of 14 to 16 will study in selected schools in Singapore for four years, accumulating to pre-university qualification or the General Certificate of Education of A level.
Speaking at the awarding ceremony, Ambassador Wong said meritocracy was one of the key principles underpinning Singapore's success.
Wong said each student could be considered a "young ambassador of Vietnam" while studying in Singapore.
Stressing the importance of strengthening Singapore-Vietnam relations, the ambassador urged the students to build friendships among young people of the two countries.
She also advised the students to spend time exploring the landscape, culture and people of Singapore besides studying at school./.
October sees record number of international arrivals

October saw a record number of international arrivals at almost 1.62 million, up 34.3 percent year-on-year, according to figures released by the General Statistics Office (GSO) on October 29.
The country welcomed nearly 14.5 million international visitors in the January-October period, up 13 percent, with nearly 56 percent of the visitors from China and the Republic of Korea (RoK0.
The Vietnam National Administration of Tourism (VNAT) said the growth rate in the past 10 months is remarkably higher than the average growth in the region and the world. According to the UN World Tourism Organisation (UNWTO), the number of international travellers in the world increased by 4 percent in the first six months of this year, while the rate for Asia-the Pacific is 6 percent and Southeast Asia 5 percent.
Of the total international visitors to Vietnamduring the past 10 months, 79.5 percent were from Asian countries, up 15.2 percent from the same period last year. Most source markets sending tourists to Vietnam showed increases, such as 9.4 percent for China, 22.1 percent for the RoK, 15 percent for Japan, and 29.5 percent for Taiwan.
Impressive growth was also recorded in the numbers of visitors from Southeast Asian countries, with Thailand leading with a growth rate of 47.7 percent. Singapore has surpassed France to become the 11th largest source market of tourists to Vietnam.
The number of tourists from Europe picked up 5.5 percent, with a 5.8 percent increase in the number of vacationers from the UK, 4.8 percent for Russia and 1.7 percent for France.
In early October, Vietnam was honoured with four important prizes at the 26th World Travel Awards (WTA). The country was named Asia's Leading Destination for the second year in a row, Asia's Leading Cultural Destination and Asia's Leading Culinary Destination. Hoi An, a tourist city in the central province of Quang Nam and home to Hoi An Ancient Town – a UNESCO World Heritage Site, was named Asia's Leading Cultural City Destination.
The World Travel Awards Asia and Oceania 2019 was organised on Phu Quoc Island, a popular tourist destination off the southern Vietnamese province of KienGiang, on October 13./.
Cambodia to host Asia-Pacific Summit 2019
Cambodia and the Universal Peace Federation (UPF) will host the Asia-Pacific Summit (APS) 2019 in Phnom Penh from November 18-20, according to EkTha, standing vice chairman of the Cambodian Government Spokesperson Unit.
He said that Cambodian Prime Minister Samdech Techo Hun Sen will preside over the opening ceremony of the summit, which will be held under the theme of "Responding to the Current Key Challenges: Interdependence, National Reconciliation, Mutual Prosperity and Universal Values".
As many as 500 guests from 50 countries and regions will partake in the forthcoming summit, he said, adding that they will include current and former heads of state, government heads, speakers of parliaments, religious leaders, women leaders, academia and youth, among others.
Ek Tha said the forthcoming summit truly shows the positive impact of cooperation between governments and civil societies on peace-building and reconciliation, sustainable development, co-prosperities and workable solutions to critical issues.
Asia-Pacific Union, a new initiative, is expected to be announced during the APS 2019.
The last summit was held in December 2018 in Kathmandu, capital of Nepal./.
Seminar talks Vietnam – Russia education cooperation
A round-table seminar on the prospect of the Vietnam – Russia education cooperation took place in Hanoi on October 28.
Attending the event were Russian Ambassador to Vietnam Konstantin Vnukov and representatives from Vietnamese and Russian universities and vocational colleges.
Both sides discussed bilateral cooperation opportunities in human resources training in line with World Skills standards as well as vocational training in digital era.
They also shared experience in the teaching and learning of the Russian language.
The event contributed to the improvement of the efficiency of the Vietnam – Russia comprehensive strategic partnership./.
HCM City Traditional Medicine Institute to provide comprehensive services to autistic children
The HCM City Traditional Medicine Institute will soon provide comprehensive services including psychological consultation, speech therapy, acupuncture, hydro-acupuncture, thread embedding and electro-acupuncture for autistic children next month after three years of preparation.
Dr Trương Thị Ngọc Lan, the institute's deputy director, said: "Parents who suspect their children to be autistic should bring their children to the institute for examination and diagnosis."
If their children are autistic, they will receive consultation about a treatment regimen, according to Lan.
In the beginning period, the services will be provided to outpatients, she said. In following years, the institute will set up a department to create favourable conditions for children from other provinces and cities in the southern and Central Highlands regions.
The institute would adopt the National Hospital of Acupuncture's services to treat autistic children with the highest effectiveness, she said, adding that the services would be trialled until mid-2020. If they are effective, doctors at traditional hospitals in southern and Central Highlands regions would be trained so that parents of autistic children from these regions would not have to go to the institute for treatment, leading to reduced travel costs.
Dr Lan said: "Autism is a long-time burden for families with autistic children. They need a lot of assistance."
In 2017, the institute started providing autistic children with acupuncture, aqua-acupuncture, thread embedding and electro-acupuncture after receiving training from the National Hospital of Acupuncture.
Prof Dr Nghiêm Hữu Thành, the National Hospital of Acupuncture's former head, said the hospital's department for treatment of autistic children had provided comprehensive services since 2012 and now offered treatment to 200-300 patients throughout the country.
"The number of children diagnosed as autistic is increasing," Thành said, adding that the treatment would take a long time.
The combination of acupuncture, hydro-acupuncture, thread embedding, electro-acupuncture, education and rehabilitation help autistic children improve.
"Acupuncture therapy helps to develop brainpower and makes it easier to obtain skills and knowledge," he said. Hydro-acupuncture, in which vitamins and nerve tonics injections are used, is also part of treatment, as well as acupressure and thread embedding, in which threads are inserted at specific points.
Thread embedding involves the use of short sections of catgut threads inserted in a needle embedded in acupuncture points on a patient's face and other areas of the body.
Thanh Hoá beat Phố Hiến to secure V.League 1 place
Thanh Hóa secured their place in the V.League 1 yesterday with a 1-0 win over Phố Hiến FC, who will remain in V.League 2.
The all-or-nothing match started slowly at Vinh Stadium in the central province of Nghệ An, with neither team wanting to commit players forward.
The first chance fell to Thanh Hoá's Trọng Hùng, but his shot was easily saved by goalkeeper Bửu Ngọc. The lively Hùng was again denied in the 28th minute, and the teams reached half time goalless.
Thanh Hóa turned up the pressure in the second half and their efforts were rewarded with a sweet left-footed volley from Văn Thắng in the 53rd minute.
There was still time for late drama, with Phố Hiến finding the back of the net in the fifth minute of time added on, but the referee's assistant had his flag up for offside.
Thanh Hóa finished second from bottom in the national premier league, while Phố Hiến came second in V.League 2 to qualify for the play-off.
Though Thanh Hoá played at a higher level with experienced players, they were expected to struggle without their foreign stars, who were ineligible for selection.
Thanh Hoá had previously suffered 11 winless matches in a row, with nine defeats and two draws, during which they scored 10 and conceded 31 goals.
Phố Hiến were in good form a year on from promotion to the second tier, with squad made up of solely Vietnamese players.
Coach Hứa Hiển Vinh has 26 players in his squad with an average age of 19.5 years old. Among them, Nguyễn Xuân Nam was the V.League 2's top scorer this season with 14 goals.
They also fielded several U22 national players including strikers Phạm Đức Thông and Lê Ngọc Bảo, and midfielders Huỳnh Tiến Đạt, Nguyễn Trọng Long and Martin Lo.
HCM City needs over $3.6 billion for infrastructure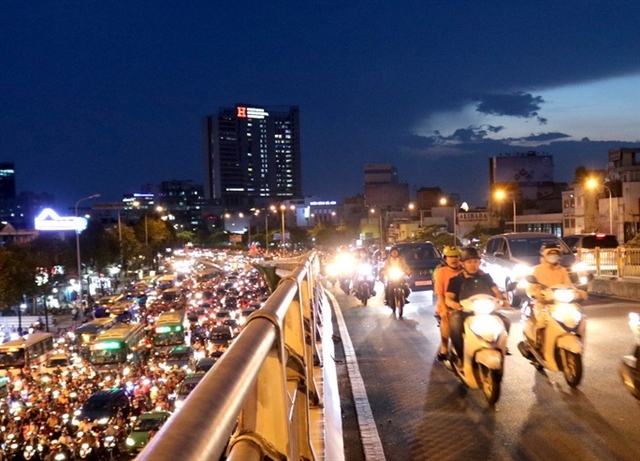 Traffic jams occur frequently at the eastern gate of HCM City.on Điện Biên Phủ Street in Bình Thạnh District.
 
HCM City needs to invest more than VNĐ83.06 trillion (US$3.58 billion) in transport infrastructure in 2021 – 25.
According to the city People's Committee, 12 projects requiring VNĐ45.16 trillion will be funded by the Government.
They include four to be funded by official development assistance money: the second stage of the Water Environment Improvement Project in the Tàu Hủ - Bến Nghé, Kênh Đội, Kênh Tẻ Basin; the Technical Assistance Project to HCM City Green Transport Development Project financed by State Secretariat for Economic Affairs (SECO); the Green Transport Development Project for the Metro Line No 2; and the project for construction of Tham Lương – Bến Thành metro line No 2.
Eight projects costing VNĐ39.63 trillion to be financed by public funds are the HCM City – Thủ Dầu Một – Chơn Thành Expressway, the four sub-projects of the beltway No 3, the two intersections on the Tân Tạo – Chợ Đệm Highway; the third stage of the Soài Rạp River dredging work; and the project for infrastructure development in the Mekong Delta.
Nine other works to link the city with neighbouring provinces will also begin during the period at a cost of VNĐ37.9 trillion in public-private partnership (PPP) mode, including the HCM City – Mộc Bài Expressway and a highway parallel to National Highway No 50 to Long An.
Despite being critical infrastructure projects, the 12 projects have progressed slowly.
A spokesman for the HCM City Department of Transport said a lack of beltways was one of the major causes for the traffic congestion in the city in the last several years.
He said the four beltways in Hà Nội had helped the capital not only resolve its traffic problems but also relocate residents from inner districts.
To ease the traffic jams facing HCM City, the city must focus on the completion of its beltways and other major infrastructure works, he added.
Young local tennis player shines at Selangor ATF U14 tournament
Vietnam's talented young tennis player Pham La Hoang Anh achieved two title wins at the Selangor 2nd PREC ATF 14&U Grade A 2019 as the youth tournament reached its conclusion in Malaysia.
During the final match of boy's singles event, Hoang Anh recorded a victory over Rahmani Kasma of Iran, who is currently fourth in the Asia U14 rankings. The 2-1 victory ensured that the Vietnamese player ended the tournament as champion.
The result has served to give Hoang Anh a boost, climbing to 14th place in U14 Asia rankings, becoming the highest-placed Vietnamese player in the process.
In the men's doubles event, Hoang Anh was joined by Nguyen Minh Phat as the pair recorded a 2-0 win over the Malaysian pair Zaman and Ibrahim to finish with a gold medal.
Elsewhere in the girl's singles event, Huynh Tran Ngoc Nhi concluded the tournament in fourth and 32nd in the U14 Asia ranking, the highest position that a young female Vietnamese tennis player has ever achieved.
Nhi was joined by Yu Chi Chan of Indonesia as the pair won the girl's doubles event, defeating Lee Jaeah of the Republic of Korea and Jo Leen Saw of Malaysia.
Nam Ky Khoi Nghia cycling race wraps up in Laos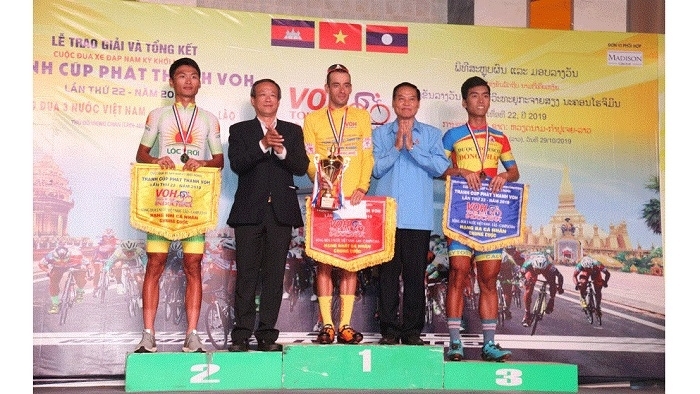 The organisers present flags and trophies to excellent cyclists after the final stage of the tournament in Vientiane, Laos, on October 29, 2019. (Photo: NDO)
The 22nd Nam Ky Khoi Nghia Bicycle Race - Voice of Ho Chi Minh City (VOH) Cup 2019 wrapped up in Vientiane, Laos, after the final stage on October 29.
On Tuesday, the cyclists competed in the 8th race, which was also the tour's last stage, with local racer Thomani Sanhalat finishing first after the 60km loop around the capital city of Vientiane.
After eight races, Spaniard Javier Sardá Pérez won the overall yellow jersey, while the green jersey was claimed by Vietnamese Le Nguyet Minh and the white jersey went to another Vietnamese cyclist, Le Hai Dang.
In the team category, Vietnam's Loc Troi Group claimed the title as champions, while the team from the Vietnamese province of Vinh Long were honoured with the fair-play award.
The tournament is the first race crossing the three neighbouring countries of Vietnam, Cambodia and Laos organised by VOH – the official broadcasting station of Ho Chi Minh City. Starting from Vietnam's southern economic hub on October 21, the race passed through 17 localities in the three countries over eight stages with a total length of nearly 1,000 km.
The highlights of this race were a cross-border gate race between Cambodia and Laos and the final race around Vientiane.
The nine-day event attracted over 60 cyclists, contributing to tightening the traditional solidarity, friendship and cooperation between Vietnam, Laos and Cambodia.
Speaking at the award ceremony, Le Cong Dong, VOH Director cum Head of the Organising Committee, expressed his sincere thanks to the leaders of relevant authorities in Laos, Cambodia and Vietnam, as well as the people of the localities the race passed by, for creating favourable conditions for the tour's success and cheering the cyclists.
H'mong young people love traditional music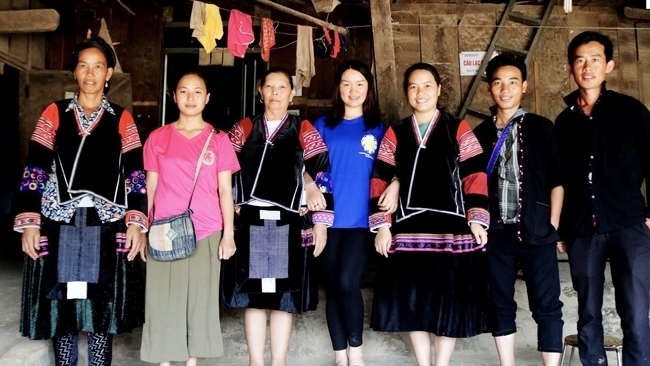 The project team "Our music" went on a field trip to De Hai village, Sinh Phinh commune, Tua Chua district, Dien Bien province. Photo: AHD
"Our music" is a project on collecting and introducing traditional music of the H'mong people, performed from March to December this year by a group of young H'mong ethnic people. The collection results not only contributes to preserving the values of traditional music, but also brings material to create new cultural values in contemporary life.
Implemented by the AHD (Action for H'mong Development) team, up to now, the project has collected more than 100 songs, pieces of folk song and more than 20 songs and music of the H'mong people. On the journey to find folk music, the group went on field trips to some northern provinces of Vietnam, where the H'mong community living in, such as Dien Bien, Ha Giang, Yen Bai, Lao Cai and Son La provinces. Using H'mong language as the main language, the members of the group talked and exchanged with the local people, using the form of audio and video recording to store the folk songs and music used in daily life and during festivals and New Year festival of H'mong ethnic people.
Born and raised in Yen Bai, and graduated from the University of Culture (Hanoi), the project's media representative Giang A Be, who has just ended nearly a week of practical experience in his homeland, shared about the process of collecting traditional folk songs. In the culture of the H'mong people, music is the sending of wishes, teachings, showing affection between people. Originating from the lyrics, the H'mong people formed a system of musical instruments, such as the flute, dan nhi (Vietnamese two-chord fiddle), and ken la (leaf-horn), to express affection, subtlety and deepness in the soul. H'mong folk songs are extremely rich, presented in a variety of topics in life, such as migration, getting married, love, brotherhood, with the oral form.
In the trend of integration, young H'mong ethnic people are increasingly affected by new music. H'mong people now do not sing folk songs much in daily life, so there are not many good folk singers. Young people are not taught so they do not understand the value of the folk music of their ethnic group. In the context of the performance activities have not been restored, the number of artisans is too small and old so preserving intact the tunes faces many difficulties. Many areas, only people over 50-year-old can sing or know folk songs. Since then, the types of traditional music arts of the H'mong people such as folk songs, flute, dan nhi, and ken la, have been increasingly lost. Therefore, only a few Mong young people are interested in learning and practicing folk music.
During the field trips to collect H'mong music, the group members have the opportunity to hear many various folk tunes by the elderly and meet the artisans, who kept H'mong musical treasure. The language barrier is a difficulty for the group in the field trips. In addition, many old people have not sung folk songs for a long time, so they forget or remember incomplete songs and melodies. Members of the group are young people, separated from their community early, so they do not fully understand the meaning of the folk songs and phrases, so the group have to ask the elderly to explain them.
As a young H'mong who is always concerned about preserving the national culture, Giang A Be said they realise that young people need to be more aware of their responsibilities and role in preserving literary values and promoting the cultural values of their own community, so that the culture will not be lost but will be promoted in today's life. From the desire to make H'mong youths enjoy the folk songs, inspired to learn and practice traditional music arts in the current social environment, the group has actively shared the collected folk music and lyrics on social networks. They hope that folk music can reach many people and can use folk materials to compose new music pieces, putting music into movie.
From now until December, the group started to compose music for folk songs, combining new music material with folk music material of the H'mong people for the collected folk songs. The group has also calling for young H'mong people who are interested, enthusiastic and desire to promote the music values of the H'mong people to compose, remix, experiment, explore new values on the basis of folk materials. The group hopes that the combination of folk elements with the new creativity of the H'mong ethnic youth will create new folk songs with new harmonies in line with the current trend. Besides, the group is also compiling a collection of Hmong folk music to introduce the H'mong ethnic cultural values to the community.
The "Our music" project is contributing to preserving the artistic values of the H'mong people in modern society, in order to arouse awareness of the H'mong people in preserving and promoting the music value of the H'mong people. New experiments and creativity with traditional music is the way that young H'mong people lead people to look at the treasure of H'mong folk music, contributing to making that treasure come alive, rich in identity and unique.
Junior high schoolers turn out to be environment ambassadors via school project
Seventh graders of Le Quy Don Junior High School in District 3 in Ho Chi Minh City yesterday turned out to be environment ambassadors in the Environment Festival with the theme 'Green Mission', with various interactive activities.
The activity was part of a learning project combining knowledge of Geography, Biology, Art, Literature, IT and Physics for seventh graders.
In the project, students learn Geography, Biology, Art, Literature, IT and Physics with fun in interactive classes using 3D Mozabook, powered by a school's partner, enabling teachers to directly prepare teaching plan and use 3D learning materials to provide interactive and creative lessons for students.
After three weeks of learning and preparing an eco-friendly product as well as the presentation, the students took the role of CEOs or salespersons to promote their products to the market. Future CEOs and salespersons did have a persuasive performance over demanding 'customers' (their teachers) about the products' selling points, market development and commodity delivery strategies.
The students showed their enthusiasm throughout the activities. Student Nhat Linh of 7/10 grade said that the learning project is an opportunity to review what have been done to support the community in environmental protection.
She added; "Previously, I simply know that the ice-cream bars, pipes or paper boxes are reusable items but not knowing that they can make eco-friendly products such as air-filter."
Student Bui Bao Tran of grade 7/8 was so excited at learning with projects saying that these projects helped her to broaden her knowledge as well as longer remember than traditional learning methods of listening to teachers' speech and writing down.
'It took three weeks for students to brainstorm and create everything under my direction", said teacher-in-charge of the project Vo Thi Nen.
Despite their limited knowledge of a seventh grade, their creative products such as environmentally-friendly face masks with two-layer filters made from bamboo fiber, pepper-mint surprised teachers a lot.
Principal of Le Quy Don Junior High School Pham Dang Khoa said that the project was to provide both knowledge and soft skills for students.
Students acted as journalist, customer, speaker, artist, enterprise representative and practice skills like gathering and analyzing information, using IT devices, group work, communication, problem solving and presentation.