Striker Quyet suspended for two matches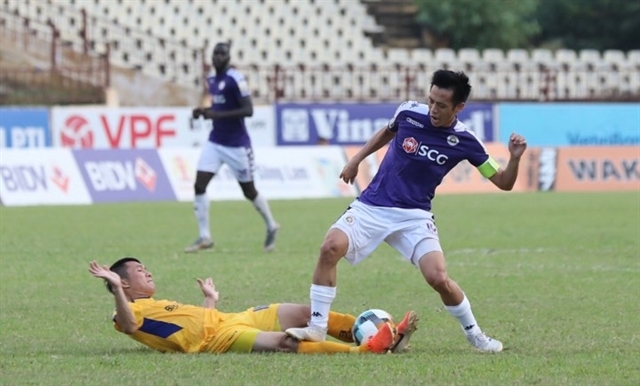 Striker and captain Nguyễn Văn Quyết of Hà Nội FC (right). Photo anninhthudo.vn
The Việt Nam Football Federation (VFF) yesterday decided to suspend striker and captain Nguyễn Văn Quyết of Hà Nội FC for two matches.
Quyết stepped on Trần Đình Đồng of Sông Lam Nghệ An (SLNA) in the 24th round of the national premier league on September 19.
With this decision, Quyết can't compete for the two remaining matches of the capital team in the V.League 1 with Quảng Nam on October 19 and Quảng Ninh Coal on October 23.
In the match with SLNA. Hà Nội won 1-0 and were crowned champions with two games to spare. 
Swedish Ambassador, Vietnamese girl join #GirlsTakeover campaign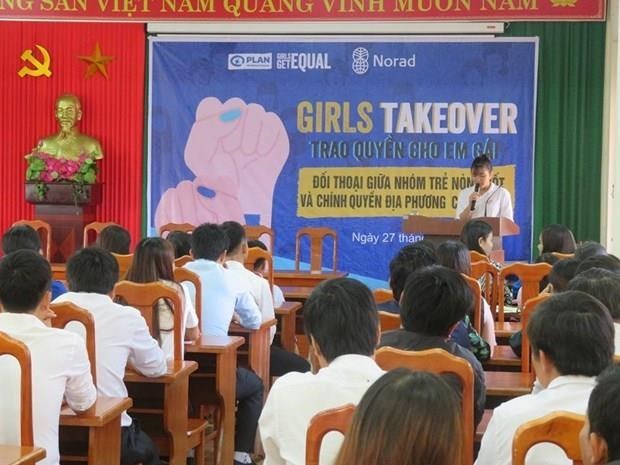 At an event held by the Plan International Vietnam
The Embassy of Sweden and the Plan International Vietnam organised a programme in Hanoi on October 3 to celebrate the International Day of the Girl (October 11).
A 20-year-old female student of the Hanoi National University of Education was able to experience one working day of Swedish Ambassador and listen to her life stories.
#GirlsTakeover is a campaign launched globally by the Plan International, which encourages girls to step into the shoes of country leaders to call on their governments to remove the barriers that deny millions of their rights.
In Vietnam, about 520 young girls have participated in the campaign since 2016.
At a discussion with reporters, Swedish Ambassador to Vietnam Ann Mawe pointed out that gender inequality remains a thorny issue as in many places of the world, women's presence and rights to access resources have been limited.
She noted that in Vietnam, women and girls have their voice heard better and better in many issues of the country.
Sweden is among the first countries putting forward external relations policies which support women's rights to promote gender equality, the ambassador added. The rate of women leadership in the Swedish Government stands at over 50 percent, and 46 percent in the country's parliament.
The same day, the diplomat and the Vietnamese student paid a visit to the Van Noi High School in Hanoi's Dong Anh district. They attended a discussion of a club on female leadership, which is part of a project of Plan International to create a safe environment for women and young girls at public places.
Since 2012, October 11 has been taken as the International Day of the Girl. The day aims to highlight and address the needs and challenges they face, while promoting girls' empowerment and the fulfilment of their human rights./.
Quang Nam hosts exhibition on Hoang Sa and Truong Sa archipelagos
At the exhibition. Photo: Dai Doan Ket (Great Unity) Newspaper.
An exhibition titled "Hoang Sa, Truong Sa of Vietnam: Historical and legal evidence" began at Tran Cao Van High School in Tam Ky city in the central province of Quang Nam on October 3.
The event was jointly held by the Ministry of Information and Communications and the Quang Nam Department of Information and Communications with the participation of more than 1,000 students and teachers from Tran Cao Van High School.
Upon addressing the exhibition, Deputy Director of the Quang Nam Department of Information and Communications Vo Van Tho noted that the historical and legal evidence of Vietnam's sovereignty over the islands will serve to boost the people's love for their homeland and raise their awareness and responsibility about the cause of national construction and defense.
It is hoped that through the occasion, both teachers and students will be introduced to historical documents, and legal evidence on the country's sovereignty over the islands and seas, in addition to showcasing an array of Vietnam's beautiful images and its citizens through the latest 3-D virtual reality technologies.
The exhibition displayed a number of documents and maps asserting Vietnam's sovereignty over the Hoang Sa and Truong Sa archipelagos.
Hanoi ceremony marks 150th birthday of Mahatma Gandhi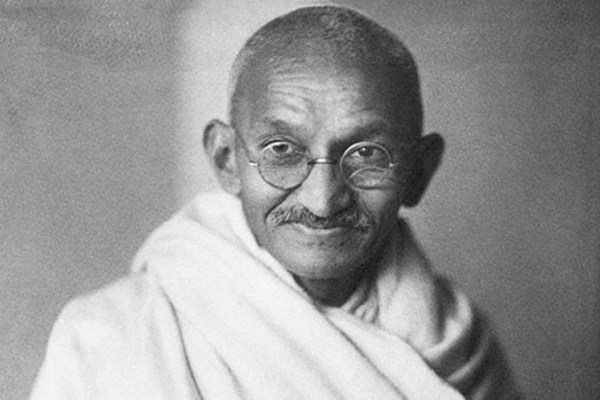 National hero of India Mahatma Gandhi (File photo)
The Indian Embassy in Vietnam and the Ministry of Information and Communications held a ceremony in Hanoi on October 2 to mark the 150th birth anniversary of Mahatma Gandhi, national hero of India.
In his speech, Indian Ambassador Pranay Verma said Mahatma Gandhi's ideas about the truth, peace and non-violence inspired the anti-colonial movement and struggles for national independence across Asia and Africa, including the one led by President Ho Chi Minh in Vietnam.
The two leaders' leadership and messages about human dignity and freedom inspired the Vietnamese and Indian peoples' bravery and confidence to fight against colonialism and gain independence, he noted.
At the event, Deputy Minister of Information and Communications Pham Anh Tuan recalled Mahatma Gandhi's contributions to peace and development of humanity.
On this occasion, a set of stamps was launched to celebrate the 150th birthday of Mahatma Gandhi.
Tuan said the stamps will be a multidimensional message helping to promote cooperation between Vietnam and India.
Also at the ceremony, the Institute for India and Southwest Asian Studies under the Vietnam Academy of Social Sciences debuted a special publication to mark the Indian leader's 150th birthday. The Indian embassy also awarded six students who won an online contest about Mahatma Gandhi./.
Photojournalist wins three silver medals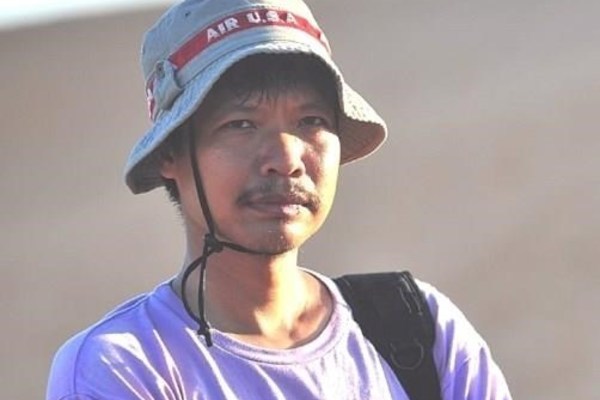 Photojournalist Viet Van (Source: thethaovanhoa.vn)

Photojournalist Viet Van from Lao dong (Labour) newspaper has won three silver medals at the Photography of the Year 2019 competition announced by the Australia-based Better Photography Magazine on October 2.
He claimed his prizes in the categories of Emotive Portrait with Thinker, Exotic Travel with Sunny Day, and Energy of Youth.
Thinker has already been awarded India's certificate of honour and published in the Netherlands' Getinspired and Italy's Urban Unveils magazines. It also made the final round of Italy's Urban Photo Awards.
Sunny Day recently won a gold medal in India, and entered the UK's Chartered Institution of Water and Environmental Management (CIWEM) Environmental Photographer of the Year competition. Energy of Youth entered the final round of the Urban Photo Awards of Italy and joined the Photometria Festival exhibition in Greece.
The Photography of the Year 2019 competition attracted thousands of entries from around the world. The top prize went to Polly Fenton from the UK.
Viet Van has won more than 60 international prizes throughout his career, including eight first prizes in France, the UK, the US and Australia./.
Seminar discusses world heritage conservation in Vietnam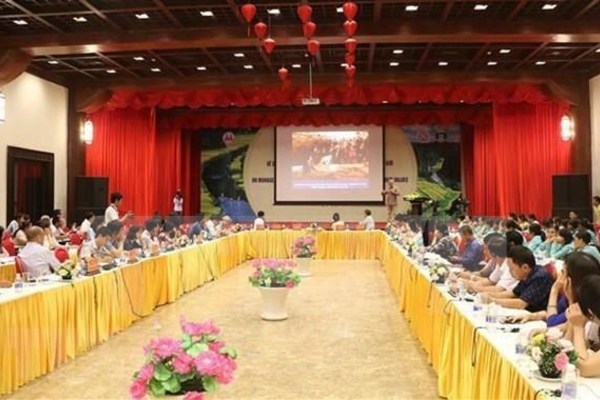 At the seminar
Experts gathered at seminar in the northern province of Ninh Binh on October 2 to share experiences on the management, conservation and promotion of world heritage sites in Vietnam.
The event, co-organised by the provincial Tourism Department and a working delegation from the United Nations Educational, Scientific and Cultural Organisation (UNESCO), featured six presentations by foreign experts and Vietnamese managers of local world heritage sites.
They focused on coordination between member countries and UNESCO, regular inspections and reports, human resources management, and periodical research to put forth suitable improvements in line with UNESCO recommendations.
Nao Hayashi, a specialist from UNESCO's World Heritage Centre, pointed to an increasing number of tourists as a common issue facing heritage sites.
She said although this benefited local communities in terms of socio-economic growth, it required work to ensure sustainable tourism development.
Participating experts said heritage managers should focus on both core and buffer zones and raise residents' awareness of UNESCO regulations and guidelines.
An expert from the International Union for the Conservation of Nature said there was a need to study tourists' expectations of heritage sites, thereby designing suitable plans for tourism product diversity.
Others, meanwhile, stressed it was fine to add new values to heritage sites such as building infrastructure, but all changes must be based on scientific and archeological research./.
30 plus activities to take place during HCM City's innovation, startup week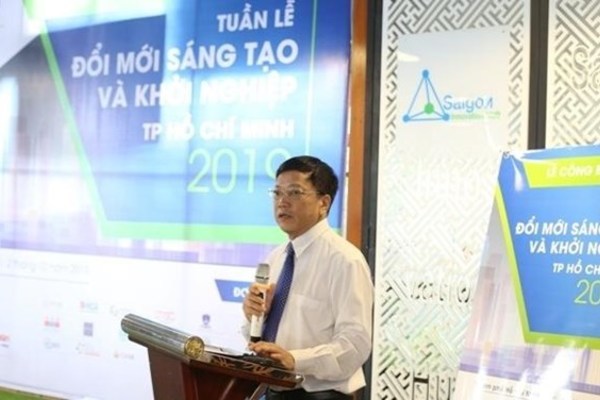 At the press conference for WHISE 2019 (Photo: khampha.vn)
The Ho Chi Minh City Innovation, Startup and Entrepreneurship Week (WHISE 2019) will take place from October 15-19, announced the municipal Department of Science and Technology on October 2.
The event has been jointly held by the HCM City People's Committee and the Embassy of Finland in Vietnam since 2017.
More than 30 activities, including workshops, startup programmes and contests to honour organisations and individuals who have made contributions to the city's innovation and startup ecosystem will be held in various locations and joined by nearly 20 domestic and foreign agencies.
Deputy Director of the municipal Department of Science and Technology Nguyen Khac Thanh said the event this year will offer chances for the city's startup community to evaluate the results of recent innovation and startup activities, especially effective models in the field.
WHISE 2019 will also touch upon issues related to the significance of scientific-technological application in the construction and development of an innovative and smart city, notably a workshop on 3D printing.
A forum on startup education will also be arranged at the event to discuss the role and position of tertiary educational establishments in the startup ecosystem. There will also be a ceremony to launch a 4.0 education alliance.
A symposium on innovative solutions from Finland on smart city building will look to seek solutions and strategic orientations to turn HCM City into a smart and innovation startup city in the future.
In addition, an exhibition will showcase products from 120 firms in digital transition, information technology, e-commerce and more./.
Over 90 percent of communes complete power supply target: Ministry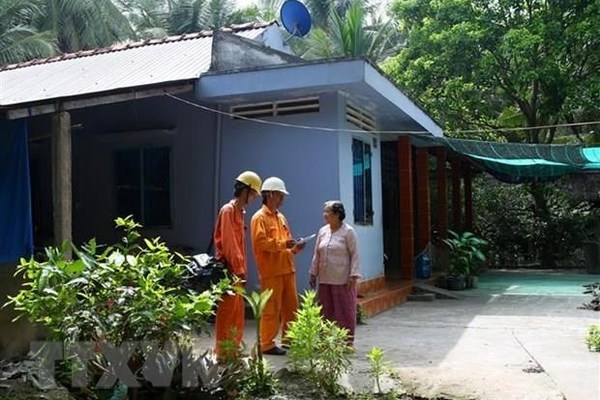 As of August this year, 90.7 percent of the 8,902 communes nationwide had completed targets set for rural power supply as part of the National Target Programme on New-Style Rural Area Building, according to insiders.
The figure represents a rise of 45.94 percent over 2010 and 8.32 percent over 2015, heard a conference held by the Ministry of Industry and Trade on October 2 in Thanh Hoa province to review 10 years of implementing the programme.
Meanwhile, 7,867 of the 8,902 communes had finished criteria on rural trade infrastructure, surpassing the target assigned by the Government by 18.4 percent and the ministry's goal by 38.4 percent.
However, the ministry also pointed to a number of problems in realizing the two targets.
During the implementation of power supply work, problems included unequal distribution, loss and uninsured supply quality as well as complicated problems in high-voltage networks.
For rural trade infrastructure, capital demand for market building was high while local budgets remained limited, that is why sourcing funding faced many difficulties.
According to the ministry, activities to encourage industrial development, trade promotion and science-technology application had been supported by the programme.
Deputy Minister of Industry and Trade Cao Quoc Hung said that in order to complete the ministry's target following 2020, the sector would need to continue enhancing the quality of building new-style rural areas, while strengthening communications to raise public awareness of the significance of the programme.
Local Departments of Industry and Trade should coordinate with ministry agencies to supervise the implementation of the two areas, while collecting ideas and proposals to adjust regulations to suit specific localities, he said.
He also stressed the need for businesses and cooperatives to be supported in developing production and expanding markets, forming supply chains, creating more jobs and improving incomes for locals./.
Defensive military drills in Hanoi end
Hanoi`s military drills improve the municipal authority`s leadership and management capacities, as well as advisory role of departments, branches and the armed forces garrisoned in the city.
Hanoi's military drills in 2019 have successfully finished on September 30, local media reported.
The drills demonstrated Hanoi authority's attention in building a defensive area and contributing to a strong national defense.

Besides, the exercises improves the municipal authority's leadership and management capacities, as well as the advisory role of departments, branches and the armed forces garrisoned in the city.
Speaking at the closing ceremony, Secretary of the Hanoi Party Committee Hoang Trung Hai acknowledged and praised the sense of responsibility of the local departments, branches and people for overcoming difficulties and contributing to the success of Hanoi's military drills in 2019.
Hai thanked the Ministry of Defense for supporting Hanoi in the process of preparing, training and conducting the exercises to achieve good results.
The Steering Committee of the drills in 2019 and the participants also gained more experience in leadership, plan making, mechanism operating and drill conducting in peacetime, Hai said.
He added that this is the basis for building and strengthening the defensive capacity of the Hanoi.
In addition to the achieved results, Hai stressed that in the process of preparing and conducting the drills, shortcomings have emerged and need to be addressed.
Thus, the secretary of the Hanoi Party Committee requested the city's departments and agencies to supplement and complete the operational plan to make it more practical and suitable to the capacities of Hanoi's bodies and localities.
Dreadful wrongdoings in Electric Power University and HCMC University of Law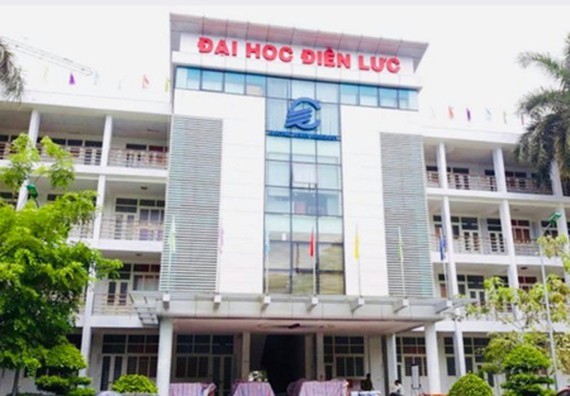 Wrongdoings were discovered in Electric Power University
Inspectors from the Ministry of Education and Training (MOET) has just announced the result of their inspection on the entrance examination, training management, and degree management in Electric Power University as well as the assignment task in the Ho Chi Minh City (HCMC) University of Law.
Accordingly, Electric Power University continuously exceeded the approved admission targets by MOET in the two years of 2013 (by 43.4 percent) and 2014 (by 12.2 percent). A random check on 222 current students who entered this university in 2013 showed that 140 of them had the unacceptable entrance examination grades of below average, 47 of whom were classified as training for the demand of the society and 7 had no admission data.
In addition, this university violated Clause No.1 of Article No.4 in the Law on University Education as it based its classes for freshmen of the 2014 cohort in Hong Lam Technology Economics College, located in Nghe An Province.
One more wrongdoing of Electric Power University comes from its end-term examination and teaching assignment procedure. The university does not clearly regulate the location for writing papers, nor does it show fairness in assigning classes for the teaching staff, leading to the fact that certain lecturers have to endure the workload 5 times as heavy as the rule set by MOET.
The marking procedure in this university is also troublesome because lecturers were allowed to bring test-papers home for marking. Since the second semester of the academic year of 2017-2018, lecturers have been required to carry out this task on-site and chaired by its Department of Examination and Quality Management, yet the administration is quite loose, and thus the grade of many papers were illegally raised.
The last mistake is that Electric Power University does not destroy blank degree and certificate template after completing the printing task as regulated. It also does not publicize necessary information on degree and certificate receivers on its official website.
Therefore, inspectors from the Ministry of Education and Training have proposed that Electric Power University immediately carry our proper solutions to amend the situation, focusing first on correcting inappropriate training, examination, and qualification management regulations. The university is requested to re-check all grades of the entrance examination in the two years of 2013 and 2014 and list any students who had below-standard ones or students who are classified as training for the demand of the society.
Suitable methods to deal with these special cases such as forcefully terminating studying and withdrawing qualification must be prepared by the university to submit to the Higher Education Department under MOET by November 30, 2019. Simultaneously, the university has to perform disciplinary actions on those violating the law.
MOET inspectors ask that the Ministry of Industry and Trade deliver specific instruction for Electric Power University to correct any possible mistakes happening with cohorts 2013 and 2014; follow all actions given by MOET inspectors in accordance with current rules; and punish all individuals or organizations under the responsibility of this ministry who are working in Electric Power University.
Headmaster of the university reported that on March 4, 2019, he already reproved and then transferred Vu Duy Thuan, former Dean of the Automation and Control Department, to another position. Similarly, on August 29, 2019, Vu Van Dinh, former Head of the Department of Examination and Quality Management, were punished and terminated from his current position.
Inspectors from MOET on September 30, 2019 released another report about their inspection on the employment task of the HCMC University of Law. Accordingly, this university did not perform any evaluation on its officers properly before assigning them to new positions, 4 cases of which did not even meet the regulated criteria.
Furthermore, as to the financial aspect, it has not publicly announced the balance of income and expense. The most worrying incident is the insufficient and untimely accounting preparation for the school fee of VND 29 billion (US$1.25 million) paid by part-time students retaking courses from 2014 to 2017; the unclear booking for the general management fee of VND3.4 billion ($146,140); the loose administration of its cash fund. Noticeably, Ms. Mai Quoc Thu Trang, treasurer of the HCMC University of Law, used her personal bank account to receive money from individuals and organizations working with this university. This has posed a threat of fund insecurity and made the public concerned.
Therefore, MOET inspectors proposed that the HCMC University of Law use extra books kept by related banks to re-check and collect possible interest from the money sent by all individuals and organizations who are working with the university to Ms. Trang's personal bank account.
Illegal actions were also found in the university admission task. As stated by MOET inspectors, it is illogical to ask students of the master course to join in review sessions after the entrance examination has happened. What is more, certain students do not meet the foreign language criteria when submitting language certificates issued by this university. In addition, the cooperation between the university and 14 units to perform entrance examination for the master course in 40 locations outside the campus absolutely violates the regulation. In the two years of 2016 and 2017, the HCMC University of Law continuously exceeded the approved admission targets by 52.5 percent and 43.6 percent respectively.
Seriously, in the three years from 2014, this university organized classes for 1,306 part-time students without the permission of MOET. Nor does it acquire proper approval of MOET when collaborating with VASS to hold review classes or language examinations.
MOET inspectors ask that the university re-check all assignment and employment decisions to amend the situation and meet all requirements of the Law on University Education. This university is also requested to handle all debts or advance payment while re-checking related documents for the expense of VND24.1 billion ($1.04 million) for professional activities and VND1.4 billion ($60,159) for general activities as well as the unclear sum of VND3.4 billion ($146,140). If unable to present appropriate documents, these amounts must be submitted to the National Treasury.
Finally, the university is demanded to punish all individuals and organizations that break the law, and then send a report to MOET before November 30.
Burden of health care-associated infection: Health Minister 
Health care-associated infections are a leading cause threatening inpatients' safety, said Health Minister Dr. Nguyen Thi Kim Tien at a yesterday conference about controlling hospital-acquired infections in hospitals' Anesthesiology unit and Intensive care unit.
Moreover, the health minister pointed out that hospital-acquired infections not only bring additional medical cost to the patients but also prolong the length of stay and increase patient mortality; accordingly, it is also cause of patient overload.
According to a survey of 558 hospitals carried out in 2019, 46 percent of Anesthesiology units use properly sterilized or disinfected medical equipment and 11 percent of departments don't' follow hygiene practices.
Worse, relatives stay in the room to look after patients in intensive care units (accounting for 30 percent)
Ms. Tien worried because of high hospital-associated infections. Additionally, hospital managers have not been fully aware of significance of the problem; hence, controlling of hospital-associated infections is not effective. Hand washing should be the cornerstone of reducing hospital-associated infections.
According to the World Health Organization, hospital-associated infections makes up 5 percent in developed countries while it is from 5.7 percent to 19.1 percent in middle-low and low income countries.
The conference was organized by the Ministry of Health and the World Health Organization yesterday in Hanoi.
Over 100 Canadian institutions to join education fairs in Vietnam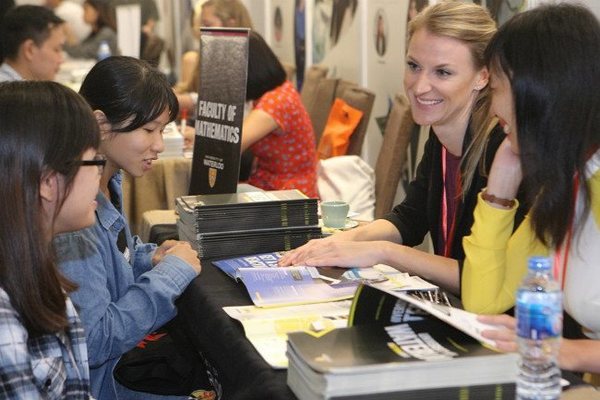 Participating students will have a chance to meet with Canada's leading institutions at the 2019 EduCanada Fairs - PHOTO: COURTESY OF ORGANIZER
One hundred and twenty Canadian institutions will participate in a series of education fairs in major cities of Vietnam from October 16 to 20, the Consulate General of Canada in HCMC has announced.
The 2019 EduCanada Fairs will take place at the Novotel Hotel in Danang on October 16, the Melia Hotel in Hanoi on October 19, and GEM Center in HCMC on October 20.
Students visiting the fairs will have the opportunity to meet with many of Canada's leading institutions such as University of British Columbia, Dalhousie University, Queen's University, University of Victoria, University of Alberta, Concordia University, University of Manitoba, University of Saskatchewan, and University of New Brunswick.
They will learn about Canada's education system, scholarships, the visa application process, work opportunities after graduation, and experiences from Canadian alumni.
Visitors will also be able to attend seminars on student visas and studying in Canada delivered by officials from the Consulate General of Canada.
Besides, Canada will host the first edition of EduCanada Art + Design Workshops at The Reverie Saigon Hotel in HCMC on October 26 and the Melia Hotel in Hanoi on October 27.
These free-admission events are open to all creative art and design lovers looking to engage with top Canadian art and design specialized schools like OCAD University, NASCAD University, Vancouver Film School and Toronto Film School.
Highlights of the events include a series of interactive workshops on animation, game design and portfolio development with Canada's award-winning artists and lecturers, one-on-one consultation with Canadian institutions about their programs, and portfolio review sessions where students share their work with Canadian institutions to receive useful feedback.
For the detailed programs and list of participating institutions, visit www.giaoduccanada.org or www.facebook.com/giaoduccanada.org/.
In 2018, for the first time, Canada hosted over 720,000 students from around the world with more than 20,330 from Vietnam. This huge growth of 46% compared to 2017 demonstrates that Vietnamese students and parents recognize Canada as one of the safest, most welcoming and multicultural study destinations in the world.
Vietnamese citizens to pay no fees for short-term S.Korean visas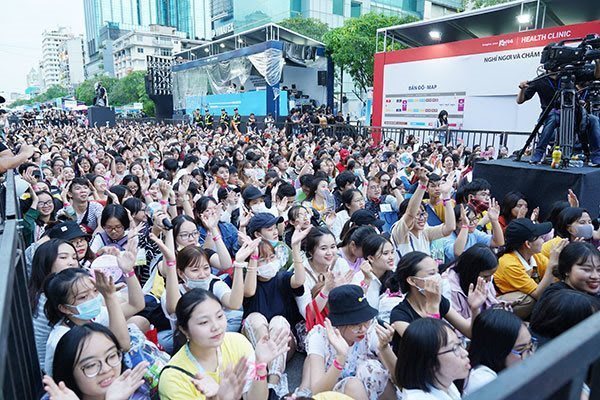 Nguyen Hue Pedestrian Square crowded with visitors at the 2019 Korea Tourism and Culture Festival, which took place on September 28 and 29. Vietnamese tourists are exempt from fees when they apply for a short-term entry visa to South Korea from October 1 to December 31 – PHOTO: KTO VIETNAM
Vietnamese tourists are exempt from fees when they apply for a short-term entry visa to South Korea from October 1 to December 31.
The application fee remains fixed at VND390,000.
According to the Korea Visa Application Center in HCMC, apart from Vietnamese nationals, citizens from nine other countries in the ASEAN region are also subject to the fee exemption.
The move is expected to increase the number of tourist arrivals from ASEAN countries to South Korea, especially during the South Korea-ASEAN summit, which is set to take place next month.
The South Korean Ministry of Justice said that the short-term visa (C-3) allows applicants to stay in the country for three months, for the purposes of tourism, transit, visits to relatives and participation in conferences or festivals. It can also be used by ASEAN nationals to seek treatment at healthcare facilities in South Korea.
Vietnam ranks seventh among the 10 largest source markets of the South Korean tourism industry.
Between January and September this year, an estimated 409,000 Vietnamese visited South Korea, up 25% year-on-year, according to the Korea Tourism Organization in Vietnam. The figure is forecast to reach 585,000 in late 2019, edging up by 125,000 against last year.
Hue to be expanded five-fold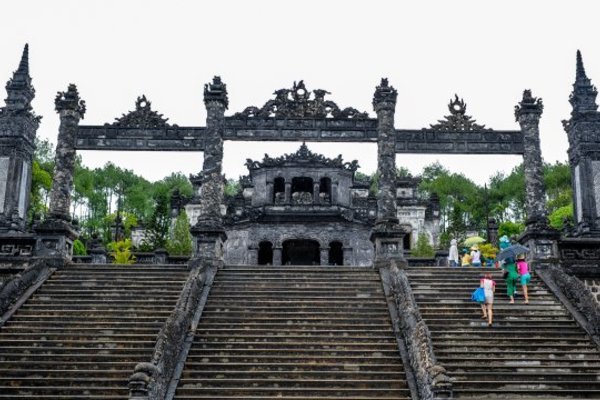 Authorities in the central province of Thua Thien Hue have approved the city of Hue's urban development plan towards 2030 and local adjustments to the city's general planning towards 2030, with a vision to 2050.
Hue will be expanded towards the sea and along the Huong (Perfume) River in the 2025-2030 period, increasing five-fold to 348.54 sq km from the current 70.76 sq km, including the existing area of the city and Huong Thuy and Huong Tra towns and parts of Phu Vang district.
The An Duong new urban area in Phu Vang district will become the central urban zone and there will be four sub-urban areas: Huong Thuy, Huong Tra, Thuan An, and Binh Dien. Infrastructure and many roads will be built inside the urban area.
Vietnam's imperial capital from 1802 to 1945, Hue is one of the smallest cities in the country. Its current area is too small and its population density is 5,029 people per sq km compared to the regulated level of 2,000 people.
One of the leading tourism destinations in the country, the number of visitors to Hue has been increasing in recent years, which has added pressure on local infrastructure in the city center, which is overloaded and far from meeting the requirements of urbanization.
The expansion is therefore necessary to develop the former capital into a centrally-governed heritage urban city with a diversified terrain of seas, mountains, rivers and lagoons, according to Mr. Phan Ngoc Tho, Chairman of the Thua Thien Hue Provincial People's Committee.
The expansion is also expected to help promote heritage and culture tourism as well as ecological services in green sustainable development that targets tourism as the economic spearhead.
Survey on socio-economic situation of ethnic minority group launched
Communal staff survey an ethnic minority household in Xuân Quang Commune, Tuyên Quang Province's Chiêm Hóa District on Tuesday.
A survey on the socio-economic situation of Việt Nam's 53 ethnic minority groups started on Tuesday, announced the General Statistics Office (GSO).
The survey aims to collect information on population size, income, socio-economic and housing conditions of ethnic minority households to reflect the socio-economic status of 53 ethnic groups, to compile statistical indicators serving the making of policies on socio-economic development for ethnic minority areas in 2021-25.
It will also serve as a basis to update statistical information and data on ethnic minorities in Việt Nam.
The survey will be conducted at 54 provinces and cities including 51 provinces with ethnic minority and mountainous communes and three localities with many ethnic minorities, namely HCM City, andy Long An and Bình Dương provinces.
The survey includes household and commune questionnaires.
The household questionnaire covers general information about population; information on the birth history of adolescent females aged 10-14 and women aged 15-49 years and on housing and living conditions of the household as well as access to public services.
The commune questionnaire consists of information on the usage of electricity, roads, schools, health care, environmental hygiene and the intellectual standards of communal administration's staff.
According to the GSO, the survey is a sampling survey, which aims to ensure representation of some demographic indicators of all ethnic groups as well as each ethnic groups in one district. A full survey will be conducted for ethnic minority groups with a population of less than 10,000 people.
This is the second time the agency has worked with the Committee for Ethnic Minority Affairs to perform such a survey. The previous survey was implemented in August 2015.
The survey is expected to be complete by the end of this month and the results will be announced in June next year.
To ensure its effectiveness, the GSO has worked with the Committee for Ethnic Minority Affairs to launch a dissemination campaign to provide information on the purpose, meaning, and basic contents of the survey.
Kangaroo Care method reduces risks to premature babies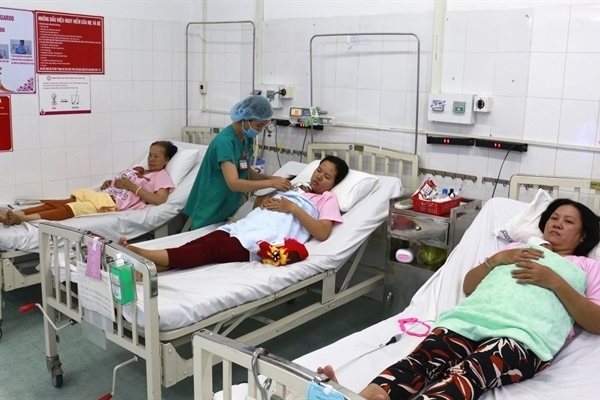 The Kangaroo Care method of holding a baby to the bare chest of caretakers has helped reduce the mortality rate of premature newborns at the Obstetrics Hospital of Cần Thơ City.
A method that involves parents holding their babies to their bare chests has helped triplets born prematurely at the Obstetrics Hospital of Cần Thơ City gain weight and survive.
The Kangaroo Care method allows for warm skin-to-skin contact which helps maintain body temperature, respiration and digestion.
Dr Nguyễn Thị Ngọc Hà, deputy head of the hospital's Neonatal Department, on Monday told Việt Nam News Agency that the babies, including one girl and two boys, were born via vaginal birth after 27 weeks of pregnancy on September 5. They weighed 1,100 grammes, 1,240 grammes and 1,200 grammes.
Babies born prematurely and at such a low weight face risks such as respiratory failure, low blood glucose, neonatal infection and others, according to Hà.
Initially, the hospital's doctors used various methods including continuous nasal positive airway pressure before taking the babies to the hospital's neonatal intensive care unit. Their respiration improved two days after treatment.
After that, the newborns were taken to their mother's room where doctors gave instructions in the Kangaroo Care method to their parents and grandparents.
The method improved the immunity of the babies, which were fed breast milk. The babies are now at a reasonable weight.
The hospital uses the Kangaroo Care method for premature babies as soon as possible after birth, according to Hà.
This method helped raise the survival rate of premature babies with low weight, she said. Doctors recommend the use of the Kangaroo Method until the children are nine months and 10 days old.
Many obstetrics hospitals in the country have been using this method in an aim to reduce the neonatal mortality rate. Fifty per cent of all deaths in Việt Nam are from premature births.
Premature newborns are born with immature organs, which lead to a high risk of mortality and difficulty adapting to the environment.
Each year, more than 10,000 neonatal deaths occur in the country, according to UNICEF Việt Nam.
In 1997, Từ Dũ Obstetrics Hospital in HCM City set up a unit called Kangaroo Mother Care which has been used for more than 10,000 premature babies. This kind of care was initiated in 1978 by doctors in Colombia to solve a shortage of incubators. However, many countries, including developed countries, began to use it later.
Vietnamese history, development achievements introduced in Argentina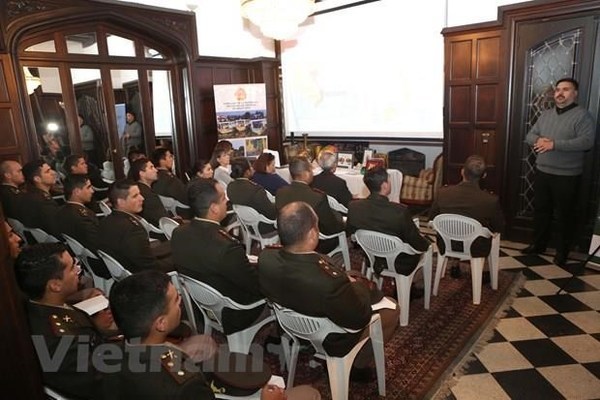 Overview of the event
The Vietnamese Embassy in Argentina and the Argentina-Vietnam Culture Institute (ICAV) on October 1 held a talk with trainees of Argentina's National Defence College about the history of the past national liberation struggle and current construction and development of Vietnam.
ICAV Vice President Ezequiel Ramonneda, who is also an expert of Vietnam and Southeast Asia, briefed participants on the history, nation, people and culture of Vietnam.
He highlighted the milestone of the Vietnam's revolution in August 1945 when the Vietnamese people, under the leadership of the Communist Party of Vietnam and President Ho Chi Minh, successfully regained the government.
On September 2, 1945, President Ho Chi Minh read the Declaration of Independence, marking the establishment of the Democratic Republic of Vietnam and opening a new development period for the nation, he noted.
Ramoneda also underlined the strength from the desire for peace, patriotism and solidarity of Vietnamese people.
He said that after national reunification, Vietnam has recorded great achievements in overcoming war aftermaths and developing the economy, especially after applying the "Doi moi" (reform) policy and driving development towards industrialisation and modernisation.
Meanwhile, Ambassador Dang Xuan Dung reviewed Vietnam-Argentina relations over the past 45 years, affirming that the ties have been expanded in many areas, especially after they upgraded the bilateral relationship to comprehensive partnership in 2010.
The two sides have made regular delegation exchanges, while signing various agreements in many areas, thus raising two-way trade to nearly 3 billion USD in 2018, he said.
The ambassador held that there is much room for both sides to further develop their partnership in the future.
During the programme, a number of documentary films on Vietnam's struggle for liberation as well as the image of Vietnam during the reform period and socio-economic achievements of the country were screened./.
Hai Duong strives to foster international integration
The northern province of Hai Duong has made drastic efforts to accelerate international integration in recent years.
From 2014 – 2018, the Red River Delta province attracted 180 foreign direct investment (FDI) projects, worth a total of more than 1.3 billion USD.
Most of the province's districts have at least an industrial park or cluster that gathers a large number of manufacturers. A majority of FDI firms are located in Hai Duong city, Chi Linh and Kinh Mon districts. The province has also restored and maintained operation of 35 craft villages to create jobs for the locals.
Hai Duong has posted annual export growth over the last six years. From 2013 – 2018, the province's export revenue totalled 28.3 billion USD, representing an average growth of 15.3 percent annually, while imports grew at an average pace of 16.5 percent per year to total 25.6 billion USD.
Statistics from the Ministry of Planning and Investment's Foreign Investment Agency show that the province lured 450 million USD in FDI in the first half of this year, ranking 10th among the 46 localities that received FDI in the period.
Of the total, 326 million USD came from 38 newly licensed projects while the remainder was added to 14 projects already in operation.
As of June this year, Hai Duong was home to 438 foreign-invested projects with capital totalling more than 8.15 billion USD, retaining its position as one of the top ten localities in the country in terms of attracting foreign capital.
Since 2013, Hai Duong has hosted 12 dialogues between the provincial government and enterprises, particularly startup businesses, to learn about and help them tackle difficulties. The province has also organised 109 trade fairs and exhibitions both at home and overseas to promote its products and services.
It has focused more on applying advanced techniques and technology as well as new varieties, innovative practices and preservation methods in agriculture. A number of its agricultural products have reached international standards and been permitted to export to strict markets like the United States and Japan.
However, several challenges remain in multiple areas, hindering the province's international integration efforts. Infrastructure development has failed to keep up with local economic growth while there has been insufficient funding for expanding hi-tech agriculture.
Plus, the province has yet to develop a college, university or an international cooperation model capable of providing skillful manpower that satisfies requirements for international integration. There has been a lack of specific and effective activities to promote export-import and trade in the agriculture sector while many local companies remain inactive in international integration./.
Hai Duong aims to upgrade IT infrastructure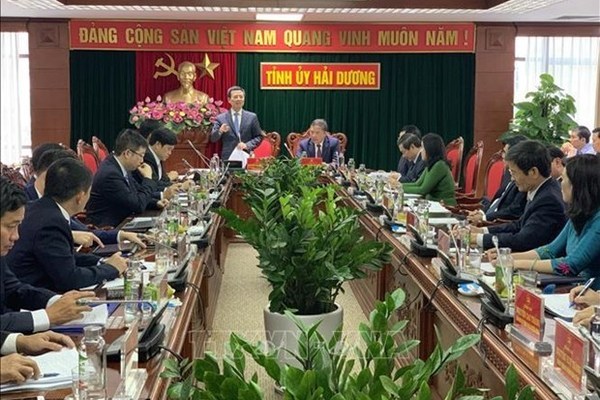 At the working session
Hai Duong should focus on developing telecom and IT infrastructure to serve the development of e-Government, e-commerce and digital economy, Minister of Information and Communications Nguyen Manh Hung said on October 1.
At a working session with leaders of the Red River Delta province, Hung, who is also deputy head of the Party Central Committee's Information and Education Commission, asked the local Department of Information and Communications to survey the areas that have demand for 5G services and devise plans to call for investment from experienced telecom firms and major investors.
Apart from attracting external resources, Hai Duong needs to develop local businesses in the field, the official suggested, adding that the department should also design plans and strategies on IT and telecom development to direct the flow of investment.
The Ministry of Information and Communications will send experts and experienced officials to Hai Duong to help the province in this field, the minister pledged.
At the meeting, representatives of some telecom firms like Viettel, VNPT, Mobiphone and Misa JSC talked about obstacles that they face in building IT infrastructure in Hai Duong and made suggestions about how to address them.
They also promised to accompany Hai Duong in telecom infrastructure building in the coming time.
According to Nguyen Cao Thang, Director of the provincial Department of Information and Communications, Hai Duong jumped seven places to rank 19th out of 63 cities and provinces in the Vietnam ICT Index 2019./.
Khanh Hoa welcomes over 5.6 million visitors in 9 months
The central coastal province of Khanh Hoa served more than 5.6 million holiday-makers between January and September, reeling in 32 trillion VND (1.38 billion USD) in total.
The number of visitors showed an annual increase of 16 percent, of whom around half were foreigners. On average, visitors often spend about 3 days in the province.
As a result, local accommodation facilities' earnings surpassed 20 trillion VND during the review period.
A coastline of 180 kilometres, stunning natural landscapes with Van Phong, Nha Trang and Cam Ranh bays listed among the world's most beautiful, and unique local events such as Ponagar Temple festival, whale worshipping festival, and Salanganes festival, are advantages for Khanh Hoa to develop tourism.
The province houses about 680 accommodation facilities, with 31,700 rooms.
This year, as host of the National Tourism Year 2019 and Nha Trang Beach Festival, it aims at welcoming 6.8 million tourists, including 3.3 million foreigners.
Khanh Hoa will be the site of several major events in the last three months of this year, including the finals of the 2019 Miss Universe Vietnam, and the Hong Kong-Nha Trang yacht race./.
Bắc Giang improves roads in rural areas
The northern province of Bắc Giang has concreted more than 4,000km of road in rural areas in the past two years.
Funding for the work came from the provincial budget and local people.
Ngô Quang Ngơn, who lives in Giành Cũ Village, Quý Sơn Commune, Lục Ngạn District, said that earlier, roads in the area were narrow, just more than 2m wide and slippery.
In harvest season, farmers struggled to transport their products.
Then Quý Sơn People's Committee announced it would provide cement, and local residents agreed to help concrete the roads. Now roads in the village are about 4m in width and easy to travel on.
Nguyễn Văn Hải, head of the Lục Ngạn Economy and Infrastructure Division, said during the past two years, people in Lục Ngạn District had contributed about VNĐ300 billion (US$13,000) and donated more than 78,120sq.m of land to widen roads.
The campaign is not only seen in Lục Ngạn District, but also other districts like Lạng Giang, Yên Thế, Hiệp Hòa and Việt Yên.
Nguyễn Văn Sỹ, deputy chairman of the Lạng Giang District People's Committee, said if a road was about 3.5-4m in width the committee would provide VNĐ100 million ($4,300) per kilometre. If a road was about 4.5m or more in width, the committee would offer VNĐ200 million ($8,600) per kilometre.
The repaired roads play an important role in developing the economy in the area, he said.
Hoàng Văn Thanh, deputy director of the Bắc Giang Department of Transport, said the roads also helped reduce traffic accidents.
Statistics of the provincial traffic safety committee showed that in the first nine months this year, traffic accidents in the province reduced in terms of the number of incidents, deaths and injuries.
Total funding for concreting roads in rural areas in Bắc Giang Province in the past two years was more than VNĐ2.4 trillion ($104.7 million). Nearly half of the funds were contributed by local residents including their land and working days to repair the roads. The remaining was from provincial, district and communal budgets.
Hai Duong shows strong performance in new-style rural building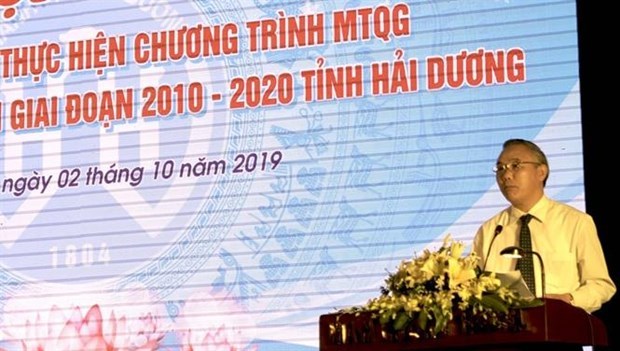 Deputy Minister of Agriculture and Rural Development Phung Duc Tien addresses the cconference (Photo: https://nongnghiep.vn)
The northern province of Hai Duong had recorded impressive results in new-style rural area building between 2010-2019, according to Deputy Minister of Agriculture and Rural Development Phung Duc Tien.
Speaking at a conference to review the 10 years implementing the new-style rural area building in Hai Duong on October 2, the official noted that as of September this year, 190 out of the 220 communes in Hai Duong had been recognized as new-style rural areas, reaching 96.3 percent.
A further 11 communes, three districts and a city are expected to receive the same recognition by the end of this year.
Average per capita income in rural areas has reached 42.8 million VND (???USD) annually, up 14.2 million compared to 2015. Meanwhile, the rate of poor households has dropped to 2.53 percent, while 91 percent of locals have health insurance, up 15 percent over 2015.
Since 2010, Hai Duong has mobilized over 44.4 trillion VND for the programme.
Hai Duong is striving to finish new-style rural area building in 2021. The locality expects 20 percent of its communes to berecognised as advanced rural areas in 2025, together with 10 percent becoming model rural areas, with per capita income reaching 55 million VND per year and the poverty ratio brought down to under 1 percent.
Deputy Minister Tien advised Hai Duong to focus on reforming its growth model and developing clean and organic agriculture, while continuing implementing the "One Commune-One Product" programme, and forming rural tourism products.
The province should also look at improving rural socio-economic infrastructure in line with urban development, enhancing the quality of healthcare and education services, and protecting the environment, he said.
Chairman of the People's Committee of Hai Duong Nguyen Duong Thai said that in the future, the province will strengthen communication to enhance public awareness of the new-style rural area building programme, while focusing on building advanced and model rural areas.
The province will also speed up the reform of the agricultural structure and IT application in production, and optimise resources for the programme, he added.
On the occasion, the committee honoured individuals and collectives with outstanding achievements in the programme in the 2010-2020 period./.
Southeast Asian universities seek ways to foster ties in HR development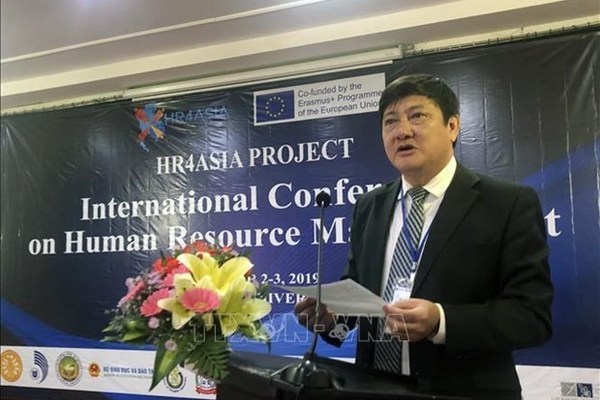 Rector of Quy Nhon University Do Ngoc My at the event
An international conference on human resources management of universities in the world was held in Quy Nhon University in the south central province of Binh Dinh on October 2.
The event drew representatives from the Ministry of Education and Training as well as universities and organisation from seven Southeast Asian and European countries covered by a project funded by the European Commission.
Quy Nhon University and Da Nang University are two Vietnamese representatives at the conference.
Participants at the event shared their knowledge and experience related to human resources management and sought measures to foster their cooperation in the field.
At the conference, delegates held that the socio-economic development process and globalisation are affecting the management of human resources in tertiary education around the world.
In the Southeast Asian region, the human resources system has been affected by many factors, including the quality of human recourses at university level, State budget for education, demand of the labour market and the society, management mechanism, and approach to tertiary education.
Therefore, it is necessary to improve the human resources strategy in universities in Southeast Asian region, thus becoming more self-reliant in human resources matters, they said.
Experience shared at the event will provide participants more references in building their human resources, meeting the demand of their university.
On the occasion, seven universities in Southeast Asia signed a memorandum of understanding on the establishment of a network for the management and development of human resources./.
Exhibition gives insight into changes in Hanoi's administrative boundary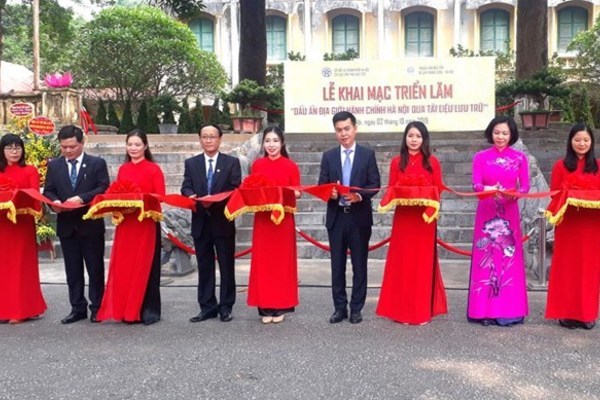 At the opening ceremony (Photo: hanoimoi.com.vn)
An exhibition of archival materials on the changes in Hanoi's administrative boundary since the feudal period to now was opened at the relic site of the Imperial Citadel of Thang Long on October 2.
The event, which runs until October 15, is an activity to mark the 65th anniversary of the liberation of the capital from French colonialists (October 10, 1954-2019).
A total of 88 documents, maps and photos are on display, arranged in three periods, showing the administrative boundary of Hanoi before the August Revolution in 1945, during the time from 1945 to 1954, and after 1954.
As of 1945, Hanoi had a total area of 150 sq.km. The French colonial regime divided Hanoi into the urban and suburban areas. The urban area comprised of 8 sections, while the suburban area was divided into 8 "tong" (districts) with 36 communes.
During 1954-2010, Hanoi's administrative boundary underwent four major adjustments in 1961, 1978, 1991 and 2008. Hanoi's boundary was expanded in 1961 and 1978, but narrowed in 1991 before being broadened on a much larger scale in 2008.
The expansion of administrative boundary carried out under the 12th National Assembly's Resolution 15/2008/QH12 in 2008 was a historic event with long-term and comprehensive impacts and influence on the capital city's political, economic and social situation.
After merging with the whole neighbouring Ha Tay province, Me Linh district of Vinh Phuc province and four communes of Luong Son district, Hoa Binh province, the current Hanoi stretches over 3,328 sq.km, tripling the former acreage. The city has 577 communes, districts and townships of 29 districts and towns./.
VOV launches representative office in Indonesia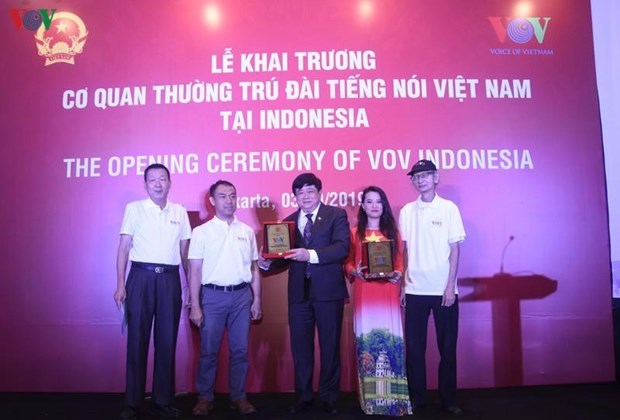 At the inauguration ceremony
The Voice of Vietnam (VOV) on October 3 launched its representative office in Indonesia (VOV Indonesia), marking its 12th overseas bureau alongside those in Russia, China, Japan, France, the US, Thailand, Egypt, Laos, Cambodia, Australia and Czech Republic.
In his opening remarks, VOV General Director Nguyen The Ky said Vietnam and Indonesia have boasted a long-standing relationship which is a foundation for the development of strategic partnership between the two sides over years.
The opening of a VOV bureau in Indonesia will help further spread news about Vietnam and Indonesia and contribute to efforts of the press from both countries to promote the bilateral strategic ties, Ky said.
Vietnamese Ambassador to Indonesia Pham Quang Vinh said similarities between the two countries in culture, history and points of view at regional and international forums lay an important foundation for their strategic partnership.
The launch of the VOV Indonesia is a new step forward in the bilateral relations, contributing to further disseminating information about the Vietnam – Indonesia ties, ASEAN and regional cooperation, he said.
The VOV Indonesia is assigned to update news about activities of the ASEAN Secretariat and the Vietnamese permanent mission to ASEAN as well as the Vietnamese community in Indonesia and situation of other regional countries, Ky told the Vietnam News Agency.
He revealed that the VOV plans to open another representative office in India in early 2020./.
Hanoi invests big in developing ethnic areas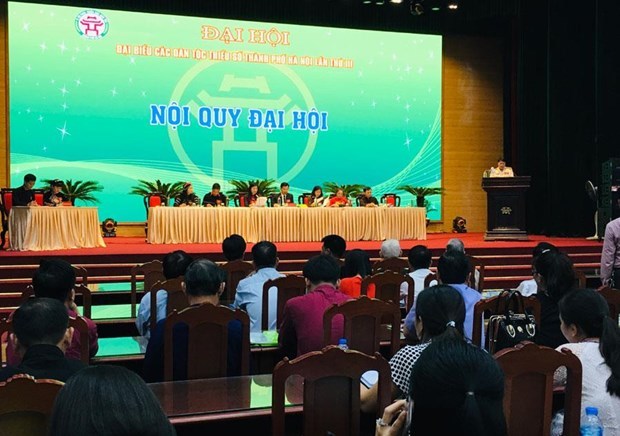 At the third congress of ethnic minority groups in Hanoi (Photo: hanoimoi.com.vn)
Hanoi has consistently implemented the policy of allocating large amount of resources to the development of mountainous and ethnic minority areas in the city towards narrowing the gap between those areas and other localities, it was reported at a conference on October 3.
The third congress of ethnic minority groups in Hanoi, which took place on October 2 and 3, heard that in the capital's investment plans both yearly and medium-term, the municipal authority has always given priority to building infrastructure facilities in the 14 communes with large communities of ethnic minority people. Those facilities are schools, medical stations, clean water supply systems, cultural houses, irrigation systems, rural roads, electricity grids and markets.
During 2013-2015, the city allocated 837.5 billion VND (36.2 million USD at current exchange rate) to 105 such projects, of which 99 projects were completed in 2015 and the remaining five in 2016.
In 2016, the municipal People's Committee issued a resolution on the medium-term investment plan for 2016-2020, allocating 1 trillion VND to 69 projects in socio-economic development projects in mountainous and ethnic minority areas during the five-year period. The projects cover health care, transport, education and irrigation. By now the municipal budget has disbursed 850 billion VND for the projects.
Besides the investment, the city also undertook a policy on providing direct support to poor ethnic people. Since 2014 to now, the Bank for Social Policies has lent over 214.2 billion VND to ethnic minority households living under or just above the poverty line and poor students.
The ethnic minority population of Hanoi totals 107,847, with 57.7 percent from the Muong group, 17.8 percent Tay, 6.6 percent Thai, 5.85 percent Nung, 4.32 percent Thai and the remainder from 45 other ethnic groups. About 55,000 people, or 51 percent of the ethnic minority population, live in big communities in 14 communes of 5 districts, while the others are scattered in all 30 districts of the city.
Hailing the achievements made by the municipal Party committee and administration as well as the ethnic minority people in the city, Chairman of the municipal People's Committee Nguyen Duc Chung pointed to the outstanding problems facing the ethnic areas. He said the economic growth rate in those areas remains low, the economic restructuring process is slow and unstable, and their potential in agri-forestry-husbandry is yet to be fully tapped. Besides, the authorities in some localities remain passive, tending to rely on outside support.
The official urged Party committees, authorities and people to work harder in carrying out the Party's policies and State laws concerning socio-economic development and poverty reduction. He called attention to the preservation of the cultural identity of ethnic minority groups.
The congress agreed that efforts should be made to mobilises resources from all sources for socio-economic development in ethnic minority areas towards lifting the development level of those areas to the average in the city's rural communes.
Mountainous communes with large ethnic minority communities will aim to maintain an average economic growth rate of over 12 percent a year from now to 2024, and increase per capita income by more than 20 percent a year to match the average level in rural areas in the same year.
Other goals are to have at least 90 percent of schools in those communes meet national standards, at least 60 percent of the local workforce get training, and 100 percent of local households access clean water meeting urban standards.
In a speech at the congress, Minister-Chairman of the Committee for Ethnic Minority Affairs Do Van Chien affirmed that the entire political system has invested greatly in the comprehensive development of mountainous and ethnic minority areas.
He asked the congress to discuss ways to fully tap the potential and advantages of mountainous and ethnic areas in Hanoi towards creating new livelihoods and production chains, suggesting the use of suitable mechanisms and incentives on land, vocational training, credit and market./.
Vietnam among world's fastest aging countries
Vietnam is facing challenges as it is one of the 10 fastest-aging countries, according to recent statistics.
It is forecast that it will take no more than two decades for Vietnam to raise the rate of people aged 65 and above to 14 percent from 7 percent.
Since 2007, the country has entered a golden population period that generates abundant workforce for 2010 – 2020 economic growth.
As of the late 2017, there were 11 million senior citizens nationwide, accounting for about 11.95 percent of the total population, roughly 2 million of them aged above 80.
Vietnam is predicted to enter aging population period by 2035 with some 21 million old people who make up 20 percent and 25 percent of the total population by 2038 and 2049, respectively.
Deputy Minister of Labour, Invalids and Social Affairs Nguyen Thi Ha said Vietnam's average life span rose from 68.6 in 1999 to 73.2 in 2014, which is forecast to rise to 78 by 2030. Moreover, 70 percent of the elderly still work for a living.
Prof. Nguyen Dinh Cu from the National Economics University's Institute for Population and Social Affairs suggested developing social welfare services and issuing public-private partnership mechanism in the field.
Nguyen Ngoc Quynh from the United Nations Population Fund said aging population offers opportunities to health care services designed for the elderly.
Meanwhile, chief of the Office of the Vietnam National Committee on Aging highlighted the need to create favourable conditions for old people to access credit for business./.
Over 2,000 helmets presented to Thai Nguyen's pupils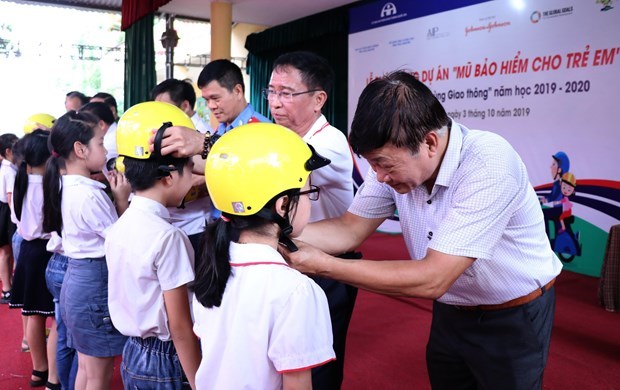 As many as 2,275 standard helmets were presented to pupils of the northern province of Thai Nguyen at a ceremony at Gia Sang Primary School on October 3.
The event was part of the project "Helmet for children", which has been implemented in many schools nationwide, in response to a campaign on traffic safety launched by the National Committee for Traffic Safety in 2019.
Jointly organised by the provincial Committee for Traffic Safety, the provincial Department of Education and Training, the Asia Injury Prevention (AIP) Foundation, the event aims to popularise knowledge and laws on traffic safety.
In the framework of the event, pupils were instructed to wear helmets properly and join a contest on traffic safety.
Initiated in 2012, the project "Helmet for children" have benefited 74 primary schools in the seven provinces of Dong Nai, Ha Tinh, Quang Binh, Quang Nam, Gia Lai, Yen Bai and Thai Nguyen. So far, over 63,000 standard helmets have been given to pupils in these provinces. As a result, the rate of pupils wearing helmets in the beneficiary schools increased from 28.53 percent to 89.22 percent in 2019.
The project helps to raise awareness of pupils and teachers of the importance of wearing standard helmets, and protecting children from traffic-related dangers.
In Vietnam, the numbers of traffic accidents, deaths and injured people still remain high though they have declined in recent years.
Although the adherence to the helmet wearing rule has been improved among adults, the rate among children is still low./. 
Photo book featuring beauty of Vietnam's sea, islands to be released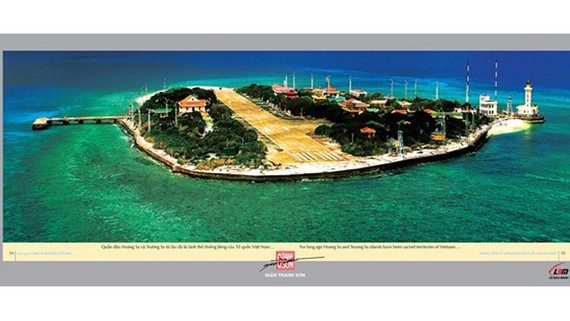 Journalist Gian Thanh Son will release a photo book titled Vietnam's Islands and Coastline Seen from Above featuring the beauty of Vietnam's seas and islands in Ho Chi Minh City Youth Cultural House on October 4.
In addition, an exhibition presenting pictures about Vietnam's Sea and islands that he has photographed will also open and run until October 6.
On this occasion, he will receive Honorary Doctorate from World Record Academy for his contribution to the country and community ; and record certificate for his book.
Journalist Gian Thanh Son was born in 1957. He was a member of the Vietnamese Journalists Association and Vietnam Lawyers Association.
He has set the national record of being the photographer who has taken the highest number of aerial landscape photos for five times. The photographer was honored for his contribution to the country and community by the World Records Union in India, the US, and the UK.
The journalist organized several solo exhibitions and published bilingual English-Vietnamese books.