Dolphins appear in territorial water of Hoi An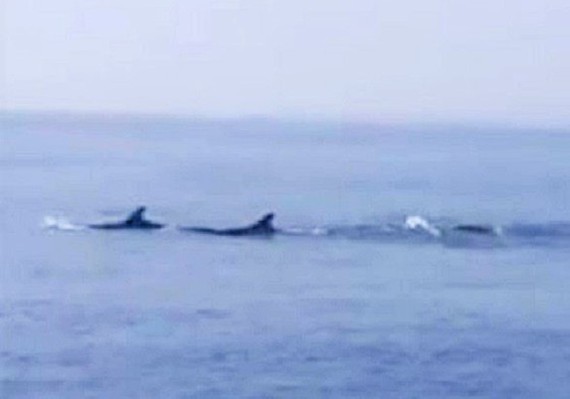 A group of dolphins appeared in the territorial water of ​​Cua Dai
A representative of Hoi An city yesterday reported that dolphins appeared in the territorial water of Cua Dai Port in the central province of Quang Nam.
In the morning of the same day, tourists quickly reported to the local authorities after discovering a group of dolphins, which were swimming on the territorial water near Cua Dai Port.
After receiving the information, staffs of the Cu Lao Cham Marine Protected Area Management Board went to the scene in order to protect the fishes as well as guide fish vessels and canoes to move out from the area.
According to the Cu Lao Cham MPA Management Board, it is estimated that hundreds of dolphins appeared in the territorial water which was extremely rare phenomenon in the territorial water for the past many years.
HCMC spends US$31.96 million on upgrading Nguyen Huu Canh street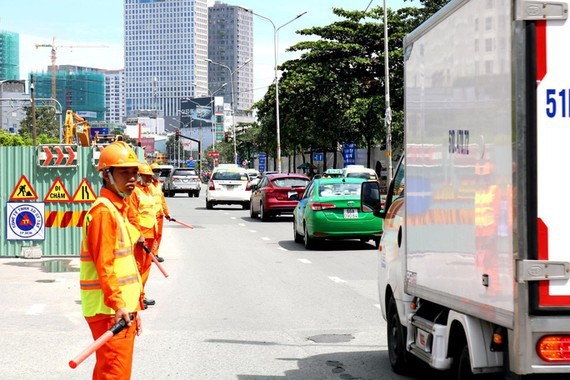 Work started on Nguyen Huu Canh street upgrading project on October 5 
The Management Board on Traffic Work Construction Investment of HCMC started work on the project to upgrade 3.2 kilometer long Nguyen Huu Canh street with the total capital of VND473 billion (US$31.96 million) on October 5.
Mr. Nguyen Vinh Ninh, deputy head of the board, said that the project is expected to be done and open to traffic after 14 months of construction.
According to Mr. Ninh, the project will heighten the street by 0.5-1.2 meter, improve the drainage system, lighting system and technical infrastructure works and plant trees. It will ensure drainage for the total area of about 35 hectares.
About 60 out of 459 trees have been chopped down for the road's upgrading. After the project is completed, 130 new trees will be planted in return.
During the project's implementation time, two-way travel will be organized in Nguyen Huu Canh tunnel for both cars and motorbikes. Vehicles will be banned from travelling in a stretch of Nguyen Huu Canh Street, from Ngo Tat To street to Nguyen Huu Canh flyover.
Breaking ground in 1997, Nguyen Huu Canh street was built in 2002. After being open to traffic, the street has been sunken and regularly suffered heavy flooding due to heavy rains and high tide.
Lexus driver sees driving license revoked for obstructing fire truck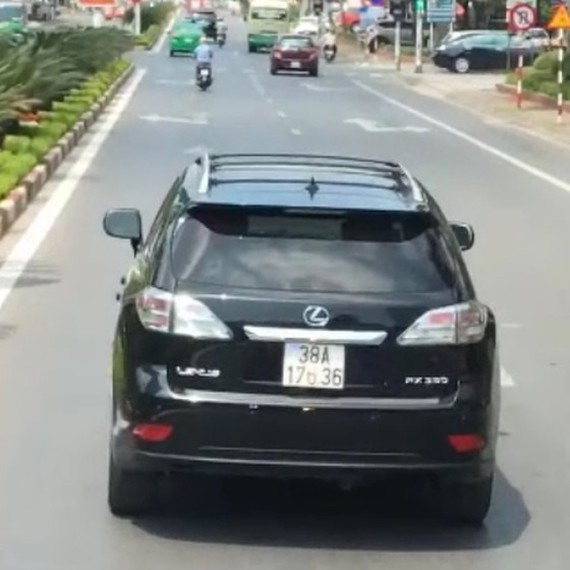 Lexus car was seen in a video going viral on social media (Photo: SGGP)
A Lexus driver in the central province of Nghe An was fined VND2.5 million (US$107.6) and had his driving license revoked for two months for obstructing a fire truck.
Traffic police in the province yesterday decided to revoke his driving license and impose a fine on driver Nguyen Bac V. He was seen in a video going viral on social media on October 4 refusing to give way for a fire truck in Quang Trung Street in Nghi Kim Commune while other vehicles actively gave their way to the special truck.
The driver admitted his violation explaining not hearing the wailing siren of the truck, which was dispatched to contain a fire in an emergency call-out.
The Luxus driver was stubbornly blocked by the car while moving on the street despite loudspeaker from the fire truck. Until approaching Quang Trung – Le Hong Phong crossroad , he turned right to give the way to the special vehicle.
Lemon farmers earn profit of $ 215,344 yearly: Farmer Association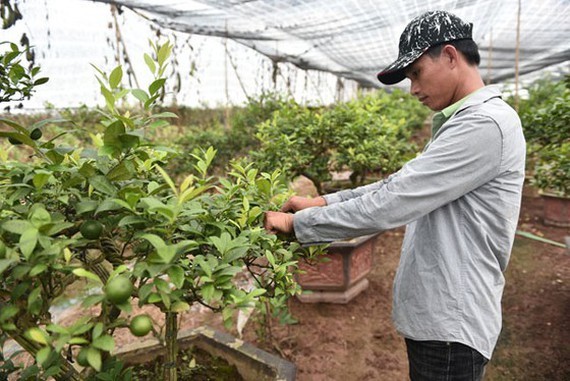 Many farmers have become billionaires after adopting new planting methods and even a lemon farmer has earned profit of VND5 billion (US$215,344 ) yearly, the Vietnam Farmer Association announced at a press brief to honor 63 good farmers in the year yesterday.
The meeting to honor good farmers this year which will be organized on October 12 and broadcast live on VTV is a part of the program " Tu hao nong dan Viet Nam" ( Be proud of Vietnamese farmers".
In the program, there will be the fourth national forum themed " From CPTPP to EVFTA – Accompanying with Vietnamese farmers to shop in the world market."
This year, of 63 selected good farmers, the youngest is Long Van Nghia from the Mekong delta province of Bac Lieu and the eldest is Tran Thanh Nam from Ben Tre Province.
Here are some good farmers who were chosen this year.
Farmer Nguyen Huu Ha in the northern province of Hung Yen grows tu quy lemon, a special lemon that bears fruit all year round, in the land of 12.5 hectare earning VND5 billion a year.
Farmer Ngo Thanh Dong in the northern province of Yen Bai has the vastest farmland with 300 hectare. He grows cinnamon on 146 hectare and fruits in the remaining land. He makes a turnover of VND30 billion and profit of VND3 billion last year.
Farmer Nguyen Hong Cuong in the central province of Nghe An makes seed shrimp on the pond of 19.5 hectare earning revenue of VND50 billion last year. He offered employment to 55 permanent laborers and 50 seasonal laborers.
In the press brief, the association and the Press Association gave VND40 million prizes to authors of writing articles on models of farming and good farmer examples.
Consulate General offices co-organize blood donation event in HCMC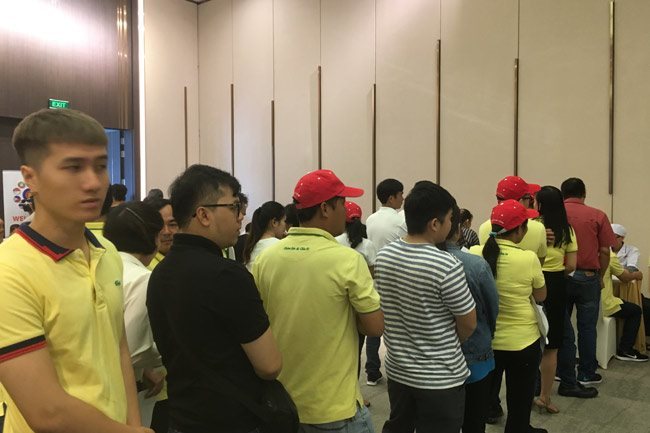 People waiting for heath checks before donating blood. The Consulate General of Indonesia organized a blood donation event in HCMC on October 5
The Consulate General of Indonesia organized a blood donation event in HCMC on October 5 with the collaboration of the Consulate General of Thailand, Malaysia, and Laos as well as THACO Group.
Indonesian Consul General Hanif Salim said the purpose of the event was to deepen and strengthen friendship among ASEAN member countries.
This was the first time the consul offices joined forces to organize such an event for Vietnam. "By hosting together this event, our sense of solidarity is taken to the next level among the ASEAN community in HCMC for the first time," the Indonesian Consul General said.
"Today is a historical moment for all of us as we combine forces and display our strong ASEAN spirit. We are now more than just the ASEAN community, we are now blood brothers," said Salim.
The event was also meant to help meet blood demand so as to contribute to saving life. There were more than 200 blood donors from four ASEAN member countries joining the event.
The Consul General of Royal Thailand Apirat Sugondhabhirom led the group of Thai entrepreneurs like CP Vietnam to participate in the event.
Chinoros Benjachavakul from CP Vietnam has donated three times this year. Consul General Apirat, apart from the blood donation event in his office earlier, will join the Blood Donation Day held by The Saigon Times next week.
"The Thai Consulate General and Thai community are willing to collaborate with ASEAN friends to serve the ASEAN unity. And this event is one of the ways to help ASEAN become a people-centered community that leaves no one behind by donating our blood to realize our sense of giving and sharing to our ASEAN family," said Apirat.
Vietnam needs 1.8 million blood units for medical treatment every year. However, it is estimated only 60% of this demand is being met. As a result, patients are dying because of the lack of blood available for transfusion.
Vietnam Association of Science and Technology Enterprises makes debut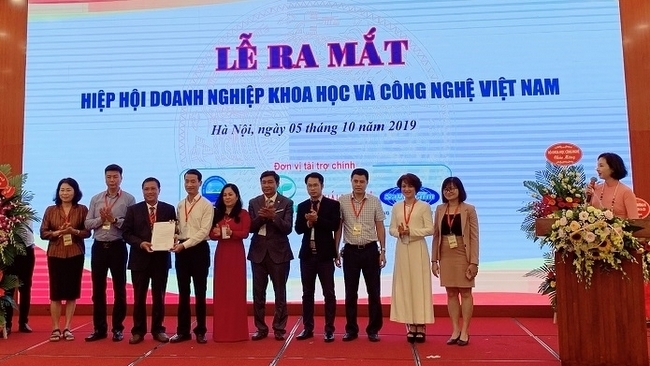 The Vietnam Association of Science and Technology Enterprises (VST) made its official debut and held its first congress at a ceremony in Hanoi on October 5.
Speaking at the launching ceremony, Deputy Minister of Science and Technology Bui The Duy emphasised that the association is expected to promote the development of science and technology enterprises.
Phan Xuan Dung, Chairman of the National Assembly's Committee for Science, Technology and Environment, said that the association will contribute to developing the science and technology market in particular and the science and technology sector in general.
As head of the mobilisation board for the association's establishment, President and CEO of Vietnam Science and Technology Joint Stock Company Hoang Duc Thao noted that the association is a social- professional organisation of science and technology enterprises that have promoted innovation activities and applied scientific and techological advances to real life.
The VST is also responsible to protect the legal right and benefits of its members as well as to coordinate with relevant agencies in developing policies to support science and technology enterprises.
The association will organise conferences, seminars, exhibitions and forums, discussing issues related to science and technology.
The VST will be managed by the Ministry of Home Affairs, the Ministry of Science and Technology and relevant agencies underthe provisions of law.
Fine arts exhibition celebrates Hanoi's charm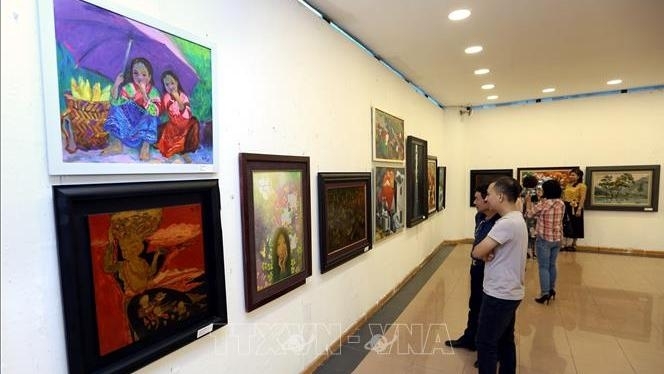 Visitors appreciate artworks about Hanoi at the exhibition.
A fine arts exhibition opened in Hanoi on October 4, showcasing 250 paintings, sculptures and graphic works that depict the beauty of the Vietnamese capital city.
The works on display have been selected from over 700 works created by artists who are members of the Hanoi Fine Arts Association.
Speaking at the opening ceremony, the association chairwoman Pham Kim Binh stated that the exhibition is a breath of fresh air with various styles and notable differences thanks to the wide participation of many artists, especially young ones.
With over 30% of the artists being young people, the exhibition shows a hopeful sign for the capital city's fine arts, emphasised Binh.
Speaking at the exhibition, Chairman of the Hanoi Literature and Arts Union Tran Quoc Chiem stated that besides an elegant and gracious Hanoi of the past, the works also depict a city in an age of development and international integration.
Key themes of the works on display include Hanoi scenery, the Old Quarter, portraits and children, a city for peace, and a city in development.
Since the geographical boundary of Hanoi has been expanded, the mountainous theme also features prominently in many works.
The exhibition is taking place at the Vietnam Exhibition Centre for Culture and Arts at 2 Hoa Lu Street and will last until October 13.
"I love my Motherland" journey launched in Phu Tho province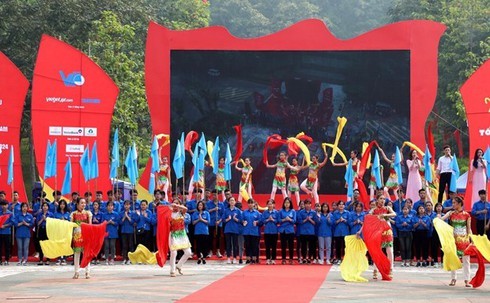 An art performance at the launching ceremony
The "I love my Motherland" journey was launched in the northern province of Phu Tho on October 6 as part of the activities to celebrate the 63rd anniversary of the Vietnam Youth Federation (October 15).
At the launching ceremony, delegates offered incense in commemoration of Hung Kings – the legendary founders of the nation, and laid a wreath in tribute to President Ho Chi Minh.
Afterwards, more than 1,000 youths participated in a special flag salute ceremony and a torch parade.
The journey will take place in all cities and provinces nationwide with a wide range of activities such as learning about historical and cultural relic sites, and hosting youth forums and art exchanges.
The next destinations will be Ca Mau, Ho Chi Minh City, Khanh Hoa, Kon Tum, Da Nang, Nghe An, Dien Bien and Ha Giang.
The review ceremony is scheduled to take place in Hanoi on December 10 ahead of the eighth national congress of the Vietnam Youth Federation, the 2019-2024 tenure.
Aid offered to flood-hit overseas Vietnamese in Cambodia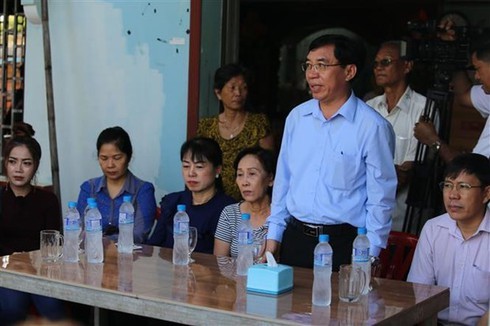 Head of the delegation Lai Xuan Chien speaks at the meeting with OVs in Cambodia
Relief aid has been presented to overseas Vietnamese (OVs) in Cambodia and local people victimised by recent floods in the three hardest-hit provinces of Kampong Cham, Kratie and Stung Treng.
Relief aid has been presented to overseas Vietnamese (OVs) in Cambodia and local people victimised by recent floods in the three hardest-hit provinces of Kampong Cham, Kratie and Stung Treng.

About 800 sets were offered by a delegation of the Vietnamese Embassy in Cambodia, the Khmer-Vietnam Association in Cambodia and Vietnamese businesses operating in the country, which paid a visit to the localities on October 5-6.
Speaking with OVs in Kampong Cham province, head of the delegation Lai Xuan Chien affirmed that the Vietnamese Embassy always pays special attention to their living conditions in Cambodia and has arranged a fundraising campaign to support people in need.
Although the recent flooding caused huge property losses, the Vietnamese community recorded no casualties.
In nearly two months, torrential rains in Cambodian provinces including Preah Sihanouk and Ratanakiri have forced thousands of people to evacuate.
'Secrets of the Wind' makes world premiere in Busan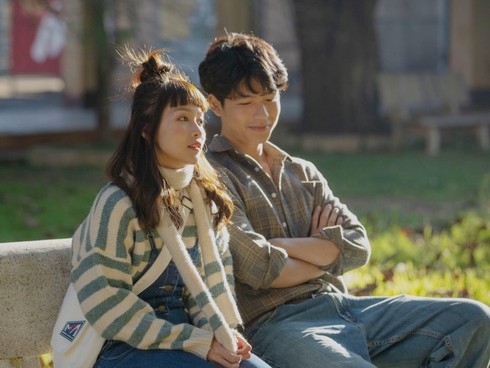 A Vietnamese film titled 'Bi mat cua gio', or 'Secrets of the Wind' in English, made its world premiere at the 24th Busan International Film Fest (BIFF) on October 3.
The film, which was directed by Nguyen Phan Quang Binh, is to be screened throughout the BIFF in the 'A Window on Asian Cinema' section.
A number of young actors, including Kha Ngan, Quoc Anh, and Hoang Yen Chibi, play the film's main characters.
The romantic thriller tells the story of Linh, an art student who meets a ghost upon moving into a new home. Linh then goes on a quest in order to solve the mysterious death of the person who became the ghost, discovering what is truly valuable in life along the way.
The film crew will take part in an exchange with the audience following the third film screening on October 8.
Previously, another Vietnamese film by director Quang Binh titled 'Canh Dong Bat Tan', or 'The Endless Field' in English, was screened at the 15th BIFF.
Con Son-Kiep Bac Autumn Festival honors national heroes
Pilgrims offer incense to General Tran Hung Dao.
The special national relic site Con Son-Kiep Bac in Hai Duong province hosts an annual autumn festival featuring traditional rituals and cultural activities.
Thousands of local residents and tourists attend the event to learn about Vietnam's culture and history.
Two festivals are held each year at the Con Son-Kiep Bac relic site – one in the spring and one on the autumn.
The autumn festival commemorates the death anniversary of 13th century national hero General Tran Hung Dao, who led Vietnam to victories over Mongol invaders, and the death anniversary of 15th century national hero and strategist Nguyen Trai.
Since 2006, the festival has reenacted all the original rituals and performances and become a major spiritual event in Hai Duong province.
Nguyen Thi Thuy Lien described the rituals: "An incense offering occurs on the 10th day of the eighth lunar month at Van and Kiep village, whose villagers worship General Tran Hung Dao and ask for his permission to start the autumn festival. Pilgrims are welcomed to pay tribute to the General on the 15th day. An official opening ceremony follows a day later at the Con Son-Kiep Bac relic site with another incense offering ritual."
The Luc Dau river is the main venue for festival activities. It was the strategic waterway connecting the Red River and Bach Dang river where the Tran Kings set up their military bases to train soldiers. According to Mrs. Lien, the festival's highlight is the reenactment of a battle in which the Tran Dynasty army defeated the Mongol invaders in the 13th century.
"A boat procession on the Luc Dau River re-enacts the battle between the Tran army and the Mongols on the 17th day of the eighth lunar month. This is the most important ritual of the Con Son-Kiep Bac Autumn Festival, which honors General Tran Hung Dao – a talented leader and the ancestor of Vietnam's naval forces. Fishermen from all over Vietnam gather here to pray for favorable weather and a plentiful catch," Mrs. Lien said.
The boat procession this year lasted more than an hour. There were 60 boats and 1,000 participants. Visitors enjoyed the colorful flags and boats, sound of the echoing drums and chants, and martial arts performances.
Vu Quang Phuong, a tourist from Hanoi, said, "This is the second time I've been to the Con Son-Kiep Bac Autumn Festival. It was more exciting this time than last time. The festive activities, which demonstrated the lessons of national defense that I have learned since I was small, stirred my sense of pride. I bring me children with me to the festival so they can learn about Vietnam's history."
Other activities of the Con Son-Kiep Bac Autumn Festival include folk singing, boat racing, water puppet shows, a lantern parade, and sports.
Vietnamese cultural, art association in Czech Republic holds third congress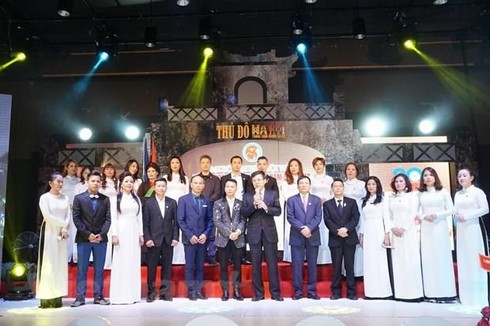 The Vietnamese Cultural and Art Association in the Czech Republic recently held its third congress and an event to celebrate its 10th founding anniversary in Prague.
Speaking at the event, Vietnamese Ambassador to the country Ho Minh Tuan spoke highly of significant contributions by the association to the cultural and art development, which help to connect the Vietnamese people in the country with those in Europe.
Since its establishment in 2009, the association has focused on activities which aim to conserve and develop Vietnam's traditional culture and art, enhancing links of overseas Vietnamese (OVs) with their homeland and raising the position of the Vietnamese community in the European nation.
It has organised a series of programmes to bolster connection of OVs in Europe.
In the coming time, the association will bolster links and join hands with organisations of Vietnamese people in the Czech Republic to conserve intangible cultural heritage, including quan ho (love duet singing), xoan singing, cheo (traditional opera) and ca tru (ceremonial singing in the north)
Overloaded trucks still causing chaos on Hanoi's streets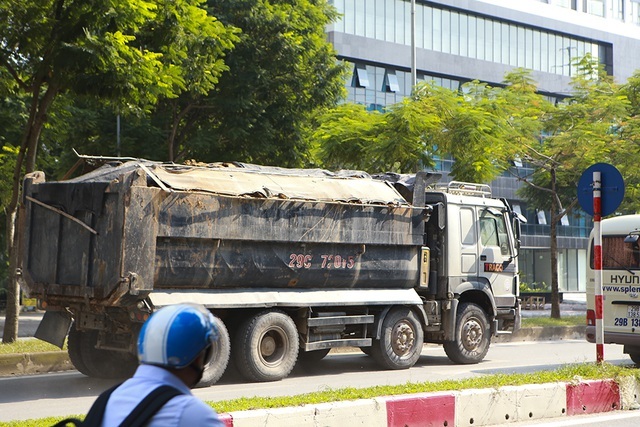 Overloaded trucks in Hanoi are flouting regulations by using banned streets or during banned hours.
Dozens of heavy trucks run on Pham Hung Street, Cau Giay District, at around 3 pm on September 25. They did not slow down much and kept honking inside the city. There are signs that those trucks have been modified and were overloaded. Many of them are from transportation companies like Anh Duc, The Manh and Cuong Linh.
Despite the banned traffic signs and regulations about operating hours and weights, the trucks still run inside the city without being dealt with.
Nguyen Thi May, a resident on Pham Hung Street, said, "Heavy trucks have become common around here. Their honking gives me a headache. They used to run after 9 pm but now I see them on the street all the time."
The residents on Me Tri Street, Nam Tu Liem District, are also in the same situation. Heavy trucks run inside the city not only causes pollution but also poses a threat to other drivers.
Colonel Tran Ngoc Trung, deputy head of the Traffic Police Team 6 said their personnel were spread too thin to deal with all violations.
"Some drivers were aggressive when they were pulled over. Some couldn't provide driving licenses and locked themselves in the cabin for hours," he said.
Since early September, the police have dealt with 94 cases. 38 of which ran during banned hours, 11 ran on banned streets, 39 were overloaded and six trucks weren't secured enough and let construction materials fall onto the streets.
Trung said many police departments such as the traffic department, inspectorate and local guards must work together to completely deal with this problem.
National applied arts exhibition opens in Hanoi
A set of wooden doors by Tran Nam Tuoc win one of the top two prizes. (Photo: Vietnamnet)
The 4th national applied arts exhibition opened at the Hanoi Museum on October 4, displaying notable works by artists from across Vietnam.
Held every five years, the exhibition's 2019 edition received 568 works created during the 2014-2019 period by 299 artists from 25 provinces and centrally-governed cities, from which 280 were selected for exhibition.
The organisers also awarded two first prizes, four second prizes, six third prizes and 13 consolation prizes to the 25 most outstanding works in the fields of creative design, applied products and decorative products.
The two top prizes went to a set of wooden doors by Tran Nam Tuoc from Hanoi and a set of dragon scale-like rattan lanterns by Nguyen Van Tinh, also from Hanoi.
The exhibition is divided into three sections dedicated to awarded works and works by members of the Arts Council, creative design products, and applied and decorative products.
Speaking at the opening ceremony, Deputy Minister of Culture, Sports and Tourism Ta Quang Dong stated that the exhibition is an occasion for the public and those interested in applied arts to appreciate works that are both aesthetically pleasing and useful in daily life.
He added that the exhibition also helps to strengthen connections among designers, artisans, producers, distributors and consumers.
The exhibition will last until October 30.
Norwegian project to reduce ocean plastic waste launched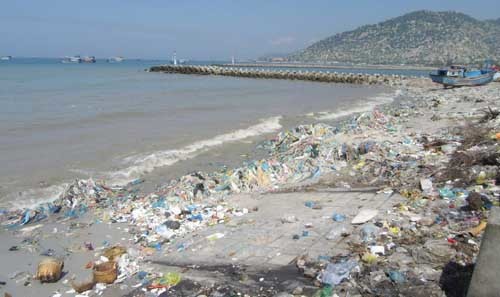 A Norwegian project is being launched to promote the usage of plastic waste as a source of energy for energy intensive industries, reducing ocean waste and improving energy efficiency.
The Ocean Plastic Turned into an Opportunity in Circular Economy project was launched yesterday in HCM City to reduce plastic waste in the ocean and the industrial use of coal.
It is funded by the Norwegian Government.
Dr. Kare Helge Karstensen, chief scientist and programme manager of the project, said: "[It] aims to investigate how the involvement of resources and energy intensive industries like cement manufacturing can increase the capacity for non-recyclable plastic wastes."
The collection and treatment of plastic waste are not very effective in Việt Nam, and the project can provide incentives to the private industry in collecting and treating plastic wastes, reducing their coal consumption and costs, he said.
A Waste Management Department official said there was limited segregation of plastic waste, and low-value and recyclable wastes are typically discharged into the environment.
Single use plastic items and plastic bags, which decompose slowly, are problematic, he said.
Grete Lochen, the Norwegian ambassador to Hà Nội, said plastic wastes are made from fossil fuel and thus can create more energy than coal, and recycling them would reduce the amount of plastic dumped in the ocean and the emission of greenhouse gases.
The project will be carried out in co-ordination with the Ministry of Natural Resources and Environment's Việt Nam Environment Administration and various other agencies, international and local organisations and private businesses.
It will push for public-private-partnerships in the collection of plastic waste and its usage in cement plants.
Factories taking part in this project can receive training in and assistance with co-processing, which could reduce their coal consumption by using waste and non-recyclable plastic while being more energy efficient.
This technique does not produce residues that need to be disposed, thus also saving waste processing costs.
The project will be carried out in five countries, the other four being China, India, Myanmar, and Thailand. Its pilot phase is expected to start at the end of this year.
Việt Nam is the world's fourth largest country in terms of discharging plastic wastes into the ocean, with its annual contribution being around 700,000 tonnes.
Photo exhibition on VN islands and sea opens
An exhibition of aerial photos of Việt Nam's coastline and islands by freelance photojournalist Giản Thanh Sơn opened on Friday at the HCM City Youth Culture House, No 4 Phạm Ngọc Thạch Street in District 1.
The "Không Ảnh Đảo và Bờ Biển Việt Nam" (Aerial View of Việt Nam's Coastline and Islands) exhibition includes 100 photos featuring the beauty of the country's islands and seas which Sơn has taken over the last 20 years.
Sơn's participation in the 917 Aviation Regiment's flight training gave him an opportunity to take photos of every corner of the country.
"Every flight is an experiment for me. My feelings and tears emerge every time I join flights over villages, rivers, seas and even sacred places across the country," Sơn said. "From above, our country is beautiful like a painting.".
He also praised the soldiers from the 917 Aviation Regiment as "artists" who created the flight routes to help him take pretty photos.
Sơn is thinking about making a photo book about the regiment called Những Cánh Bay Không Mỏi (Brave Aviation Soldiers) to show his gratitude to the soldiers.
Colonel Lê Việt Thắng of the 917 Aviation Regiment said: "Sơn works on behalf of aviation soldiers to show the people the beauty of our country."
He helped to spread patriotism among the people as well as raise their responsibilities toward the country's protection, Thắng said.
At the exhibition, Sơn introduced a republished book titled Không Ảnh Đảo và Bờ Biển Việt Nam, which was released in 2015.
The 335-page book is compiled as a pictorial chronicle of the islands and seas of Việt Nam. It was republished by the Vietnam News Agency Publishing House, and costs VNĐ500,000 (US$21.6).
All profits from the photos and books at the exhibition will be used to raise funds for children of soldiers in the 917 Aviation Regiment.
Born in the southern province of Long An in 1957, Sơn began his career in 1975. He has set five national records with his unique photo collections.
He has visited 89 countries as a photojournalist and has participated in various international events. He received an Honorary Doctorate from the World Records University (WRU) in April.
He has several books in the pipeline, including Ký Ức (Memories); Chân Dung Chính Khách (Statesmen's Portraits); and Vị Thế Việt Nam (Việt Nam's Status in the World).
The exhibition will close on Sunday.
Vietnamese people in France opened non-profit cafeteria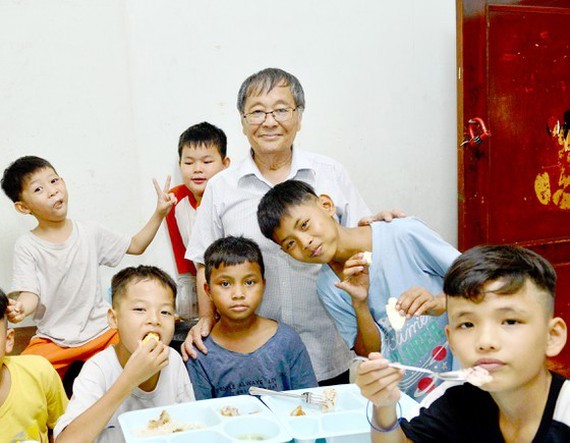 Mr. Nguyen Thanh Tong and the children at Mai am Tre Xanh (Green Bamboo Shelter). (Photo: SGGP)
The cafeteria is one of the many establishments sponsored by the community of Vietnamese in France, who have always sought to help out their compatriots, especially unfortunate children.
The cafeteria run by Ho Chi Minh Child Welfare Foundation is named Green Bamboo Kitchen, located on 40/34 Calmette Street, District 1. It is also known as the Green Bamboo Shelter, currently home to 19 children who were previously homeless or victims of child labor. The children would help with catering activities and chores around the cafeteria, and the profits, in turn, are used to cover their tuition fee and basic expenses.
Many adults who had been raised and provided vocational training by the shelter voluntarily came back to work here on low wages, said Mr. Nguyen Thanh Tong, Vice President of the Vietnamese-in-France Association.
The "Little Rose Shelter" (Mai am Hoa Hong nho) in District 7, where homeless or abused little girls are taken care of, also receives strong supports by the Vietnamese-French community. These philanthropists have become the shelter's main patrons, whose help is greatly appreciated by HCMC Child Welfare Foundation, according to the Chairwoman Mrs. Luong Thi Thuan.
Besides their activities in HCMC, Vietnamese-French people also run charity projects in many remote provinces, most of them lasting 3 to 10 years. Most notably, they have supported treatment for leprosy patients in Binh Dinh; provided medical attention to victims of agent orange in Khanh Hoa; and brought clean water and no-interest loans to families in Tien Giang.