Vietnam responds to "Clean up the world" campaign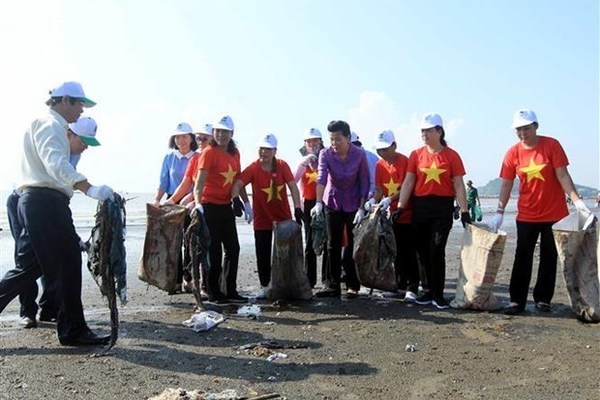 Leaders of Hai Phong city and local citizens collect garbage at Do Son beach
A national drive in response to the "Clean up the world" campaign 2019 was launched in Do Son district in the northern port city of Hai Phong on September 12.
The event was jointly organised by the Ministry of Natural Resources and Environment, the Central Committee of the Vietnam Women's Union (VWU) and the People's Committee of Hai Phong city.
Speaking at the ceremony, Deputy Minister of Natural Resources and Environment Vo Tuan Nhan pointed out current environmental challenges, including a huge amount of plastic waste and nylon bags. Some 500 billion plastic bottles and over 500 billion nylon bags are used every year, he said.
As a developing nation, Vietnam is facing various difficulties such as environmental pollution, climate change, sea level rise and especially plastic waste, ranking 17th out of 109 countries with the highest level of plastic pollution in the world, Nhan stressed.
The Deputy Minister called for concerted efforts of all sectors, localities and people to reduce the use of disposable plastic products, towards the non-use of those products in the country in 2025.
VWU Vice President Nguyen Thi Tuyet underlined women's role in all stages of plastic waste management. She urged VWU members nationwide to encourage others to switch from nylon bags and disposable plastic products to other environmentally-friendly and recyclable ones.
Meanwhile, Vice Chairman of the municipal People's Committee of Hai Phong Le Khac Nam said Hai Phong always pays attention to green economic development in line with sustainable environmental protection as the city has prioritised high-tech investment projects.
Thanh Hóa border force arrests heroin trafficker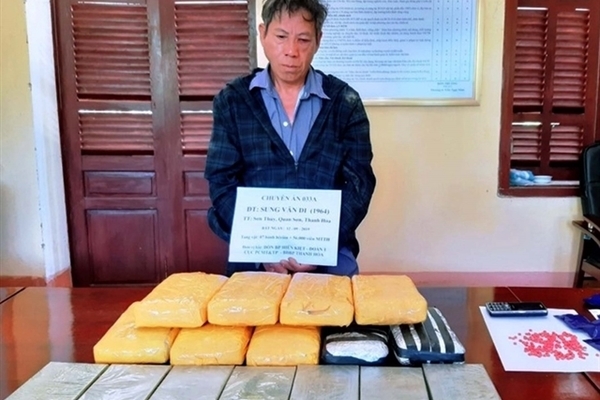 Sùng Văn Di pictured with heroin and methamphetamine.
A man has been arrested trying to smuggle almost two and a half kilos of heroin into Việt Nam from Laos.
The 55-year-old was also allegedly carrying thousands of pills, believed to be methamphetamine.
He was arrested in the northern Thanh Hóa Province on Thursday by border guards and anti-drug and crime police.
The suspect identified himself as Sùng Văn Di, 55, a resident of Quan Sơn District's Sơn Thủy Commune.
A bag he was carrying contained seven packages of heroin, each weighting around 350 grams as well as 56,000 tablets.
Earlier this week, seven people between 1976 and 1996 were arrested accused of smuggling drugs from Cambodia to HCM City following a four month investigation.
Thirty-five kilogrammes of different drugs were seized along with two guns and 21 bullets.
The gang hired two apartments in Thủ Đức district and District 8 to cover their activities. They are accused of smuggling drugs from Cambodia to HCM City through the Mộc Bài Border Gate in the southern province of Tây Ninh.
Investigations into the incidents are still ongoing.
Vietnamese workers die in Tokyo construction site
Japanese authorities have found two Vietnamese workers dead at the demolition site for an apartment building in Tokyo, reported the local media.
According to Asahi newspaper, at about 8:30 of September 10, three men were reportedly fainted in a room on the second floor of a building that was being destructed in Setagaya ward of Tokyo.
Tokyo police said that among the three, all Vietnamese, two were dead and the third was taken to a hospital but remains unconscious and in a serious condition.
Carbon monoxide was detected at the site.
The Mainichi newspaper reported that the two workers apparently died of carbon monoxide poisoning.
However, there was no trace of anything having been burned at the site. A gas water heater in the room was not working as a hose was not connected to it.
It quoted sources close to the investigation as saying an electric generator was working in a room on the first floor. There is a possibility that carbon monoxide from its exhaust gas drifted to the second floor.
Currently, Tokyo police are coordinating with relevant agencies to investigate into the case.
Cham culture in Ninh Thuan featured in Dak Lak exhibition
An exhibition themed "Cham culture in Ninh Thuan" is underway at Dak Lak Museum, Buon Me Thuot City, Dak Lak. (Photo: qdnd.vn)
An exhibition themed "Cham culture in Ninh Thuan" is underway at Dak Lak Museum, Buon Me Thuot City, the Central Highlands province of Dak Lak.
The Cham ethnic group has lived for a long time in south central Vietnam, mainly in the provinces of Ninh Thuan and Binh Thuan, and the southern province of An Giang, creating a unique and diversified culture.
The event, which opened on September 12, features about 200 exhibits and more than 76 photos and documents on distinctive festivals as well as traditional music instruments, tools and costumes of Cham ethnic minority people living in Ninh Thuan province.
The exhibition is expected to bring visitors a better understanding of Cham people's mind, sentiment and quintessence in daily life.
It will run through December 12.
Painting exhibition features Vietnam's seas, islands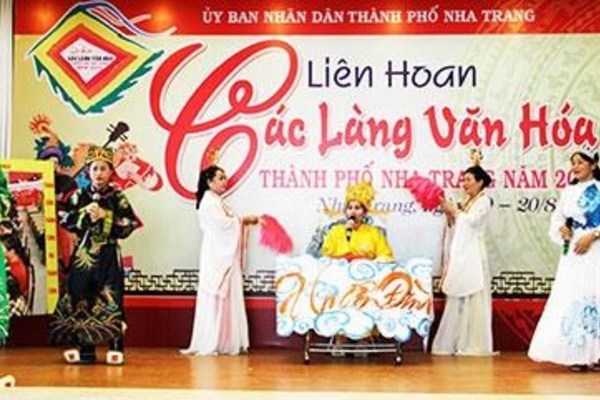 Festival of cultural villages in 2018 in Nha Trang city
A painting exhibition depicting Vietnam's seas and islands is taking place in Nha Trang city from September 12-15 as part of the National Tourism Year 2019 hosted by the south central coastal province of Khanh Hoa.
Speaking at the opening ceremony on September 12, Director of the provincial Department of Culture and Sports Nguyen Khac Ha said the event aims to educate on patriotism and awareness of defending the national sea and island sovereignty.
Some 120 paintings featuring the national sea border and island sovereignty and building of culture and tourism are on display.
The same day, the festival of cultural villages in Khanh Hoa kicked off to share experience in preserving communal cultural diversity, contributing to the building of new-style rural areas and cultural villages.
The two-day event has drawn more than 400 artists from eight cultural villages across the province.
HCM City: Nghinh Ong festival in full swing in Can Gio
The Nghinh Ong (Whale Worship) festival, an annual traditional event of local fishermen, is underway in Ho Chi Minh City's Can Gio district.
First held in the locality in 1913, it was recognised as National Intangible Cultural Heritage in 2013. It is a cultural identity of coastal localities, which has been preserved and passed down through generations, aiming to pray for bumper hauls of fish, safe voyages and peace.
This year, the festival lasts from September 12 to 14 and consists of rituals and festive activities that feature musical performances, sports, and folk games, among others.
Ho Hong Thanh Tinh, Secretary of the district's youth union, said nearly 2,000 of its members are working to support tourists at the event.
Nguyen Van Nam, a local resident, said Can Gio people consider Nghinh Ong festival the second biggest event of the year.
On the occasion, local authorities will also host a Mid-Autumn Festival for children, featuring a food space, exhibition, as well as lantern making and parade activities.
Job opportunities in Japan's health sector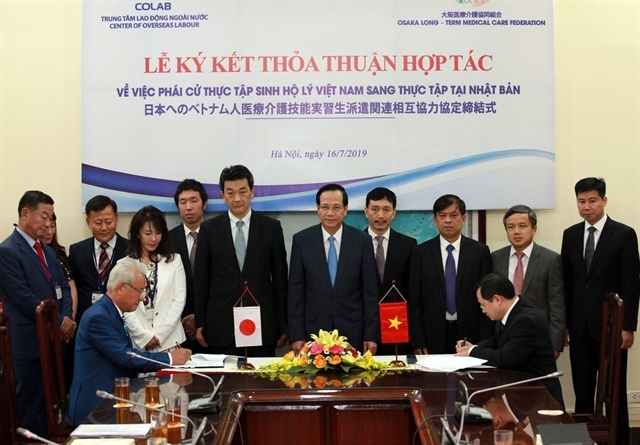 Hà Xuân Tùng (sitting, right), director of the Centre for Overseas Labour under the MoLISA, and Takeshima Tenmi (sitting, left), chairman of Osaka Medical Care Association on July 16 this year signed an agreement on dispatching Vietnamese nursing trainees to intern in Japan.
A total of 240 workers will be chosen to work in Japanese hospitals this year, the Department of Overseas Labour (DoLAB) under the Ministry of Labour, Invalids and Social Affairs (MoLISA) declared on Wednesday.
Applicants will spend a year learning Japanese in training courses organised by the MoLISA and its Japanese partner.
During the course, trainees can also enjoy free-of-charge accommodation, meals and pocket money.
Those who pass the exam will be offered work in Japan's health sector as orderlies and nurses.
Applicants for hospital orderlies will stay in Japan for three years and nurses for four years.
Both professions offer staff the chance to gain recognised qualifications and nurses will be paid 130,000-140,000 Japanese Yen (US$1,200-1,300) per month and orderlies 140,000-150,000 Japanese Yen ($1,300-1,388) per month.
Besides salary, the applicants will receive allowance based on their work achievement.
Applicant documents can be sent to the DoLAB at No 41B, Lý Thái Tổ Street, Hoàn Kiếm District in Hà Nội from October 1-18 this year.
An exam to choose applicants will be organised on November 7,8 in Hà Nội and November 11,12 in HCM City.
Applicants must be no more than 35 years old and have qualifications for the speciality.
VTV launches new game show on employment
Whose Chance?, a new television game show on employment, will air on Viet Nam National Television's Channel 3 (VTV3) at 11am every Saturday starting this week (September 14).
The game show hosted by journalist Lại Văn Sâm will create employment opportunities and a playground for people to enhance their skills in job interviews and problem solving.
The game show's format, which was developed by Vietnamese, consists of three rounds.
In the first round, two contestants will convince six leaders of companies and audiences to give them a chance for a job. Only one will go to the next round.
In the second round, the selected contestant will enter her expected salary which will be kept secret until the final round. The contestant is expected to resolve surprising situations and talk to participating leaders of companies to get a seat in the final round.
The final round will feature announcements of jobs and offered salaries from leaders who will press a green button and show the contestant's expected salary.
Speaking at a press meeting held on Tuesday (September 10), journalist Lại Văn Sâm said the show featured a high degree of reality.
During the show, he will support contestants so they demonstrate their talent and get a good job.
The weekly show is a co-operation between VTV and ALO Media.
New-style rural area building programme achieves much success in Mekong Delta
Võ Văn Chiến, a 70 year - old farmer in Hồng Ngự Town's Bình Thạnh Commune, said thanks to the programme, the town has got a good road network linking hamlets and communes and an excellent irrigation system.
The Cửu Long (Mekong) Delta's 12 provinces and Cần Thơ City have achieved good results in the national target programme on new-style rural area building, with rural incomes and living conditions improving considerably.
The programme, launched by the Government in 2010, sets out 19 criteria for building new-style rural areas such as planning, transportation, electricity, irrigation, healthcare, culture, education, environment and social order.
In Đồng Tháp Province, 55 of 119 communes have achieved all 19 criteria, according to the local steering committee for the programme.
Nearly 100 per cent of people in these communes have access to electricity and the rate of schools meeting national standards is 75-100 per cent.
Võ Văn Chiến, a 70 year - old farmer in Hồng Ngự Town's Bình Thạnh Commune, said thanks to the programme, the town has got a good road network linking hamlets and communes and an excellent irrigation system.
The province has undertaken many projects and measures for economic development and helped farmers apply them to agricultural production, he said.
Chiến's family breeds mud carps and bighead carps during the flood season under a province project to improve flood drainage, develop livelihoods and adapt to climate change in the Đồng Tháp Mười (Plain of Reed) region.
In Sóc Trăng Province, Thạnh Qưới last month became the last commune in Mỹ Xuyên District to achieve all 19 criteria.
The district's average per capita income has increased to VNĐ42.5 million (US$1830), 3.5 times the 2011 figure.
Đào Đắc Hùng, vice chairman of the Mỹ Xuyên District's People's Committee, said rural areas have improved significantly, especially in planning, production and agriculture restructuring.
"Rural areas have extensive and modern infrastructure."
Hundreds of households in the district have together donated more than 500,000sq.m of land for building infrastructure, he said.
The delta's 12 provinces and Cần Thơ City have mobilised capital from public and private sources for the new-style rural area programme.
Vĩnh Long Province mobilised VNĐ7.13 trillion ($306.4 million), including VNĐ1.3 trillion from communities, companies and organisations in 2011-19.
Challenges persist
But despite all this, many challenges remain, including gaps in infrastructure and the impacts of climate change, according to the central steering office of the national programme.
The ratio of delta communes that meet all 19 criteria is 40.6 per cent while the national average is 48.7 per cent.
The impacts of climate change cause saltwater intrusion, soil erosion, subsidence and flooding, affecting people's lives and production.
The delta is the country's largest rice, fruit and seafood producer.
New models
The delta has developed many farming models to adapt to climate change and improve production efficiency.
They include farmer's clubhouses in Đồng Tháp and the polyculture of raising rice, vegetables and animals on coastal sand dunes and in brackish water in Sóc Trăng, Trà Vinh and Bến Tre provinces.
Under the farmer clubhouse model in Đồng Tháp, established in 2016, farmers who grow the same crop participate voluntarily in a group known as a farmer's clubhouse to compare notes.
Nguyễn Thanh Hùng, vice chairman of the Đồng Tháp Province's People's Committee, said the province has 80 farmer's clubhouses with more than 4,000 members.
This model has helped promote economic development and self-management in the community, he added.
Trà Vinh Province has developed a model of planting mangrove forests in coastal areas and breeding aquatic species in the forests to provide farmers with an extra income.
The delta has been implementing the Government's One Commune-One Product programme since 2018 to develop strong agricultural and non-agricultural products and services.
Đồng Tháp has chosen flour products in Sa Đéc City and Châu Thành District, lotus-related products in Tháp Mười District, pink mandarin in Lai Vung District, and dried snakehead fish in Hồng Ngự Town and Tam Nông District under the programme.
It targets at least 50 per cent of its 61 traditional products - mostly food and beverages, garments, souvenirs, household items, and rural tourism products - meeting the programme's standards by next year.
An Giang Province has chosen 10 products like herbal medicines, food and beverages, and tourism to achieve three-star standards under the programme.
Trương Kiến Thọ, deputy director of the province Department of Agriculture and Rural Development, said the programme is suitable and necessary for building new-style rural areas and restructuring agriculture.
It would help the province boost the process of building new-style rural areas, he said.
The province plans to focus on promoting the selected products through various channels, including online. 
Bai choi singing promoted
The art of Bai choi singing in central Vietnam was recognized by UNESCO as an Intangible Cultural Heritage of Humanity two years ago.
Several programs  have been implemented to preserve and promote the art, including the teaching of Bai choi in school curriculum, building venues for singers to perform, and establishing clubs to popularize the art.
This summer, schoolchildren in Da Nang city were treated to Bai choi singing classes organized by artists from the city's Stage Artists Association.
Over the past two months, they have learned how to chant and play traditional musical instruments and got a sense of the history and  beauty of the folk genre. They were also introduced to the meaning of the lyrics in folk songs.
Tran Thi Thu Thao of Le Loi school said, "I'm very excited about participating in this class. I learned how to sing many Bai choi songs. I hope I can perform Bai choi for my classmates soon."
Nguyen Thanh Thuy, a teacher of music and head of the Bai Choi singing class at Le Loi school says the class draws a lot of students and receives support from their parents.
Emeritus Artist Trinh Cong Son, Head of the Bai Choi Club, and his wife, artist Tran Thi My Le participated in Bai Choi classes in local schools and inspired  younger generations to take to the folk genre.
Mr. Son said that he is aware of his responsibility to pass down the art to the younger generation and inspire them to continue it, especially after it has been recognized as an Intangible Cultural Heritage of Humanity.
Son said, "I feel very happy to teach Bai Choi to the schoolchildren. They sing and perform as beautifully as professional artists."
In order to preserve and promote Bai Choi singing, a number of Bai Choi clubs and classes have been organized in Da Nang city drawing a large number of participants.
Many training courses have been organized for music teachers and cultural activists. Bai Choi has also been performed by students at school performances.
Tran Van Hong, Deputy Head of the Education and Department Section in Ngu Hanh Son district noted, "We will increase the presence of Bai Choi in the school curriculum, particularly in music lessons. We hope that by so doing we can inspire more people to take up this folk genre."
With its simple, sweet lyrics and beautiful melodies, Bai Choi singing has been closely associated with the life of the people in central Vietnam.
Bai Choi is often seen at spring festivals and resembles a game, using playing cards and village huts.
It is a creative intangible cultural form which combines improvisational verses and fun games, embraces common wisdom, and merges music, poems, and literature, all contributing to the character of the people.
Bai Choi songs are about festivals, daily life and work, and have an instrumental accompaniment.
Famous poet and scriptwriter passes away at 90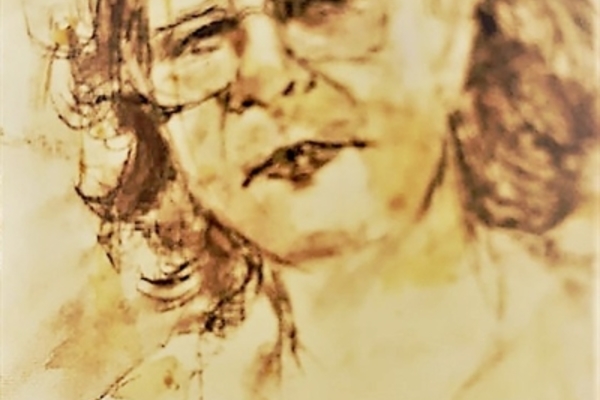 Portrait of poet, scriptwriter and reporter Văn Thảo Nguyên. — Photo sggp.org.vn
Poet and scriptwriter Văn Thảo Nguyên, former deputy-in-chief of Lâm Đồng newspaper, has died in Bình Dương Province. He was 90.
Nguyên was born in 1930 in Hà Tây (now Hà Nội). He joined the Việt Nam People's Army when he was 17. He took part in the Hồ Chí Minh Campaign in 1975.
Beginning his career in the 1950s, he wrote poems and short stories for newspapers and magazines, including the Military Arts magazine of Hà Nội.
In 1965, he won first prize for Best Work at a poetry contest launched by Văn Nghệ (Literature & Arts) newspaper.
His poem, Đường Lên Bản Muối (Way to Muối Village), features his memories and love for the culture and lifestyle of ethnic minority people in the North.
With his romantic and simple style in writing, Nguyên quickly became a bright star in the country's literature.
His poems featuring Vietnamese characters were used in theatrical plays and printed in many books by leading publishers.
Two of his featured poettry collections are Nhặt Những Hạt Rơi (Memories of Love) and Lời Nguyện (The Prayer), released in 2011-12.
He also worked as a scriptwriter for the Việt Nam Film Studio. His works were filmed by veteran directors such as Lê Văn Duy and Hồng Sến who produced canonical works in Vietnamese revolutionary film.
In the 1970s and 80s, he worked as a reporter in Lâm Đồng Province and HCM City. He also worked for several newspapers, magazines, literature & arts institutes and universities. 
Measures needed to reduce work-related accidents
Compliance with occupational safety and hygiene regulations remains lax, affecting the lives of workers and their families, an official from the HCM City Federation of Labour said at a conference held on Wednesday.
Nguyễn Thành Đô, head of the Policy Department under the HCM City Federation of Labour, said many policies and measures had contributed effectively to reducing labour accidents and occupational diseases.
"However, the number of work-related accidents is still high in the country," he said.
Representatives of labour federations of Hà Nội, Đà Nẵng, Hải Phòng, Cần Thơ and HCM City attended the conference which discussed solutions to limit work-related accidents and occupational diseases.
According to the Ministry of Labour, Invalids and Social Affairs' occupational safety report for 2018, nearly 8,000 work-related accidents were reported last year, killing 1,039 and injuring more than 8,200.
The main cause of occupational accidents was lack of compliance with regulations on occupational safety and hygiene of businesses and workers, accounting for 46 per cent of incidents.
A majority of employers failed to create safe working procedures, did not provide training on labour safety, and did not guarantee the quality of protective equipment and workers' working condition.
Violations of occupational safety and hygiene regulations and work safety procedures were accounted for more than 18 per cent of the incidents.
Another 35 per cent of incidents were caused by other reasons.
Tạ Văn Dưỡng of Hà Nội's Labour Federation said that inspection, examination and preventive measures must be carried out thoroughly at businesses.
"The most important element in raising awareness of employers and workers is observation of occupational safety and hygiene regulations," said Nguyễn Văn Tuấn, president of the HCM City Export Processing and Industrial Zones Authority's Trade Union.
Trade unions and businesses need to work with other units to build a network of businesses that can learn from each other about labour safety, he said.
Đinh Thị Thanh Hà, vice president of Đà Nẵng City's Labour Federation, said that work-related accidents usually occurred at construction sites, mostly small construction projects or works built by subcontractors, creating difficulties for control and inspection.
Foreign-invested companies and local enterprises in industrial parks and export processing zones have the highest level of awareness about labour safety and hygiene regulations.
"They are always concerned about human factors and regular maintenance of equipment and machinery, so the number of labour accidents has significantly reduced," she said.
She said that ministries, departments and agencies should try to improve the legal system regulating labour safety and other regulations in various fields, increase inspections of occupational safety and hygiene regulations, and strengthen the handling of violations of labour safety.
In addition, changing the minimum allowance required for occupational safety and hygiene standards in hazardous or dangerous jobs should be considered, she added. 
Vietnamese expats in Czech Republic joins multicultural festival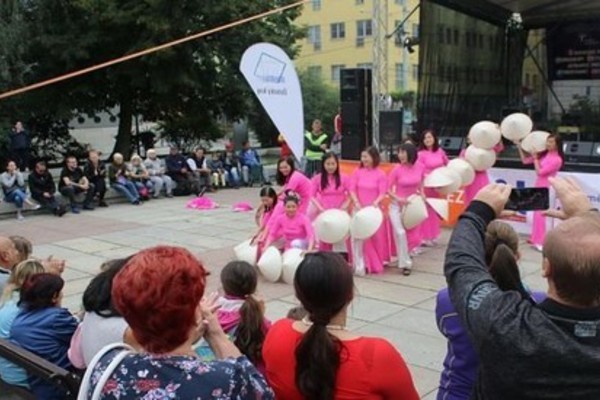 Vietnamese expats perform a dance of Vietnam's traditional conical hats at the event
Vietnamese expatriates have joined 33 other foreign communities in the Czech Republic's Ustecky province at the biggest local annual multicultural exchange festival.
Taking place on September 7 (local time), the event featured art performances and traditional cuisines from participating expat communities, including Vietnam, Ukraine, Russia, Cuba, Nepal, China, and Hungary.
Jan Kubicek, head of the organization board of the festival, said it aims to enhance mutual understanding and solidarity among all communities living in the Czech Republic in general and in Ustecky in particular.
He also praised integration efforts made by the Vietnamese expatriates, which have been reflected through their active participation in the event over the years.
Chairman of the Vietnamese Association in Ustecky Trinh Van Minh noted Vietnamese people living in the locality have joined the festival since 2010 to promote the culture of their home country and their integration progress in the host nation.
Ideal venue to spend Mid-Autumn Festival in Hoi An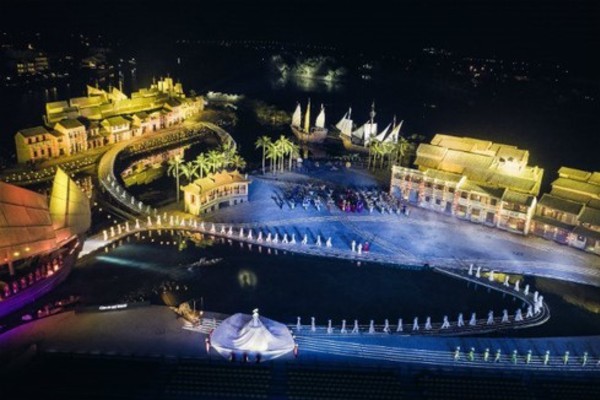 The "Hoi An Memories" show at the Hoi An Impression Theme Park promises to create memorable experiences for visitors to Hoi An this harvest moon season - Photo: Courtesy of organizer
During the eighth month of the lunar calendar, which spans until September 28, the Hoi An Impression Theme Park in the ancient town of Hoi An is an ideal place for visitors to enjoy the cheerful atmosphere of the Mid-Autumn Festival with their beloved ones.
Sparkling, colorful lanterns in the park will remind visitors of their joyful childhood memories joining a lantern parade while singing favorite songs with friends.
The Thu Bon River crossing the park is gold-plated by the harvest moon and flower lanterns released by visitors with the hopes for peace, health, happiness and longevity.
The Mid-Autumn Festival in the park also features giant mooncakes and the "Moon in the trading port" program, which recreates Mid-Autumn traditions and scenes of the old days.
Moreover, visitors can enjoy the "Hoi An Memories" show, during which a 400-year-old story of Hoi An is represented with all of its grace and prosperity. The show takes place from 7:30 p.m. to 8:45 p.m. everyday, except Tuesday.