VGCL proposes to spend US$3.9 billion to support COVID-19 affected labourers
The Vietnam General Confederation of Labour (VGCL) has proposed spending up to VNĐ89 trillion (US$3.91 billion) from the unemployment insurance fund to support labourers strongly affected by the COVID-19 pandemic.
Chairman of the VGCL Nguyễn Đình Khang said the confederation would propose the Ministry of Labour, Invalids and Social Affairs consider using the surplus unemployment insurance fund to ease financial difficulties for labourers during the fourth COVID-19 outbreak.
Those who have been participating in the unemployment insurance policy for at least six months would be eligible for financial support.
Figures from the VGCL showed that more than 1.16 million labourers have benefited from the Government's support package worth VNĐ26 trillion (US$1.13 billion) from July 8.
Meanwhile, more than two million labourers have lost their jobs or have taken unpaid leave since the outbreak of the COVID-19 pandemic in April.
Khang said the policies to give training courses for labourers were infeasible and not effective as expected as the majority of enterprises were struggling to maintain production activities and did not have time to develop training plans.
These policies were impractical when many localities were implementing strict social distancing regulations following the Government's Directive 16.
The principle of the Unemployment Insurance Fund as well as other short-term funds, according to the VGCL, was that employees who contributed to the fund would be entitled to get support when they lost their jobs, had their contract suspended or took unpaid leave.
On September 9, the Government assigned the Ministry of Labour, War Invalids and Social Affairs and relevant ministries to submit to the National Assembly Standing Committee and competent authorities the policies of using the Social Insurance Fund to support COVID-19 affected labourers and businesses. This task must be completed this month.
The Government also proposed the VGCL consider exempting union fees in the 2021-2022 period for labourers at enterprises affected by the pandemic.
The Government's report showed that the spending of the Unemployment Insurance Fund in 2020 has increased by nearly 50 per cent over the same period last year with a total payment of VNĐ18.8 trillion ($827.8 million).
By the end of 2020, this fund still had a balance of more than VNĐ89 trillion.
Over 90 percent of HCMC's over 18 population get first doses of vaccine
By September 13, Ho Chi Minh City with the highest number of coronavirus of Vietnam has inoculated over 6.5 million vaccine doses of Covid-19 for the first routine and over 1.3 million vaccine doses for the second time. That means over 90 percent of the HCMC population aged over 18 years old has been vaccinated.
The city focuses on the vaccination process, strives to complete the first routine of vaccines with its highest rate and accelerates the second routine to soon achieve vaccine coverage in the whole city.
The Ministry of Health last night informed that in the past 24 hours, the National Management and Administration System for Diagnosis and Treatment of Covid-19 infections recorded 10,508 new coronavirus patients, including 12 imported cases and 10,496 ones in the community.
Besides, the ministry also announced 12,683 recovered cases of Covid-19 and 276 deaths related to SARS-CoV-2 in Vietnam. Among them, there were 2,553 discharges from hospitals and medical facilities and 228 deaths in Ho Chi Minh City.
Since the fourth pandemic outbreak, Ho Chi Minh City and Binh Duong still have been the two localities with the highest number of coronavirus infections in the country.
In the past two weeks, 13 provinces and cities of Bac Kan, Tuyen Quang, Lai Chau, Hoa Binh, Yen Bai, Ha Giang, Thai Nguyen, Dien Bien, Vinh Phuc, Hai Phong, Hai Duong, Ha Nam and Lao Cai have not reportedly detected new confirmed cases.
From April 27 up to now, the number of new confirmed coronavirus infections reached 630,661.
According to the HCMC Center for Disease Control (HCDC), by noon of September 13, the Ministry of Health summed up 304,007 SAR-CoV-2 infections, including 303,534 cases in the community and 473 imported ones in Ho Chi Minh City.
The city health sector is performing the treatment for 39,290 Covid-19 patients, including 2,942 children under 16 years old, 2,616 severe cases with ventilators and 23 patients being put on ECMO.
Prime Minister Pham Minh Chinh to hold phone talks with Austrian PM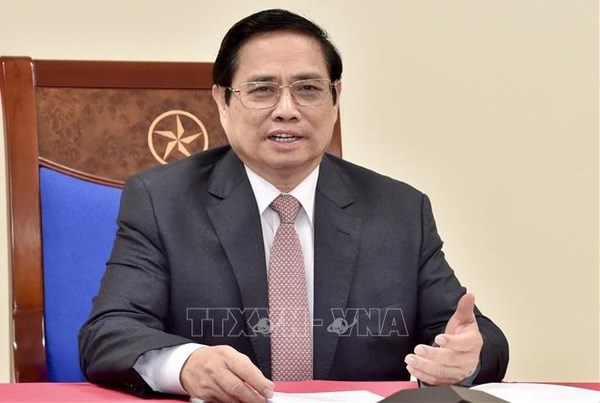 Prime Minister Pham Minh Chinh (Photo: VNA)
Prime Minister Pham Minh Chinh is scheduled to hold phone talks with his Austrian counterpart Aon September 16 evening.
At the talks, the two leaders will discuss the bilateral relations and cooperation in fighting the COVID-19 pandemic.
Since Vietnam and Austria officially established diplomatic relations in 1972, the bilateral relationship has witnessed fruitful development across fields, from politics, economy, trade and investment, to education-training, science-technology and culture.
Austria is one of the five largest trade partners of Vietnam in the European Union (EU). Trade value between the two countries in 2019 reached about 3.6 billion USD. Since August 2020, when the EU-Vietnam Free Trade Agreement (EVFTA) took effect, two-way trade has remarkably grown and is expected to achieve even more positive results when this agreement will be fully tapped in the near future./.
Northern region to have first cold spell in September
The northern region is forecasted to see its first cold spell at the end of September.
Nguyen Van Huong, head of the Climate Forecasting Department at the National Centre for Hydro-Meteorological Forecasting, said cold spells will arrive in late September and early October, earlier than previous years. The coldest period would occur in mid-December to February.
Vietnam will see the effect of the La Nina phenomenon from October. However, it will remain weak throughout 2021. There will be six to eight storms on the East Sea from now until the end of 2021. Three to four of them may affect Vietnam. It is likely that the southern region would still be affected by storms in the East Sea in January 2022.
"The authorities must be prepared for constant and heavy rains in October and November in the central and southern region," he said.
Provinces from Thanh Hoa to Thua Thien-Hue and the southern region have continued to have heavy rains on September 14-15. The rainfall in Hon Dat, Kien Giang Province, from 7 pm on September 14 to 3 am on September 15 was 184mm. It was 150.2mm in Minh Hoa, Quang Binh Province and 138.6mm in Ben Tre City.
Flashflood and landslides were warned for mountainous areas while flooding was warned for low-lying terrains.
President holds online talks with Japanese Prime Minister
President Nguyen Xuan Phuc expressed his hope that the Vietnamese and Japanese economies will be connected more effectively, in combination with green, digital transformation during his online talks with Japanese Prime Minister Suga Yoshihide on September 15.
President Nguyen Xuan Phuc expressed his hope that the Vietnamese and Japanese economies will be connected more effectively, in combination with green, digital transformation during his online talks with Japanese Prime Minister Suga Yoshihide on September 15.
During his online talks with Japanese Prime Minister Suga Yoshihide, Phuc rejoiced at the strong, comprehensive development of the Vietnam-Japan extensive strategic partnership with high political trust.
He praised Suga's contributions to the bilateral ties, as well as his good sentiments towards the land and people of Vietnam, saying the Japanese PM had selected Vietnam for his first overseas trip after taking office last October.
Phuc thanked the Japanese government and people for their support to Vietnam in the pandemic fight, with the latest donation batch of 400,000 vaccine doses announced recently, raising Japan's total vaccine donations to Vietnam to 3.58 million doses.
He also used the occasion to thank Japan for assisting nearly 450,000 Vietnamese in the host country, and called for more Japanese support in the pandemic combat.
Sharing difficulties to Japanese firms, Phuc said Vietnam will continue to accompany them, remove obstacles to their production and business, and maintain supply chains.
He congratulated Japan on its successful organisation of the 2020 Tokyo Olympic Games and Paralympic Games, which have become a symbol of solidarity amid COVID-19.
For his part, Suga highlighted Phuc's attention to the Vietnam-Japan friendship over the past time, and recalled the Vietnamese leader's warm reception during his trip last year.
Japan will further assist Vietnam in the pandemic fight, he affirmed, expressing his thanks to the Vietnamese side for vaccinating Japanese citizens in the country, and its support to Japanese enterprises.
Suga also praised the Vietnamese sport delegation's participation in the 2020 Tokyo Olympic Games and Paralympic Games, contributing to the success of the events./. 
HCMC buys more 200,000 medicine bags for Covid-19 patients at home
hairman of Ho Chi Minh City People's Committee Phan Van Mai, Head of Ho Chi Minh City's Steering Committee for Covid-19 Prevention and Control, asked to purchase additional 200,000 medicine bags for Covid-19 patients at home.
He made the requirement in his yesterday letter to the Department of Health and the Department of Finance on the purchase of additional home treatment drugs for asymptomatic Covid-19 people and patients with mild symptoms who are eligible for home isolation.
On the same day, the Center for Disease Control of Ho Chi Minh City has just sent a document to the Health Center of Thu Duc City and districts on instructions to monitor people infected with Covid-19 including those who have declared to be infected with the virus via phone or app according to the regulation of home isolation.
Also yesterday, the Department of Health of Ho Chi Minh City sent a document to the People's Committee of Thu Duc City and the districts and local medical facilities requesting to take heed of Covid-19 vaccination.
According to the Department of Health, some districts have low injection productivity. Moreover, city dwellers in several districts complained that they can't receive the second shot of vaccine if they have already got the first vaccine shot in other districts.
Therefore, leaders of the health sector reminded health care teams not to refuse to give the second shots on those who require.
Party chief commends important role of internal affairs agencies
Party General Secretary Nguyen Phu Trong has hailed the important role of internal affairs agencies in the country's political system, describing them as a key, faithful force and a sharp precious sword and a solid shield in safeguarding the Fatherland, maintaining social order and discipline, and protecting the people, Party, State and regime.
The Party leader made the comment while delivering a speech at a national conference of agencies in charge of internal affairs across the country to implement the 13th National Party Congress' Resolution, which was held on September 15 in both in-person and online forms with the participation of more than 4,600 delegates across the country.
He held that the agencies have actively given useful advice to the Party and State in directing the settlement of corruption and negative phenomena in a timely and strict manner, thus affirming the Party and State's determination and efforts to combat corruption with the spirit of not allowing any "restricted areas and exceptions".
Regarding future tasks and orientations, the Party chief asked these agencies to make early forecasts and right evaluations of the situation, clearly identify risks and put forth recommendations to the Party and State in order to safeguard the interests of the nation, and ensure security and order.
Party General Secretary Nguyen Phu Trong underlined the need for the agencies to keep close contact with the people and place the people's interests to the highest and first position, protect brave officials who dare to think, work, speak out problems, take the responsibility, make innovations, confront difficulties and challenges and act for the common benefits.
Officers, soldiers and public servants from the agencies should keep vigilant, sustain mettle and stay brave to defend the right without being affected by any impure pressure, temptation and bribery, he stressed.
The Party leader expressed his belief that with the tradition of solidarity and high sense of responsibility, internal affairs agencies will effectively implement the Resolution of the 13th National Party Congress, thus continuing to strongly reform their organisational apparatus and operations, gaining more achievements and making greater contributions to the cause of national construction and defence./. 
'Lanterns light up dreams' programme connects children in 7 provinces and cities
An online programme titled Full-Moon Night, with the theme 'Lanterns light up dreams', is scheduled to be held on the evening of September 20, connecting children of seven provinces and cities across the country on the occasion of the traditional Mid-Autumn Festival.
As the highlight of a series of activities celebrating the mid-autumn festival, the programme is co-organised by the Hanoi Municipal Youth Union and the Hanoi Council of the Ho Chi Minh Young Pioneer Organisation.
For this year's Mid-Autumn Festival, in the context of the complicated development of the COVID-19 epidemic, the Hanoi Municipal Youth Union and the Hanoi Council of the Ho Chi Minh Young Pioneer Organisation have actively and creatively organised many activities to bring a warm, joyful and rewarding atmosphere suitable for the city's epidemic prevention and control work to the children.
According to the organising board, in accordance with the current situation of COVID-19 epidemic, the online programme Full Moon Night will coordinate with seven provinces and cities including Ho Chi Minh City, Binh Duong, Kien Giang, Khanh Hoa, Bac Giang, Ha Tinh, and Gia Lai along with three centres for youth activities in the provinces of Lao Cai, Ha Giang, and Ninh Binh.
The programme will be broadcast live on the fanpage of Central Committee of the Ho Chi Minh Communist Youth Union, the Central Council of Ho Chi Minh Young Pioneer Organisation, the Hanoi Council of the Ho Chi Minh Young Pioneer Organisation and the Hanoi Children's Palace, with the participation of many famous singers and actors.
Within the programme, children will enjoy many cultural performances bearing the colours of many regions from across the country.
In addition, the children will also participate in games and will have the opportunity to receive valuable gifts.
In addition, on the occasion of the Mid-Autumn Festival, from September 13 to 21, a programme celebrating the mid-autumn festival in Hanoi has continued to present 1,320 gifts to disadvantaged children, with total value of VND264 million.
Vietnam joins global efforts in protecting ozone layer
Vietnam has joined the international community in efforts over the years to protect the ozone layer and reduce the use of ozone depleting substances.
Vietnam's consumption of Hydrochlorofluorocarbon (HCFC) neared 2,600 tonnes in 2020, a decline of 35 percent compared to that in the previous year.
The Department of Climate Change at the Ministry of Natural Resources and Environment (MoNRE) is carrying out the HCFC's Phase-out Management Plan - Stage II (HPMP II) project sponsored by the World Bank for the 2018-23, with an aim to cut down HCFC consumption at grassroots level by 35 percent in accordance with the Montreal Protocol.
Of note, Vietnam put an end to the usage of some chemicals, including CFC, Halon and CTC, at the start of 2010.
In September 2019, the Government issued a resolution ratifying the Kigali Amendment to the Montreal Protocol, under which the country would build a roadmap for control over and reduction of HFCs between 2024 and 2045.
One of the achievements made in the work so far is the legalisation of regulations on ozone layer protection in Article 92 of the 2020 Law on Environmental Protection, and guiding documents which will take effect from January 1 next year.
On the occasion of this year's World Ozone Day (September 16), the MoNRE has launched an art contest on the theme.
The Montreal Protocol was signed in 1987 and entered into force on January 1, 1989. It is an international treaty designed to protect the ozone layer by phasing out the production of numerous substances that are responsible for ozone depletion.
To date, it has been ratified by 197 countries, and has been one of the most successful environmental agreements to date. A united global effort to phase out ozone-depleting substances means that today, the hole in the ozone layer is healing, in turn protecting human health, economies and ecosystems.
Vietnam became a signatory of the United Nations Framework Convention on Climate Change in 1992, the Vienna Convention for the Protection of the Ozone Layer and the Montreal Protocol in 1994./.
Chung finalises Vietnam squad for Women's Asian Cup qualifiers
Coach Mai Duc Chung has finalised the 23 players for Vietnam's national women's football team who will soon compete at the AFC Women's Asian Cup qualifying round in Tajikistan.
The final list is comprised of players in good form after nearly two months of training at the national young footballers training centre, during which the players had six friendly matches. Due to COVID-19, the team was unable to go on a training tour abroad.
In addition to veterans such as goalkeeper Tran Thi Kim Thanh, midfielder Nguyen Thi Tuyet Dung and striker Huynh Nhu, who won the 2018 AFF Cup and 2019 SEA Games, the squad includes new names such as Ngan Thi Van Su and Nguyen Thi Thanh Nha.
The team is scheduled to leave for Tajikistan on September 16, with a stop in Dubai.
At the qualifying round, Vietnam are in group B along with Afghanistan, the Maldives and Tajikistan. On September 23 Vietnam will play against Afghanistan before meeting the Maldives and Tajikistan on September 26 and 29 respectively.
Police arrest woman in case of Koreans illegally entering Vietnam
 
The Investigation and Security Agency under the Public Security Department of Da Nang City yesterday prosecuted and detained 34-year-old Van Thi Thuy Tien, Director of One Top Travel Service Co. Ltd cum Director of Mai Vang Translation Co. Ltd, for questioning regarding the case of 300 Korean people illegally entering Vietnam.
The Investigation and Security Agency under the Da Nang City Public Security Department is reading the decision to prosecute Van Thi Thuy Tien
After the prosecution, the Investigation and Security Agency examined Thuy Tien's accommodation in Hoang Anh Gia Lai Lake View at the address of 72 Ham Nghi Street in Thanh Khe District of Da Nang City, as well as her two offices on An Nhon 2 Street in Son Tra District and on Hoang Van Thu Street in Hai Chau District.
Initial investigation revealed that when harboring those 300 Korean people, Thuy Tien earned US$400 commission from the group organizing illegal entrance to Vietnam.
This group is led by 53-year-old Lee Kwan Young, Vice Chairman of the Korean Association in the Central Region, and 48-year-old Seo Young Jin, Director of Han in Hue Co. Ltd. The group had been previously discovered and destroyed by Da Nang City Public Security Department.
At the beginning of 2021, Thuy Tien used the legal entity of Mai Vang Translation Co. Ltd (sited on the 6th floor of Camellia Building at the address of 773 Ngo Quyen Street in Son Tra District) to sponsor You Woon Yong to Vietnam as a specialist.
In reality, however, this translation company has no demand for a foreign specialist. When coming to Vietnam, You Woon Yong did not work for the company either.
HCM City's ICT initiatives help battle against COVID-19
Several information and communication technologies (ICT) initiatives developed by HCM City have helped in the fight against the pandemic.
The city's app Y Tế HCM, for example, has helped to detect, trace and manage thousands of COVID-19 cases. The app allows users to make health and travel declarations, look up COVID-19 test results, and search facilities where COVID patients are receiving treatment.
It also helps medical workers manage health status and provide remote treatment for COVID patients at home, as well as find information about new patients.
The city will soon upload vaccination data to the application to complete its population database.
As of September 9, the city has provided COVID-19 vaccinations to more than 6.7 million people, with a vaccination rate of 200,000-250,000 people per day. The city has installed 100 QR-code scanning cameras at COVID-19 checkpoints in 21 districts and Thủ Đức City for domestic travel checks.
Sr Lieutenant Colonel Lê Mạnh Hà of the city Department of Public Security said the department is uploading names of people with travel permits and those allowed to travel on the road without a permit to the national population database.
When the data is updated, travel permits may later be cancelled and travelers will just need the QR codes to move through the checkpoints.
The Việt Nam Fatherland Front in the city has introduced an app called An Sinh where needy people can call for help and receive support.
People register for help via the application and wait for approval from local authorities who are in charge of checking the information. When the registrations are approved, donors can support them via the app.
All donations are showed clearly on the app.
As of September 6, more than 200,000 people had signed up on An Sinh.
Besides mobile apps, the city has launched a website at https://bando.tphcm.gov.vn/ogis with statistics of infected cases and locations of locked-down areas, medical facilities and pharmacies.
It has upgraded the 115 emergency portal, which can now handle 6,000 calls per day to meet residents' demand.
The city is also using a callbot for its 1022 portal, which receives information about COVID-19 control and prevention and requests for support from residents.  
New born babies recover from COVID-19
Two newborn babies who contracted COVID-19 from their mothers have made a full recovering after just a week in hospital.
And four other children, under the age of four, have also been declared coronavirus-free after treatment in the central city of Đà Nẵng.
Director of the city's Hoà Vang health centre, Dr Nguyễn Đại Vĩnh said the two babies, both boys, tested negative before going home for quarantine and medical checks on Monday.
Vĩnh said the two mothers – who both been had infected with SARS-COV-2 – gave birth on September 7-8 at the field hospital.
He said three other boys under four years old, and a one-year girl all tested negative after two weeks at the hospital. They need two more weeks home quarantine under medical supervision.
Earlier, a newborn baby and mother were also declared healthy and released from the hospital on September 5.
A 101-year-old woman was the oldest patient to recover from COVID-19 on September 1.
The city's Centre for Disease Control (CDC) said the number of cases has sharply declined in the past three days with a ratio of under 20 each day.
No new community infections were reported on September 12-13, while the number of 'green zones' with no community infections has increased from 14 to 23 in just a week.
The city said it has reserved safe traffic routes in green zones for better transportation and take-away services as well as access to traditional markets.
Meanwhile, neighbouring Quảng Nam province has been tracing SARS-COV-2 infection sources at Điện Nam-Điện Ngọc industrial zones in Điện Bàn town after 19 cases were found at three businesses.
Quảng Ngãi People's Committee also closed all fishing ports to prevent community spread. It eased restrictions in controlled areas that are showing positive results, including Quảng Ngãi city; Trà Phong commune of Trà Bồng District, Tư Nghĩa, Sơn Tịnh and Bình Sơn districts.
The province also planned to bring 200 pregnant women from HCM City, Bình Dương and Đồng Nai for quarantine and prenatal care in their home towns.
It said Quảng Ngãi Fellowman Association donated VNĐ 2 billion (US$87,000) to support people returning home from southern provinces since early June.  
Vietnam in top seed group for draw of AFF Cup 2020
The ASEAN Football Federation (AFF) has announced seed groups for the upcoming draw of the 2020 edition of the AFF Championship, or AFF Suzuki Cup.
Vietnam, as the reigning champions, are in the top seed group along with Thailand. 
The No. 2 seed group includes the Philippines and Myanmar, while Malaysia and Singapore are placed in the third group.
Indonesia and Cambodia are in the No. 4 group. The final group comprises Laos and Brunei or Timor-Leste.
The teams will be divided into two groups and play in the round-robin format. The draw is scheduled for September 21 in Singapore.
The football tournament will take place from December 5, 2021 to January 1, 2022, but the host country has yet to be announced./. 
Vietnam, RoK enhance environmental cooperation
Vietnamese Minister of Natural Resources and Environment Tran Hong Ha and Minister of Environment of the Republic of Korea (RoK) Han Jeoung-ae discussed environmental cooperation programmes between the two countries during their online talks on September 15.
They touched upon cooperation in emission trading system, water resources, personnel training and book publishing, among others.
Ha expressed his hope for stronger cooperation and more support from the RoK in such spheres as waste management, and circular and green economy.
He also proposed collaboration in designing and building an exhibition centre of Vietnam nature and biodiversity, and restoring polluted sections of the Red River in Vietnam.
Vietnam wants to learn from the RoK's experience in calculating emission peaks and solutions to achieve carbon neutrality, Ha said, adding that his ministry is drawing up a project on developing the Vietnamese carbon market, which is scheduled to be submitted to the Prime Minister next month.
He called on the RoK ministry to help Vietnam improve capacity of management agencies in greenhouse gas inventory, the measurement, reporting and verification (MRV) of greenhouse gas emissions and the management of ozone-depleting substances.
For her part, Han said his agency stands ready to cooperate with the Vietnamese ministry in environmental matters, and share its experience and technologies in water resources exploitation and utilisation, air pollution settlement and waste treatment./. 
Government to build action plan on sci-tech development: PM
The Government will build an action plan on developing science and technology that involves digital transformation, digital economy, and digital society to help improve people's living standards, said Prime Minister Pham Minh Chinh at a nationwide teleconference held on September 15.
With a theme on Vietnamese sci-tech intellectuals' implementation of the 13th National Party Congress's Resolution, the event gathered more than 1,500 leaders of ministries, sectors and localilities, the Vietnam Union of Science and Technology Associations (VUSTA), and sci-tech organisations and firms.
At the event, Chinh affirmed amid the global integration and the 4th Industrial Revolution, the Party identified that Vietnam's development must be done via and rely on science and technology.
The Government is building a legal corridor for the growth of the sector, particularly in health, education and training, telecommunications, finance, and services, he said.
The Government leader underscored the need of democracy promotion and collective knowledge mobilisation in considering new issues that can bring about breakthroughs.
He also recommended expanding international cooperation and connectivity as well as attracting the engagement of overseas Vietnamese via suitable incentives.
At the conference, participants briefed outstanding activities of the intellectual group in the past time, proposed solutions to science and technology development, and introduced a number of development models and sci-tech applications./. 
Volunteers get second Covivac vaccine shots in second trial phase
Volunteers in the second phase of the clinical trials of homegrown Covivac COVID-19 vaccine got their second shots on September 15.
More than 50 volunteers received the jabs in the morning, and the number is expected to reach about 80 on the day, according to Associate Prof. Dr. Vu Dinh Thiem, Director of the National Institute of Hygiene and Epidemiology (NIHE)'s clinical trial centre.
The second phase, to last until September 20, is held in Vu Thu district, the northern province of Thai Binh. It saw the participation of 374 volunteers who have been chosen and classified into three groups for the 3 mcg and 6 mcg dosages and a dose of AstraZeneca vaccine.
Covivac has been developed and produced by the Institute of Vaccines and Medical Biologicals (IVAC). It is the second homegrown vaccine approved by the Ministry of Health for clinical trials, after Nano Covax.
Dr. Duong Huu Thai, IVAC Director, said the third phase of the human trials is expected to begin in December after the safety and immunogenicity in the second phase are confirmed.
The third phase would be conducted on more than 4,000 volunteers in Khanh Hoa, Bac Ninh and Thai Binh provinces.
Nguyen Ngo Quang, Deputy Director of the Department of Science, Technology and Training under the Ministry of Health, said at least a homegrown vaccine will be licensed for circulation by the end of this year.
For Nano Covax, Quang said the producer and researchers on September 14 submitted the supplemented dossier on the vaccine and completed registration procedures.
Regarding the clinical trials of ARCT-154, a mRNA vaccine developed by US company Arcturus Therapeutics, he said the health ministry has approved the implementation of the second and third trial phases./.
Youth volunteers join COVID fighting efforts
Nguyễn Thị Oanh, a high school student from the central province of Nghệ An, is putting her free time to good use, helping to fight the pandemic in her homeland.
The 17-year-old Nguyễn Duy Trinh High School student volunteered to play her part helping out in her hometown as soon as the first COVID-19 infection appeared in Nghi Lộc District on June 25.
Her working day starts at 6:30am and ends at 10pm every day, manning checkpoints or concentrated isolation areas.
"Soldiers, police and medical staff are working hard day and night to combat the pandemic," Oanh told Tiền Phong (Vanguard) newspaper.
"I wanted to contribute a small way to help my hometown control the pandemic. I think young people should be ready to devote themselves in every task."
She said that she was not worried about the work because she was equipped with knowledge and skills in COVID-19 prevention and control, after carrying out her own online research before volunteering.
She added: "While on duty, I have witnessed many beautiful actions of my local residents. Although they are poor but still bring vegetables and eggs to the kitchen in the quarantine area. We are all trying out best to quickly repel the pandemic."
Normally at this time of year, many families would be in the fields harvesting crops, but now they are stuck in concentrated quarantine areas.
Oanh and more than 50 youth union members mobilised by the Nghi Lộc District Union have tried to help ensure goods were delivered to consumers.
Oanh said local vegetable growers were very worried as thousands of tonnes of produce were left to spoil in Nghi Thuận Commune, and wanted to do something to help them the farmers.
"In just one day, we helped farmers to harvest and sell more than 20 tonnes of vegetables. We were very tired but happy because we can see smiles and thanks from the people," said Oanh.
Hundreds of union members and young people have volunteered to take participate in COVID-19 prevention and control work the length and breadth of the country. 
Nguyễn Đức Lộc, secretary of Nghi Lộc District Union, said they have worked together to support checkpoints, quarantine sties and the community as a whole, always remembering the slogan 'Ready to go anywhere and do anything when the country needs'.
Vietnam, China forge cooperation in crime combat
Vietnamese and Chinese competent agencies will strengthen cooperation in crime combat, and push ahead with the signing of an agreement on the transfer of sentenced persons.
The consensus was reached during the online talks between Vietnamese Minister of Public Security General To Lam and Secretary of the Commission for Political and Legal Affairs of the Communist Party of China (CPC) Central Committee Guo Shengkun on September 15.
Lam said the traditional friendship between the two Parties and States has been tightened, stressing the Vietnamese Party and State have considered the preservation and development of the Vietnam-China comprehensive strategic cooperative partnership a top priority in the country's foreign policy.
Cooperation between the Vietnamese Ministry of Public Security and China's law enforcement agencies has played a role in protecting the absolute leadership of the CPC and the Communist Party of Vietnam (CPV) and socialism, as well as ensuring national security, and social order and safety.
Despite the impact of the COVID-19 pandemic, the two sides have still made achievements in cooperation, he said.
Guo expressed his hope that the bilateral comprehensive strategic cooperative partnership will grow further, and cooperation between the Vietnamese ministry and law enforcement agencies of China will continue to develop strongly.
The two sides agreed to continue the exchange of information about the regional and global situation, and step up collaboration in economy, trade and investment in a substantive, balanced and healthy fashion after the pandemic is put under control./.
Đồng Nai to reopen essential services in green zones
Đồng Nai Province plans to resume socio-economic activities step by step after September 20.
The province will review the vaccination rate and the risk of coronavirus infection in different areas before allowing activities to resume in low-risk areas (green zones).
According to the plan, from September 20 the province will resume essential services in low-risk areas where no COVID-19 community cases have been found for at least 14 days.
To date, 75 of 170 communes in Đồng Nai are recognised as COVID-safe zones. The areas are mostly located in Tân Phú, Định Quán, Xuân Lộc, Thống Nhất and Cẩm Mỹ Districts and Long Thành Town.
Non-essential services in green zones might be allowed to reopen if their employees have had at least one COVID-19 vaccine dose in the last 14 days and strictly follow safety protocols.
Food and drink businesses will only serve takeaway. Sellers and buyers must keep their distance and wear a face mask.
Fully vaccinated people and those who have recovered from COVID in the last 180 days in green zones could join essential activities.
Residents who are fully vaccinated or COVID-19 patients who have recovered over the past six months in green zones would be allowed to go out for essential reasons from 6 am to 6 pm.
In addition, construction work in green zones, agriculture, transportation and goods transport activities can resume under certain requirements after September 20.
Sports and cultural events and services will remain suspended until further notice, according to the plan.
In red, orange and yellow zones, social distancing measures will remain in place until further notice.
Đồng Nai Province has reported 35,901 cases, with 15,000 patients having fully recovered and 320 deaths, according to its anti-virus steering committee.
The province is speeding up vaccinations to achieve 100 per cent first-dose coverage for 2.2 million people aged over 18 by September 20. The province has inoculated with at least one dose over 1.6 million people, meeting around 73 per cent of the target. 
Young guest workers returning home due to COVID-19 supported
Youth-led initiatives on job replacement, income generation, provision of sexual and reproductive health knowledge and life skills for young international migrant workers who returned due to COVID-19 will be implemented in Nghe An, Ha Tinh and Quang Tri provinces by the Ho Chi Minh Communist Youth Union, with technical support of United Nations Population Fund (UNFPA) and funds from the Government of Japan.
The signing ceremony was held online in Hanoi on September 15 by the Ho Chi Minh Communist Youth Union in collaboration with UNFPA Vietnam, the Ministry of Home Affairs, and the Provincial Youth Unions of Nghe An, Ha Tinh and Quang Tri.
Supporting young returning migrant workers is one of the most important components of the Project "Mitigating the negative impacts of COVID-19 on vulnerable population groups - Ensuring National Progress to Achieve SDGs in Vietnam", which is funded by the Government of Japan.
The project focuses on four main issues: gender-based violence; guality care for older people; sexual and reproductive health; and support to young returning international migrant workers in 14 provinces suffering from negative impacts of the COVID-19 pandemic; namely Thai Nguyen, Dien Bien, Lao Cai, Thanh Hoa, Nghe An and Ha Tinh in the north; Da Nang, Quang Tri, Quang Nam, and Dak Lak in the central region; and An Giang, Can Tho, Vinh Long and Ho Chi Minh city in the south.
Vietnam is one of those countries which have been suffering from severe socio-economic impacts due to the COVID-19 pandemic. Young people are among the vulnerable population groups. Young international migrant workers from the three provinces of Quang Tri, Nghe An and Ha Tinh are facing harder impacts because of the sudden changes in working conditions. Some of them were forced to return to Vietnam, and when they are in their homeland, they again suffer from the local socio – economic difficulties. The situation becomes worst as it is not easy for them to reintegrate into their families, their communities, and the local labour market.
In order to support these young returning migrant workers, the Ho Chi Minh Communist Youth Union has assigned the Centre for Youth and Adolescents to collaborate with the provincial Youth Unions of Nghe An, Ha Tinh and Quang Tri to implement 29 youth-led initiatives. With a total fund of over 2 billion VND, these initiatives will help provide these young returning migrant workers with job replacement, income generation, sexual and reproductive health and life skills from now until the end of March 2022.
Speaking at the signing ceremony, Ngo Van Cuong, Secretary of the Ho Chi Minh Communist Youth Union, emphasised the importance of the initiatives to support young international migrant workers who returned home due to the COVID-19. He said: "The Secretariat of the Ho Chi Minh Communist Youth Union will instruct the Vietnam Youth Union's relevant departments to closely collaborate with the provincial Youth Unions of Nghe An, Ha Tinh and Quang Tri to facilitate the implementation of the initiatives on job replacement and income generation, thus helping the returning migrant workers to settle down. For the initiatives' beneficiaries, I encourage you to worker harder, to learn more and to apply advanced technologies in implementing the initiatives' activities in order to utilise the financial resources in the most effective, reasonable and sustainable manner. I hope that you will soon overcome your difficulties and at the same time inspire your peers to follow suit."
In her opening remarks, Naomi Kitahara, UNFPA Representative for Vietnam highly appreciated the Ho Chi Minh Communist Youth Union's efforts to contribute to mitigating the negative impacts of the COVID-19 pandemic.
Naomi Kitahara affirmed: "The risk of COVID-19 to youth and adolescent is often under-estimated. Yes, young people may have a stronger immune system, but it does not necessarily mean that they are not affected by the impact of COVID-19. It is important to recognise that young people have been confronted with multiple shocks including a disruption to education and employment; income loss; and greater difficulties in finding a job, and accessing health and other public services. Young international migrant workers are one of the hardest hits. Therefore, UNFPA commits to closely working with the Ho Chi Minh Communist Youth Union in the project: "Mitigating the negative impacts of COVID-19 on vulnerable population groups – Ensuring National Progress to Achieve SDGs in Vietnam", funded by the Government of Japan."
Attending the signing ceremony virtually, Daisuke Okabe, Minister of the Embassy of Japan in Vietnam, said: "The Government of Japan is honoured to be able to support these initiatives which contribute to the realisation of the Sustainable Development Goals' philosophy of 'leave no one behind'."/. 
Hà Nội picks design for $395m Trần Hưng Đạo Bridge
The Hà Nội People's Committee has chosen a design for the Trần Hưng Đạo Bridge, which will cross the Hồng (Red) River.
The design is named "Xứ Đông Dương" (Indochina country), and was chosen from three proposed plans.
Experts from the committee said that the plan encapsulated the idea of connecting present and future, connecting historical landmarks in the south of the Red River with the central development area north of the river. The plan has a 'classic' look, which is a reminder of ancient beauty and features of a colourful and lively Indochina.
The project will have total length of about 5.5km. It covers Phan Chu Trinh and Chương Dương Độ wards of Hoàn Kiếm District, Bạch Đằng Ward of Hai Bà Trưng District, Long Biên, Bồ Đề and Gia Thụy wards of Long Biên District.
The construction work will start at the Trần Hưng Đạo-Trần Thánh Tông crossroads in Phan Chu Trinh Ward of Hoàn Kiếm District. It will end at the Nguyễn Văn Linh Road in Gia Thụy Ward, Long Biên District.
Trần Hưng Đạo Street was originally called 'Boulevard Gambetta' during the French colonial rule early last century, before it was named after a great Vietnamese general in the 13-14th century and still has to this day many buildings with colonial style architecture. The bridge is meant to connect this 'old' part of Hà Nội to the northern bank of the Hồng River.
The project will include different infrastructure such as water supply and drainage, trenches, tunnels, trees and lighting.
The bridge will be 31m wide.
The whole project is estimated to cost nearly VNĐ9 trillion (US$395.6 million) and is expected to be carried out between 2022-25 under the Build-Operate-Transfer (BOT) model. 
Vietnam records 10,585 COVID-19 cases on September 15
Vietnam recorded 10,585 new COVID-19 cases in the past 24 hours to 5pm September 14, taking the total number of infections to 645,640, according to the Ministry of Health.
There were also 250 fatalities during the day, raising total death toll to 16,186 or 2.5 percent of the national caseload.
Among the new cases, there were two imported and 10,583 local.
HCM City still topped the list with 5,301 new infections, followed by neighbouring Binh Duong province with 3,228, Dong Nai (808), Long An (424), and Kien Giang (183). The capital city of Hanoi logged 14 cases.
A further 14,189 recoveries were reported on September 15, taking the total number of patients given the all-clear to 412,650.
There are currently 6,008 people being treated in intensive care units./. 
Vietnam, Qatar hold great cooperation potential
Vietnam's Deputy Foreign Minister Pham Quang Hieu and Secretary-General of Qatar's Ministry of Foreign Affairs Ahmad Hassen Al-Hammadi shared their view that the two countries have great potential for cooperation, during their online talks on September 15.
Hieu noted with pleasure the active development of cooperation and friendship between Vietnam and Qatar over the past time, especially in politics and economy.
The two sides have exchanged all-level delegations, while actively supporting each other at multilateral forums, the official further explained.
Despite difficulties caused by the COVID-19 pandemic, their two-way trade still expanded from 313 million USD in 2019 to 550 million USD last year, he added.
Ahmad Hassen Al-Hammadi, for his part, lauded achievements Vietnam has recorded in politics, foreign affairs and socio-economic development, and emphasised that Qatar always attaches importance to boosting multi-faceted cooperation with Vietnam.
The two sides compared notes on measures to consolidate and enhance the bilateral cooperation in the time ahead, with attention to be paid to online exchanges between leaders of ministries and agencies.
They will continue their close coordination at international forums and organisations, and maintain existing cooperation mechanisms regularly and effectively.
Both stressed the significance of coordination in organising online trade and investment promotion activities, and speeding up negotiations and signing of cooperation agreements to complete the legal framework for bilateral collaboration.
The two sides also agreed to cooperate in the pandemic fight. Vietnam called on Qatar to help the country with access to COVID-19 vaccine sources and other medical supplies.
The officials also exchanged views on regional and international issues of shared concern./. 
HCM City honours Catholic volunteers for COVID-19 control
The Vietnam Fatherland Front Committee in the pandemic hotspot Ho Chi Minh City hosted a ceremony on September 15 to honour and present gifts to 29 Catholic volunteers serving at a local COVID-19 treatment hospital.
The volunteers are Catholic monks and nuns who have just completed their task of supporting pandemic prevention and control at the city's COVID-19 treatment hospital No.16.
At the event, To Thi Bich Chau, Chairwoman of the committee, lauded their spirit of voluntarily working in risky areas, assisting medical staff, and taking care of patients, thus helping the medical sector ease its current pressure of overloads.
Vuong Trong Hieu, deputy head of the hospital, highly valued the contributions of the volunteers, noting that their support has become a great encouragement for frontline medical forces.
To date, 546 volunteers from different religious organisations have joined activities in aid of frontline forces at hospitals across HCM City. Of them, 107 have completed their missions, with many registering to extend their support./. 
HCM City to pilot COVID-19 green cards in three districts
Ho Chi Minh City is planning to pilot COVID-19 green cards in districts 7, Can Gio and Cu Chi, where the pandemic has basically been controlled.

Lam Dinh Thang, Director of the Department of Information and Communications, said the green cards would help the city monitor people who would become eligible to travel and work based on COVID-19 preventive criteria.
When it is approved by the Government, it would be put into use in districts 7, Can Gio and Cu Chi, he added.
The green cards will be issued to people who are vaccinated after a minimum of two weeks from the time they get their second shots of Astrazeneca, Pfizer, Moderna, Sinopharm, or Sputnik V vaccines or one shot of Johnson & Johnson's Janssen vaccine or if they have fully recovered after contracting COVID.
The card will be valid for six months./. 
Vietnamese Embassy in Singapore receives first batch of aid from Temasek Foundation
The Vietnamese embassy in Singapore on September 15 received the first batch of medical supplies donated by Singapore's Temasek Foundation to help Vietnam deal with the COVID-19 pandemic.
The batch, comprising 16 ventilators, 10,000 protective suits, 50,000 BYD KN95 masks, 4,500 sets of gloves and 5,000 protective glasses, is expected to be transported to Vietnam on a flight of Vietnam Airlines on September 17.
Attending the hand-over ceremony was Le Cong Dung, Minister Counsellor of the Vietnamese embassy in Singapore Le Cong Dung and Joan Ng, Senior Director of the Temasek Foundation.
After arriving in Vietnam on September 17, the medical supplies will be handed over to Hanoi Medical University Hospital, Dung said, adding that the remaining goods will be shipped to Vietnam as soon as possible.
The Temasek Foundation's support for Vietnam this time consists of 16 ventilators, 250,000 high-end medical masks, 200,000  face shields, 100,000 protective suits, 5,000 protective glasses, and 4,500 sets of gloves.
Founded in 2007, Temasek Foundation is a non-profit organisation that has operated many projects in Vietnam in capacity improvement and training in health care, education and public administration./. 
Nguyen Du Lao-Vietnamese bilingual school begins new school year
The Nguyen Du Lao-Vietnamese bilingual language school in Vientiane started the 2021-2022 school year with an online ceremony on September 15.
Officials from the Vietnamese Embassy in Laos and representatives of the Vietnamese community in Vientiane as well as students' parents attended the event.
Speaking at the ceremony, rector of the school Sivanheuang Phengkhammay said that despite facing the COVID-19 pandemic, it has striven to ensure that students' learning was not disrupted in the 2020-2021 school year.
Thanks to the great efforts of the teachers, the school's educational activities continued to achieve encouraging results, she said.
While congratulating the teachers and students on the occasion of the new school year, Tran Dai Thang, First Secretary of the Vietnamese Embassy in Laos, asked the school's management board to devise a specific plan in line with the actual situation and soon apply technology in teaching to promote their achievements. 
He also underscored the importance of transferring knowledge about Vietnam's culture and history to deepen the special friendship between Vietnam and Laos and help overseas Vietnamese children and Lao students understand more about the country and people of Vietnam./. 
VUFO honours Thai diplomat for contribution to Vietnam-Thailand ties
The Vietnam Union of Friendship Organisation (VUFO) on September 15 presented the "For Peace and Friendship among Nations" insignia to the Consul General of Thailand in Ho Chi Minh City, Apirat Sugondhabhirom, on the occasion of the 45th anniversary of the Vietnam-Thailand diplomatic ties (1976 – 2021).
The decoration was awarded to the Thai diplomat in recognition of his valuable and effective contribution to maintaining and strengthening the friendship and partnership between the people of Vietnam and Thailand.
At the award presentation ceremony held via video teleconference, Chairman of the Vietnam-Thailand Friendship Association (VTFA) in HCM City Dinh Khac Duy congratulated Apirat Sugondhabhirom, saying since the Thai diplomat began his mission in HCM City in 2019, he has worked tirelessly to nurture and further develop the two countries' bilateral ties.
The Consulate General of Thailand has sponsored a number of charitable projects, including those providing free life-saving surgeries for children with congenital heart defects and cataract surgeries for impoverished patients in HCM City and Tay Ninh.
It has also offered scholarships to orphans and students from disadvantaged backgrounds and sent Thai students to participate in volunteer work in the southern city, while hosting various cultural and youth exchange events to enhance mutual understanding between the two peoples.
Expressing his honour to receive the medal, Apirat Sugondhabhirom said he always treasures his friendship with Vietnamese people and will do his utmost to further beef up the bilateral ties. He affirmed Thailand's commitment to stand by Vietnam's side in combating the COVID-19 in the context that the pandemic is ravaging globally and regionally.
Via the HCM City VTFA, the diplomat presented 30 scholarships to Vietnamese students with excellent academic performance in the city./. 
Cooperation is needed to ensure effective response to COVID-19: Diplomat
Minister Counselor Nguyen Phuong Anh, deputy head of Vietnam's Permanent Mission to the United Nations (UN), World Trade Organisation (WTO) and other international organisations in Geneva, underlined the need for countries to strengthen solidarity and close cooperation to effectively respond to the COVID-19 pandemic, especially ensuring timely and equitable access to COVID-19 vaccines and treatment for all.
She made the statement on September 14 at a dialogue on human rights all over the world, which was held virtually as part of the UN Human Rights Council's ongoing 48th session.
Anh thanked the international community for timely support to Vietnam in the fight against the COVID-19 pandemic, especially when the country is facing a very serious fourth wave of infection due to the emergence of new variants.
The Vietnamese diplomat affirmed that Vietnam is determined to put people at the centre of policies, strengthen health response capacity to the COVID-19 pandemic, implement social and financial support programmes to ensure the basic human rights of the people. 
Protecting and realising human rights for all in the post-COVID-19 context required a shift in approach and priorities, therefore, Vietnam calls on the UN Human Rights Council to join the post-COVID1-9 recovery mission to achieve the sustainable development goals, she said.
Addressing the opening of the 48th session, which saw the attendance of head of the Vietnamese permanent mission Ambassador Le Thi Tuyet Mai, UN High Commissioner for Human Rights Michelle Bachelet emphasised that climate change has become "the greatest challenge to human rights in our era."
It has seriously affected a broad range of rights, including the right to adequate food, water, education, housing, health, development, and even lives, she said. 
Bachelet also reviewed the impacts of climate change on many countries and regions, including those in the Sahel region, Central Asia, Southeast Asia and Central America. She called for countries to take strong action to respond to climate change. 
Regarding the recovery from the COVID-19 pandemic, Bachelet highlighted the importance of adopting human rights-based approaches and choosing policies that can address inequality and encourage innovative solutions related to the environment to build greener economies in the post-COVID-19 period.
The 48th session of the UN Human Rights Council opened on September 13 and lasts until October 8. 
As many as six thematic discussions and 37 dialogues are expected to be organised during the session. The Council is scheduled to consider and approve the Universal Periodic Review (UPR) report of 15 countries and the appointment of special procedure mandate holders as well as 25 draft resolutions./. 
Conference of internal affairs agencies to realise 13th National Party Congress' Resolution opens
Party General Secretary Nguyen Phu Trong on September 15 attended a national conference of agencies in charge of internal affairs across the country to implement the 13th National Party Congress' Resolution.
The conference, which is held in both in-person and online forms, was also attended by Politburo members: President Nguyen Xuan Phuc, Prime Minister Pham Minh Chinh, National Assembly Chairman Vuong Dinh Hue and Permanent member of the Party Central Committee's Secretariat Vo Van Thuong.
This is the first national conference of all agencies in charge of internal affairs held after the first session of the 15th National Assembly and the first session of the Government in the new tenure.
Participants agreed that agencies have shown strong performance in giving strategic advice and proposals to the Party and State on major policies regarding internal affairs as well as anti-corruption and judicial reform matters.
The agencies have also played a core role in ensuring the country's independence, sovereignty, unification and territorial integrity as well as political security, social order and safety as well as peaceful life of the people, creating a peaceful, stable, secured and safe environment for national development.
They have also actively worked to detect and settle corruption cases and negative phenomena in a strict and timely manner, contributing to realising and affirming the Party and State's determination and efforts to combat corruption with the motto of not allowing any "restricted areas and exceptions".
The conference is of significance, manifesting the close and smooth coordination and the involvement of the whole political system, the consensus and high determination of the whole Party, people and military in implementing the Resolution of the 13th National Party Congress.
Party General Secretary Nguyen Phu Trong is going to deliver an important speech at the conference./. 
First Vietnamese student among 50 finalists of Global Student Prize 2021
Dong Ngoc Ha, a biological science student at the Hanoi University of Science (Vietnam National University), has been named among the Top 50 Finalists for the Global Student Prize 2021.
The finalists shortlisted for this year's prize have been selected from over 3,500 nominations and applications from 94 countries and territories around the world.
Candidates who apply for the Global Student Prize are assessed on a range of criteria, including their academic achievements, influence on their peers, and how they made a difference within their local communities.
The winner is due to be announced at an awards ceremony to be held in Paris, France, in November and will receive a cash prize of 100,000 USD.
Ha has received a number of awards, including a third-class Labour Order in recognition of his outstanding achievements in labour, creativity, and national construction, a silver medal at the International Biology Olympiad 2020, and the first prize at the Vietnam Biology Olympiad 2020.
In 2019, he founded the Biology For All Vietnam project which was the first pro-bono scheme of its kind for gifted students in Vietnam. The project brought together a team of seven lecturers to teach National Biology Olympiad teams in 10 localities across the country./. 
Vietnam urges advancing transitional process in Sudan
Ambassador Pham Hai Anh, Deputy Permanent Representative of Vietnam to the United Nations, has highlighted the importance of advancing the transitional process through the Juba Peace Agreement in Sudan, with efforts focused on resolving differences among the parties.
Addressing the UN Security Council's briefing on activities of the 1591 Committee and the UN Integrated Transition Assistance Mission in Sudan (UNITAMS) on September 14, Anh stressed that it was critical to foster collaboration among the United Nations, UNITAMS, African Union, Intergovernmental Authority on Development (IGAD) and other international partners.
Underlining the importance of ensuring the full implementation of the National Plan for the Protection of Civilians, he called on the Transitional Government to further strengthen its related responsibility by addressing the causes of intercommunal violence.
He urged Sudan to facilitate the UN-African Union Mission in Darfur (UNAMID)'s liquidation process, emphasising that for Sudan to effectively own the transition process, the international community must continue to support the country in addressing COVID-19. At the same time, urgent efforts must be made to provide food and basic services to those in need.
Turning to the issue of sanctions, he said clear, well-identified benchmarks and frequent reviews are needed to reflect progress on the ground.
Speaking at the event, Volker Perthes, Special Representative of the UN Secretary-General for Sudan and Head of UNITAMS, said that Sudan is making headway in its transition to democracy, with growing momentum towards drafting a new Constitution and organising elections, but long‑term success requires sustained international support.
UNITAMS stands ready to provide technical support, at Sudan's request, on a road map for military and security sector reform that would align with the Prime Minister's initiative and the Juba Agreement for Peace in Sudan, he added.
UNSC members also acknowledged the recent positive developments in Sudan, but they said that the country still faces many challenges, especially increasing violence between communities, and economic and humanitarian crisis.
They reaffirmed their support for UNITAMS's activities in backing the transition process in Sudan./. 
RoK tourism agency in Vietnam launches online dance contest amid COVID-19
The Vietnam Office of the Korean Tourism Organisation (KTO) has launched a dance contest with the participation of ITZY, a girl group of the Republic of Korea (RoK), on Tiktok video-sharing focused social networking service.
The event will run until September 21, with total prizes worth over 100 million VND (4,400 USD).
The organiser said the event is aimed at bringing joy and positive energy to the public during social distancing in a bid to curb the spread of COVID-19 in Vietnam.
KTO Chief Representative in Vietnam Park Jong-sun voiced his hope that Vietnam will soon bring COVID-19 under control and the RoK can welcome Vietnamese tourists in the coming time.
The dance contest has attracted thousands of entries of young people across Vietnam and more than 250 million views on Tiktok.
K-pop sensation ITZY has been named honorary ambassador of the KTO since 2020.
The KTO Vietnam Office is set to arrange various virtual events in this year's fourth quarter./. 
BIDV donates 25 billion VND to provide telecoms services, computers to students
The Bank for Investment and Development of Vietnam (BIDV) has contributed 25 billion VND (1.09 million USD) to a programme aimed to provide computers and telecommunications services for students and pupils with difficult circumstances, especially those living in COVID-19 pandemic-hit areas.
The bank's contribution to the programme aims to help needy students, especially those in localities applying social distancing measures under the Prime Minister's Directive 16 to access sufficient conditions for their smooth and effective online studying.
Earlier, the bank donated 25 billion VND to Ho Chi Minh City to support the city in COVID-19 prevention and control. In late July, BIDV also donated 10 billion VND to the city for pandemic control efforts.
So far this year, the bank has offered 230 billion VND in total to pandemic prevention and control efforts of the country.
The programme to provide computers and telecommunications services for students and pupils with difficult circumstances, especially those living in areas hit by the COVID-19 pandemic, was launched by Prime Minister Pham Minh Chinh at a ceremony on September 12.
The program aims to mobilise 1 million computers, and ensure mobile service coverage at all 283 points without mobile Internet connection in localities that are applying social distancing regulations, and 1,910 other places nationwide.
According to statistics from the Ministry of Education and Training, as of September 12, online teaching and learning has been deployed in 26 out of 63 provinces and cities across the country. The total number of students joining online studying is estimated at 7.35 million, of them 1.5 million do not have computers./.
Source: VNA/VNS/VOV/VIR/SGT/SGGP/Nhan Dan/Hanoitimes  

HCM City sees decrease in COVID fatalities thanks to improved home treatment