HCM City drafts safety criteria for transport businesses
The HCM City Department of Transport has drafted a set of criteria for evaluating the safety of operations for transport businesses amid the COVID-19 pandemic.
The department has sent the draft to the city's Department of Health for appraisal.
The draft proposes 10 evaluation criteria, including six mandatory criteria and four additional criteria.
Each criterion grades the transport businesses on a 10-point scale.
The percentage of the safety index will be calculated by the average of the total points for 10 criteria divided by 100.
To resume operation, transport businesses are required to meet all mandatory criteria without zero points and at least 70 per cent of the safety index.
If businesses have a safety index ranging from 60 per cent to 70 per cent and do not have any mandatory criteria with zero points, they will be allowed to resume operation.
However, they have to commit to solving the problem and achieve a minimum safety index of 70 per cent within two days, and if not, they must suspend their operations.
Businesses will be not allowed to resume their operations if they have a safety index of below 60 per cent or one of mandatory criteria with zero points.
The first mandatory criterion requires that drivers and attendants have their second dose of COVID-19 vaccine at least two weeks before resumption of work, or have recovered from COVID-19 over the past six months.  If they have received their first dose of COVID-19 vaccine, it must be at least two weeks prior to resumption of work. These cases will get 10 points.
If they received their first dose of COVID-19 vaccine four weeks prior to resuming work, or have recovered from COVID-19 over the past six months but have not received any dose of COVID-19 vaccine, these cases will get 7 points.
Those who do not meet any of these requirements will receive zero points.
The second mandatory criterion concerns testing of drivers and attendants. Periodic COVID-19 testing is 10 points, infrequent COVID-19 testing is 5 points, and no testing is zero.
The third mandatory criterion requires strictly following the Ministry of Health's 5K massage: khẩu trang (face mask), khử khuẩn (disinfection), khoảng cách (distance), không tụ tập (no gathering), and khai báo y tế (health declaration), and COVID-19 vaccinations (10 points for strictly following and zero for not following).
The next mandatory criterion requires offering hand sanitisers with at least 70 per cent alcohol for passengers, using disinfectant solutions to clean vehicles, and equipping trash cans with closed lids on all means of transport (from 10 points to zero).
The fifth mandatory criterion will offer 10 points for vehicles transporting passengers (including drivers and attendants) at 50 per cent of their capacity, or cargo transport having no more than two people in one vehicle.
Five points will be given to vehicles transporting passengers at 50 per cent to 70 per cent of their capacity, or cargo transport having more than two people in one vehicle and keeping a safe distance from each other.
Vehicles transporting passengers more than 70 per cent of their capacity, or cargo transport having more than two people in one vehicle and not keeping a safe distance will receive no points.
In the last mandatory criterion, vehicles will get 10 points if they have propaganda posters, recommendations and guidance on pandemic prevention and control measures according to regulations. If not, they receive no points.
Four additional criteria include establishing a steering committee (or working group) and having a plan for pandemic prevention and control work; cleaning and disinfecting the vehicle at the end of each trip; the level of ventilation of the vehicle; and placing a partition between driver and passenger in the vehicle.
Each criterion is also scored based on a 10-point grading scale, getting 10 points if the requirement is fulfilled and no point if the requirement is not followed. 
VN loses goalkeeper Van Lam for the next matches of the World Cup qualifiers campaign
Following Đoàn Văn Hậu, goalkeeper Đặng Văn Lâm is the next player to miss out on the rest of this year's World Cup's final round qualification due to injury.
After the loss against Australia, Lâm returned to Cerezo Osaka. Unfortunately, the Russian - Vietnamese goalkeeper suffered a shoulder injury during training with the Japanese team.
According to doctors, it will take Lâm three months to recover and the 28-year-old player will definitely miss four matches against China, Oman, Japan and Saudi Arabia in October and November.
The Vietnam Football Federation (VFF) said: "For goalkeeper Đặng Văn Lâm, the board will continue to update information during his time at Cerezo Osaka in order to take the initiative in planning."
Last week, Lâm started playing for Việt Nam against Australia at Mỹ Đình Stadium in the second match of the third round of World Cup qualification.
Despite a massive effort, Lâm conceded the only goal of the match as the national team failed to produce an upset.
To replace the Cerezo Osaka's goalkeeper, Coach Park had to call on Viettel FC's Trần Nguyên Mạnh.
Mạnh is the fouth goalkeeper of the team in this gathering, alongside Bùi Tấn Trường, Nguyễn Văn Toản and Nguyễn Văn Hoàng.
"Lâm has not had much time playing for the national team recently. Before going to Saudi Arabia, he only had a few days to practise with his teammates," coach Park said after the loss against Australia.
"I also want to create a competitive atmosphere in the team. Although Việt Nam lost, Lâm's performance was still decent."
On Wednesday, Park Hang-seo announced the official list of 32 players to prepare for the matches against China and Oman.
This will see the return of Nguyễn Công Phượng to the national team as well as new faces such as Nguyễn Xuân Nam and Nguyễn Trọng Đại.
The whole team started training from Thursday with 29 players, including four players from the U22 team: Lê Văn Xuân, Bùi Hoàng Việt Anh, Lý Công Hoàng Anh and Nguyễn Thanh Bình.
The team will return to the UAE to face China on October 7 at Shajah stadium. 
Hanoi to halt checks on travel permits in COVID-19-free zones
Hà Nội will halt checks of travel documents in 19 districts deemed to have no community COVID-19 cases, said permanent deputy chairman of the Hà Nội People's Committee Lê Hồng Sơn on Thursday morning.
Speaking with the media, Sơn said that the city authorities had decided to adjust management in "green zones", which are COVID-19-free areas, so that it would be more convenient for residents.
Residents travelling in 19 districts that are recognised as "green zones" will not have to show certificates or documents to the police and inspectors.
Residents in "red zones" – zones with COVID-19 cases, will still strictly follow regulations of social distancing based on Prime Minister Phạm Minh Chính's Direction 16. They are only allowed to travel in necessary cases and must show their papers to the inspectors.
If residents travel from "green zones" to "red zones", their papers will be checked.
Depending on the specific circumstances, districts will issue detailed instructions to local residents.
The city will remove checkpoints in green zones, and maintain checkpoints in border areas between districts.
If any new COVID-19 cases are found, the checkpoints will be restored.  
Hà Nội on Wednesday allowed restaurants and food and drink establishments to reopen for delivery, starting noon Thursday, but only in districts that have recorded no community COVID-19 cases since September 6.
The establishments are also required to close before 9pm every day.
19 districts and townships – Ba Đình, Ba Vì, Bắc Từ Liêm, Cầu Giấy, Đan Phượng, Gia Lâm, Hoài Đức, Long Biên, Mê Linh, Mỹ Đức, Nam Từ Liêm, Phú Xuyên, Phúc Thọ, Quốc Oai, Sóc Sơn, Sơn Tây, Thanh Oai, Ứng Hoà, and Tây Hồ – are at a 'new normal' level, or have no community cases since September 6, according to the official list from the health department late Wednesday.
They also must fully implement pandemic prevention measures, including mandatory 5K [khẩu trang (face mask), khử khuẩn (disinfection), khoảng cách (distance), không tụ tập (no gathering), and khai báo y tế (health declaration)]. 
General planning tasks for Thu Duc city approved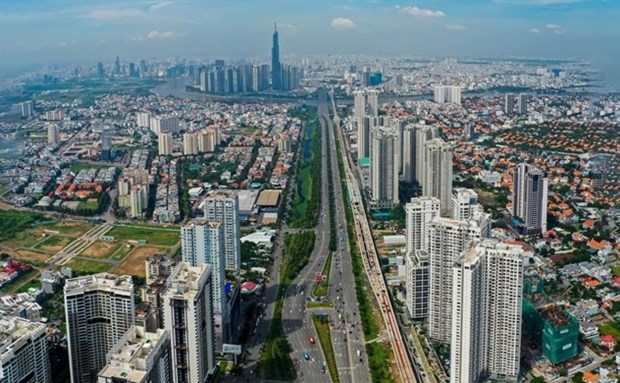 A view of Thu Duc city (Photo: baodautu.vn)
Deputy Prime Minister Le Van Thanh on September 19 signed a decision on the general planning tasks regarding Thu Duc city in Ho Chi Minh City until 2040 with the goal to develop Thu Duc into one of the important centres of knowledge economy, science - technology, and finance of HCM City and the country.
According to the decision, the scope of direct study for planning covers the entire area within the administrative boundary of Thu Duc with a total area of about 211.56 km2. Meanwhile, the scope of indirect study also includes districts of HCM City and two neighbouring provinces of Dong Nai and Binh Duong.
The planning aims to propose development orientations suitable to the structure and development orientation of HCM City in order to meet the goal of becoming one of the important economic, scientific - technological and financial centres of the City and country.
The planning is required to meet new requirements in HM City's socio-economic development strategy and create feasible conditions for implementing synchronously solutions to urban development problems related to population, housing, infrastructure, traffic, environment, adaptation to climate change on the basis of digital infrastructure development and transformation.
The planning, at the same time, will create a legal basis for managing development, investment and construction of urban technical infrastructure systems and areas in Thu Duc city in line with the planning, ensuring urban quality in accordance with meeting grade-1 urban standards.
According to the decision, Thu Duc will be a grade-1 city under the administration of HCM City. It will be developed following an innovative and highly interactive urban model, and will be the eastern centre of Ho Chi Minh City in terms of economy, science and technology, culture, education and training.
Thu Duc city will be an innovation centre, focusing on the fields of advanced education and training, hi-tech research and production, finance and trade – services. It will play a central role in innovation and digital infrastructure development of HCM City and the HCM City region, and a transport hub connecting the current centre of HCM City with Long Thanh international airport and key urban and functional areas in the east of the HCM City region.

It is expected to have a population of 1.5 million by 2030 and 2.2 million by 2040.
The planning work is required to base on the development master plan of HCM City and specialized plans that have been implemented in Thu Duc city, and the forecasts for development demands of HCM City and other southern provinces of Dong Nai, Binh Duong, and Ba Ria - Vung Tau./.
2022 AFC Women's Asian Cup qualifying round: Vietnamese team have only two rivals in group B
As the Afghanistan team have officially withdrawn from the qualifying round of the 2022 AFC Women's Asian Cup, only three teams remain in group B including Vietnam.
On September 23 Vietnam will play against the Maldives and Tajikistan on September 29. The matches will take place at 8 pm local time (10 pm Vietnam time) at the Central Stadium in Dushanbe, the capital of Tajikistan.
The Vietnamese women's team will leave for Tajikistan on September 16 afternoon. It is expected that the team will arrive in Dushanbe at 2:55 am on September 18.
Coach Mai Duc Chung has finalised the list of 23 players who will play at the AFC Women's Asian Cup qualifying round in Tajikistan.
"Although it has been a long time since our team have played internationally, they are all ready for the upcoming tournament. The training period is over, all the preparations are completed. Now it all comes down to the performance of the players on the field, in each upcoming match," said Mai Duc Chung./.
President's presence at UNGA 76 shows Vietnam's responsibility and commitment: Ambassador
President Nguyen Xuan Phuc's upcoming attendance in the 76th session of the UN General Assembly (UNGA 76) shows Vietnam's strong sense of responsibility and commitment as a non-permanent member of the UN Security Council (UNSC) over the last two years, Vietnamese Ambassador Dang Dinh Quy told Vietnam News Agency.
President Phuc is scheduled to attend the high-level General Debate of the UN General Assembly's 76th session and three high-level meetings on global food security system, climate security and response to the COVID-19 pandemic; and meet with a number of heads of state and partners from the US, the diplomat revealed.
As the trip takes place amid the complex resurgence of the COVID-19 globally, it carries a very special meaning, the ambassador said, adding that it shows how Vietnam takes its responsibility very seriously and is strongly committed as a non-permanent member of the UNSC for the 2020 – 2021 term.
The meetings are expected to accelerate response to the pandemic, deal with its consequences and promote post-pandemic economic recovery, he continued. It also provides the president a chance to discuss with other heads of state about the implementation of the Sustainable Development Goals (SDGs) by 2030.
He moved on to say that Vietnam has been highly regarded by the international community for its work in the UNSC and UN at large and the imprints it has left after accomplishing its role as President of the UNSC in January 2020 and April 2021.
Many countries held that Vietnam has fulfilled its commitments to the UNSC, foster the rule of law and enhance the role of the UN Charter and international laws, he noted, adding that one of Vietnam's successes as President of the UNSC was to have the Resolution on protection of objects indispensable to the survival of the civilian population adopted. It was the first UN resolution initiated by Vietnam./. 
President's upcoming visit to affirm continuity of Vietnam-Cuba solidarity: Ambassador
President Nguyen Xuan Phuc's upcoming official visit to Cuba will affirm the continuity of fraternal solidarity, comprehensive cooperation and mutual absolute trust between the two Parties, States and people over the past more than six decades, said Vietnamese Ambassador to Cuba Le Thanh Tung.
Speaking to the Vietnam News Agency (VNA)'s correspondent in Havana, Tung stressed that the visit, scheduled to take place from September 18-20, will be the first high-level visit between the two countries since the 13th National Congress of the Communist Party of Vietnam and the 8th National Congress of the Communist Party of Cuba.
This will be the first time that Cuba welcomes a foreign head of state since COVID-19 broke out in the country in early 2020, he noted, stressing that this manifests the special solidarity between Vietnam and Cuba.
The diplomat held that the close ties between the two countries have been shown during the fight against COVID-19 pandemic. Right since the beginning of the outbreak in 2020, Vietnam and Cuba have offered gifts and relief aid to each other, he noted.
Right after gaining initial positive results in COVID-19 vaccine research, Cuba showed its willingness to cooperate with and support Vietnam in the pandemic combat in specific aspects such as vaccine provision, technology transfer and collaboration in research, production and use of vaccines for children as well as manufacturing COVID-19 treatment medicine.
Regarding bilateral economic ties the area that has received great attention from Party and State leaders of both nations, Tung said that during President Phuc's visit, the two sides are expected to sign a joint Plan of Action to implement the bilateral economic cooperation agenda in the 2021-2025 period, which covers cooperation in more than 10 fields from trade, investment, energy, and tourism infrastructure to science - technology, and health care as well as other fields, along with many agreements in economy, trade and investment.
Vietnam has been the second biggest trade partner and the largest investor of Cuba in the Asia-Oceania region.
The ambassador expressed his belief that during the visit, more Vietnamese enterprises will pour investments in Cuba to optimise the strength of each country and the supplements of the two economies, especially in energy, construction materials and consumer goods production, and tourism infrastructure./.
Vietnam, RoK agree to boost defence ties
Vietnam's Minister of National Defence Gen. Phan Van Giang on September 16 received Korean Vice Minister of National Defence Park Jae-min who arrived in Vietnam the same day to attend the 9th Vietnam-Republic of Korea Defence Policy Dialogue at the invitation of Deputy Minister of National Defence Sen. Lieut. Gen. Hoang Xuan Chien.
Giang highly appreciated the results of the dialogue and the outcomes of cooperation between the two defence ministries over the past time.
He expressed his hope that the two sides would continue to further strengthen the friendship, and effective and practical cooperation in many fields in the coming time.
The minister thanked the Korean Government for supporting Vietnam with aid packages to help Vietnam in the fight against the COVID-19 pandemic.
Giang said he expected to welcome the Korean Minister of National Defence to visit Vietnam at an appropriate time.
Earlier on the same day, Deputy Minister of National Defence Sen. Lieut. Gen. Hoang Xuan Chien and Korean Vice Minister of National Defence Park Jae-min co-chaired the 9th defence policy dialogue.
At the event, the two sides exchanged views on the global and regional security situation and international issues of common concern. 
The deputy ministers highly evaluated the outcomes of cooperation in a number of fields and agreed to promote the achieved results. 
They also pledged to strengthen cooperation in defence industry, settlement of war consequences, maritime security, and activities related to UN peacekeeping, COVID-19 prevention and control, and coordination activities at forums within the multilateral framework, especially cooperation mechanisms led by the Association of Southeast Asian Nations (ASEAN)./.
President Nguyen Xuan Phuc holds phone talk with Russian counterpart
President Nguyen Xuan Phuc held phone talks with Russian President Vladimir Putin on September 16, during which the leaders discussed directions and measures to further strengthen the Vietnam-Russia comprehensive strategic partnership, cooperation in COVID-19 prevention and control as well as regional and international issue of common concern.
Phuc said that Vietnam always treasures the traditional friendship and comprehensive strategic partnership with Russia and hopes to strengthen cooperation between the two countries in all fields, for the mutual benefit of the two nations.
The two leaders agreed to take measures to further facilitate bilateral trade and investment, expand cooperation and accelerate the implementation of important projects in key fields such as energy, oil and gas, as well as national defence and security in the post-pandemic period.
The Vietnamese President thanked Russia and hoped to continue receiving its support in vaccines, treatment drugs and medical supplies to fight the pandemic. He also wanted Russia to give Vietnam priority in accessing vaccines and speed up the transfer of vaccine production technology to Vietnam. 
The Russian President agreed to keep up the assistance and cooperate closely with Vietnam in this field.
The two leaders committed to closely and effectively coordinating at regional forums, and agreed on the settlement of disputes in the South China Sea (called East Sea by Vietnam) by peaceful means, based on respect for international law, including the 1982 United Nations Convention on the Law of the Sea (UNCLOS). 
The Vietnamese President affirmed that Vietnam always welcomes and is ready to act as a bridge for Russia to expand cooperation with the  ASEAN and the Asia-Pacific region. He asked Russia to continue to pay attention to support and create favourable conditions for the Vietnamese community who are living, working, and studying there.
President Putin invited President Nguyen Xuan Phuc to pay an official visit to Russia soon and the invitation was accepted with pleasure. The Vietnamese President also said he looks forward to welcoming President Putin to Vietnam early for an official visit./. 
Vietnam wants to deepen ties with Austria: PM
Prime Minister Pham Minh Chinh on September 16 held talks on the phone with Chancellor of Austria Sebastian Kurz, during which he affirmed that Vietnam hopes to further deepen the close and trustful ties with Austria in all fields.
The Austrian Chancellor said that Vietnam is a trustworthy and important partner of Austria in Southeast Asia, and underlined the high potential for the development of the Vietnam-Austria partnership.
Both sides agreed to resume the exchange of delegations and high-level meetings soon, while reinforcing cooperation mechanisms, including the Vietnam-Austria Joint Committee on economic and investment cooperation, heading to the celebration of the 50th anniversary of bilateral diplomatic ties in 2022.
Regarding collaboration in economy, trade and investment, PM Chinh proposed that the Austrian Government create favourable conditions for Vietnamese aquatic products to enter the Austrian market, early approve the Vietnam-EU Investment Protection Agreement (EVIPA), and push the European Commission to remove the yellow card on Vietnam's fisheries sector.
The Austrian Chancellor said that his country is willing to support Vietnam in strengthening partnership with the EU and work for the removal of the yellow card.
Over collaboration in COVID-19 fight, the Vietnamese PM suggested that Austria transfer its redundant vaccines to Vietnam and cooperate in transferring production technologies for COVID-19 vaccine and treatment drug. PM Chinh also expressed hope that Austria will urge the COVAX Facility to speed up the allocation of vaccines to Vietnam in the time to come.
The two leaders also discussed the East Sea issue, highlighting that maintaining maritime and aviation freedom and security and peace in the East Sea is the common interest of the international community. They affirmed support of the settlement of disputes through peaceful methods in line with international law, including the 1982 UN Convention on the Law of the Sea (UNCLOS).
PM Chinh invited Chancellor Sebastian Kurz to visit Vietnam in 2022 on the occasion of the 50th anniversary of bilateral diplomatic relations. The Austrian Chancellor accepted the invitation with pleasure./.
Investment in institutional improvement is investment for sustainable development: PM
Prime Minister Pham Minh Chính on Thursday asked ministries, agencies and localities to pay more attention and spend more resources to build and improve institutions, saying that "investment in institutional improvement is investment in sustainable development."
"Legislation building and institutional improvement are for the sake of the nation and people. This important work must go in line with the fight against corruption and interest groups," he said. 
PM Chính chaired a national online meeting on institutional building and improvement yesterday, emphasising that the work was among strategic breakthroughs he planned to make during his term.
He asked for recommendations to solve pending problems relating to institutions, particularly those related to the socialist-oriented market economy and international integration.
Not only naming the problems, but the recommendations should also include specific responsibilities of individuals, agencies and organisations in addressing relevant issues.
At the meeting, Chính highlighted detailed requirements and tasks relating to institution building.
First, heads of ministries/agencies and chairpersons of provinces/cities People's Committees directly command, oversee, examine the institution-building activities.
Second, institutional improvement policies and directions of the Communist Party of Việt Nam must be specified in detailed legal regulations.
Third, measures are sought to make institutions become a momentum and leverage for social development in which human resources, natural resources and cultural values are promoted to the fullest.
Fourth, shortcomings of the current legal framework and institution shall be detected and amended properly so that people and enterprises must be at the centre of all policies and legislation. Law enforcement must be supervised closely.
Finally, decentralisation must be strengthened and go along with effective supervising tools/measures, improved accountabilities and administrative procedure simplification.
Minister, Chairman of the Government Office Trần Văn Sơn said that it was necessary to have detailed regulations on the coordination among agencies in legislation building as well as sanctions for individuals, especially heads of the agencies which failed to complete their assigned tasks.
Sơn said that agencies that are assigned to compile legal documents are responsible for the content of the proposed draft of the legal documents. 
They should minimise controversial content before submitting the draft to Government and Prime Minister, Sơn said, adding that law compiling agencies should actively discuss with others and seek agreement on the controversial issues.
President sends letter to constituents in HCM City
President Nguyen Xuan Phuc on September 16 sent a letter to constituents in Ho Chi Minh City as he could not go to the city for inspection mission as a National Assembly deputy due to his planned working schedule.
In his letter, the President shared the local people's loss of health and lives and expressed his deep sympathy for their difficulties and damage as they have had to comply with the lockdown and social distancing regulations. The developments of the pandemic are still complicated, but President Phuc believed that it will soon be controlled and people's lives will soon return to new normal.
He recommended the municipal Party Organisation, administration, constituents, and people continue upholding the spirit of solidarity and closeness between the administration and the people; and better promoting the role of the community, grassroots authorities, and mass organisations in the grassroots political system in taking care of people's social security.
President Phuc emphasised that the administration's biggest "treasure" is the people's trust. Therefore, it is necessary to have many channels and ways to listen to their opinions, thoughts and aspirations, and to respond at the highest and most timely levels to the needs of the people with the view of "leaving no one behind in the pandemic".
The President suggested that the Government, ministries, sectors and HCM City's administration should continue to have more worthy treatment and recognition for medical workers and doctors who stand on the frontline against the pandemic.
The city's success in the fight against the pandemic will lay a foundation for the entire nation's, President Phuc wrote, urging the maintenance of belief in the Vietnamese spirit and in a bright future as the country will certainly push back the pandemic and bring back a peaceful life to the people./. 
Frontline forces work hard to combat the pandemic
With the mission of acting as a shield against the pandemic, thousands of police officers in southern Vĩnh Long Province have worked hard day and night with the military and the health sector in performing tasks on the frontlines of the COVID-19 fight.
Since the new COVID-19 wave emerged in Việt Nam in late April, Lieutenant Colonel Nguyễn Văn Núi has been sent to checkpoints to maintain social security and order while preventing the spread of the disease.
Núi is head of the COVID-19 checkpoint in Ward No 8, Vĩnh Long City. He is among more than 1,500 personnel working at 300 supervision stations and patrol teams at quarantine centres in Vĩnh Long Province.
Núi said during the battle, many officers and soldiers have put aside their own needs and concerns to successfully complete their assigned tasks.
"Everyone is aware that they have to fulfil the assigned tasks, especially the prevention and fight against the COVID-19 pandemic, to protect people and also to protect ourselves and our families," Núi said.
During the period of social distancing according to Directive 16 which started on July 19, they were not only on duty at the checkpoints but also had to regularly go on patrol. They had to keep a close watch on the zone to stop people leaving or others entering, while dealing with those who did not follow the rules.
The provincial police force has performed over 13,000 patrols. They made records of over 6,480 cases of violations and sanctioned 2,723 cases with a total amount of over VNĐ8 billion.
Chairman of the provincial People's Committee, Lữ Quang Ngời, said that these checkpoints played an important role in detecting infections and preventing the risk of COVID-19 spreading.
The police force has also helped to raise people's awareness and strictly handle violations, contributing to disease control in the province.
In the last days of July, field hospitals were established to treat and care for COVID-19 patients as the number of COVID-19 cases continued to increase.
Many young doctors and medical students also volunteered to join the fight against the pandemic.
Every day, they support doctors in examination and care for patients.
When the fourth wave broke out, Nguyễn Thanh Quyền, a medical student, decided to apply to be part of the volunteer medical force to fight the pandemic at the field hospital No. 2 in Mang Thít district.
Quyền said that working at the field hospital was an opportunity for him to devote and help him learn more from practical experience.
"I want to share the hardship that other medics out there have suffered, having to work with protective gear in the hot weather," said Quyền.
"During treatment, many patients are very confused. Doctors and nurses have to both treat and be companions to encourage and help patients overcome this hard time."
With the efforts of doctors at the No. 2 field hospital, 268 have recovered and returned to normal life. Only six patients are still being treated.
Doctors said that it warms their heart to see the happy faces of the patients and receive messages of peace and thanks from them.
After more than three months fighting the COVID-19 pandemic, 20 out of 107 communes, wards and towns across the province have started to enter a "new normal".
HCM City: first shots basically completed, new infections down
Ho Chi Minh City has basically completed giving the first shots of COVID-19 vaccines to those aged above 18 while new infections are on the decrease, the municipal Steering Committee on COVID-19 Prevention and Control told a press conference on September 16.
Deputy Director of the municipal Centre for Disease Control and Prevention Nguyen Hong Tam said as of September 15, the city gave 8,452,609 vaccine shots, including 6,667,018 first and 1,785,591 second shots. As many as 969,451 people aged above 65 and having underlying diseases were vaccinated.
Deputy Director of the municipal Health Department Nguyen Hoai Nam said the city is seeking approval from the Health Ministry to reduce the time between two AstraZeneca COVID-19 shots from the usual eight to 12 weeks down to six weeks to speed up immunisation.
According to him, the city has been conducting large-scale testing, which is the reason why the number of COVID-19 cases recorded in recent days remain high, fluctuating at between 4,000 - 6,000 a day. However, the rate of infections among tests has dropped remarkably, from 3.6 percent during the first testing drive in high-risk areas (classified as red and orange areas) from August 23-27 to 2.7 percent in the second drive and 1.1 percent in the third drive.
Nam said mass testing will continue with at least twice or thrice more to discover all infections in the community.
From 0am on September 16, the city adjusted several social distancing measures depending on areas till September 30, allowing shippers to deliver goods across districts but they must test for COVID-19 every two days and follow prevention and control measures.
Sen. Lieut. Col Le Manh Ha from the municipal Department of Public Security said travel permits have also been issued to qualified residents.
Deputy Director of the municipal Department of Industry and Trade Nguyen Nguyen Phuong said about 30,000 shippers in the city had received one vaccine shot. The number of registered shippers could increase in the near future, making it easier for residents to place orders./.
ASEAN, RoK agree to strengthen cooperation on environment, combating climate change
The Republic of Korea and the Association of Southeast Asian Nations (ASEAN) held an online meeting on September 16 to discuss cooperation in combating climate change and other environmental issues.
Mr. Lee Tong-q, Director-General for Climate Change, Energy, Environment and Scientific Affairs, and his ASEAN counterpart, Nguyen Minh Cuong, chaired the meeting. The two sides discussed how to expand cooperation on policy and technology to address environmental issues.
The two sides agreed to hold a meeting at least once a year to share experiences in responding to climate change and other issues and continue to identify areas for bilateral cooperation. In particular, the RoK expressed hope for stronger cooperation with ASEAN countries in enhancing marine waste treatment capacity and intensifying efforts to neutralise Co2 and restore forests.
|
ASEAN and the RoK started their dialogue on the environment and climate change on December 2020 when Seoul promoted its New Southern Policy to strengthen diplomatic and economic cooperation with ASEAN./.
Vietnam attends 18th ASEAN Air Chiefs' Conference
A Vietnamese delegation led by Acting Commander of the Vietnam Air Defence - Air Force Lt. Gen Vu Van Kha attended the virtual 18th ASEAN Air Chiefs' Conference (AACC-18) under the chair of Commander-in-Chief of the Royal Thai Air Force Gen. Airbull Suttiwan on September 16.
On the topic of optimising cooperation to cope with new challenges, Kha said amid traditional and non-traditional security challenges, more than ever, ASEAN air forces need to strengthen solidarity and take action together to cope with new challenges in the region.
He proposed consolidating the collective power of regional air forces in response to disasters and epidemics, as well as new security challenges in the region in the spirit of solidarity and cooperation between ASEAN member states and other nations in the region and the world.
Solidarity and unity in diversity among ASEAN air forces will lay a solid foundation to optimise capability and collaboration in response to new challenges, contributing to the building of an ASEAN of peace, stability, sustainable and long-term development, Kha said.
According to the officer, ASEAN air forces need to step up the regular implementation of consultation mechanism both bilaterally and multilaterally to choose methods suitable with each nation's mechanism and capacity.
He said that the Air Defence – Air Force of Vietnam wants to further foster bilateral ties with air forces of ASEAN nations through the exchange of delegations at all levels and exchanges between young officers, education and training, sharing of experience in flight safety, aviation medicine, and search and rescue./.
Quality jujube yields high profits for Ninh Thuận farmers
Farmers in Ninh Thuận Province are being encouraged to expand cultivation of high-quality jujube and open up their orchards to tourists.
The south-central province, which has the least rainfall in the country, has ideal hot and dry conditions for growing the profitable fruit. Under the province's agriculture restructuring and climate-change adaptation plans, many farmers have switched from low-value crops to jujube.
In Ninh Phước District, the province's largest jujube area, the fruit trees are grown in several communes.
Nguyễn Như Hùng, deputy chairman of the Phước Hậu Commune People's Committee, said jujube cultivation offers profit four times higher than rice.
Farmers can earn a profit of VNĐ200 – 300 million (US$8,800 – $13,100) a year per 2,000 sq.m.
New high-quality varieties are now being cultivated with nets that cover orchards to protect fruit from pests. 
The model, developed by the province-based Nha Hố Research Institute for Cotton and Agriculture Development, improves quality as the fruit can ripen properly before harvesting.
The nets protect the fruit from strong winds, rains and sunshine, according to Nguyễn Văn Chính, director of the institute's Plant Protection Centre.
Besides nets, the institute has told farmers to use plastic sheets to cover the roots of jujube trees and grow black-bean plants to prevent the growth of grass. Black-bean plants humidify the soil as well.
Farmers are also growing new jujube varieties created by the institute. 
Nguyễn Hữu Đức, deputy chairman of the Ninh Phước District People's Committee, said the district is growing more VietGAP-quality jujube and promoting linkages among farmers, co-operatives and companies.
Dried jujube, syrups, jams, wines and juices are now being produced, increasing farmers' incomes, according to Đặng Kim Cương, director of the province's Department of Agriculture and Rural Development.
To increase the value of the fruit, the province is investing more in jujube products and creating favourable conditions for value chains between farmers, co-operatives and companies.
The province is also promoting tourism services in jujube orchards where farmers can sell their produce and earn additional income from such activities.
The National Office of Intellectual Property has granted the province's jujube the collective name "Táo Ninh Thuận". 
HCM City loosens pandemic control measures in specific areas
Ho Chi Minh City will continue to apply social distancing measures in a strict and effective manner in particular areas from September 16 to 30 with adjustments to suit specific districts and wards.

Accordingly, in areas where COVID-19 is put under good control, including District 7, Cu Chi and Can Gio districts as well as export processing zones and industrial parks in the High-Tech Park in Thu Duc city, locals are allowed to go out to buy food once per week.
Meanwhile, COVID-19 "green card" with QR codes will be piloted in areas where the pandemic is basically controlled.
Under the document issued by the Ho Chi Minh People's committee, shippers are allowed to operate in districts and Thu Duc city from 6am to 9pm each day, the same as companies and business households in specific sectors, including postal and telecommunications services, learning equipment, take-way catering services and food supply./.
10,489 new COVID-19 cases, including 10,482 local infections recorded on Thursday
A further 10,489 new COVID-19 infections were recorded in Việt Nam on Thursday, increasing the caseload since the beginning of the pandemic to 656,129, according to the Ministry of Health.
Seven of them were imported cases and the remaining 10,482 infections were all domestic.
HCM City recorded the most with 5,735 cases, followed by Bình Dương with 2,998 and Đồng Nai with 567.
Other localities that reported new cases included Long An (281), Kiên Giang (198), An Giang (126), Tiền Giang (81), Cần Thơ (60), Tây Ninh (58), Quảng Bình (43), Khánh Hòa (37), Đồng Tháp (33), Bình Phước (30), Bà Rịa - Vũng Tàu (29), Bình Thuận (29), Đắk Lắk (26), Bình Định (22), Hà Nội (15), Quảng Ngãi (14), Ninh Thuận (12), Hậu Giang (10), Cà Mau (9), Phú Yên (9), Đắk Nông (8 ), Bến Tre (7), Sóc Trăng (7), Bạc Liêu (7), Quảng Nam (6), Thanh Hóa (6), Trà Vinh (5), Nghệ An (4), Thừa Thiên Huế (3), Gia Lai (2), Đà Nẵng (2), Bắc Ninh (1), Hưng Yên (1) and Lâm Đồng (1).
A total of 6,537 cases were detected in the community.
As many as 10,901 patients were given the all-clear on Thursday, meaning 423,551 people have recovered from the disease so far.
More than 32.2 million doses of COVID-19 vaccines have been administered.
Fourteen out of 63 provinces and cities have not seen any new cases for the past 14 days.
The MoH on Thursday also announced 234 fatalities related to COVID-19 including HCM City (160), Bình Dương (46), Long An (10), Tiền Giang (6), Nghệ An (3), Tây Ninh (2), Bến Tre (2), Thanh Hóa (1), Khánh Hòa (1), Kiên Giang (1), Cà Mau (1), Hà Nội (1).
The country thus saw 16,425 deaths related to COVID-19, making up 2.5 per cent of total patients. The world's fatality rate is 2.1 per cent of total patients.
HCM City speeds up vaccinations for residents
All 21 districts as well as Thủ Đức City in HCM City will continue to speed up vaccinations to achieve the goal of having 100 per cent of people aged 18 and over inoculated with at least one COVID-19 vaccine dose.
It targets giving everyone aged 18 and over their second shot by the end of the year.
According to the Centre for Disease Control of HCM City (HCDC), districts are now focusing on covering the first dose for people 18 and over, regardless of permanent or temporary residence status.
Only districts 11 and 12 have reached 100 per cent of its residents receiving the first vaccine dose.
The city has been giving around 200,000 doses daily in the last few days.
HCM City, the country's top COVID-19 hotspot, has given more than 8.4 million vaccine doses. The figure includes more than 6.7 million people who have received the first dose and 1.6 million people who have received the second dose.
According to health experts, the rate of vaccine coverage is one of the most important conditions for the city to return to normal life and re-open economic and social activities in the future.
HCM City will continue imposing social distancing under the Government's Directive 16 until the end of September, but ease the lockdown in some districts where the situation has become stable.
The announcement was made at a press conference held by the Steering Committee for COVID-19 Prevention and Control of HCM City on the evening of September 15.
Districts that have basically controlled the outbreak, including 7, Củ Chi, and Cần Giờ, will allow people to go to the market once a week.
The city said some businesses and production activities that follow the safety criteria of the city People's Committee could resume under certain conditions. 
Digital transformation vital to agricultural development: Minister
To achieve its ambition to become a modernity-oriented industrialised nation by 2030 and a developed country with high income by 2045, Vietnam must succeed in the digital transformation process, in which agriculture is one of the priority areas, Minister of Foreign Affairs Bui Thanh Son said on September 16.
Son made the statement at the Vietnam Agricultural Digital Transformation International Forum 2021 which was co-organised via videoconference by the Ministry of Foreign Affairs, the Vietnam Digital Agriculture Association (VIDA), and e-newspaper VnExpress under the theme "Keeping up with market trends, ensuring the pivotal role of the economy during and after the COVID-19 pandemic."
The forum was an activity within the framework of the Vietnam International Agricultural Exhibition 2021 (AgriTech Expo 2021).  
Attending the event were representatives of foreign diplomatic agencies in Vietnam and representatives of a number of research institutes, socio-economic organisations, domestic and foreign experts in the field of agricultural digital transformation from Japan, the Netherlands, Israel, and the World Bank as well as those from business associations and enterprises.
The minister said that the Vietnamese Government had soon identified the importance of proactively and actively participating in the fourth Industrial Revolution and the urgent requirement of speeding up the digital transformation process, considering it as a vital solution and an opportunity to make a breakthrough in socio-economic development.
Speaking at the event, Minister of Agriculture and Rural Development Le Minh Hoan pledged to offer all resources and the most favourable policies for businesses wishing to bring added value to Vietnamese agricultural products and improve their trademarks. 
The Ministry of Agriculture and Rural Development would strongly support the digital transformation process and replacing agricultural technology models because the Vietnamese agricultural sector is not only the "backbone" of the economy in difficult times, but was also a measurement of sustainability of the country, he said.
The forum consisted of two discussions that focus on policy orientations and the theme "Shaping Vietnam's digital agriculture until 2035" with the presentation of 20 speakers representing local authorities and leaders of businesses and corporations. 
Participants at the event shared scenarios of Vietnam's agricultural digital transformation by 2035, key issues in Vietnam's agricultural development strategies towards digitalisation given complicated effects from the COVID-19 pandemic, supply chain disruption and climate change./.
Vietnam attends 18th SEA Red Cross Red Crescent Leadership Meeting
Vice President and Secretary General of the Vietnam Red Cross Society (VRCS) Nguyen Hai Anh on September 16 attended the 18th annual Southeast Asia Red Cross Red Crescent Leadership Meeting via videoconference.
Held alternately in countries, the two-day event, chaired by the Thai Red Cross Society, afforded participants a chance to share experience in further promoting regional cooperation in humanitarian field and red cross movement.
Speaking at the event, Anh said the COVID-19 pandemic has posed great challenges to Southeast Asia red cross and red crescent movement and national red cross societies in the region, but also offered opportunities to raise funds, share skills and experience, and create a driving force for national red cross societies to better perform their humanitarian missions in the future.
The VRCS affirms its strong commitment to financial sustainability and resource mobilisation, development of activities by youths and volunteers, health care in emergency cases, and community safety which are priorities in its development strategy till 2030, Anh said, adding that the VRCS pledges to invest more in personnel working in the humanitarian field.
The Vietnamese representative put forth suggestions regarding human resources, opportunities, use of apps in digital platforms and social media to pool resources and create financial sustainability.
Concluding the event, leaders of national red cross societies are due to adopt the meeting's conclusion and transfer the role of President of the Southeast Asia Red Cross Red Crescent Leadership mechanism to the Brunei Red Cross Society./. 
Vietnam, Australia share experience in water sector's development
An online forum on policies and regulations to ensure water resources security for sustainable development was organised on September 16 within the framework of the Vietnam - Australia Water Week 2021.
Co-hosted by the Vietnam Water Supply and Sewerage Association (VWSA) and the Australia Water Association (AWA), the event focused on policies to promote and encourage water safety practices.
Accordingly, priority will be given to enhancing coordination in developing plans for water resource management in both rural and urban areas for the fields of finance, planning, agriculture, energy, tourism, industry, education and health.
At the event, experts of the two countries presented reports focusing challenges and policy orientations for rural water supply security and safety, managing risks amidst impacts of climate change and solutions to ensure safe water supply in urban areas.
According to Tran Thi Thu Hang from the Ministry of Natural Resources and Environment's Water Resource Management Department, the institutional building work in water resources management has been basically completed, gradually meeting management requirements.
However, she noted that a number of policies related to ensuring water resources security, and water supply for daily life, networks of for water resources monitoring stations are not enough and synchronous, failing to meet requirements of assessing the quantity and quality, and forecast of water resource change.
People's awareness on protection and use of water resources remains limited, Hang said, adding that there is a shortage of human resources for managing water resources in localities.
In order to continue to improve the legal system on water resources, the department will continue to perform overall and long-term tasks in order to strengthen the management, protection and sustainable exploitation of water resources, and ensure water resources security.
Participants suggested the Australian side support Vietnam in developing the Law on Water Resources, a system of standards and regulations on safe water supply, training managers and technicians operating in this field, supporting the digitisation of the water industry.
They said Vietnamese and Australian enterprises should further promote business cooperation and technology transfer in the water area.
The Vietnam - Australia Water Week 2021 themed "Water Security for Sustainable Development: is virtually taking place from September 15 – 17 to share experience, difficulties and challenges, and propose solutions as well as policy directions for development sustainable of the water sector in the coming time./.
Thanh Hoa approves plan to preserve, develop Pu Luong Natural Reserve
The People's Committee of the central province of Thanh Hoa has issued a decision approving a plan to conserve and develop the Pu Luong Natural Reserve in a sustainable manner in the 2021-2030 period.
The objectives of the plan include sustainably reserving and developing special-used forest and typical ecosystem of the area, promoting ecodiversity and protecting the environment, sufficiently using natural resources, actively dealing with climate changes, and ensuring water security.
It also aims to improve the livelihood for local community, contributing to boosting socio-economic development and ensuring defence, security in the province.
Specifically, the plan sets a target of effectively protect over 16,400 hectares of natural forest, maintaining forest coverage of over 97.7 percent and enhancing the capacity of protective forest in the upstream of Ma River, thus ensuring water supply for three hydropower plants and 129,000 hectares of farms as well as people in the lower basin of the river.
Comprehensive measures will be implemented to preserve and develop the genetic sources of 58 flora and 47 fauna species that are listed in the Vietnam Red Book and international conventions in which Vietnam is a member.
The provincial People's Committee asked the Management Board of the site to coordinate with relevant agencies to implement the scheme.
Established in 1999, the Pu Luong Natural Reserve covers 17,662 hectares in Quan Hoa and Ba Thuoc districts of Thanh Hoa province. To the north-east, the nature reserve is bordered by Mai Chau, Tan Lac and Lac Son districts, Hoa Binh province. The Pu Luong Natural Reserve lies along two parallel mountain ridges, that run from north-west to south-east, and are bisected by a central valley. This valley contains several human settlements and a large area of agricultural land, and, hence, is not included within the proposed nature reserve.
Fauna has been confirmed and recorded so far to have 598 species of 130 families, 31 orders including 162 bird species, 55 fish species, 28 reptile species, 13 amphibian species, 24 bat species, 63 mammal species, 158 insect species, 96 snail species.
There are 51 rare and valuable and endemic species listed in the Vietnam Red Book (2000) and the IUCN's Red List (IUCN, 2003) of which there are 26 mammal species, 5 bat species, 9 bird species, 5 freshwater fish species, 6 reptile species. It is noticable to affirm the certain existence of big mammals such as Clouded Leopard Pardofelis nebulosa, Golden Cat Catopuma temminckii, Owston's Palm Civet Hemigalus owstoni, Serow Naemohedus sumatraensis, Asiantic bear Ursus thibetanus, Malayan Porcupine Hystrix brachyura.
The Pu Luong Natural Reserve is perhaps most renowned for remaining populations of the globally critically endangered Delacour's Langur Trachypithecus delacouri, which is the second biggest population in Vietnam, after Van Long Nature Reserve. An estimated total of 31 to 38 individuals of the primate are believed to occur in four separate sub-populations at the Nature Reserve.
The limestone range is thought likely to encompass much of the remaining limestone associated species-richness. The Pu Luong Natural Reserve supports at least 1109 vascular vegetation species arranged in 447 genera, 152 families, including 42 endemic species of Vietnam and four species in IUCN's Red List (IUCN, 2003).
It includes 160 species of orchids in wich there are some rare species such as: Hai orchid (Paphiopedilum spp), Kim tuyen (Anoectochilus spp) and some threatened conifers such as: Dinh tung (Cephalotaxus mannii), De Tung (Amentotaxus yunnanensis), Pedocarpus fleurgi (Podocarpus fleuryi), Pa Co pinus (Pinus kwangtungensis). There are four new species are discovered in the biodiversity inventory process./. 
Vice President visits child patients ahead of Mid-Autumn Festival
Vice President Vo Thi Anh Xuan on September 16 visited and presented gifts to child patients at the National Institute of Hematology and Blood Transfusion (NIHBT) on the threshold of the 2021 Mid-Autumn Festival.
The annual festival is considered a traditional occasion exclusively for children.
Xuan expressed her hope that the children will continue to overcome their diseases and soon return to normal life.
The Vice President spoke highly of efforts made by medical workers at the NIHBT who are striving to contain the spread of COVID-19 and at the same time taking care of regular patients.
She voiced a hope that in the coming time, the institute will introduce more research studies and strategic activities to enhance position of Vietnam's medical sector at the regional and international arenas, and provide better health care services, especially for the vulnerable like children.
Head of the NIHBT Dr. Bach Quoc Khanh said that the institute takes care of about 1,200 patients each day, of them 25 percent are children.
Of over 250 children currently receiving inpatient care, over 65 percent are from rural areas and nearly 40 percent from disadvantaged and near-poor families, he added.
In addition to providing treatment, the NIHBT has joined hands with organisations and individuals to arrange online courses and other programmes supporting the child patients and their families./. 
President's upcoming overseas trip highlights Vietnam's foreign diplomacy: diplomat
The upcoming trip of President Nguyen Xuan Phuc to Cuba and New York, the US, have an inclusive target of implementing Vietnam's external relations policy of independence, self-reliance, peace, friendship, cooperation and development, diversification and multilateralisation of foreign relations, said Deputy Foreign Minister Dang Hoang Giang.
At the invitation of First Secretary of the Communist Party of Cuba Central Committee and Cuban President Miguel Díaz-Canel, President Nguyen Xuan Phuc will pay an official visit to Cuba from September 18 to 20.
Later, from September 21 to 24, the President will attend a general debate of the UN General Assembly's 76th session and hold a number of bilateral activities in the US.
He said Phuc's official visit to Cuba reflected Vietnam's policy of promoting relations with priority partners and traditional friends. It is an opportunity for Vietnam to affirm its solidarity and strong support for Cuba in a challenging period, Giang noted.
During the visit, Vietnamese and Cuban leaders will discuss to further close coordination and concretise important collaboration areas between the nations, and to deepen their solidarity in the new period.
At the UN general debate, Giang said, Vietnam will send a strong message to international friends about its image of a dynamic and innovative, development-yearning, and peace-loving country with active and responsible contribution to the common work of the United Nations and the international community.
According to him, this is also a chance for Vietnam to show its appreciation for UN member nations for their trust and high confidence in Vietnam as a non-permanent member of the UN Security Council (UNSC) for the 2020-2021 term. It also affirms Vietnam's commitments and efforts to achieving more positive results at the UN, UNSC, and UN mechanisms and organisations in the coming time, including its candidacy for the UN Human Rights Council (UNHRC) for the 2023-2025 tenure.
With the attendance, Vietnam will clearly demonstrate its desire to join other nations in tackling current urgent issues, especially the COVID-19 prevention and control.
While in the US, the President will meet many heads of states and partners to exchange measures on pandemic prevention and post-pandemic recovery. At the same time, he will work to promote the support and transfer of COVID-19 vaccines.
The President will met leading vaccine producers of the US, eyeing commitments to fastest delivery of number of COVID-19 vaccines, treatment drugs, and medical supplies for Vietnam as many as possible.
According to Giang, Phuc's bilateral activities in the US will contribute significantly to boosting cooperation between Vietnam and the new US administration and fostering the growth of the Vietnam – US comprehensive partnership in line with the nations' common goals and benefits./. 
Returning young migrant workers get support
Young migrant workers in some central localities who have returned home due to COVID-19 will get support to overcome difficulties thanks to the implementation of initiatives on job replacement, income generation, provision of sexual and reproductive health knowledge and life skills.
The initiatives will be carried out in Nghệ An, Hà Tĩnh and Quảng Trị provinces by the Hồ Chí Minh Communist Youth Union, with technical support of United Nations Population Fund (UNFPA) and funds from the Government of Japan following a signing ceremony held online in Hà Nội on Wednesday.
Supporting young returning migrant workers is one of the most important components of the Project "Mitigating the negative impacts of COVID-19 on vulnerable population groups - Ensuring National Progress to Achieve SDGs in Việt Nam", which is funded by the Government of Japan.
The project focuses on four main issues: gender-based violence; care for older people; sexual and reproductive health; and support for young returning international migrant workers in 14 provinces suffering from negative impacts of the COVID-19 pandemic; namely Thái Nguyên, Điện Biên, Lào Cai, Thanh Hóa, Nghệ An and Hà Tĩnh in the north; Đà Nẵng, Quảng Trị, Quảng Nam, and Đắk Lắk in the central region; and An Giang, Cần Thơ, Vĩnh Long and HCM City in the south.
Việt Nam is one of the countries which have been suffering from severe socio-economic impacts due to the COVID-19 pandemic.
Young people are among the vulnerable population groups.
Young international migrant workers from the three provinces of Quảng Trị, Nghệ An and Hà Tĩnh are facing harder impacts because of the sudden changes in working conditions. Some of them were forced to return to Việt Nam, and when they are in their homeland, they again suffer from the local socio-economic difficulties.
The situation becomes worse as it is not easy for them to reintegrate into their families, their communities, and the local labour market.
In order to support these young returning migrant workers, the Hồ Chí Minh Communist Youth Union has assigned the Centre for Youth and Adolescents to collaborate with the provincial Youth Unions of Nghệ An, Hà Tĩnh and Quảng Trị to implement 29 youth-led initiatives.
With a total fund of over VNĐ2 billion (US$90,000), these initiatives will help provide these young returning migrant workers with job replacement, income generation, sexual and reproductive health and life skills from now until the end of March 2022.
Speaking at the signing ceremony, Ngô Văn Cương, Secretary of the Hồ Chí Minh Communist Youth Union, emphasised the importance of the initiatives to support young international migrant workers who returned home due to the COVID-19.
He said: "The Secretariat of the Hồ Chí Minh Communist Youth Union will instruct the Vietnam Youth Union's relevant departments to closely collaborate with the provincial Youth Unions of Nghệ An, Hà Tĩnh and Quảng Trị to facilitate the implementation of the initiatives on job replacement and income generation, thus helping the returning migrant workers to settle."
"For the initiatives' beneficiaries, I encourage you to work harder, to learn more and to apply advanced technologies in implementing the initiatives' activities in order to utilise the financial resources in the most effective, reasonable and sustainable manner. I hope that you will soon overcome your difficulties and at the same time inspire your peers to follow suit," he said.
In her opening remarks, Naomi Kitahara, UNFPA Representative for Việt Nam, said: "The risk of COVID-19 to youth and adolescents is often under-estimated. Yes, young people may have a stronger immune system, but it does not necessarily mean that they are not affected by the impact of COVID-19.
"It is important to recognise that young people have been confronted with multiple shocks including a disruption to education and employment; income loss; and greater difficulties in finding a job, and accessing health and other public services.
"Young international migrant workers are some of the hardest hit," she said.
Kitahara added that the objective of the project is to help young migrant workers with essential life skills education including comprehensive sexual education, provide them with further professional support for their re-integration into the domestic labour market, and assist them for future career and life-long planning.
Daisuke Okabe, Minister of the Embassy of Japan in Việt Nam, said: "The initiatives on job generation, life skills and comprehensive sexual education will help young international migrant workers to be able to effectively cope with the challenges and facilitate their process of exploring different options and coming up with the optimal solutions, thus mitigating the negative impact of COVID-19 in Việt Nam.
"The Government of Japan is honoured to be able to support these initiatives which contribute to the realisation of the Sustainable Development Goals' philosophy of 'leave no one behind'," he said.  
Programme appeals for community support for COVID-19 fight
The Presidium of the Vietnam Fatherland Front (VFF) Central Committee and the sub-committee for mobilising social assistance under the National Steering Committee for COVID-19 Prevention and Control on September 16 launched a programme calling for more support from people nationwide for the COVID-19 fight.
Do Van Chien, Chairman of the VFF Central Committee and head of the sub-committee, read a letter to launch the campaign.
The letter of appeal stated that at present, the pandemic still remains complicated, with social distancing order being applied in some places to contain the spread of the novel coronavirus.
There is a great number of people facing difficulties due to being in areas under lockdown and those losing their jobs and needing support, it added.
Meanwhile, the State's resources are limited so it needs support of the whole society for the work, especially ensuring social security for the poor and vulnerable people, and funding the purchase of vaccines serving the nationwide COVID-19 immunisation programme, it noted.
Cadres, civil servants and public employees, members of the armed forces, entrepreneurs and enterprises of all economic sectors, international organisations, overseas Vietnamese, religious organisations, and people from all walks of life were called on to donate money, goods, medical supplies, and food for the drive.
After the launching ceremony, the sub-committee received donations and support registrations of cash and goods worth over 290 billion VND (nearly 12.7 million USD) in total by more than 30 organisations, businesses and individuals.
At the event, the sub-committee also officially launched an online donation system at http://vandongxahoi.mattran.org.vn./. 
Vietnam attaches importance to Mekong-US partnership: Ambassador
Vietnamese Ambassador to the US Ha Kim Ngoc attended a webinar to release the summary report of the first Mekong-US Partnership Track 1.5 Policy Dialogue on September 15, at an invitation of Stimson Centre.
Delegates welcomed the progress in cooperation between the Mekong countries and the US, especially the upgrade from the Lower Mekong Initiative (LMI) to the Mekong-US partnership from 2020. They also appreciated the outcomes of the first Mekong-US Partnership Track 1.5 Policy Dialogue in March 2021.
Ambassador Ngoc affirmed Vietnam attaches great importance to the Mekong-US partnership, and pledges to continue working closely with the US and other Mekong countries to effectively implement the signed programmes and plans. He told delegates that during the ASEAN Chairmanship Year 2020, Vietnam coordinated with ASEAN countries and partners to actively link development goals and plans of the Mekong sub-region with ASEAN's common development goals and strategies.
The ambassador suggested the Mekong countries and the US prioritise promoting cooperation in infrastructure development, digital economy, and clean and renewable energy.
According to him, US agencies, organisations and businesses should explore opportunities and increase investment in the region, especially in the private sector, public-private partnerships (PPP) as well as key infrastructure projects.
The Vietnamese representative also suggested the two sides continue to prioritise cooperation to improve the Mekong sub-region's resilience and adaptability to the impacts of climate change, as well as collaboration in sustainable management of water resources. He also proposed strengthening coordination between the Mekong-US partnership with other sub-regional cooperation mechanisms and frameworks such as Mekong - Japan, Mekong – the Republic Korea, Mekong - Ganga (with India) and Mekong - Lancang (with China).
The Partnership Policy Dialogues are a series of seven conferences taking place between 2021 and 2023 that are generously supported by a grant from the US Department of State's Mekong-US Partnership.
The Partnership's Track 1.5 Policy Dialogue series serves as the flagship programme of the Mekong-US Partnership's human resources development area of engagement./. 
Da Nang relaxes several activities from September 16
The central city of Da Nang continues to relax several activities to ensure locals' daily lives and social welfare from September 16, according to Secretary of the municipal Party Committee Nguyen Van Quang.
Emphasising that the reopening of several activities will create some problems, Quang asked municipal authorities to have specific instructions for local residents.
The city will deploy "green card" software for city residents, which can help the authorities and units manage some information of them to carry out appropriate prevention and control measures.
According to Chairman of the municipal People's Committee Le Trung Chinh, with the current vaccination progress, Da Nang will complete vaccination against COVID-19 for all people aged 18 and above with at least one jab by the end of September.
Since July 10, the central city has recorded more than 4,590 infections./.
Kien Giang, Tien Giang must contain COVID-19 by Sept. 30: PM
Prime Minister Pham Minh Chinh has urged the Mekong Delta provinces of Kien Giang and Tien Giang to exert greater efforts to put COVID-19 under control by September 30 at the latest.
This is part of the PM's conclusion made at a recent teleconference with the two provinces to look into their COVID-19 prevention and control.
According to the Government Office's announcement of the PM's conclusion, despite continuous social distancing for a long time, both Kien Giang and Tien Giang have yet to thoroughly control the pandemic.
PM Chinh requested the provinces to show stronger determination and make greater efforts to curb the coronavirus as soon as possible, by September 30 at the latest, so as not to prolong social distancing on a large scale.
Their People's Committees have to review and submit detailed proposals on demand for assistance so that the Government's special working team and relevant ministries can provide maximum support.
Kien Giang, Tien Giang must contain COVID-19 by Sept. 30: PM hinh anh 2
A street in Rach Gia city of Tien Giang province during the social distancing period (Photo: VNA)
The Ministry of Health and the special working team have to examine anti-COVID-19 activities in these provinces while giving timely and appropriate aid.
The Government leader also told the Health Ministry to consider prioritising vaccine and drugs for Kien Giang, Tien Giang, and other COVID-19-hit localities in the Mekong Delta in a scientific and flexible manner that matches the pandemic situation.
The People's Committees of Kien Giang and Tien Giang were also asked to disseminate the announcement to their communal-level localities./. 
Mexican President values relations with Vietnam
Mexican President Andrés Manuel López Obrado said he attaches importance to Mexico's friendship and cooperation with Vietnam while receiving a letter of credentials presented by Vietnamese Ambassador to the nation Nguyen Hoanh Nam on September 15.
The President highlighted that the relations are growing strongly and pledged his commitment to continuing to foster the ties across all fields in the time to come.
For his part, Ambassador Nam conveyed to his host and Mexican people greetings from President Nguyen Xuan Phuc and other leaders of Vietnam regarding Mexico's achievements and its 200 years of independence (September 16, 1821-2021).
Nam vowed to do his best and to work closely with Mexican competent agencies and organisations to boost the two nation's multifaceted relations.
Mexico is now the second biggest trading partner of Vietnam in Latin America, while Vietnam is the 8th important import-export market of Mexico in Asia. According to statistics by the Vietnamese Ministry of Industry and Trade, the countries' two-way trade exceeded 2.1 billion USD in the first half of 2021./. 
Vietnamese language course opens at Ukraine's school
A Vietnamese language course was opened at the Kiev-based school named after President Ho Chi Minh in Ukraine on September 15 as part of a cooperation programme between the Vietnamese Embassy in the country and the school.
Speaking at the ceremony, Ambassador Nguyen Hong Thach emphasised that teaching Vietnamese language to Vietnamese children in Ukraine in general and Kiev in particular is very important, because the mother tongue will help them communicate with their relatives at the homeland, contributing to preserving and promoting Vietnamese language and culture in the host country.
It will also help increase career opportunities for those who want to live and work in the homeland in the future, he added.
Thach affirmed that the embassy is willing to create the most favourable conditions for children to learn their mother tongue.
For her part, Rector of the school Larisa Panteleivna expressed her delight at great efforts of the embassy and the educational establishment to organise the course amid difficulties caused by the COVID-19 pandemic.
This is a meaningful activity right after the embassy and the school signed a cooperation agreement for the 2021-2026 period, she said.
After the ceremony, the embassy's working delegation visited a gallery space on President Ho Chi Minh in the school's campus./. 
Social distancing measures must be strictly implemented in high-risk areas
Social distancing measures should be implemented strictly in high-risk areas to not prolong the social distancing period, Deputy Prime Minister Vu Duc Dam said at a meeting with experts of the Vietnam Medical Association on pandemic prevention and control measures in the new situation.
He stressed the importance of speeding up testing in high-risk areas, with all residents be tested three times in seven days, and priority given to PCR testing method.
Experts and scientists predicted that the COVID-19 pandemic will continue for a long time, with the possible emergence of new variants of SARS-CoV-2. So there is a need for adjustments in anti-pandemic solutions and strategies in the new situation.
Localities that are curbing the disease well should maintain the early detecting, tracing and quarantine, and effective treatment. For such current pandemic hotspots as Ho Chi Minh City, Binh Duong, Dong Nai and Long An, it is necessary to focus on controlling the sources of infection to reduce the numbers of new cases and deaths, accelerating vaccination, and then gradually resume production and business activities in line with the new normal.
A safety belt will be established around safe areas to strictly control people entering and leaving them, and preventing the disease from spreading to other localities.
Experts also stressed the need to have mechanisms to mobilise private medical resources to participate in the treatment of COVID-19 patients as well as pandemic prevention and control.
Over the past time, 23 provinces and cities have imposed social distancing, achieving certain results in slowing down the spread of the disease./. 
Embassy marks series of Vietnamese events in France
The Vietnamese Embassy in France on September 15 held a ceremony to mark the 76th anniversary of Vietnam's August Revolution (August 19), National Day (September 2) and diplomatic sector establishment.
Speaking at the event, Vietnamese Ambassador to France Dinh Toan Thang highlighted that Vietnam is proud of its achievements in socio-economic affairs, politics, and diplomacy with its partners worldwide over the past seven decades.
The 13th National Congress of the Communist Party of Vietnam reaffirmed the nation's foreign policy of independence, openness, and proactive regional and international integration, the diplomat said.
Expressing his delight at growing Vietnam – France relations, Thang noted the nations will mark a decade of their strategic partnership and five decades of their diplomatic relations in 2023.
He said he believes that high-level political exchanges in recent months and in the coming time will create a new impetus for the bilateral relations.
He also mentioned a COVID-19 vaccine batch donated by France just arriving in Vietnam in a couple of days ago as an example of the countries' vivid relationship.
The diplomat said he is pleased with the expanding ties shared between Vietnam and international organisations headquartered in Paris, including the United Nations Educational, Scientific and Cultural Organisation (UNESCO), International Organisation of La Francophonie (OIF), and Organisation for Economic Cooperation and Development (OECD).
He stated that Vietnam will continue its policy of peace and cooperation for security, stability, and development; its compliance with commitments to international law, equality, and win-win cooperation; and its promotion of solidarity to overcome the pandemic.
Placing people at the centre of its actions and goals, Vietnam is willing to strengthen the existing relationships with all partners as well as create new ones for multilateral collaboration, comprehensive development, mutual trust and mutual responsibility, the diplomat said./. 
Vietnam - US mutual support in COVID-19 fight wins high appreciation
The mutual support between Vietnam and the US in COVID-19 response was highlighted at a recent online ceremony held by the Vietnamese Embassy in the US to mark the homeland's 76th National Day (September 2).
Vietnamese Ambassador Ha Kim Ngoc thanked international friends and partners, especially the US Government and people, for supporting Vietnam in COVID-19 response.
He emphasised Vietnam's diplomatic efforts amid the pandemic and affirmed that high-level mutual visits and meetings which have taken place and will be organised have been helping to intensify the Vietnam - US comprehensive partnership and contributing to peace, cooperation, and development in the Asia-Pacific region.
Taking part in the celebration, Kurt Campbell, Deputy Assistant to the US President and Coordinator for Indo-Pacific Affairs on the National Security Council, highly valued the two countries' mutual assistance in the most trying times of the COVID-19 pandemic, as seen in Vietnam's presentation of personal protective equipment to the US and the latter's donation of vaccine to the former.
He noted the US Centres for Disease Control and Prevention's recent opening of its Southeast Asia Regional Office in Vietnam will help further strengthen bilateral ties in the pandemic fight.
At the event, many international friends and Vietnamese people in the US offered congratulations on Vietnam's National Day, expressing their belief that the two countries' relations will keep flourishing, and Vietnam will surmount pandemic-caused difficulties soon, recover, and develop sustainably./. 
Pandemic prevention measures needed during new normal: Binh Duong leaders
Chairman of the People's Committee of Binh Duong province Vo Van Minh and representatives of local departments and sectors had a dialogue with local people and businesses after the southern province announced the return to the new normal after a period of imposition of social distancing measures to fight the COVID-19 pandemic.
More than 4,000 questions from people and businesses sent to provincial leaders of Binh Duong province focused on difficulties facing them during the new normal such as travel between regions, medical work, online learning, business and employment.
Minh said that after returning to the new normal, for sealed-off areas, social distancing measures will be applied for additional 5-7 days.
The province will not let anyone lack food or clothing, he said, adding that to date 3.1 million locals have received aid from both local and central support packages with an amount of 1.74 trillion VND (76.4 million USD).
Nguyen Hong Chuong, Director of the provincial Health Department, emphasised that during the new normal, people must still comply with pandemic prevention and control regulations.
He affirmed that the health sector is consolidating its system from the grassroots to provincial levels with the goal of bringing healthcare closer to the people and providing better care.
The Chairman of the provincial People's Committee reiterated that the entire political system and people need to join the fight.
Binh Duong, located adjacent to Ho Chi Minh City, is home to many industrial parks and production facilities of both domestic and foreign investors./. 
Dien Bien province presents school to Lao locality
A high school worth 5 billion VND (over 219,521 USD) was handed over to Bountay district of Laos' Phongsaly province as a gift of the northern province of Dien Bien at a ceremony on September 14.
Covering an area of 350sq.m, the two-floor school has 10 classrooms fully equipped with necessary equipment meeting standards for teaching and learning.
Addressing the ceremony, Deputy Governor of Phongsaly province Khamlek Chayesan highlighted the significance of the project, expressing his hope that the local education sector will effectively manage and use the facility.
He affirmed that the building of a modern school for a poor district of Phongsaly – the most difficult mountainous province in Laos - is vivid evidence of Dien Bien province's sentiments toward the Lao locality, contributing to consolidating and promoting the great friendship between the two nations./. 
Localities, hospitals allocated 2.57 million doses of AstraZeneca vaccine
The National Institute of Hygiene and Epidemiology has issued a decision on the distribution of more than 2.57 million doses of AstraZeneca COVID-19 vaccines to 51 localities and central-level hospitals nationwide.
The vaccines include 989,000 doses imported by the Việt Nam Vaccine JSC (VNVC), 100,000 doses donated by the Belgium Government, and over 1.48 million doses via COVAX Facility.
Hà Nội will receive the most with 600,000 doses, followed by Đà Nẵng and Khánh Hoà Province each with 100,000 doses.
The central-level hospitals will be allocated 83,700 doses.
HCM City would not be given vaccines in this round.
This is the third time this month Hà Nội has been provided with COVID-19 vaccines.
The first round of distribution was on September 8 with nearly 1 million doses of China's Vero Cell vaccines and the second round was on September 12 with 700,000 doses of Vero Cell and AstraZeneca vaccines.
In Hà Nội, nearly 6 million doses have been administered so far.
Việt Nam had received a total of 37 million doses, of which more than 31 million doses have been injected so far.
According to the Ministry of Health, Việt Nam would get a further 103 million doses from many sources by the end of this year.
Vietnam declares reopening of Phu Quoc island at Global Tourism Forum
Vietnam is making great efforts to pilot a vaccine passport scheme to welcome back international visitors to Phu Quoc island, a top tourist resort in the south, in October.

Addressing the forum held in Indonesia on September 15 - 16, Deputy Minister of Culture, Sports and Tourism Doan Van Viet made the announcement at the Global Tourism Forum 2021 held in Indonesia on September 15-16.
Viet emphasised that after a hiatus of the COVID-19 fight, the tourism industries of many ASEAN countries are now prepared for reopening and hope to stimulate international tourism demand in the near future.
He said the Vietnamese Government recently approved a pilot scheme aimed at welcoming international visitors back to Phu Quoc island in the southern province of Kien Giang,
At present, relevant ministries and agencies are putting the finishing touches to the scheme, toward reopening Vietnam's international tourism markets, Viet said.
To ensure safety for vaccinated visitors, he said Kien Giang is speeding up vaccination for all residents and workers in the tourism industry on Phu Quoc islands before carrying out the pilot scheme in the coming days.
At the forum, representatives from various ASEAN member countries shared their beliefs about the resilience and recovery of the tourism industry of each country, along with the wider region in the post-pandemic period.
ASEAN member states will come together to share their experience in the related field to jointly revive the tourism industry in the region, said Indonesian Minister of Tourism and Creative Economy Sandiaga Salahuddin Uno. Indeed, countries within the bloc will not compete with each other but work together to create a common model to combat the COVID-19 pandemic.
To achieve this goal, Minister Uno emphasised that ASEAN needs to strengthen intra-ASEAN co-operation, promote initiatives, and reactivate the local tourism industry.
He underlined the necessity of ensuring safety measures to minimise the spread of COVID-19, update information relating to the pandemic, vaccine programmes, and readiness levels of various destinations.
He noted that Indonesia will promote discussions on the ASEAN Tourism Corridor Framework Agreement (ATCAF), in the immediate future as a means of facilitating diplomatic purposes.
Meanwhile, Deputy Minister Viet suggested that ASEAN member states work closely to develop and deploy recovery plans, as well as standards and procedures for safety in ASEAN tourism in the post-pandemic period.
He also stressed the need to implement online promotional schemes for the ASEAN common destination.
The Deputy Minister  pointed out that countries need to share their experiences, strategies, and plans to restore the tourism industry in an open manner, while simultaneously strengthening the application of digital technology and innovation utilised by the tourism industry. 
Vietnamese businesses in UK donate over VND2 billion to COVID-19 fight
The Vietnam Business in the United Kingdom (VBUK) has raised VND2.15 billion in support of the fight against COVID-19 back in Vietnam.

The donation was unveiled at a ceremony in London on September 15 to mark 15 years of the VBUK.
Addressing the event, Vietnamese Ambassador to the UK Nguyen Hoang Long called on the VBUK to maintain its role as a bridge between business communities in both the UK and Vietnam.
He noted that two-way trade between Vietnam and the UK has increased 10fold from US$600-700 million in 2007 to US$6.5 billion at present, and the figure is expected to soon rise to US$10 billion thanks to the enforcement of the UK-Vietnam Free Trade Agreement (UKVFTA).
The Ambassador affirmed that the Vietnamese Embassy stays ready to support the businesses in overcoming difficulties and obstacles in their operations in the host country as well as in investment activities in the homeland.
For his part, Phuong Hoang, Chairman of the VBUK for the 2021-2026 term, said that the new Executive Board will expand connections between the Vietnamese business communities in the UK, Vietnam and other countries to promote trade between these countries.
He said that the enforcement of the UKVFTA with its preferential tariffs has opened up a wealth of opportunities for Vietnamese businesses in the two countries to promote bilateral trade and investment cooperation.
Established in 2006, the VBUK is currently a member of the Business Association of Overseas Vietnamese and the Vietnam Business Association in Europe.
Source: VNA/VNS/VOV/VIR/SGT/SGGP/Nhan Dan/Hanoitimes  

VGCL proposes to spend US$3.9 billion to support COVID-19 affected labourers