Ministry to review floating solar-power projects on lake in Dong Nai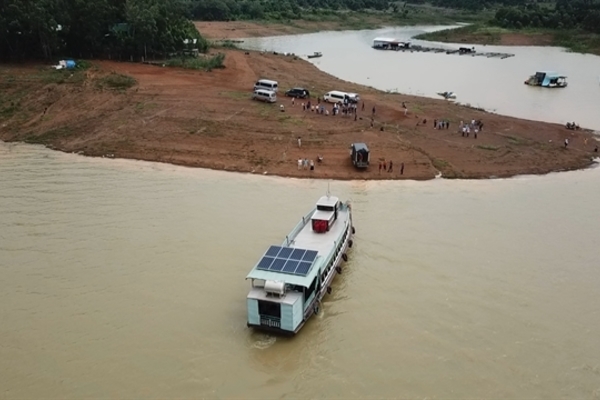 The man-made Trị An Lake on Đồng Nai River.
The Ministry of Industry and Trade will review and approve eight floating solar-power projects that are expected to be installed on Trị An Lake in Đồng Nai Province.
The ministry will submit those solar-power projects to the Prime Minister after it completes appraisal.
The projects that will be added to the National Energy Development Plan to 2025 and have a total capacity of nearly 5,400MWp, will cover more than 7,100ha in districts Vĩnh Cửu, Định Quán, Thống Nhất and others.
Of these, two projects, Trị An No.1 and 2, have received investment from Việt Nam Electricity (EVN).
The other investors include THT Investment and Technology Consulting Co. Ltd and Phước An Co Ltd in the northern province of Vĩnh Phúc with a joint venture with several other companies.
Trần Minh Đạt, head of the power management and technical division at the Department of Industry and Trade, told Đồng Nai newspaper that the projects would increase power output in the province and the southern region, helping to stabilise the electricity system and national power security.
Võ Tấn Nhẫn, director of the Trị An Hydropower Company, a subsidiary of EVN, said the projects would develop alternative energy in the region and reduce power shortages in peak seasons, especially the dry season.
But the projects' effects on the environment, ecology and quality of water in the lake must first be assessed, he said.
Trị An Lake is a man-made lake on the Đồng Nai River, covering 323 kilometres. It was designed to provide water for the Trị An Hydropower Plant with a capacity of 400MW, providing 1.7 billion of kWh each year.
According to figures from the province's Department of Industry and Trade, the region has on average nearly 1,900 sunshine hours and 5.11kWh of solar radiation per square metre each day. 
Measures sought to increase social organisations' role in public health
A conference was held in Hanoi on September 18 to discuss the enhancement of the role and initiatives of social organisations in caring for public health.
Dr. Pham Van Tan, Vice President and Secretary General of the Vietnam Union of Science-Technology Associations (VUSTA), said public health care has received special attention from the Party and State.
However, there are still many problems in the sector, including inadequate attention to the mobilisation of social resources and well as the promotion of social organisations and the private sector in the field, Tan said.
He hoped the conference will help connect social organisations and State agencies in caring for public health, while seeking solutions and policy recommendations to enhance the engagement and contributions of social organisations in the work.
Meanwhile, Do Thi Van, Director of the Non-governmental Organisations-Information Centre (NGO-IC)cited a VUSTA report showing the union's member social organisations mobilized about 1.23 trillion VND, including 213 non-Government aided projects and more than 32 million USD in 11 official development assistance (ODA) projects, mostly in public health and environmental protection for ethnic minorities and vulnerable groups.
She said that despite their strength in wide networks, experts and creativity, social associations have faced difficulties in connections with each other and partners, as well as an incomplete legal environment.
In the future, VUSTA should strengthen its role in connecting and promoting the associations' engagement in public health and environment projects, while giving recommendations to State agencies on completing policies to ensure equality in accessing State funds.
Dao LanHuong from the World Bank in Vietnam said the malnutrition ratio in Vietnam has reduced considerably in the past two decades, but the ratio among ethnic minority groups is always higher than those from the majority Kinh group.
She explained that ethnic minority people accounted for 73 percent of the poor community in 2016, adding that obstacles in language are the major difficulty in connecting public health service providers with ethnic minorities.
She stressed the need to define nutrition for ethnic minorities as a priority.
At the conference, held by VUSTA and NGO-IC, participants also shared effective models and initiatives in improving public health and environment, as well as ways to enhance efficiency of social organisations in the field.
HCM City triumphs at national finswimming champs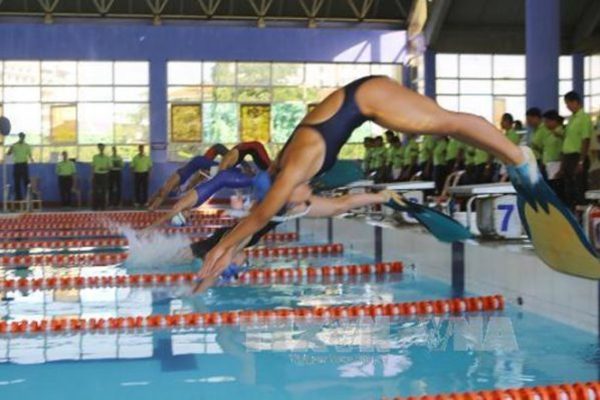 Finswimmers perform at the National Finswimming Championship in Đà Nẵng. — Photo sovhtt.hanoi.gov.vn
HCM City triumphed in the National Finswimming Championship which concluded in Đà Nẵng yesterday.
The team brought home eight golds, six silvers and five bronzes to top the medal tally. Hà Nội were runners-up with seven golds, five silvers and four bronzes. Đà Nẵng finished third with two golds, four silvers and three silvers.
The three-day tournament attracted the participation of more than 100 finswimmers from 14 teams across the country, competing for 34 sets of medals.
Following this event, the National Swimming Championship will take place on September 20.
More than 100 swimmers from 20 teams will compete for 43 sets of medals until September 25. 
HCM City 1 beat Hà Nội to top rankings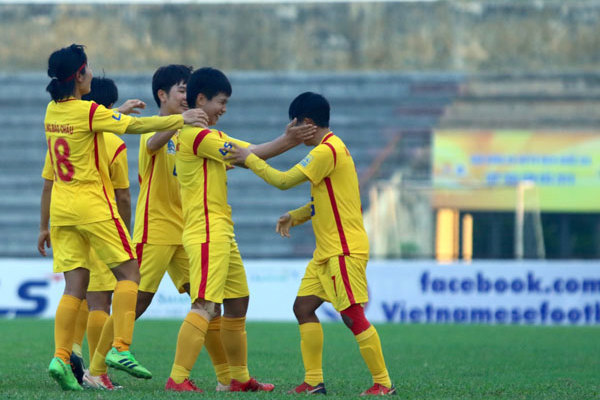 HCM City 1 celebrate beating Hà Nội 3-0 at the National Women's Football Championship. — Photo vff.org.vn
HCM City 1 has defeated Hà Nội 3-0 at the National Women's Football Championship held in the northern province of Hà Nam.
With this win, HCM City 1 top the rankings with 19 points, followed by Hà Nội and Phong Phú Hà Nam on 16.
The capital team on Tuesdaycontrolled the game early, however, it was HCM City 1 who scored the opener.
In the 37th minute, from a Thuỳ Trang corner kick, Lê Hoài Lương defeated goalkeeper Nguyễn Thị Loan to score for HCM City 1.
Hà Nội bounced back strongly in the second half but couldn't split the solid HCM City 1 defence.
Nguyễn Thị Tuyết Ngân and Nguyễn Thị Bích Thùy made the game safe for the southern side, scoring in the 55th and 75th minute to secure the comfortable win.
Today, hosts Hà Nam will take on Sơn La and Việt Nam Coal and Mineral will face Thái Nguyên. 
 Three Chinese nationals arrested for use of fake ATM cards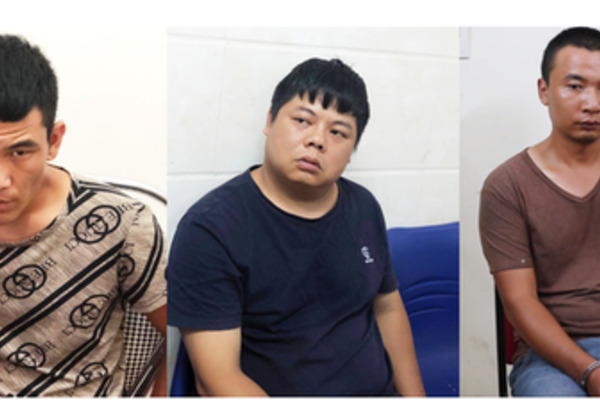 Three Chinese nationals at the police station (Photo: Tuoi Tre)
Police force arrested three Chinese nationals in Vinh city, Nghe An province, on September 16 after being caught using fake credit cards to illegally withdraw money.
The three men were identified as Yang Chang Cai, 33, Denh Cong Cong, 29, and Lian Yu, 33, all of whom are from Jiangxi, China.
Of the trio, Yang Chang Cai is considered to be the gang's leader.
Local police forces first received a tip off about the group's activities in late August from local people. Residents were reporting that money had been withdrawn from their bank accounts despite not performing any transactions or having their ATM cards stolen.
Investigators discovered that the gang had installed equipment at local ViettinBank ATM booths in order to steal data from unsuspecting customers before using it to produce fake cards.
The suspects were tracked down and arrested at a hotel in the city. Upon performing a search of the scene, police were able to seize 333 fake ATM cards, three electronic devices, and two laptops.
The case is currently under further investigation.
First trial held for former VSS leaders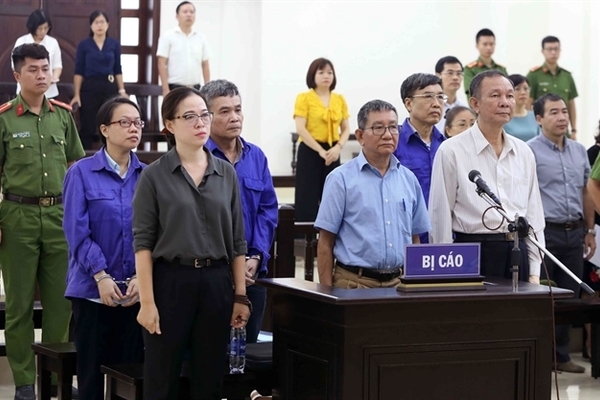 Defendants at the court this morning.
The People's Court of Hà Nội on Wednesday morning held the first instance trial for six defendants in the case of "violations of State economic management regulations, causing serious consequences" at the Việt Nam Social Security (VSS) and Agribank Financial Leasing Company No 2 (ALC II).
The defendants prosecuted by the Supreme People's Procuracy include Lê Bạch Hồng, former Deputy Minister of Labour, Invalids and Social Affairs and former general director of the VSS; Nguyễn Huy Ban, former general director of the VSS; and Nguyễn Phước Tường, former head of the planning-finance department, now the department of planning-investment, and former chief accountant of the VSS.
Hoàng Hà and Trần Tiến Vỹ, who are former heads of the general planning division under the planning-finance department, now the department of planning-investment of VSS, were prosecuted for the same charges pursuant to Article 165, Clause 3, of the Penal Code 1999.
Particularly, former specialist Trần Thị Thanh Thủy, then deputy head of the general planning division, was prosecuted for lacking responsibility, causing serious consequences according to Article 285, Clause 2, of the Penal Code 1999.
The Procuracy finds that Hồng signed and directed the implementation of three loan contracts for ALC II, which is now unable to recover, causing State economic losses of more than VNĐ434 billion (US$18.6 million).
Meanwhile, Ban is accused of signing and directing the implementation of 11 other loan contracts worth VNĐ630 billion for ALC II, which is not in line with the investment principle of the VSS fund, causing State economic losses of over VNĐ1.26 trillion.
There are 15 lawyers who will represent the defendants.
In addition, a lawyer is also involved in protecting the legal rights and interests of Agribank.
Attending the trial were also representatives of Việt Nam Social Insurance and Agribank, and five witnesses.
The trial is expected to last for a week.
Man caught with gas pistol at Noi Bai Airport
A man has been stopped carrying a gas pistol before boarding a flight from Noi Bai International Airport in Hanoi to Thailand.
The pistol along with three bullets inside was detected in the man's luggage by the airport security camera system.
The passenger from the northern province of Bac Giang showed the pistol use licence, but it had however expired.
He admitted his guilt and promised not to do it again.
Security handed over the pistol to the police to handle the case.
The man planned to take a Thailand Airways flight to Bangkok.
Under aviation laws, passengers are banned to take weapons and explosive ordnances, including gas pistols, on flights.
In Vietnam, any individual or organisation must be licensed for the use of weapons and explosive ordnances. Violators will be fined VND2-4 million (USD86.95-173.9) for using these without causing consequences.
Northern Vietnam may see first cold spell this year
Hoan Kiem Lake in Hanoi
The northern region of Vietnam has been forecasted to experience a light cold snap this weekend.
According to Dr. Hoang Phuc Lam, deputy d from the National Centre for Hydro-meteorological Forecasting, the cold weather would affect northeastern localities, including localities, including Cao Bang, Lang Son and Quang Ninh provinces.

The temperature would drop considerably at night and early morning, bringing the more pleasant atmosphere for some days to come.
Lam predicted that heavy rains in the Central Highlands and the southern region would decrease in in the next three days. Meanwhile, the northern and central region would face more rains by late afternoon.
Vietnam returns remains of two US soldiers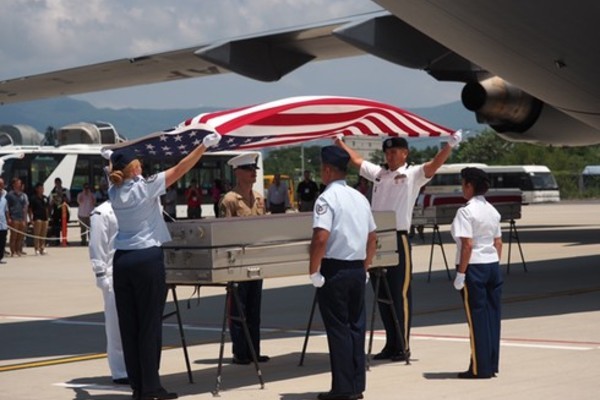 At the ceremony (Photo: US Consulate General in Ho Chi Minh City)
A ceremony took place at Danang International Airport on September 17 to mark the nation handing over the remains of two US soldiers who laid down their lives during the Vietnam War.
The event was co-organised by the Defense POW/MIA Accounting Agency (DPAA) alongside the Vietnam Office for Seeking Missing Personnel.
According to the office of the US Consulate General in Ho Chi Minh City, both sets of remains are due to be sent to the DPAA's laboratory in Hawaii to undergo further examination.
Both nations recently participated in their 36th joint field activity with the purpose of finding remains of soldiers killed during the Vietnam war.
The most recent occasion saw approximately 80 American and over 200 Vietnamese experts collaborate on recovery sites in the provinces of Quang Binh and Thua Thien-Hue.
In addition to these efforts, there was also a Vietnamese team searching a location in Quang Ninh province, while a joint investigation team conducted a search in the central region of Vietnam.
Last year, both countries commemorated the 30th anniversary of joint humanitarian activities.
Recurrence of African swine fever strikes Vinh City
Fresh cases of the African swine fever (ASF) epidemic have been discovered with complicated developments in Vinh City in the central province of Nghe An, with Nghi Kim commune being the hardest hit by the latest outbreak.
On September 15, the commune was forced to cull six infected pigs from two pig farming households in Nghi Kim commune, which saw a recurrence of the ASF epidemic.
Nguyen Tien Duc, head of the animal health and husbandry station in Vinh City, said the ASF epidemic has spread rapidly throughout the city as local residents have been unaware of the problem and not taken adequate preventive measures to combat the spread of the epidemic.
No staff have been present at quarantine stations, meaning that the transport of pigs and pork products have not been monitored sufficiently, while powdered lime and chemicals have not been sprayed properly in line with existing regulations.
As a result of the these ASF cases, veterinary workers in Nghi Kim commune were forced to conduct a mass cull of pigs weighing over five tons on September 16.
Although the epidemic in the area has witnessed several complicated developments with the number of infected pigs increasing, the trading of pigs and pork products throughout the commune has yet to fall under strict control.
Writing contest on Danang tourism for Japanese youth launched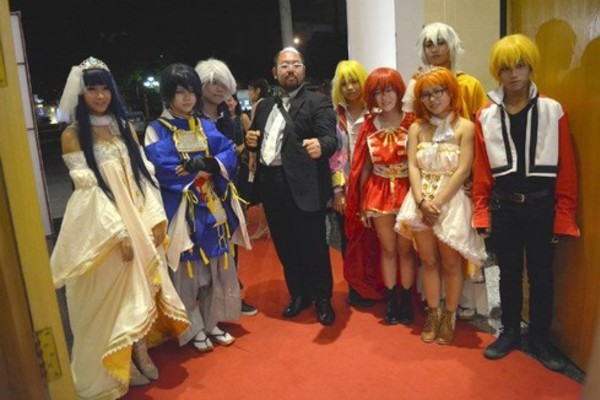 Japanese tourists participate in a cultural event in Danang City - Photo: Courtesy of organizer
The Tourism Department of Danang City and the Japan Association of Travel Agents are jointly organizing a writing contest on Danang tourism for young Japanese travelers.
Running until October 5, the Hey Danang Fantasticity contest aims to attract more Japanese tourists to the central coast city. Nine outstanding participants will be awarded a free vacation in Danang in four days and three nights in November. The prizes include airline tickets, accommodation, meals and sightseeing.
International arrivals to Danang City increase by 130% year-on-year and Japan is the third largest tourism source market of the city. In 2018, the central city received nearly 132,800 arrivals from Japan.
As of September 2019, Danang had two daily direct air routes to Narita International Airport in Tokyo and Kansai International Airport in Osaka. With an international airport, spectacular coastlines, luxurious hotels, and numerous attractions, Danang is a favorite destination for Japanese tourists.
Man receives five years in prison for anti-State propaganda 
The People's Court of the Mekong Delta province of Ben Tre has sentenced Nguyen Van Cong Em to five years in jail for "making, storing, spreading information, materials, items for the purpose of opposing the State of Socialist Republic of Vietnam" under Article 117 of the 2015 Criminal Code.
At the trial for Em, born in 1971 and residing in My Thanh commune, Giong Trom district of Ben Tre, on September 17, the court ruled he will be supervised for another five years in his residence after his release from jail.
According to the indictment of Ben Tre People's Procuracy, since mid-2017, Em has used many different Facebook accounts, including "Ve Quoc Doan", "Tan Le", "Tan Nguyen" and "Le Thanh Bac," to post and share articles and conduct livestreams of videos with contents distorting Party policies and State law.
He also incited and called on many people to join protests that harmed security and caused disorder during the second summit of the US and the Democratic People's Republic of Korea in Hanoi from February 27-28 this year.
At the court, Nguyen Van Cong Em admitted his guilt and expressed regret for his wrongdoings.
Former mining firm chairwoman prosecuted for stock manipulation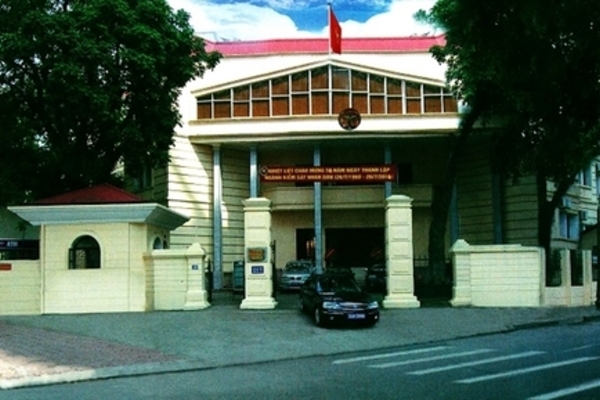 The front gate of the Ha Noi People's Procuracy. The procuracy office has prosecuted former chairwoman of the Binh Thuan Mineral Industry JSC and her partners for stock manipulation. – Photo vkshanoi.gov.vn
The Ha Noi People's Procuracy has prosecuted the former chairwoman of the Binh Thuan Mineral Industry Joint Stock Company for price manipulation.
Pham Thi Hinh is charged with creating fake accounts to drive shares of the company up and earn profits from selling them to other investors, local media have reported based on the procuracy's indictment.
The company debuted on the Ho Chi Minh Stock Exchange on July 27, 2010. However, its shares fell deeply in the same period from a debut price of VND40,000 (US$1.72) per share to VND400 per share before HoSE eliminated the company from the stock market by force on August 2, 2018.
The company's performance also declined during the period from VND65 billion ($2.8 million) profit in 2010 to VND12 billion profit in 2017. The result for 2018 has not yet been announced.
The firm increased its charter capital to VND934 billion in 2015 from the initial figure of VND129 billion. To increase the company's charter capital, Hinh and three partners issued an additional 56 million shares.
To keep share price stable and increasing, they created 69 trading accounts in different securities firms, some of which were made at VSM Securities JSC – a company Hinh also chaired.
They planned to conduct internal trades to drive share price and liquidity up, thus attracting individual investors.
The defendants, from the end of 2015 to July 8, 2016, caused total losses of VND8.1 billion for nearly 1,500 individual investors that were tricked. Three securities companies that lent to the four defendants suffered a loss of VND761 million.
Up to now, 124 victims and three securities firms have demanded compensation totalling VND3 billion.
The Ha Noi People's Procuracy said in its indictment that the two firms Binh Thuan Mineral Industry JSC and VSC Securities JSC were not involved in the case as Hinh was the one responsible for planning the crime.
Stakeholders in the case declined to comment. Market members, securities firms and regulators also declined to comment, stating the topic was too sensitive to talk about.
This is the second case brought to court for stock price manipulation. The previous case was the Central Mining and Mineral Import Export Joint Stock Company (MTM), in which defendants were accused of stock manipulation and fraudulent transfers to earn VND56 billion illegally for share trading.
The main defendant, MTM's former chairman, was sentenced to life in prison. Others were sentenced to a maximum of 30 years. – VNS
Thanh Hoa residents suffer from air pollution
Local people in Thanh Hoa City have complained about serious environmental pollution caused by the Ha Thanh Company.
For the past three years, the residents in Thinh Van Village and hundreds of patients at Thanh Hoa Lung Hospital have suffered from the air and noise pollution caused by Ha Thanh Company.
Ha Thanh Company rented 1,134 square metres of land as a showroom. However, since 2016, they have used the land as storage site for construction materials such as stone powder, cement residues, and washing stations for fresh cement vehicles.
The residents have filed complaints, the provincial Department of Health has reported to the authorities but the situation hasn't improved.
A patient at Thanh Hoa Lung Hospital said she had been admitted for two weeks and couldn't go out due to the huge amount of dust outdoors because Ha Thanh Company is right beside the hospital. She felt she was suffocating because of the pollution and noise from cars and trucks.
Dao Thanh Binh, director of Thanh Hoa Lung Hospital said there were 300 patients at the hospital, "It especially worsened during dry and hot days. The dust was blown into the hospital," he said.
Thanh Hoa People's Committee and Department of Natural Resources and Environment were asked to investigate the case. In their report, it was pointed out that the operation of Ha Thanh Company could pollute the Nha Le River. There was also no solution yet to deal with the air pollution problem and the company doesn't have separate storage for toxic waste.
The Department of Natural Resources and Environment already asked Ha Thanh Company to remove all sewer pipes and plant trees along the street and stop using the area as a dumping site. However, Ha Thanh Company has continued to ignore orders from the Department of Natural Resources and Environment and Thanh Hoa police.
Nguyen Van Ngoc, chairman of Quang Thinh Commune People's Committee, said the orders hadn't been followed because Thanh Hoa had several major rain storms in the past months.
"The representatives of Ha Thanh have worked with us and promised to fix all problems by October. We have asked them to deal with everything by September 20," Ngoc said.
Huyền wins gold at national athletics champs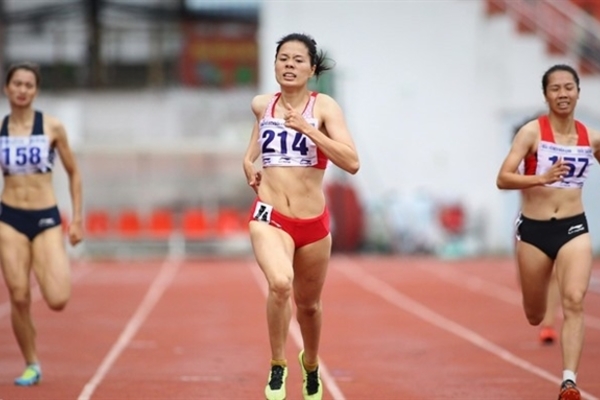 Nguyễn Thị Huyền (middle) performs at the National Athletics Championship yesterday. Photo zing.vn
Former Southeast Asian (SEA) Games champion Nguyễn Thị Huyền won her second gold medal at the National Athletics Championship at the Thống Nhất Stadium in HCM City yesterday.
The northern province of Nam Định-born athlete triumphed in the women's 400m hurdles in a time of 58.25sec.
Nguyễn Thị Oanh of Hà Nội and Phan Võ Như Ý of Khánh Hòa were the runners-up.
Notably, Huyền has returned to competition after two years of absence to give birth.
Earlier, Huyền reaffirmed her spot as a top regional runner when she won gold medal in the women's 400m in a time of 53.86sec.
"I am very happy to compete again. Through this event I hope to be selected for the SEA Games in the Philippines later this year," Huyền said.
At the 2015 SEA Games, Huyền won the 400m, 400m hurdles, and 4×400 m relay and set games records in the latter two events. Her results at the event gave her two individual qualifying times for the 2015 World Championships in Athletics and the 2016 Olympics.
At the 2017 SEA Games, Huyền also bagged gold medals in the 400m, 400m hurdles and 4×400m relay.
In the men's 400m hurdles, Quách Công Lịch of Thanh Hóa seized gold after clocking a time of 50.71sec. However, Lịch couldn't beat his own national record of 50.05sec set two years ago at the SEA Games in Malaysia.
With 51.20sec, Hanoian Phan Khắc Hoàng was second, while Nguyễn Tuấn Vũ of Thanh Hóa finished third with a time of 52.53sec.
In the women's 800m, Khuất Phương Anh of Hà Nội beat Đinh Thị Bích and Bùi Thị Ngân of Nam Định to take the title. While on the men's side, Dương Văn Thái of Nam Định took gold medal with a time of 1:51.74.
In the women's pole jump, Trương Thị Thu of Thanh Hóa won with a result of 3.70m, followed by Nguyễn Phạm Hoài Yên of Đà Nẵng and Phạm Thị Kiều Oanh of Hà Nội.
In the men's 20,000m walking, Nguyễn Thành Ngưng of Đà Nẵng defeated his teammate Võ Xuân Vĩnh and Phùng Kim Quang of Hà Nội to win gold with a time of 1:36.08.
Ngưng's best result in this category is 1:23.29 which he set in an event in Japan three years ago.
The annual event, which is a warm-up for Vietnamese athletes to prepare for the SEA Games, will conclude on Thursday.
Experts urge gender equality in Law on State Budget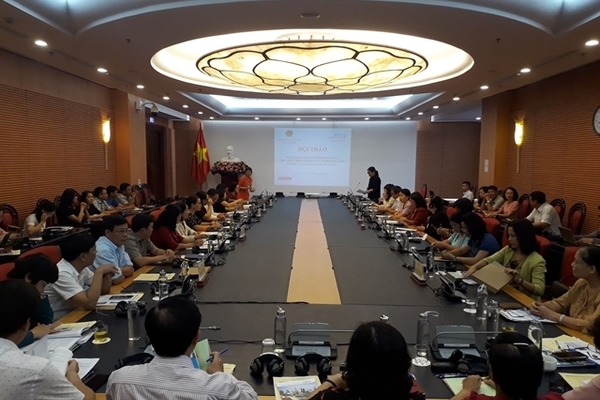 Representatives attend the conference.
Experts discussed the importance of gender equality in the Law on State Budget during a conference held on Tuesday in Hà Nội.
The conference, jointly organised by the National Assembly's Committee for Social Affairs and the United Nations Entity for Gender Equality and Empowerment of Women (UN Women), attracted the participation of more than 70 members of provincial and municipal people's councils and concerned organisations.
The conference aimed at improving the responsibility of State management organisations in including gender affairs in budget work, and all socio-economic development programmes will urge a focus on gender equality and women's progress.
Vũ Phương Ly, an expert from UN Women, said international experience showed that a gender-responsive budget was an effective method to resolve gender inequality, thus it had been implemented in different countries around the world over the past 30 years.
In the Asia-Pacific region, many countries had strongly committed to enhancing their gender-responsive budget such as Australia, South Korea, Bhutan, India and Nepal.
Deputy chairwoman of the Committee for Social Affairs Lê Thị Nguyệt said that in Việt Nam, the National Assembly approved the Law on Gender Equality in 2006, and defined basic principles on gender equality, including inserting gender equality into the compilation and implementation of policies and laws.
The Law on State Budget in 2015 included gender equality in State budget management, and gender equality became a foundation to set annual estimates for the State budget.
Nguyệt said including gender equality into the Law on State Budget in 2015 was an important basis to meet the nation's equality targets.
Agreeing with Nguyệt, Elisa Fernandez, head of the UN Women Vietnam Office, said a gender-responsive budget was one of the most important norms of Sustainable Development Goal No 5 on gender equality and women empowerment.
UN Women has supported more than 80 countries around the world on gender-responsive budgets, including Việt Nam.
Speaking at the conference, representatives believed that the implementation of gender equality in Việt Nam had achieved good results.
The rate of female National Assembly deputies is increasing, and the rate of women taking part in work has reached 48.4 per cent of the total workforce.
However, on average, women's incomes are lower than men's.
In many families, women must do housework.
Several social welfare policies mentioned gender equality, however, while being conducted, the target of gender equality was not done well.
The experts proposed to better analyse gender equality in setting up annual budget estimates and in a number of state management policies.
Health insurance is good for HIV/AIDS patients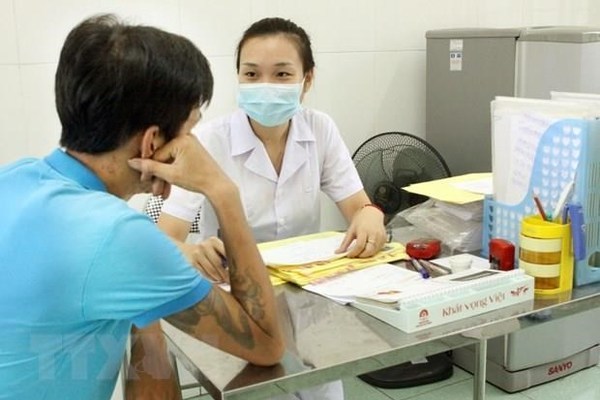 An HIV/AIDS patient is given medical consultation. Buying health insurance will help ease financial burdent to HIV/AIDS patients.
HIV/AIDS patients have been encouraged to buy health insurance to reduce their treatment costs.
According to statistics, the number of HIV patients with health insurance has increased dramatically to 90 per cent this year from 30 per cent in 2015.
Buying health insurance had helped ease the financial burden on HIV patients because they need to take antiretroviral (ARV) drug for life, Hoàng Đình Cảnh, deputy director of the HIV/AIDS Prevention and Control Department under the Ministry of Health, told Thời Báo Kinh Tế Việt Nam (Việt Nam Economic Review).
Medical treatment for HIV patients includes ARV and many tests, never mind their increased risk of catching other infectious diseases which need treatment, he said.
At present, many provinces and cities have reached the target of 100 per cent of HIV patients having health insurance cards.
The Government has stipulated health insurance as a principal fund to pay for ARV treatment as international assistance is gradually reduced as Việt Nam is no longer a low-income country.
Prime Minister Nguyễn Xuân Phúc issued a decision on paying for ARV treatment via health insurance in 2016.
Under the decision, governments of cities and provinces had to buy health insurance for HIV patients.
The local authorities could use their budget or mobilise other sources to buy health insurance.
The Government also offers incentives for HIV/AIDS patients to take part in health insurance schemes such as family packages or discounted packages for poor and ethnic minority patients.
By the end of this year, about 48,000 HIV patients would be given ARV medicine paid for by the health insurance fund.
The Ministry of Health (MoH) has been working with the Việt Nam Social Security (VSS) to set up a database of ARV-treated HIV patients nationwide to monitor payments for medicine by health insurance.
Due to the reduction in international funding for HIV/AIDS prevention and control, the private sector is expected to get more involved in providing treatment opportunities for people living with the virus, contributing to putting an end to the epidemic by 2030.
According to head of the HIV/AIDS Prevention and Control Department Nguyễn Hoàng Long, the drop in financial assistance is a considerable challenge to HIV prevention and control.
To deal with the situation, the MoH, the US Agency for International Development (USAID) and PATH organisation have launched a programme to promote the engagement of the private sector in the work, he said.
Over the years, the private sector has been involved in HIV prevention and control activities, helping increase access to treatment services.
Since 2015, more than 140,000 people have been tested for HIV through the support of community-based and social enterprises, while various HIV/AIDS prevention and control programmes have been implemented with the support of the sector.
So far, domestic firms have successfully met 100 per cent of demand for Methadone as well as equipment and materials to prevent the infection, which has been delivered free to the community.
Since 2016, eight private clinics have been set up to provide services for HIV-infected people.
Over the past five years, about 80 percent of funds for HIV/AIDS prevention and control came from foreign donors connected by PATH, she said, stressing the need for more domestic financial resources from the private sector.
PATH has connected commercial, social enterprises with community organisations to make up shortages of financial resources for HIV/AIDS programmes, she said.
Currently, 140,000 people with HIV/AIDS are receiving treatment at public health care establishments, along with about 10,000 others using private facilities, including those accepting health insurance.
HCM City needs new housing policy for low-, mid-income households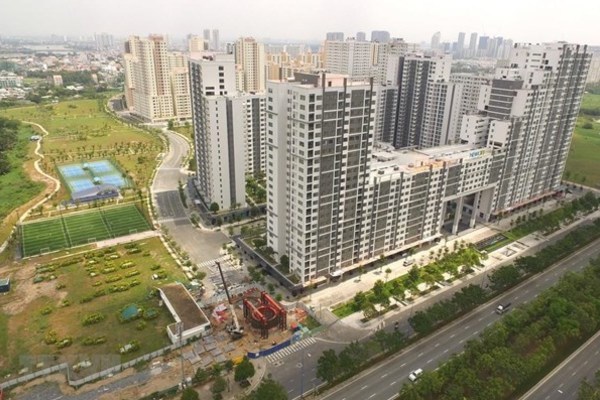 The average housing area per person in HCM City is 19.9 square metres
Housing development is of paramount importance to Ho Chi Minh City as the city's population is expected to see an increase of one million people every five years in the 2021-35 period, according to Vo Van Hoan, vice chairman of the city People's Committee.
Speaking on the sidelines of a conference on housing solutions held on September 17 in HCM City, Hoan said that housing development should correspond with economic growth and transport infrastructure development in the southern economic zone and southwestern and eastern regions.
"More attention should be paid to low-income people," he said, adding that many commercially housing projects have been carried out.
"The city needs more apartment buildings with parks and entertainment areas that are important for residents' life," he said.
"Housing quality should be high for low-income people also," Hoan said.
City authorities plan to call on the private sector to invest in low-income housing, according to Hoan.
The committee is also working with the city's Department of Construction to review and amend policies to create favourable conditions for enterprises to invest in such housing and for residents to be able to buy them.
The city has 1.9 million units of housing (including apartments) covering 182 million square metres.
Within the 2016-2020 period, the city aims to build an additional 40 million sq m of floor space, raising the average housing area per person to 19.8 sq m by 2020 from 17.32 sq m per person in 2015.
As of June, the average housing area per person was 19.9 square metres.
Commercial housing projects, social housing, and buildings for workers and dormitories for students are all part of the city's housing stock.
The department forecasts that the city will need 45 million square metres of floor space between 2021 and 2025.
Le Hoang Chau, chairman of the HCM City Real Estate Association, said: "The city's biggest and most difficult problem is to solve housing needs for a large number of low-income and middle-income people, including state officials, students, workers, and migrants, to ensure social welfare and sustainable development."
The city has nearly 476,000 households who do not own their own homes and live with relatives, accounting for 25 percent of its total. Of the 476,000 households, more than 20,000 live on and near canals and 35,000 in old apartment buildings that need to be improved.
Yap Kioe Sheng of the Asian Institute of Technology in Thailand said that cities in developing countries are growing rapidly as a result of natural growth due to relatively young populations and of rural-urban migration triggered by urban economic growth and rise of economic opportunities in cities.
"The challenge for those cities is to see that the growing population is adequately housed," Sheng said.
An urban housing policy needs to deal with the housing demand of both the local population, particularly low- and middle-income, and migrants, and the demand for both homeownership and rental housing, according to Sheng.
Hanoi aims to have all districts, communes recognized as new rural areas by 2030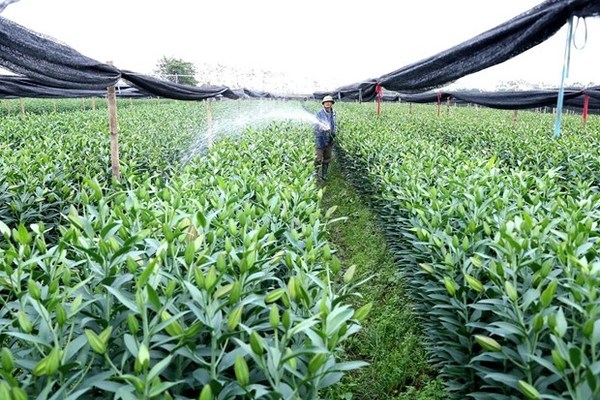 A flower farm in Tam Thuan commune of Hanoi's Phuc Tho district
Hanoi has achieved many targets regarding agricultural development and building new-style rural areas after 10 years implementing the National Target Programme on Building New-Style Rural Areas and the municipal Party Committee's Programme 02-Ctr/TU.
The city so far has six districts recognized as meeting all criteria for new-style rural areas, which are Dan Phuong, Dong Anh, Thanh Tri, Hoai Duc, Gia Lam and Quoc Oai. At the same time, 325 out of 386 communes of the city, or 84.2 percent, also earned the title. The rate is much higher than the national average of 50.8 percent. All the remaining communes have also met at least 10 criteria.
As such the city has fuflfilled the target on new-style rural areas set by Programme 02-Ctr/TU two years ahead of schedule.
At the same time, the agricultural, forestry and fishery sector recorded an average growth of 3.34 percent a year in the 2010-2018 period. Total agricultural production value reached 259 million VND per hectare per year in 2018, fulfilling the target of 250 million VND set by Programme 02-Ctr/TU two years ahead of schedule. The figure was up 117 million VND per ha per year compared to 2010.
Hanoi has pinpointed land accumulation as the main breakthrough in agricultural development toward commercial farming, creating large material growing zones, thus facilitating the building of new-style rural areas. The city has merged nearly 80,000 ha of farming fields.
An important criterion for new-style rural areas is new production models. The city has seen the introduction of 133 hi-tech agricultural production models and 135 safe food chains from production to sales, which have proven effective in enhancing economic value of agricultural products.
Along with the development of agricultural production and new-style rural areas, the living conditions of rural residents have constantly improved over the past years. Per capita income in Hanoi's rural areas currently stood at 46.5 million VND a year, an increase of 33.5 million VND from the level in 2010. The rate of poverty among rural households has dropped to 1.81 percent, and even under 1 percent in some districts, such as Quoc Oai (0.46 percent), Gia Lam (0.56 percent) and Hoai Duc (0.92 percent). The systems of medical facilities, schools and cultural establishments have been improved over the years, contributing to enhancing the living conditions in rural areas.
According to Nguyen Van Chi, standing deputy chief of the city office for new-style rural areas, the municipal Party Committee has organized 55 inspections and working sessions with localities and relevant agencies in order to timely tackle difficulties and obstacles arising in the process of building new-style rural areas.
The municipal People's Council has issued 14 resolutions on the work, and approved increasing budget allocation for the development of agriculture and rural areas and farmers.
"Besides support from the State budget, Hanoi has successfully mobilized capital from organisations, enterprises, households and individuals for the new-style rural area building programme. Such contribution amounted to 14.7 trillion VND, or 19.3 percent of the total investment in the programme," Chi said. He added that urban districts also provided aid worth 633 billion VND to poor rural districts.
Hanoi has set the target to have 100 percent of rural districts and communes recognized as new-style rural areas by 2030, with at least 5 districts and half of the rural communes meeting criteria for model rural areas.
The city also aims for an annual growth of 3 – 3.5 percent in agricultural production, and a per capita income of at least 75 million VND a year for rural residents.
The National Target Programme on New-style Rural Development was launched in 2010. It sets 19 criteria for new-style rural areas covering infrastructure, production, living standards, income, culture and others.
Health Minister inspects dengue fever situation in Da Nang
Minister of Health Nguyen Thi Kim Tien and her entourage met with representatives of the Danang People's Committee on September 17 to discuss how the ongoing situation of outbreaks of dengue fever is affecting the central-coastal city.
According to a report released by Da Nang city's Department of Health, from the beginning of the year to September 15, the city recorded a total of 4,257 cases of dengue fever, a 2.73 fold increase in comparison to the same period last year.
This rise means the city is ranked third among 11 provinces within the central region in terms of the number of infected cases. Localities that reported a high number of cases include Thanh Khe, Hai Chau, Lien Chieu, and Son Tra.
According to Dr. Ton That Thanh, Director of Da Nang City's Centre for Disease Control, the rising number of dengue fever cases with complicated developments can be attributed to the start of the rainy season, in addition to the humid climate.
Furthermore, there remains a lack of awareness among local residents regarding the need to kill mosquito larvae, whilst efforts to combat the disease have not been effectively co-ordinated with the health sector.
The city has so far treated a total of 4,257 cases of the disease, in addition to 435 outbreaks in line with standard procedures. This includes eradicating mosquito larvae and spraying chemicals at 222 high-risk areas in order to kill mosquitoes. Mosquito repellents were sprayed in 439 educational facilities, central bus stations, markets, and other public areas.
The municipal People's Committee launched a campaign aimed at eliminating larvae and set up a team of 1,809 members in a bid to raise awareness among residents about the preventive measures that can be taken in the fight against the epidemic.
Hospitals across the city have also devised plans to purchase equipment and medicines to aid in prevention work and serve patients more efficiently during the peak season.
Minister Tien stated that the city has effectively implemented instructions given by the General Department of Preventive Medicine and the Ministry of Health regarding the eradication of mosquito larvae.
It is imperative to strengthen surveillance and early detection of the disease, whilst thoroughly treating cases and outbreaks in accordance with procedures. Moreover, local residents should be mobilised to actively participate in eliminating larvae while medical workers should update the Ministry of Health's new guidelines to diagnose and treat cases of dengue fever, she stressed.
Rising number of dengue fever cases hits Tien Giang
The Mekong Delta province of Tien Giang has recorded approximately 3,200 cases of dengue fever from the beginning of the year to mid-September, including two deaths, according to Tran Thanh Thao, Director of the Tien Giang Department of Health.
Several localities have seen high rates of dengue fever in comparison with the same period from last year, including the town of Cai Lay, with an increase of 311 per cent, My Tho city, a rise of 276 per cent, and Go Cong town up 272 per cent.
Local agencies have undertaken drastic preventive measures and have treated 638 out of 644 outbreaks of dengue fever, while other regional localities have launched a campaign to encourage the eradication of mosquito larvae. Other policies include spraying nearly 270 litres of chemicals in a bid to halt the outbreaks of dengue outbreaks in the districts of Cai Be, Cai Lay, and Go Cong town.
However, a number of households in the area remain unaware of the dangers of the disease and have yet to take significant measures in order to eliminate mosquito larvae.
As a means of combating dengue fever cases effectively, relevant local units have continued to increase inspections, whilst also supervising and controlling water containers which could attract mosquito larvae in households.
Furthermore, local residents have been urged to raise awareness of the need to eradicate mosquito larvae in order to control the epidemic.
The local health sector has boosted the surveillance of dengue fever cases as a way of detecting high-risk areas.
Dr. Le Dang Ngan, Deputy Director of Tien Giang Centre for Disease Control, said as there is no specific medical cure for dengue fever, the most effective preventive measure is to eliminate larvae and stop them from turning into mosquitoes.
He also emphasised the need to improve the treatment capacity of local hospitals in order to detect the signs of outbreaks early, provide timely emergency treatment for infected cases, and minimise deaths.
Local residents have been urged to go to their nearest medical station to undergo treatment in a timely manner if they discover any suspicious symptoms such as a high fever, headache, nausea, rash, and muscle aches.
New study offers pathways to climate-smart transport
A two-volume study laying out a pathway to a low-carbon and climate-resilient transport sector in Vietnam was released at a workshop themed "Addressing Climate Change in Transport", held in Hanoi on September 16.
This analytical work comes at a critical time when the Government of Vietnam is updating its Nationally Determined Contribution on reducing carbon emissions and set out its next medium-term public investment plan for 2021-2025.
"A resilient transport system is critical to the continued success of Vietnam's economy, which relies heavily on external trade and seamless connectivity. We hope that the findings and recommendations of this new report will help Vietnam in its efforts to achieve a resilient and sustainable transport sector", said Ousmane Dione, World Bank Country Director for Vietnam.
The first volume demonstrates that by employing a mix of diverse policies and investments, Vietnam can reduce its carbon emissions in the transport sector up to 9 percent with only domestic resources by 2030, and 15-20 percent by mobilizing international support and private sector participation.
Currently, the transport sector contributes about 10.8 percent of the total CO2 emissions. In a business-as-usual scenario, these emissions are projected to grow at an annual rate of 6-7% to nearly 70 million tons CO2e.
The most cost-effective measures to boost the resilience of the transport sector include shifting traffic from roads to inland waterways and coastal transport, deploying stricter vehicle fuel economy standards, and promoting electric mobility.
The second volume provides a methodological framework to analyze critical and vulnerable points of the transport network, and presents a strong economic case for investing in building the climate resilience of Vietnam's transport networks.
A vulnerability assessment looks at the potential impact of different hazards on the transport corridor or network, and the criticality assessment considers such questions as which links and routes along transport networks are the most critical for the unimpeded flow of transport across a particular transport network.
The study identifies systemic critical issues and hazard-specific, high-risk locations in Vietnam's transport network. Considering climate change, it is estimated that 20 percent of the network is most critical in terms of its exposure to future disaster risks.
Meanwhile, road failures can result in very high daily losses of up to US$1.9 million per day, while railway failures can result in losses as high as US$2.6 million per day.
To prepare for the increasing intensity and frequency of extreme hazards due to climate change, it is imperative to make investments to overhaul existing road assets to higher climate-resilient design standards.
Given the vulnerability of land-based transport, a shift to waterborne transport offers a good resilience strategy. A 10-percent shift in that direction could reduce climate risks by 25 percent, according to the report.
This report is a collaborative effort among the Vietnamese Ministry of Transport, the World Bank and Deutsche Gesellschaft für InternationaleZusammenarbeit GmbH (German Development Cooperation GIZ) under the commission by the German Federal Ministry for the Environment, Nature Conservation and Nuclear Safety (BMU). It is sponsored by the Australian Government through the Australia-World Bank Group Strategic Partnership in Vietnam – Phase 2 (ABP2) program.
Cases of hand-foot-mouth disease rise sharply in HCM City
The number of people being infected by the hand-foot-mouth disease (HFMD) has increased sharply in Ho Chi Minh City with a total of 3,088 separate cases being reported during August, according to the municipal Preventive Health Centre.
The centre noted that the number of cases throughout August was much higher than that of July, which recorded just 1,438 cases.
Most of the patients suffering from the disease were mainly children aged under five.
According to the centre, the number of HFMD cases usually peaks in August and September.
In order to limit the spread of HFMD, the southern city's medical sector has begun to release information aimed at improving public awareness and advised teachers and baby-sitters to take necessary preventive measures to control the spread of the disease.
In addition to an increased number of HFMD cases, hospitals across the city also recorded a surge in the number of children being admitted with respiratory diseases.
According to doctors at children's hospitals, they were treating up to 300 cases of respiratory diseases each day and respiratory diseases usually peak from August to November.
Thousands of workers strike over food safety
More than 1,000 workers at a company in Quang Nam went on strike after finding that they were given spoilt food during lunch on September 17.
According to the workers at Panko Tam Thang Company, they found maggots in their food while having lunch at the company. This is the second time in a week that they were given spoilt food. They had reported similar problems to the company many times.
However, the company only issued an apology while the problem hasn't been dealt with.
"We have to protect our health. We were already very tired after work. If food hygiene and safety aren't ensured, how can we work for long?" a worker said.
The spoilt food was found at the cafeteria where 3,000 workers of Panko Tam Thang textile garment plant have lunch.
The representatives from the Quang Nam General Confederation of Labour and Department of Labour, Invalids and Social Affairs have arrived at the scene to investigate the case. The leaders of Panko Tam Thang refused to comment.